Learn how to make lemon ginger tea! It's a soothing antioxidant-rich brew with anti-inflammatory properties to help boost your immune system.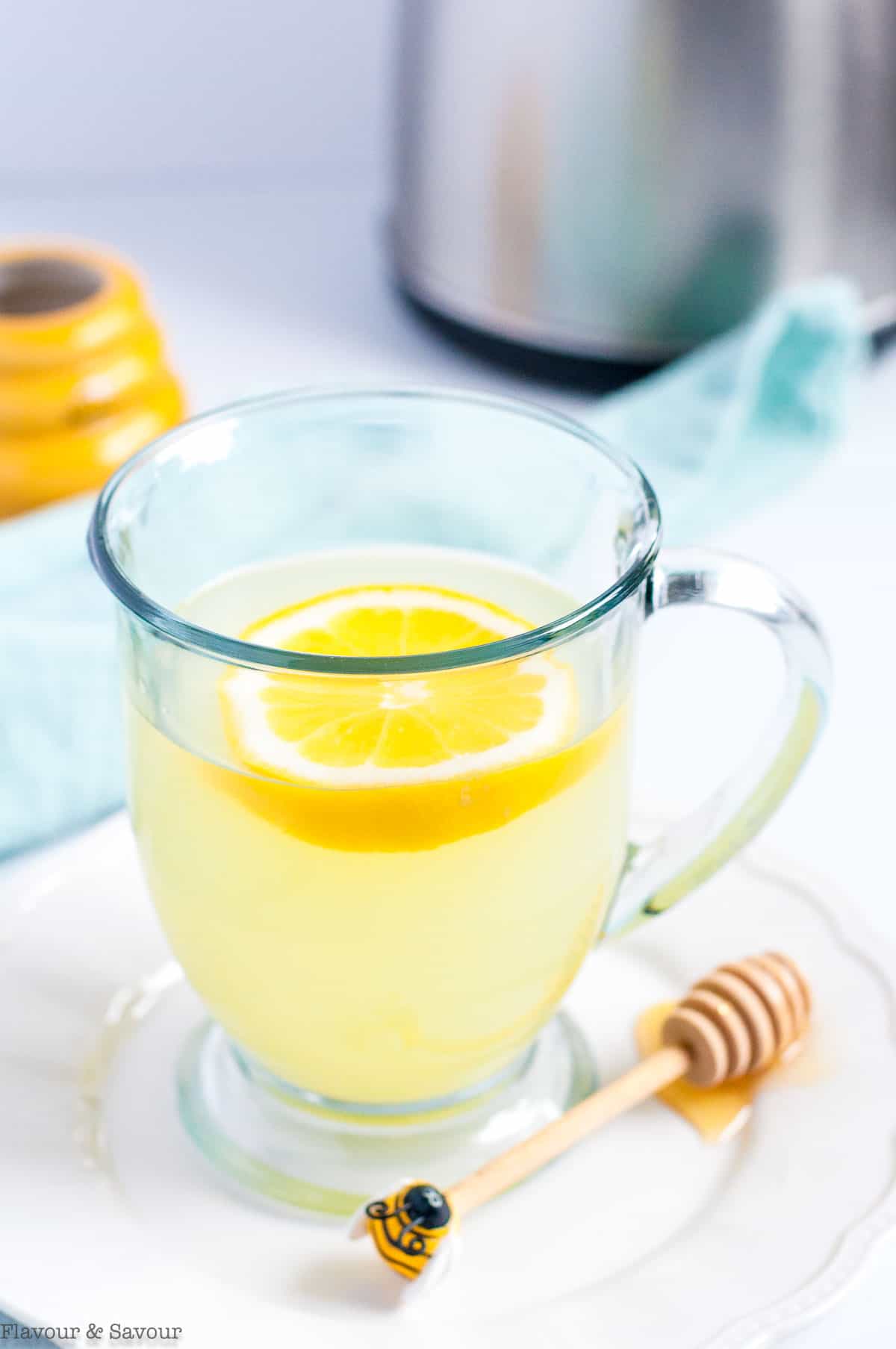 Sipping tea made with ginger, lemon and honey has many health benefits. It can help with digestion, soothe a sore throat and a stuffy nose and it may also help rid your body of excess water weight. So relaxing, too!
Jump to:
❤️ Why you'll love this recipe
Lemon Ginger Tea is a soothing tea made by infusing freshly squeezed lemon juice, fresh ginger root and adding a little honey. Its health benefits are many! Here are just a few:
Digestion: Ginger has long been known to aid digestion. It may also help both prevent and alleviate nausea and is often suggested for patients undergoing chemotherapy. Ginger acts as a detoxifier, eliminating toxins from your body.
Sore throat: Sipping warm tea with ginger and lemon can help relieve a stuffy nose and soothe a sore throat. A perfect drink for cold and 'flu season!
Relieves stress: Having a warm cup of ginger tea can help you relax and relieve stress. Stress can cause an inflammatory response in the body. Chronic stress has been linked to inflammation which can lead to disease.
Natural diuretic: Lemon is a natural diuretic that can help your body rid itself of unwanted water weight.
Antioxidants: ginger, lemon juice and non-pasteurized honey are all loaded with antioxidants.
Anti-inflammatory: Most importantly, ginger has both anti-inflammatory and antioxidant properties which may help prevent chronic inflammation, a condition that can lead to cancer, heart disease and even Alzeimher's.
So many reasons to brew a glass of ginger lemon tea! And one more: it tastes good!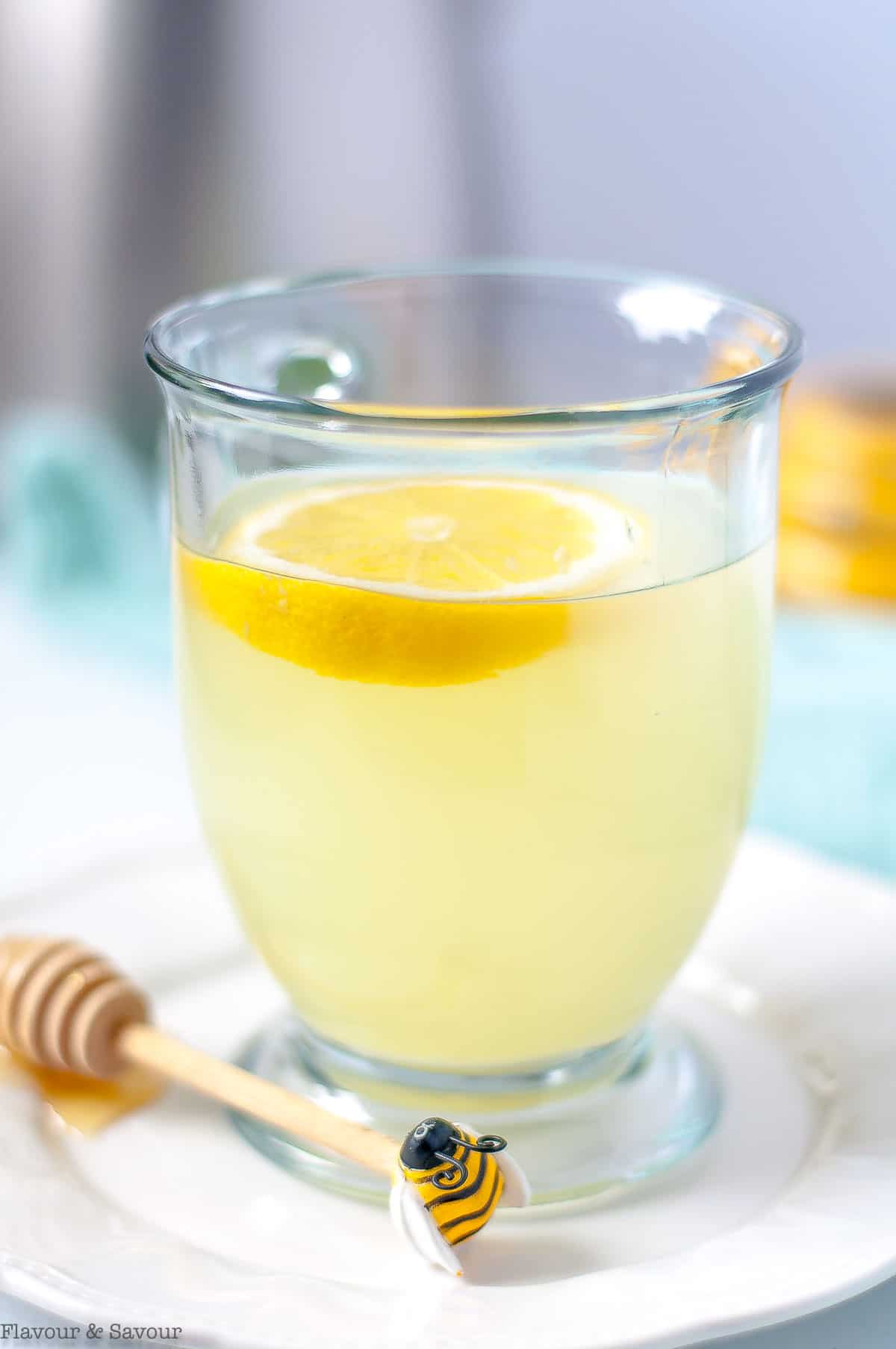 🛒 Simple Ingredients and substitutions
You'll find a list of ingredients with amounts in the recipe card below. But before we get to the full recipe, here are a few notes about these simple ingredients.
ginger root: you'll need fresh ginger to make this soothing ginger tea. Ginger is actually a rhizome, not a root, if you want to be technical, but today we're just interested in making a healthy cup of tea!
lemon juice: freshly squeezed. Look for organic lemons.
honey: Unpasteurized honey contains more than 30 different polyphenols, 22 amino acids and a wide variety of vitamins and minerals. Raw honey also has a high level of antioxidants. (You can substitute another sweetener like maple syrup to keep this recipe vegan).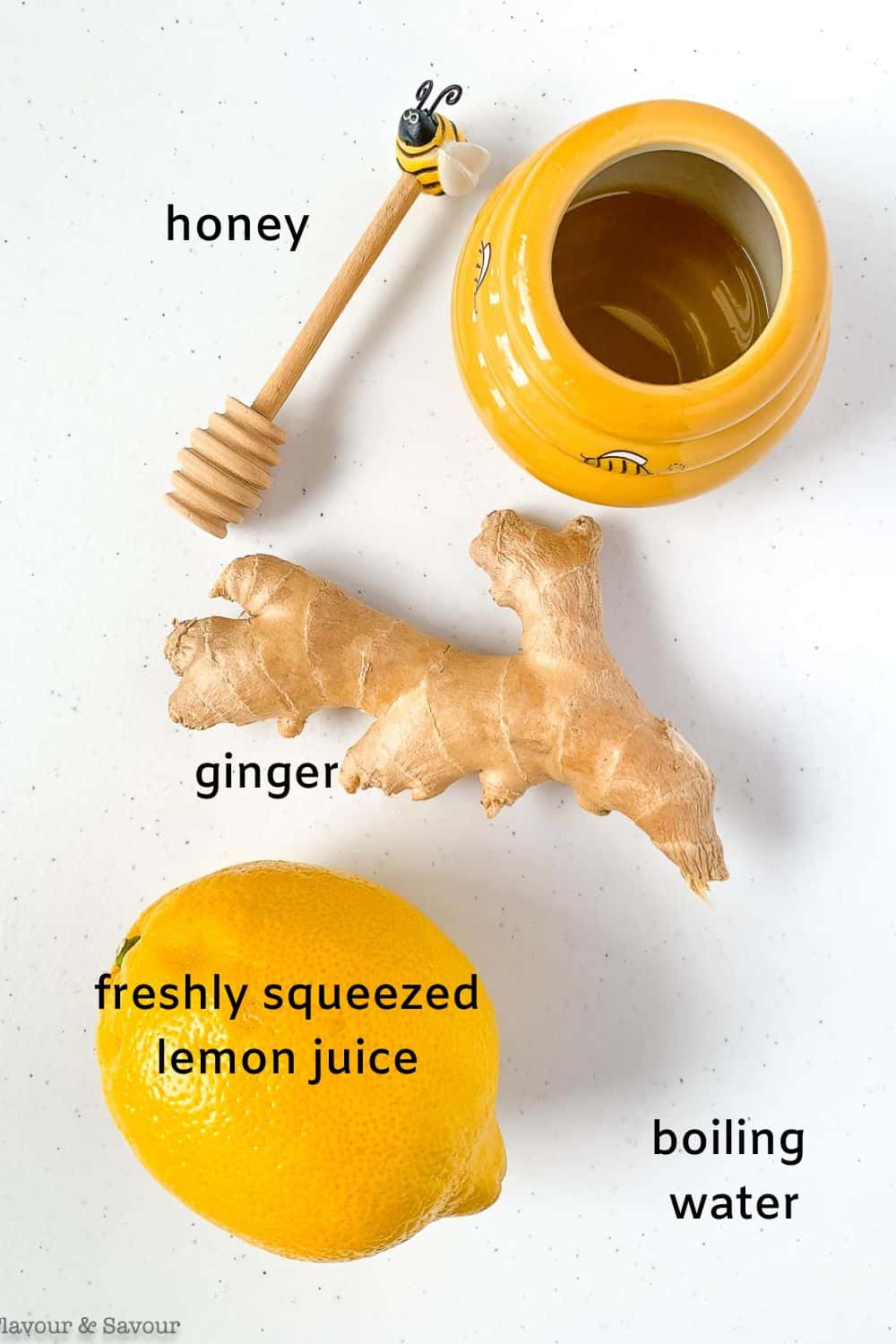 🔪 Instructions
Here's an overview of what you'll do to make this recipe perfectly. You'll find complete instructions in the recipe card at the end of this post.
You'll add lemon juice and grated ginger to a mug, pour boiling water into the mug and let it steep for 5 minutes. If you have a tea infuser you can use it to strain the lemon-ginger mixture. Add honey to taste, a slice of lemon if you'd like, sip and enjoy!
That's it--so easy and so healthy!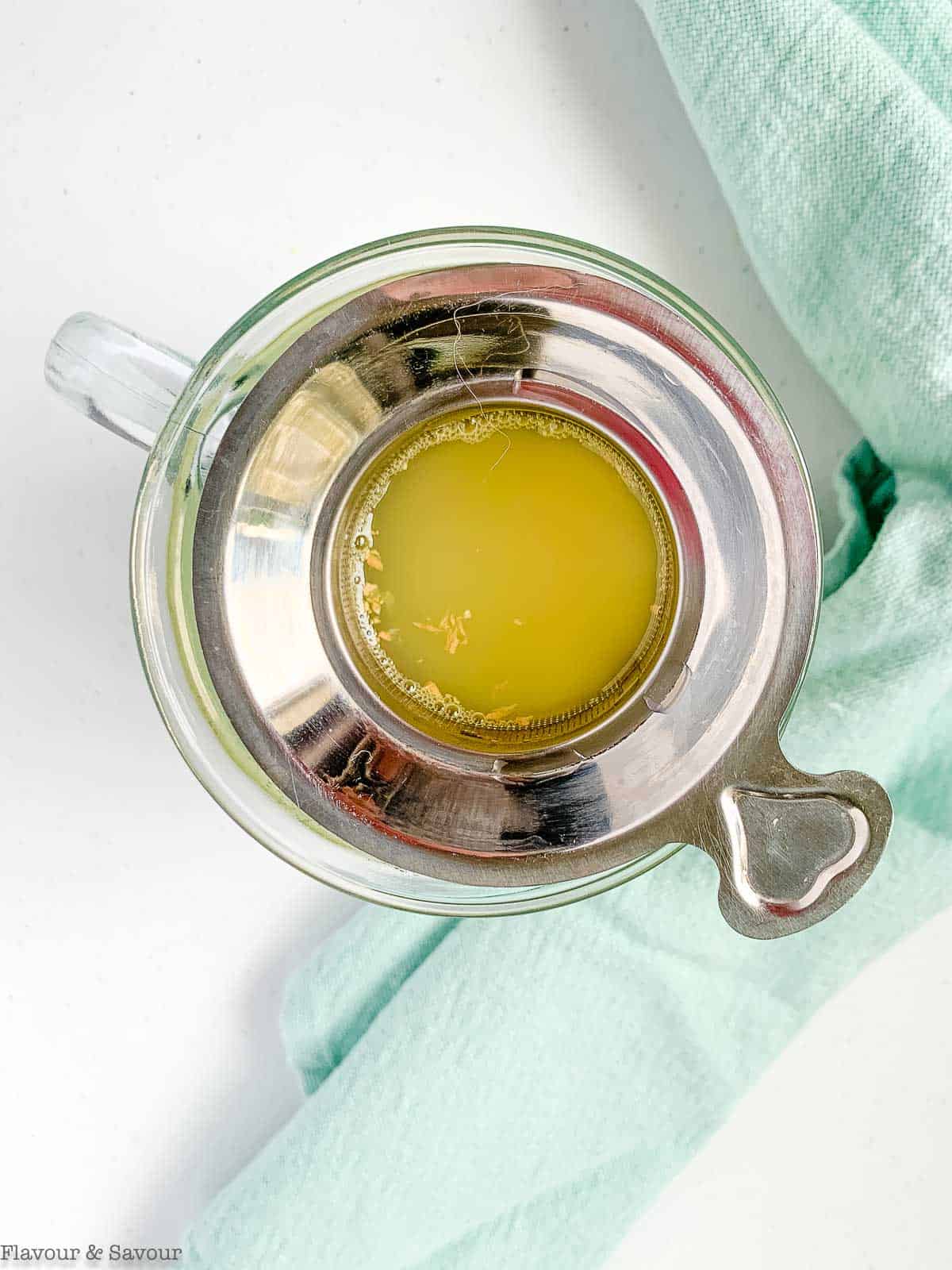 🔁 Possible Variations for tea using ginger root
Ginger tea with mint! When I have fresh mint, I like to muddle a few leaves into this lemon ginger tea to make ginger mint tea. This blend is particularly good when it's chilled. A great summertime drink!
Spice it up! Add ¼ teaspoon of turmeric or cinnamon to your tea for a flavour boost. Or simply add a cinnamon stick to your mug as a stir stick.
Make a pot of tea! This recipe as written makes enough for one cup. If you want to make a pot of ginger tea, use 4 cups boiling water, ¼ cup lemon juice, and 2 tablespoons plus 2 teaspoons of grated ginger. Add honey to individual cups, to taste.
Make lemon ginger iced tea. Brew your tea, then cool it and serve it over ice. It's so refreshing for summertime sipping and it's as fun to drink as this Homemade Ginger Peach Iced Green Tea.
👍🏼 Helpful Tips to Save Time
In a hurry? Plan ahead. Grate a "hand" of ginger and freeze it in ice cube trays in 2 teaspoon amounts. Once the cubes are frozen, transfer them to a freezer container.
Then when you're ready to make a cup of tea you can simply pour boiling water over a cube and add lemon juice and honey (or sweetener of your choice.) Since the ginger is frozen it will cool the temperature of your tea. It may need a little more brewing time.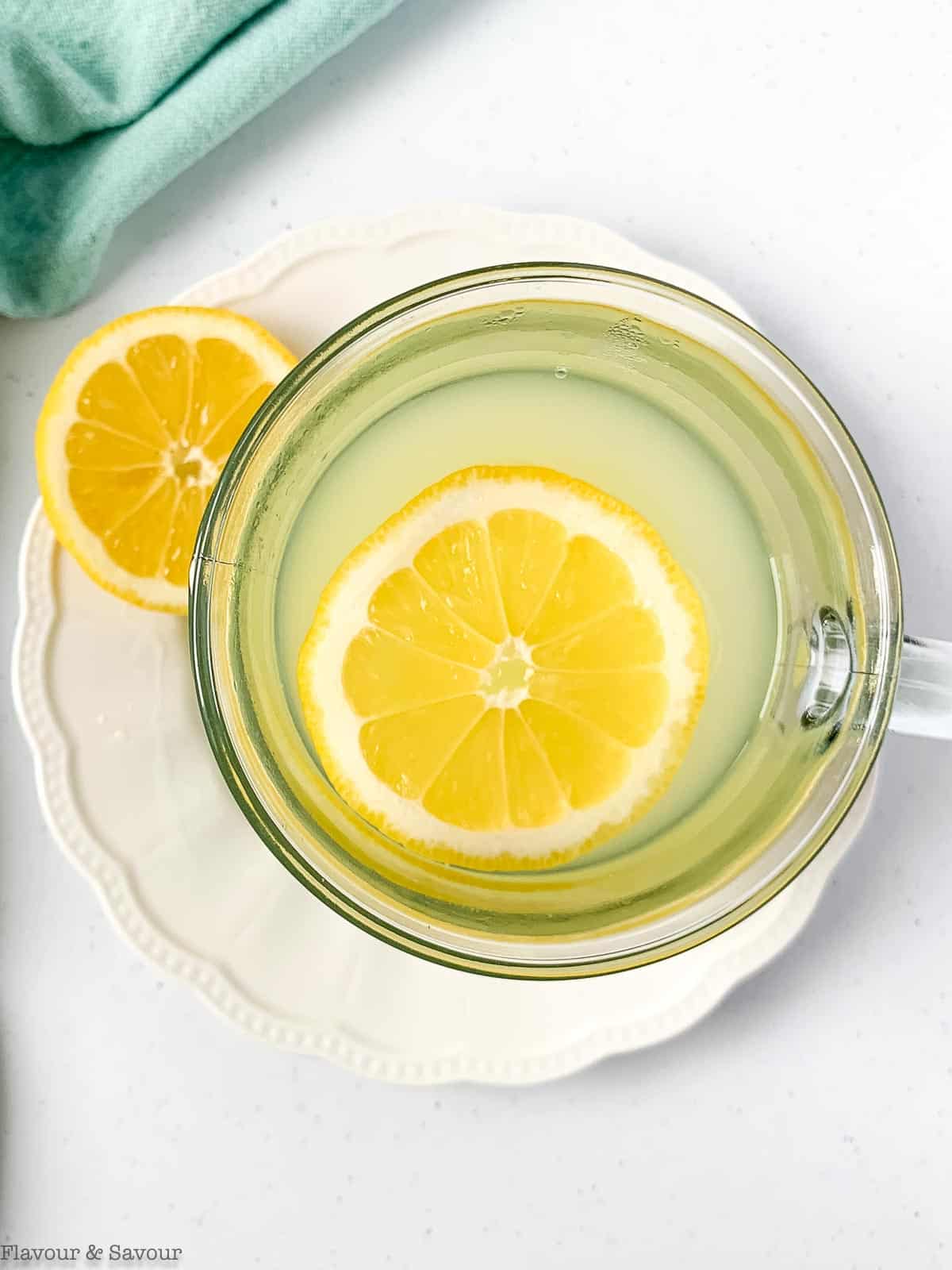 ❓Frequently Asked Questions about Using Ginger Root
How do you store ginger to keep it longer?
Ginger will last for a few days on the counter at room temperature. It's protected by its papery skin. Once you cut into it, however, it needs to be refrigerated.

I've found the best way to keep ginger from going moldy is to store it in a bag with a zip top closure. Remove as much air as you can with a straw.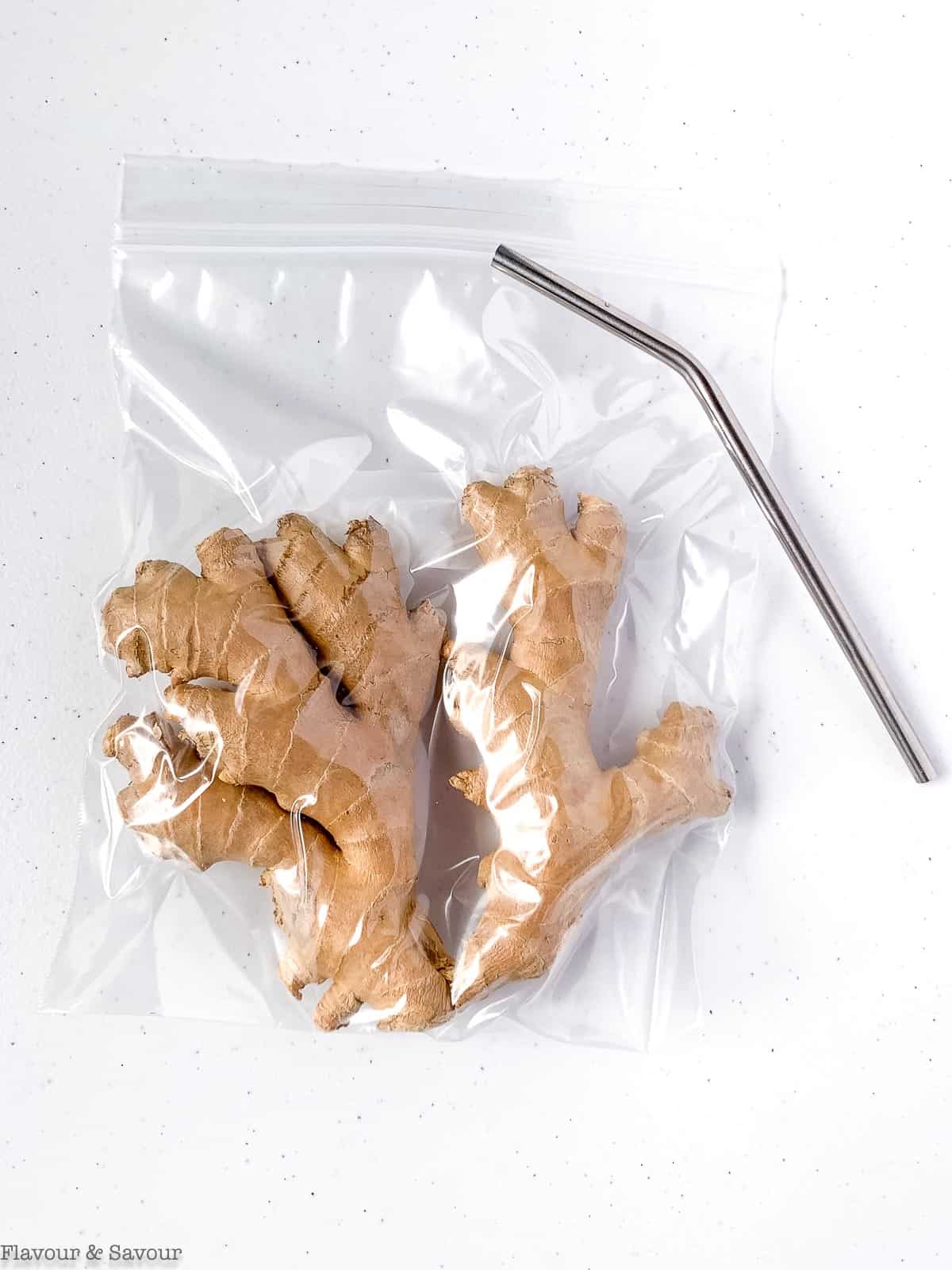 Do I have to peel ginger to make ginger tea?
Want to use ginger without peeling? No problem, but you'll need to wash it first. The papery skin of ginger is edible. When ginger is very fresh, the skin is thin and tender. As it ages, it can be a little tough. To peel or not to peel: your choice!

Do I have to grate the ginger? What can I use if I don't have a microplane or zester?
You can slice it very thinly instead of grating it. You'll have to use more ginger and brew it a little longer to get the same amount of ginger flavour and benefits.

You can also simmer sliced ginger in water in a saucepan on the stovetop.
If you want to grate ginger without a microplane, you can use the fine side of a box grater.
What's the best way to peel ginger?
To remove the skin from ginger, you can use a paring knife or a vegetable peeler, or a spoon! Using the edge of a spoon works very well as it only removes a thin layer of skin and it's much easier to get in all the nooks and crannies.
🍳 Equipment
microplane: Not essential, but helpful! You can use the fine side of a box grater instead if you choose to grate your ginger.
tea strainer: A strainer or tea ball is not essential, but it's handy. If you don't have one, you can brew your tea, then strain it through a small sieve instead. Or simply enjoy it with the small pieces of floating grated ginger!
🍽 Serving Suggestions
Brew a cup of ginger lemon tea and enjoy it with a healthy antioxidant-rich snack like one of the following:
Have a sore throat? You may also like to try my Oil of Oregano Wellness Shooter.
When you make this recipe for ginger tea with lemon and honey, please leave a comment and a rating below. I love hearing from you! Thanks in advance. Subscribe to my newsletter and receive new recipes delivered straight to your inbox once a week.
Note: The information on this site is not intended or implied to be a substitute for professional medical advice, diagnosis or treatment.
📖 Recipe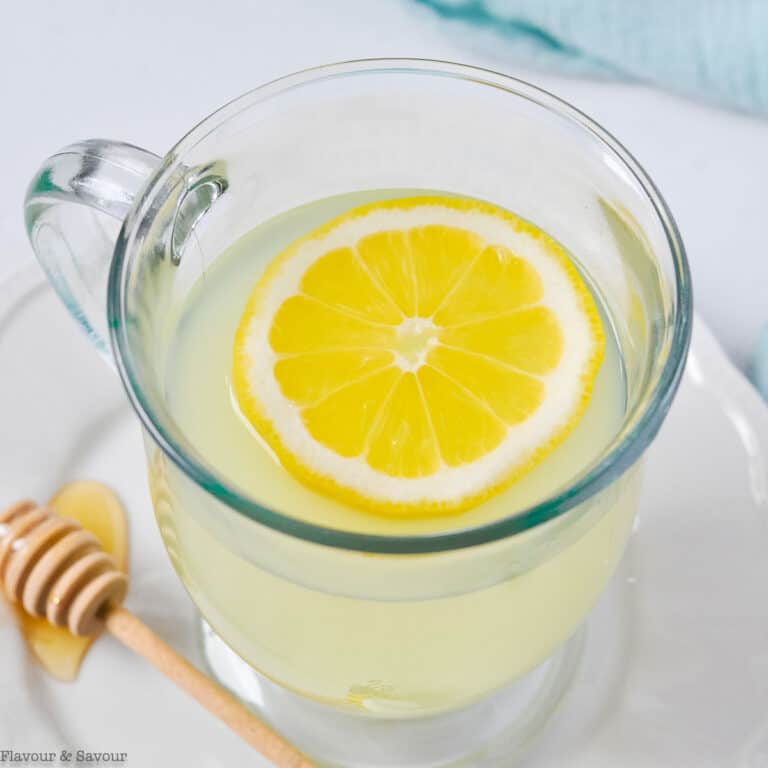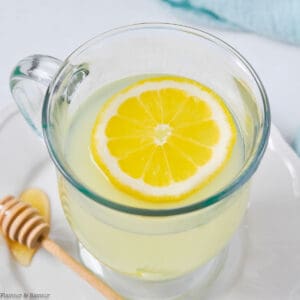 Easy Lemon Ginger Tea
An easy recipe for how to make Lemon Ginger Tea. It's a soothing antioxidant-rich brew with many health benefits!
Print
Pin
Rate
Ingredients
1

tablespoon

lemon juice

2

teaspoons

fresh ginger

1

tablespoon

honey

1

cup

boiling water
Instructions
Add 1 tablespoon freshly squeezed lemon juice and 2 teaspoons grated ginger (peeled or unpeeled) to a tea strainer or tea ball in a heat-proof cup.

Pour 1 cup boiling water through the strainer into the cup.

Allow the tea to steep for 5 - 7 minutes.

Add honey or other sweetener to taste.
Notes
See the post for instructions to make a pot of lemon ginger tea and suggestions for possible flavour variations.
Nutrition
Calories:
70
kcal
|
Carbohydrates:
19
g
|
Protein:
1
g
|
Fat:
1
g
|
Saturated Fat:
1
g
|
Polyunsaturated Fat:
1
g
|
Monounsaturated Fat:
1
g
|
Sodium:
2
mg
|
Potassium:
43
mg
|
Fiber:
1
g
|
Sugar:
18
g
|
Vitamin A:
1
IU
|
Vitamin C:
6
mg
|
Calcium:
3
mg
|
Iron:
1
mg