Fresh, crisp, sweet and green! This heart-healthy kiwi cucumber salad is tossed with walnuts and fresh mint leaves and an amazing honey-lime vinaigrette.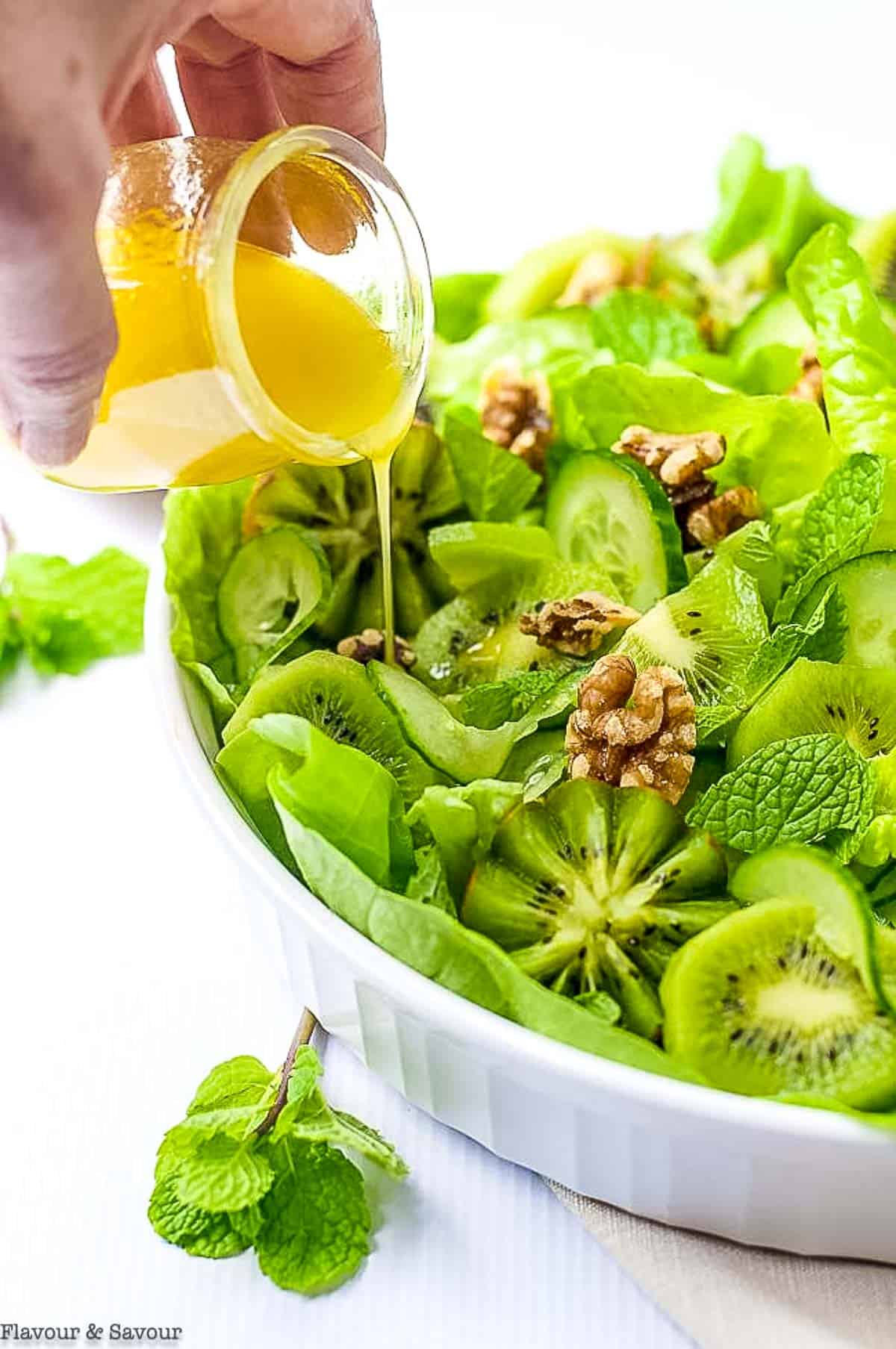 This Kiwi Cucumber Salad is definitely green, but it's certainly not a typical "green" salad! Tender butterhead lettuce leaves topped with sweet kiwi and thinly sliced crisp cucumbers make the base for this refreshing salad. Walnuts and fresh mint leaves add a punch of flavour.
And there's more to enjoy: this kiwi salad is tossed with a honey-sweetened lime vinaigrette!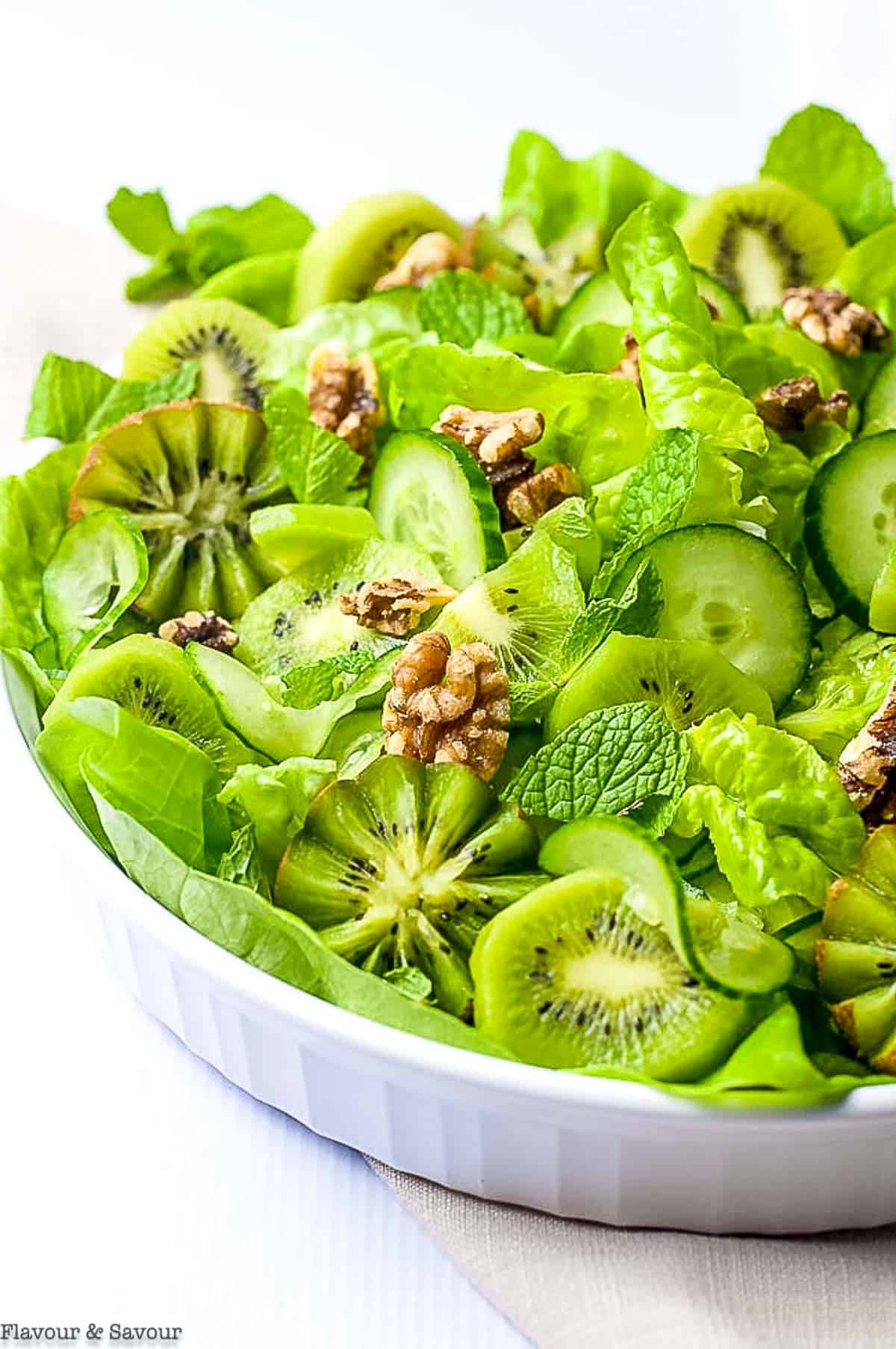 ❤️ Why this kiwi salad is particularly healthy

I've always known that kiwifruit is a good source of Vitamin C, but I wasn't aware of all the other benefits of this fuzzy little fruit. While our kiwifruit usually comes from New Zealand or California, occasionally it's imported from Italy. Sweet, firm and juicy, and absolutely perfect!
I learned that two kiwifruit contain as much potassium as a banana, and twice as much Vitamin C as an orange. They are an excellent source of fiber, even if you don't eat the skin (which is NOT weird in your mouth and is fine to eat as long as you wash it first).
Eaten regularly, kiwifruit is a heart-healthy choice as it can thin the blood and reduce blood clotting and lower triglycerides. Not only that, it is also a good source of magnesium.
All good reasons to pick up a few next time you shop!
🛒 Ingredients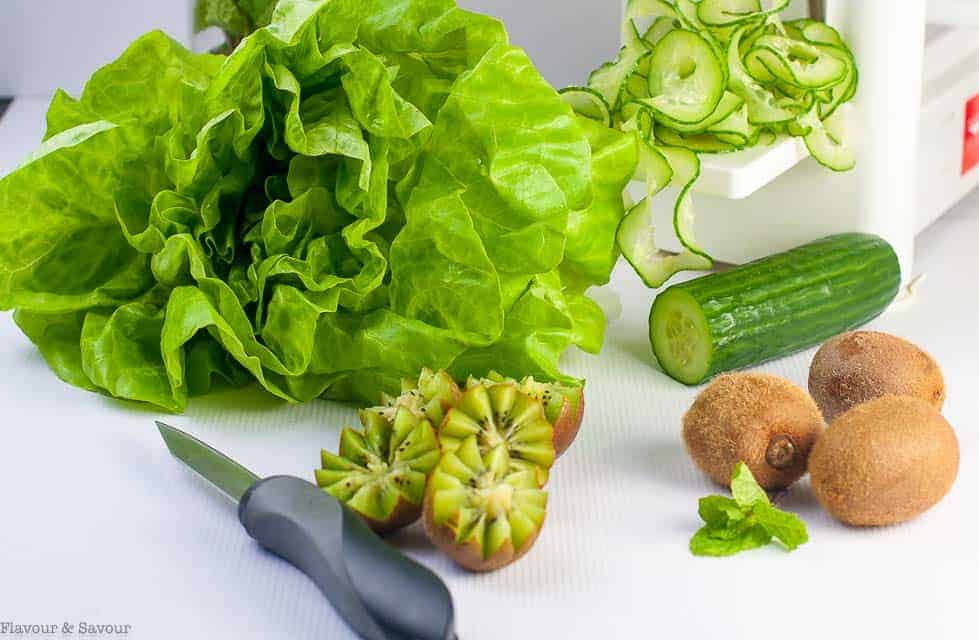 Ready to make this kiwi cucumber salad? Here's what you'll need.
lettuce: a head of butter lettuce, or fresh greens of your choice
kiwifruit: you'll need 5 or 6 depending on their size
cucumber: I like to use a long English cucumber in this salad
walnut pieces: raw walnuts
fresh mint: a few sprigs
olive oil
lime juice (or lime-infused olive oil)
honey
rice vinegar or white wine vinegar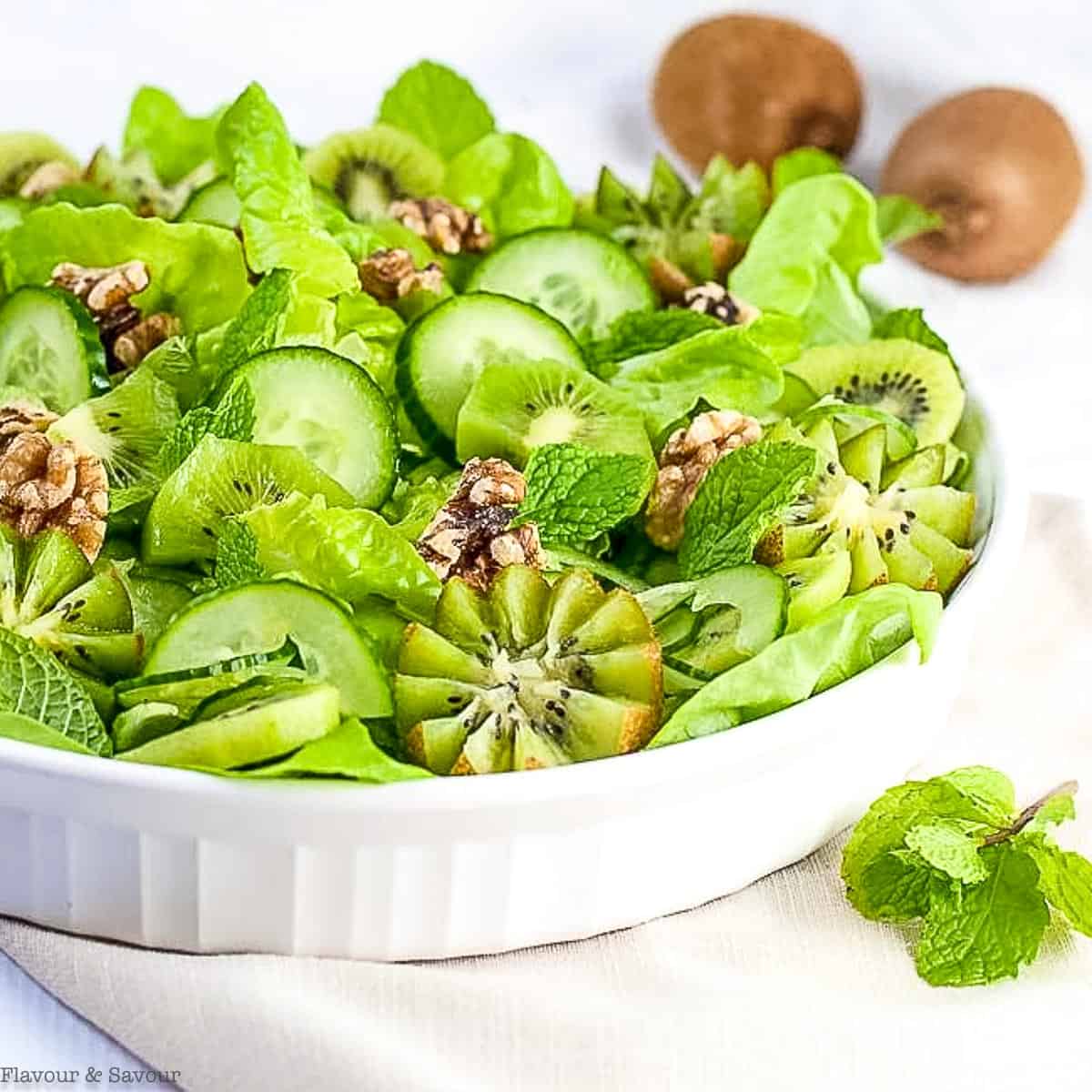 🔪To make this heart-healthy kiwi salad:
Begin by washing and drying the lettuce.
Slice the cucumber very thinly and pat dry to remove excess moisture so they stay crisp.
Cut the kiwi fruit. You can peel it if you like, but it's not necessary. The skin is full of fiber. Slice some of the kiwifruits and carve the rest into flowers if you'd like.
Combine the salad ingredients in a large bowl or shallow serving dish.
Garnish with walnuts and mint leaves.
Drizzle with Lime Vinaigrette just before serving.
How do you cut a kiwi for a salad?
What is the best way to cut kiwi for a salad?
You can either peel it with a vegetable peeler and slice it thinly, or leave the skin on. If the fruit is young and fresh, the peel will be tender. If you think it's a little tough, you can remove it.

The easiest way to peel a kiwi is to slice off both the top and bottom ends. Using a dessert spoon, insert it between the skin and the fruit and rotate the fruit. The skin will fall away with very little waste.
🍽 Serving Suggestions
This Kiwi Cucumber Salad makes a good potluck offering. I like it as a side salad with Easy Baked Lemon Chicken or Maple Garlic Glazed Chicken. It's delicious with these Moroccan Lemon Chicken Thighs.
You might also like this Kiwi-Mandarin Spinach Salad with Creamy Avocado Dressing or Blackberry Kiwi Salad with Oranges.
Looking for more ways to add heart-healthy walnuts to your diet? Try these oh-so-good Gluten-Free Maple Walnut Squares for dessert!
🗒More healthy salad recipes
When you make this kiwi salad with cucumbers and mint, please leave a comment and a rating below. I love hearing when you've made one of my recipes. Thanks in advance!
Subscribe to my weekly newsletter and have new recipes delivered straight to your inbox.
This recipe was originally published in 2018. It has been updated with new information. The recipe remains the same.
📖 Recipe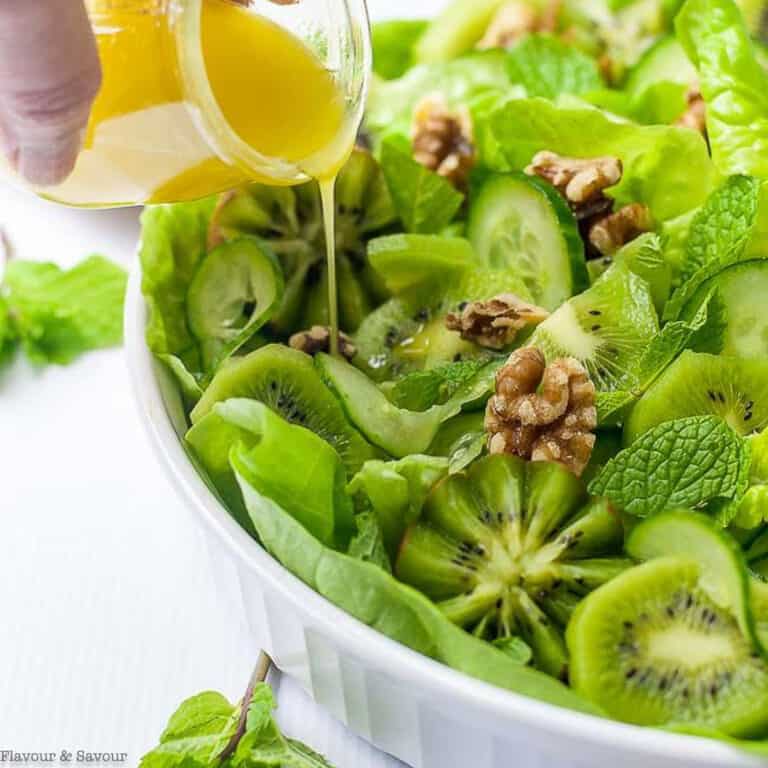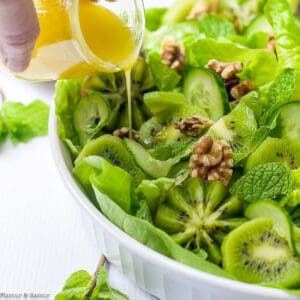 Kiwi Cucumber Salad with Walnuts and Fresh Mint
This Kiwi Cucumber Salad with Walnuts and Fresh Mint is definitely green, but it's not your typical green salad! Tender butter lettuce, crisp cucumbers and heart-healthy kiwi fruit are drizzled with Lime Vinaigrette in this tasty salad!
Print
Pin
Rate
Ingredients
1

head

butter lettuce (or other greens of your choice)

6

kiwi fruit

½

long English cucumber

⅓

cup

walnut pieces

1

handful

fresh mint sprigs
Lime Vinaigrette
¼

cup

olive oil,

extra virgin

1

tablespoon

lime infused olive oil,

OR 1 tablespoon fresh lime juice and 1 teaspoon lime zest

¼

cup

rice vinegar

2

teaspoon

honey

salt and pepper,

to taste
Instructions
Wash, dry and tear lettuce leaves and arrange in a serving dish or on 4 plates. Slice cucumber very thinly, using a sharp knife, a mandoline slicer or a spiralizer. Pat dry with paper towel to remove excess moisture. Add to salad.

Peel and slice 2 kiwifruit and add to salad. Carve the remaining kiwi fruit into flowers and add to salad. Top with walnut pieces and fresh mint leaves.

Drizzle with Lime Vinaigrette just before serving.
Nutrition
Calories:
321
kcal
|
Carbohydrates:
26
g
|
Protein:
3
g
|
Fat:
24
g
|
Saturated Fat:
3
g
|
Sodium:
7
mg
|
Potassium:
620
mg
|
Fiber:
5
g
|
Sugar:
16
g
|
Vitamin A:
1510
IU
|
Vitamin C:
129.1
mg
|
Calcium:
76
mg
|
Iron:
1.4
mg