You'll love this gluten-free fall quinoa salad with cranberries and pears for a healthy lunch or side dish! Full of harvest fruit and nuts, this salad is tossed with a delicious apple cider vinaigrette. This beautiful fall salad is Vegan, Paleo and Whole30 compliant.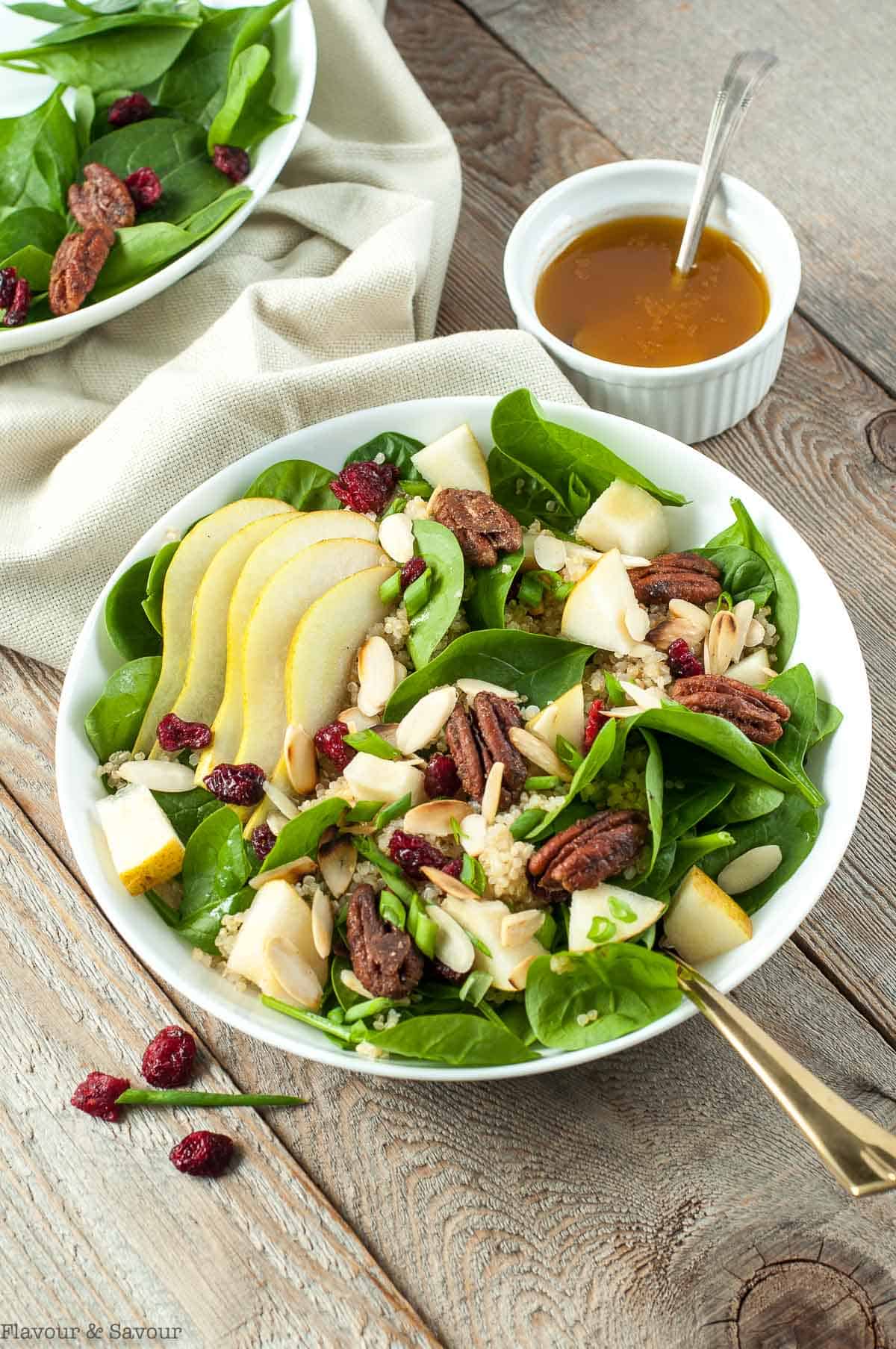 This healthy quinoa spinach salad is studded with fresh pears and dried cranberries. It's sprinkled with pumpkin spice pecans, toasted almonds and tossed with an apple cider vinaigrette. A perfect salad for fall!
While you may decide to put this on your menu as a side dish at your upcoming holiday dinners, once you taste it, you'll probably want to have this harvest quinoa salad make regular appearances for weekday lunches and dinners, too!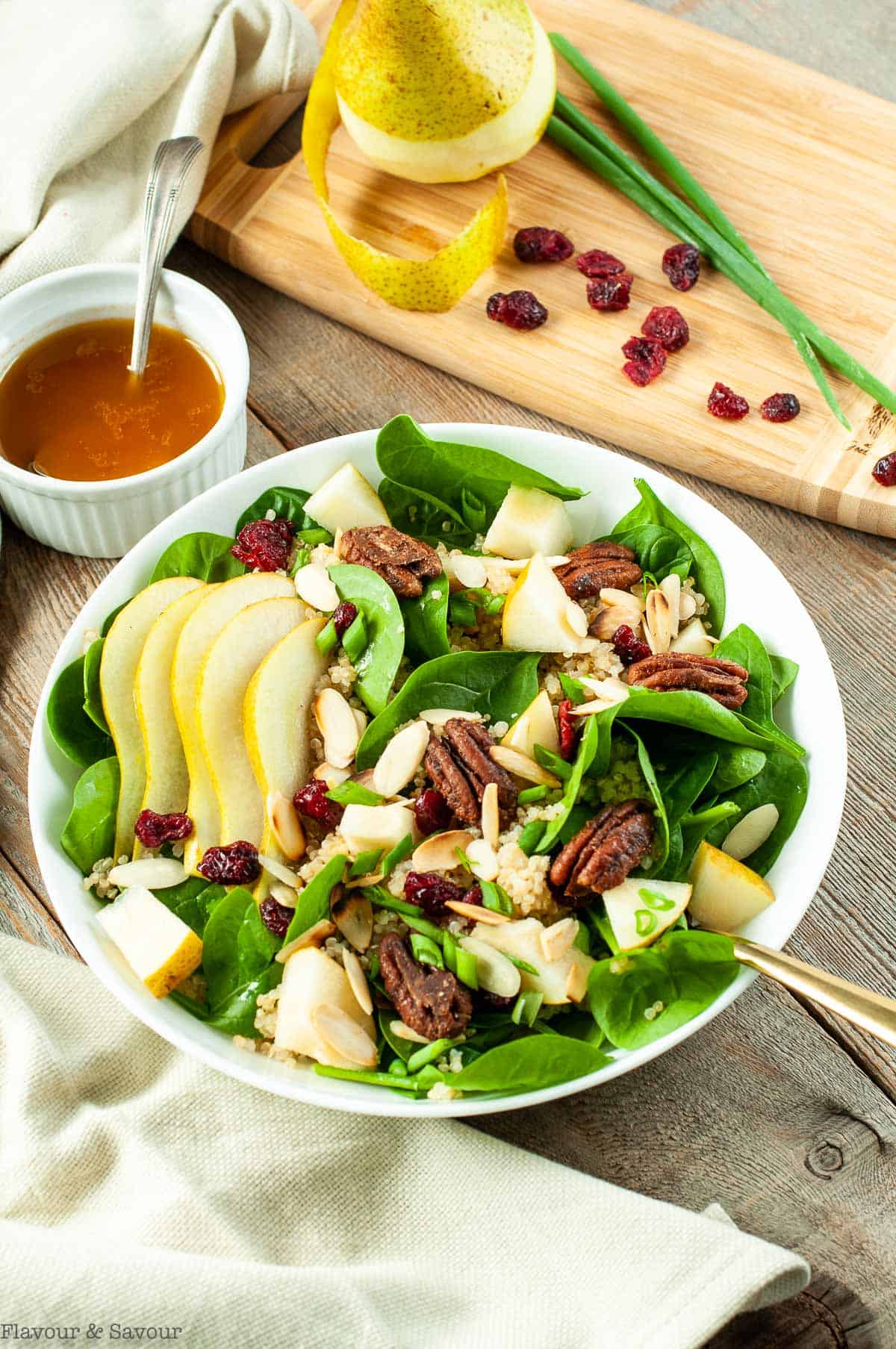 While pears are available year-round, they're at their peak in the early autumn. Look for the firm varieties for this salad, like Bosc, Anjou, Seckel, or even the tiny Forelle pears will be delicious. You could also use an Asian pear, also known as Apple Pear.
Ready to get started on this beautiful pear salad?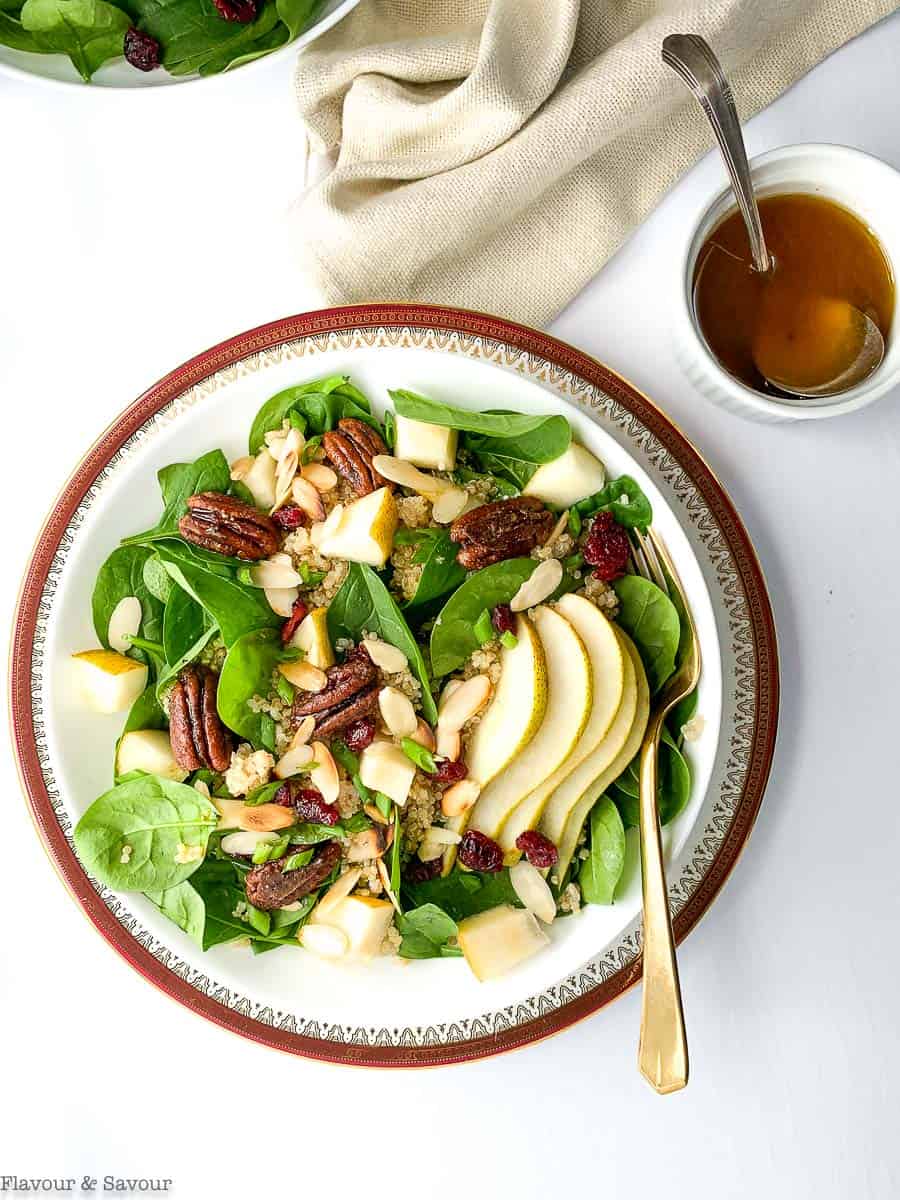 🛒 Ingredients
You'll find a complete list of ingredients in the recipe card below.
🔪 Instructions
Cook the quinoa and spread it out on a parchment paper-lined baking sheet to cool.
While it's cooking, combine the Apple Cider Vinaigrette ingredients and set aside to allow the flavours to blend.
Prepare Pumpkin Spice Pecans
Slice pears and toss with lemon juice to prevent browning.
Chop dried apricots (if using) and green onions.
Toast thinly sliced almonds.
In a medium bowl, combine quinoa, dried cranberries, optional dried apricots or raisins, sliced pears, and green onions with the Apple Cider Vinaigrette, adding a little of the vinaigrette at a time, just until moistened. You may not need all the vinaigrette.
Arrange this quinoa mixture on a bed of baby spinach.
Garnish with toasted flaked almonds and pumpkin spice pecans just before serving.
Storage instructions
Like you, I'm sure, I like making a dish and having leftovers for lunch or dinner the following day. This quinoa and pear salad keeps well in the fridge, for a day. If I'm making more than I need, I keep the spinach separate, adding it just before serving.
🍽 More healthy fall salad ideas
📖 Recipe
This post has been updated with new information and photos and the recipe has been tweaked.