Make this quick Indonesian Fried Rice (Nasi Goreng) when you have leftover rice! Add shrimp, chicken or make it a vegetarian meal and toss in some fresh vegetables.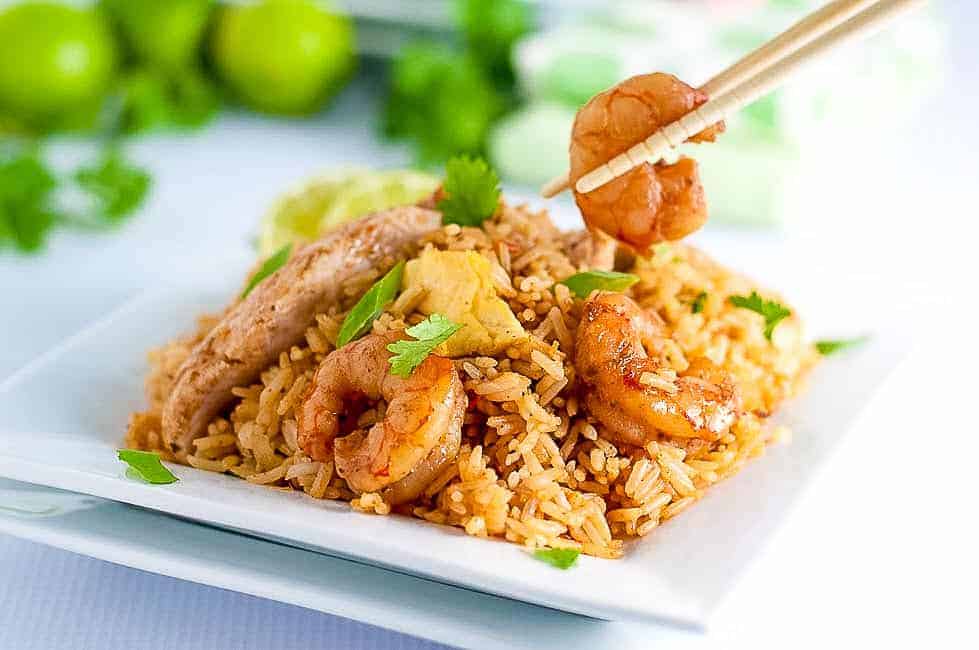 Nasi Goreng (Indonesian Fried Rice) was our favourite dish when we traveled in Bali in Indonesia. If you've been to Bali, you probably ate it there, too! It is available anywhere, anytime, for breakfast, lunch or dinner in high-end restaurants or off the street.
Later in our trip, we became more adventurous in trying different dishes, but at the beginning, my sensitive stomach told me to play it safe. I chose it from menus because it was one of the few things that was familiar to me. I knew it had been cooked over a high heat that would kill anything my sensitive Canadian digestive system wasn't used to.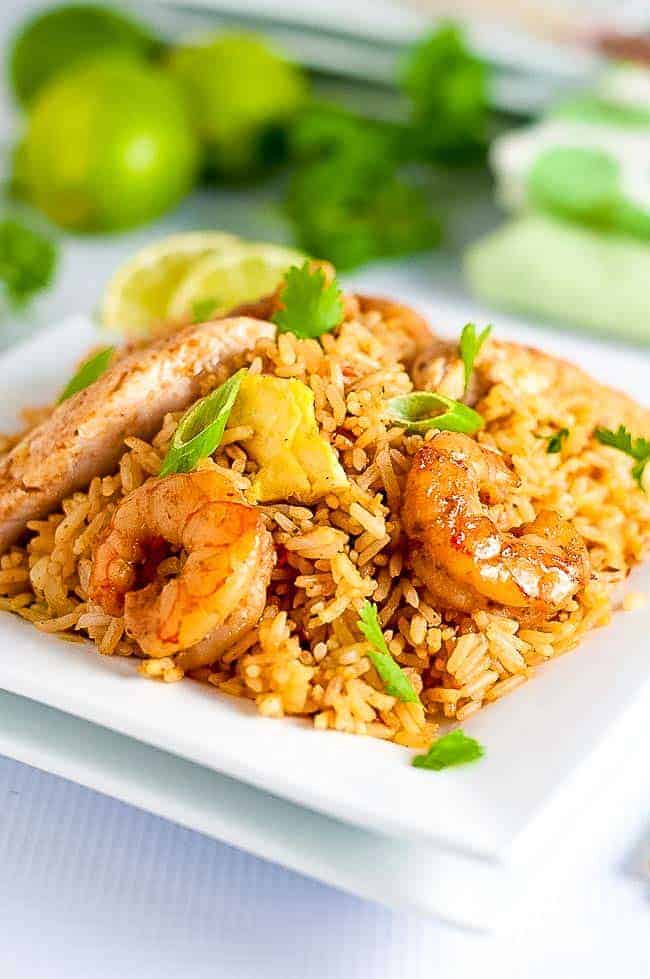 Nasi Goreng is simply fried rice. It's considered the national dish of Indonesia. In a country where nothing is wasted, leftover rice from the previous day's dinner is often turned into this flavourful dish the following day. It's mixed with seasonings, freshly caught prawns or shrimp and chicken, and it is garnished with cooked egg, green onions, and cilantro.
Rice cooked the previous day has a better texture for fried rice, as freshly cooked rice is too moist and soft. In a climate of intense heat and high humidity, labouring in a hot kitchen would be unbearable. This dish is cooked very quickly over high heat. It is often served with prawn crackers.
There are lots of different variations of this dish, depending on the region and available ingredients. This one is mine.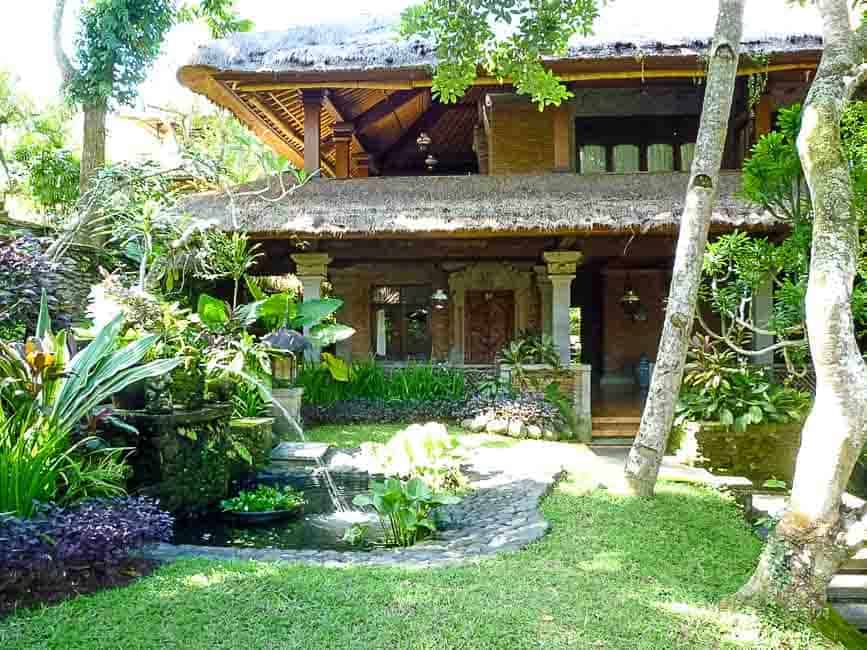 Our accommodation near Ubud was stunningly beautiful and ridiculously inexpensive!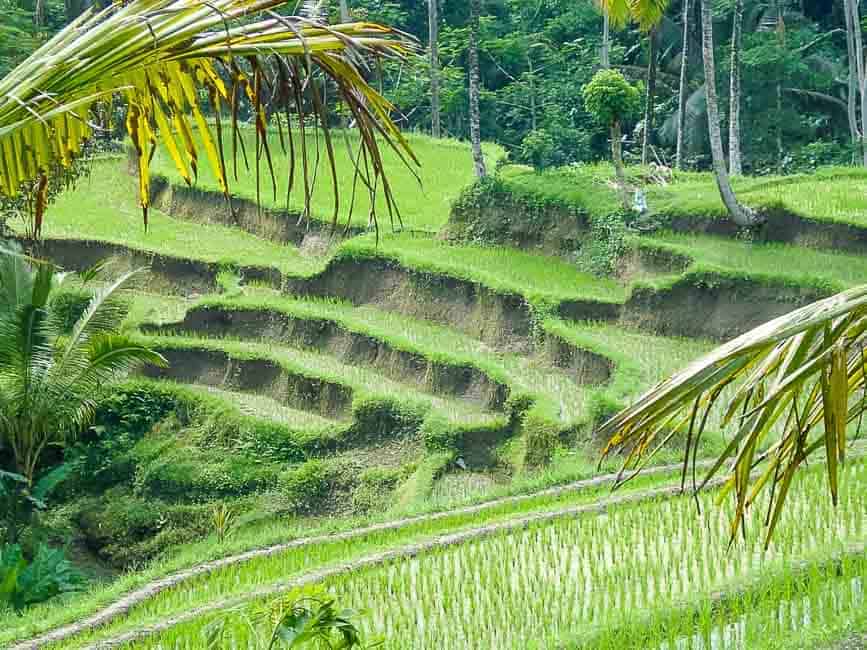 Rice growing on terraced hillsides in central Bali.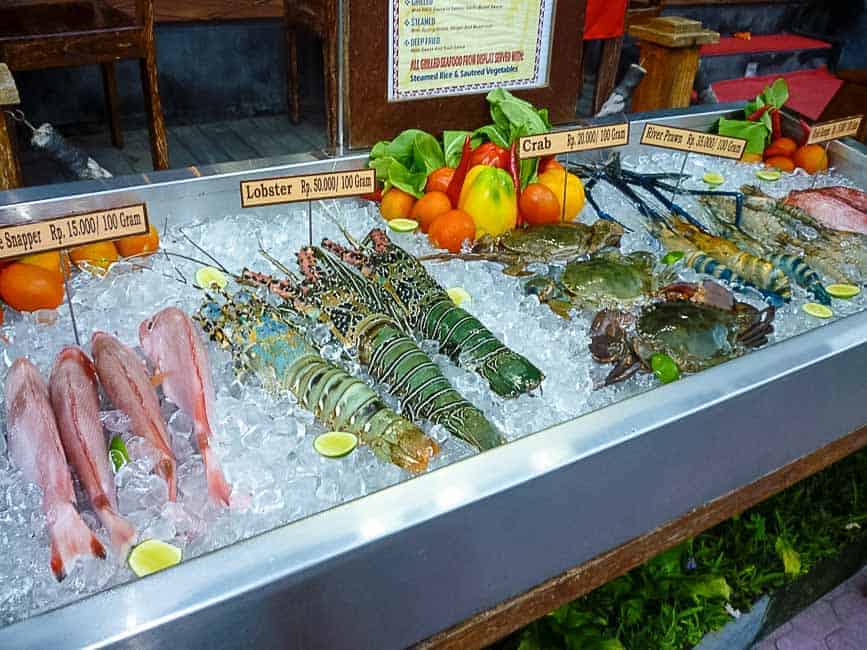 Fresh treasures from the sea.
I used Thai Jasmine rice in this recipe. If you're not familiar with the seasonings in this dish, here's a quick guide to Indonesian seasonings.
Sambal Oelek is a hot chili paste
Ketjap Manis is a thick, dark syrupy Indonesian soy sauce, and
Fish sauce is a fermented product made with fish (often anchovies) and salt.
All are usually available in the International food section of your supermarket.
This Nasi Goreng is even better the second day! The rice absorbs all those wonderful Indonesian seasonings. Just store leftovers in an airtight container in the refrigerator and gently reheat the following day.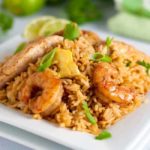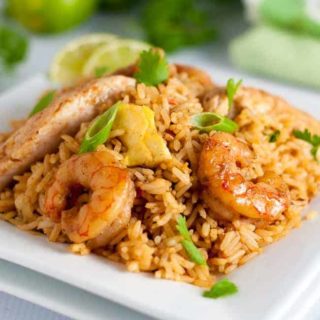 Nasi Goreng (Indonesian Fried Rice)
Make this quick Indonesian Fried Rice (Nasi Goreng) when you have leftover rice! Add shrimp, chicken or make it a vegetarian meal and toss in some fresh vegetables.
Print Recipe
Ingredients
2

cups

Thai Jasmine Rice

4

cups

water (or 2 cups water and 2 cups vegetable or chicken broth)

2

eggs,

beaten

2

tsp

sesame oil

1/2

tsp

salt

1or 2

boneless, skinless chicken breasts,

cut in 1/2 inch strips

24

large

prawns or shrimp, peeled

(fresh or frozen)

2

tbsp

grapeseed oil

3-4

cloves

garlic,

minced

1

medium

shallot,

finely chopped

2

tsp

fresh ginger root,

finely grated

1

tsp

black pepper,

freshly ground

2-3

tsp

Sambal Oelek

(hot chili paste)

1

tbsp

fish sauce or oyster sauce

1

tbsp

ketjap manis

(dark soy sauce)

3

tbsp

green onions

finely chopped

1/2

cup

cilantro leaves,

chopped
Instructions
Boil rice in water or broth or water-broth combination until cooked. Rinse, drain and spread out on a baking sheet to cool. Prepare the rice at least 2 hours ahead, or preferably the day before, chilling in the refrigerator overnight.

Whisk eggs with sesame oil and salt in a small bowl. In a small fry pan, make 2 thin omelettes and cut into strips. Set aside.

Heat a wok or large skillet over medium-high heat. Add the grapeseed oil, and heat until it ripples.

Add the shallot, ginger, garlic, and pepper and stir-fry for 2 minutes. Then add the chicken and shrimp and stir-fry for a further 2-3 minutes or until chicken is no longer pink. Add the cooked rice and continue to stir-fry for 3 minutes.

Stir in the sambal oelek, oyster or fish sauce and ketjap manis and continue to heat, stirring for 2 minutes.

Turn onto large serving platter and garnish with the omelette strips, green onions and fresh cilantro. Serve hot.
Nutrition
Kitchen Items I used to make Indonesian Fried Rice (Nasi Goreng)

This post contains affiliate links. If you click on any of the affiliate links and make a purchase within a certain time frame, I'll receive a small commission. The commission is paid by the third party, not by you. I am a participant in the Amazon Services LLC Associates Program, an affiliate advertising program designed to provide a means for me to earn fees by linking to Amazon.com and affiliated sites.
Like this recipe? Please pin it or share it! Subscribe to my weekly newsletter and never miss a recipe.