Fresh green veggies, lean chicken, and crunchy cashews meet up in a sweet 'n salty glossy teriyaki sauce! Learn how to make an easy Japanese Chicken Stir Fry, then customize it with your favourite vegetables. This teriyaki chicken stir-fry recipe is a 30-minute meal, perfect for busy weeknights!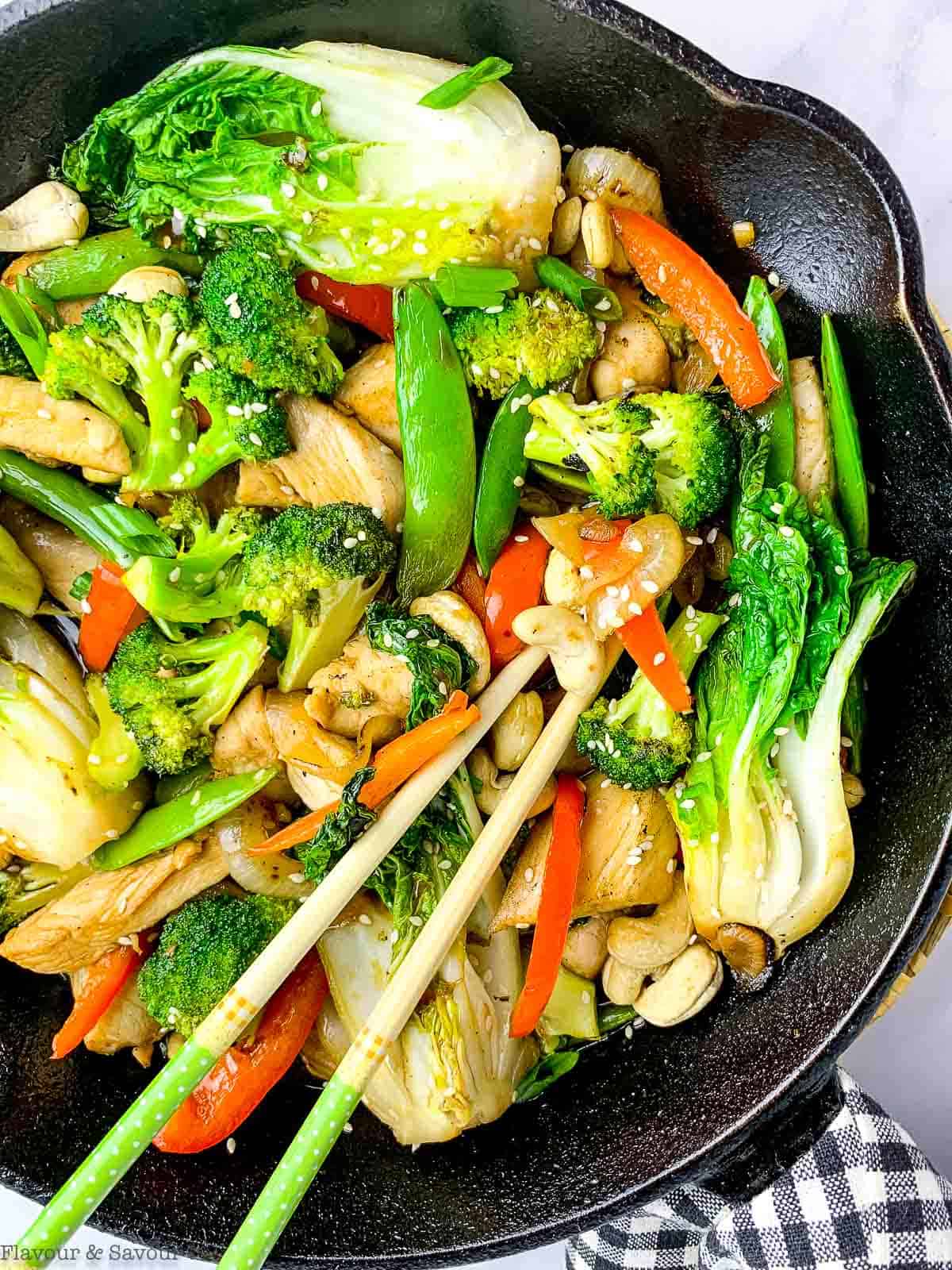 Dinner today will be this oh-so-good, super simple, naturally gluten-free Japanese chicken stir fry with broccoli, bok choy and peppers. Seriously, this meal can be on your table in 20 minutes. Three cheers for quick, healthy weeknight dinners!
Jump to:
❤️ Easy 30-minute meals can be lifesavers!
Stir fry dishes like this one or this Lemon Garlic Shrimp and Snow Pea Stir Fry can be life-savers on busy nights. You can feel great about making a nutritious meal in no time flat!
If you love quick and easy meals, (and who doesn't?) you'll like this collection of Gluten-free Meals in 30 Minutes or Less!
And the best part of this recipe (besides that super tasty teriyaki marinade) is that you can MAKE IT YOUR OWN. Add whatever veggies you like, change the meat (or omit it entirely), serve over rice or noodles, or just have it as is.
You can avoid mushy, overcooked vegetables drowned in sauce by following the tips I've included below.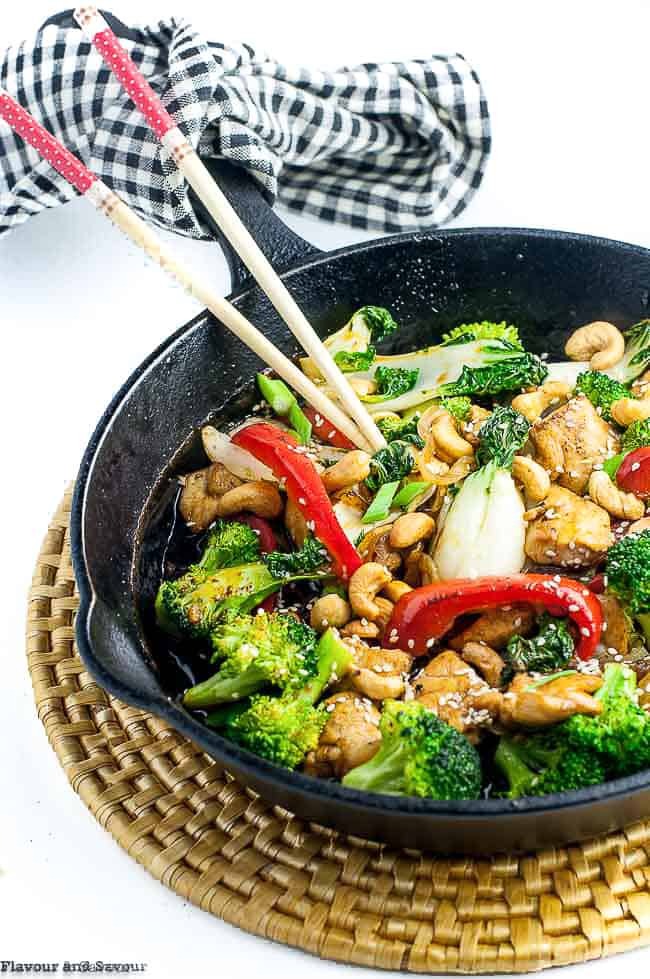 Let's make a grocery list and make this healthy teriyaki chicken stir fry with vegetables!
🛒Ingredients
chicken: any kind of boneless chicken, breasts, thighs or chicken tenders.
vegetables: broccoli, baby bok choy, white onions, red peppers, garlic (see the list below for more suggestions).
marinade ingredients: coconut sugar (or brown sugar), soy sauce (or gluten-free tamari or coconut aminos for paleo diet), mirin (substitute sherry, sake or white wine if you can't find any) and rice wine vinegar.
garnishes: cashews, sesame seeds, and green onions (scallions)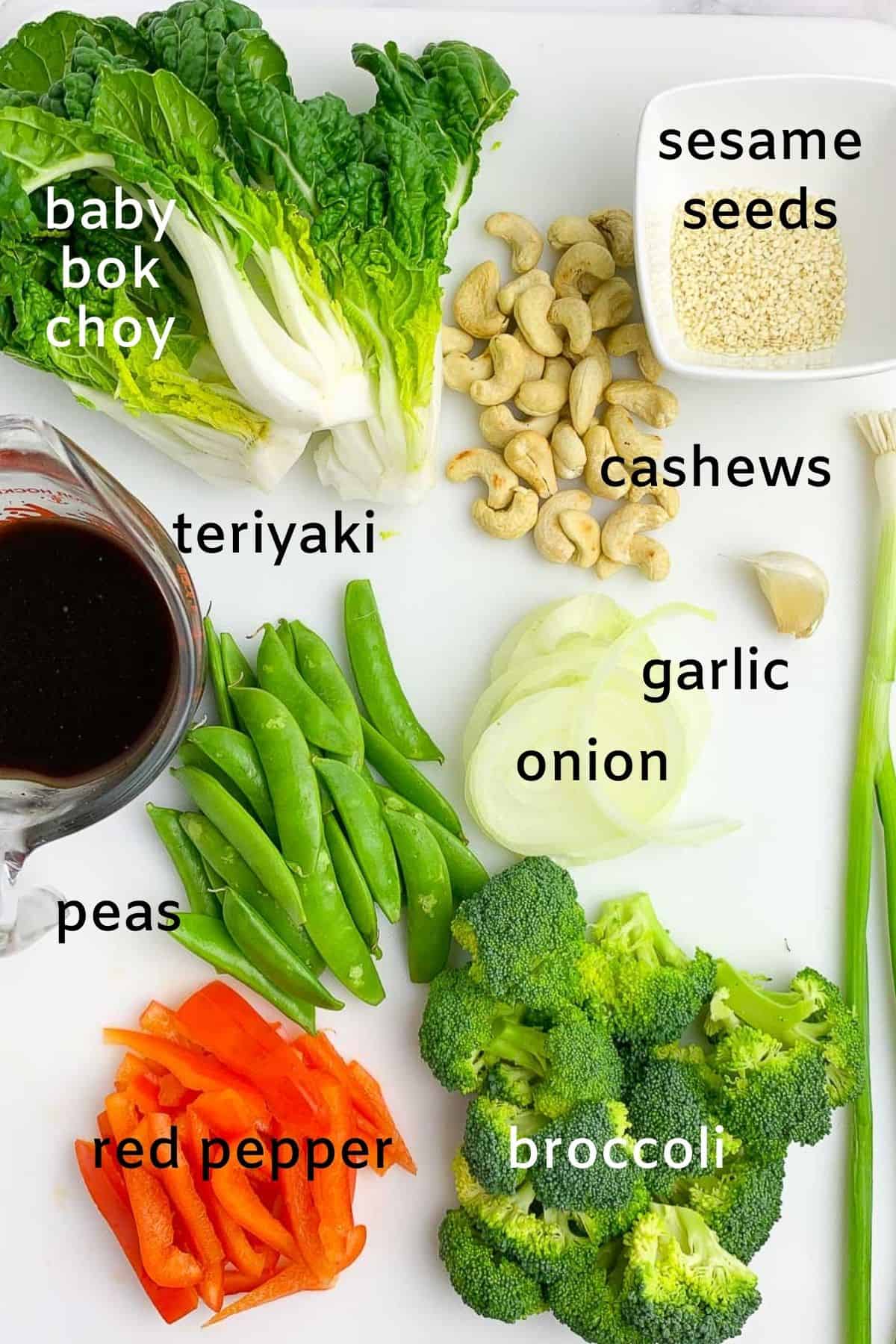 Here's my advice for how to make an easy Japanese Chicken Stir Fry. This is a super simple recipe, but I've found that my stir-fries consistently turn out beautifully if I follow the steps in this order.
🔪Step-by-step Instructions
First, whisk the marinade ingredients together and set aside,
Next, prepare all your vegetables. Cut them into bite-sized pieces, then pat dry. This step is important. If they're wet, the vegetables will steam and turn out limp and soggy. And that is not what you want in a good stir fry!
Heat a heavy-bottomed pan, like a cast-iron skillet, over high heat. A very hot pan is the key to a good stir fry. Add a small amount of oil and tilt the pan to coat the bottom evenly.
Add the broccoli and stir fry for 2 - 3 minutes or just until it turns bright green and is beginning to tenderize. Remove from the pan and transfer to a bowl.
Next, toss in the slices of white onion, baby bok choy and red pepper strips. Again, stir-fry until bok choy becomes bright green and is beginning to wilt and peppers are starting to blister. Remove from the pan and add to the broccoli in the bowl.
Drizzle in a tiny bit of oil, tilt to coat the pan evenly. Stir fry the minced garlic and chicken pieces until browned on all sides.
Then add the marinade and stir to coat evenly.
Transfer the vegetables from the bowl back into the pan, stir to coat with all that yummy marinade (which will thicken slightly).
Toss in a handful of cashews, sprinkle with sesame seeds and garnish with a few slices of green onion.
Ready to serve!
👍🏼 Helpful tips
This chicken stir fry makes a quick and healthy dinner. The glossy, flavour-packed teriyaki-style sauce deliciously coats every element, since the sauce has reduced and thickened slightly.
You may be tempted to leave out the sugar in this recipe. It's a small amount and it's necessary to balance the flavours in this marinade.
If you like a thicker sauce, cornstarch works well as a thickening agent, but you can get similar results using potato starch or arrowroot (although these last two sometimes make a sauce a little gooey.)
Adding the marinade near the end of the cooking time works best for me. It doesn't need to cook for long, it simply needs to be heated through.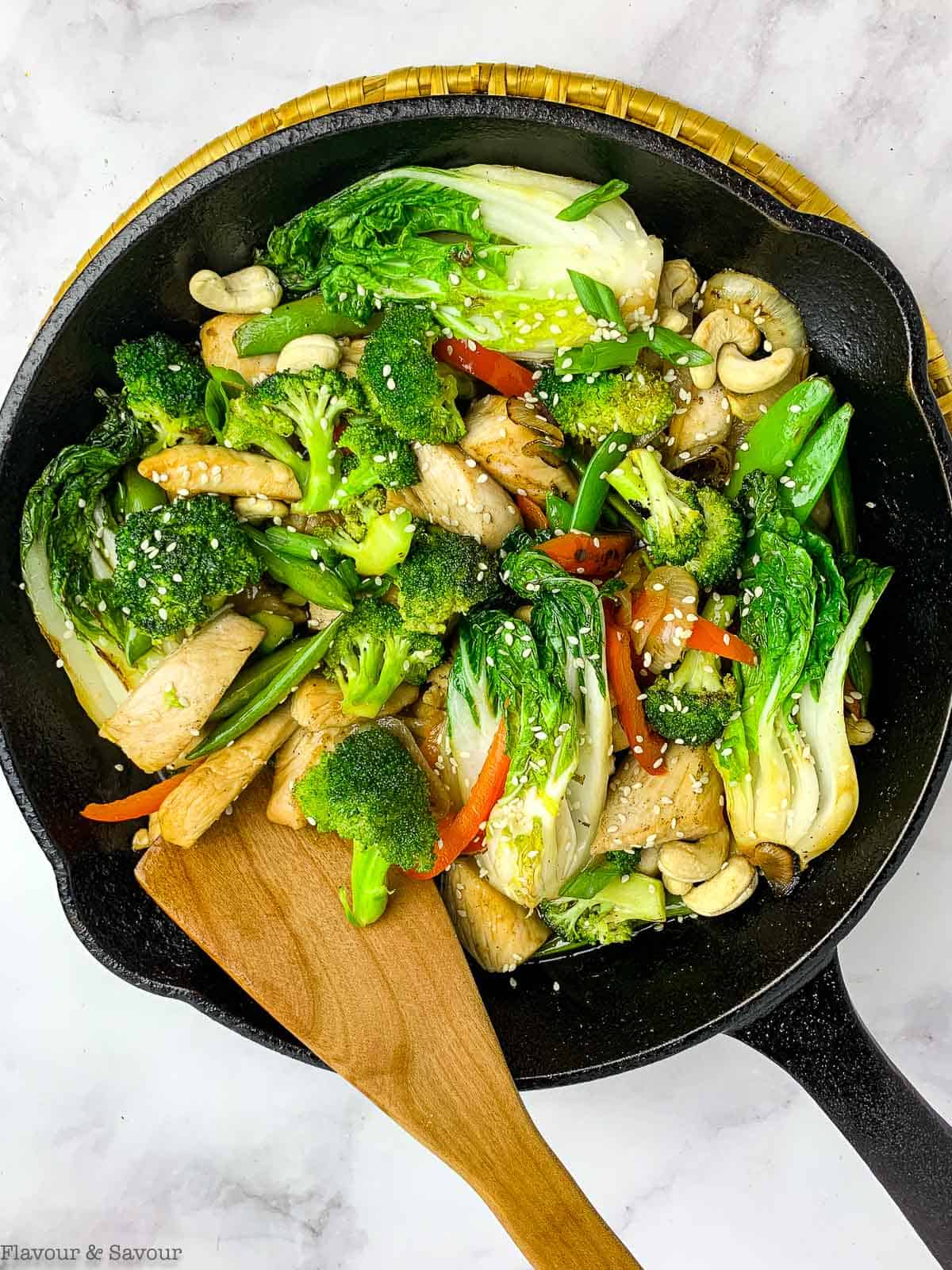 👍🏼 Best vegetables for stir-fry
🍽 What to serve with stir-fry
Spoon this teriyaki stir-fry over basmati or brown rice, or on top of your favourite noodles, (gluten-free if necessary). Or just enjoy it as is, dished out straight from the pan. I like to serve stir-fry in bowls, so it stays hot.
🍳Storing and reheating stir-fry
Stir-fry is best enjoyed hot, straight from the pan. You can, however, reheat leftovers the following day.
The best way to reheat stir-fry is in a skillet on the stovetop. Heating over medium-high heat for a few minutes will perk up any limp or soggy veggies like broccoli or bok choy.
Microwaving leftover stir-fry would be my last choice!
🤔Frequently asked questions
Did you make this recipe? Let me know how you liked it in the comments section below. Please leave a comment and a rating. Thanks in advance! Subscribe to my weekly newsletter and have new recipes delivered straight to your inbox.
📖 Recipe Card