Fresh spicy Thai mussels steamed in an aromatic coconut broth make an impressive starter, lunch or light dinner. Ready in 20 minutes! Worried about cooking mussels? No need to be! This post includes tips for how to clean and debeard mussels and how to cook mussels safely.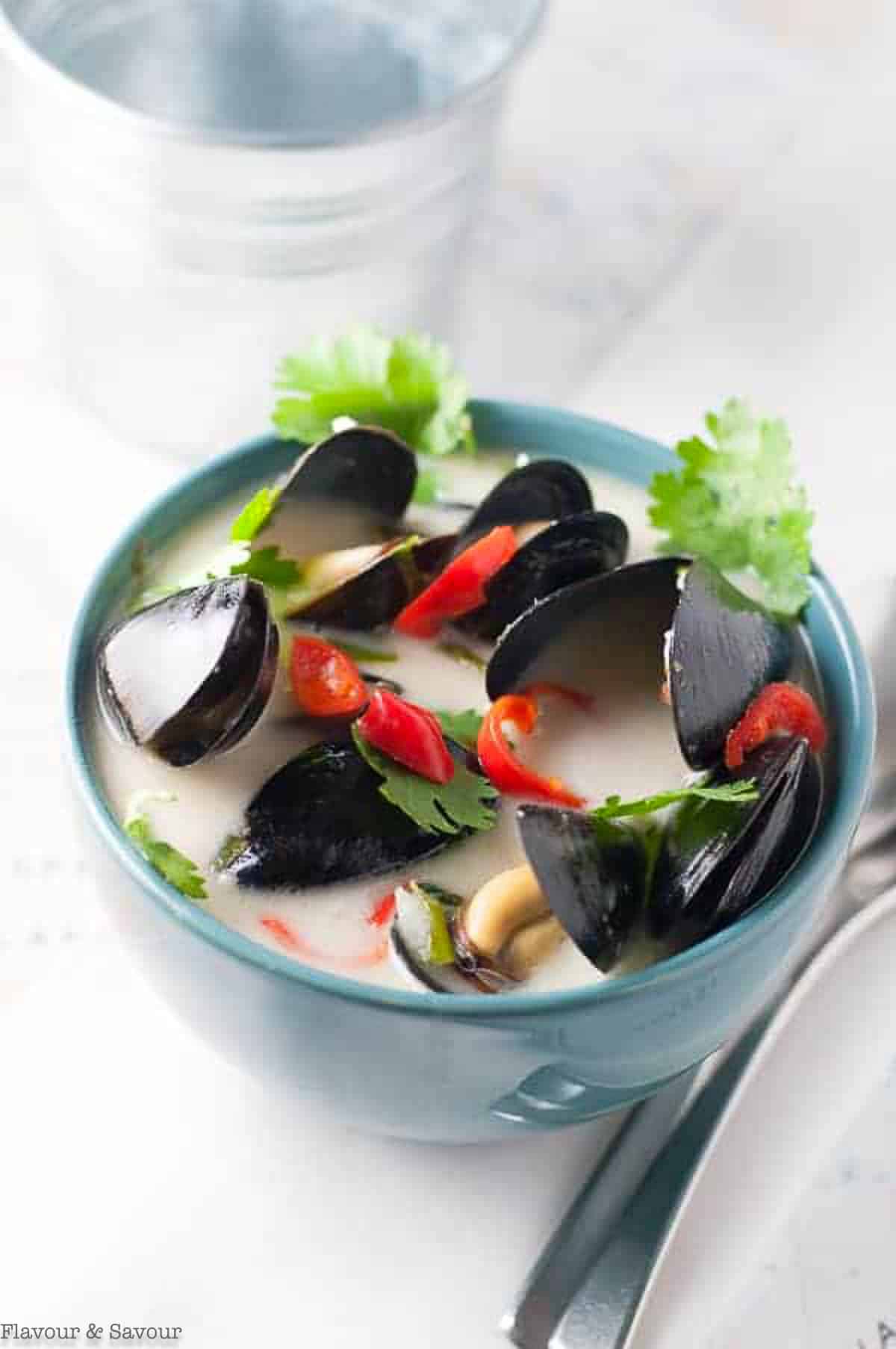 This recipe for spicy Thai mussels makes an easy starter, lunch or light dinner that you can make in less than twenty minutes. Steamed in aromatic coconut broth and seasoned with lemongrass, these mussels cooked in coconut milk make a showstopper appetizer.
Mussels have a mild flavour and no "fishy" taste that some people shun. You can make this recipe as spicy or as mild as you like by varying the amount of chili pepper.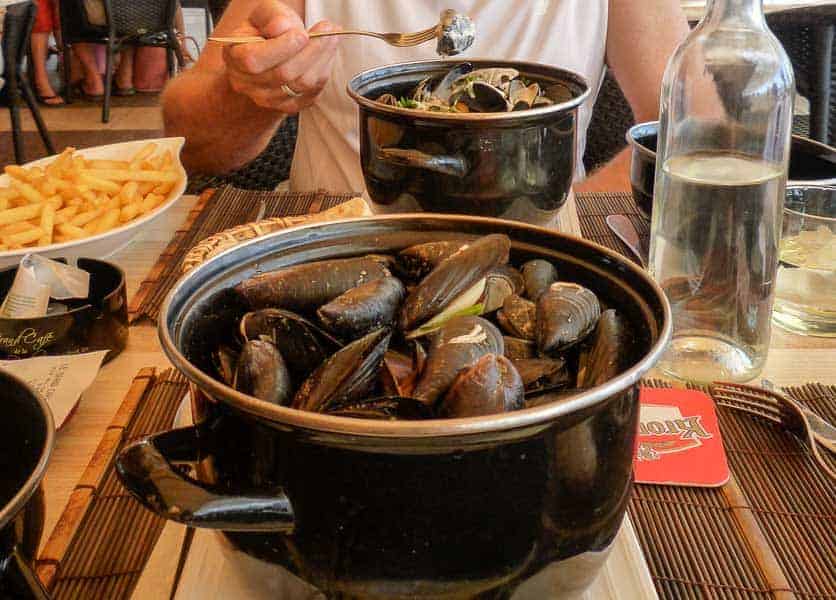 Whenever I cook mussels, I remember an unforgettable lunch in a sunny seaside café in Toulon, in Provence on the south coast of France. Moules et frites, (mussels and fries) is a popular menu item in France and Belgium, especially in the coastal towns where the mussels are freshly harvested daily.
Serving sizes in France are huge, often one and a half kilograms of mussels. They are usually cooked in a white wine broth, with a variety of seasonings like shallots and garlic, and sometimes with Asiago cheese. They're always accompanied with a large side of fries for dipping into the sauce.
That lunch, feasting on mussels in the warm Mediterranean sunshine, is one I'll always remember!
We have our own Provence right here at home, however, and fresh sustainable seafood is readily available. We sometimes like to start a meal with a seafood appetizer, like these Gin-gingered Prawns, Bacon-Wrapped Prawns , Easy Cold Crab Dip or this fabulous Shrimp Salad with Grapefruit and Mint.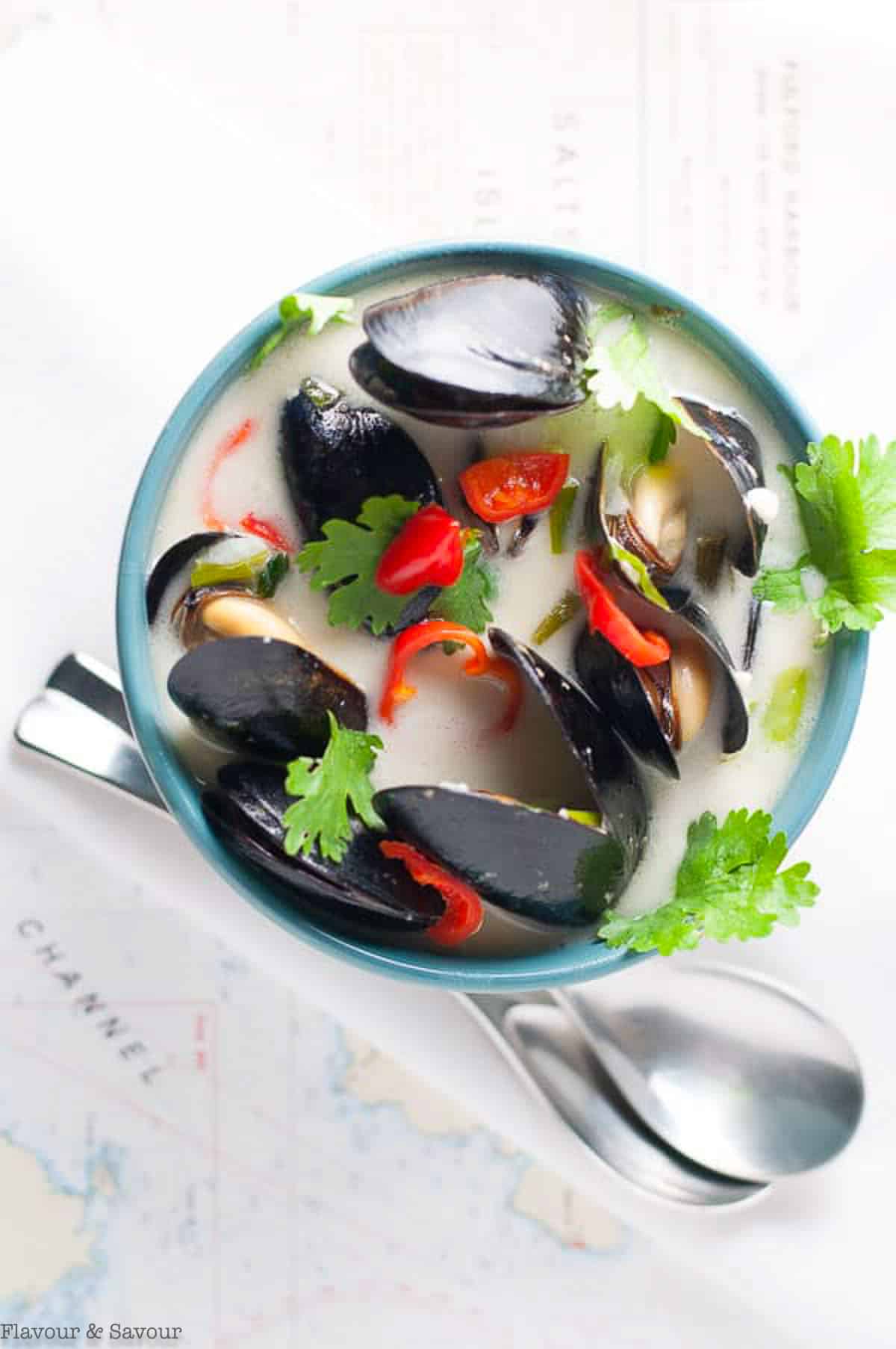 Ready to gather your ingredients to make these spicy Thai mussels? Here's what you'll need:
🛒 Ingredients
fresh mussels: scrubbed and debearded (see video below for instructions)
oil: olive oil or avocado oil
green onions: also known as scallions, or spring onions
lemongrass: one stalk
garlic: fresh cloves
cilantro: fresh leaves
red Thai chili pepper: fresh or half a dried Thai chili pepper
canned coconut milk: full fat or light
fish sauce: just a little. While fish sauce has a very strong odor, you won't notice it in the final dish.
fresh lime: a final squeeze in the finished dish adds a surprising amount of incredible flavour!
🔪 Instructions
Is this spicy Thai mussels recipe complicated? No! Not at all.
Here's a quick overview of the method for cooking mussels in coconut milk. Complete instructions are in the recipe card below.
You'll start by sautéing the flavouring ingredients like onions, garlic, lemongrass, and cilantro stems in a little oil.
Next, you'll add a can of coconut milk, a Thai chili pepper and a splash of fish sauce.
And finally, you'll toss in the mussels and steam them for 4 to 5 minutes. Sound easy? It really is.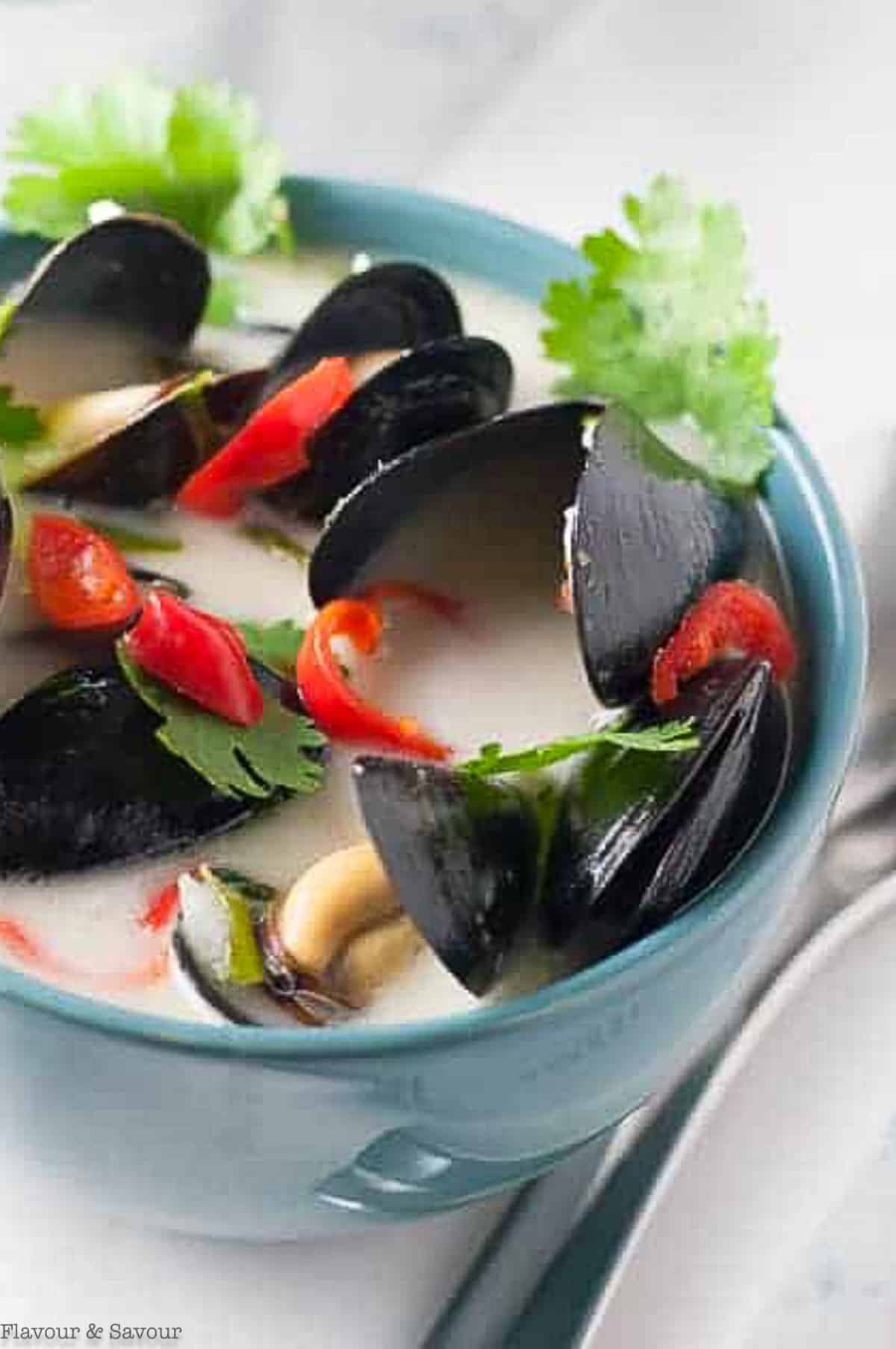 👍🏼 Tips for how to prepare mussels safely
Always buy fresh mussels. Frozen mussels will likely be rubbery and tough and you'll be incredibly disappointed. Buy them from the fish counter in your supermarket or from your fish monger.
Check each shell. The shells should not be cracked and they should close tightly. If they're open, give them a tap with the back of a spoon. If they close, they're safe to eat.
To prepare them safely, cook them (preferably) on the day you buy them.
Keep them chilled in the fridge until you're ready to cook them. If they have come in a plastic bag, open the bag, or better still, transfer them to a bowl and cover it with a damp cloth so they don't dry out.
👍🏼 How to clean mussels
Clean them an hour or two before you plan to cook them. Soak them in cold, salted water for 15 minutes. Dissolve ¼ cup of salt in 3 cups of water and add the mussels. Mussels filter water in and out as they breathe. This step will help remove any bits of sand that may be left.
Scrub the shells with a stiff brush under running water. Wild mussels may have bits of barnacles still attached.
Remove the "beard," the small fibers that look like hair on one side. (It's a mussel's method of attaching itself to rocks or ropes. ) Tug the beard firmly towards the hinge and it will come off. (Many mussels, especially those that are farm-raised, come already debearded, but there may be a few hairs left.)
Return the cleaned mussels to the fridge to keep them chilled until you're ready to add them to the broth. I fill a ziplok bag with ice and put the mussels in a bowl with it.
Watch this short video on how to clean, debeard and store mussels safely.
👍🏼 Expert Tip for cooking mussels
It's easy to overcook mussels because they won't all cook at the same time. A trick I use is to watch them carefully as they cook. Using tongs, remove them one by one as they open, then pop them back into the broth once they're all done.
🍽 Serving suggestions
Add a squeeze of fresh lime to each bowl just before serving. Serve these mussels with a glass of chilled white wine and crusty bread for soaking up the sauce. You'll have the beginnings of a memorable meal! Remember to put a bowl for the empty shells on the table.
When you make these Thai mussels, please leave a comment and a rating below. I love hearing how my recipes turned out for you. Thanks in advance! Subscribe to my weekly newsletter and receive new recipes directly in your inbox.
I originally published this post in 2015. I have updated it with new information to make it more helpful. This recipe was adapted from Jamie Oliver's Thai Mussels.
🗒 More seafood recipes
📖 Recipe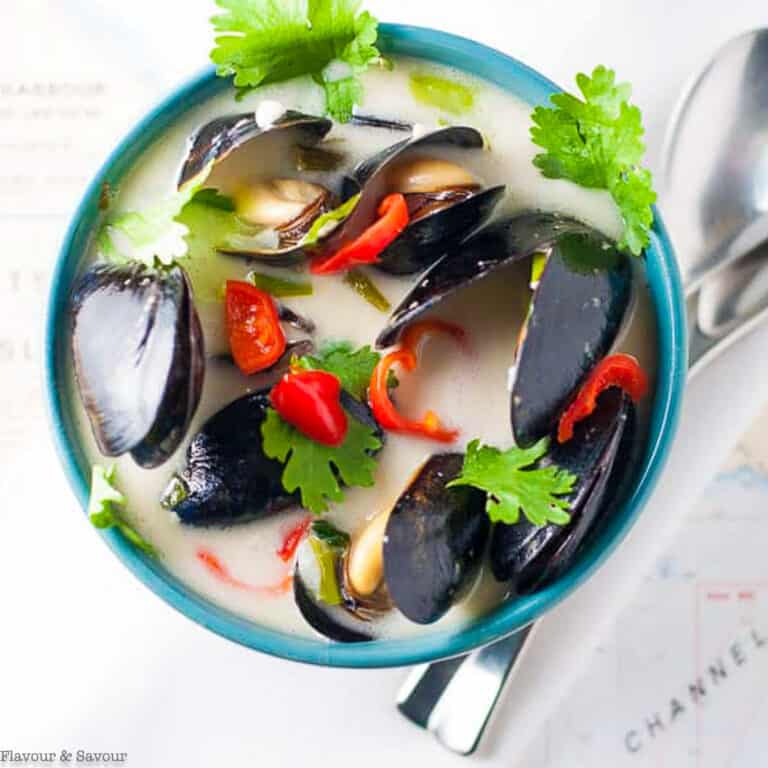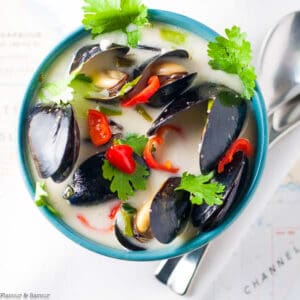 Spicy Thai Mussels
This easy recipe for fresh spicy Thai mussels steamed in an aromatic coconut broth make an impressive starter.
Print
Pin
Rate
Ingredients
20

to 24

fresh mussels,

scrubbed and debearded

2

tablespoon

oil

4

green onions

1

stalk

lemongrass

2

cloves

garlic

½

cup

cilantro

1

medium

red Thai chili,

or ½ dried Thai chili, finely chopped

1

can

coconut milk,

(400 ml) full fat or light

1

tablespoon

fish sauce

1

medium

lime
Instructions
Scrub and debeard the mussels if they haven't already been debearded. Discard any that aren't tightly closed or that don't close when you tap them.

Slice the onions thinly on a 45° angle. Remove the tough outer leaves of the lemongrass stalk and cut it into short lengths, about 1 inch long.

Mince the garlic, remove the leaves from the cilantro stalks and chop the stems.

Slice the chili pepper very thinly.

Heat the oil in a heavy bottomed pan. Add the onions, lemongrass, garlic, and cilantro stems and cook, stirring until softened but not browned.

Add the coconut milk, Thai red chili pepper and fish sauce to the pot. Bring to a boil.

Add the mussels all at once. Cover the pot and steam the mussels for 4-5 minutes until opened. Discard any that do not open.

Ladle into bowls and garnish with a squeeze of lime juice and some fresh cilantro leaves. Serve immediately.
Notes
Thai red peppers are very hot. You may wish to wear gloves when handling them.
See the post for tips for how to prepare mussels safely and how to clean and debeard them.
Nutrition
Calories:
543
kcal
|
Carbohydrates:
15
g
|
Protein:
7
g
|
Fat:
55
g
|
Saturated Fat:
37
g
|
Polyunsaturated Fat:
5
g
|
Monounsaturated Fat:
11
g
|
Trans Fat:
1
g
|
Cholesterol:
3
mg
|
Sodium:
767
mg
|
Potassium:
671
mg
|
Fiber:
2
g
|
Sugar:
2
g
|
Vitamin A:
561
IU
|
Vitamin C:
23
mg
|
Calcium:
82
mg
|
Iron:
8
mg