This Fennel-Crusted Salmon recipe makes succulent salmon fillets coated in a flavourful crispy fennel and pepper coating. This dish is incredibly easy to prepare and takes less than 30 minutes to make. Keto and Paleo-friendly.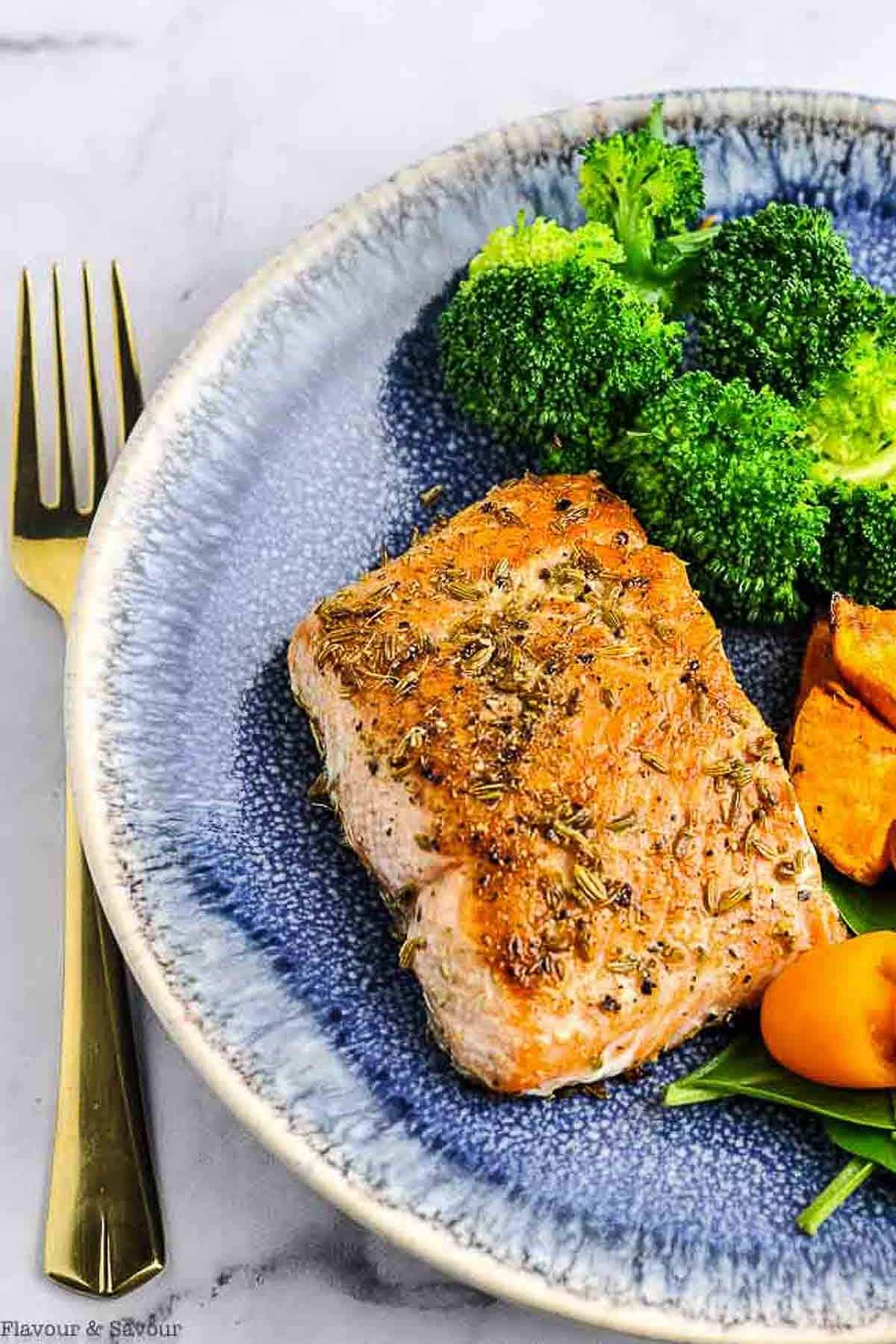 Keto Fennel-Crusted Salmon is on my menu today! Not only is it delicious, it makes a quick and easy paleo, Whole30, and Keto-friendly dish that can be on your table in less than 30 minutes. My kind of meal!
Salmon with fennel seeds may be new to you, but you'll love it!
Jump to:
❤️Why this recipe works
Easy and delicious: This Keto Fennel-Crusted Salmon is equally as delicious and just as easy as Pistachio-Crusted Salmon. I've adapted this recipe from one published in Salmon: The Cookbook –edited by Bill Jones. When I first read this recipe, I was doubtful that the two flavours would mesh, but it's a perfect match. The crusty coating complements the flavour of the salmon without overpowering it.
A healthy choice: Wild salmon is a powerhouse of nutrients! Nutritionists recommend that we eat it once or twice a week. It contains two of the most important omega-3 fatty acids, nutrients that our bodies can't produce themselves so we have to obtain them from our food. These 11 Health Benefits of Salmon will convince you to eat it more often!
Protein-rich: It's packed with protein, but I eat salmon mainly because it simply tastes so good!
Let's get started on this simple recipe for salmon with fennel!
🛒 Ingredients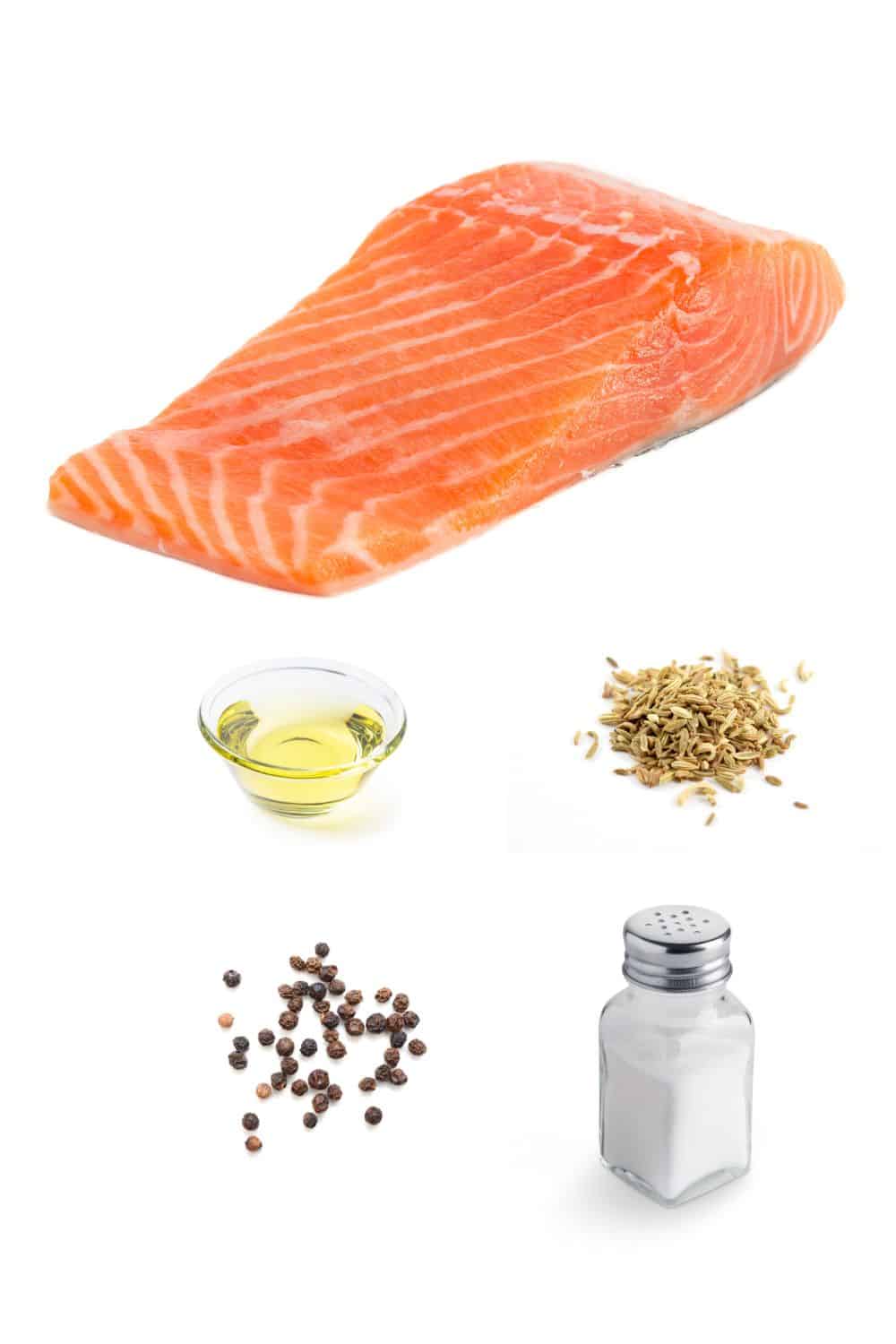 salmon fillets: use wild-caught salmon that's available where you live. Most frozen salmon has been flash-frozen at sea to preserve its freshness.
olive oil: a little for brushing on the salmon before baking
fennel seeds: you'll be crushing these before coating the fish
peppercorns: you'll grind these too.
sea salt
That's all!
🔪 Instructions
Begin by crushing the fennel seeds. You can use a mortar and pestle if you have one, or you can put the seeds in a bag with a zipper closure and smash them with a rolling pin or a mallet. Alternatively, pulse them briefly in a clean coffee grinder.
Crushing them brings out their flavour. Your kitchen will smell amazing!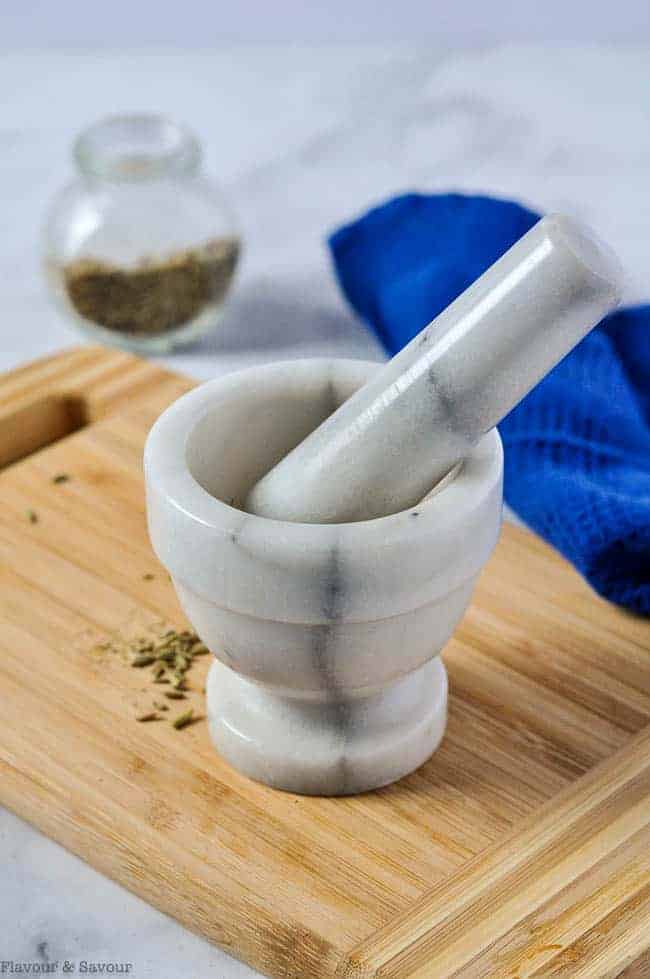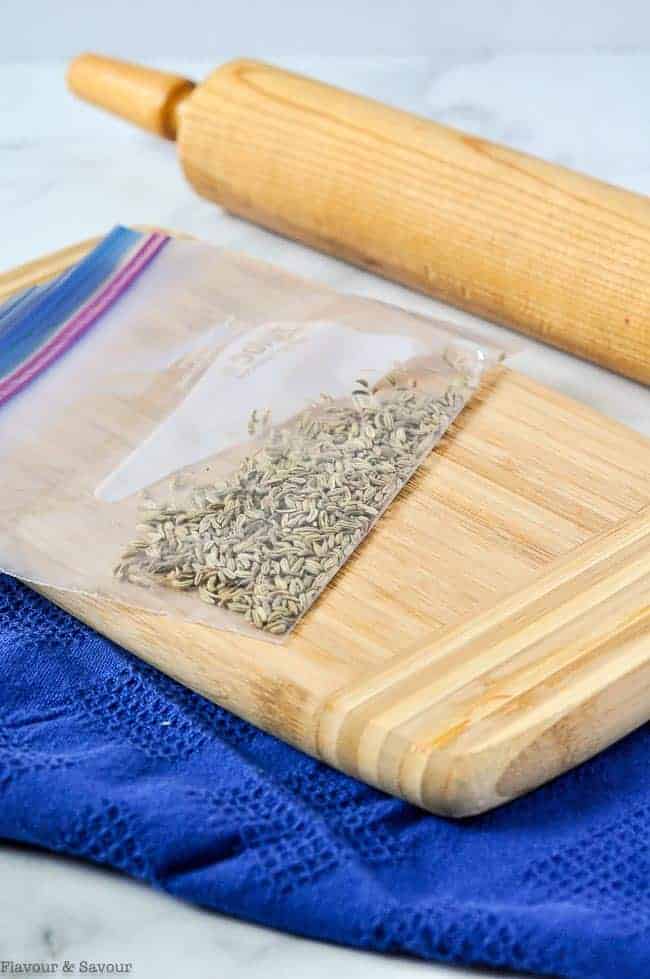 Remove any pin bones from the salmon fillets if they haven't already been removed. Pat the salmon fillets dry, score the skin at half inch intervals, then brush with a little extra virgin olive oil on both the flesh side and the skin side.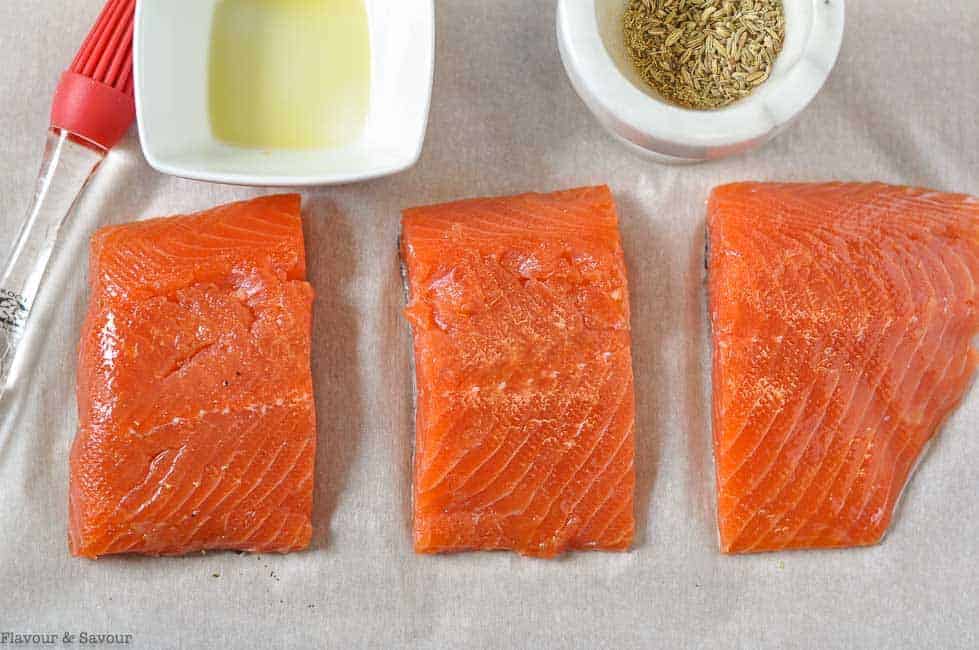 Sprinkle with a little sea salt and freshly ground pepper.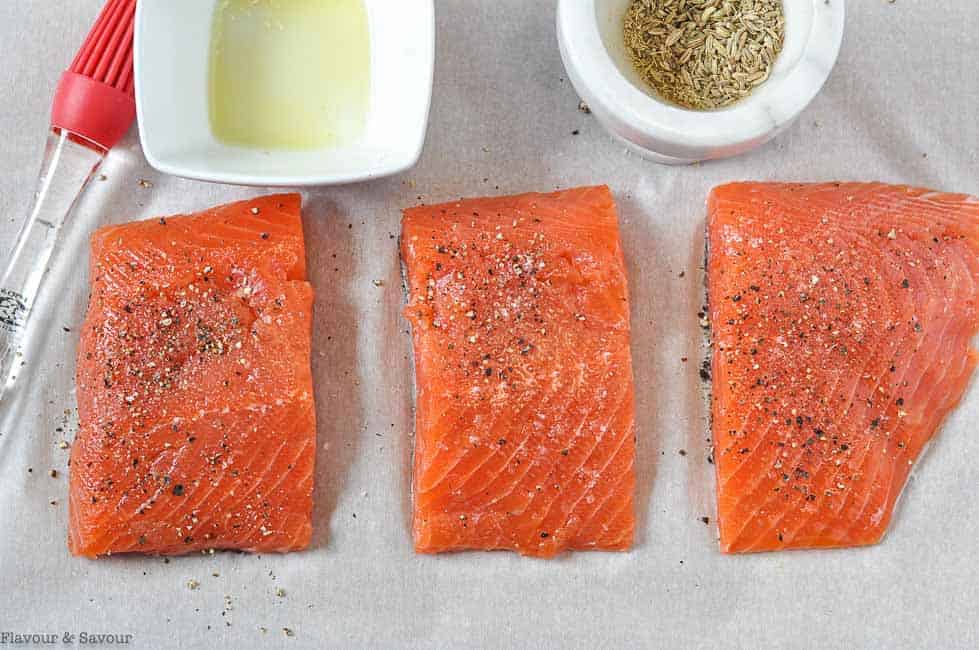 Now sprinkle with the cracked fennel seeds, pressing gently so they adhere to the salmon.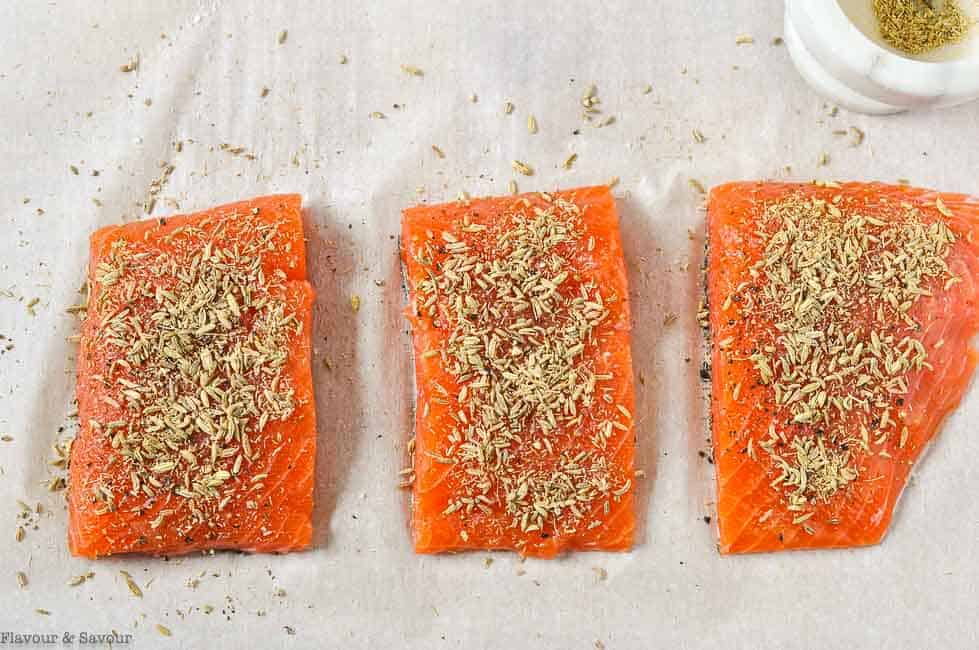 Heat oil in an oven-proof skillet until very hot, but not smoking. Add the salmon, skin side up.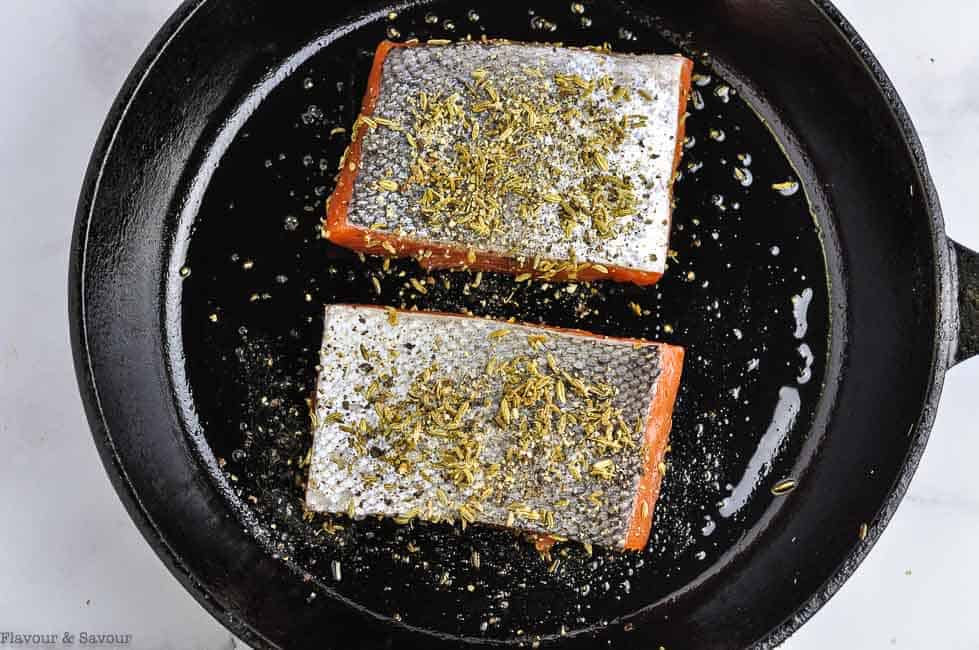 Sear for a few minutes (3 - 5) over medium-high heat depending on the thickness of your fillets. Once the fillets release easily from the pan, flip them over.
Transfer the skillet to a preheated oven. Bake for a few more minutes until the fish flakes easily with a fork but is still a little translucent in the center. Remove from oven and let stand for 5 minutes to finish cooking before serving.
You can also use an instant-read thermometer to check for doneness. Once it has reached an internal temperature of 140°F. remove it from the pan. It will continue to cook off the heat. You'll know it's done when it's reached 145°F.
Note: If the fillets are thin, (for example, if you're using sockeye salmon) you can finish cooking them on the stovetop instead of in the oven.
Readers' Questions
How can I tell when salmon is done?
It's easy to overcook salmon. Check it at 10 minutes. If it is beginning to flake when poked with a fork, but is still slightly translucent in the center of the fillet, it is probably done.

Remember to let it rest for 5 minutes after removing from the oven. It will continue to cook a little on the counter. You can check the internal temperature with an instant-read thermometer. It should register 145°F. in the thickest part.
Possible Variations
Add ½ to 1 teaspoon of cumin to the crushed fennel seeds for an extra flavour profile.
Serve with a sprinkle of lemon zest and freshly sliced lemons.
What to serve with Fennel Crusted Salmon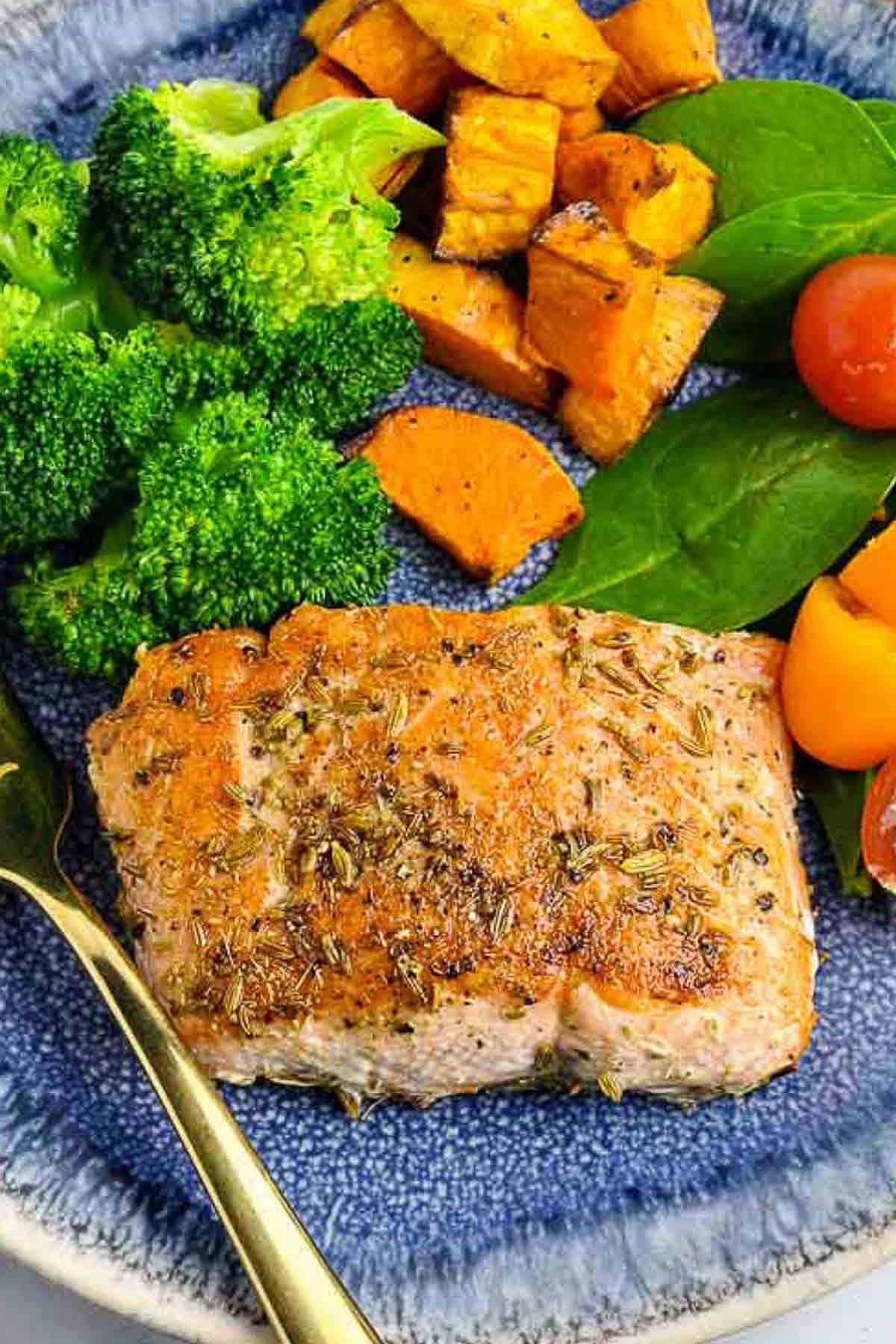 What to do with leftover salmon
Did you cook too much? Store leftover salmon in an airtight container in the fridge. You can gently reheat it for a few minutes in a skillet on the stovetop or in an air fryer.
Or enjoy it cold! Flake it and add it to a salad for lunch. Delicious!
Enjoy your delicious and healthy Fennel-Crusted Salmon fillets, packed with the flavours of fennel, black pepper, and sea salt!
🗒 More salmon recipes to try
This recipe has stood the test of time! It was originally published in 2018. It has been updated with extra information to make it more helpful.
🌟 Did you make this recipe?
When you make this salmon with fennel, please leave a comment and a star rating. I love hearing from you! Thanks in advance. Subscribe to my newsletter and have new recipes delivered straight to your inbox.
📖 Recipe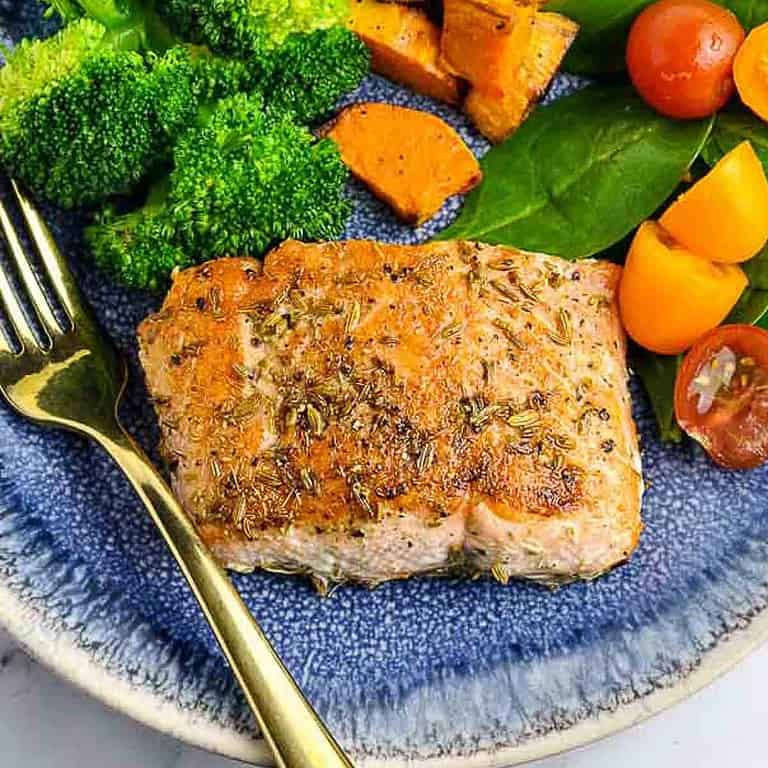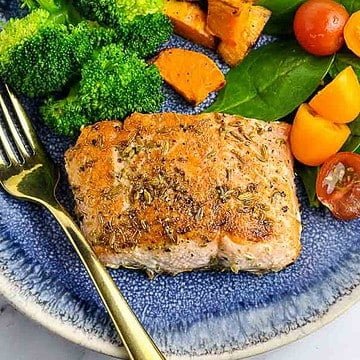 Fennel-Crusted Salmon
This recipe for Fennel-Crusted Salmon makes a fast but fancy meal than can be ready in less than 30 minutes. Keto, Paleo and Whole30-friendly.
Print
Pin
Rate
Ingredients
4

4 ounce

wild-caught salmon fillets

2

tablespoons

whole fennel seeds

1 ½

teaspoons

whole peppercorns

1 ½

teaspoon

sea salt

2

tablespoons

olive oil, divided
Instructions
Preheat oven to 400°F. If the salmon fillets are very thin, you can cook them on the stove top.

Rinse salmon and pat dry. Remove pin bones if they have not already been removed.

Crush the fennel seeds, using either a mortar and pestle, a bag with a zipper closure and a rolling pin, or a mini grinder.

Brush the fillets with olive oil, sprinkle with salt and pepper.

Coat the fillets with crushed fennel seeds, pressing down gently to help them adhere.

In an ovenproof skillet, heat the oil over medium-high heat. Add the salmon, with the fennel mix side down (skin-side up) and heat for 3 to 5 minutes, depending on the thickness of the fillets.

Flip the fillets over and finish cooking in the oven for another 2 - 4 minutes or less, depending on the thickness of the fillets, until the fish flakes easily with a fork. The fish should be a little translucent in the thickest part.

Remove from the oven and let stand for 5 minutes. Slip the skin off before serving, if desired.
Notes
If the salmon fillets are thin, you may not need to finish baking them in the oven. Sear for 3 - 5 minutes skin side up, then turn and sear for 2-3 minutes on the other side. Time will depend on thickness of the fillets you are using.
Nutrition
Calories:
317
kcal
|
Carbohydrates:
2
g
|
Protein:
34
g
|
Fat:
18
g
|
Saturated Fat:
2
g
|
Cholesterol:
93
mg
|
Sodium:
949
mg
|
Potassium:
904
mg
|
Fiber:
1
g
|
Vitamin A:
70
IU
|
Vitamin C:
0.6
mg
|
Calcium:
62
mg
|
Iron:
2.1
mg