A spectacular, but super simple special dessert made with meringue, whipped cream and strawberries.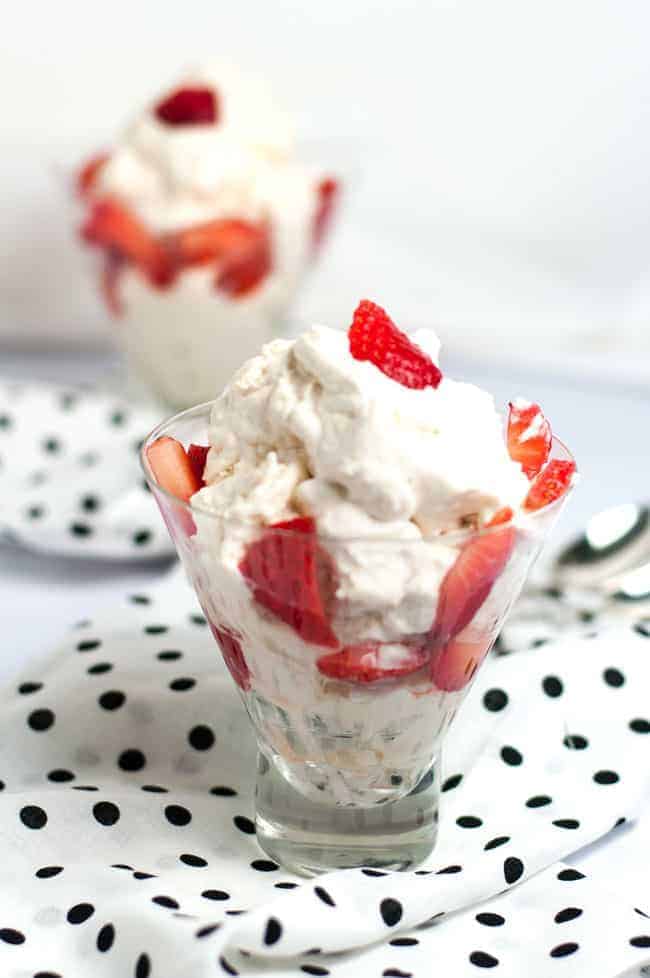 Have you ever thought about how some desserts have strange names? Apple Pan Dowdy, Raspberry Fool, Blueberry Buckle, Berry Grunt, Death by Chocolate, Dump Cake, and this one . . . Strawberry Eton Mess!
But even if it has a strange name, the taste is anything but. It's just a big wonderful mess of sweet cream, meringue and strawberries all mixed together.
It's the perfect dessert for those times when you want to make a dessert for a group but don't have the time or the talent to fuss with a fabulous presentation. Ideal for Christmas, too!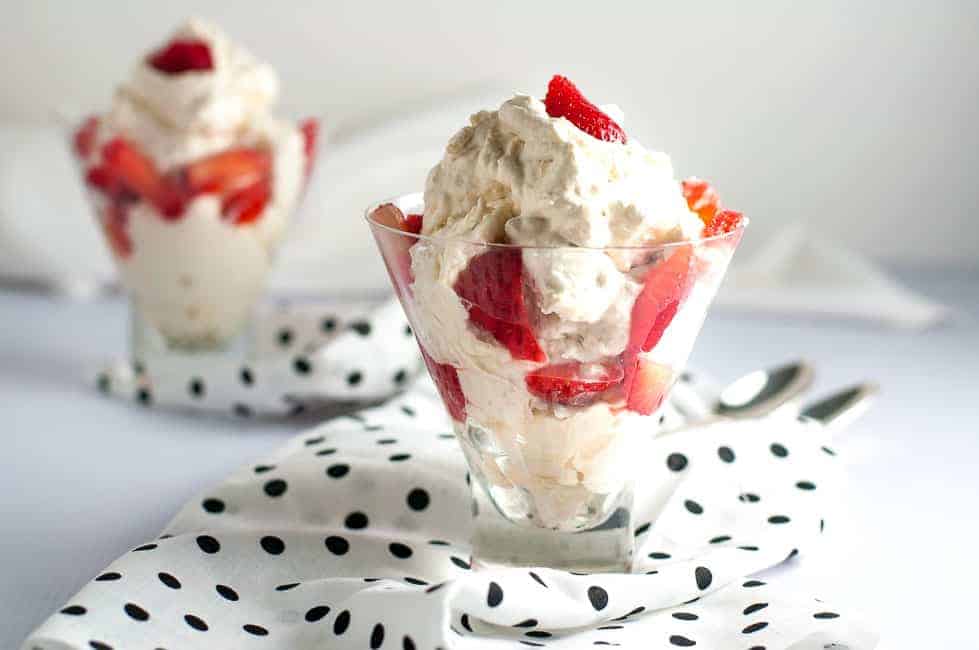 Why is this gluten-free dessert called Eton Mess?
Officially, the name Eton Mess originated at, you guessed it, Eton College. It was served at their annual cricket match. It seems pretty likely to me that the first Eton Mess resulted from a dropped pavlova that smashed and was rescued and remade into this delicious concoction.
Because that's exactly what happened to me!
I made a large pavlova for a family dinner, had some extra meringue left over and planned to make mini pavlovas for the following day. When they broke and crumbled, I decided to rescue my disaster.
I mixed them with barely sweetened whipped cream, fresh strawberries, scooped them into dessert glasses, and this Traditional Strawberry Eton Mess came to life.
While strawberries are traditional in this dessert, you can use other fruit that you may have. Try raspberries or blueberries or a combination.
Want to make it even easier? Use store-bought meringue cookies instead of baking your own!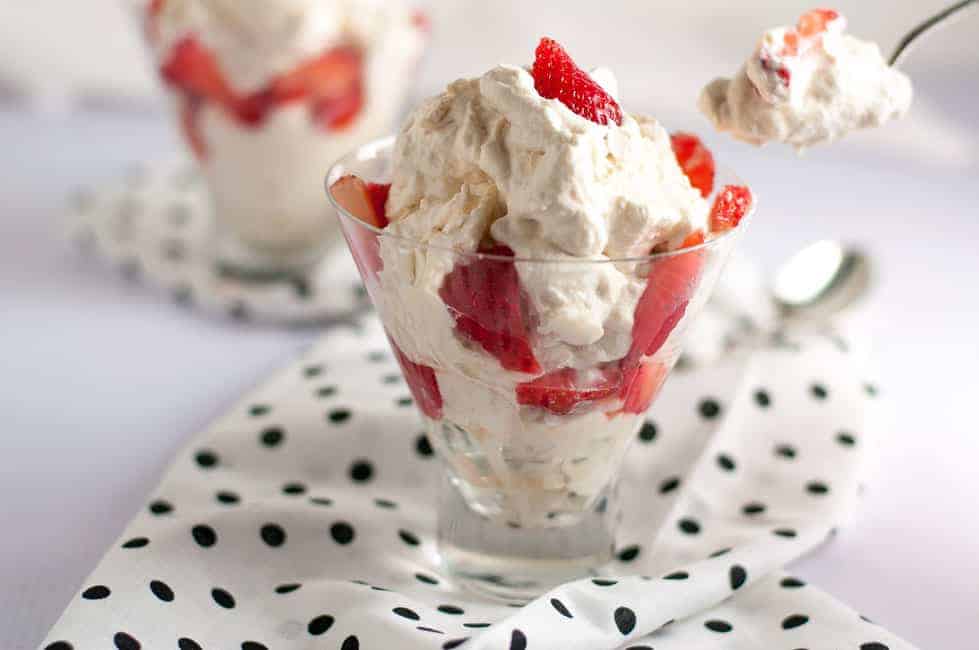 Here's what you'll need to make this simple strawberry dessert:
Ingredients for Strawberry Eton Mess
For the meringue: 6 egg whites, berry sugar, white wine vinegar, cornstarch
For the cream: heavy cream (whipping cream), vanilla extract, confectioner's sugar
For the fruit: 2 cups of berries, optional liqueur such as Gran Marnier for flavour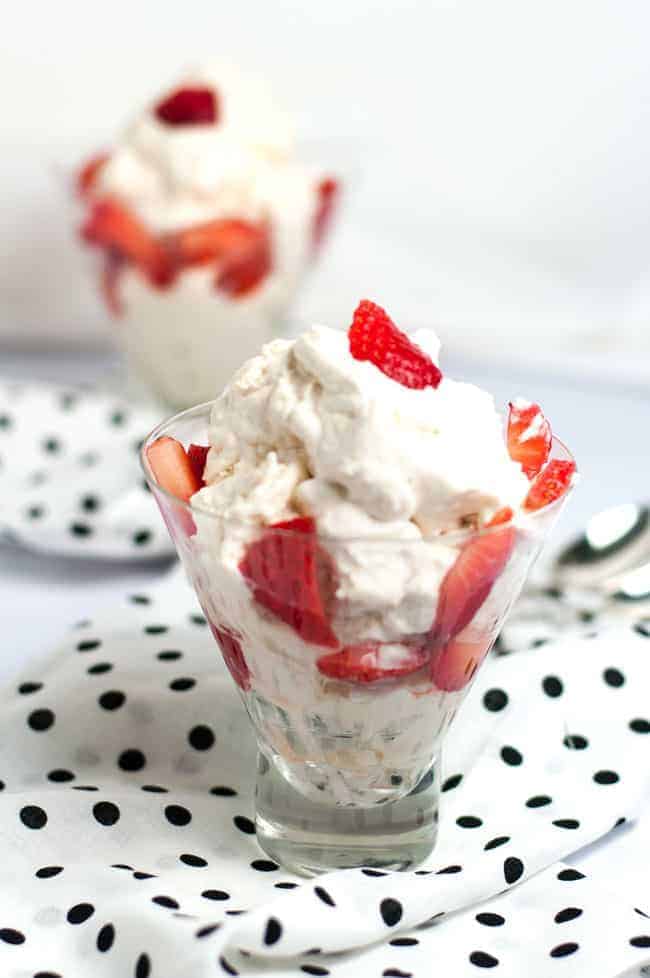 Tips for making Meringue for Eton Mess
Chilled eggs, straight from the refrigerator are easier to separate. Save the yolks for another use.
As egg whites will expand in volume when whipped, use a large glass or metal bowl. Make sure it is squeaky clean. A plastic bowl may not work for this recipe because it may hold traces of oil which will prevent egg whites from whipping.
Once you've whipped the egg whites according to the recipe below, spread the mixture about 2 inches thick on a parchment paper lined baking sheet. Bake according to instructions, then turn off the oven and let it the meringue sit in the oven for a few hours or even overnight.
The finished meringue should have a crisp outer exterior and a marshmallowy interior. It should be slightly chewy.
The meringue can be made well in advance, making this an easy dessert when you're entertaining.
For more helpful tips to make perfect meringues, check this article How to Make Perfect Meringues for Pies, Cookies, and More
How to Assemble Traditional Strawberry Eton Mess
Crumble the cooked meringue into bite-sized pieces. It's okay if it looks messy!
Gently stir the whipped cream and strawberries into the meringue, spoon into dessert glasses or a large bowl and serve.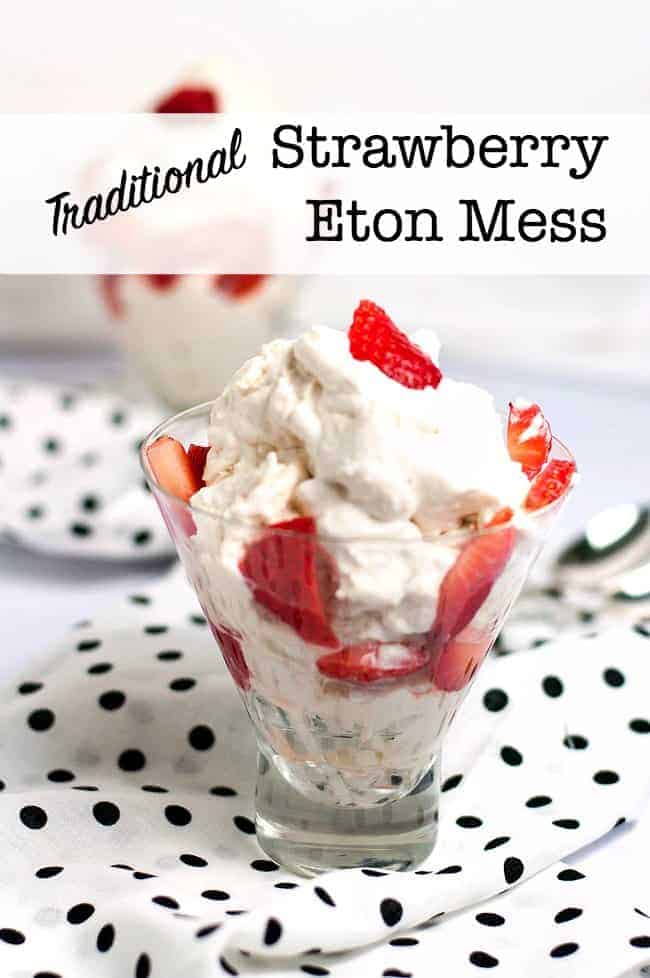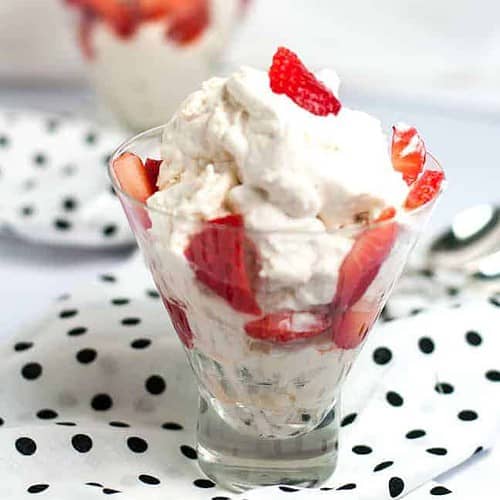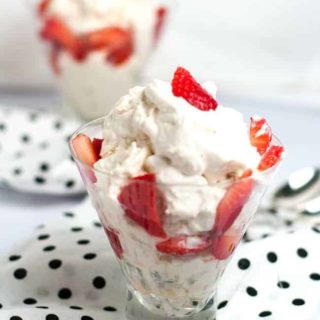 Traditional Strawberry Eton Mess
This Strawberry Eton Mess is wonderful mix of sweet cream, meringue and strawberries. An easy dessert that everyone loves! Gluten-free.
Print
Pin
Rate
Ingredients
For the meringue (pavlova)
6

egg whites

1 ½

cups

berry sugar,

or caster sugar *see Recipe notes below

1

teaspoon

white wine vinegar,

or white vinegar

1

teaspoon

corn starch
For the cream
1

cup

whipping cream

(heavy cream)

1

teaspoon

pure vanilla extract

¼

cup

icing sugar
Fruit
2

cups

strawberries

sliced

1

tablespoon

Gran Marnier

or other orange liqueur
Instructions
Heat ove to 275°F LIne a large baking sheet with parchment paper.

In a large squeaky clean glass or metal bowl (or the bowl of your stand mixer) beat egg whites until very frothy and white. Gradually add sugar, ¼ cup at a time and beat until stiff and glossy. In a small bowl, combine vinegar and cornstarch. Add to the egg whites and beat until incorporated.

Spread out on parchment paper-lined baking sheet, about 2 inches thick. Reduce the oven temperature to 250°F. and bake for 60 - 75 minutes until turning very slightly light brown. Turn the oven off and let the meringue sit in the oven for an hour or even overnight.

Combine sliced strawberries with Triple Sec or other orange liqueur.

When ready to serve the dessert, whip the cream with the icing sugar and vanilla just until stiff. Roughly crumble the meringue, leaving bite-sized pieces. Gently stir the strawberries and meringue into the whipped cream, spoon into dessert glasses and serve.
Notes
If you don't have berry sugar, grind granulated sugar in a blender. It is much finer and dissolves more easily than granulated sugar.
The meringue can be made up to a month in advance. After completely cooled, wrap tightly and store in a cool place.
Looking for more gluten-free dessert inspiration? Check my dessert recipe index here.
This post may contain affiliate links. If you click on any of the affiliate links and make a purchase within a certain time frame, I'll receive a small commission. The commission is paid by the third party, not by you. I am a participant in the Amazon Services LLC Associates Program. It's an affiliate advertising program designed to provide a means for me to earn fees by linking to Amazon.com and affiliated sites.
SAVE THIS TO ONE OF YOUR PINTEREST BOARDS
and
connect with me on Pinterest
! I'm always finding new tasty recipes to pin. Subscribe to my weekly newsletter and never miss a recipe!