This gluten-free fresh asparagus salad with smoked salmon, zucchini ribbons, and radishes on crisp greens is dressed with an amazingly flavourful sesame miso vinaigrette!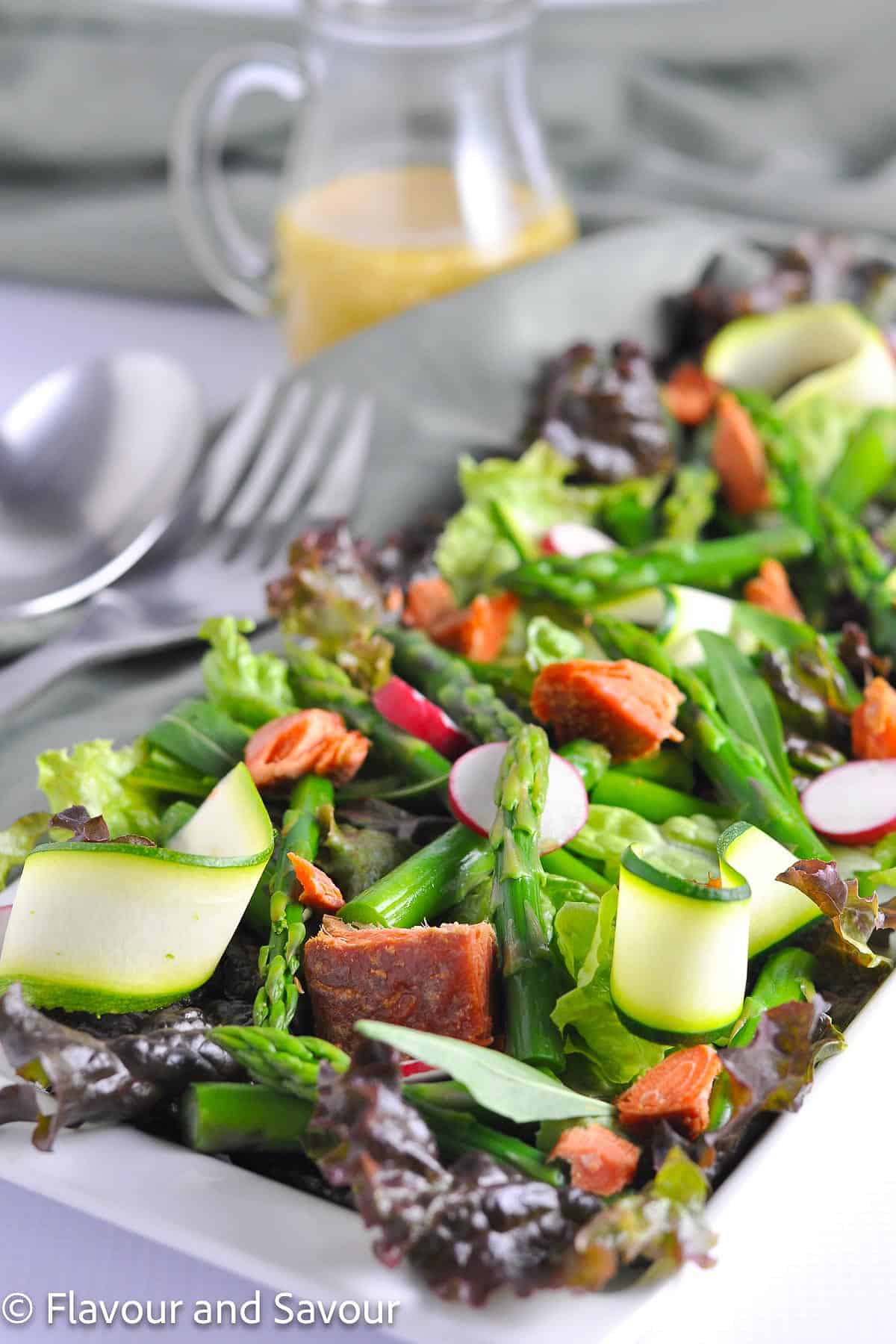 Jump to:
❤️ Why you'll love this smoked salmon salad recipe
Fresh! This smoked salmon asparagus salad is just that: light and fresh! Baby asparagus spears and crisp radishes on a bed of greens and zucchini ribbons make an impressive salad to welcome warmer days.
Quick and easy! Simply combine red lettuce leaves, arugula leaves, raw zucchini ribbons, sliced radishes, lightly blanched tender asparagus and small bite-sized pieces of hot-smoked salmon.
Delicious dressing! The best part of this smoked salmon asparagus salad is surprisingly not the smoked salmon. It's the sesame miso vinaigrette!

🛒 Ingredients and Substitutions
fresh asparagus spears
large red lettuce leaves, washed and dried (or another lettuce variety). Red lettuce leaves provide a beautiful contrast in colour to the green asparagus and zucchini. Alternatively, you can use a store-bought mixed greens.
arugula leaves: for their peppery flavour!
zucchini: raw zucchini strips or ribbons have a crisp texture, perfect in this salad.
radishes: for more crunchy texture and flavour.
hot-smoked salmon: sweet, salty, smoky salmon makes this an incredibly special asparagus salad. You can substitute cold-smoked salmon or lox if you'd like.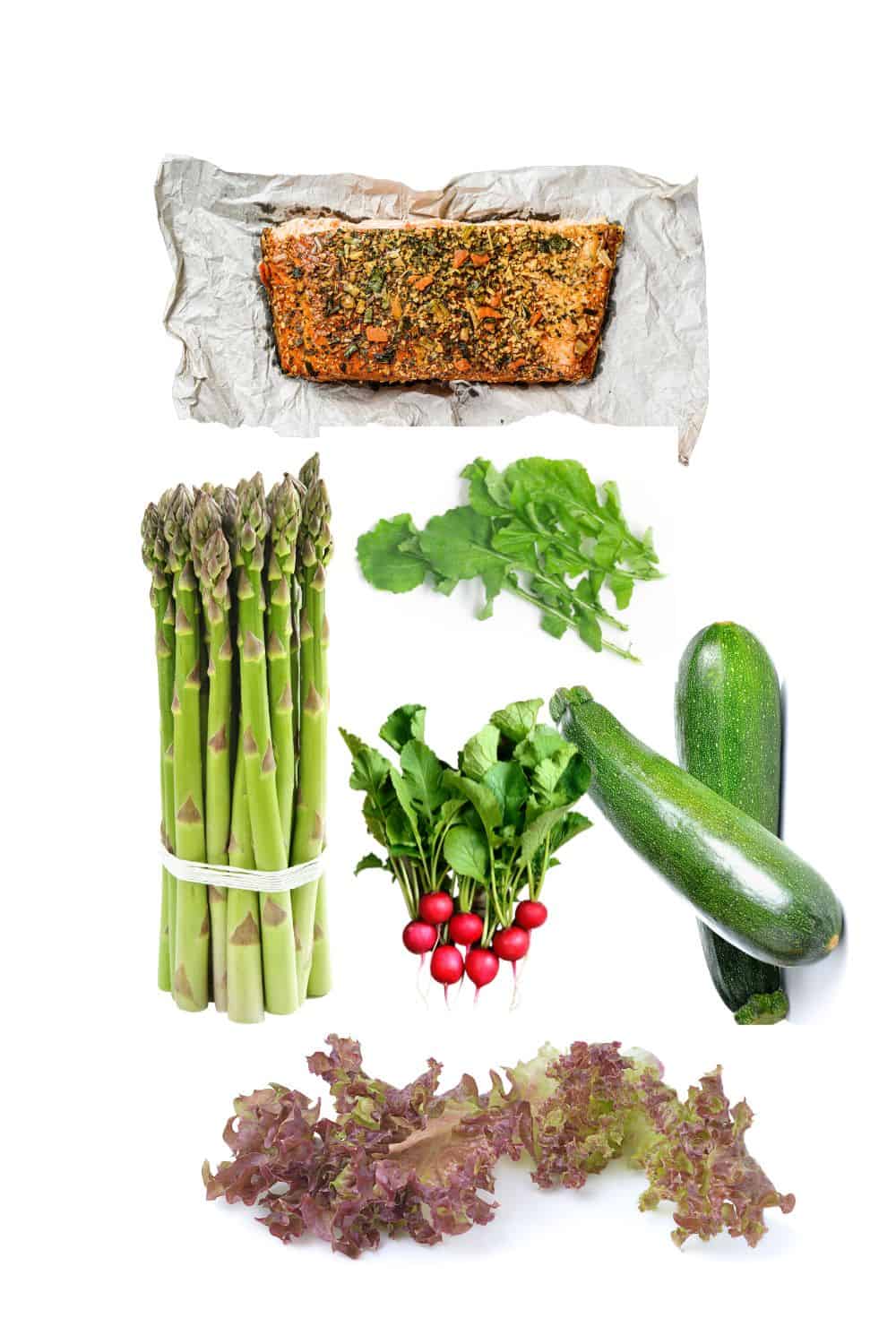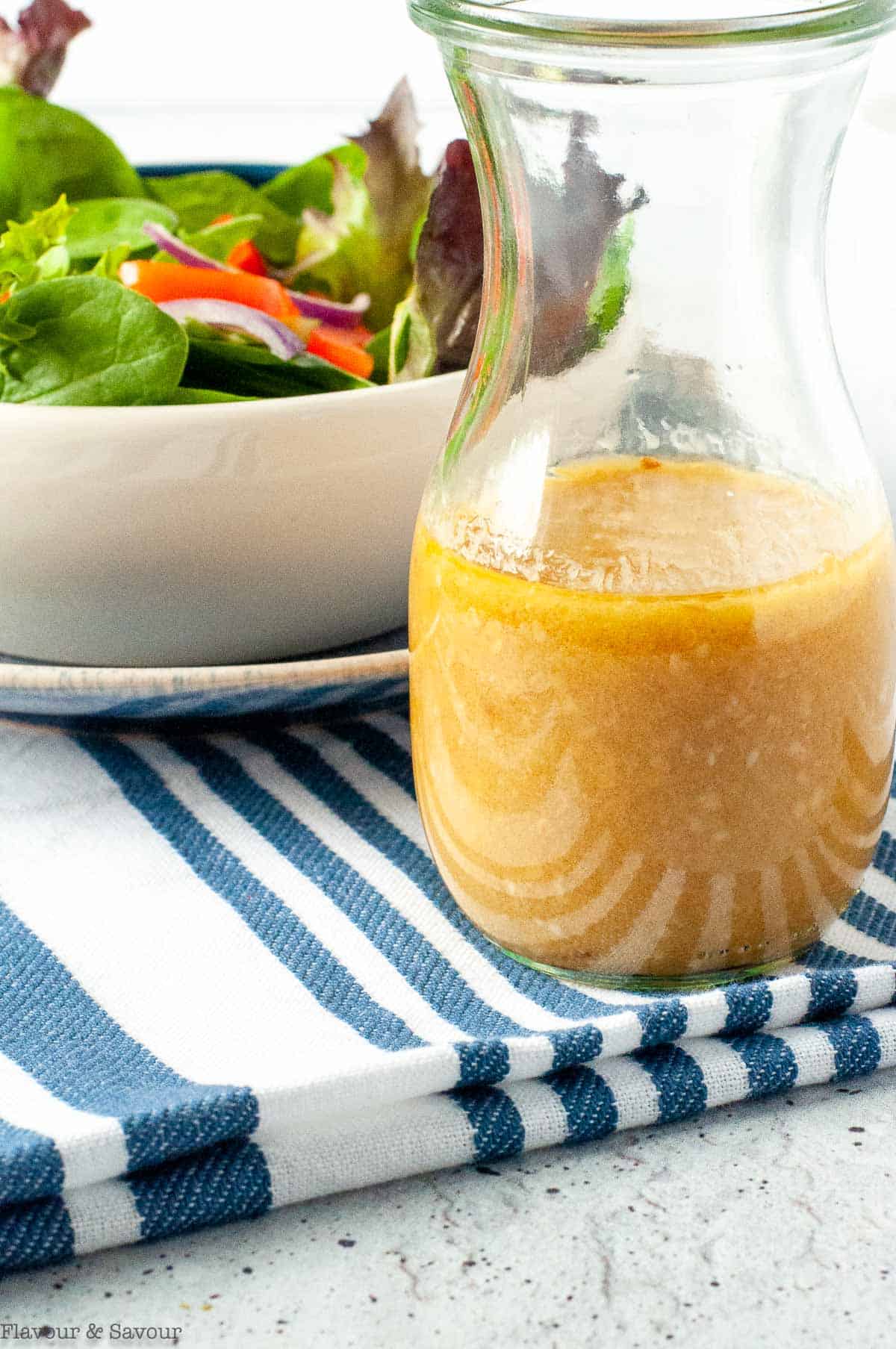 This Sesame Miso Vinaigrette has become a regular dressing in my kitchen. It's good not only on salads, but drizzled on sweet potatoes, on zucchini or rice noodles, or even brushed on grilled mushrooms. It's the perfect choice for this Asian-inspired asparagus salad.
Try it on this Broccoli Quinoa Salad or Cabbage Coleslaw, too! It's also delicious on roasted asparagus. See this recipe for Sesame Miso Air Fryer Asparagus.
🔪 Instructions: 3 Easy Steps
1. Whisk the vinaigrette.
Whisk together the ingredients and let stand while you prepare the salad so the flavours have time to blend. This dressing is even better the second day.
2. Blanch the asparagus
Trim the asparagus spears by snapping off the woody stem ends where they naturally bend. Save the ends in a container in your refrigerator or freezer for making this Dairy-Free Creamy Asparagus Soup. Blanch the spears *(see detailed instructions below).
3. Assemble the salad.
Start with a bed of greens. I often use red lettuce leaves and fresh arugula from the garden, but a store-bought salad mix is delicious, as well. Add zucchini ribbons (just make long strips with a vegetable peeler), thinly sliced radishes, and chopped asparagus spears. Sprinkle with a pinch of sea salt. Scatter the greens with small chunks of smoked salmon.
Drizzle the Sesame Miso Vinaigrette over the salad ingredients and gently toss to coat everything evenly.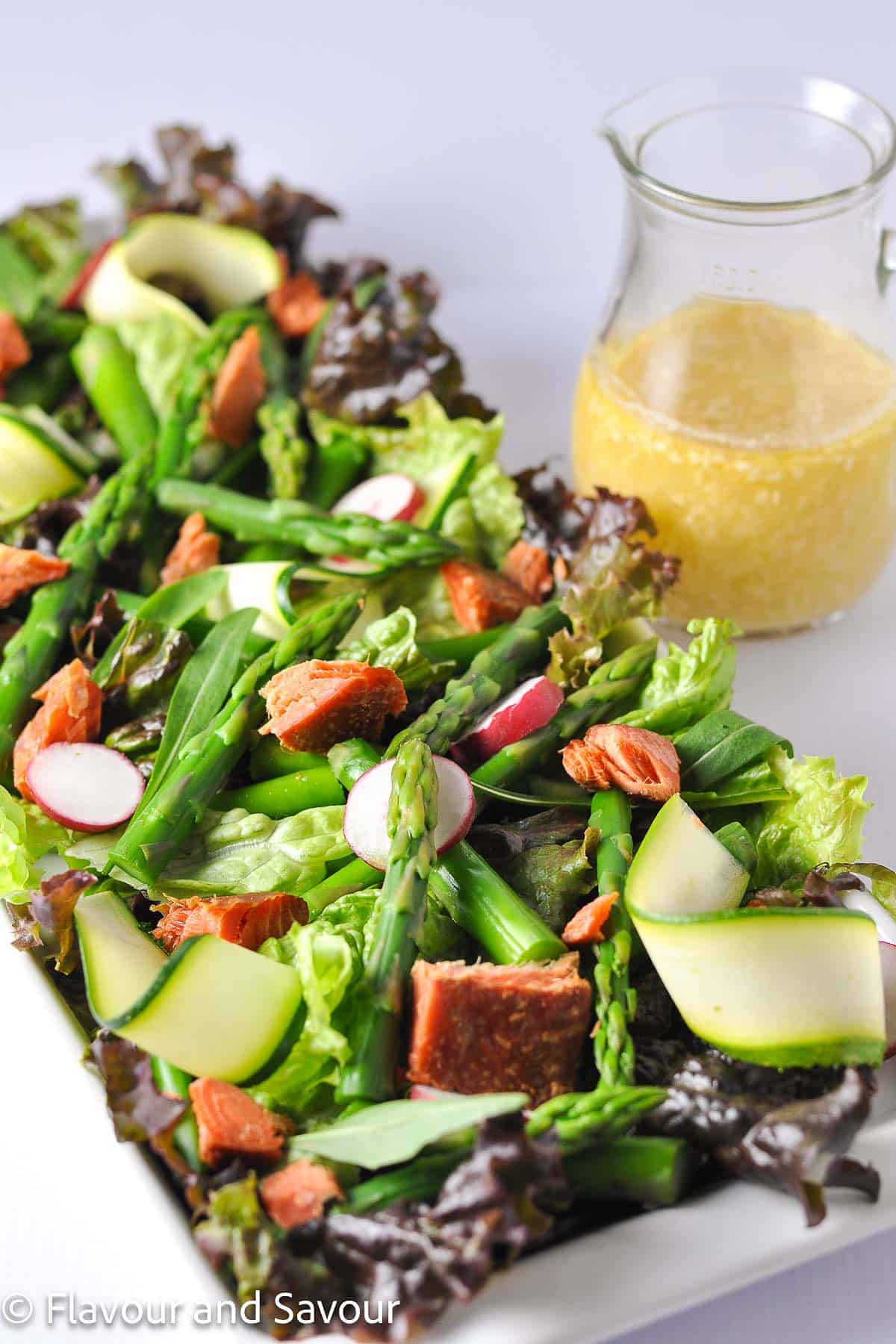 ❓ Readers' Questions
How do I blanch asparagus?
Blanching asparagus spears is a cooking technique that involves briefly boiling the asparagus and then immediately transferring it to an ice bath to stop the cooking process. This method helps to preserve the vibrant green color and crisp texture of the asparagus while partially cooking it.

Here's a step-by-step guide on how to blanch asparagus spears:

Prepare the asparagus: Start by trimming the woody ends of the asparagus spears. The woody part is usually the bottom 1-2 inches of the spear, which can be tough and fibrous. You can either snap off the ends by bending the asparagus spear until it naturally breaks, or you can use a knife to cut off the woody portion.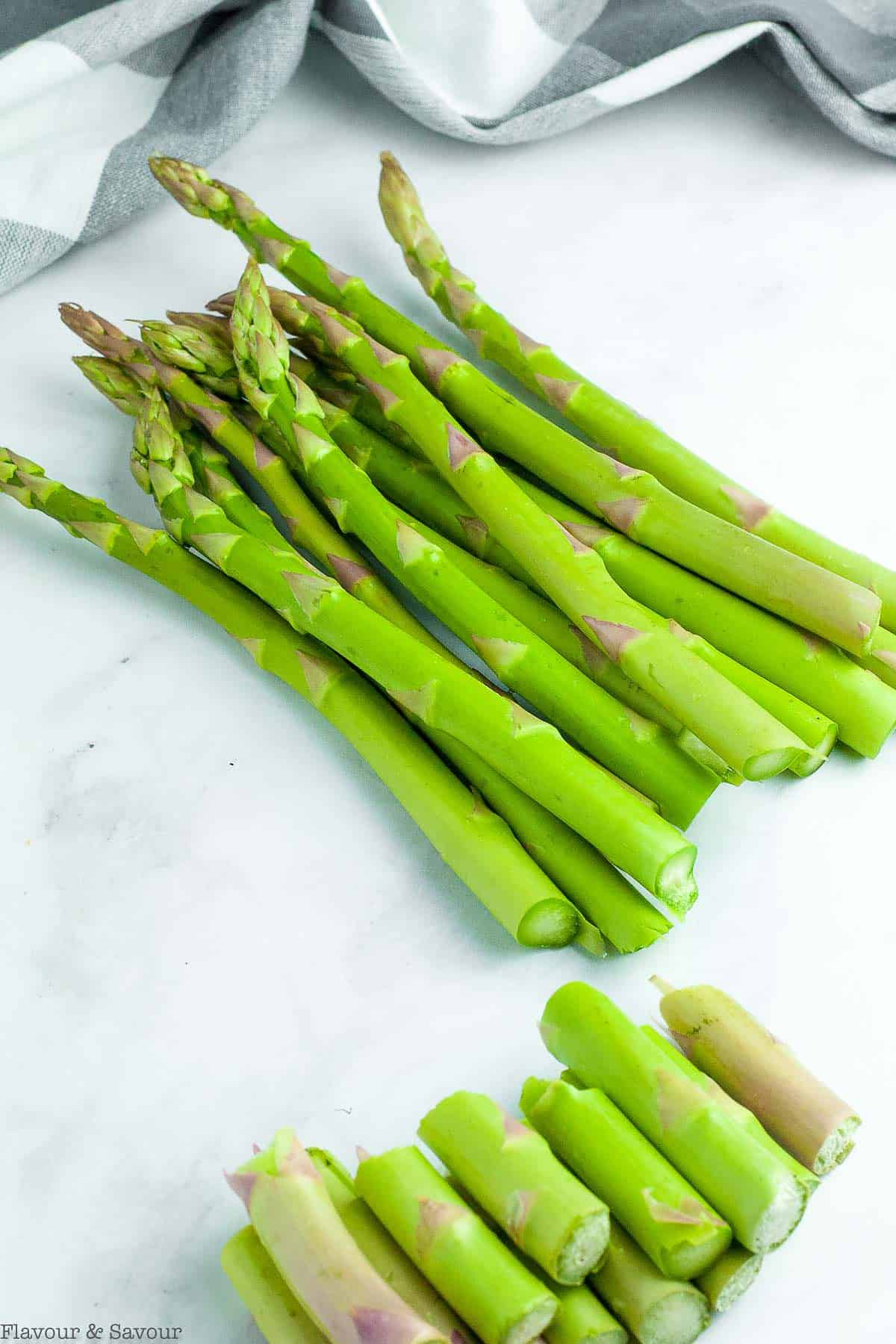 Boil water: Fill a large pot with water and bring it to a rolling boil. You'll need enough water to fully submerge the asparagus spears.
Prepare an ice bath: While the water is boiling, prepare a large bowl or basin filled with ice water. This will be used to rapidly cool down the asparagus and stop the cooking process.
Blanch the asparagus: Once the water is boiling, carefully add the trimmed asparagus spears to the pot. Let them cook for about 2-3 minutes, or until they turn bright green and become slightly tender. The exact cooking time may vary depending on the thickness of the asparagus spears, so you can test the doneness by gently piercing the thickest part of a spear with a fork. It should offer some resistance but not be overly soft.
Transfer to an ice bath: Using tongs or a slotted spoon, quickly remove the blanched asparagus from the boiling water and immediately transfer them to the prepared ice bath. Submerge the asparagus completely in the ice water for about 1-2 minutes. This will halt the cooking process and help the asparagus retain its vibrant color and crisp texture.
Drain and dry: Once the asparagus has cooled in the ice bath, remove them from the water and pat them dry gently with a kitchen towel or paper towel. You can also lay them on a clean kitchen towel or a wire rack to air dry for a few minutes.

The blanched asparagus spears are now ready to be used in your salad. You can use this method to prepare asparagus for stir-fries, pasta dishes, or any other recipe that calls for cooked asparagus. Blanched asparagus can also be stored in an airtight container in the refrigerator for a few days.
🗒 More healthy salad recipes
This post has been updated with extra information to make it more helpful! Enjoy every crisp, fresh bite!
Did you make this smoked salmon salad?
When you make this recipe, please leave a comment and a star rating below. I love hearing from you! Subscribe to my newsletter and have new recipes delivered straight to your inbox.
📖 Recipe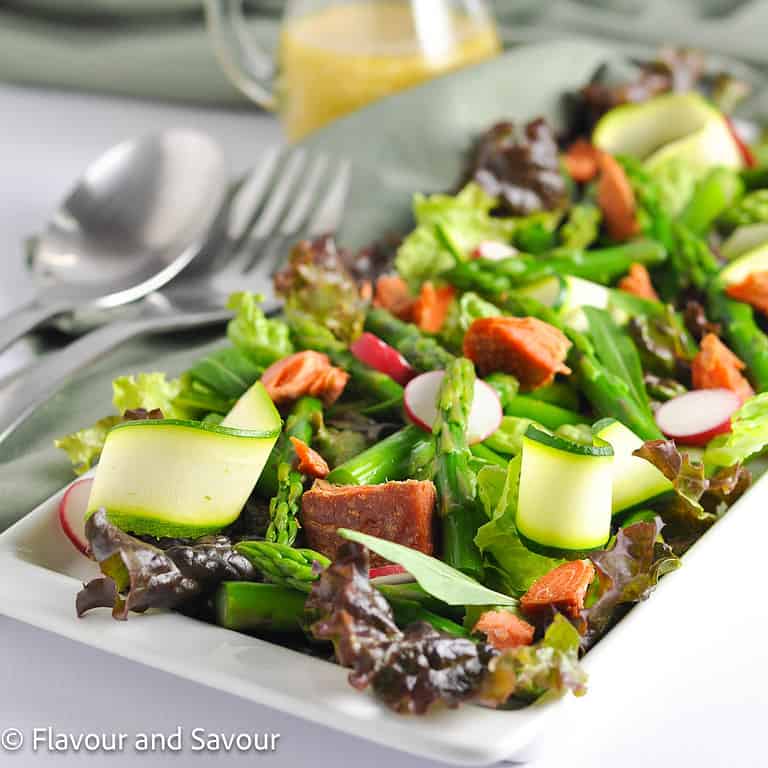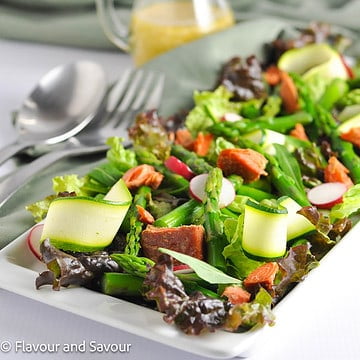 Smoked Salmon Asparagus Salad with Sesame Miso Vinaigrette
A fresh salad with crisp raw vegetables and smoked salmon. Combine fresh spring greens with blanched asparagus. Drizzle this fresh smoked salmon asparagus salad with an amazing sesame miso vinaigrette!
Print
Pin
Rate
Ingredients
12

asparagus spears

4

large

red lettuce leaves,

washed and dried

1

handful

arugula leaves

½

medium

zucchini,

sliced into ribbons

6

medium

radishes,

sliced thinly

⅔

cup

chunks of hot-smoked salmon

sea salt or Kosher salt,

to taste
Sesame Miso Vinaigrette
1

tablespoon

sesame seeds

2

tablespoons

white miso

2

tablespoons

sesame oil

½

cup

rice vinegar

6

tablespoons

extra-virgin olive oil

1

tablespoon

honey

½

teaspoon

sea salt or Kosher salt
Instructions
Make the dressing first. Toast the sesame seeds in a small skillet over medium heat, shaking the pan frequently to prevent burning. When they begin to darken and become fragrant, remove from heat and transfer to a small plate to cool.

In a small jar, whisk the miso, sesame oil, vinegar, olive oil, honey, seeds and sea salt. With the lid on, shake to emulsify the vinaigrette. Set aside while you prepare the salad.

Blanch the asparagus: Bring a pot of water to a boil. Fill a bowl with ice water. Add the asparagus spears to the boiling water and cook for 2 minutes, or just until they become bright green. Immediately remove with tongs and transfer to the ice water to stop the cooking. When completely cold, remove and pat dry.

Assemble the salad. Begin with a bed of greens, then add zucchini ribbons, radishes, asparagus and smoked salmon. Sprinkle with a pinch of sea salt.

Drizzle with Sesame Miso Vinaigrette just before serving.
Nutrition
Calories:
316
kcal
|
Carbohydrates:
10
g
|
Protein:
3
g
|
Fat:
29
g
|
Saturated Fat:
4
g
|
Sodium:
618
mg
|
Potassium:
235
mg
|
Fiber:
2
g
|
Sugar:
6
g
|
Vitamin A:
1685
IU
|
Vitamin C:
8.6
mg
|
Calcium:
48
mg
|
Iron:
2
mg