You'll only need 6 ingredients to make the glaze for this Citrus Chardonnay-Glazed Wild Salmon. This dish cooks in 10 minutes!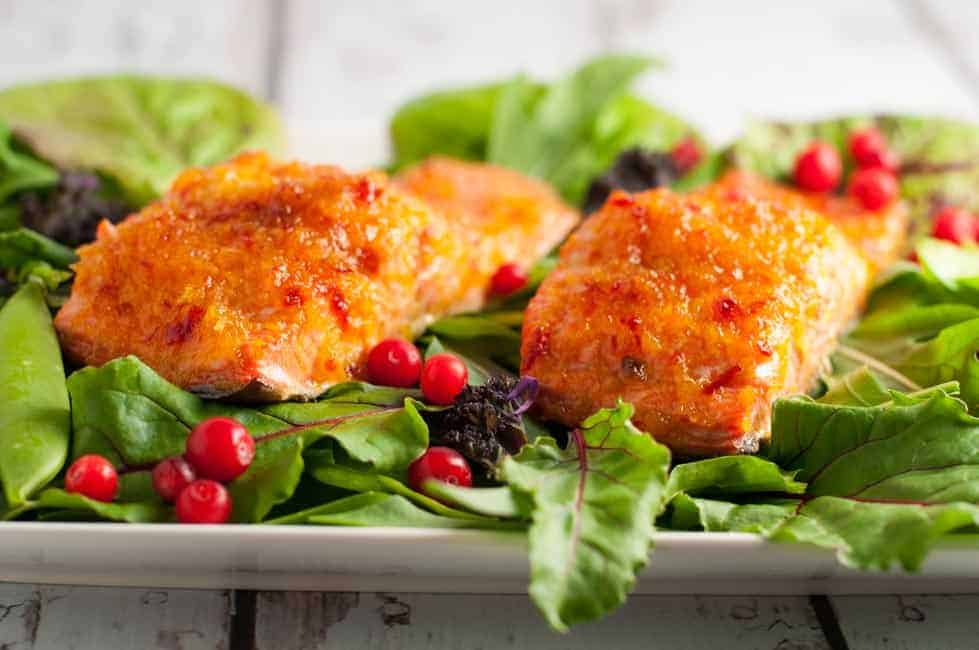 Fresh wild sockeye salmon! We had the first sockeye of the season tonight and while sockeye is such a flavourful fish that it can stand on its own, this Citrus Chardonnay Glaze put it over the top. It's a simple glaze to make. Just combine the ingredients in a saucepan and reduce it until syrupy, then brush it on the salmon and bake.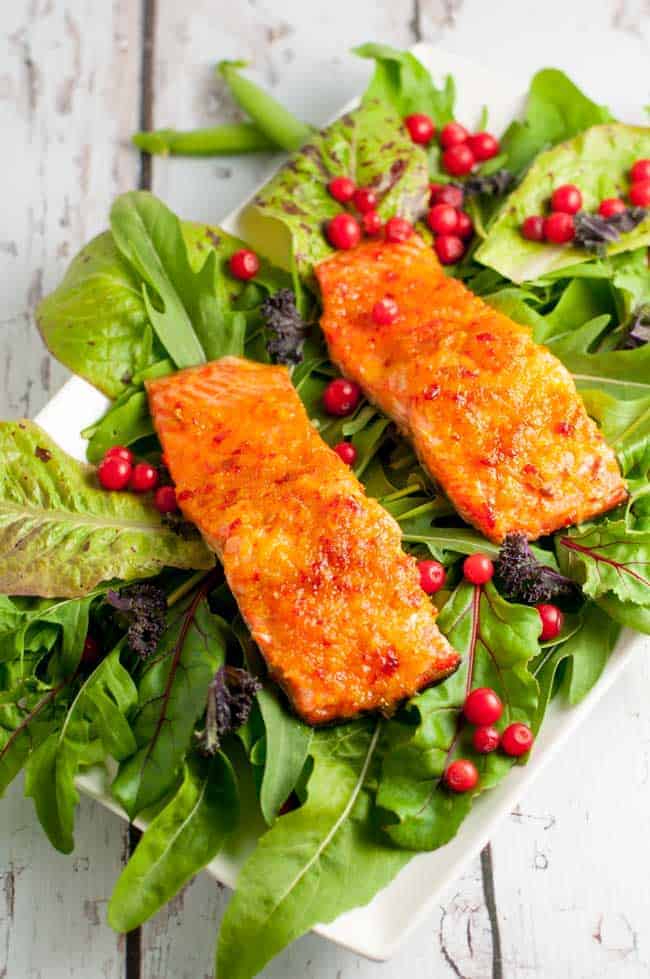 Being out on the ocean earlier this week must have given us a hankering for fresh fish. While we didn't catch this ourselves, it was great to have fresh sockeye salmon on the menu again. We overnighted on our boat at Wallace Island, one of our favourite spots in the Gulf Islands. It's a great spot for hiking, exploring in the dinghy, and viewing wildlife.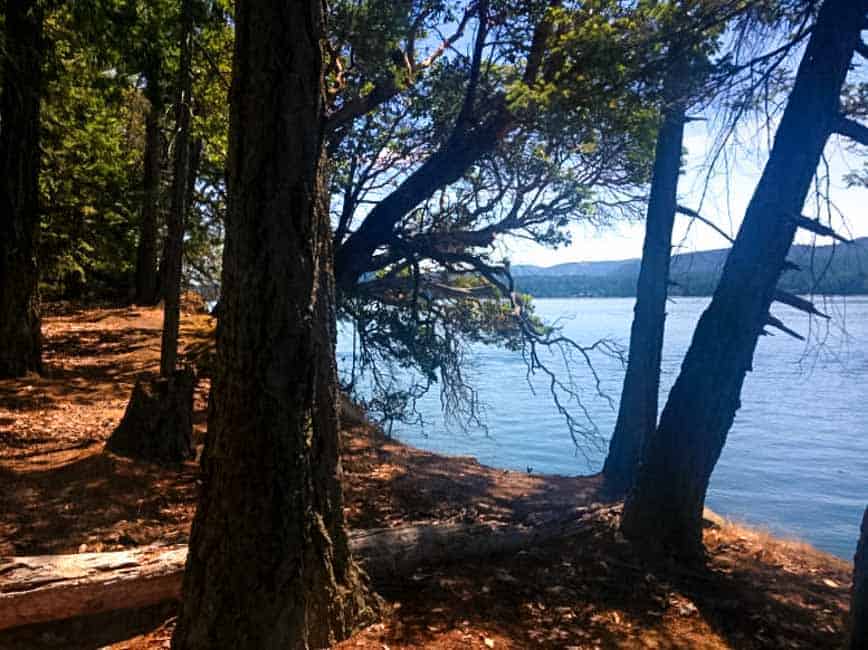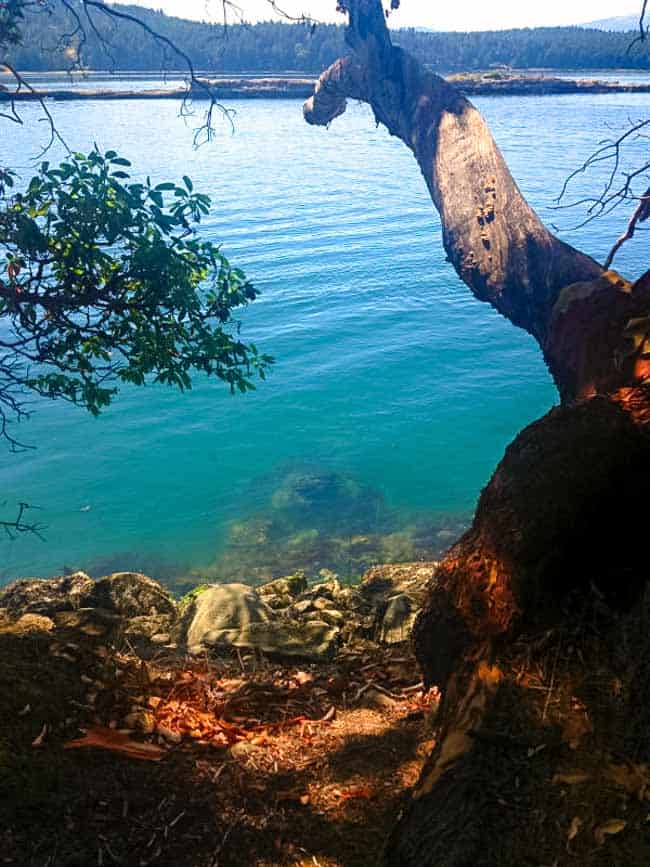 We watched a heron feeding her young, bald eagles soaring overhead, kingfishers diving into the cove, and a seal circling the boat. The raccoons always put on a show on shore, foraging in the rocks for clams and scrabbling and fighting with each other over food. We had an idyllic day, hiking, just hanging out, reading and eating great food! Little did we know that was all about to change.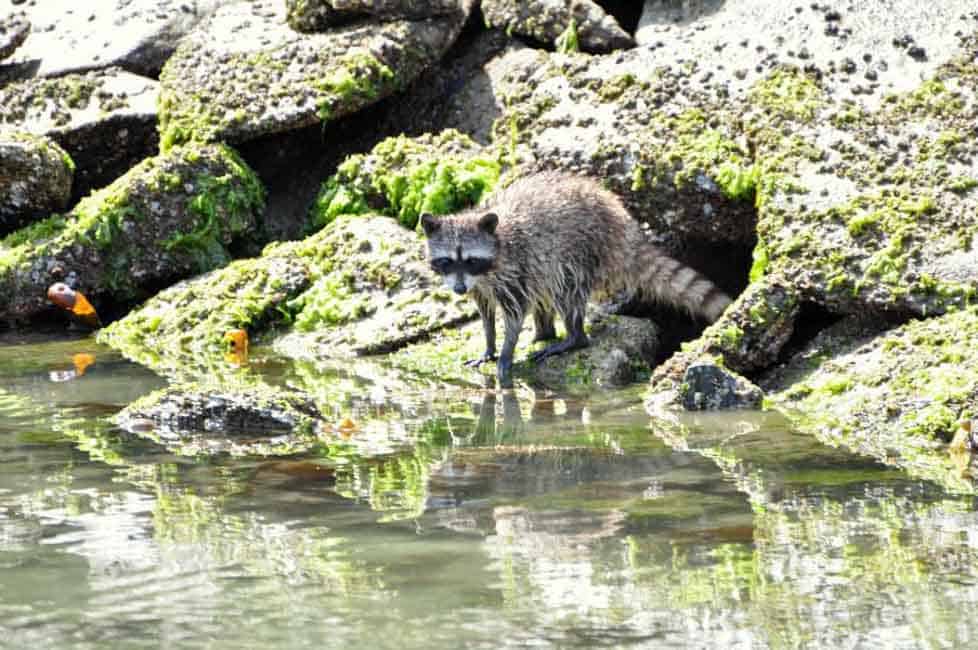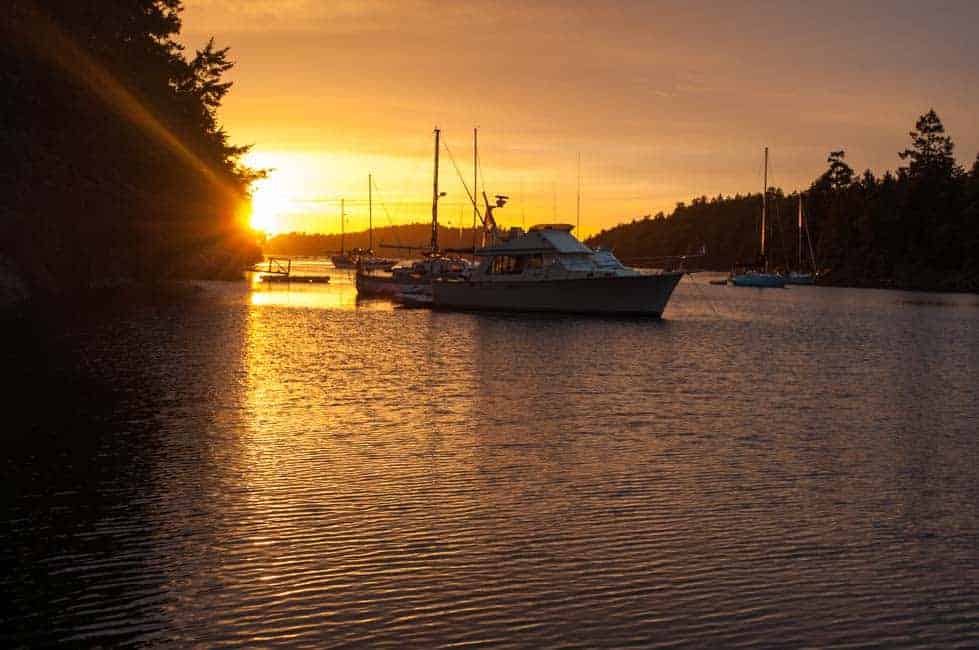 We left in the late afternoon and headed to another island where we anchored and made plans to cook dinner before heading home and back to reality. When we noticed the wind was picking up a little, we decided to leave instead of waiting it out. In retrospect, that was probably not a wise decision. There was a light chop on the water, but nothing out of the ordinary. We'd be following a route we'd taken many times before.
We rounded the point, and everything changed. Suddenly we were hit by southwesterly winds and that light chop turned into six-foot waves. We were tossed around like a cork! The bow of the boat went under and the waves came over the windshield several times. While we always have our life jackets at arm's reach, I don't usually wear mine. I grabbed it and buckled up, as I felt there was a distinct possibility that we were going over. I could only see one other boat in the distance, and it was having just as much trouble as we were. Denis maneuvered us through each "hole" in the waves, heading a little closer to shore, and after what seemed like an eternity, we were out of the worst of it and our wild ride was over.
That part of the trip was not fun, but experiencing the power of nature was humbling. It also reminded me of our respect for the ocean and the importance of checking in with family to let them know our destination and our ETA.
But back to this Citrus Chardonnay-Glazed Wild Salmon recipe! Honey-sweetened citrus fruit, a crisp, fruity wine, a punchy chili paste and fresh ginger combine to make a flavourful, easy glaze for salmon. I served it on peppery arugula with  fresh, foraged huckleberries and garden vegetables. I hope you like it as much as we do.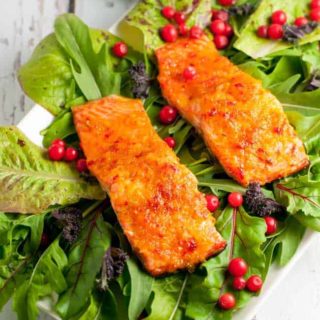 Citrus Chardonnay-Glazed Wild Salmon
This Citrus Chardonnay-Glazed Wild Salmon recipe features a glaze made from honey-sweetened citrus fruit, a crisp, fruity wine, a punchy chili paste and fresh ginger
Print
Pin
Rate
Ingredients
fresh wild salmon fillets,

,

pin bones removed, enough for 4

1/4

cup

honey

1/2

cup

Chardonnay wine

zest of 1 lemon

zest and juice of 1 orange

1

tbsp

chili paste

1

tbsp

ginger,

finely minced
Instructions
Heat oven to 400 F.

Put all ingredients except salmon in a small saucepan and heat to boiling. Lower heat and continue to cook until it has been reduced by half and is syrupy, 8 - 10 minutes.

Put the salmon fillets, skin side down in an ovenproof baking dish. Brush generously with the glaze. Bake for 5 minutes, then brush with additional glaze.

Bake 5 minutes longer. brush with glaze once again and place under the broiler for 2 -3 minutes to caramelize the glaze, if desired. Serve.
Tried this recipe?
Share a photo on INSTAGRAM and tag it #flavourandsavour! I love seeing what you've made.
If you love wild salmon, you'll love this Asian Wild Salmon Buddha Bowl, too!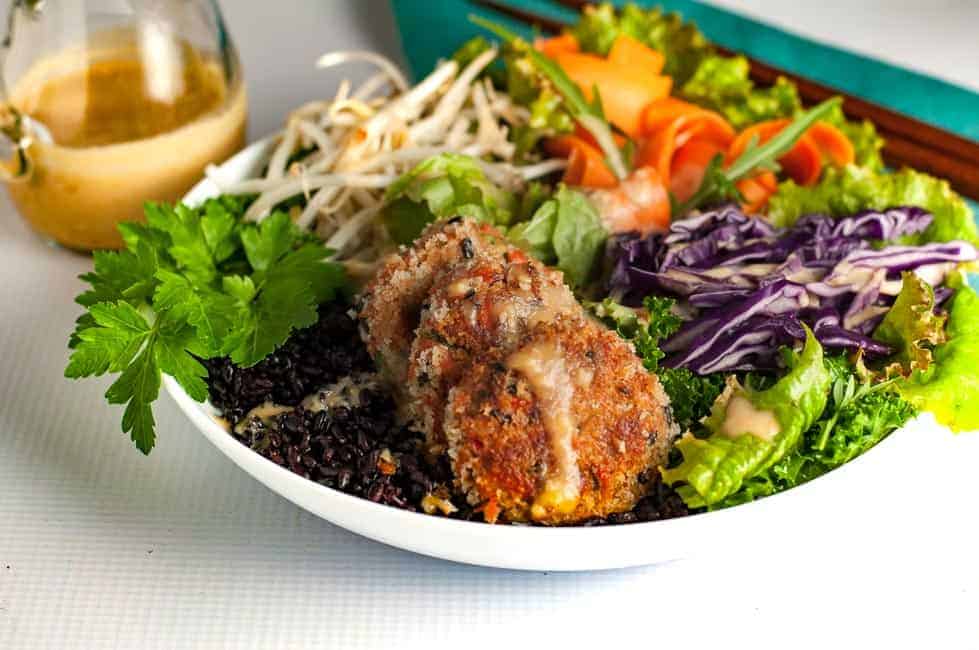 or try this Caramelized Sockeye Salmon with Wild Berry Gastrique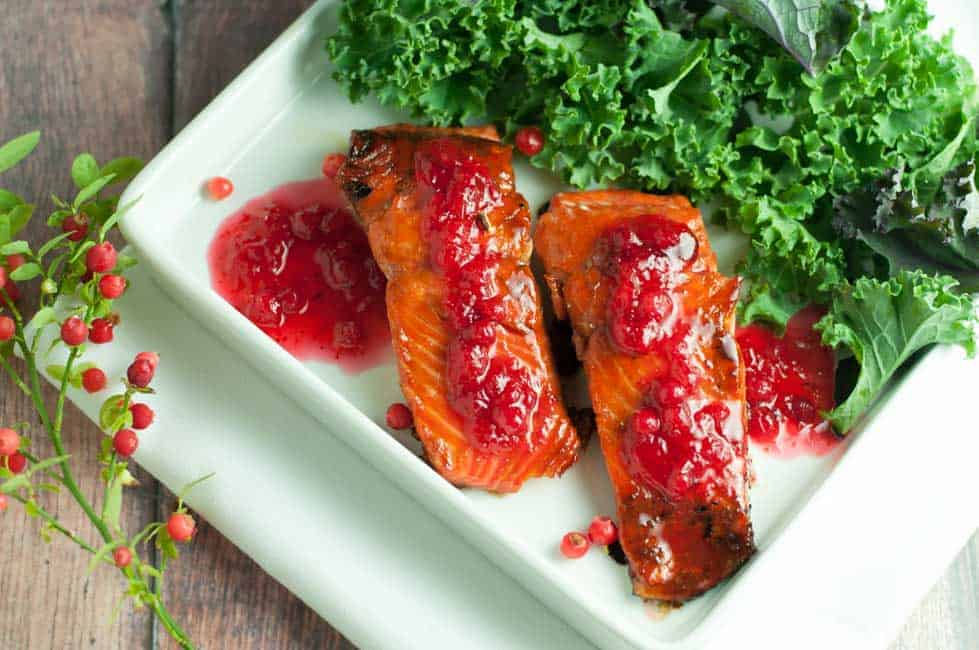 This post contains affiliate links through amazon.com. If you purchase something through my site, I receive a small commission, paid by Amazon, not by you. It helps to offset the cost of maintaining my site. Thanks for supporting Flavour & Savour!