Savour Fall flavours with this Fennel Apple Chicken Salad. Made with pre-cooked or rotisserie chicken, mixed baby greens, shaved fennel, apple slices, and pumpkin spice pecans, this apple fennel salad with chicken makes a healthy salad for two for lunch or a light dinner.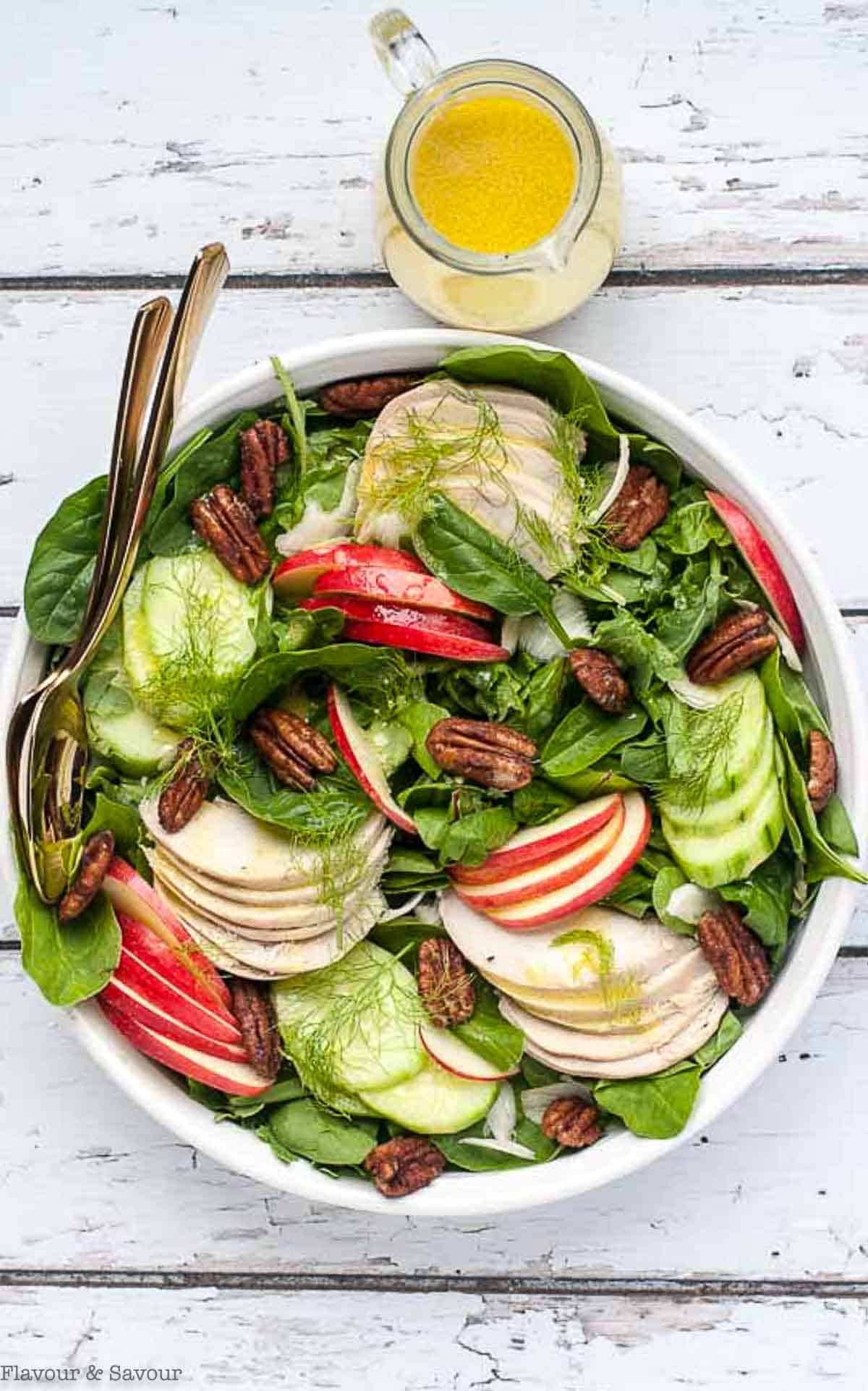 Are you ready to dive into the flavours of Fall?
I am! Once summer seems to be on its way out I love to make this Fennel Apple Chicken Salad. It has a base of baby spinach and mixed greens with shaved fennel, sweet apple slices, crispy cucumber and pumpkin spice pecans. And for extra protein and to make it a meal, a cooked chicken breast!
❤️ Why you'll love this recipe
It's an easy-peasy beautiful salad that makes a nutritious light dinner or lunch.
It's a little different from your run-of-the-mill spinach salad!
Crisp apples and crunchy pecans with hints of fennel bring all those cozy Fall feels to your table.

🛒 Ingredients
To make this apple fennel salad with chicken, you will need:
fresh baby greens. Use baby spinach or a mix of baby kale, chard, and spinach, or your favourite salad mixture.
one large or two small cooked chicken breasts
half a sweet apple
half a fennel bulb
half a cucumber
¼ cup of my Low-Carb Roasted Pumpkin Spice Pecans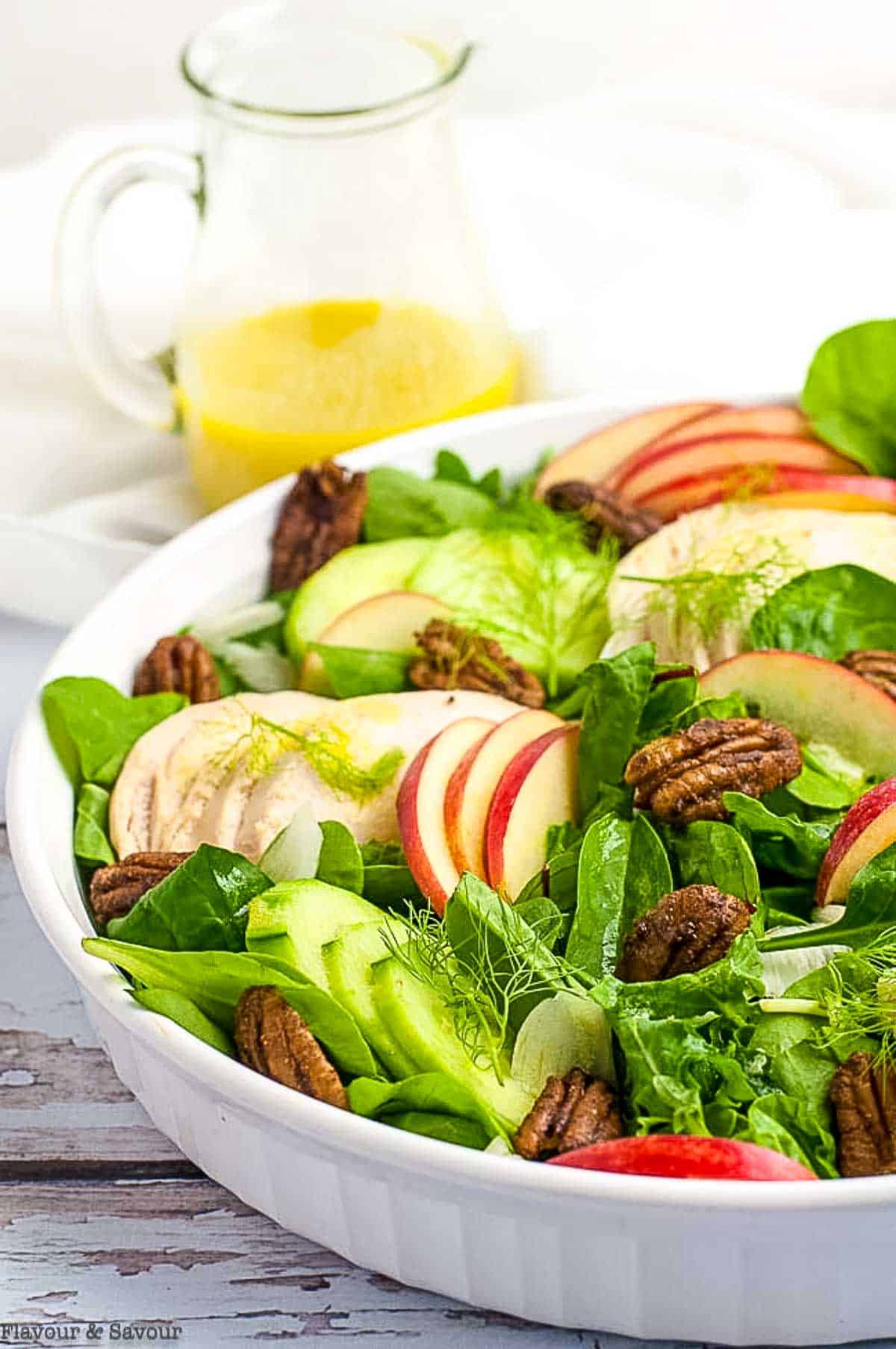 🔪 How to make this apple fennel salad
🔁 Possible Variations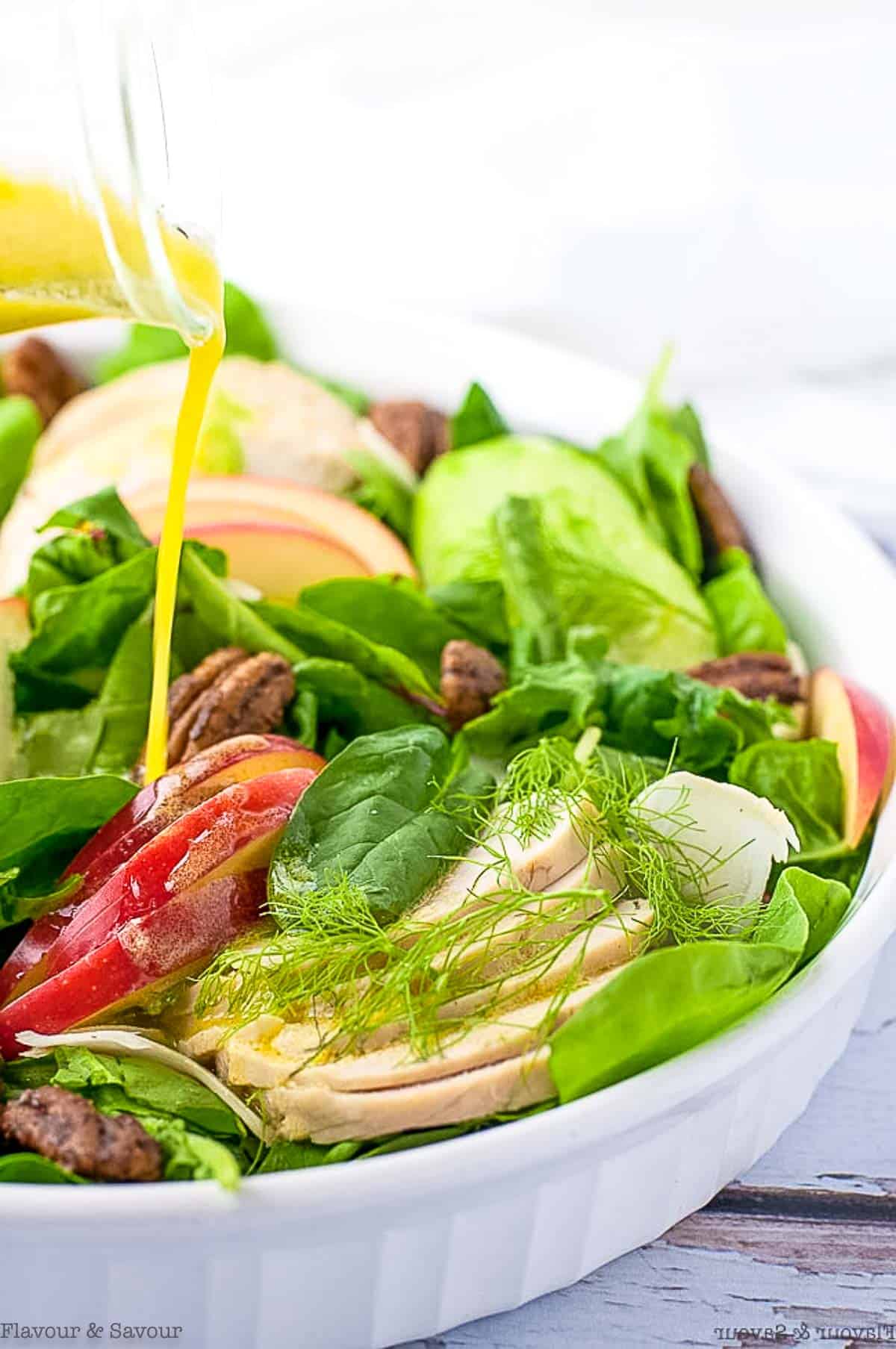 👍🏼 Helpful tip
My kitchen motto is "Cook once, eat twice." If I can double a recipe and repurpose it the following day, I consider that a win.
Next time you cook chicken breasts or thighs, cook a few extra and either refrigerate for the following day, or freeze. Having a pre-cooked chicken on hand makes this a fast dinner to put together. Using rotisserie chicken would be just as convenient.
❓How to cut a fennel bulb
Tackling a head of fennel can be confusing, but this video does a great job of showing how easy it can be! Once you have the fennel bulb prepared, use a vegetable peeler to shave thin slices from the bulb to add to this salad.
🗒 More recipes for dinner salads
Here are a few of my other favourite quick and nutritious chicken salads you may want to try soon.
When you make this chicken salad with apples and fennel, please leave a comment and a star ⭐️⭐️⭐️⭐️⭐️ rating below. I love hearing how my recipes turned out for you or how you adapted them. Thanks in advance! Subscribe to my newsletter and have new recipes delivered straight to your inbox once a week.
🗒 More healthy salads and homemade dressings
📖 Recipe
This recipe was originally published in 2018. It has been updated with extra information to make it more helpful. The recipe remains the same.