Enjoy the refreshing flavours of Greece with this tantalizing Greek Chicken Salad recipe, garnished with aromatic fresh mint leaves. This colourful salad combines tender grilled chicken, crisp cucumbers and bell peppers, cherry tomatoes, tangy feta cheese, and briny Kalamata olives, all tossed together with a zesty lemon-herb dressing.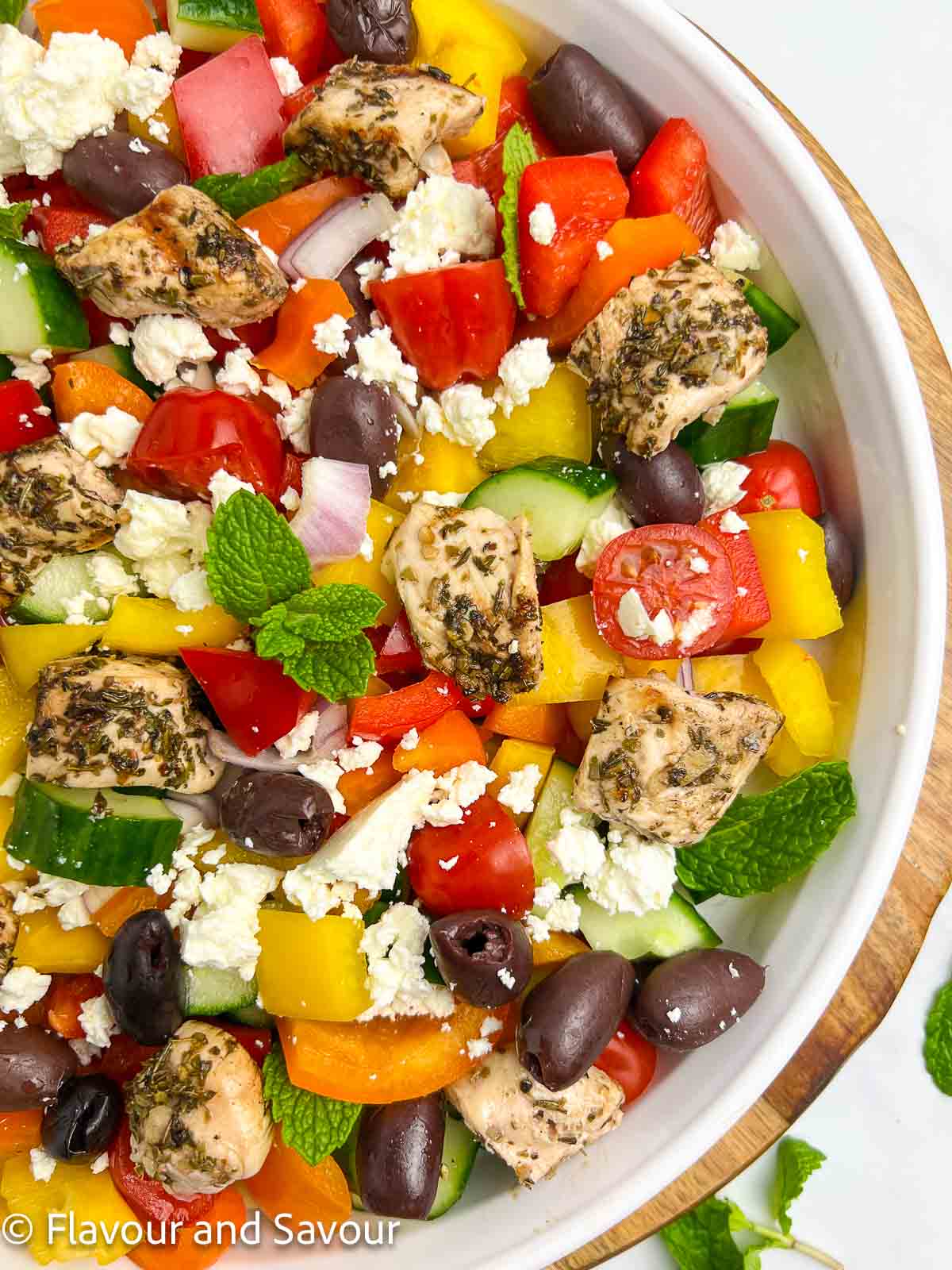 ❤️ Why you'll love this recipe
Mediterranean flavours: Savour the vibrant flavours of the Mediterranean in every bite of this fresh Greek salad with chicken, perfect for a light, satisfying meal.
Make-ahead: An easy make-ahead recipe for a lunch or dinner salad.
Work smarter, not harder: All you need is one marinade that doubles as a dressing (when you add a teaspoon of honey to it.) Pour half the marinade ingredients over the chicken and reserve the other half to dress the salad later.
Classic: It's a Greek classic salad, easy to make at home.
Cooking for one or two people? This recipe is an ideal choice. Double it for a family!
If you enjoy the vibrant and zesty flavours of this Greek Chicken Salad, you may also love my other Greek-inspired recipes, such as tzatziki dip, Greek Chicken Cobb Salad and this Greek Chicken Bowl wit1h Watermelon and Feta.
Try my refreshing Greek Watermelon Basil Salad, too!
🛒 Ingredients and substitutions
You'll find a complete list of ingredients with amounts in the recipe card below. But before we get to the full recipe, here are a few notes about the ingredients.
cucumber: Long English cucumbers tend to have fewer seeds, and as a result, you'll have less chance of having a watery salad.
bell peppers: Using a variety of colours, like red, orange, yellow or even green, makes an appetizing dish. Coloured peppers are not traditional in Greek salad, but they add a natural sweet flavour and crisp texture.
red onion: You can substitute white onion if you'd like. Thin slices of red onion will add a zesty flavour and a beautiful contrasting colour to your salad.
tomatoes: I like to use small cherry or grape tomatoes in Greek salad.
Kalamata olives: Kalamata olives are traditional in Greek Salad. Choose pitted or unpitted, your choice.
Feta cheese: While it's traditional to add a plank of feta cheese to a Greek salad, I like to crumble it on top. Be sure to use a block of feta cheese in brine, not the feta cheese crumbles. If you buy crumbled feta cheese in a container, you'll find it is not as moist or as flavourful as feta packed in brine. This type may contain powdered cellulose or another anti-caking agent. (It also has a shorter shelf life than a block.)
fresh mint leaves: Mint has a mild, almost sweet flavour that perfectly complements the veggies in this salad. You can substitute basil leaves for a more herbal flavour.
Grilled Greek Chicken Kabobs: use boneless, skinless chicken breasts or chicken thighs.
marinade: fresh lemon juice, red wine vinegar, extra virgin olive oil, garlic, dried oregano, parsley, and thyme. You'll use half the marinade for the chicken and save half to use as a dressing, adding a little honey to it, if desired.
🔪 Instructions
Here's an overview of what you'll do to make this recipe perfectly. You'll find complete instructions in the recipe card at the end of this post.
Prepare the chicken: Mix the marinade ingredients together. (This also doubles as a dressing.) Cube the chicken and pour the marinade over it, either in a container with a tight-fitting lid or a resealable bag. Let it marinate for up to an hour or so, then arrange the chicken pieces on skewers and grill over medium heat.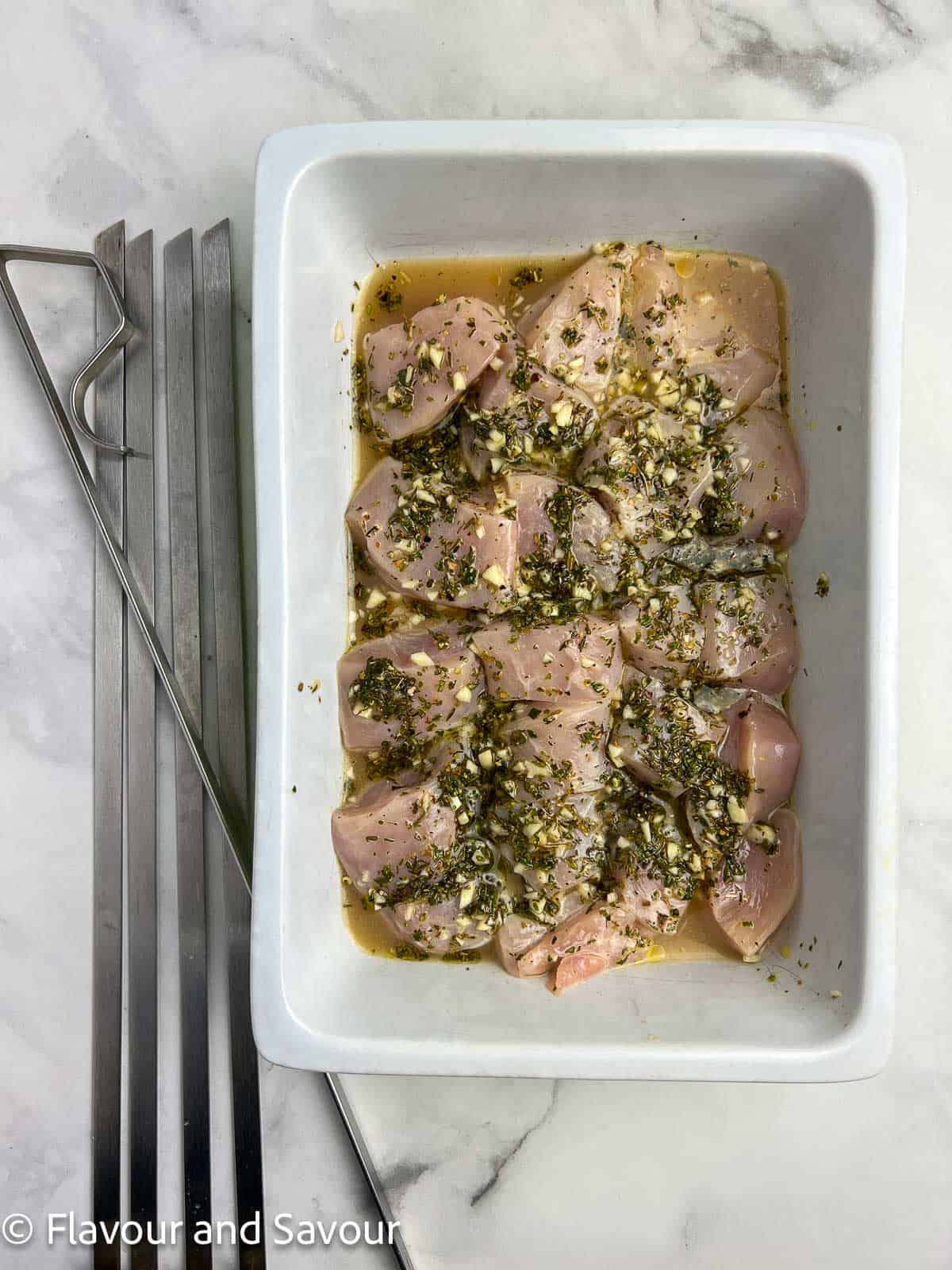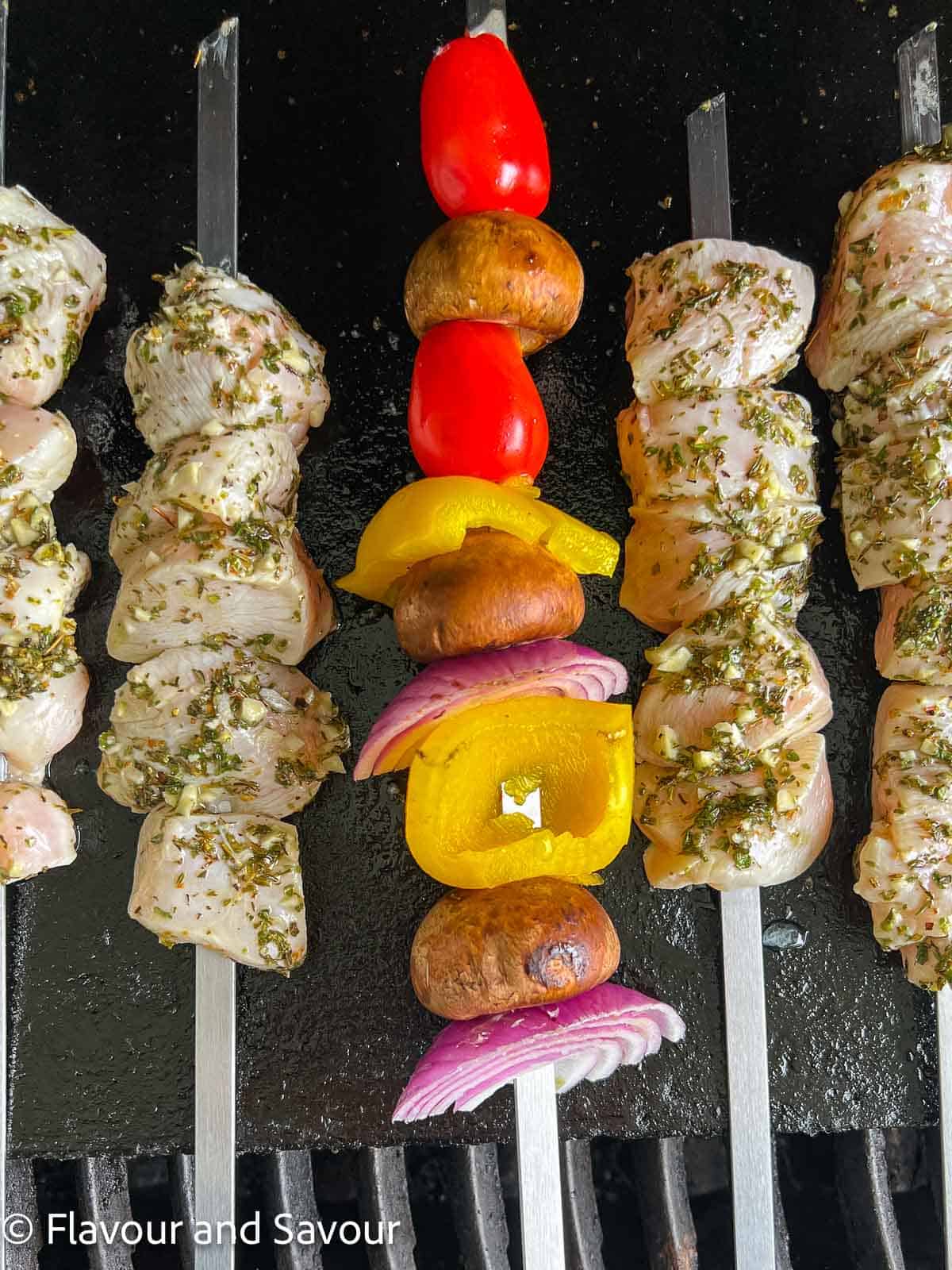 Meanwhile, prepare the vegetables: Seed and chop the cucumber into bite-sized pieces. (Leave the peel on if you're using a long English cucumber with a tender skin).
Seed and dice the peppers, slice the onion thinly, and slice the cherry tomatoes in half.
Combine the chopped vegetables in a large, shallow bowl, toss with drained Kalamata olives, crumbled feta cheese and torn mint leaves.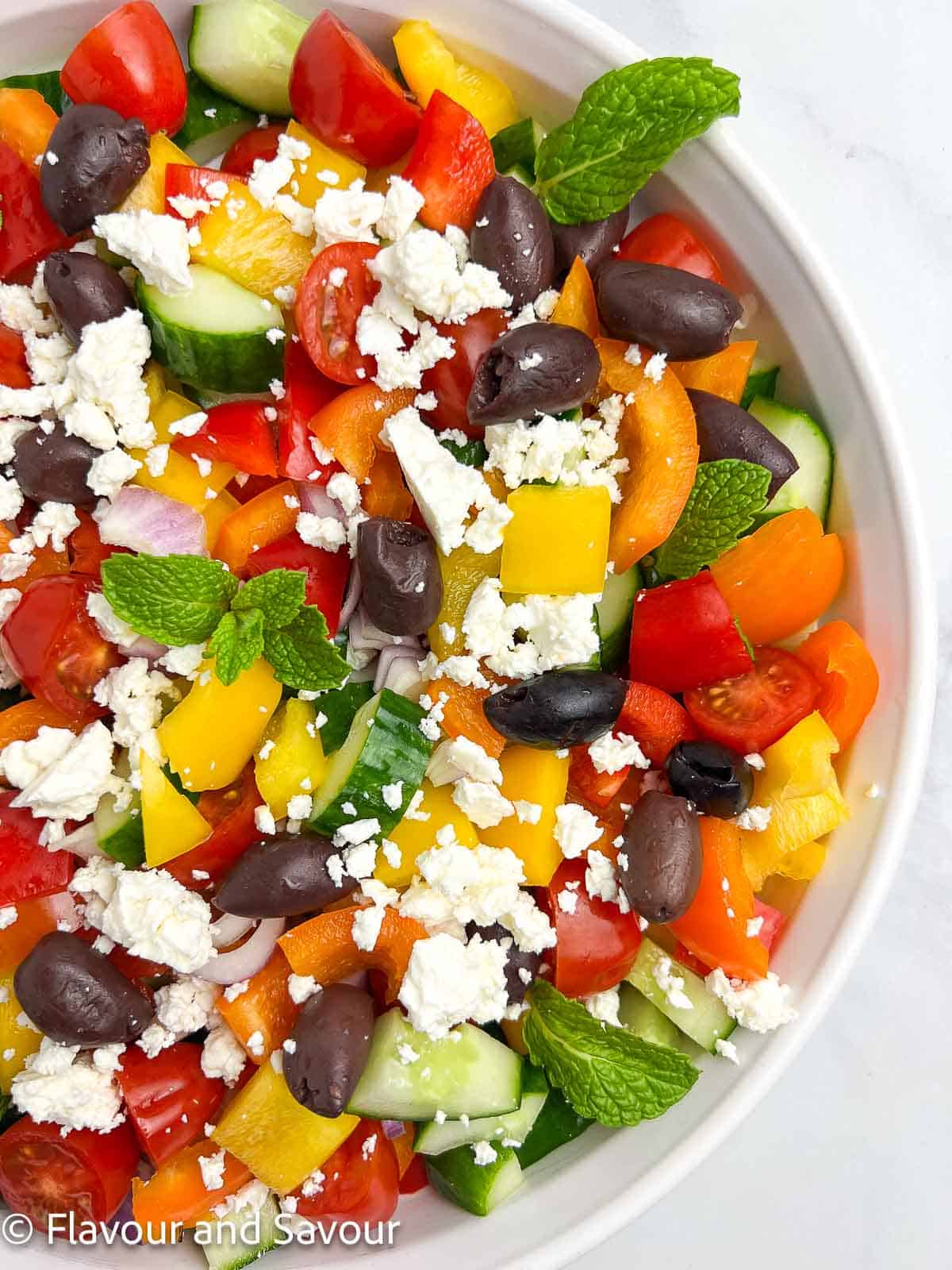 Once the chicken is grilled, arrange it on top of the salad and serve. Combine the marinade you saved previously, add a teaspoon or two of honey, and give it a good whisk or shake. Drizzle it on your salad, toss and serve! Enjoy every bite😊.
To make this salad ahead of time: Chop the vegetables and refrigerate them in an airtight container. Store the cooked chicken separately.
🔁 Possible Variations
You can skewer and grill the chicken (remember to soak wooden skewers in advance), or sear it on the stovetop in an ovenproof skillet and finish cooking it in the oven.
Make a Greek Shrimp Salad instead and serve it topped with grilled or Air Fryer Lemon Garlic Shrimp.
👍🏼 Helpful Tips
To keep your salad crisp, be sure to remove the seeds from the cucumber. I use either a small spoon or a melon baller to scrape the length of the cucumber to remove the seeds before slicing.
Mint leaves wilt quickly, so if you are planning to make this salad ahead of time and refrigerate it, garnish it with mint leaves just before serving.
Hot or cold: You can serve this with either hot or cold chicken. Both are delicious!
Lettuce or no lettuce! Add this salad to a bed of crisp chopped romaine for a change.
Make your lunch for tomorrow: Double the recipe for this Marinated Lemon Chicken Greek Salad with Mint and you'll have lunch for the following day!
❓Reader's Questions
What is the best type of feta cheese to buy?

You can buy feta cheese in a block immersed in brine, in a block shrink-wrapped in plastic, or pre-crumbled in a container.
Buying it in a block in brine will guarantee the best flavour and it will last the longest. The liquid prevents the cheese from being exposed to the air, preserving its shelf life.
Crumbled feta often contains anti-caking agents that may affect its flavour and can cause the cheese to dry out.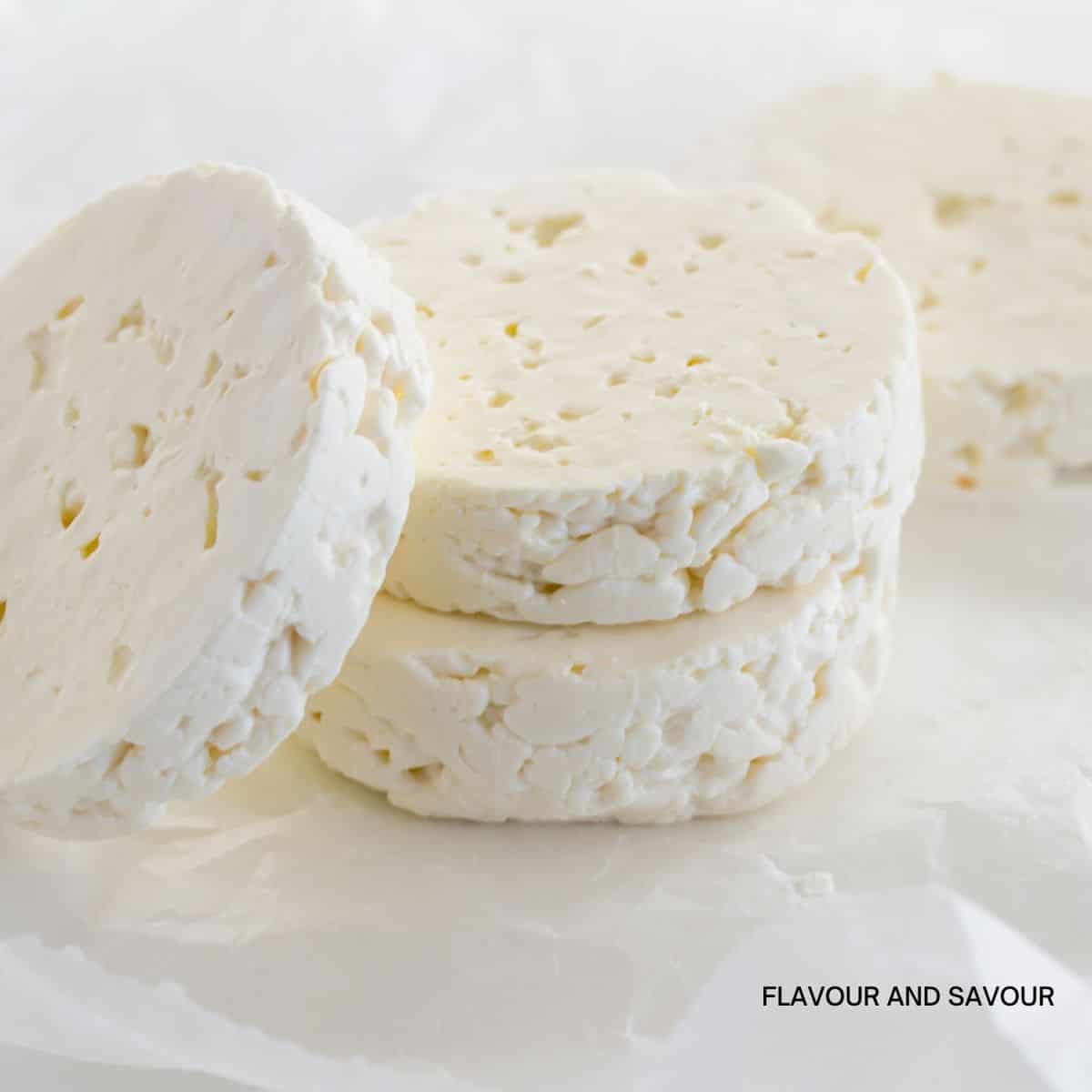 Is feta cheese dairy-free?

Feta can be made from sheep milk, goat milk, a combination of the two, or from cow's milk. (Cow's milk feta is popular in North America.) Feta is a soft brined cheese with a tangy taste. It's a good source of calcium and it contains probiotics to help boost our immune system. It can be easier to digest and less inflammatory than cow's milk cheese.
If you are avoiding cow's milk in your diet, choose a goat milk feta or one made from sheep milk.
Like any cheese, you may want to eat it sparingly as it is high in sodium and saturated fat.
What type of chicken is best to use for Greek Salad?
I've made this salad countless times over the years with cubed boneless skinless chicken breasts, boneless skinless chicken thighs, or chicken tenders.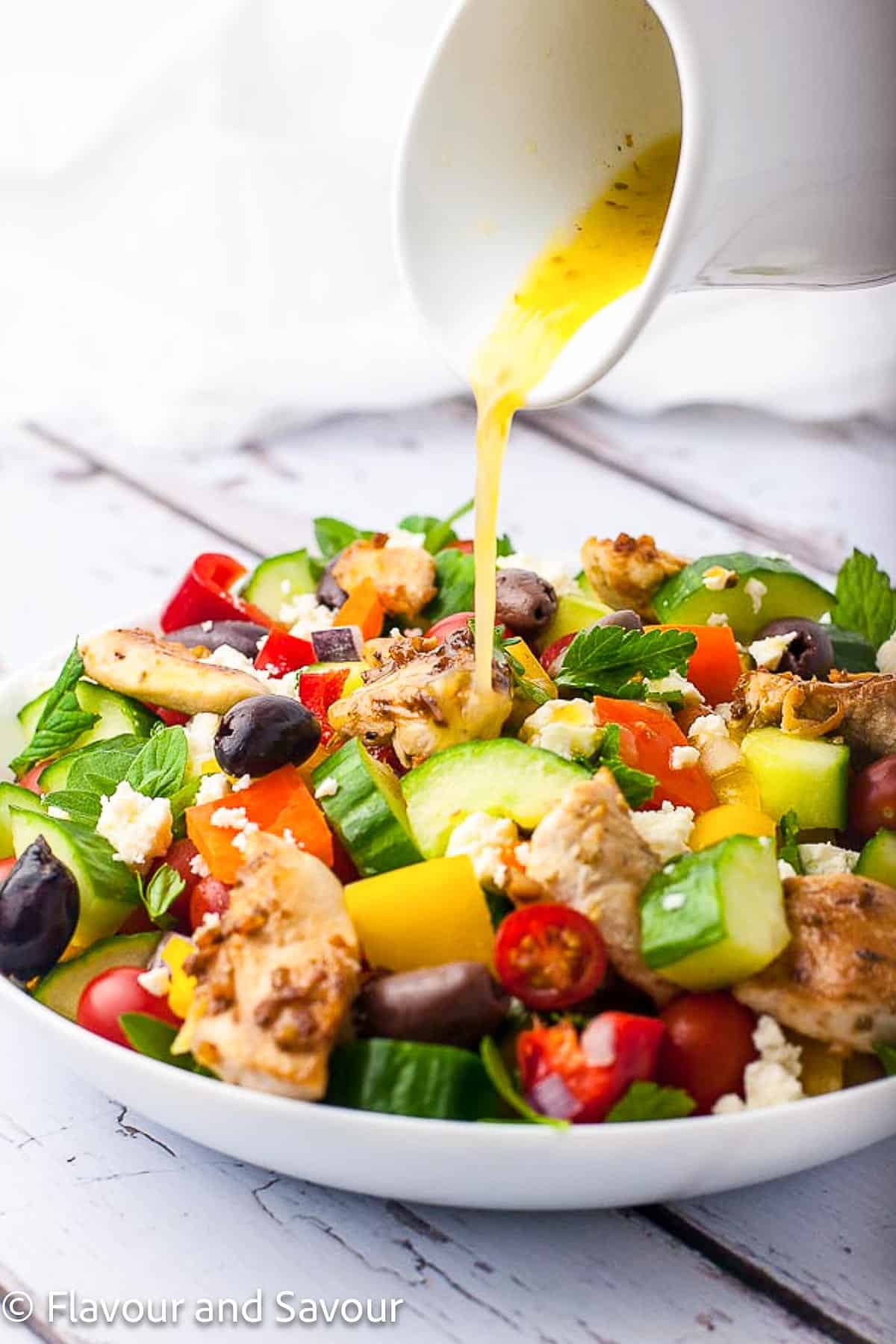 🍽 What to serve with Greek chicken salad
Here are a few ideas to round out your Greek-inspired meal.
Tzatziki Sauce: Whip up a batch of homemade tzatziki sauce to accompany your Greek salad and grilled chicken. The cool and creamy yogurt-based sauce, flavored with cucumber, garlic, and dill, adds a refreshing and tangy element to your meal.
Pita Bread: Warm up some fluffy pita bread (regular or gluten-free) to serve alongside your Greek salad and grilled chicken. The soft and chewy bread provides a delicious accompaniment to mop up the dressing.
Offer Spinach Artichoke Puff Pastry Cups or Puff Pastry Spinach Artichoke Pinwheels. These small bites can be made with gluten-free puff pastry if necessary.
Spanakopita: Add a savoury pastry dish like spanakopita to your meal. These spinach and feta-filled phyllo triangles offer a contrast in textures and flavors, making them an ideal addition to your Greek-inspired feast.
Dessert: End your Greek-inspired meal on a sweet note with a light and refreshing Greek yogurt fruit parfait. Layer creamy Greek yogurt with fresh berries, sliced fruits, and a drizzle of honey for a delicious dessert option.
⏰ Storage Instructions
To store: Store leftover salad in an airtight container in the fridge for up to 3 days. It's best to store the dressing separately.
To reheat: While this Greek chicken salad is delicious with cold chicken, you can reheat leftover chicken for a minute or two in the microwave.
🗒 More chicken salad recipes
🌟Did you make this recipe?
When you make this recipe for Greek salad with chicken, please leave a comment and a star rating below. I love hearing from you! Thanks in advance. Subscribe to my newsletter and have new recipes delivered straight to your inbox.
📖 Recipe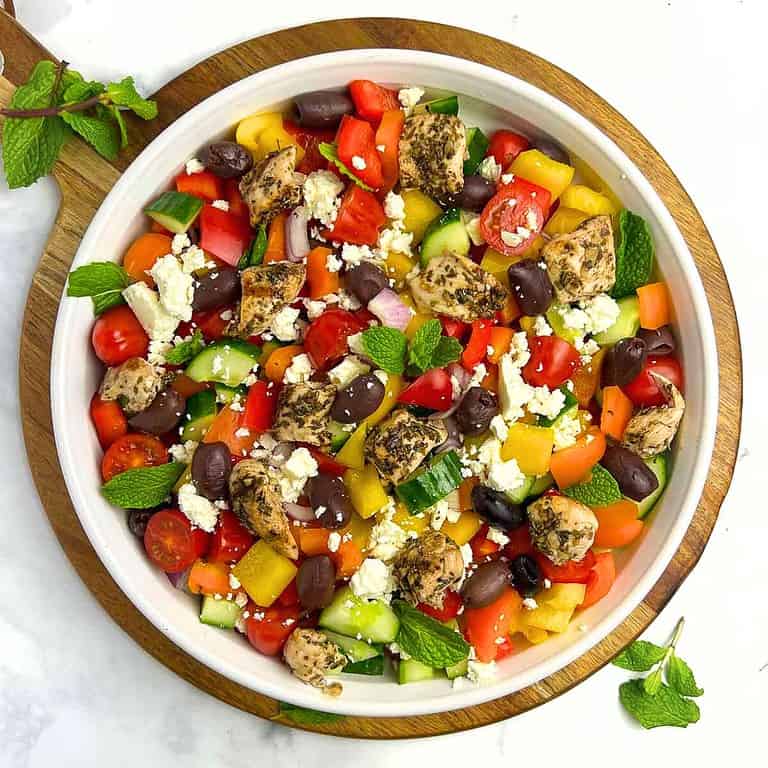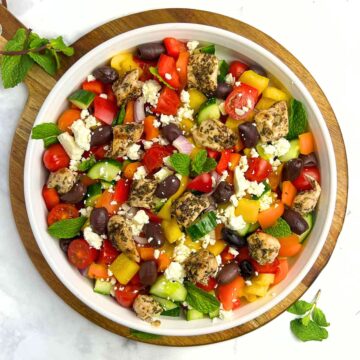 Marinated Lemon Chicken Greek Salad with Mint
A skinny dinner salad with a dressing that doubles as a marinade! Before marinating the chicken, set aside half the marinade to use as dressing. Add a teaspoon of honey to the dressing. A colourful, crunchy marinated lemon chicken Greek salad with fresh mint and herbs.
Print
Pin
Rate
Ingredients
For the Marinade and Dressing
6

tablespoons

lemon juice

freshly squeezed

2

tablespoons

red wine vinegar

¼

cup

olive oil

extra virgin

1

tablespoon

dried oregano

1

tablespoon

dried thyme

3

cloves

garlic

minced

salt and pepper

to taste
For the Salad
2

cups

Long English cucumber,

seeded and chopped

2

cups

bell pepper,

diced

1

cup

cherry tomatoes,

or grape tomatoes

¼

cup

red onion,

finely diced

¼

cup

Kalamata olives,

pitted

2

tablespoons

feta cheese

(omit for paleo diet)

¼

cup

mint leaves,

torn

1

teaspoon

honey

add to remaining marinade for dressing

6

oz

chicken breasts, thighs, or chicken tenders

skinless, boneless, cubed
Instructions
Whisk marinade ingredients together. Put chicken cubes in a glass bowl or resealable plastic bag and pour HALF the marinade on top. Refrigerate for at up to an hour. Reserve the other half of the marinade for the dressing.

Cook the chicken either on skewers on a grill (indoor or outdoor), or on the stove top in an oven-proof skillet. If using a skillet, heat oven to 375°F., add ½ Tablespoon oil to the pan, heat, then add the chicken cubes. Brown, then transfer skillet to oven and continue cooking until chicken is no longer pink (about 5 - 7 minutes.)

Meanwhile, combine cucumbers, peppers, tomatoes, and olives in a serving bowl. Add cooked chicken and garnish with feta cheese and mint leaves.

Add 1 teaspoon honey to the remaining marinade and use as a dressing. Toss together and serve.
Notes
*Note that the fat level in the Nutrition label is high because it does not take into account that the marinade used for the chicken will be discarded, not consumed.
You may have more dressing than you need. Store it in a glass jar with a lid in the fridge. The olive oil will solidify, but you can simply leave it at room temperature for 10 minutes and give it a good shake before using it again.
Nutrition
Calories:
527
kcal
|
Carbohydrates:
30
g
|
Protein:
25
g
|
Fat:
37
g
|
Saturated Fat:
7
g
|
Polyunsaturated Fat:
4
g
|
Monounsaturated Fat:
23
g
|
Trans Fat:
0.01
g
|
Cholesterol:
70
mg
|
Sodium:
579
mg
|
Potassium:
1143
mg
|
Fiber:
8
g
|
Sugar:
15
g
|
Vitamin A:
5663
IU
|
Vitamin C:
235
mg
|
Calcium:
240
mg
|
Iron:
6
mg