These Fresh Veggie Zucchini Roll-Ups are crisp, crunchy and flavoured with creamy Caesar dressing. A perfect party appetizer or healthy snack for kids!
Disclosure: I have been monetarily compensated by Litehouse Inc. but all opinions in this post are my own.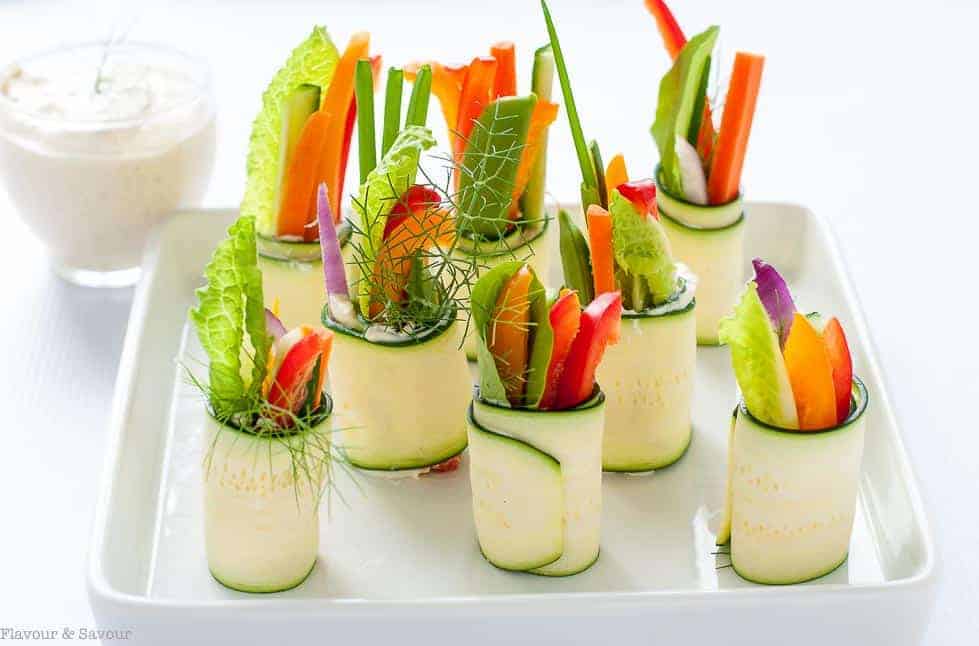 These Fresh Veggie Zucchini Roll-Ups are so good, so fresh, and so fun to eat!
When Litehouse asked me to create a recipe using fresh, vibrant ingredients that was fun, innovative, and creative, I had a gazillion ideas circulating in my head. I spent several hours in my kitchen, experimenting with different ideas, using Denis as taste-tester. I finally decided on these Zucchini Roll-Ups. Finger food! Fresh! Crunchy and delicious.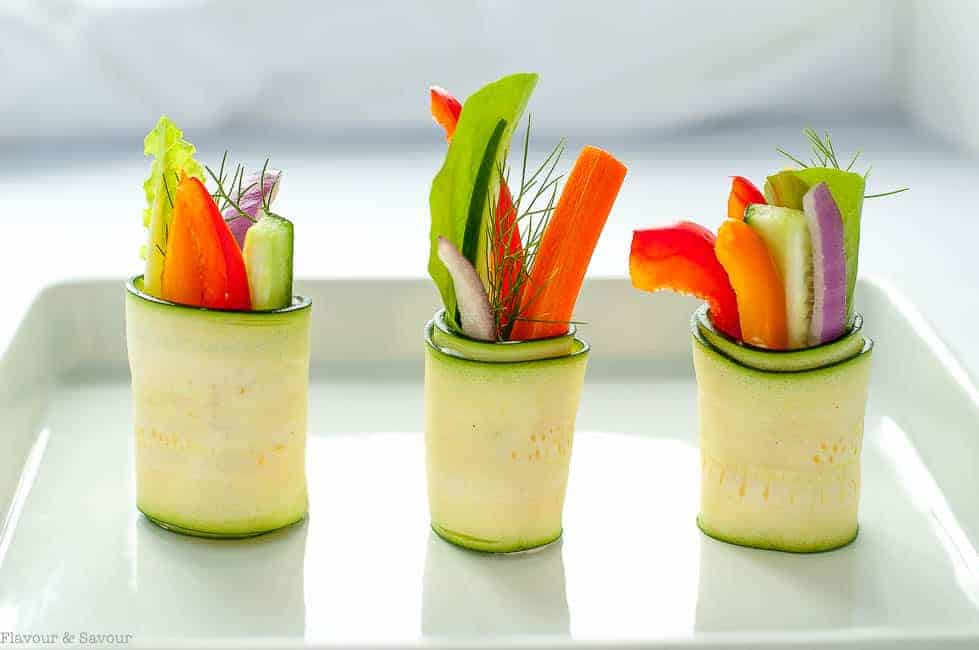 With zucchini blossoming in my garden and oodles of fresh veggies available in local stores and markets, focusing on a recipe that was fresh and easy seemed like the logical choice.
If you've followed my blog for a while, you know how I like to create fun finger foods and appetizers. These Zucchini Roll-Ups are an ideal appetizer for any time of year because you can vary the veggies you roll up inside, depending on what is in season.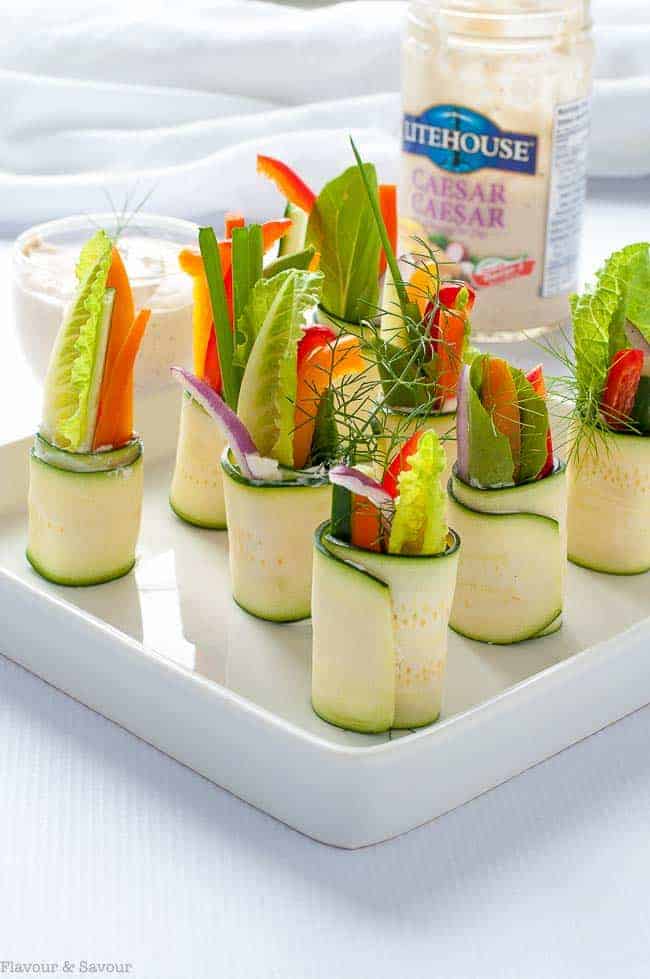 While I often make my own vinaigrettes, I've been a fan of Litehouse dressings and dips for years. Cold is where it's sold! I buy their preservative-free, refrigerated dressings right in the produce section, next to the fresh veggies and fruit.
Litehouse Caesar Dressing and Dip is one of my favourites. It's a full-bodied dressing loaded with garlic and Parmesan that Denis loves. It tastes like I've gone to all the work of making my own. It paired perfectly with low-fat cream cheese in this recipe.
Preparing these healthy Veggie Zucchini Roll-Ups is simple, but here are a few tips to guarantee success.
1. Begin by combining cream cheese with Litehouse Caesar dressing. Set aside in the refrigerator to allow the flavours to blend.
2. Choose a zucchini that is about 8 -10 inches (20 - 25 cm) long. Use a vegetable peeler or a mandolin to slice it lengthwise into long very thin ribbons. If the strips are too thick, they will break when you roll them. The first few strips will be too narrow for these roll-ups, so save them for a salad or some other use.
TIP: Lay the zucchini strips on paper towel and pat dry to absorb excess moisture so the Caesar-cream cheese mixture will adhere.
3. Cut the vegetables you've chosen into thin matchsticks. I used bell peppers, carrots, cucumber, green onion, red onion, sugar snap peas, lettuce leaves and fennel fronds, but you can use your own combinations, making sure you have a variety of colours to keep the roll-ups interesting.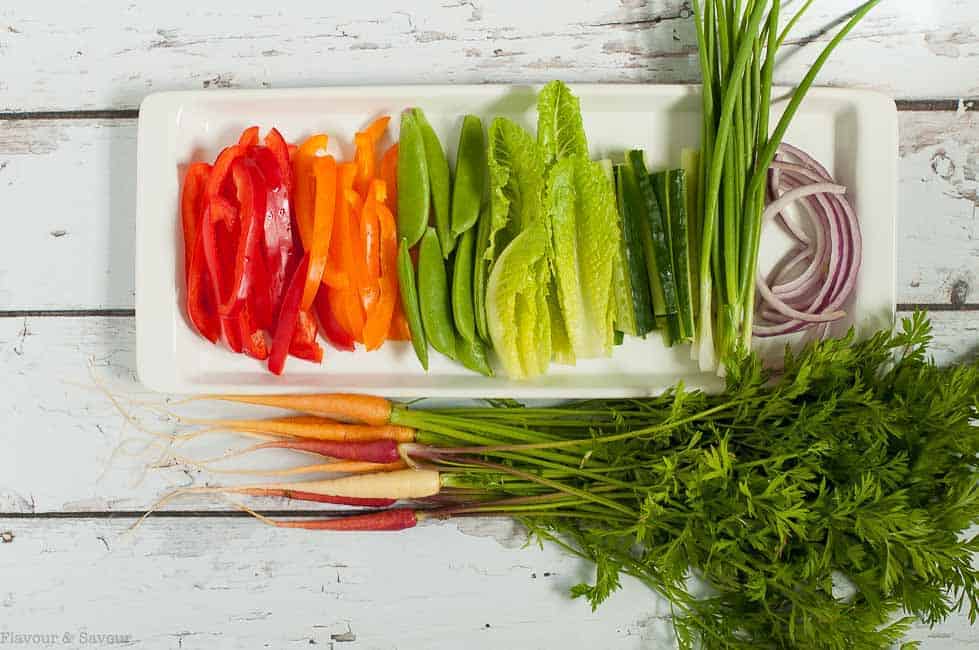 4. Spread the Caesar-cream cheese mixture evenly but thinly on each strip. Lay the cut vegetables on top, keeping their ends even with one long edge of the zucchini strip, then roll it up.
The Caesar-cream cheese mixture acts like glue to hold the roll-ups together. You won't need a toothpick if you've sliced the strips thinly.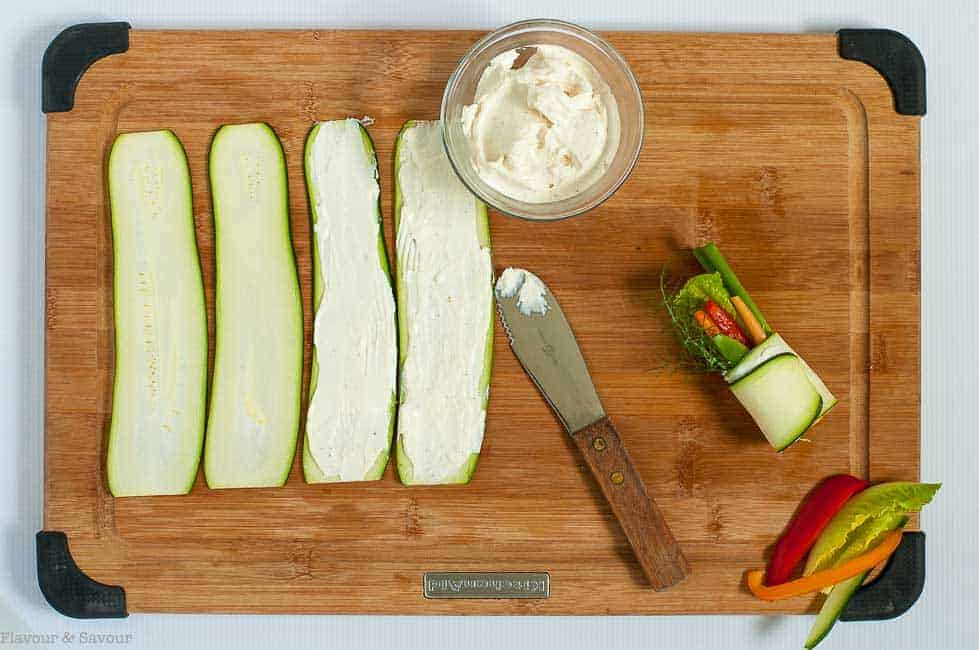 5. Serve with extra Caesar dressing for dipping, or refrigerate in a covered container until serving time. These zucchini roll-ups taste best soon after you've assembled them. Eat them while they're crisp and crunchy!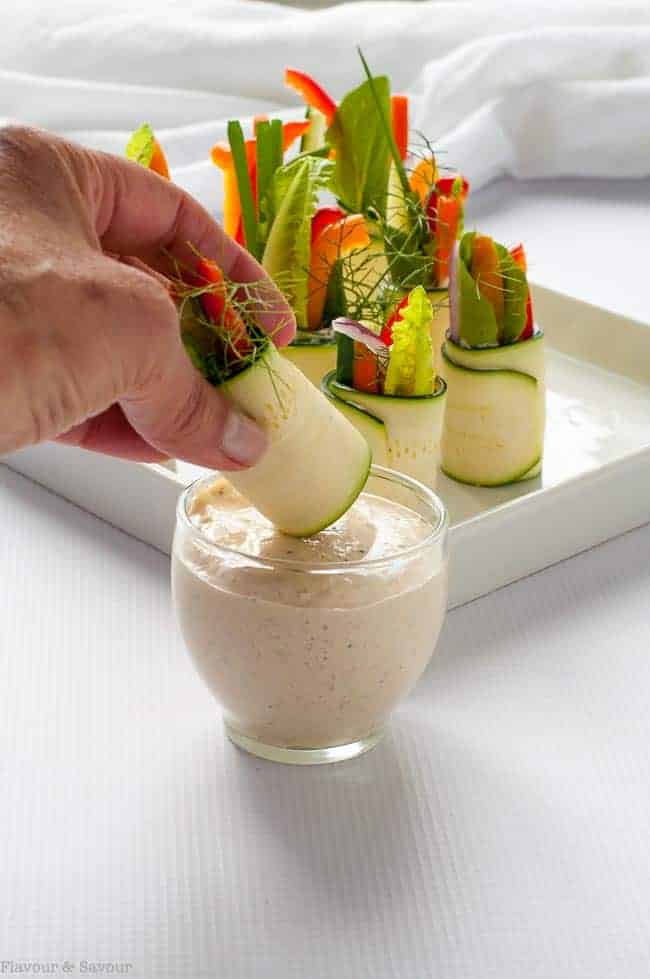 These Veggie Zucchini Roll-Ups make a healthy sushi-style snack for kids' lunches, too! I watched as the kids dipped and devoured these, crunching away on fresh veggies straight from the garden. Finger food is fun food for any age, but especially for kids.
We want our kids (and grandkids) to learn to love a variety of fresh vegetables. Why not help them to do so by serving veggies with fresh, preservative-free dressing that they love? Real veggies deserve real dressings!
You might also like this Creamy Cannellini Lemon Feta Dip. One more way to enjoy fresh veggies!
Watch this VIDEO to see how EASY it is to make these Fresh Veggie Zucchini Roll-Ups!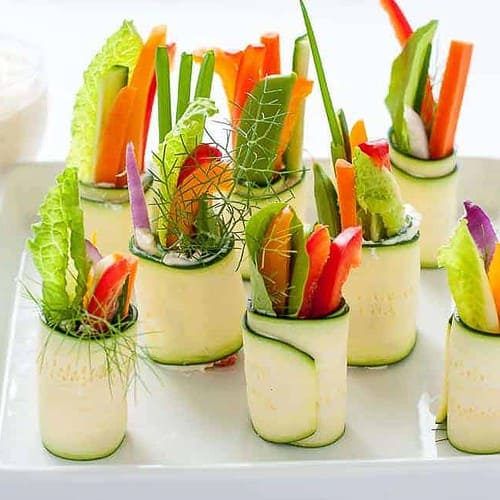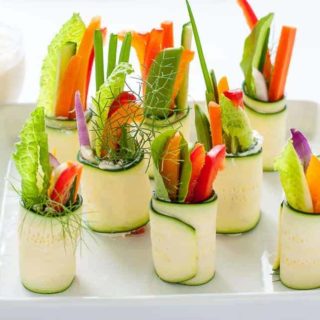 Fresh Veggie Zucchini Roll-Ups
These Fresh Veggie Zucchini Roll-Ups are crisp, crunchy and flavoured with Caesar cream cheese. They're a perfect party appetizer or healthy snack for kids.
Print
Pin
Rate
Jump to Video
Ingredients
4

oz. (½ brick)

cream cheese

low-fat if desired

2

tablespoon

Litehouse Caesar Dressing

1

medium

zucchini

8 - 10 inches long

assortment of fresh vegetables,

cut into matchsticks

½

cup

Litehouse Caesar Dressing and Dip,

for dipping
Instructions
Combine softened cream cheese and Litehouse Caesar dressing in a small bowl with a fork or use a small food processor to combine.

Slice zucchini lengthwise into thin strips. Use a mandolin or a sharp vegetable peeler. Lay out on paper towel and press dry to remove excess moisture.

Slice fresh vegetables into thin matchsticks.

Spread the Caesar-cream cheese mixture evenly but thinly on each strip. Lay the cut vegetables on top, keeping their ends even with one long edge of the zucchini strip and roll.

Roll tightly, adding an extra dab of mix to secure the end.

Serve immediately, or chill in refrigerator until serving time. Best consumed on the same day.
Nutrition
This recipe was inspired by Good Housekeeping.
This post may contain affiliate links. If you click on any of the affiliate links and make a purchase within a certain time frame, I'll receive a small commission. The commission is paid by the third party, not by you. I am a participant in the Amazon Services LLC Associates Program, an affiliate advertising program designed to provide a means for me to earn fees by linking to Amazon.com and affiliated sites.
SAVE THIS TO ONE OF YOUR PINTEREST BOARDS
and
connect with me on Pinterest

!
I'm always finding new tasty recipes to pin. Subscribe to my weekly newsletter and never miss a recipe!