This Quick Sugar-Free Blackberry Chia Seed Jam takes just 10 minutes! It's a low-carb alternative to traditional jam and needs no processing or special equipment. Keto, Paleo and Vegan.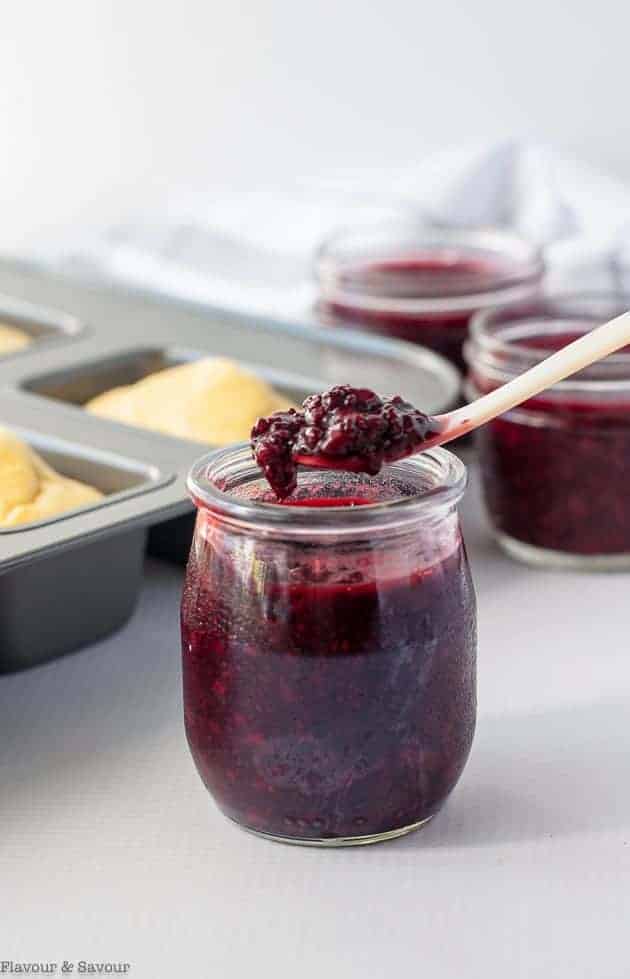 Jam in 10 minutes? As unbelievable as it sounds, this Sugar-Free Blackberry Chia Seed Jam can be made that fast.
And besides being absolutely delicious, it has no refined sugar. If you're avoiding weight gain from spikes in your blood sugar and trying to reduce sugar in your diet, this is your jam!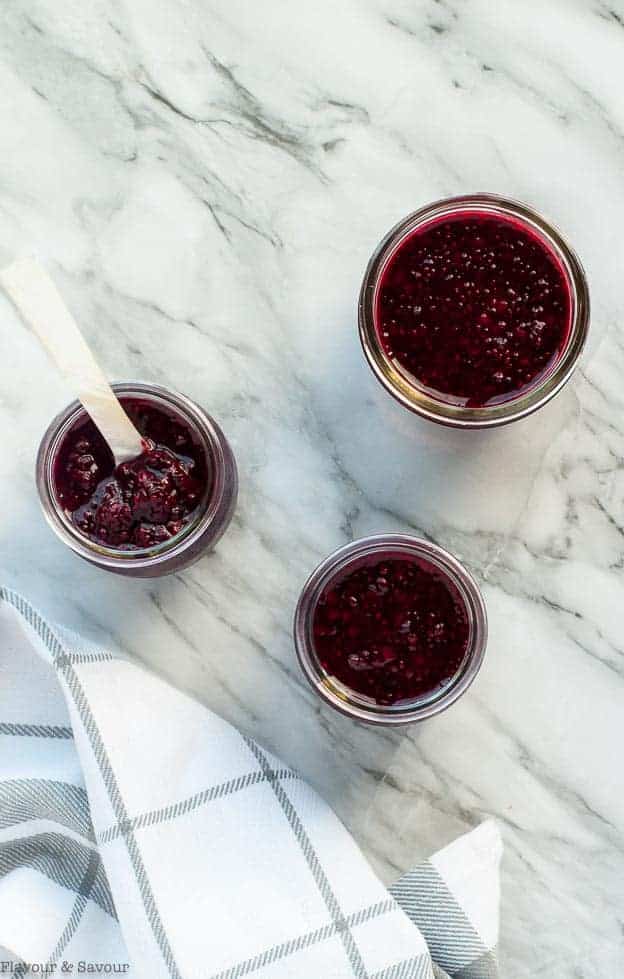 I gave up making jam years ago. The traditional long-boil berry jam recipes often call for 9 cups of berries and 6 cups of sugar. 6 cups! I just couldn't see the point in making anything with that much sugar, so I gave up my annual summer jam-making and we got used to not using jam.
This chia seed jam, however, is a great alternative when we just want a small amount, and it's low-carb! You might also like this Blueberry Basil Chia Seed Jam. It's makes a great savory appetizer with cheese, crackers, on crostini or as a topping for baked Brie.
Why should you make this Chia Seed Jam?
The Ancient Mayans and Aztecs knew about the health benefits of chia, and these little seeds have made a comeback in modern civilization in the recent years. Chia seeds are rich in Omega-3's, antioxidants, protein and fiber. They make a healthy addition to smoothies, overnight oats, baked oatmeal, pudding, and bars, like these Chocolate Cherry Chia Oatmeal Bars.
Keto-friendly Blackberry Chia Seed Jam
If you're following a ketogenic diet for health reasons, or for weight loss, you'll know that sugar of any type (granulated, honey, maple syrup, agave, brown rice syrup, etc.) has too many carbohydrates. You'll also know that the carb count of most fruit is too high for this diet as well, but that small amounts of blackberries, raspberries or strawberries are fine.
I chose blackberries for three reasons. First, because they have a very low carbohydrate count. Secondly, because they have recently been considered by some to be a new "superfood!" Just look at the nutritional benefits of blackberries!
Blackberries
are rich in Vitamin C
are an excellent source of fiber
contain high levels of antioxidants
are an excellent source of Vitamins K and A
may even promote brain health
And the third reason? They grow wild here in late summer and we can fill buckets with fresh berries every time we go for a walk or a bike ride!
How to Make Sugar-Free Blackberry Chia Seed Jam
So easy!
Combine 2 cups of berries and a little lemon juice and put in a large saucepan over medium heat.
Bring to a boil, then let it simmer for a few minutes until the berries begin to break down.
Remove the pan from the heat and stir in 2 tablespoons of sweetener.
Add 2 tablespoons of chia seeds, stir, then remove from the heat and let stand. The chia seeds will soften, create a gel and work almost magically to set the jam in about 15 minutes, very much like sugar and pectin do in a traditional jam recipe.
I used Monkfruit sweetener with erythritol to keep this jam low-carb. If you're not following a ketogenic diet, you can use honey or maple syrup. The amount you'll need will depend on the sweetness of your berries. If they're super sweet, you won't need any!
How long will this Chia Seed Jam keep?
You can keep it for a week or two in the fridge, or you can freeze it. I usually make four small jars and freeze two of them.
If I don't eat bread, why would I want jam?
If you're on a diet that excludes grains or gluten, sometimes you might miss having a slice of toast and jam or a peanut butter and jam sandwich. We like these Low-Carb Keto Mini Buns as a grain-free substitute for bread products. You can also mix this jam with yogurt, or layer it with yogurt and grain-free granola to make a quick and easy breakfast parfait.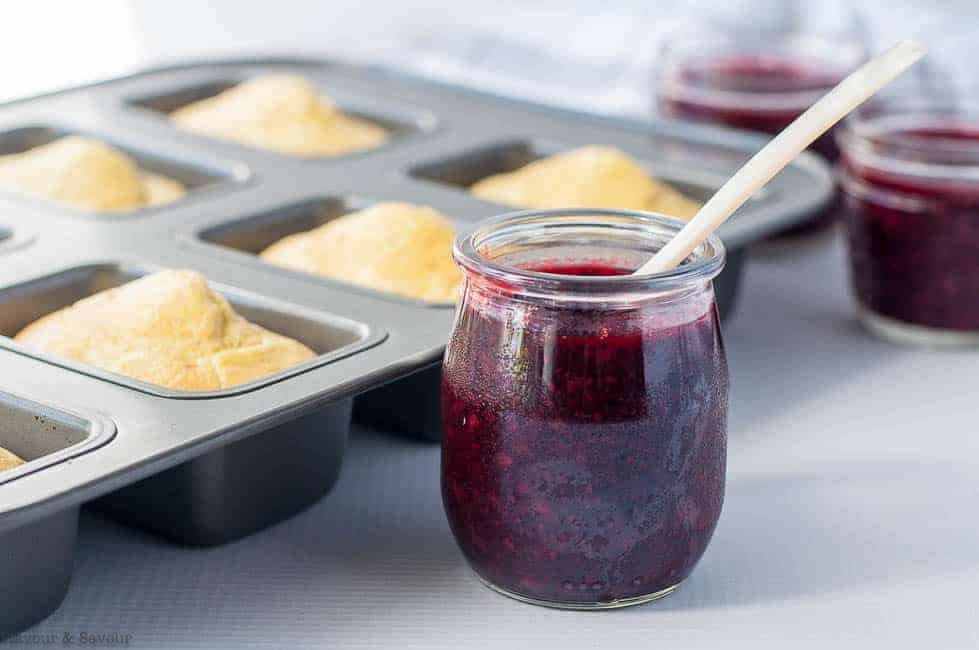 Make someone happy today with a jar of this Sugar-Free Blackberry Chia Seed Jam!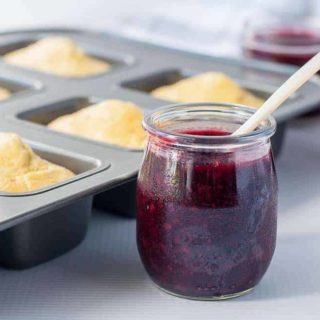 Quick Sugar-Free Blackberry Chia Seed Jam
This Quick Sugar-Free Blackberry Chia Seed Jam can be made in just 10 minutes! It's a low-carb alternative to traditional jam and needs no processing or special equipment. Keto, Paleo and Vegan.

Print
Pin
Rate
Instructions
Mash berries with lemon juice in a large saucepan over medium heat. Bring to a boil, then simmer just until the berries have softened.

Remove from heat and stir in the sweetener and chia seeds. Let stand for 10 minutes or so until the chia has swelled and thickened the berry mixture.

Store covered in the refrigerator for up to a week, or freeze in air-tight containers.
Nutrition
Serving:
1
tbsp
|
Calories:
10
kcal
|
Carbohydrates:
1
g
|
Potassium:
23
mg
|
Vitamin A:
25
IU
|
Vitamin C:
3
mg
|
Calcium:
10
mg
|
Iron:
0.1
mg
Tried this recipe?
Share a photo on INSTAGRAM and tag it #flavourandsavour! I love seeing what you've made.
Nutrition Facts
Quick Sugar-Free Blackberry Chia Seed Jam
Amount Per Serving (1 tbsp)
Calories 10
% Daily Value*
Potassium 23mg1%
Carbohydrates 1g0%
Vitamin A 25IU1%
Vitamin C 3mg4%
Calcium 10mg1%
Iron 0.1mg1%
* Percent Daily Values are based on a 2000 calorie diet.
This post may contain affiliate links. If you click on any of the affiliate links and make a purchase within a certain time frame, I'll receive a small commission. The commission is paid by the third party, not by you. I am a participant in the Amazon Services LLC Associates Program, an affiliate advertising program designed to provide a means for me to earn fees by linking to Amazon.com and affiliated sites.
SAVE THIS TO ONE OF YOUR PINTEREST BOARDS
and
connect with me on Pinterest
! I'm always finding new tasty recipes to pin. Subscribe to my weekly newsletter and never miss a recipe!