Enjoy your favourite flavours of summer with this vibrant Strawberry Watermelon Salad recipe. Juicy watermelon and sweet ripe strawberries mingle with briny feta cheese and fresh mint to create the most refreshing summer salad!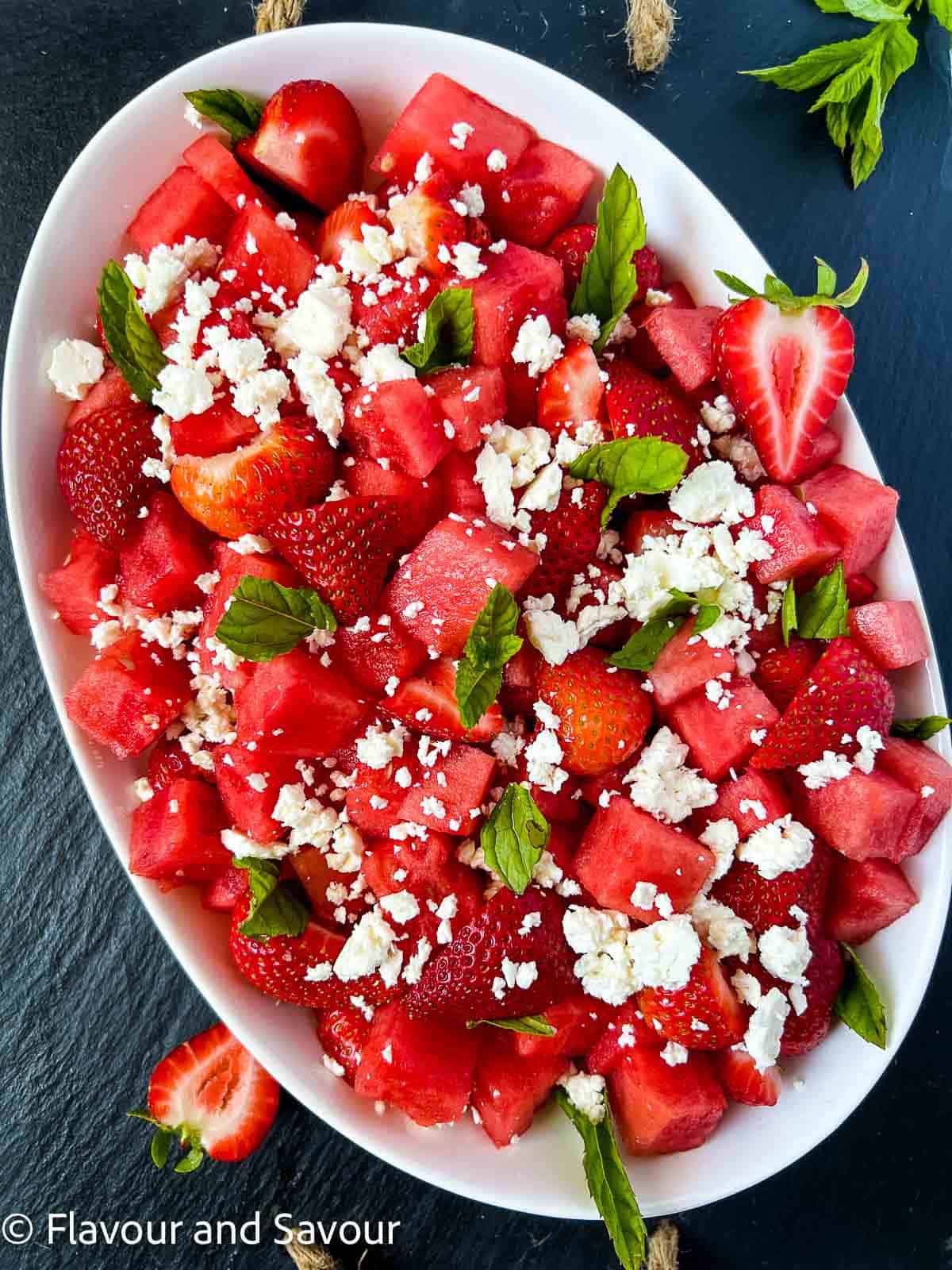 Jump to:
❤️ Why you'll love this recipe
This strawberry watermelon salad is one I've made for more years than I can count! It's a refreshing salad, perfect for strawberry season when fully ripe watermelons are begging to be devoured too.
I like to make this on a hot summer day when the idea of cooking anywhere but on my outdoor grill is a no-go.
Sweet watermelon and ripe juicy strawberries combine with fresh mint plucked from the garden. And the best part? Salty feta cheese crumbled on top gives this summer salad that sweet and salty flavour combo we love!
If you love these flavours too, you may also like Greek Watermelon Basil Salad, Greek Chicken Bowl with Watermelon and Feta, or Strawberry Spinach Salad with Strawberry Dressing.
🛒 Ingredients and substitutions
You'll find a complete list of ingredients with amounts in the recipe card below.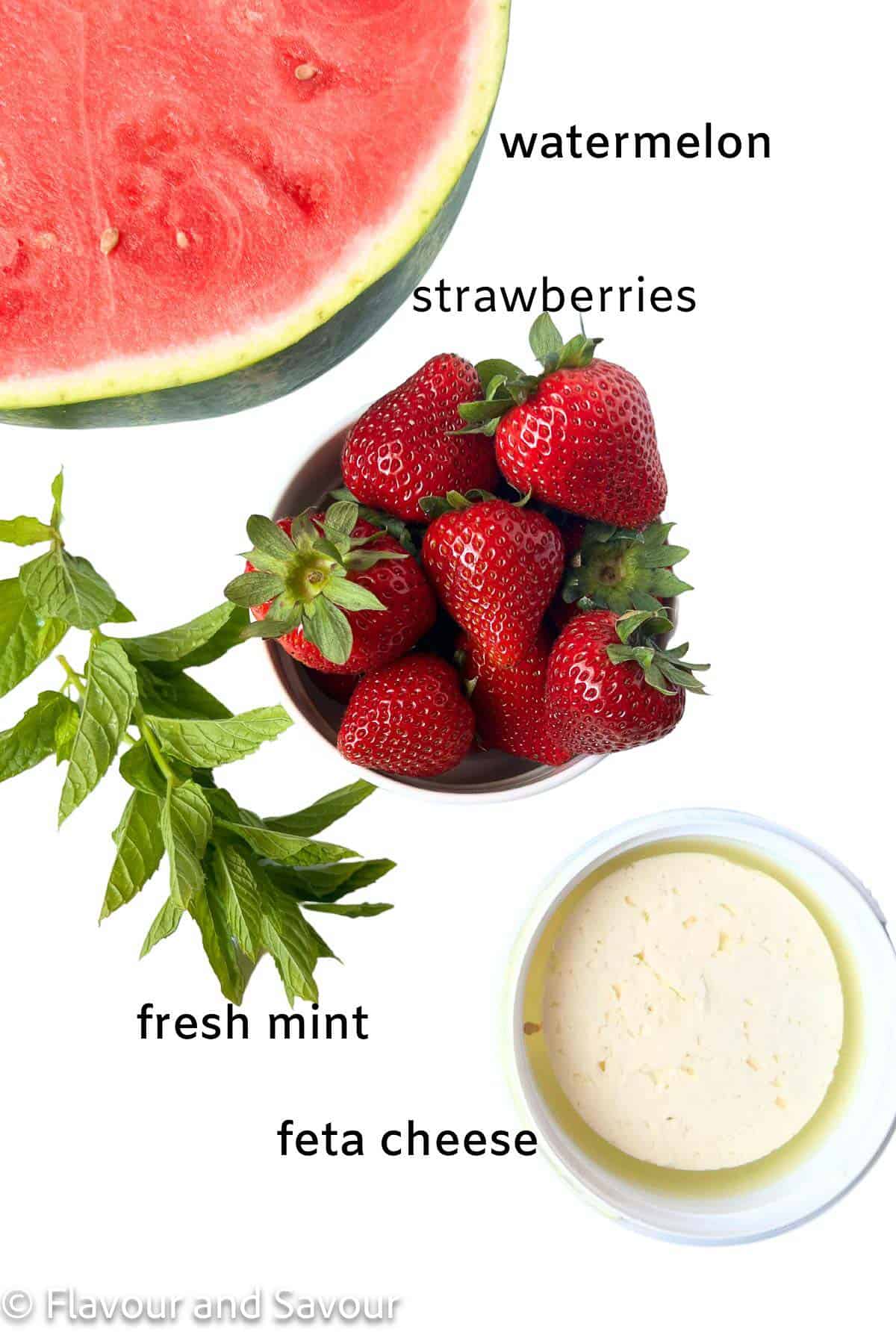 Only four ingredients!
strawberries: choose fresh, ripe strawberries with no signs of spoilage.
watermelon: see this post How to Pick a Good Watermelon
fresh mint leaves
feta cheese: I recommend choosing feta cheese packed in brine for the freshest flavour and longest shelf life.
🔪 Instructions
This may be one of the easiest salads you'll make all summer!
Cube the watermelon, slice the strawberries, crumble the feta cheese and arrange in a bowl with fresh mint leaves. That's it!
While adding a simple dressing is optional, you can whisk together a little olive oil, fresh lime juice and honey to enhance the flavour of this salad even more.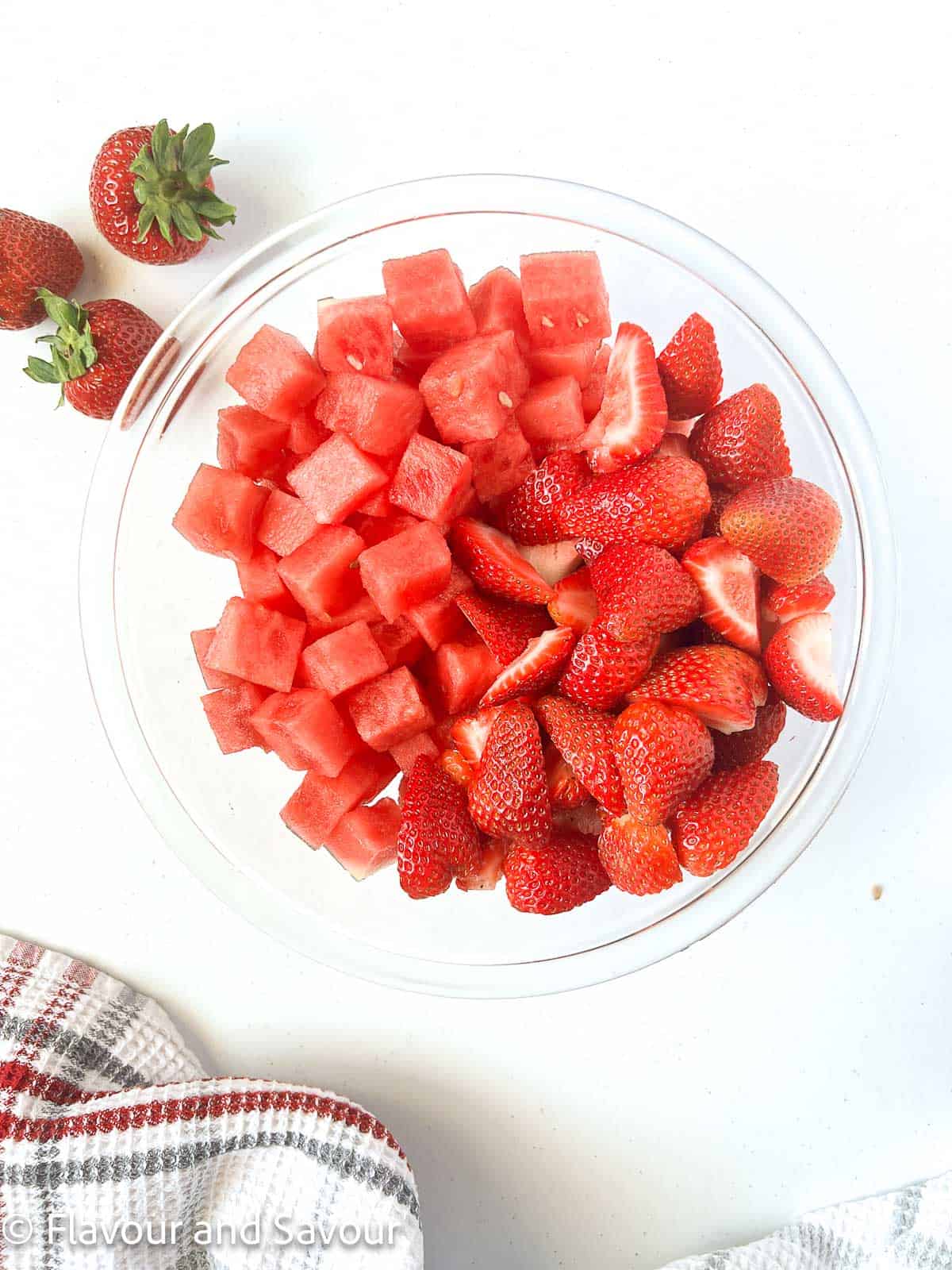 🔁 Possible Variations
Add other berries: I especially like to sprinkle a few blueberries on top, but ripe blackberries are delicious in this watermelon salad, too. Combining blackberries with melon makes an appealing salad, as in this Blackberry Honeydew Salad with Basil.
Substitute basil for mint: Both basil and mint pair well with watermelon, so take your pick!
Add a protein: Top this salad with grilled shrimp or chicken to make a complete balanced meal.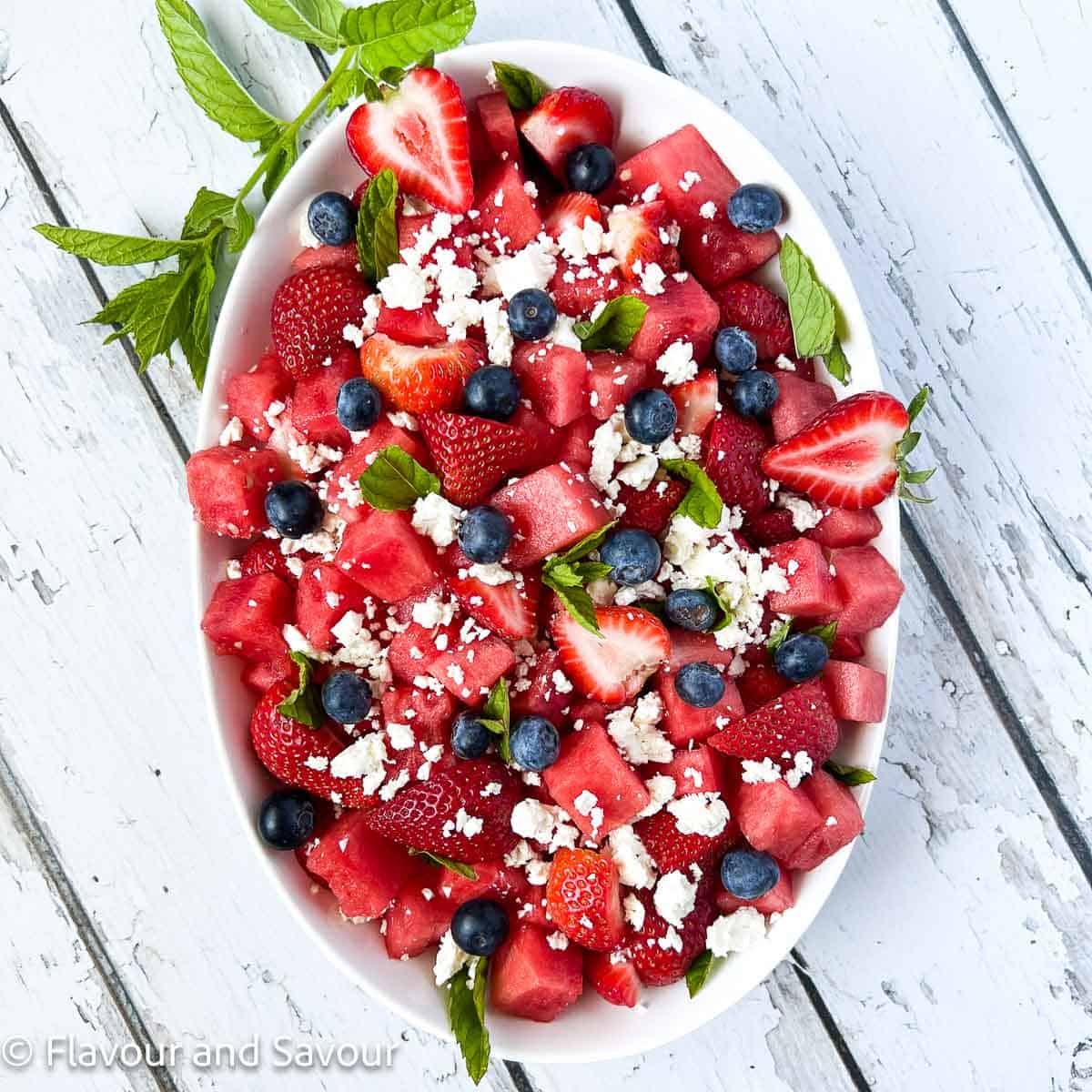 👍🏼 Helpful Tips
If you decide to add a sprinkle of salt to this salad, add it just before serving. Salt tends to draw the liquid out of melons, and you may end up with a watery salad if you add it too soon.
I find the saltiness of the briny feta cheese provides enough salty flavour without adding extra.
❓Frequently Asked Questions
What do I look for when choosing strawberries for a salad?

Here's a step-by-step guide to selecting the best strawberries:
Look for vibrant colour: Choose strawberries that have a deep, vibrant red colour. Avoid berries that appear pale or have green or white patches, as these are typically underripe.
Check the stems: The stems of fresh strawberries should be fresh and green, indicating that they were recently harvested. Avoid berries with dried or wilted stems, as they may be older and less fresh.
Examine the surface: Inspect the surface of the strawberries for any signs of bruising, mold, or soft spots. Healthy strawberries should have a smooth and glossy appearance.
Assess the size: Larger strawberries sometimes tend to be juicier and sweeter. However, keep in mind that size alone doesn't determine flavour, so balance it with other factors such as colour, smell, and texture. Often local strawberries are smaller than imported ones, but they are usually sweeter.
Check for pesticide residue: If you have concerns about pesticide residue, consider choosing organic strawberries, which are grown without synthetic pesticides. You should also wash conventionally grown strawberries thoroughly before consuming them.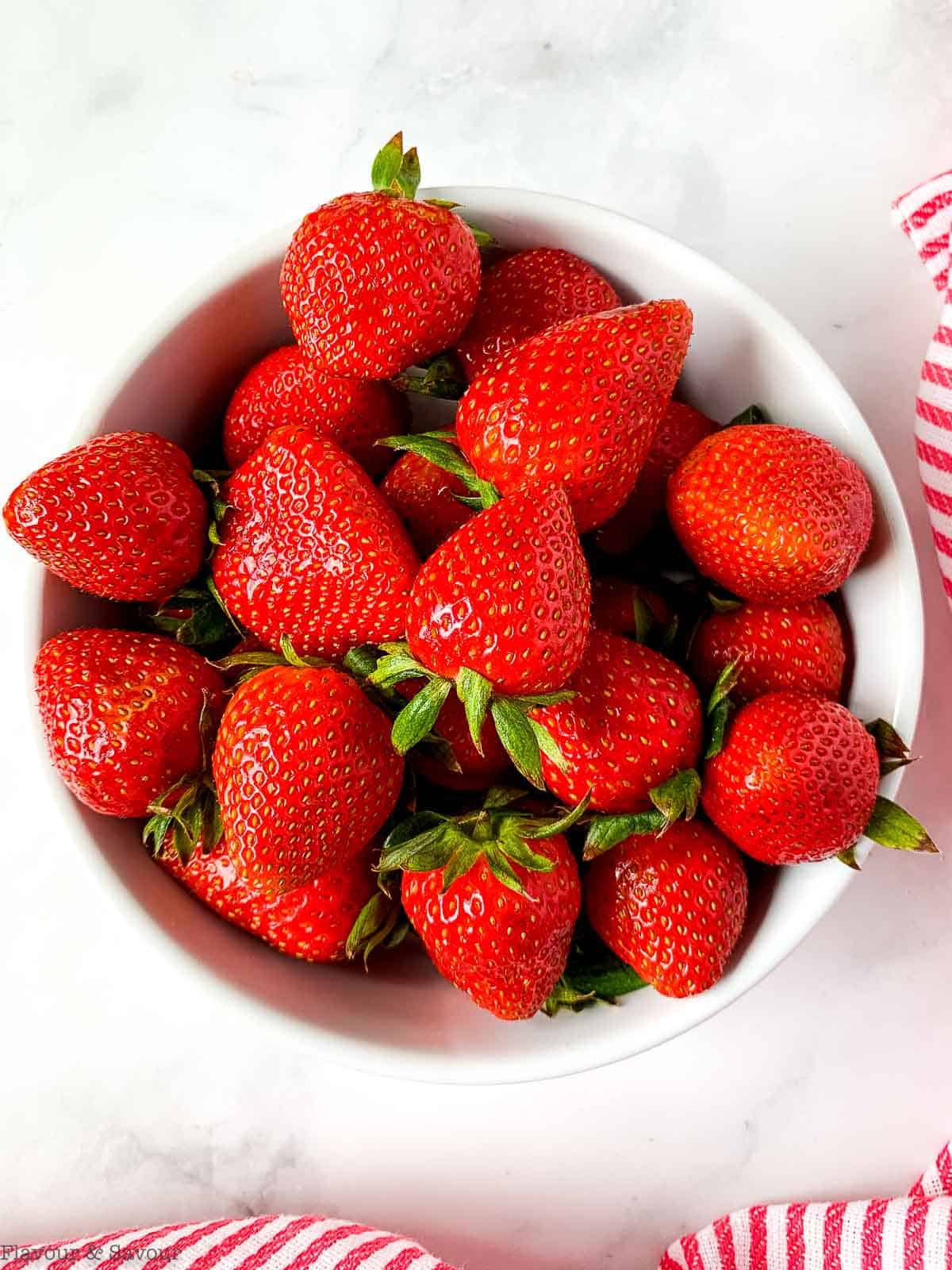 What kind of feta cheese should I buy?

There are a few factors to consider when selecting feta cheese:

Origin: Traditional feta cheese is made in Greece using sheep's milk or a combination of sheep's and goat's milk. Greek feta cheese is known for its authentic flavor and high quality. It is often considered the gold standard for feta cheese.
Milk type: Feta cheese can be made from sheep's milk, goat's milk, or a blend of both. Sheep's milk feta tends to be creamier and richer in flavor, while goat's milk feta has a slightly sharper and tangier taste. Some prefer the unique combination of both milk types. Many brands of feta cheese sold in North America are made from cow's milk.
Packaging: Choose feta cheese sold in brine. It may come in either a block or a disc. The liquid protects the cheese from being exposed to the air and prevents it from drying out. Avoid pre-crumbled feta cheese as it may contain an anti-caking agent and it may have a shorter shelf life.

Exploring different types and brands of feta cheese can help you discover your favourites!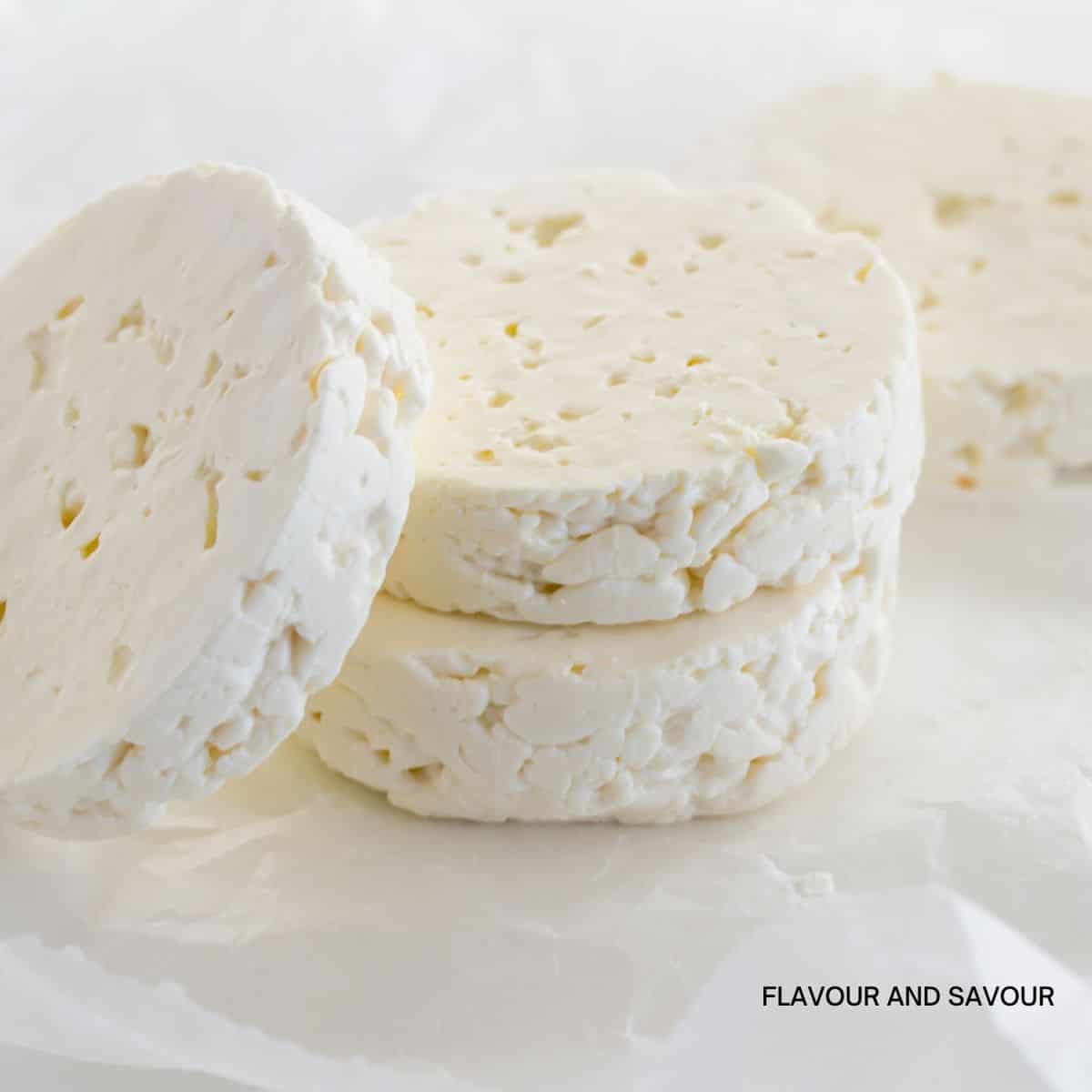 How to cut a watermelon for cubes
The easiest way to get uniform cubes is to first cut a whole melon in half.

Place the melon half cut side down on a cutting board. Using a very sharp knife, cut the melon into slices about ¾ inch thick. Next, holding the melon together, turn it 90 degrees and slice it crosswise.

Now you'll have watermelon "sticks" which are very easy to cut into cubes. Discard or compost the rind or save it for pickling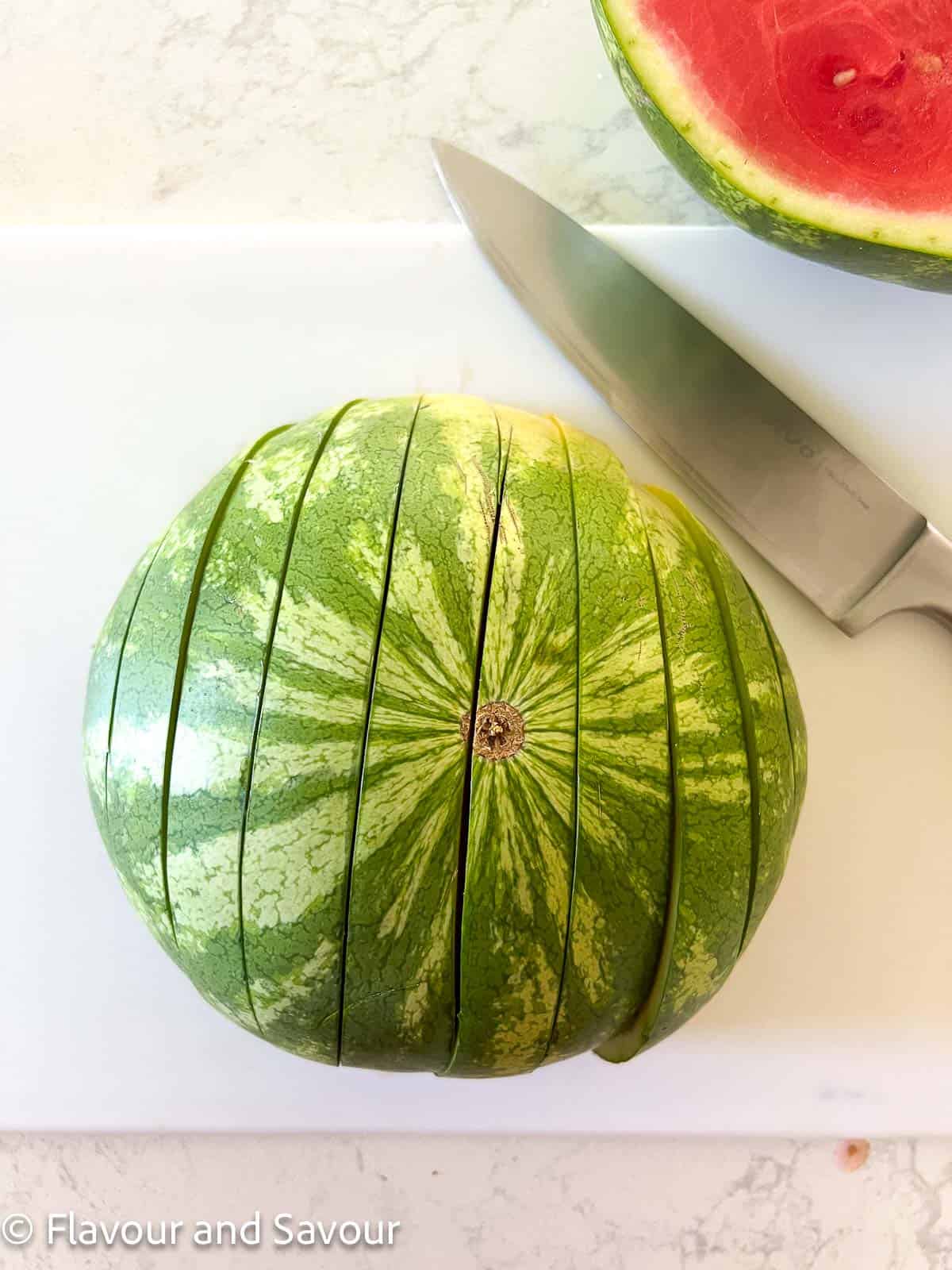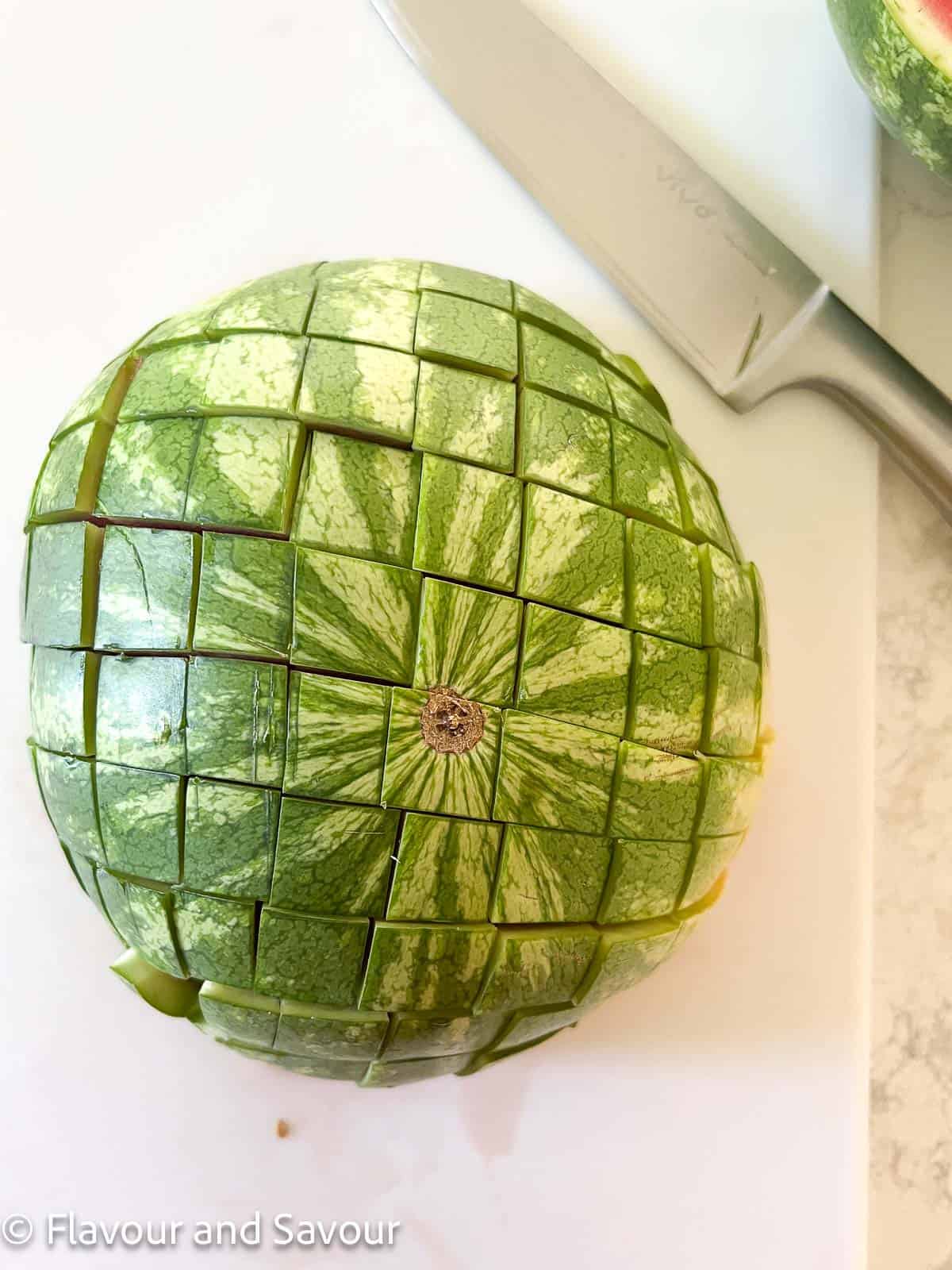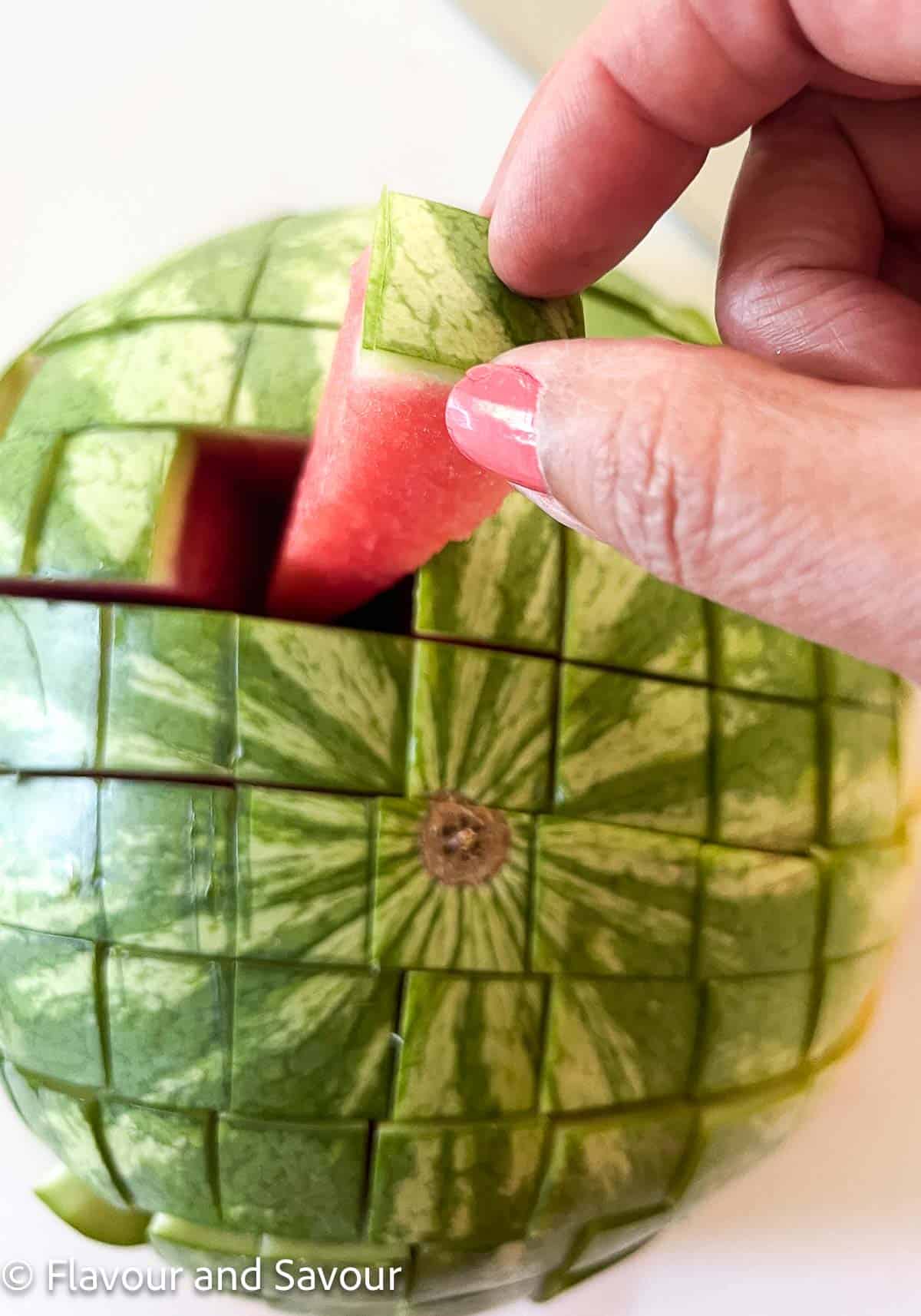 🍽 What to serve with strawberry watermelon salad
Most recently, I served this strawberry watermelon salad to accompany my spicy Grilled Cajun Chicken Thighs with Zesty Quinoa. A refreshing watermelon salad with berries was the perfect contrast to spicy chicken!
It also makes a perfect side salad for Jerk Chicken Wings, Caribbean Jerk Chicken Breasts, or Honey Dijon Turmeric Chicken Thighs.
Add to your meal with this enticing Strawberry Watermelon Sangria Slushie or Sugar-Free Watermelon Lemonade!
⏰ Storage Instructions
To store: It's best to eat this watermelon strawberry salad on the day it's made. If you want to make it ahead of time, I recommend preparing the fruit and refrigerating it in separate containers until you're ready to assemble it.
You can refrigerate leftover salad until the following day. It's best to store it with the dressing separately.
🗒 More summer salad recipes
🌟Did you make this recipe?
When you make this recipe, please leave a comment and a star rating below. I love hearing from you! Thanks in advance. Subscribe to my newsletter and have new recipes delivered straight to your inbox.
📖 Recipe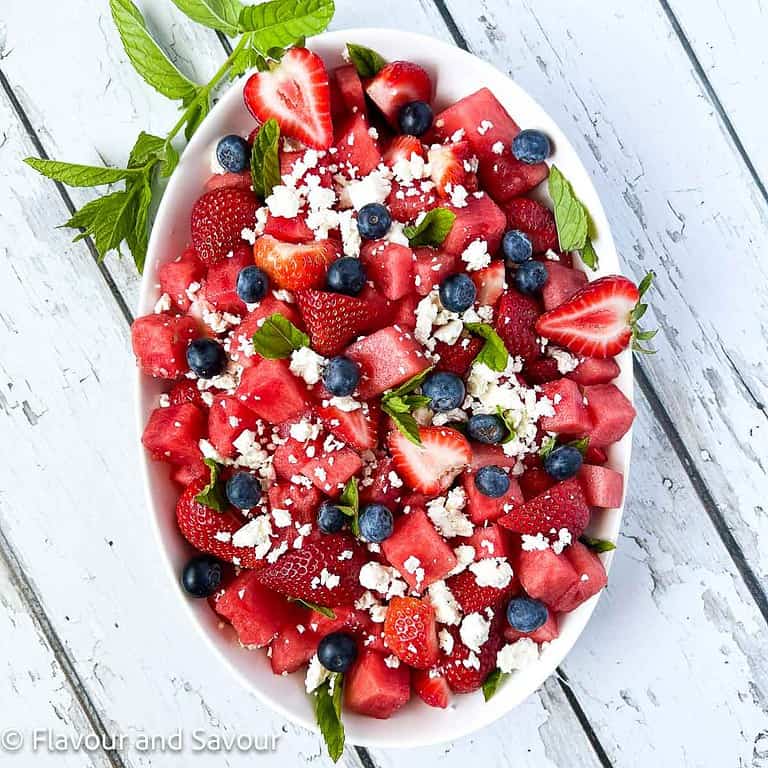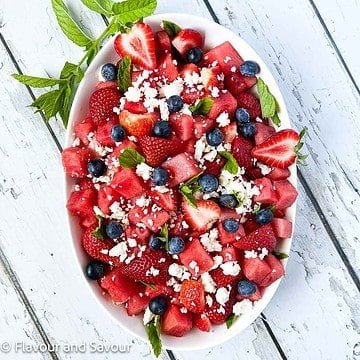 Strawberry Watermelon Salad with Feta and Mint
This Strawberry Watermelon Salad recipe with feta cheese combines juicy watermelon and sweet strawberries with feta and fresh mint to make the most refreshing summer salad!
Print
Pin
Rate
Ingredients
6

cups

cubed watermelon,

about ½ a large watermelon

3

cups

fresh sliced strawberries,

¼

cup

feta cheese,

crumbled

1

sprig

fresh mint leaves
Honey Lime Dressing
1.5

tablespoons

olive oil,

extra virgin

1

tablespoon

lime juice,

freshly squeezed

2

teaspoons

honey,

or maple syrup for vegan diet
Instructions
Wash the outside of the watermelon and dry it.

Cut the watermelon into cubes. The easiest way to get uniform cubes is to first cut a whole melon in half. Place the melon half cut side down on a cutting board. Using a very sharp knife, cut the melon into slices about ¾ inch thick. Holding the melon together, turn it 90 degrees and slice it crosswise.

Now you'll have watermelon "sticks" which are very easy to cut into cubes. Discard or compost the rind or save it for pickling. Transfer the watermelon cubes to a large mixing bowl or serving bowl.

Wash the strawberries and remove their stems. Depending on their size, you may want to cut them into halves or quarters. Add them to the bowl with the watermelon.

Arrange the fruit, then tuck freshly torn mint leaves into the fruit. Sprinkle with crumbled feta cheese. Chill in the fridge.

Whisk the dressing ingredients together and drizzle over the salad just before serving.
Nutrition
Calories:
124
kcal
|
Carbohydrates:
19
g
|
Protein:
2
g
|
Fat:
5
g
|
Saturated Fat:
1
g
|
Polyunsaturated Fat:
1
g
|
Monounsaturated Fat:
3
g
|
Cholesterol:
6
mg
|
Sodium:
74
mg
|
Potassium:
289
mg
|
Fiber:
2
g
|
Sugar:
15
g
|
Vitamin A:
908
IU
|
Vitamin C:
55
mg
|
Calcium:
54
mg
|
Iron:
1
mg