This vegetarian Summer Veggie Pasta Salad with Creamy Feta Dressing is perfect for potluck or bbq parties. Tossed with a creamy yogurt-based feta dressing, this summer side dish will feed a happy crowd. Discover tips for making the best pasta salad.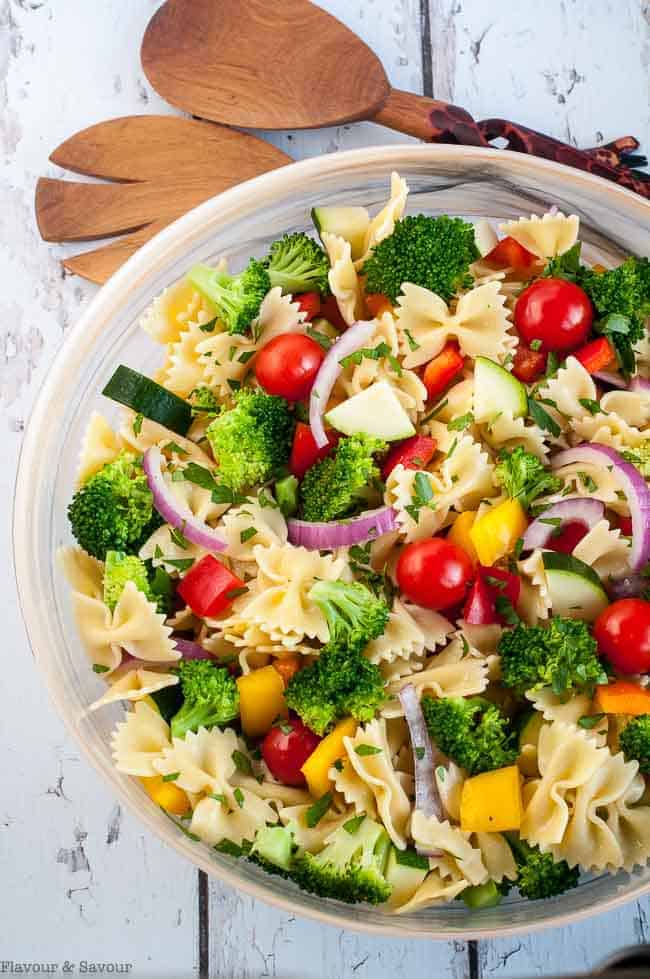 Brighten up your day with this fresh Summer Veggie Pasta Salad!
What's summer without a pasta salad or two? A cold pasta salad is always popular at a summer party. This one is chock-a-block full of healthy garden and farmers' market veggies.
While pasta salads can sometimes be bland, this one has a bold feta dressing that is anything but boring!
Ready to make a shopping list?
Ingredients for Summer Veggie Pasta Salad
Choose a regular or gluten-free pasta (I chose bow-tie) and fill up your salad with:
crisp bell peppers: one of each colour is fun
zucchini: green or yellow, or both
broccoli: blanched and shocked
tomatoes: cherry tomatoes
onions: red or green
parsley
The toss it all together with a simple creamy Yogurt-Feta Dressing made with:
feta cheese
Greek yogurt
olive oil
salt and pepper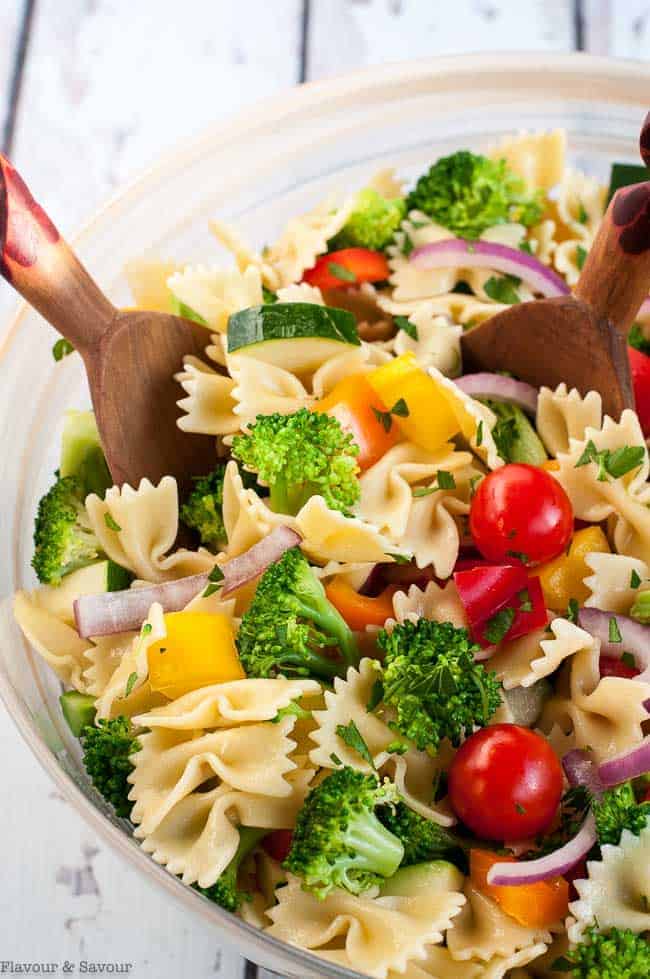 This vegetarian pasta salad is simply the best! This summer side dish is an easy recipe to which you can add your own twist. Make it your own! Add your favourite garden veggies and herbs (basil is always a good choice.) But be sure to follow these tips to make it extra specially delicious!
Tips for making the best pasta salad
Cut all the vegetables into bite-sized pieces so this salad is easy to serve and easy to eat.
Salt the pasta cooking water generously. Just for once, disregard all those warnings about too much salt in your diet. I learned this tip from an Italian mama years ago. It really will make a difference to the flavour of your pasta!
Blanch and shock the broccoli. Place the broccoli florets in boiling water for 2 minutes until they turn bright green and have softened slightly. Then immediately remove them from the hot water and transfer to a bowl of ice water to stop the cooking. Drain and pat dry with a clean tea towel or paper towel before adding to the salad.
If making this salad ahead of time, toss with the dressing to allow the pasta to soak up the flavours.
Taste and adjust the seasoning before serving. More salt? A few generous grinds of black pepper?
Do I need to rinse the pasta?
Yes, absolutely you do. Remember: Rinse for pasta salad, don't rinse for hot pasta with sauce. This article explains why.
Rinsing will stop the cooking and help the pasta to retain its shape. A quick 30-second rinse in cold water will help to remove the starch and prevent the pasta from becoming gummy and sticking together.
If you'd like, after rinsing and draining, give the pasta a quick toss with a tablespoon or so of olive oil to add flavour and keep the pieces from sticking.
Variations
Vary the dressing. Cold pasta salad is always good with a simple Italian dressing.
Add your own garden veggies: cucumbers, blanched and shocked cauliflower florets, tiny asparagus spears.
Use the herbs you love: try basil or fresh oregano.
Storage
Pasta salad is best on the second day, once the dressing has had a chance to blend with the pasta. It will last covered in the fridge for up to 5 days.
Looking for a pasta salad recipe that's a little different? You'll love this Tuscan Kale Pasta Salad with Gorgonzola Dressing
More summer salad ideas
Heirloom Tomato Salad with Basil, Capers and Feta
Tomato Avocado Black Bean Salad with Cilantro Lime Dressing
Garden Fresh Mediterranean Quinoa Salad
Avocado Grilled Peach and Chipotle Shrimp Salad
Mediterranean Cantaloupe Salad
Cantaloupe Arugula Salad with Poppyseed Dressing
Honeydew Blueberry Salad with Blue Cheese
SAVE THIS TO ONE OF YOUR PINTEREST BOARDS
and
connect with me on Pinterest
! I'm always finding new tasty recipes to pin. Subscribe to my weekly newsletter and never miss a recipe!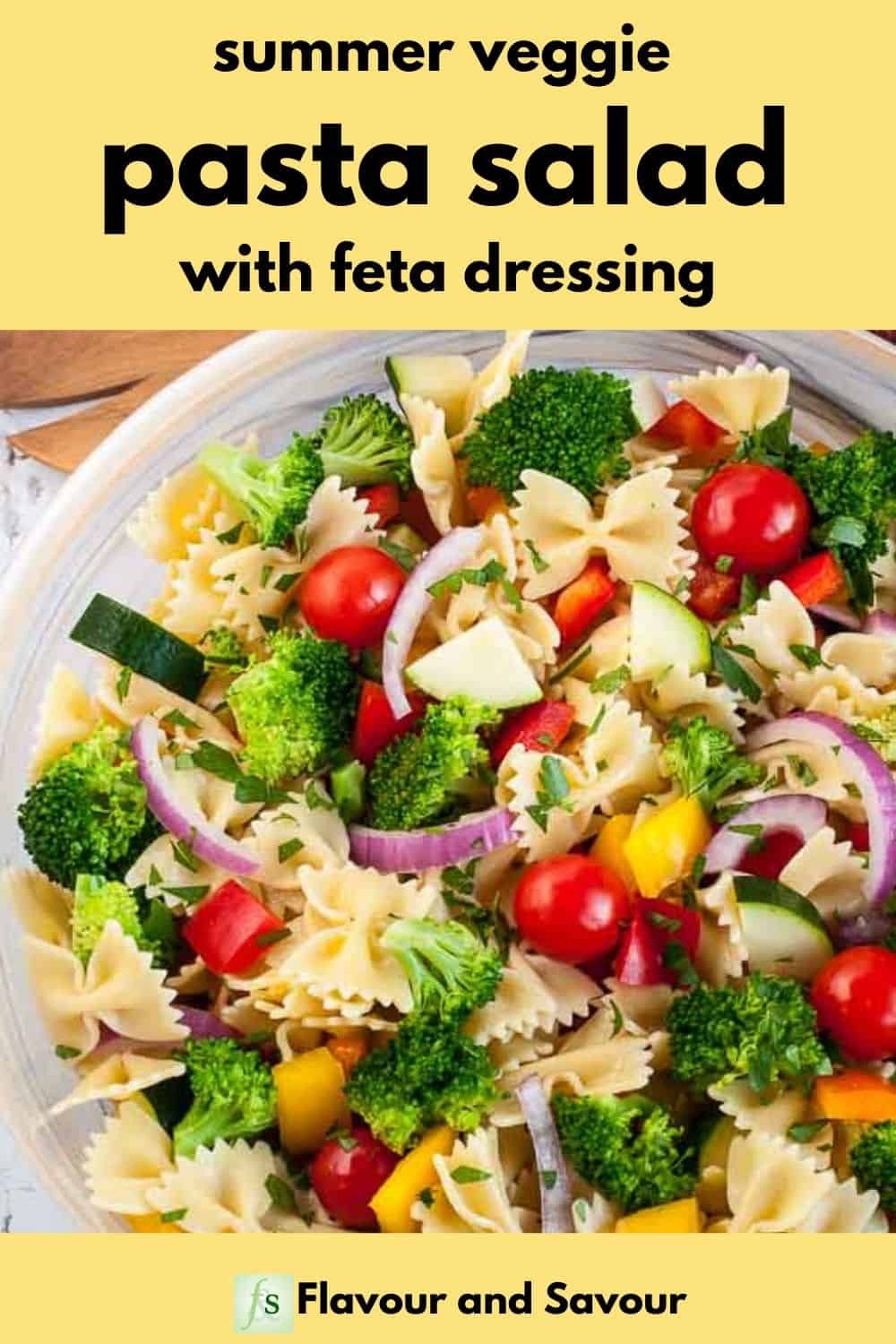 This post may contain affiliate links. If you click on any of the affiliate links and make a purchase within a certain time frame, I'll receive a small commission. The third party pays the commission, not you. I am a participant in the Amazon Services LLC Associates Program. It's an affiliate advertising program designed to provide a means for me to earn fees by linking toAmazon.com and affiliated sites.