Make a healthy dinner of baked or grilled salmon and veggies in foil packets! It's a delicious 30-minute meal you can prepare ahead of time. Naturally gluten-free, these salmon foil packs are also Keto, Whole30 and Paleo approved.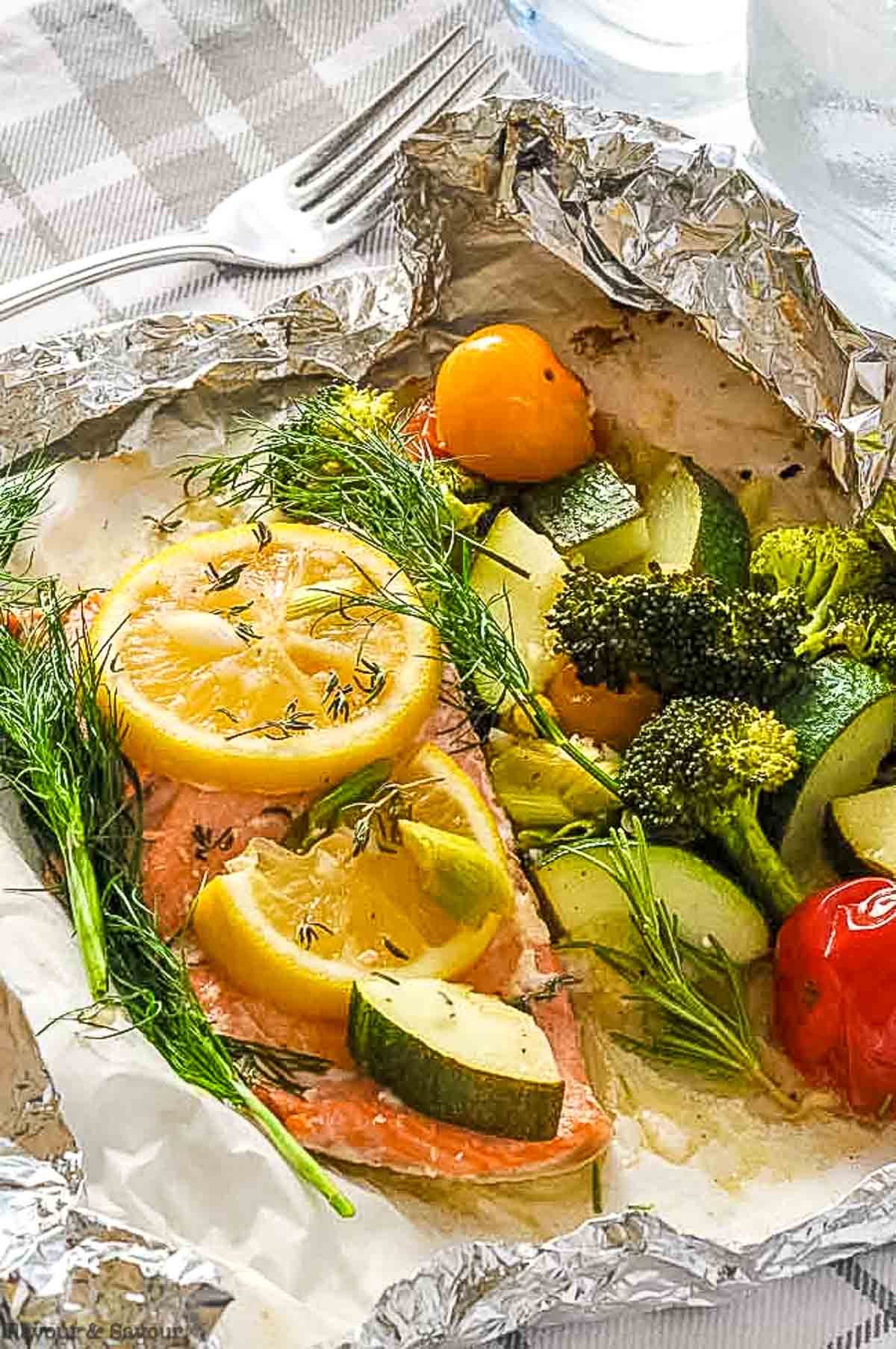 ❤️ Why you'll love this recipe
Easy! Cooking wild salmon and veggies in foil packets makes a delicious meal that couldn't be easier! Ready in about 30 minutes or less, this healthy salmon recipe is one you'll make on repeat. It's easy to adapt to your family's tastes by changing the veggies, too.
Nutritious! Salmon is full of Omega-3's and packed with protein.
Naturally gluten-free! This foil-packet baked or grilled salmon dinner is naturally gluten-free. It's also perfect for those following a Paleo, Keto or Whole30 diet.
Easy clean-up! I use this recipe for Honey-Dijon Glazed Salmon in Foil often, but today I decided to add the veggies right into the packet to cook alongside the salmon fillets. So easy, so tasty, and so little clean-up time!
Such great flavours! Succulent juicy salmon and fresh garden vegetables all cooked with a simple lemon-garlic marinade make a tasty 30-minute meal!
Ready to get started? Let's make salmon in foil packs!
🛒 Ingredients for Salmon Foil Packs
Here's what you'll need to make this easy keto salmon recipe. You'll find details and amounts in the recipe card below.
salmon: I recommend wild-caught salmon. For this recipe, I used Coho salmon, but I've also made these foil pack salmon dinners with Sockeye or Chinook (also known as King Salmon.) Atlantic salmon is endangered so almost all Atlantic salmon you will see for sale is farmed salmon. Allow 4-6 ounces per person for this recipe. Buy quality salmon that has no "fishy" smell.
vegetables: I used zucchini, broccoli and cherry tomatoes, as they were growing in my garden. You could substitute your favourites. Try green beans, or asparagus or other vegetables that will cook in a short time. Dense root vegetables like potatoes or beets would take longer to cook than salmon, so save them for another meal.
fresh herbs and seasonings: fresh dill is a favourite with salmon. I also used fresh thyme, green onions and salt and pepper.
simple marinade: a quick marinade of olive oil, freshly squeezed lemon juice and freshly minced garlic makes a tasty marinade for the veggies.
aluminum foil: Heavy-duty foil is best for cooking on the grill or barbecue, but a double layer of regular foil will work, too.
🔪 How to make salmon foil packets
Cut four foil pieces and spray or brush with a little olive oil. If you don't like foil touching your food, simply cut pieces of parchment paper a little smaller than the foil pieces. Line the foil with these.
Arrange fresh dill and salmon fillets (skin-side down) on the parchment paper and top with fresh lemon slices.

Toss uniformly-sized vegetables with fresh lemon-garlic marinade and divide evenly among the packages.

Place the vegetables beside the pieces of salmon.
Sprinkle with thinly sliced green onions and drizzle any remaining marinade on top.

Seal the foil packages by folding and crimping the edges.
Cook either in the oven or on the grill until the fish is JUST BEGINNING to flake easily or until it has reached an internal temperature of 140°F. Don't overcook! It will continue to cook when you remove it from the heat.
Slide the foil packs onto a baking sheet to transfer to the kitchen if you are cooking on an outdoor grill. They will be very hot!
Open the packages carefully, as the steam could scald you. Serve right from the foil packet or transfer to individual plates.
❓Questions about cooking salmon
How can you tell when salmon is done?
It is easy to overcook salmon. There's nothing worse than overcooked fish! Cooking time will depend on the thickness of the fillet you're using and the temperature of your barbecue, grill or oven.

Check for doneness by inserting a knife into the thickest part of the fillet. If it is beginning to flake easily, it's done. Some people like to remove it from the heat when the center is still a little translucent, as it will continue cooking in its own heat as you allow it to rest for a few minutes.

It's recommended to cook salmon to 140°F. to 145°F. when measured on an instant-read meat thermometer.

What is the white stuff on cooked salmon?
No worries! The small white "goop" is simply coagulated protein, called albumin. It results when the fish cooks (often when it's overcooked) and the albumin is pushed out of the muscle fibers.

It's completely harmless and definitely edible. You can read more about it in this article, What is the White Stuff on Salmon?

When you cook salmon with a glaze, like this Bourbon Maple-Glazed Salmon , Citrus Glazed Baked Salmon with Sake or with a coating, like this Crispy Fennel-Crusted Salmon, or Paleo Pistachio-Crusted Salmon the albumin is not visible.

And if you serve it with a sauce, like 30-minute Creamy Lemon Salmon Picatta, you won't notice it either.

But, rest assured, there is nothing wrong with it. It may be noticeable when salmon is cooked in foil, but a couple of slices of lemon or a sprig of fresh dill will hide it!
How far in advance can you assemble foil packet meals?
You can prep these a day in advance. Keep them chilled in the refrigerator or in a cooler if you're heading out on a camping trip.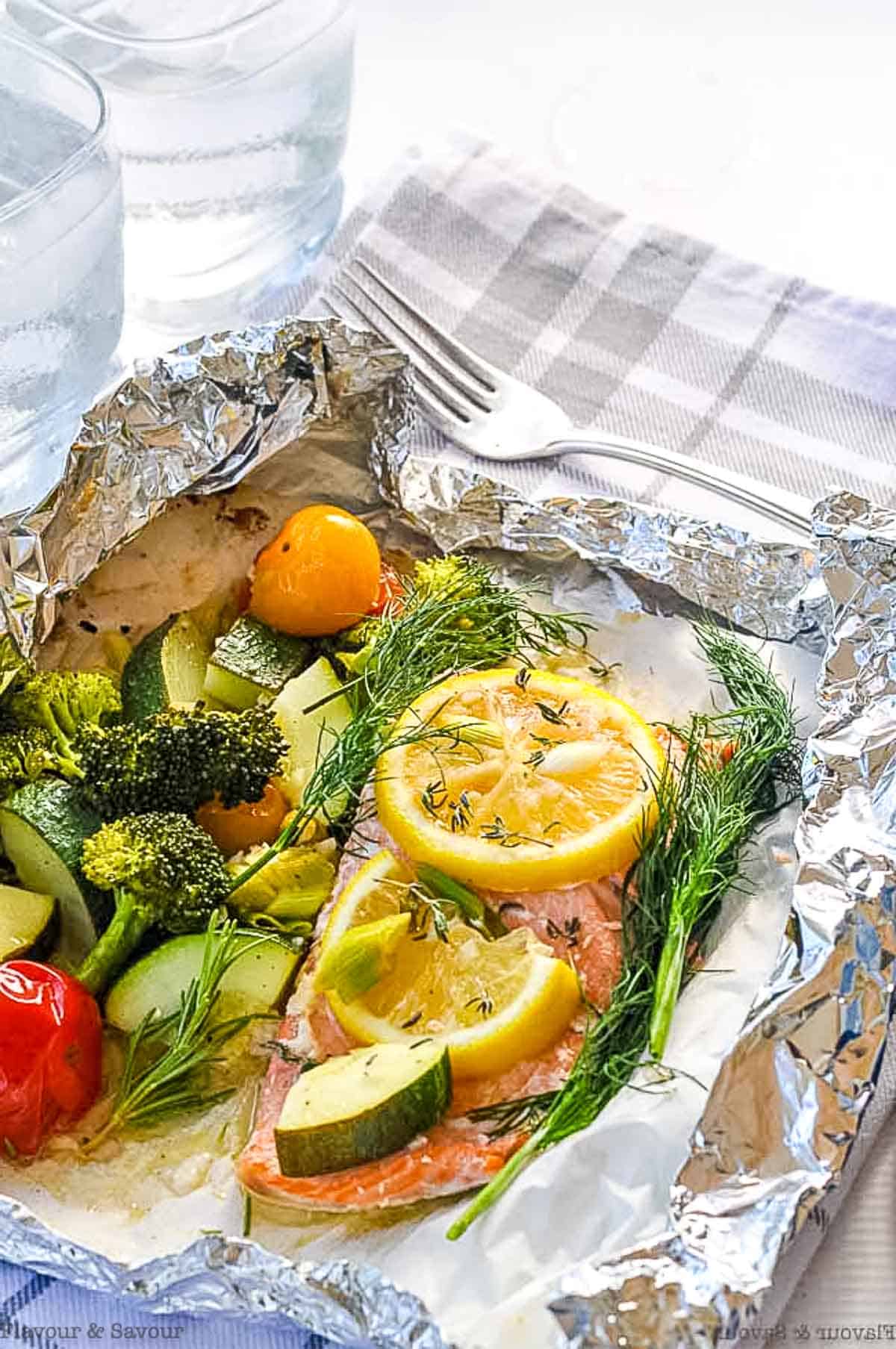 Busy weeknights call for easy meals, but you still want to make sure your dinners are wholesome and nutritious.
This recipe for Wild Salmon and Veggies in Foil Packets ticks all the boxes! An easy recipe that's nutritious and delicious. A 30-minute meal!
🗒More salmon recipes to try
When you make this foil-pack salmon meal, please leave a comment and a star rating below. I love hearing when you've made one of my recipes. Thanks in advance! Subscribe to my newsletter and have new recipes delivered straight to your inbox.
📖 Recipe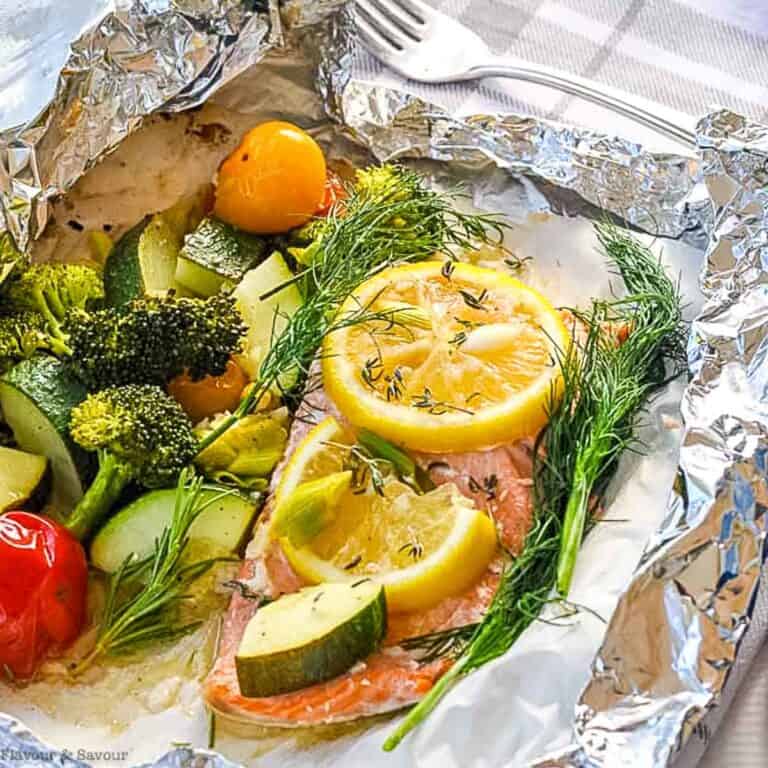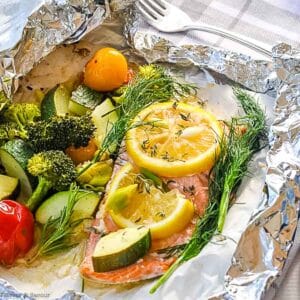 Wild Salmon and Veggies in Foil Packets
Make a healthy dinner of baked or grilled salmon and veggies in foil packets in less than 30 minutes!
Print
Pin
Rate
Ingredients
4

5 oz

salmon fillets

1

teaspoon

olive oil,

extra virgin

2

cups

zucchini,

chopped

2

cups

broccoli florets,

thick stems removed

1

cup

cherry tomatoes

2

green onions,

thinly sliced

4

sprigs

fresh dill

4

sprigs

fresh thyme

1

large

lemon,

sliced
Lemon Garlic Marinade
⅓

cup

olive oil,

extra virgin

4

tablespoon

lemon juice,

freshly squeezed

4

cloves

garlic,

finely minced
Instructions
Remove salmon from the fridge to allow it to come to room temperature while you prepare the vegetables.

Heat the grill or oven to 400°F.

Cut four foil sheets, 12 inches by 18 inches. If desired, line with slightly smaller pieces of parchment paper.

Combine marinade ingredients and set aside.

Chop vegetables into uniformly-sized pieces so they will be cooked at the same time.

Pat salmon fillets dry. Brush or spray the foil or parchment paper with olive oil, and rub the fillets on both sides with oil. Sprinkle with a little salt and pepper. Place skin side down, one on each of the four packages. Tuck a sprig of fresh dill underneath each and top with a slice or two of lemon.

Arrange the vegetables beside the salmon fillets in each package and drizzle with any extra marinade left in the bowl. Divide the chopped green onions evenly among the 4 packages.

Fold the sides of the foil together, creating a small tent to allow air to circulate, then fold the ends over to seal. Slide the packets on to a baking sheet to transfer to the grill or oven.

Place the foil packets on the grill, close the lid and cook for 12- 18 minutes depending on the thickness of the fillets and the temperature of your grill. If baking in the oven, you may wish to leave them on a baking sheet. Check for doneness by poking the thickest part with a knife. If it flakes easily, or has reached an internal temperature of 140°F to 145°F measured with an oven thermometer, it's done. Some people like to remove it from the heat while it is still a little translucent in the center. It will continue to cook a little in its own heat while you allow it to rest for a few minutes.

Broccoli florets should be fork tender.
Notes
You can prepare these foil pack salmon meals a day in advance. Refrigerate until you're ready to cook them.
Nutrition
Calories:
422
kcal
|
Carbohydrates:
12
g
|
Protein:
31
g
|
Fat:
29
g
|
Saturated Fat:
4
g
|
Cholesterol:
78
mg
|
Sodium:
89
mg
|
Potassium:
1163
mg
|
Fiber:
3
g
|
Sugar:
4
g
|
Vitamin A:
769
IU
|
Vitamin C:
84
mg
|
Calcium:
73
mg
|
Iron:
3
mg