Sweet red onions and a flavourful Thai dressing turn plain cucumbers into something fancy. This Cucumber Mint Salad is ready in less than 10 minutes!
This Cucumber Mint Salad is quick and easy to make! Toss thinly sliced cucumbers and sweet red onions with mint leaves and a spicy Asian dressing to make a side salad with a difference.
Hands up if you've had quite enough of winter.
I know I shouldn't complain about the weather, living here on the West Coast. Watching the weather reports from Eastern Canada and the US about severe storms and heavy snowfalls has made me even more grateful that I live where I do. We have had no snow to speak of here this year, and it's been mild and sunny lately. Daffodils are blooming and my peach tree has cute li'l pink buds all over it.
But I'm longing for those summer days when I can pick fresh greens from the garden whenever I like, knowing that they're organic and fresh and clean. Imported or hothouse greens are, well . . . fine, but I love the satisfaction I get from growing my own. If you have your own garden, you'll know what I mean.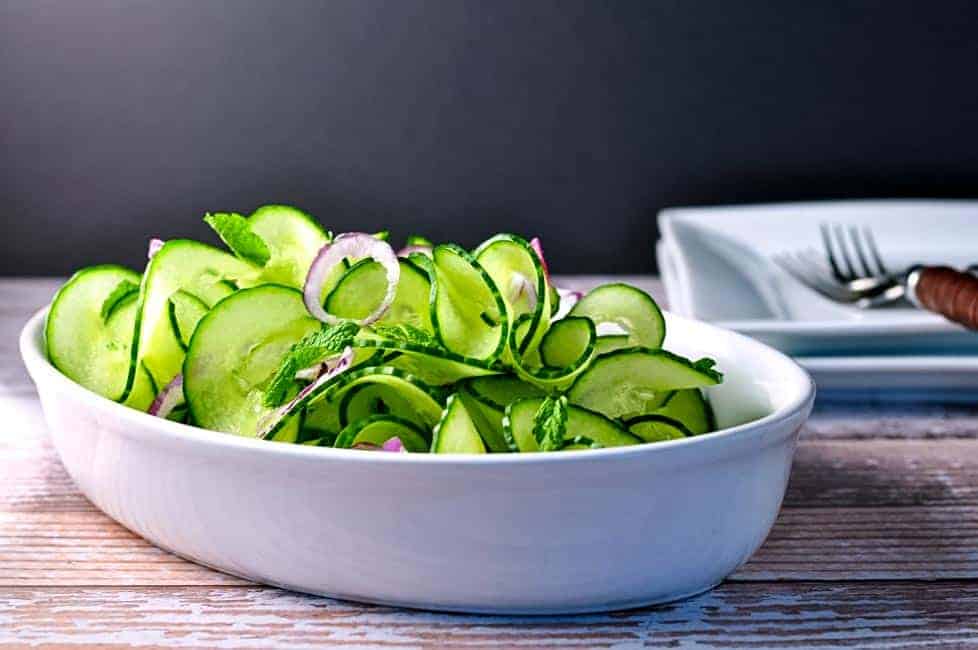 Today I went out to the garden to check how it survived the winter, as mild as it was. My mint plant is sprouting like crazy! I decided to celebrate by making this fresh and crispy Cucumber Mint Salad. While I like winter salads with citrus or winter veggies, this one with fresh mint just screams, "Spring!" It's cool, crunchy and refreshing.  Adding sweet red onions and a flavourful Thai dressing turned plain cucumbers into something fancy-schmanzy, all in less than 10 minutes.
I used my spiralizer to slice the cucumber thinly and then snipped it into bite-sized pieces. A Mandoline Slicer
 or a very sharp knife would work well too.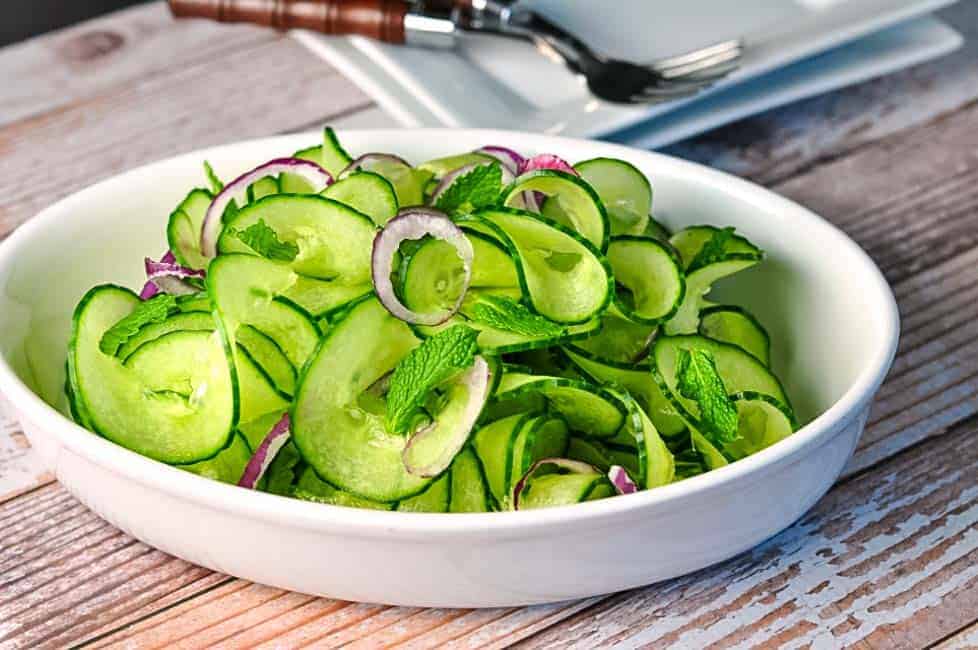 Spring is definitely around the corner. I sure hope we've seen the last of this winter, because Denis has already taken the snow tires off my car and put the summer tires back on. I'm thinking about hauling out that deck furniture soon . . . Mojito, anyone?
I'll bring the mint.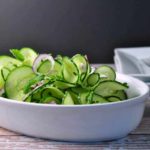 Cucumber Mint Salad with Red Onion
A quick and easy side salad. Thinly sliced cucumber and sweet red onions are tossed with mint leaves and a spicy Asian dressing.
Print Recipe
Ingredients
1

large long English cucumber

1/2

small red onion

1

small handful of fresh mint leaves

2

tbsp

rice wine vinegar

1

tbsp

sesame oil

1

tbsp

extra virgin olive oil

1

tbsp

Thai Chili sauce OR a generous splash of fish sauce
Instructions
Slice the cucumber and the red onion very thinly, using either a very sharp knife or a Mandoline Slicer or even a Spiral Vegetable Slicer

Place in a salad bowl with the mint leaves.

Whisk together the dressing ingredients and toss together just before serving.
You might also like this Asian Pear Slaw with Ginger and Lime