This Easy Thai Baked Chicken is a simple make-ahead meal to pop in the freezer for a busy day.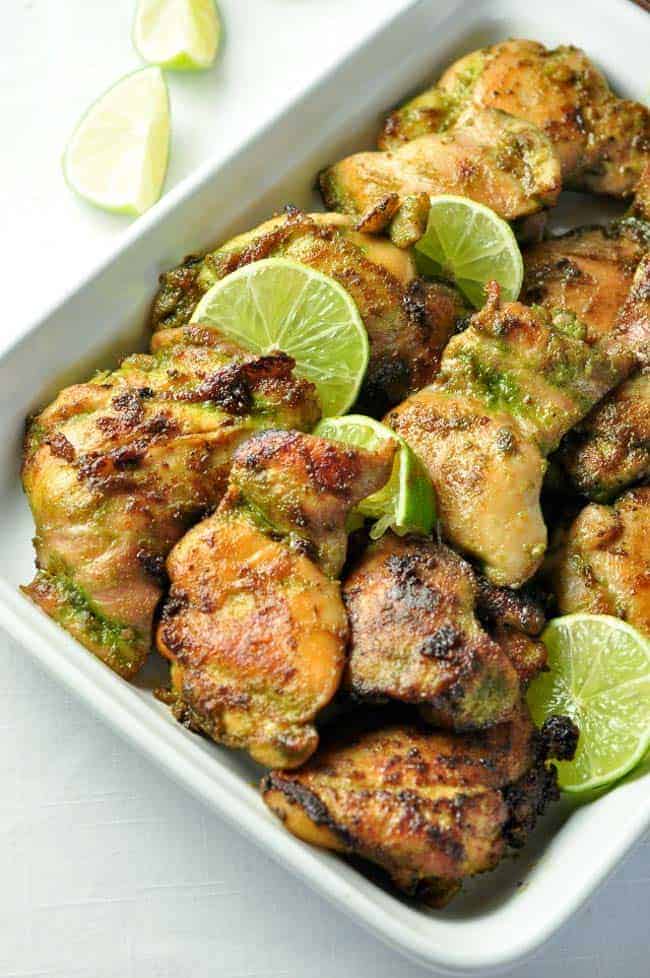 Don't you just love the complex tastes of Thai food? Thai recipes usually contain ingredients that are sour, sweet, salty, bitter and spicy. The marinade for this easy Thai Baked Chicken blends and balances those flavours harmoniously. Cilantro, jalapeño, ginger, basil, garlic and coriander all play together to produce this aromatic, slightly spicy chicken dish that leaves you wanting more.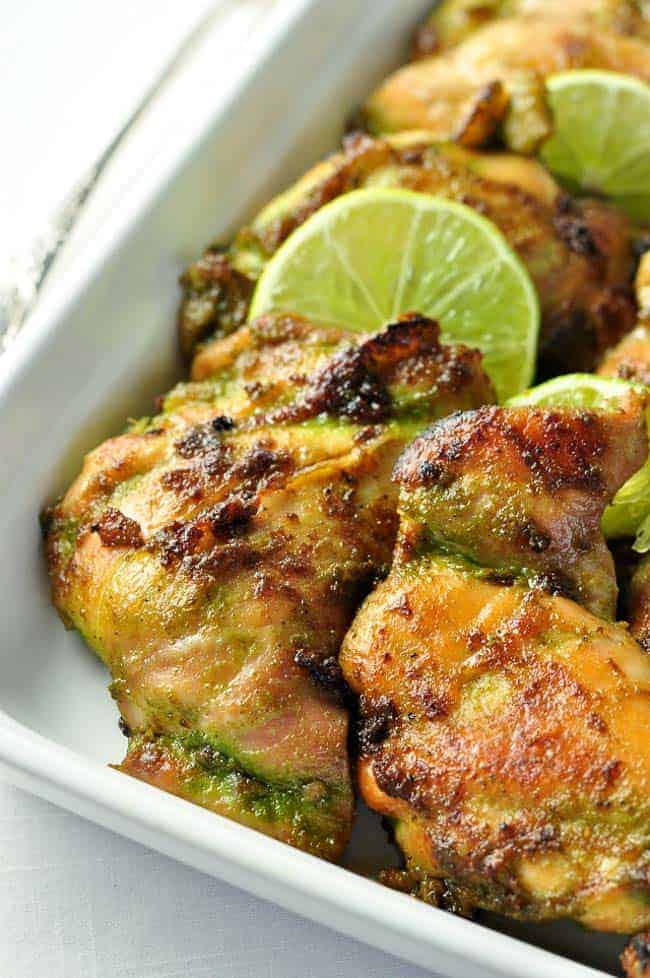 As much I love Thai dishes, I also love easy meals. Especially ones that I can make ahead and have in the freezer, ready to grab for a quick dinner on a busy day. This recipe also makes a great meal to take camping as it can easily be grilled instead of baked. Make the marinade and put it in a plastic zip closure bag with the chicken. Lay it flat, freeze, and it will be ready to pack. Make some Thai Coconut Rice (which also freezes well) to go with it and all you'll have to do is prepare a salad and veggies. How easy is that?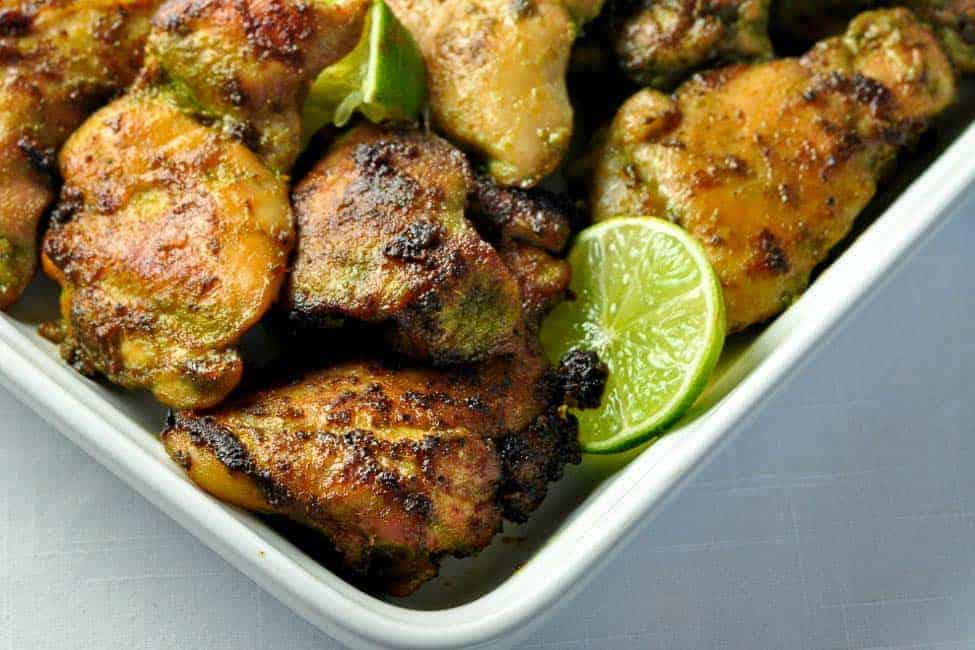 Three simple steps to make this Easy Thai Baked Chicken
Blend all marinade ingredients in your blender or food processor.
Pour the marinade into a zipper closure bag with the chicken. Let it marinate.
Bake it in the oven.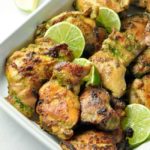 Easy Thai Baked Chicken
Full of the complex flavours of Thailand, this Easy Thai Baked Chicken is a make-ahead dish that freezes well too.
Ingredients
6-8

boneless,

skinless chicken breast halves or 12 boneless chicken thighs
Marinade
1-1/2

cups

chopped fresh cilantro

3/4

cup

canned coconut milk

12

leaves

fresh basil

1

large or 2 small jalapeños,

seeds removed

3

cloves

garlic

1/4

inch

slice of fresh ginger

1-1/2

tsp

salt

1-1/2

tsp

freshly ground black pepper

3/4

tsp

ground coriander

2

tsp

packed brown sugar,

or coconut palm sugar

2

limes

cut into wedges, for garnish
Instructions
Add marinade ingredients to food processor and purée until smooth.

Arrange chicken parts in a single layer in a large zip closure freezer bag. Pour marinade over chicken, seal tightly and massage the marinade into the chicken a bit. Cover and refrigerate for at least 2 hours and up to 24 hours, or simply lay it flat in the freezer and freeze for another day.

When ready to cook, thaw completely.

To bake: Preheat oven to 375F. Heat a large oven-proof skillet over medium to high heat. Add oil and wait until it ripples. Add chicken pieces and sear on each side for 3-4 minutes, then place skillet in oven for 15 - 20 minutes or until it has reached an internal temperature of 165 degrees.

Cover with foil and let stand on a platter for 5-10 minutes before serving.

If you want to grill it instead: Place chicken on medium-hot well-oiled grill. Turn when chicken has grill marks (approx. 5-6 min). Cook until internal temperature is 165 degrees at the thickest part (about 7-8 minutes).

Sprinkle with more chopped cilantro and serve with lime wedges.