Take yourself to the sun-drenched beaches of the Greek Islands with this protein-rich garden fresh Mediterranean Quinoa Salad!
Jump to Recipe Print Recipe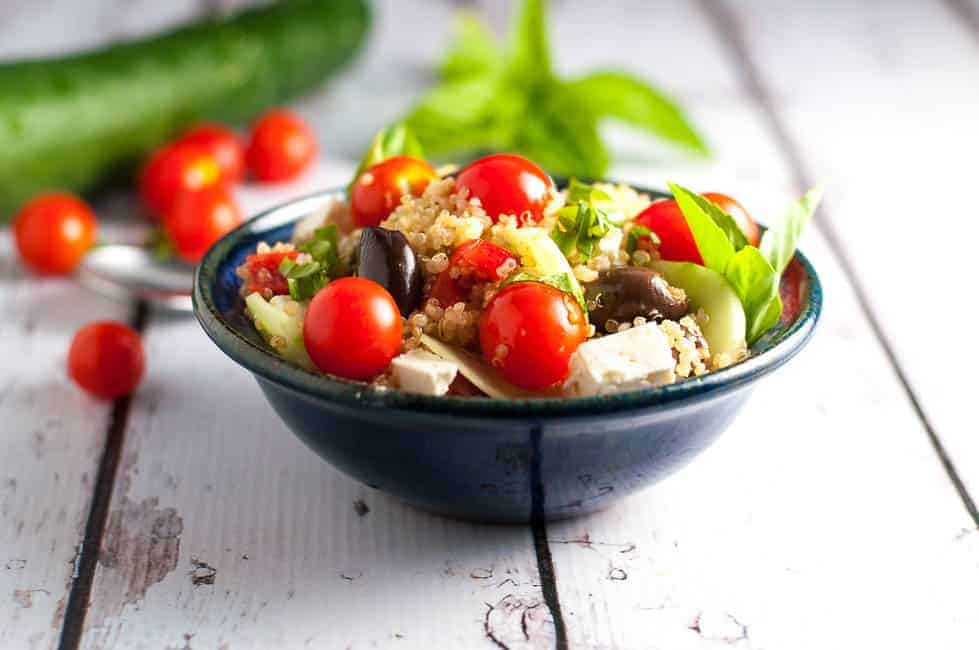 Who needs an exotic location when you have all the flavours of the Mediterranean in one healthy garden fresh quinoa salad? Summer produce is abundant now, gardens and farm markets are overflowing with cucumbers, tomatoes, peppers, fresh herbs and so much more. I made this vegetarian Mediterranean quinoa salad to take advantage of our bumper crop of tomatoes, cucumbers and basil and added some Greek touches with salty Kalamata olives and feta cheese. Topped off with a lemon vinaigrette, it made a tasty summertime meal-in-a-bowl.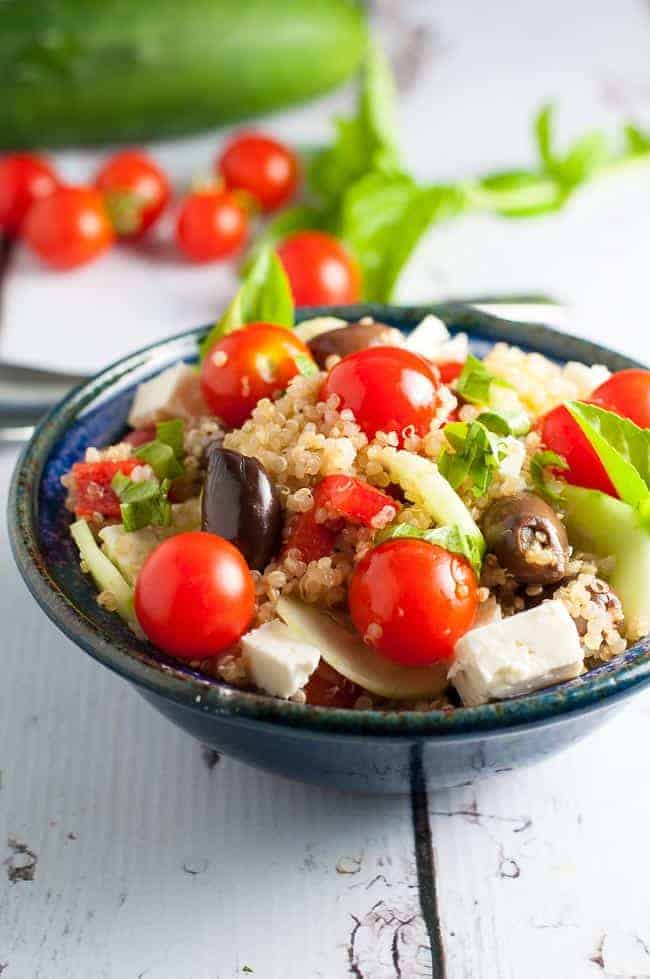 Sometimes we wish we were off traveling again, lounging on sunny beaches, cruising through far-flung islands, and savouring local flavours. And then we stop and look at each other and realize that we have it all, right here at home. Sunshine, beaches, exotic islands, spectacular vistas, and fresh-from-the-garden produce are just waiting for us to enjoy.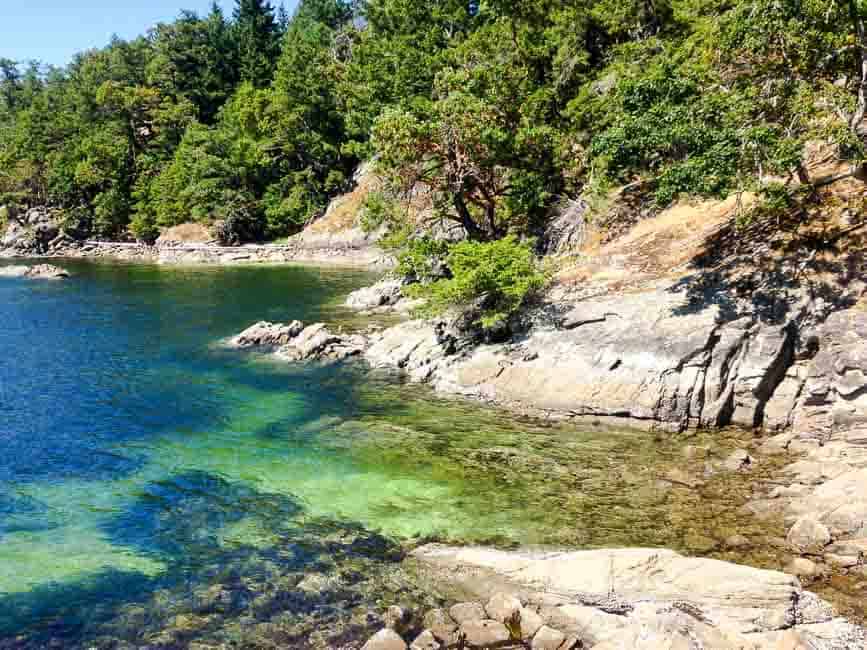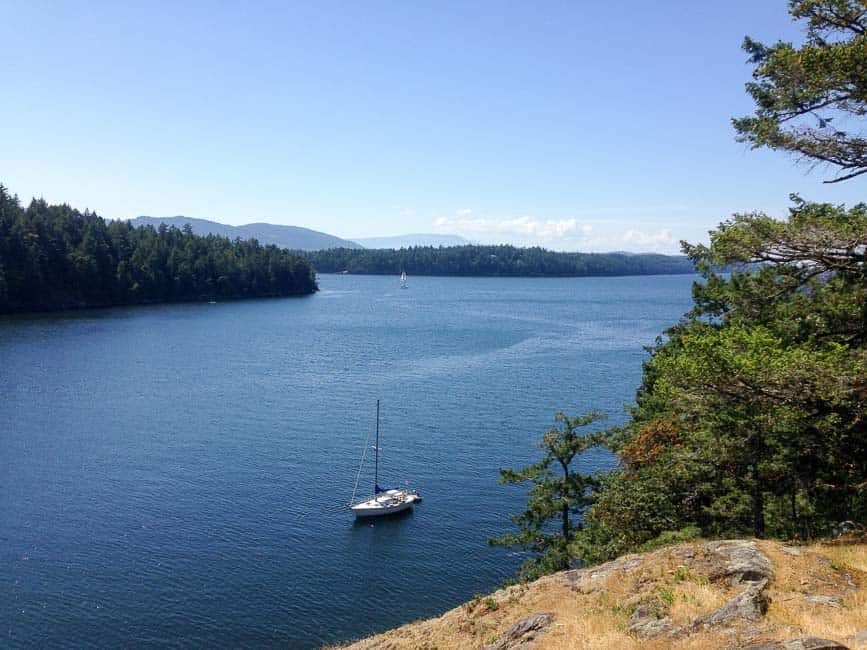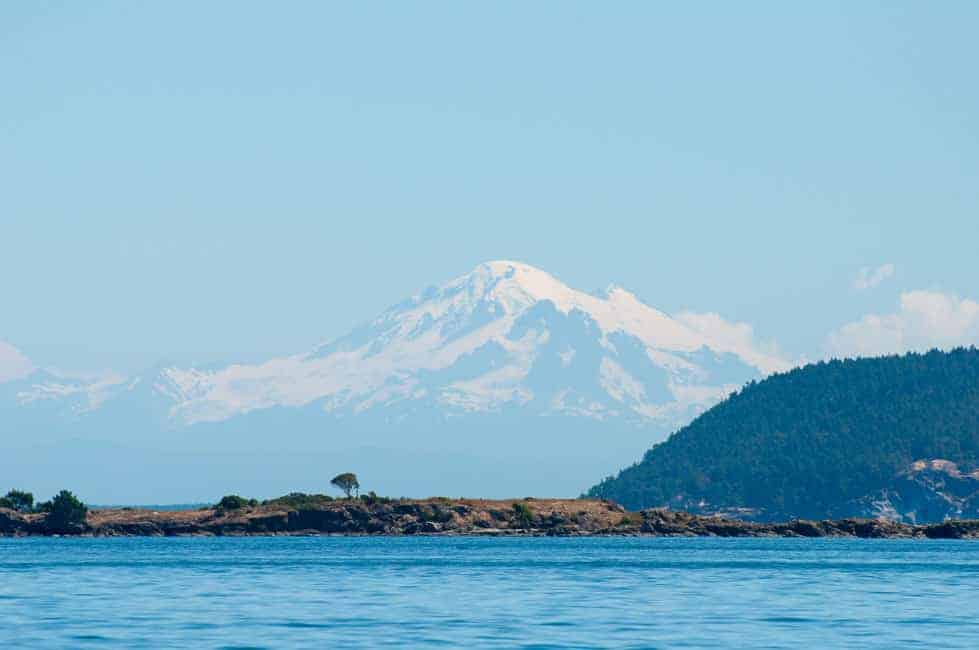 This Garden Fresh Mediterranean Quinoa Salad is an ideal salad to take on a picnic, a camping trip, or to a potluck. With no lettuce to wilt, and no mayonnaise to worry about spoiling, it's a salad that will stay fresh packed up for your next adventure. We often take it when we overnight on our boat-camping trips, as it packs easily and it totally satisfies.
Quinoa is a healthy whole grain with a complete protein rarely found in plant foods. It's gluten-free and it's an excellent source of iron and fiber, making it a great choice for vegetarian diets. I make this Red Quinoa Tabouli with Pomegranate in the fall and winter but today I'm sharing this summer-fresh quinoa salad with you.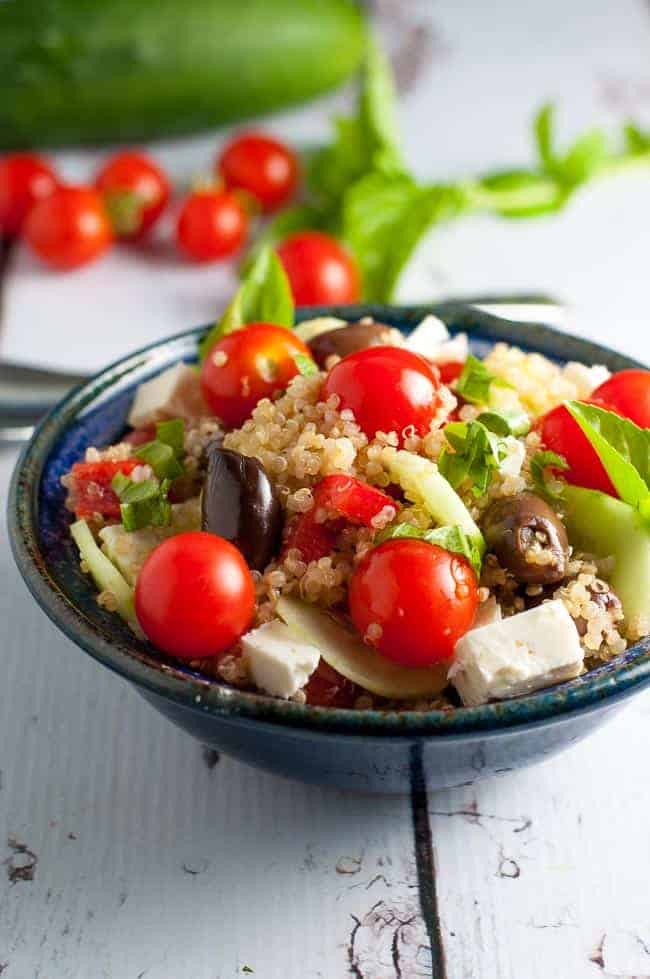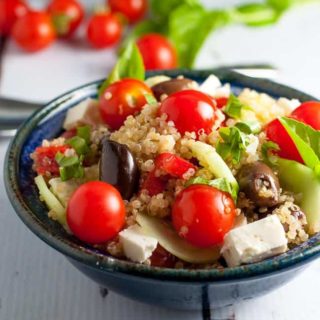 Garden Fresh Mediterranean Quinoa Salad
Take yourself to the sun-drenched beaches of the Greek Islands with this garden fresh Mediterranean Quinoa Salad bursting with tomatoes, cucumbers, basil, olives and feta cheese.
Print Recipe
Ingredients
1

cup

dry quinoa,

rinsed

2

cups

water

1

tsp

salt

1

cup

cherry tomatoes

1

medium cucumber,

sliced

1/2

cup

kalamata olives

1/2

cup

feta cheese,

cubed or crumbled

1

green onion,

thinly sliced

fresh basil leaves,

chiffonade cut
Lemon Vinaigrette Ingredients
juice and finely grated zest of 1 large lemon

3

tbsp

extra-virgin olive oil

1/2

tsp

ground thyme

1

tsp

dried oregano

sea salt and pepper to taste
Instructions
Cook quinoa in water and salt. Spread out on a baking sheet and cool completely. (I line the sheet with parchment paper for easy clean-up.)

In a medium bowl, combine quinoa, tomatoes, cucumber, olives, feta cheese and green onion.

Toss with Lemon Vinaigrette and garnish with fresh basil.

Serve.
Love quinoa salad? Try this Healthy Quinoa Bowl with Spinach, Feta and Strawberries