This roasted cauliflower soup is naturally rich and creamy, without the addition of cream or cheese. It's a warm bowl of velvety soup for a cool day.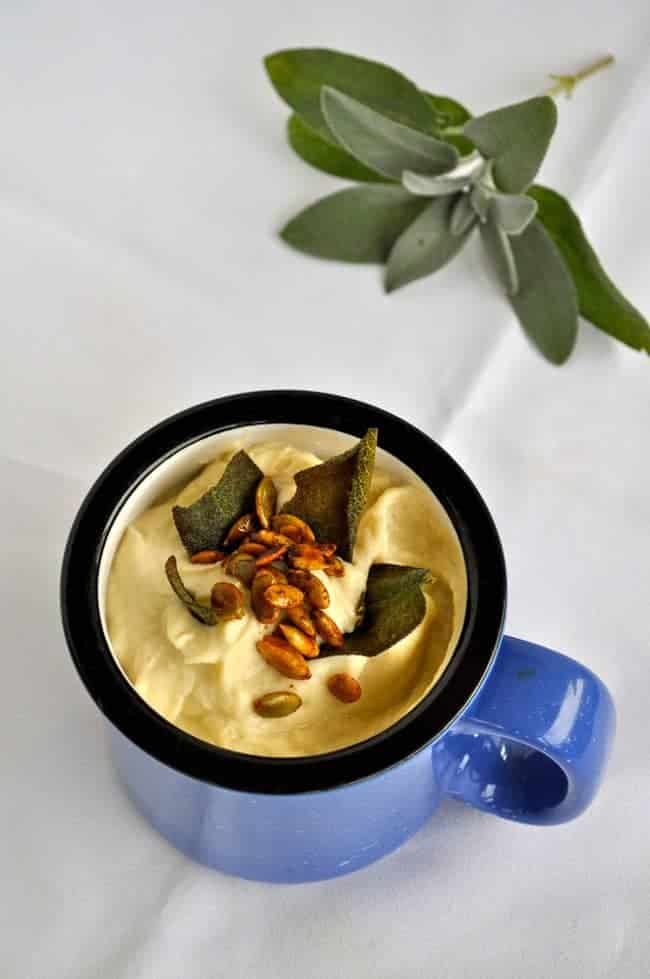 With farm markets overflowing with seasonal produce, I decided it was time to scoop it up and preserve it.  These huge heads of cauliflower were calling to me, so I bought two and lugged them around the rest of the market while I filled my bags with fall produce.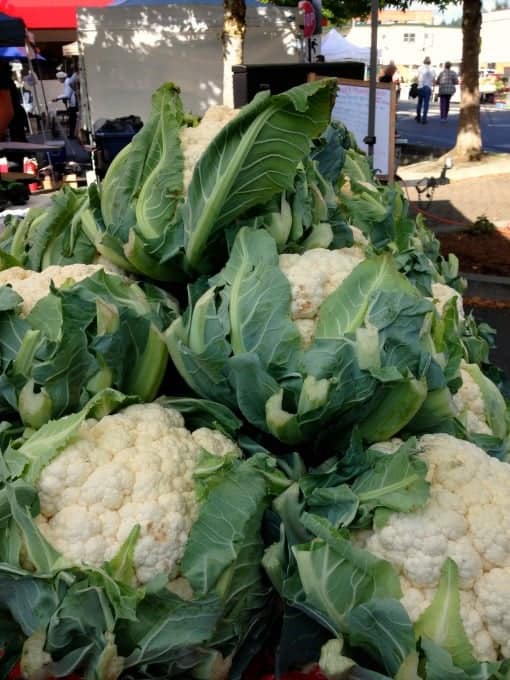 It was a little cooler out on market day, and the thought of colder days on the horizon made me think it was time to get the soup pot out. This roasted cauliflower soup is a warm hug on a cool day and velvety smooth if you purée it in a high-speed blender.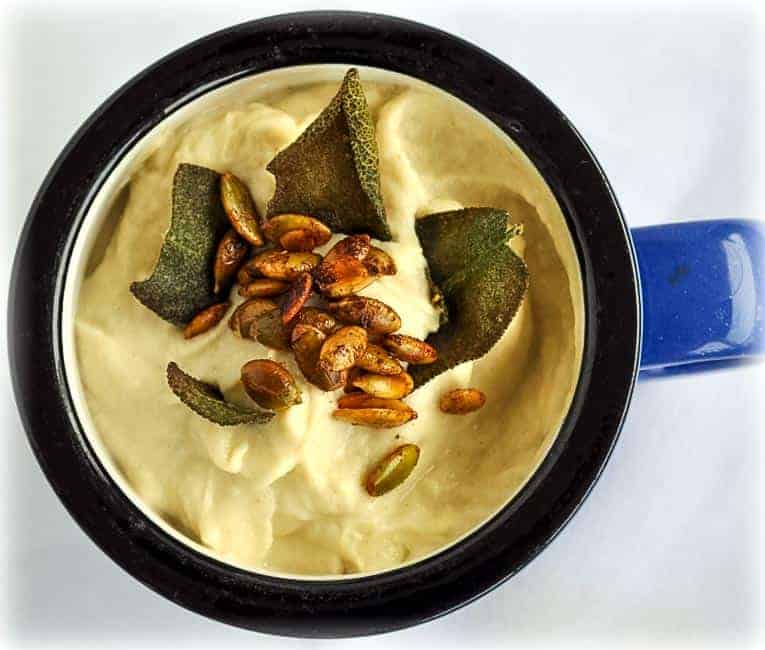 Why make your own soup instead of just opening a tetrapak or a can?
Making soup is so simple, even for a beginning cook. Chopping and prepping the vegetables does take a bit of time, but most soups do not need to simmer for hours on the stove top.
Besides being simple to make, you get to control what's in it your food, knowing what has been put in it, or what has not been added.
Not only that, but you can tailor-make your soup according to your family's likes, or in the case of kids . . . dislikes. A whole meal can be made around a simple bowl of soup, or it can just be an after-school pick-me-up.
Eating seasonally usually means that your produce has the most vitamins, minerals and antioxidants. Choosing to purchase in-season, locally grown vegetables for your soup will provide more nutrients than those that were picked days before and shipped long distances. Fresh produce picked in season simply tastes better, too. And don't forget:  you're supporting local farmers and producers at the same time.
Besides reducing your food bill, you can get yourself organized and stock your freezer for those busy weeknights ahead. Double the recipe and freeze half for another day.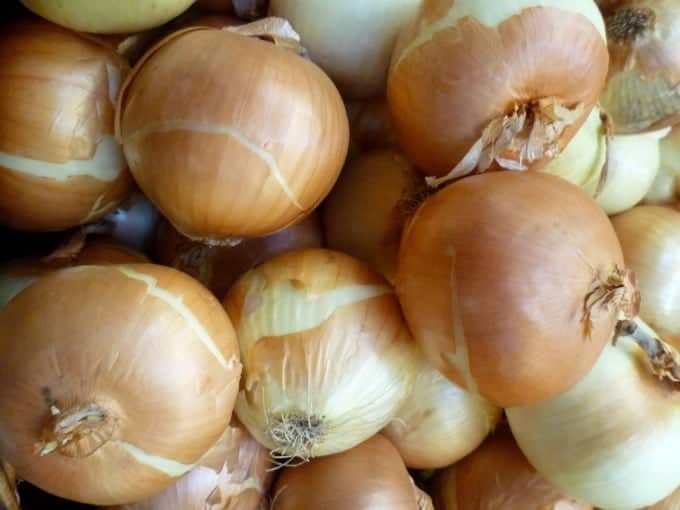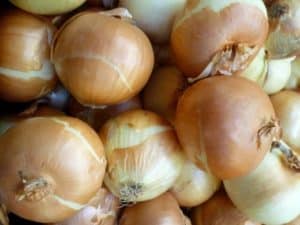 I've been asked, "Is it really necessary to roast the cauliflower before tossing it in the soup pot?"
YES. The cauliflower in this soup is delicately sweet and this sweetness is easily explained scientifically. Roasting at a high temperature causes the natural sugars in vegetables to caramelize and the proteins to brown. You can increase the caramelization by increasing the surface area of the vegetables exposed to the heat.
More simply put, don't pile the veggies on top of each other. Space them out. Make sure they aren't touching their neighbour. (It reminds me what I used to tell my first graders: respect each other's personal space. Remember your bubble. Move away from your neighbour a little). You can also increase the browning by increasing the heat. In this case, you don't want the cauliflower to brown too much, as you want the soup to have a creamy colour so use a moderate oven.

Just enjoy this Roasted Cauliflower Soup as is, or try these options:
make a meal out of it by stirring in some crab meat or smoked salmon.
make it vegetarian by substituting vegetable broth for the chicken broth. You may want to add a teaspoon or so of dried thyme to increase the depth of flavour.
make it dairy-free by omitting the parmesan and cream.
add a little crunch with spiced pumpkin seeds and/or toasted sage leaves or some seasoned croutons.
Roasted Cauliflower Soup with Spicy Pumpkin Seeds
This roasted cauliflower soup is naturally rich and creamy, without the addition of cream or cheese. It's a warm bowl of velvety soup for a cool day.
Print
Pin
Rate
Ingredients
1

head cauliflower,

,

sliced, including the core

2

tbsp

olive oil,

,

divided

1/2

yellow onion,

,

diced

1

leek,

,

white and light green parts only, sliced thinly

1

clove

garlic,

,

chopped

2

stalks of celery,

,

diced

1

tsp

salt

1

cup

organic chicken broth

2 1/2 - 3

cups

water
Optional Additions
1

tbsp

parmesan cheese,

,

grated (optional)

2

tbsp

heavy cream

,

(optional)

3/4 - 1

cup

fresh crab meat or smoked salmon

,

(optional)

fresh thyme or sage leaves for garnish

1/2

cup

pumpkin seeds,

,

toasted, then tossed with 1/2 tsp smoked paprika
Instructions
Heat oven to 350°F. Place the slices of cauliflower on a baking sheet, drizzle with a little olive oil and roast until tender, about 15 - 20 minutes. Watch carefully to prevent too much browning.

In a large, heavy-bottomed pot, heat the oil until hot. Sauté the onion, leek, garlic, and celery until soft but not browned.

Add the salt, then add the roasted cauliflower and toss until it is completely coated with the onion mixture. Cook for another 2 minutes.

Add the chicken broth and water. Bring to a boil, then simmer for 5 minutes. Purée in a blender until smooth.

Pour back into the pot and reheat to a simmer. Gently stir in the crab or smoked salmon OR add the optional parmesan cheese and cream. Serve hot. Garnish with spicy pumpkin seeds.
Notes
I tested this recipe using coconut oil instead of olive oil. I could definitely taste the coconut oil in the finished soup. If this wouldn't bother you, feel free to substitute. I preferred the olive oil option.
Tried this recipe?
Share a photo on INSTAGRAM and tag it #flavourandsavour! I love seeing what you've made.
Let's get social! Like my Facebook page. Follow me on Pinterest, Twitter and Instagram. Thanks for stopping by!
If you make one of these recipes, be sure to snap a pic, Instagram it and hashtag it #flavourandsavour. I'd love to see what you make!