Lots of ideas for healthy soup toppings and garnishes to transform a bowl of soup into something spectacular! Soup toppers add crunchiness, creaminess or herbs for extra flavour, nutrition and fun!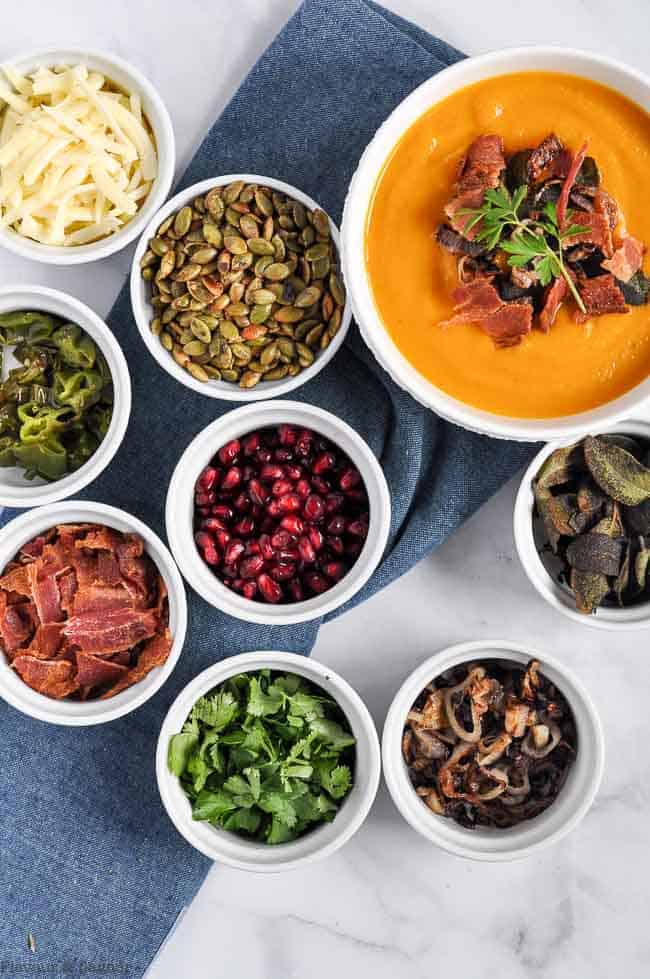 Soup topping ideas! Transform soup into a meal with extra add-ins and soup toppers. Take your soup from good to great!
Enhance and enrich your favourite soup with these fun and healthy soup garnish ideas.
A bowl of homemade soup can be comforting when we're tired, when we're sick, when it's cold outside or when we simply don't feel like cooking a big dinner. But why have plain soup when you can make it fancy schmancy with very little effort?
Jump to:
A few ideas to get you started
For example, try adding something as simple as a few toasted sage leaves to Butternut Squash Soup.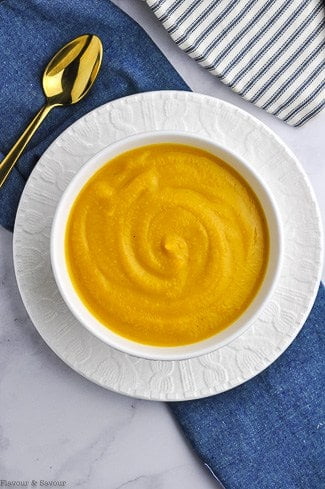 Or take a few more steps and add toasted sage leaves with crispy fried shallots, or add some crumbled bacon and parsley. Much more interesting and appealing, don't you agree?
Did you grow up adding a handful (or two) of crushed saltine crackers to your soup? I know I did. I think we may have done that because canned soup was simply boring. Adding crackers gave it some texture (and depending on how many you added, made it more like a chowder!) However, there are so many healthier options than crackers.
Take your soup from good to great!
A healthy homemade bowl of soup can be transformed into a work of art, if you choose, simply by adding soup garnishes and accompaniments. Choose soup toppings that are crisp and crunchy, fresh and herby, or add a swirl of creaminess!
Have you ever noticed what a difference a squeeze of fresh lemon juice makes to a bowl of Seafood Chowder?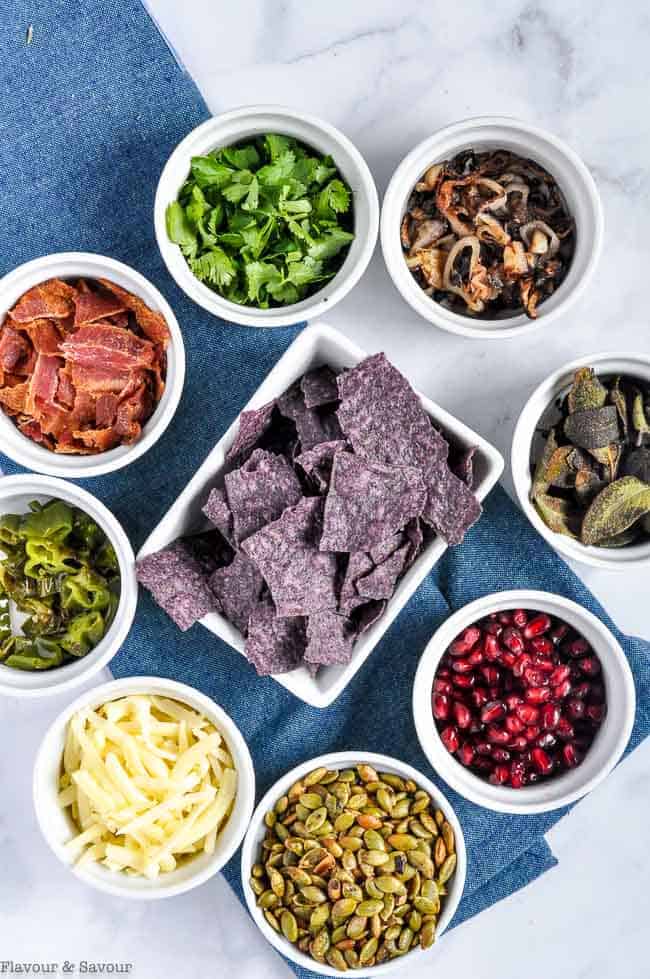 A plain bowl of soup is good, but one with garnishes is better! Adding soup toppings and accompaniments adds interest, crunch and flavour and makes a simple bowl far more appealing. Why not upgrade your soup and make it a masterpiece?
Favourite Soup Garnish Ideas
These are some of my favourite soup toppers. Choose one or more to add to your soup. Or serve toppings in individual bowls and let your family pick and choose what they would like best. The sky's the limit! Check your fridge or pantry for possible toppings. You'll be surprised at how many ideas you can find in your own kitchen.
crispy fried shallots
thinly sliced green onions
herbs: parsley, cilantro, thyme, tarragon, chives
toasted sage leaves
grated cheese: Parmesan, Cheddar, Gruyere, Mozzarella or your favourite cheese
Parmesan crisps: homemade Easiest Ever Parmesan Crisps (or store-bought)
croutons: homemade, gluten-free if necessary
toasted flaked almonds
crumbled bacon bits
crispy prosciutto
crumbled tortilla chips
a spoonful of salsa
a dollop of harissa or pesto
a swirl of sour cream or cream
sautéed peppers: I used shishito peppers leftover from Blistered Shishito Peppers
pomegranate arils
roasted chickpeas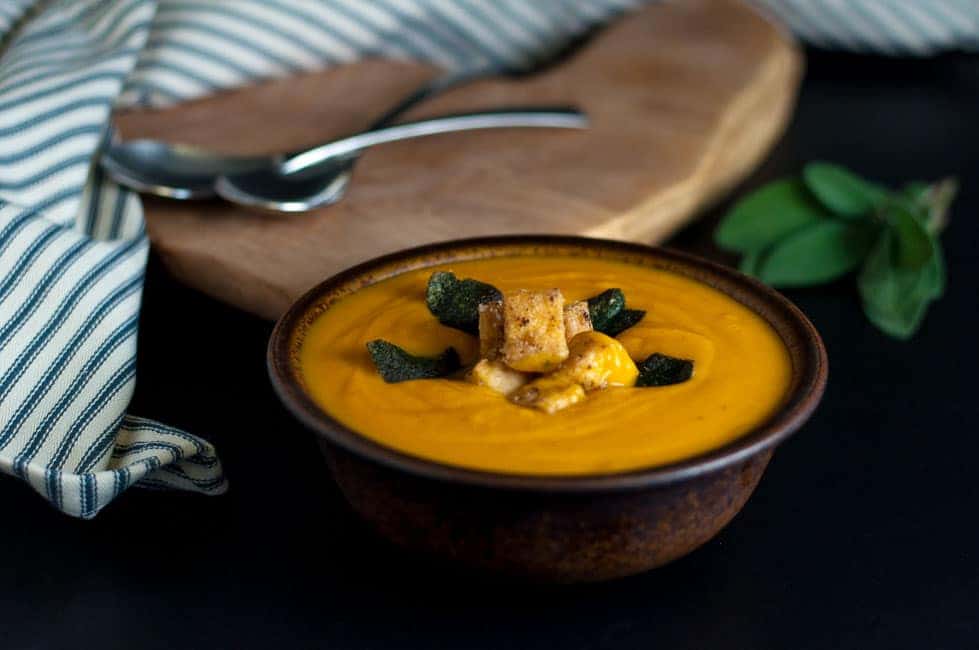 Which soup recipes and toppings go together?
If you're not sure which toppings would work well together, try these suggested combinations. For example,
Butternut Squash Soup: toasted sage leaves, crispy shallots and crumbled bacon bits, or a swirl of sour cream or yogurt
Creamy Tomato Soup: Parmesan crisps, croutons, green onions
Smoky Chipotle Sweet Potato Soup: polenta croutons, or crumbled tortilla chips, avocado cubes and cilantro
Roasted Cauliflower Soup: spicy pumpkin seeds, croutons and thyme
Broccoli White Cheddar Soup: fresh herbs
Slow Cooker Moroccan Harissa Soup: toasted almonds, cilantro, harissa
Slow Cooker Vegan Black Bean Soup: avocado cubes, cilantro, lime slices, tortilla chips
Vegan Sweet Potato Corn Chowder: this soup is so loaded it only needs a sprinkle of green onions.
Creamy Roasted Garlic Irish Potato Soup: fresh parsley and a drizzle of cream
Potato Leek Soup with Bacon: crisp bacon bits, snipped chives, yogurt or sour cream drizzle
Carrot Ginger Soup with Apple: shallots, matchstick apple slices, parsley
Tuscan Minestrone Soup: another loaded soup that only need a few Parmesan shavings or Parmesan crisps.
Sweet Potato Turmeric Soup roasted chickpeas, crispy fried shallots, pomegranate arils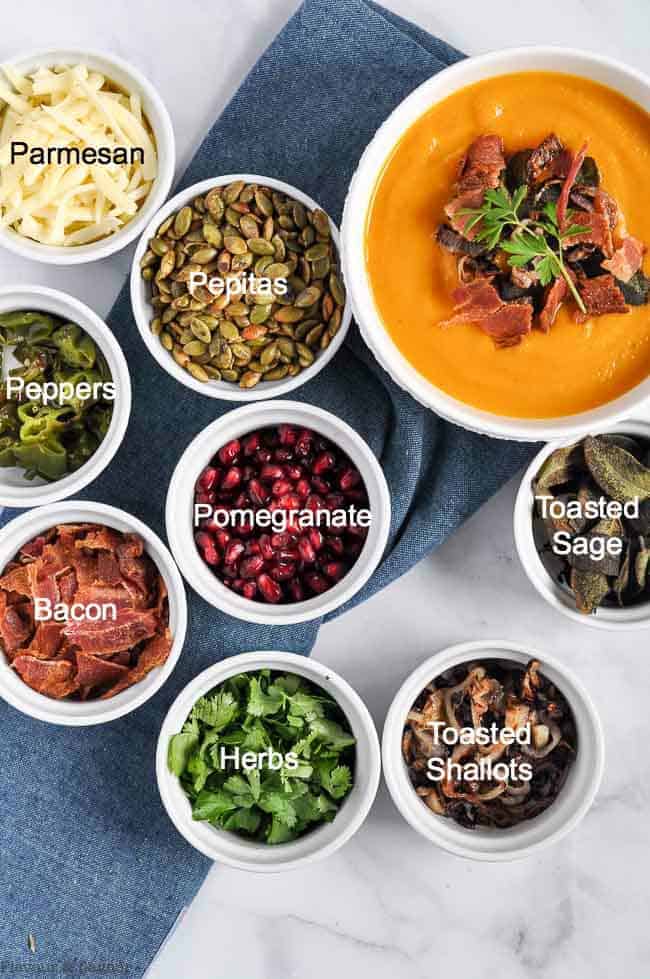 But don't stop there! Once you start thinking of possible garnishes or soup toppers, it will be hard to stop!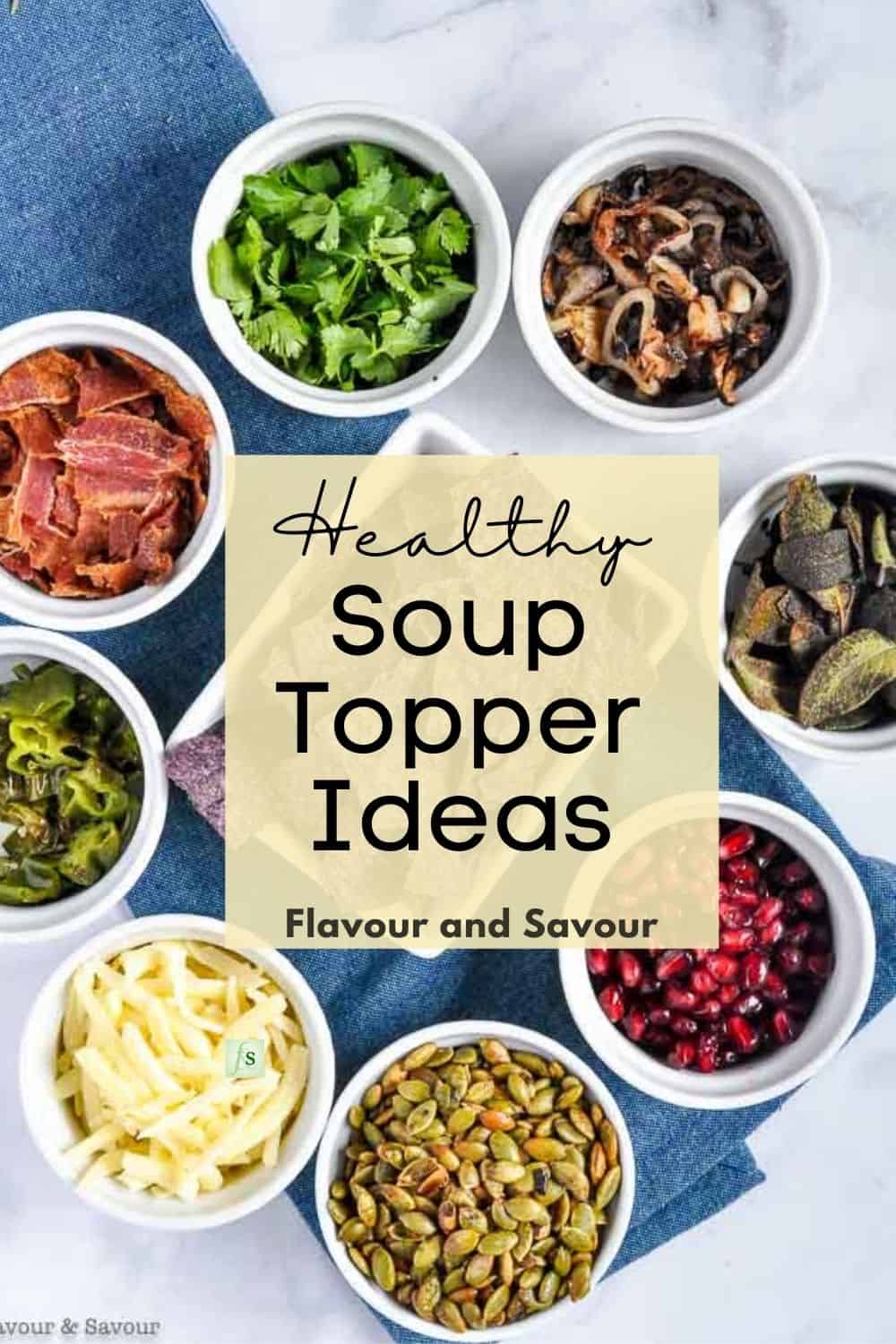 Recipe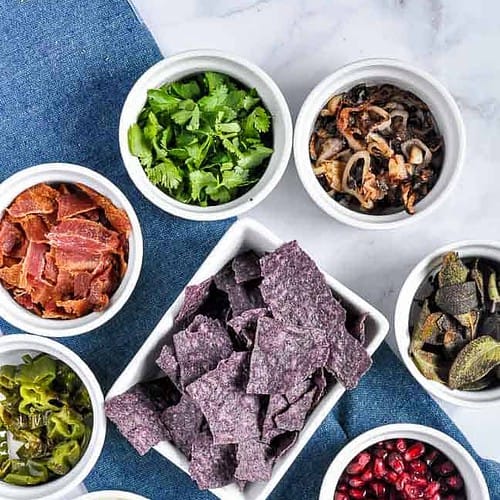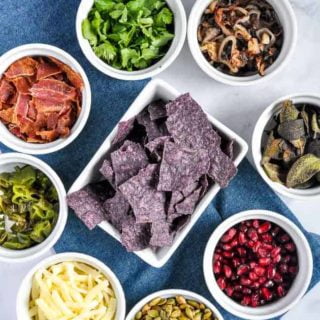 Soup Topping Ideas
Take your bowl of soup from good to great with these soup topping ideas! Turn your soup into a meal with these suggested healthy add-ins.
Print
Pin
Rate
Ingredients
1 - 2

Tbsp

herbs: parsley, cilantro, thyme, tarragon, chives

1 - 2

Tbsp

toasted sage leaves

1 - 2

Tbsp

grated cheese: Parmesan, Cheddar, Gruyere, Mozzarella or your favourite cheese

1 - 2

Tbsp

homemade Parmesan Crisps

1 - 2

Tbsp

croutons

gluten-free if necessary

1 - 2

Tbsp

polenta croutons

1 - 2

Tbsp

spiced pumpkin seeds

1 - 2

Tbsp

toasted flaked almonds

1 - 2

Tbsp

crumbled bacon bits

1 - 2

Tbsp

crispy prosciutto

1 - 2

Tbsp

crumbled tortilla chips

1 - 2

Tbsp

salsa

1 - 2

Tbsp

harissa paste

1 - 2

Tbsp

sour cream

1 - 2

Tbsp

pesto

1 - 2

tbsp

shishito peppers

1 - 2

tbsp

roasted chickpeas

1 - 2

spoonful

pomegranate arils
Instructions
Ladle soup into bowl, then top with one or more of the suggested soup garnishes.
Notes
Nutrition information is impossible to calculate, as it depends on what you choose to add to your soup. Calories were calculated for 1 tablespoon pumpkin seeds.
Nutrition
Calories:
56
kcal
|
Carbohydrates:
1
g
|
Protein:
3
g
|
Fat:
5
g
|
Saturated Fat:
1
g
|
Sodium:
1
mg
|
Potassium:
81
mg
|
Fiber:
1
g
|
Sugar:
1
g
|
Iron:
1
mg