This recipe for sheet pan roasted gnocchi with fall vegetables combines your favourite harvest vegetables with crispy, pillowy soft gnocchi! Healthy vegetables tossed in an amazing browned butter sage sauce make a delicious vegetarian main dish or side. This recipe works beautifully with gluten-free gnocchi, too.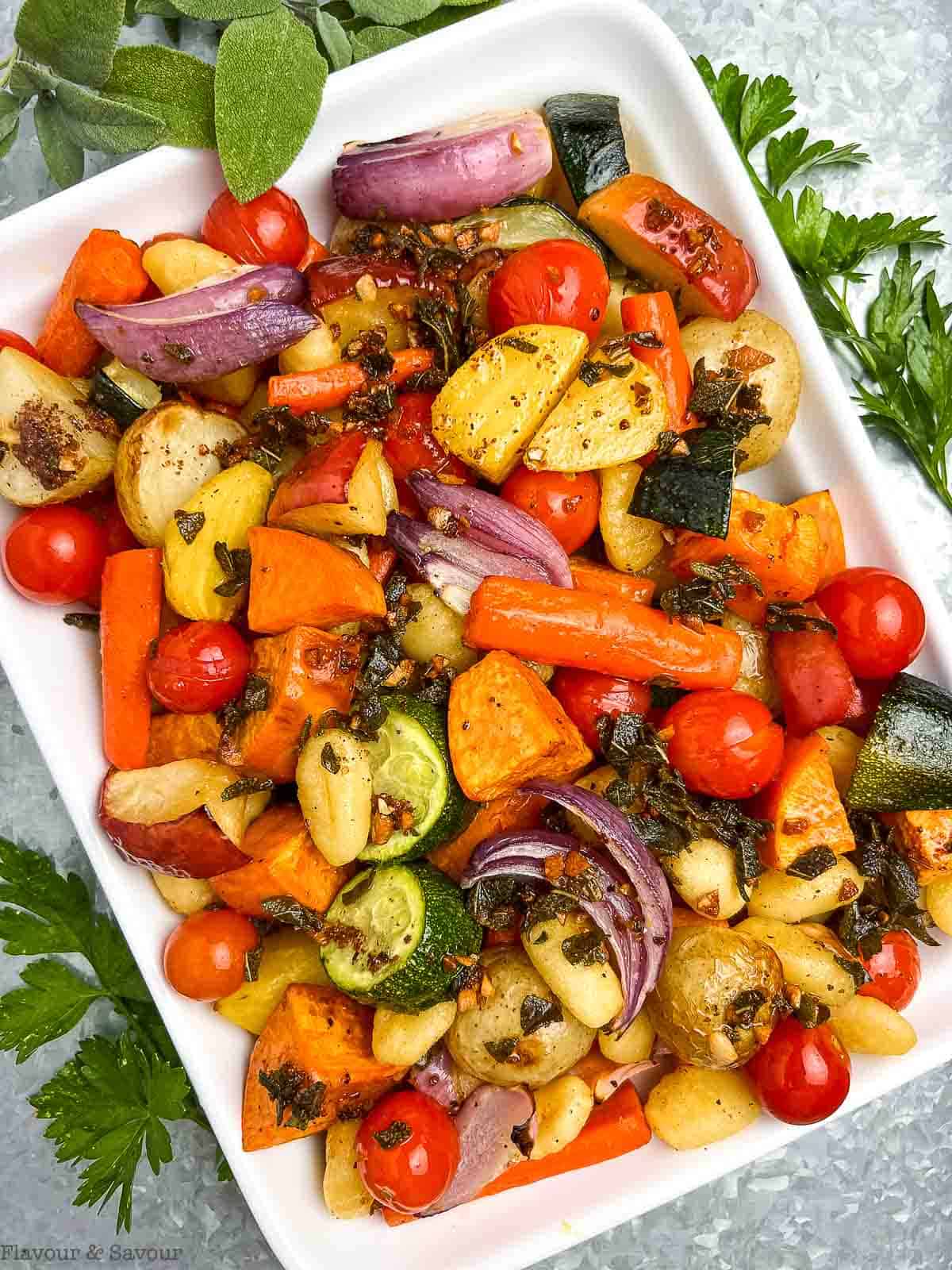 ❤️ Why you'll love this recipe
My recipe for Sheet Pan Chicken and Roasted Harvest Vegetables has been incredibly popular over the last several years. I make it often, (as do so many of you.) I wanted to develop a similar dish that was meatless but still had all the flavours of my original recipe.
This vegetarian sheet pan dinner has my favourite fall vegetables plus crispy little potato gnocchi pillows! It's bathed in an amazing browned butter sage sauce, making it a cozy dinner for fall and winter nights.
It has sweet apple chunks as well! Don't leave these out. They add a definite palate-pleasing contrast to the veggies and browned butter sauce.
This sheet pan gnocchi with vegetables makes a fast meal for busy weeknights that the whole family can enjoy.
Don't you love easy sheet pan meals like this one? Minimal effort. Maximum flavour and nutrition!
Not only that, this is a gluten-free vegetarian meal! Once I discovered just how delicious (and convenient) gluten-free shelf-stable gnocchi can be, it found its way into several meals of mine.
I love this easy Cheesy Tomato Gnocchi Bake. The gnocchi doesn't need to be boiled separately. It cooks right in the rich tomato sauce!
Likewise, this Easy Vegetarian Pesto Gnocchi is another dinner winner! Cooked in a skillet on your stovetop, it's loaded with Mediterranean flavours, optional plant-based sausage and gluten-free gnocchi.
Try gnocchi instead of pasta in soup in this Italian Vegetable Gnocchi Soup recipe.
If you haven't tried gluten-free gnocchi yet, don't wait any longer! While gnocchi is traditionally cooked in boiling water like pasta, it's also absolutely delicious when roasted in the oven. The edges turn out crisp while the insides are still soft and tender.
Jump to:
🛒 Ingredients and substitutions
You'll find a complete list of ingredients with amounts in the recipe card below. But before we get to the full recipe, here are a few notes about some of the key ingredients.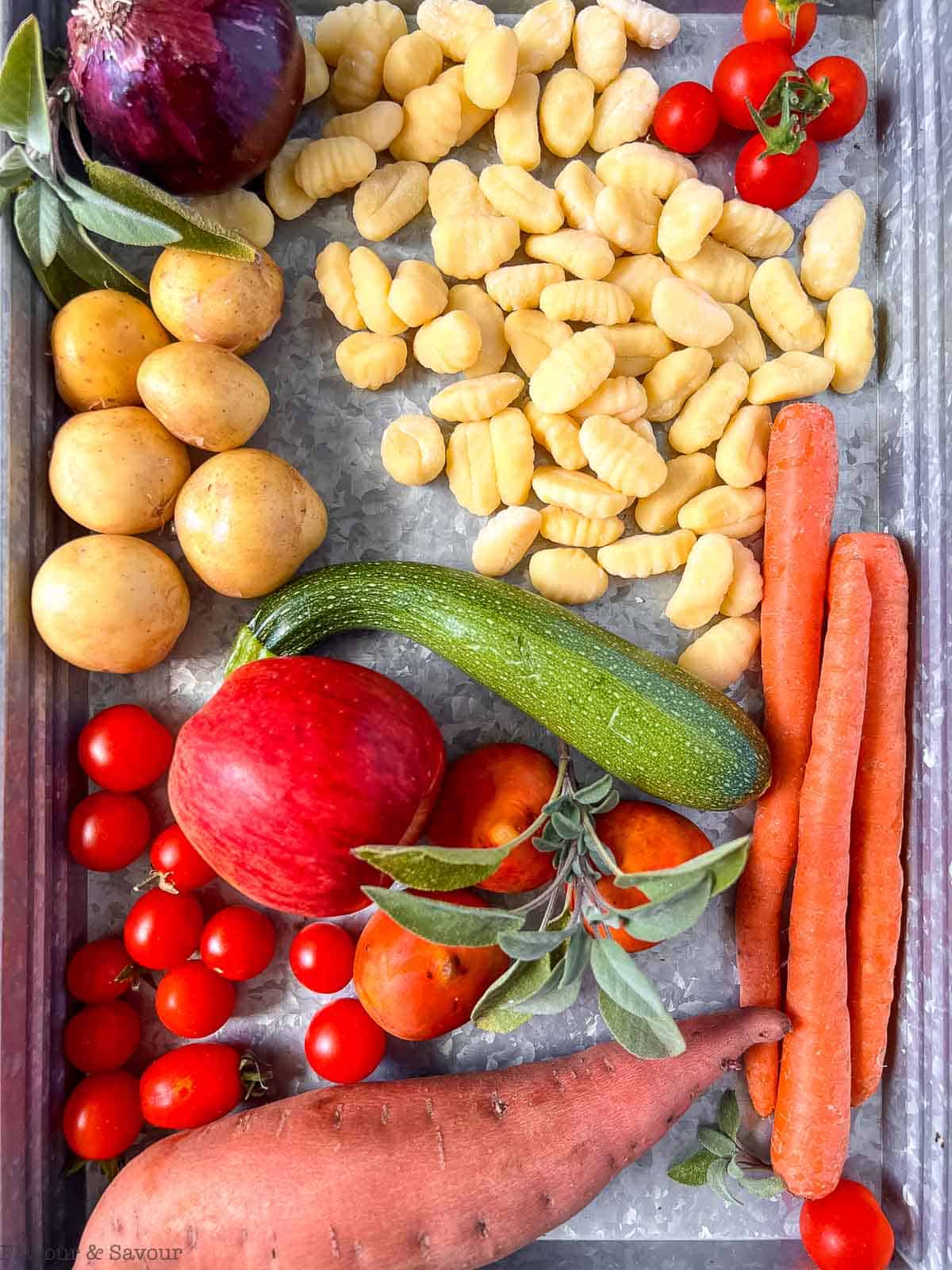 gnocchi: fresh gnocchi is readily available, often in the refrigerated section of your grocery store's deli department. Shelf-stable gluten-free gnocchi is also usually easy to find, sometimes in the pasta aisle, sometimes in the deli.
vegetables: I used small potatoes, sweet potatoes, carrots, golden beets, garlic, onions, zucchini and cherry tomatoes.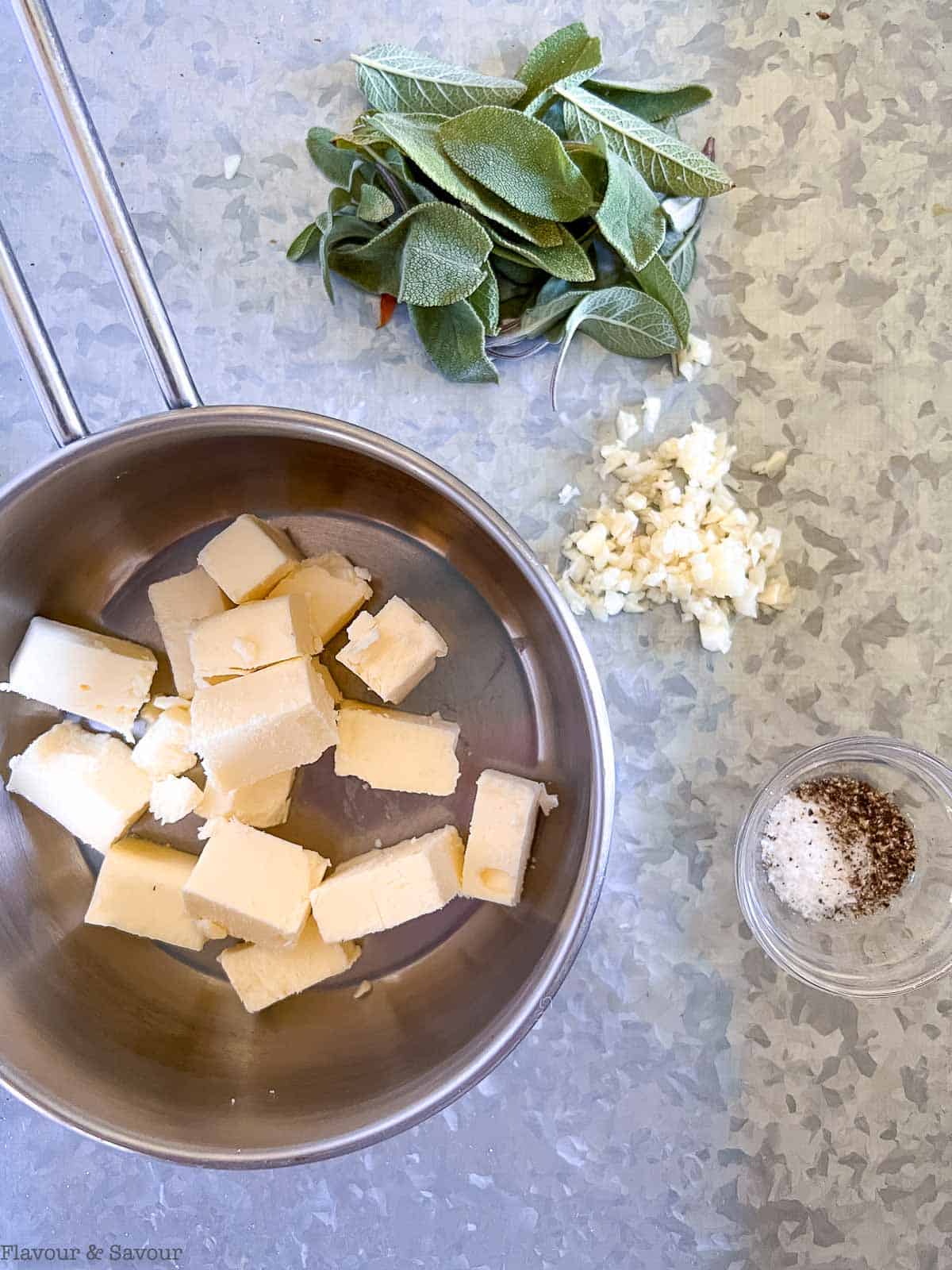 To make the browned butter sauce, you'll need
unsalted butter: using unsalted butter is recommended to make the best browned butter sauce. Salted butter will work, but it tends to foam up more, making it hard to tell when it's reached the correct level of browning.
fresh sage: dried sage could be used, but it simply won't be as flavourful. Go for fresh sage if you can. If you have to substitute, use 4 teaspoons dried sage instead of ¼ cup of fresh sage leaves.
garlic: one clove, finely minced
sea salt and pepper: to taste
🔪 Instructions
Here's an overview of what you'll do to make this recipe perfectly. You'll find complete instructions in the recipe card at the end of this post.
Preheat your oven to 400°F. (or 375° if you're roasting on convection.)
Prep the vegetables. Try to cut the other vegetables into similarly sized pieces. Cut the more dense root vegetables like beets and carrots into small pieces so all the vegetables will cook at the same rate on the sheet pan. Leave softer vegetables like zucchini in larger chunks, as they will cook more quickly. Leave garlic cloves whole. Slice an apple.
Toss the vegetables and gnocchi in a tablespoon or two of olive oil and sprinkle with sea salt and freshly ground pepper.

Arrange them in a single layer on two sheet pans, either well-oiled or lined with parchment paper.

Roast in the oven for 15 to 25 minutes, turning once partway through the cooking time. The roasting time will depend on the temperature and efficiency of your oven, so check them after 10 minutes.
What about the tomatoes? Add cherry tomatoes to the pan once the vegetables are almost fork-tender. They will only take a few minutes to cook.
Once the vegetables are cooked to your liking, they're ready to be drizzled with Sage Browned Butter!
Make the browned butter while the veggies are roasting. See the instructions in the recipe card below. Cook over medium-low heat in a saucepan on the stovetop until it reaches a golden brown colour. Remove from the heat and quickly transfer it to another dish (I use a Pyrex measuring cup) to stop it from browning further.
Drizzle the roasted vegetables and gnocchi with sage browned butter and serve right away. If you'd like you can garnish it with other fresh herbs like parsley or fresh basil or a sprinkling of finely grated Parmesan cheese. So delicious!

🔁 Possible Variations
Choose your favourite vegetables to roast. Good candidates for roasting are root vegetables like
potatoes
winter squash
sweet potatoes
carrots
parsnips
beets
onions
turnips
kohlrabi
rutabaga
and other veggies, like red cabbage, broccoli or cauliflower.
If you like, you can sprinkle finely grated Parmesan cheese on top of your dish just before serving.
👍🏼 Helpful tips to make the best sheet pan gnocchi with vegetables
It's best to spread the gnocchi and vegetables out on two sheet pans. In this way, the hot air will circulate around the vegetables roasting them to crispy perfection.
If they're too close together, they'll cook in their own steam and won't have those crispy edges we love.
🍳 Equipment
You'll need
a good knife for chopping the vegetables
a sturdy cutting board
a large bowl
two large rimmed baking sheets either well-oiled or lined with parchment paper
a small saucepan to make the browned butter sauce
❓Reader's Questions
Why is my butter taking a long time to brown when I make browned butter sauce?

If you've placed all the butter in the saucepan in a block or a stick, it may take longer to brown. The outer portions of the stick may brown too quickly or even burn while the center of the stick is still melting. It's best to cut the stick of butter into smaller cubes first to help it brown evenly.

Keep stirring over medium heat and it will soon start to brown.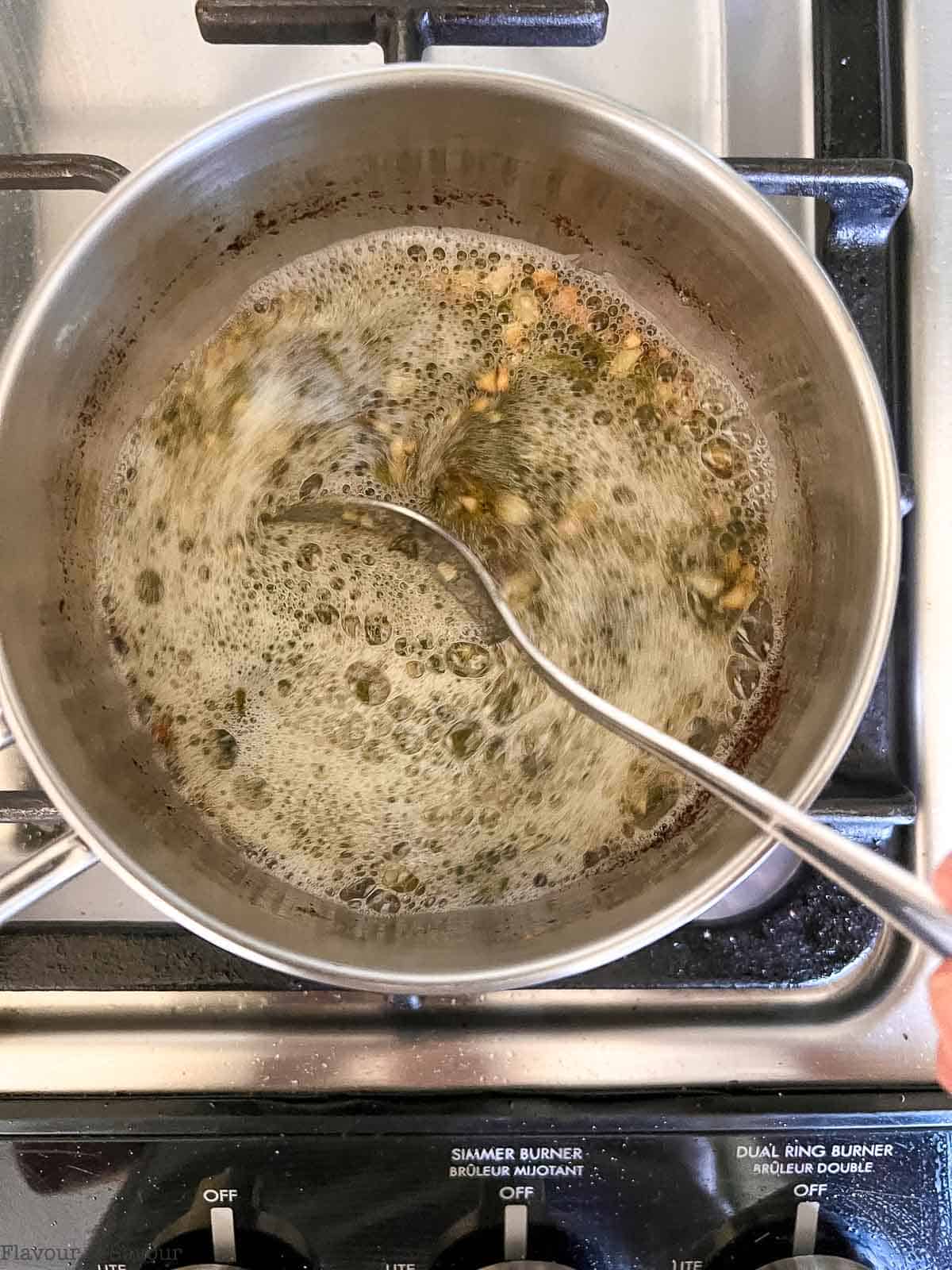 🍽 Serving Suggestions
Sheet pan gnocchi and fall vegetables together make a satisfying vegetarian meal. However, you could also serve smaller portions as a side dish. Try it with any of the following favourite main dishes.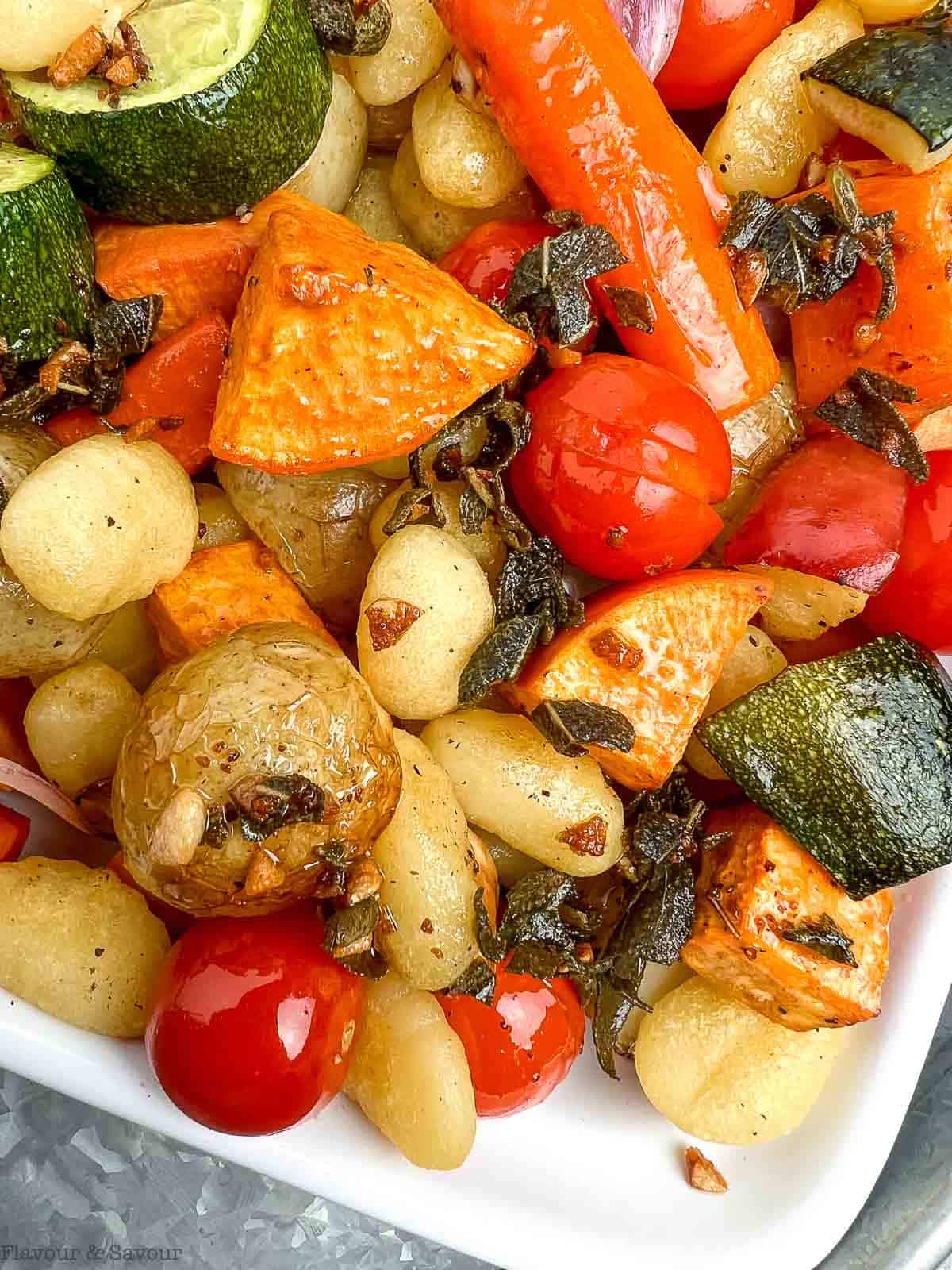 ⏰ Storage Instructions
To store: If you have leftovers of this sheet pan gnocchi dish, store them in a covered container in the fridge for 2 to 3 days.
To reheat: Reheat in the oven at 350°F. on a sheet pan until vegetables are heated through.
🗒 More sheet pan dinner recipes
When you make this recipe for sheet pan gnocchi and fall vegetables, please leave a comment and a 🌟🌟🌟🌟🌟 rating below. I love hearing from you! Thanks in advance. Subscribe to my newsletter and receive new recipes delivered straight to your inbox.
This recipe was inspired by Sheet Pan Gnocchi at The Recipe Well.
📖 Recipe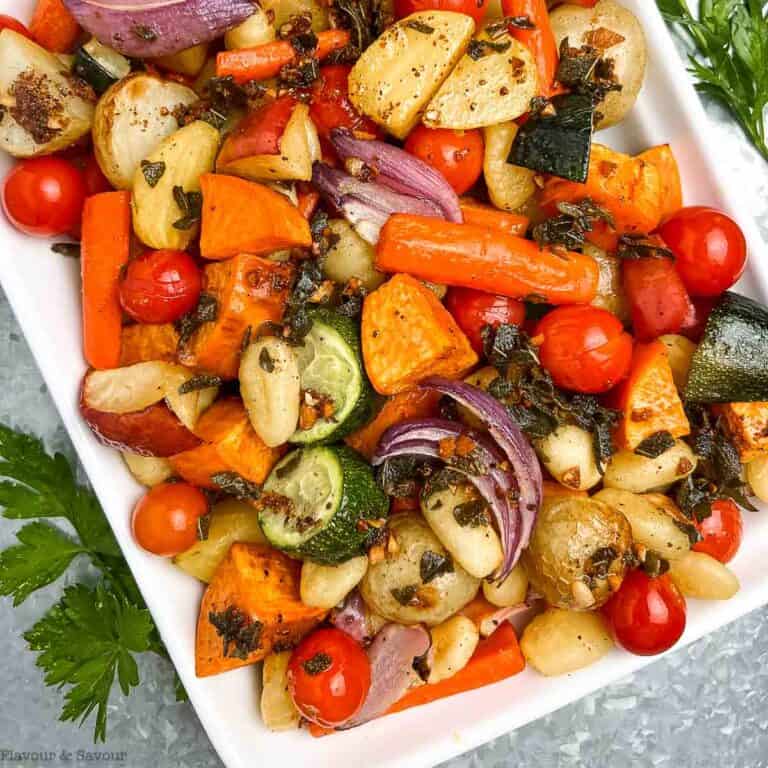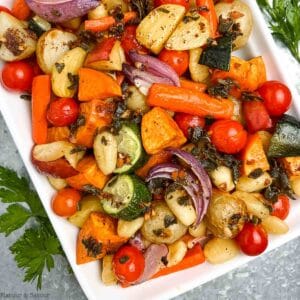 Sheet Pan Roasted Gnocchi and Fall Vegetables
This recipe for sheet pan roasted gnocchi and fall vegetables combines your favourite harvest vegetables with crispy, pillowy soft gnocchi! Healthy vegetables tossed in an amazing browned butter sage sauce makes a delicious vegetarian main or side dish.
Print
Pin
Rate
Ingredients
1

1 lb (500gm)package

gluten-free gnocchi

shelf-stable or fresh

8

cups

fresh vegetables

such as sweet potato, potato, carrots, golden beets, red onion, zucchini

1

medium

apple

1

cup

cherry tomatoes

3

cloves

garlic,

leave whole
Sage Brown Butter
¼

cup

unsalted butter

1

clove

garlic,

minced

¼

cup

fresh sage leaves

½

teaspoon

sea salt

or Kosher salt

¼

teaspoon

black pepper,

freshly ground
Instructions
Preheat the oven to 400°F. Line two half sheet pans with parchment paper.

Prepare the vegetables. Cut small potatoes into four bite-sized pieces and cut the sweet potatoes, carrots and onions into uniformly-sized pieces so they cook at the same rate. Leave zucchini chunks a little larger as they will cook more quickly. Cut the beets smaller than the other vegetables, as they are dense and take longer to cook.

Peel garlic cloves but leave them whole.

Slice and core an apple, but leave the skin on. The peel helps the apple to hold its shape when it softens during cooking.

Place the gnocchi and all the vegetables, garlic and apple in a large bowl and toss with 1 -2 tablespoons of olive oil.

Arrange the gnocchi and vegetables on two half sheets so they are spread out and not touching each other.

Roast in the oven for 15 to 25 minutes, flipping them over halfway through cooking time. Check at 10 minute, as ovens vary in temperature.

Meanwhile, prepare the sage brown butter sauce.

When the vegetables are almost fork tender, add the cherry tomatoes to the sheet pans.

Remove the sheet pans from the oven, transfer the vegetables to a shallow platter and drizzle with Sage Brown Butter Sauce. Serve right away!
Sage Brown Butter Sauce
Over low to medium heat, melt the unsalted butter in a small saucepan. Once the butter begins to bubble around the edges, add the garlic. Cook for 1 minute, stirring constantly.

Add the sliced sage leaves and continue to cook, for 2 - 4 minutes as you stir. Don't leave the pan unattended as brown butter can burn very quickly.

Once it turns a golden brown colour and smells nutty, remove it from the heat and transfer it to another container to stop it from cooking further. A glass measuring cup or small pitcher works well, as then you can use it to pour the sauce over the gnocchi and vegetables.
Nutrition
Calories:
371
kcal
|
Carbohydrates:
58
g
|
Protein:
13
g
|
Fat:
14
g
|
Saturated Fat:
8
g
|
Polyunsaturated Fat:
1
g
|
Monounsaturated Fat:
3
g
|
Trans Fat:
0.5
g
|
Cholesterol:
31
mg
|
Sodium:
469
mg
|
Potassium:
922
mg
|
Fiber:
16
g
|
Sugar:
6
g
|
Vitamin A:
19046
IU
|
Vitamin C:
49
mg
|
Calcium:
113
mg
|
Iron:
4
mg