This easy no-boil cheesy tomato gnocchi bake recipe checks all the boxes for a cozy weeknight meal! Made with fire-roasted tomatoes, red bell peppers and spinach, this one-pan skillet meal is topped with lots of melty mozzarella cheese! Ready in about 30 minutes. Keep it vegetarian by using plant-based meat, or add your favourite Italian sausage or ground meat.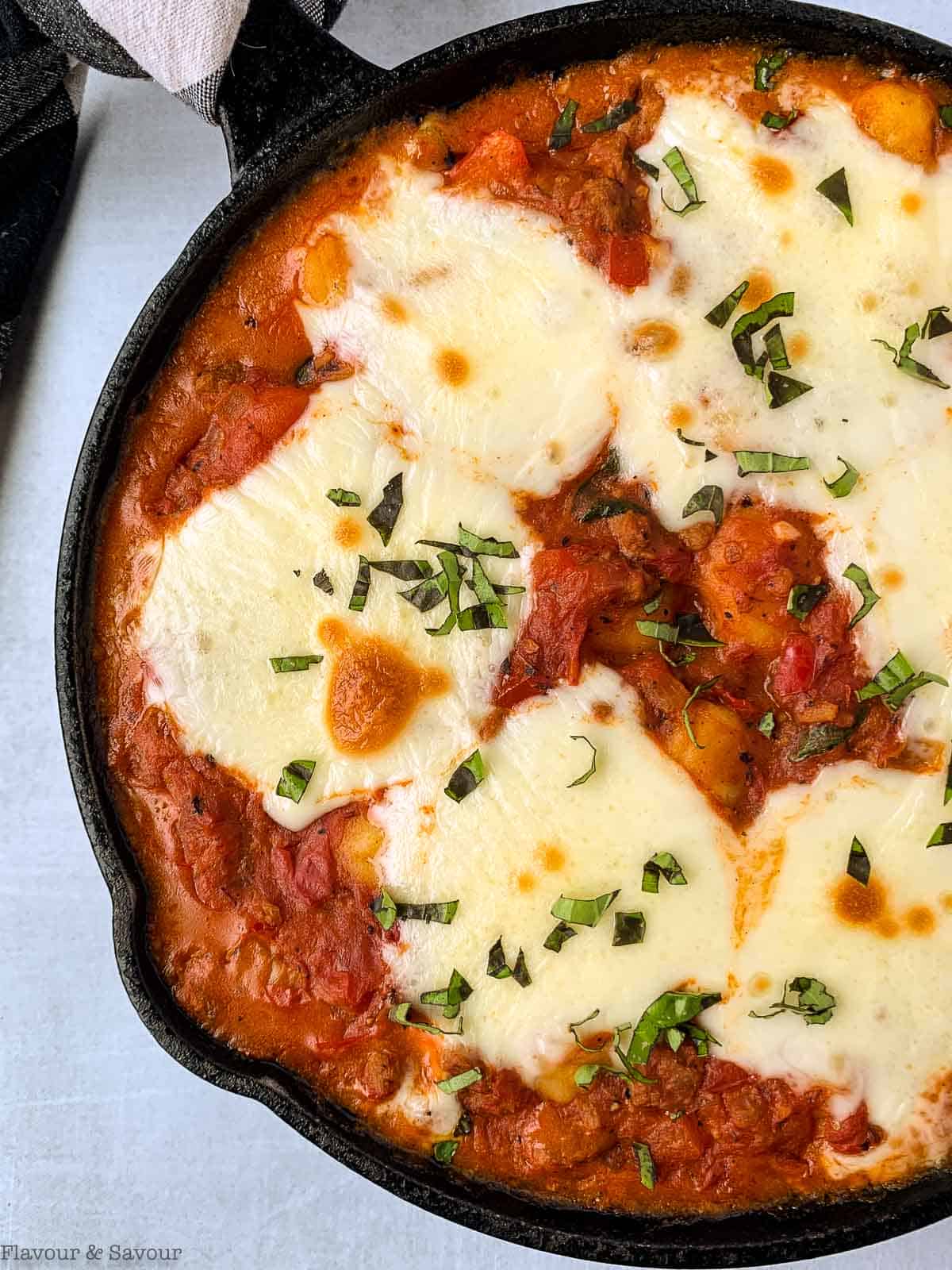 Jump to:
❤️ Why you'll love this no-boil gnocchi casserole recipe
No need to boil the gnocchi first! I wanted to make an easy baked gnocchi recipe without boiling the gnocchi first. I like to keep things simple and avoid dirtying extra dishes if I don't have to. This gnocchi bake with tomatoes and cheese works perfectly to cook the gnocchi.
A one-pan meal! It's all made in one pan! There's no need to cook gnocchi separately. It will cook in the sauce as it bubbles away, leaving tender little pillows of potato pasta.
Make it gluten-free or even meatless! This skillet meal is incredibly easy to adapt to your family's tastes or diet. Avoiding gluten? Ready-made gluten-free gnocchi is available (and it's good!) Want a meatless meal? Leave it out, or use plant-based meat instead (also good!)
Cozy comfort food. This creamy tomato gnocchi bake makes a cozy comfort food meal for those dark and drizzly nights but it's a good choice for an easy summer dinner, too. It's warm, it's full of rich tomato flavour and it has healthy spinach and red peppers hidden inside. Best of all, it's topped with melty Mozzarella!
And there's more! If you need more gluten-free gnocchi recipe ideas, try these
Like easy one-pan meals as much as I do? Try this Feta Tomato Pasta Bake or Salsa Verde Chicken Tortilla Casserole.
lf you've been trying to add more meatless meals into your weekly menus, check out this collection of Meatless Meals--You Won't Miss the Meat! You might also like this fiery Arrabbiata Sauce with Cherry Tomatoes for your next pasta night.
🛒 Ingredients and Possible Substitutions
Before we get to the full recipe for this gluten-free baked tomato and gnocchi skillet meal, here are a few notes about some of the ingredients.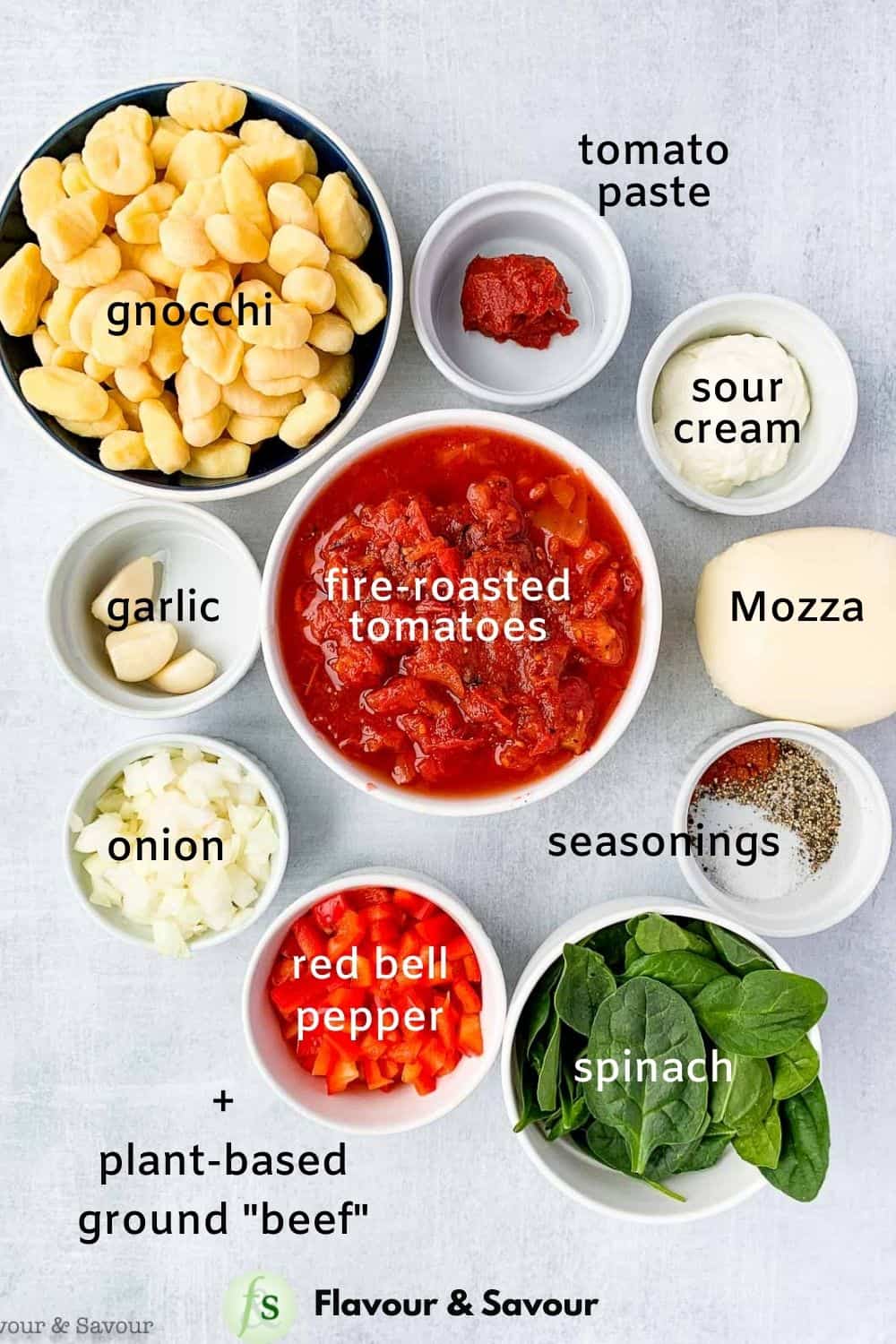 gnocchi: Did you know you can buy gluten-free gnocchi? If you don't make your own gnocchi, you probably know that you can purchase it in a shelf-stable form. The gnocchi I used for this recipe comes in a vacuum pack. While not all supermarkets near me carry the gluten-free variety, I've found it in artisan markets and whole food stores. Look for it in the pasta aisle or in the deli department.
plant-based ground beef: If you've been shying away from plant-based meat, like Beyond Meat, I urge you to try it. I like the flavour and texture and I actually prefer it to beef. It's made with pea protein with no soy, no gluten, and no genetically modified ingredients. This is not a sponsored post. I just like the product. Of course, you can substitute ground beef or ground chicken or cooked Italian sausage. You do you!
canned fire-roasted tomatoes: while you could use regular canned diced tomatoes in this recipe, the fire-roasted ones add a lot of fabulous flavour.
smoked paprika: Again, you could substitute regular paprika, but smoked paprika takes this dish from good to great! It's totally worth buying a jar or tin of smoked paprika and once you try it, you'll be wanting to add it to everything.
sugar: a teaspoon of sugar may seem like an odd ingredient in this recipe, but it's a must. It cuts the acidity of the tomatoes, resulting in a dish with a more balanced flavour. If you don't use sugar in your cooking, you can use a sugar substitute like Monkfruit sweetener, or even honey.
spinach: I use prewashed baby spinach. If you use frozen spinach, defrost it first before adding it to the pan.
sour cream: you could make this dish richer by subbing in mascarpone cheese if you have some left from making these Mulled Cinnamon Orange Pears with Mascarpone!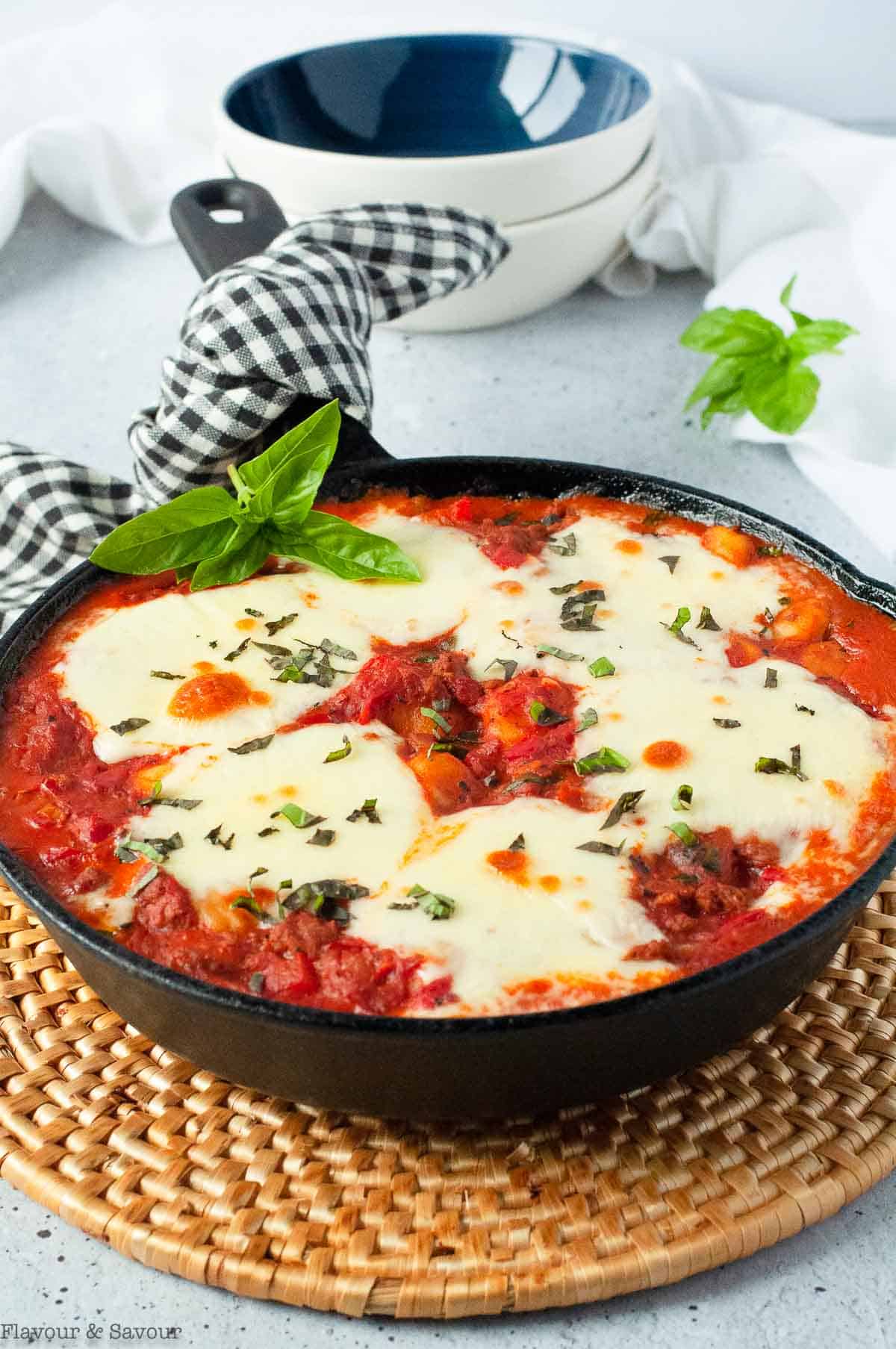 🔪 Step-by-step Instructions
Start by preheating your oven to 350°F. Dice the onions and red bell pepper, mince the garlic, open the can of tomatoes, slice the cheese and measure out the remaining ingredients. Now you're ready to cook!
You'll need a large cast-iron or heavy-bottomed oven-proof skillet at least 10 inches in diameter. You'll prepare the whole casserole in the skillet, (no boiling of the gnocchi is necessary) then transfer it to the oven to finish baking and melt the cheese.
Sauté the onions and bell peppers just until softened.
Add the ground "beef" (or whatever type of meat you're using.) (You can make this recipe without any meat if you'd like.) Break up the meat with a spatula and cook until completely browned. Stir in the minced garlic and let it brown slightly.
Next, add the tomato paste and stir to combine, then add the canned fire-roasted tomatoes.
Now it's time to add the gnocchi. Since you normally cook gnocchi in water, you'll need to add ½ cup of water to the sauce to help the gnocchi cook.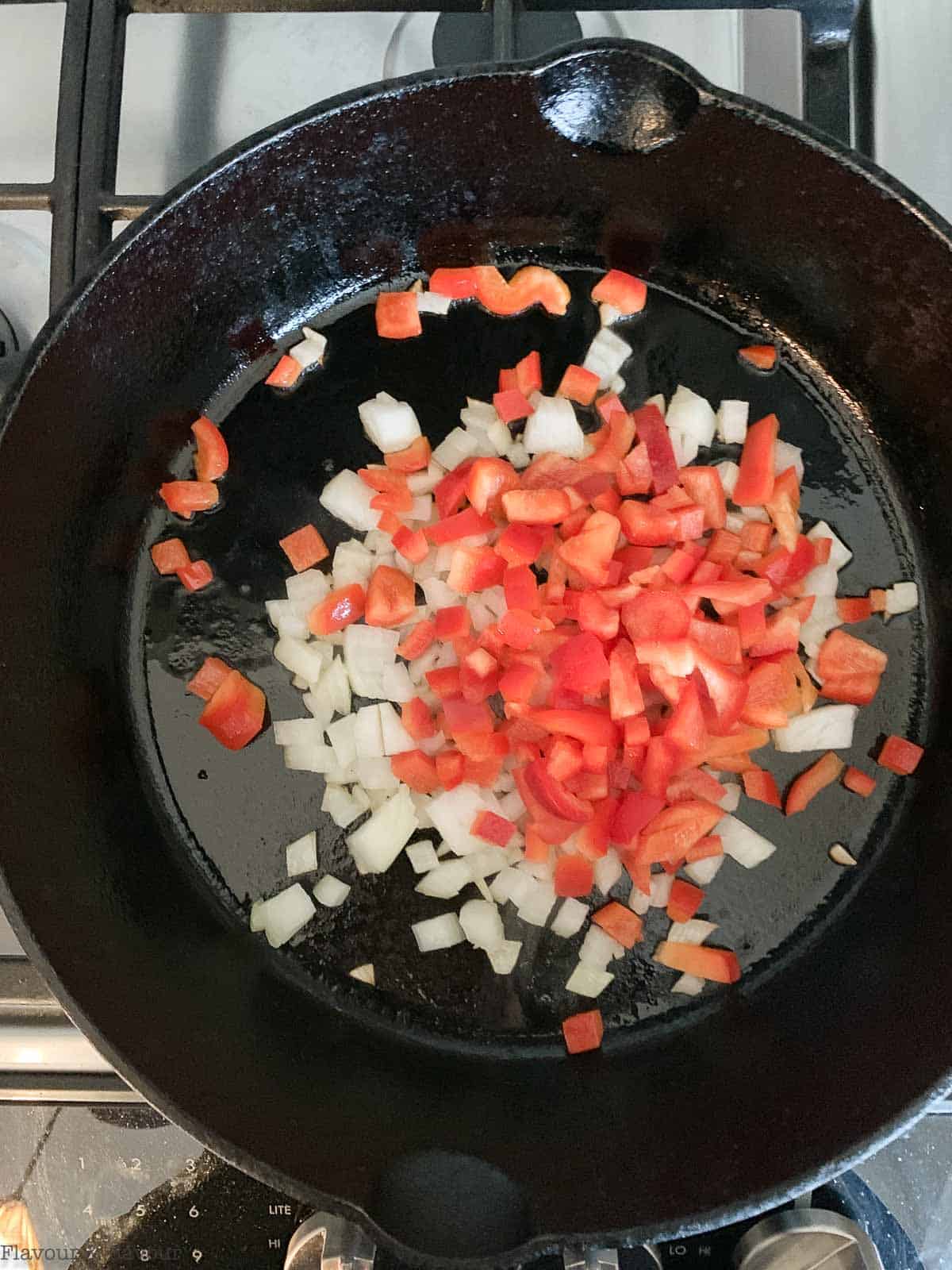 Simmer then Season and Add Cheese
Let the sauce simmer for about 8 minutes or so to let the meat become fully cooked. Test the gnocchi by tasting one. Once they are soft but still a little chewy, they're done.
Add the smoked paprika, salt and pepper to the pan and stir to combine.
Next, add the spinach and stir it into the sauce until it wilts.
Now it's time to turn this tomato gnocchi bake into a creamy tomato gnocchi bake! Stir in a little sour cream to add both amazing flavour and a rich creamy texture to this easy one-pan meal!
And finally, top this creamy tomato gnocchi bake with generous slices of mozzarella cheese and pop it in the oven to bake. Once it's bubbling and the cheese has melted and is starting to brown, it's done. Garnish with a little freshly chopped basil or parsley and dig in!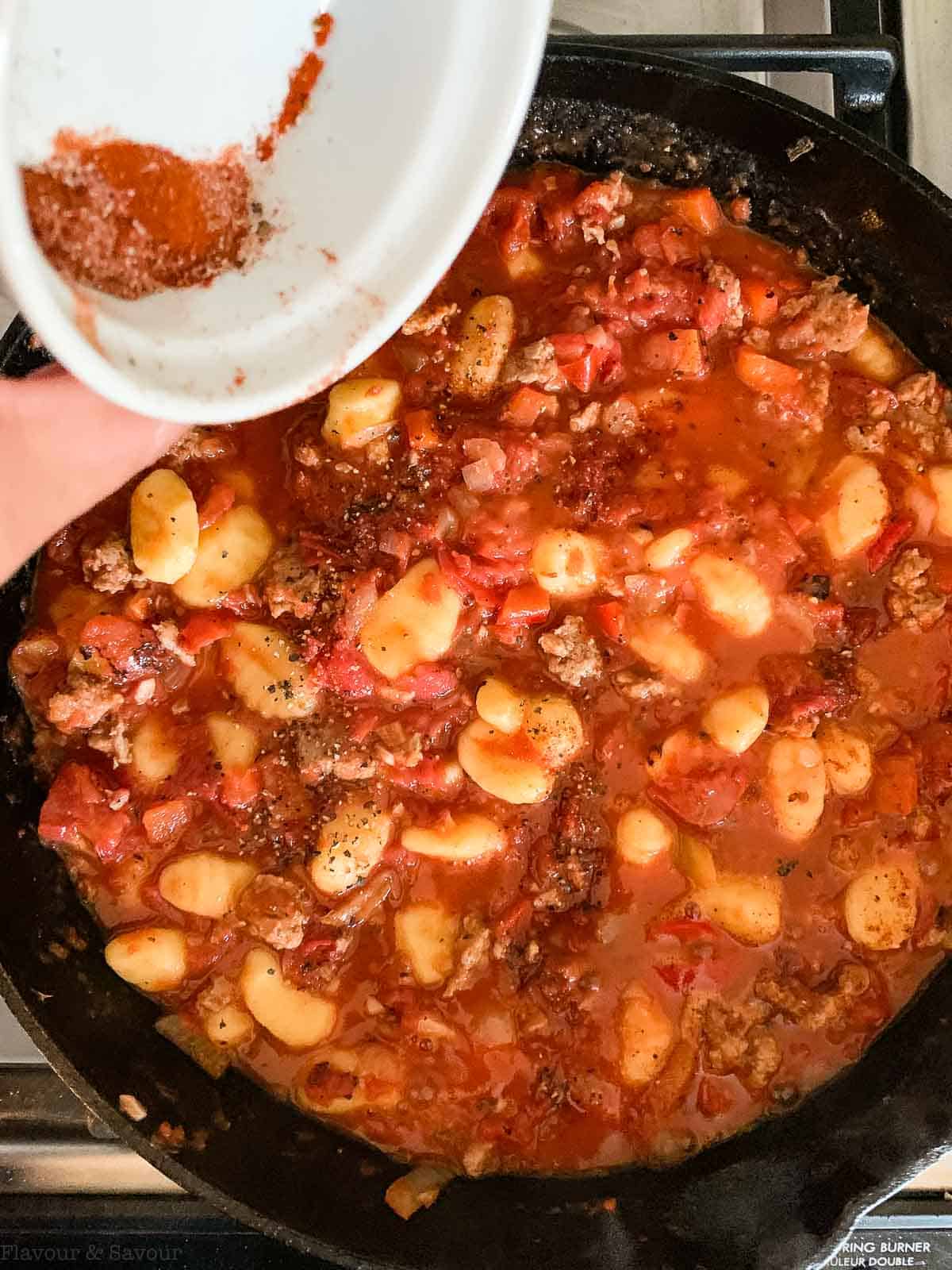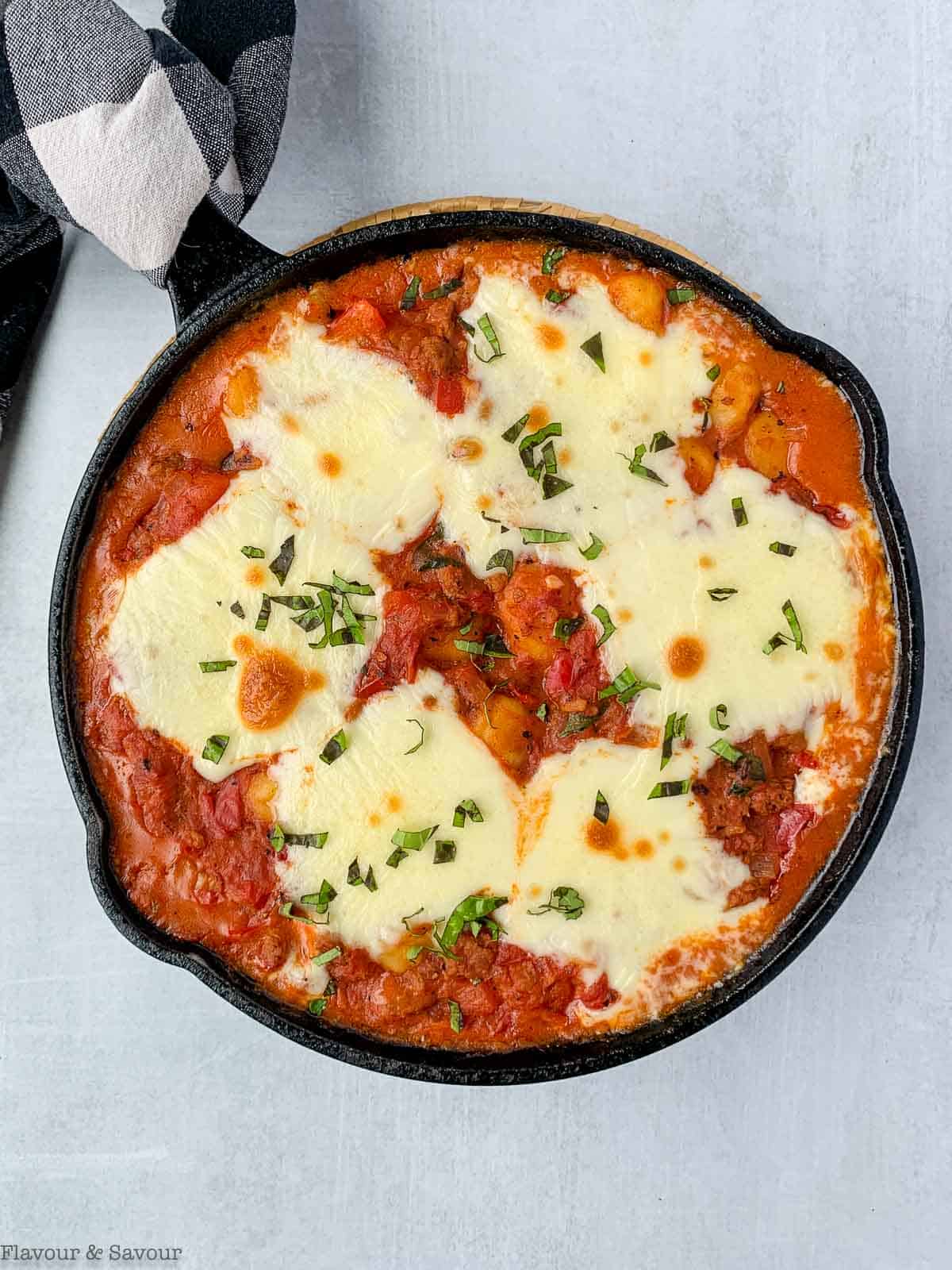 ❓Readers' Questions
What is plant-based meat made from?
There are many varieties of plant-based meat available now. Many of them contain gluten. The Beyond Beef brand is gluten-free. It's made with pea protein and rice protein, with oils, seasonings, vitamins and minerals. It is nut-free. Peas are legumes, so if you have an allergy to peanuts, you should be very careful introducing this into your diet.
What is gnocchi?
Gnocchi (pronounced NYOW-kee) is a type of Italian pasta. Gnocchi are shaped like tiny little pillows. The most common kind is potato gnocchi, made with cooked mashed potatoes, flour and eggs. You can buy shelf-stable gluten-free gnocchi if you don't want to make your own.
Can I cook gnocchi in sauce?
Yes, baking gnocchi instead of boiling it separately works beautifully. In this recipe, the gnocchi simmers in tomato sauce and becomes soft and full of flavour!
👍🏼 Helpful tips and possible variations
This baked gnocchi recipe is not overly spicy. My young taste-tester who does not normally like spicy food gave it a thumbs up.
However, if you need to reduce the heat, you can use regular paprika instead of smoked paprika and use regular diced tomatoes instead of fire-roasted tomatoes.
If you use ground beef or ground chicken instead of plant-based ground beef, you may need to drain some of the fat from the pan after you've browned the meat.
🍽 Serving suggestions
This skillet dish is quite filling, so all you'll need is a simple healthy salad or a kale salad to round out your meal. Try any of these favourite healthy salads: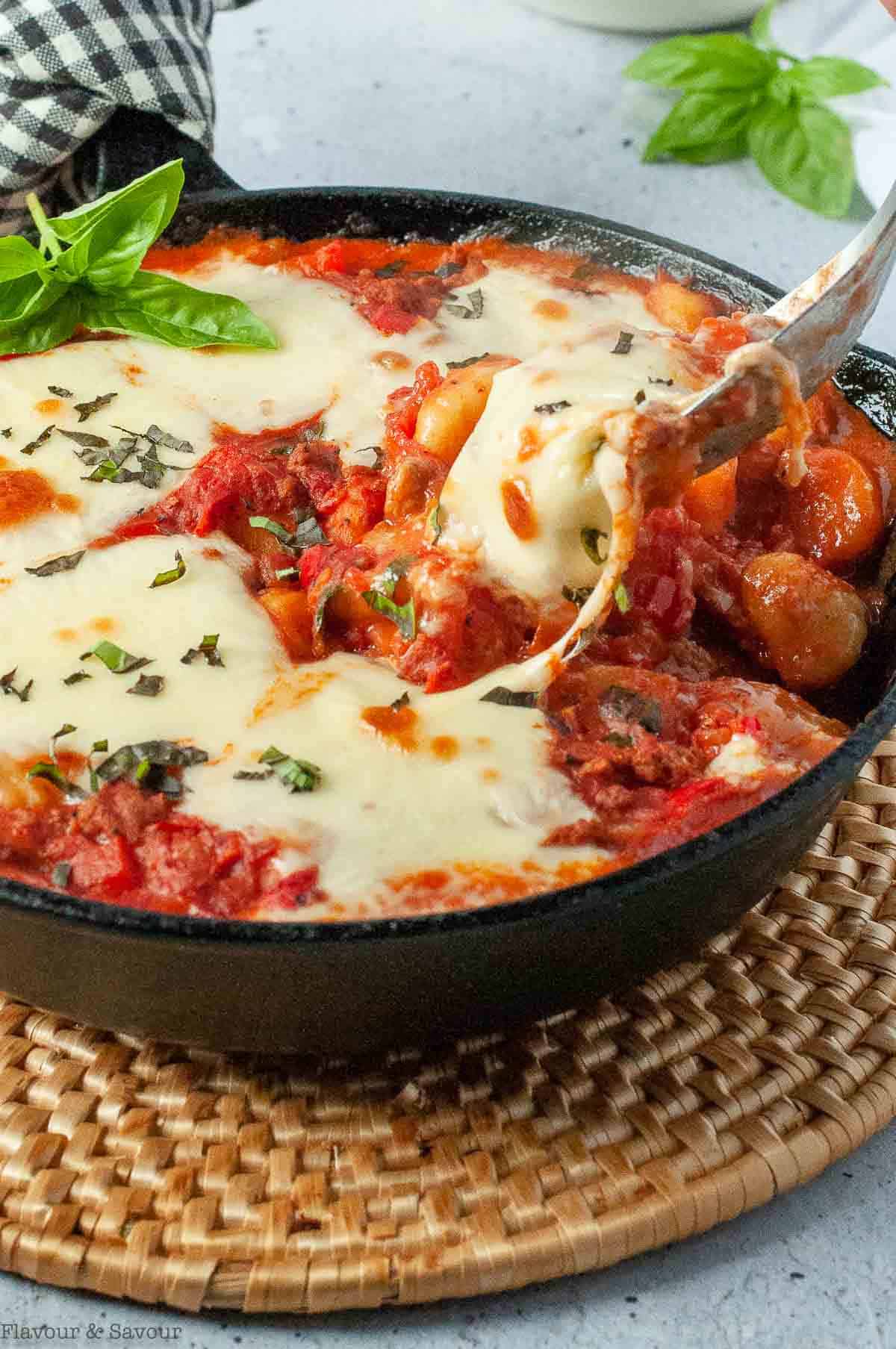 🗓Storage instructions
Store leftovers covered in the fridge for up to 3 days. Reheat it gently in the microwave or covered in the oven at 350°F. for 10-20 minutes or until heated through.
Dishes made with gnocchi do not freeze particularly well. The gnocchi becomes mushy and breaks down, so devour this dish while it's fresh!
🌟 Did you make this recipe?
When you make this no-boil gnocchi casserole, please leave a comment and a rating below! I love hearing how my recipes turn out for you, or what adaptations you've made. Subscribe to my weekly newsletter and receive new recipes straight to your inbox.
🗒 More quick dinner recipe ideas
📖 Recipe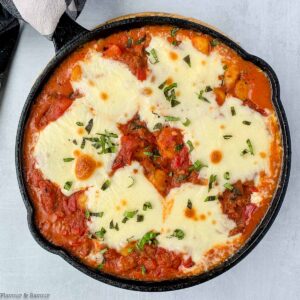 Cheesy Tomato Gnocchi Bake (no boil)
A cozy, one-pan skillet meal made with tomatoes and gnocchi, filled with veggies and topped with melted cheese. Ready in 30 minutes!
Print
Pin
Rate
Equipment
oven-proof skillet at least 10 inches in diameter
Ingredients
2

teaspoons

olive oil,

extra virgin

½

medium

onion,

diced

1

medium

red pepper,

seeded and diced

½

pound (250 grams)

plant-based ground beef

or ground beef, chicken or turkey

3

cloves

garlic,

minced

1

tablespoon

tomato paste

1

28 ounce can (796 ml)

fire-roasted tomatoes

1

pound (453 grams)

gnocchi,

homemade or shelf-stable, gluten-free

½

cup

water

1

cup

baby spinach leaves

½

teaspoon

smoked paprika

½

teaspoon

sea salt

¼

teaspoon

black pepper

1

teaspoon

sugar

½

cup

sour cream

6

ounces (170 grams)

mozzarella cheese ball,

sliced

fresh basil or parsley leaves,

finely chopped for garnish
Instructions
In a cast-iron or heavy-bottomed skillet, heat oil over medium heat. Add diced onions and red bell peppers and sauté until they begin to soften.

Add plant-based meat to the skillet, breaking it up with a spatula. Cook until completely browned. Add garlic and stir.

Stir in a tablespoon of tomato paste, then add the fire-roasted diced tomatoes. Stir to incorporate with the meat and vegetables.

Add the gnocchi (uncooked) and ½ cup water. Turn the heat to low and simmer for 8 minutes.

Add the smoked paprika, salt and pepper.

Add the spinach to the skillet, stirring until wilted.

Arrange sliced mozzarella on top.

Bake at 350°F. until bubbling and cheese has melted. Sprinkle with fresh basil or parsley and serve.
Notes
Store leftovers covered in the fridge for up to 3 days. Reheat it gently in the microwave or covered in the oven at 350°F. for 10-15 minutes or until heated through.
Nutrition
Calories:
361
kcal
|
Carbohydrates:
46
g
|
Protein:
16
g
|
Fat:
14
g
|
Saturated Fat:
4
g
|
Polyunsaturated Fat:
1
g
|
Monounsaturated Fat:
2
g
|
Trans Fat:
1
g
|
Cholesterol:
15
mg
|
Sodium:
791
mg
|
Potassium:
210
mg
|
Fiber:
4
g
|
Sugar:
2
g
|
Vitamin A:
1821
IU
|
Vitamin C:
43
mg
|
Calcium:
207
mg
|
Iron:
5
mg