Enjoy the creamy, tangy goodness of Greek tzatziki sauce! Made with yogurt, cucumber, garlic, lemon, and dill, this sauce is the perfect complement to grilled chicken, pita bread, raw veggies, and salads. Learn how to make authentic tzatziki sauce at home and take your Mediterranean dishes to the next level. Deliciously keto-friendly, too!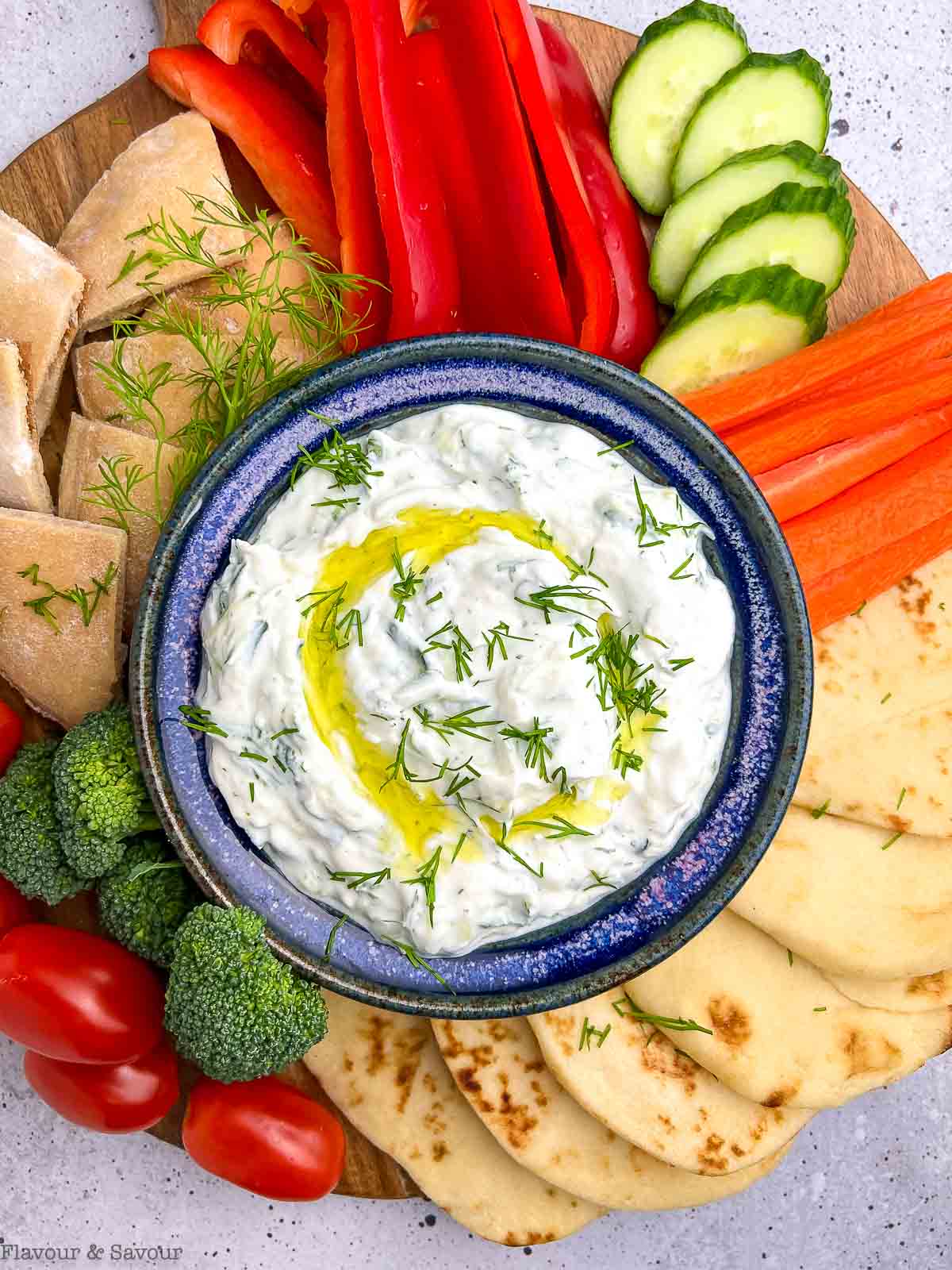 Every Greek-inspired meal needs a bowl of authentic Greek tzatziki sauce! Tzatziki is a delicious yogurt-based sauce or dip that you'll find on every menu in a Greek restaurant. It makes a great appetizer when served with fresh veggies and pita chips!
Jump to:
❤️Why you'll love this easy tzatziki sauce recipe
Easy! While you can buy it ready-made, this keto-friendly tzatziki dip recipe is so easy to make yourself at home. It comes together quickly in just a few minutes.
Adjust it to your taste. When you make it yourself, not only do you know exactly what's in it, but you can adjust the seasonings and add-ins to your liking. Add more or less garlic or a little less dill. Your choice!
Versatile: Tzatziki sauce goes with, well, almost anything! It's a dip or a dressing, a sauce for roasted vegetables and meats, or a dipping sauce for fresh veggies and pita bread.
A Greek tradition: Just like this recipe for Traditional Greek Salad, you'll find tzatziki sauce on every menu in Greece!
🛒Ingredients
Ready to dive in? Here's all you need to make authentic Greek tzatziki sauce at home.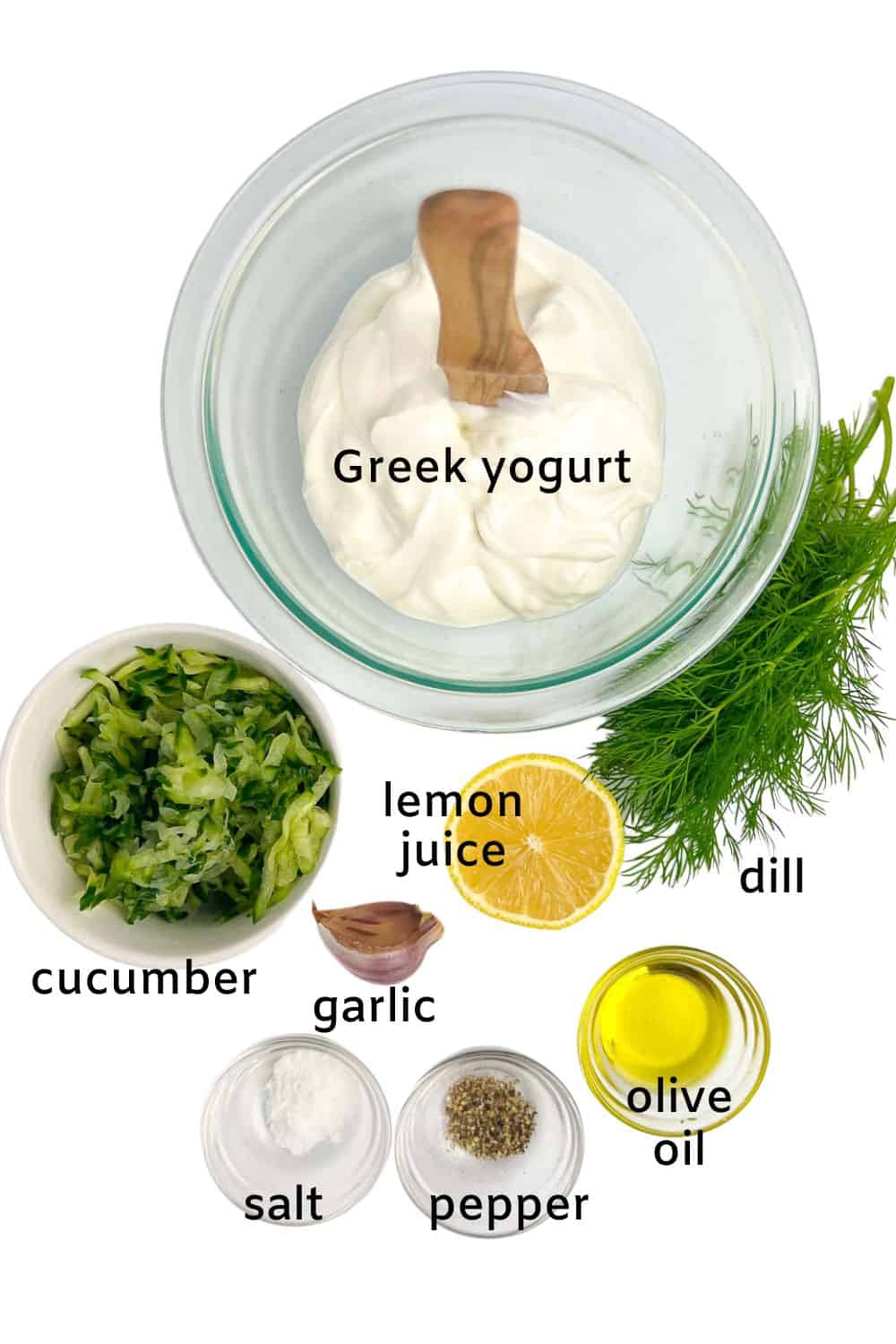 Greek yogurt: Authentic tzatziki is made with strained yogurt but thick Greek yogurt is readily available in North America, so it's your best choice. I use full-fat Greek yogurt that is so thick you can stand a spoon up in it. The thicker the better for this Greek dip! Some people like to use part yogurt and part sour cream, but yogurt is the traditional base.
cucumber: The secret to a great tzatziki sauce is to drain the cucumber of excess water. You can use one of two methods: finely chop it, salt it lightly, then put it in a strainer and let it sit for 20-30 minutes to let it drain. Alternatively, you can grate it and squeeze out the water with your hands or with a clean tea towel or cheesecloth. Removing as much excess liquid as you can will prevent the tzatziki from becoming watery.
fresh dill: start with a small amount and if you'd like, add more once the sauce has had a chance to sit for a while. You don't want the dill flavour to be overpowering. You can use dried dill if you don't have fresh.
fresh garlic: one clove, very finely minced or grated, is enough. No one likes finding a chunk of garlic in their tzatziki!
lemon juice: freshly squeezed.
fresh mint: perhaps! If you'd prefer fresh mint instead of dill, try it!
sea salt and pepper: to taste.
olive oil: quality extra-virgin olive oil to drizzle on top just before serving, if desired.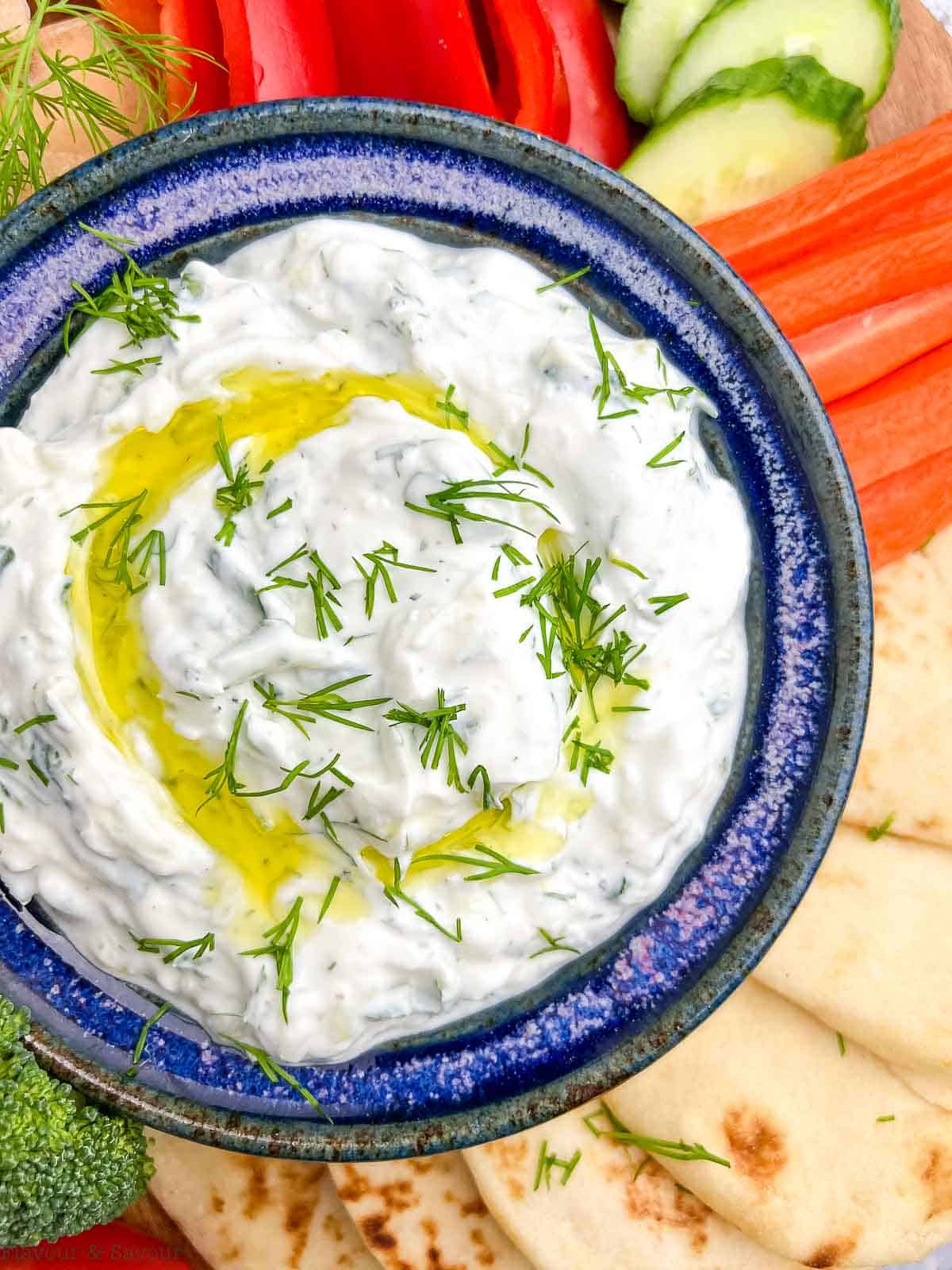 🔪 Easy step-by-step instructions
You can either finely grate the cucumber or chop it finely. Chopping gives it a slightly chunky texture which many people like. Whichever way you choose, you need to be very careful to squeeze out all the water.

Combine the yogurt, dill, garlic and lemon, season the mixture with a little sea salt and pepper.

Next, add the well-drained cucumber.


Stir well to combine, then cover and refrigerate. Drizzle with extra virgin olive oil just before serving, if you'd like.

👍🏼Helpful tips to make the best tzatziki sauce
Here are some tips to help you make the best homemade Greek tzatziki sauce:
Use thick Greek yogurt: Traditional tzatziki is made with Greek yogurt, which is thicker and creamier than regular plain yogurt. Using Greek yogurt will give your tzatziki a rich, tangy flavor.
Use the freshest ingredients: Use fresh ingredients like cucumbers, garlic, and dill for the best flavor. Fresh ingredients will give your sauce a bright fresh taste.
Drain the cucumber: To prevent your tzatziki from becoming too watery, drain and squeeze as much water from the grated cucumber as you can before mixing it with the other ingredients.
Use garlic sparingly: Garlic can be overpowering, so use it sparingly. One small garlic clove is enough in this recipe.
Add fresh lemon juice: A splash of freshly squeezed lemon juice brightens up the flavours of your sauce and gives it a little extra tang.
Let it chill: After mixing all the ingredients together, let your tzatziki chill in the fridge for at least an hour before serving. This will allow the flavors to meld together and will make your tzatziki even more delicious.
❓Readers' Questions
How do you pronounce tzatziki?
This Greek sauce is pronounced, "tsah-see-key."Discover how to pronounce tzatziki like a true Greek here!
Why is my tzatziki sauce watery?
If your tzatziki looks a little watery around the edges after being refrigerated, it may be because you didn't remove enough of the water from the cucumber. No worries! You can either strain it, carefully pour the water off, or give it a good stir.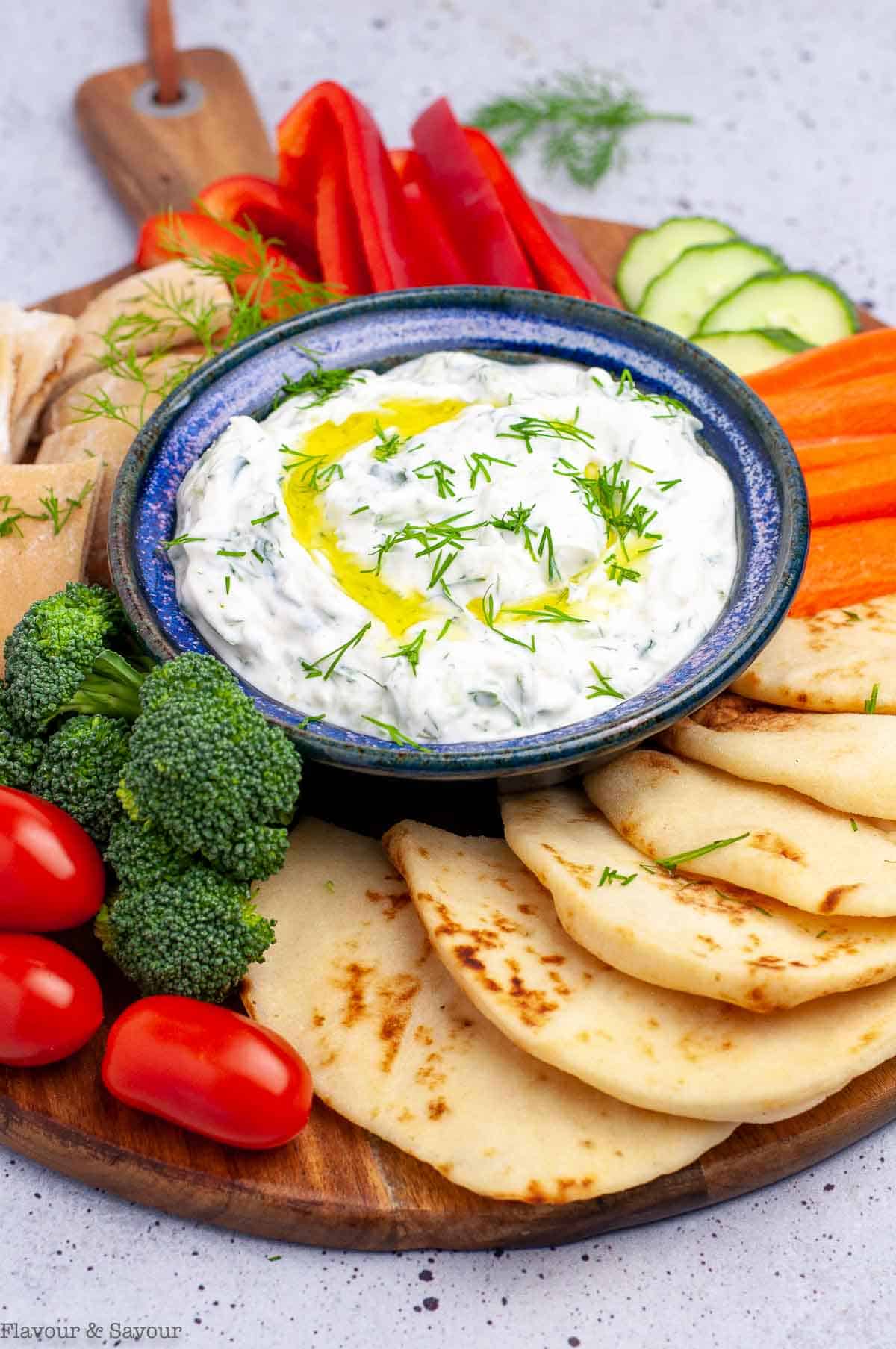 🍽 What to serve with tzatziki sauce
In Greece, tzatziki is often served as an appetizer (or "mezze") with pita bread or veggies. It's a delicious, versatile sauce that pairs well with a variety of dishes, especially Mediterranean and Greek cuisine. Here are some recipe ideas that go well with tzatziki sauce:
Greek Gyro: Classic Greek street food you'll find everywhere in Athens. It consists of meat (usually chicken or lamb) cooked on a rotisserie, and is served in soft pita bread with tomato, onion, and tzatziki sauce.
Greek Lemon Chicken Kabobs: Marinate chicken in lemon, garlic, red wine vinegar, and herbs, then grill to perfection. Serve with creamy tzatziki sauce on the side.
Falafel: Crispy fried chickpea patties that are traditionally served in pita bread with vegetables and tzatziki sauce.
Greek Cobb Salad: A refreshing salad made with tomatoes, cucumbers, bell peppers, onions, feta cheese, and olives, with tzatziki sauce as the dressing.
Grilled lamb chops: Marinate lamb chops in olive oil and Mediterranean herbs and then grill them to perfection. Serve with tzatziki sauce on the side.
Roasted vegetables: Roast a mix of Mediterranean vegetables like zucchini, eggplant, bell peppers, and onions, and then serve with tzatziki. It's also delicious with Crispy Baked Zucchini Patties.
Pita bread: Warm pita bread (either wheat or gluten-free) is a perfect accompaniment to tzatziki. Serve it as an appetizer or as a side dish.
Grilled white fish like haddock, snapper, tilapia, or cod: Marinate fish fillets in Mediterranean spices, lemon juice, and olive oil, and then grill them. Serve with tzatziki sauce on the side.
Greek chicken burgers: A taste of the Mediterranean, right in your backyard! These juicy burgers are made with ground chicken, spinach, feta cheese, and herbs. Serve with tzatziki as a spread or as a dip.
Power Bowls: This yogurt-based sauce makes a fabulous dressing for grain bowls or Buddha bowls. Try it with this Easy Vegetarian Mediterranean Quinoa Bowl.
How to store
This Greek tzatziki dipping sauce will last for 3-5 days when kept covered in an airtight container in the refrigerator.
🗒 More healthy dip recipes
When you make this homemade tzatziki recipe, please leave a comment and a star rating below. Thanks in advance! Subscribe to my newsletter and have new recipes delivered straight to your inbox once a week.
📖 Recipe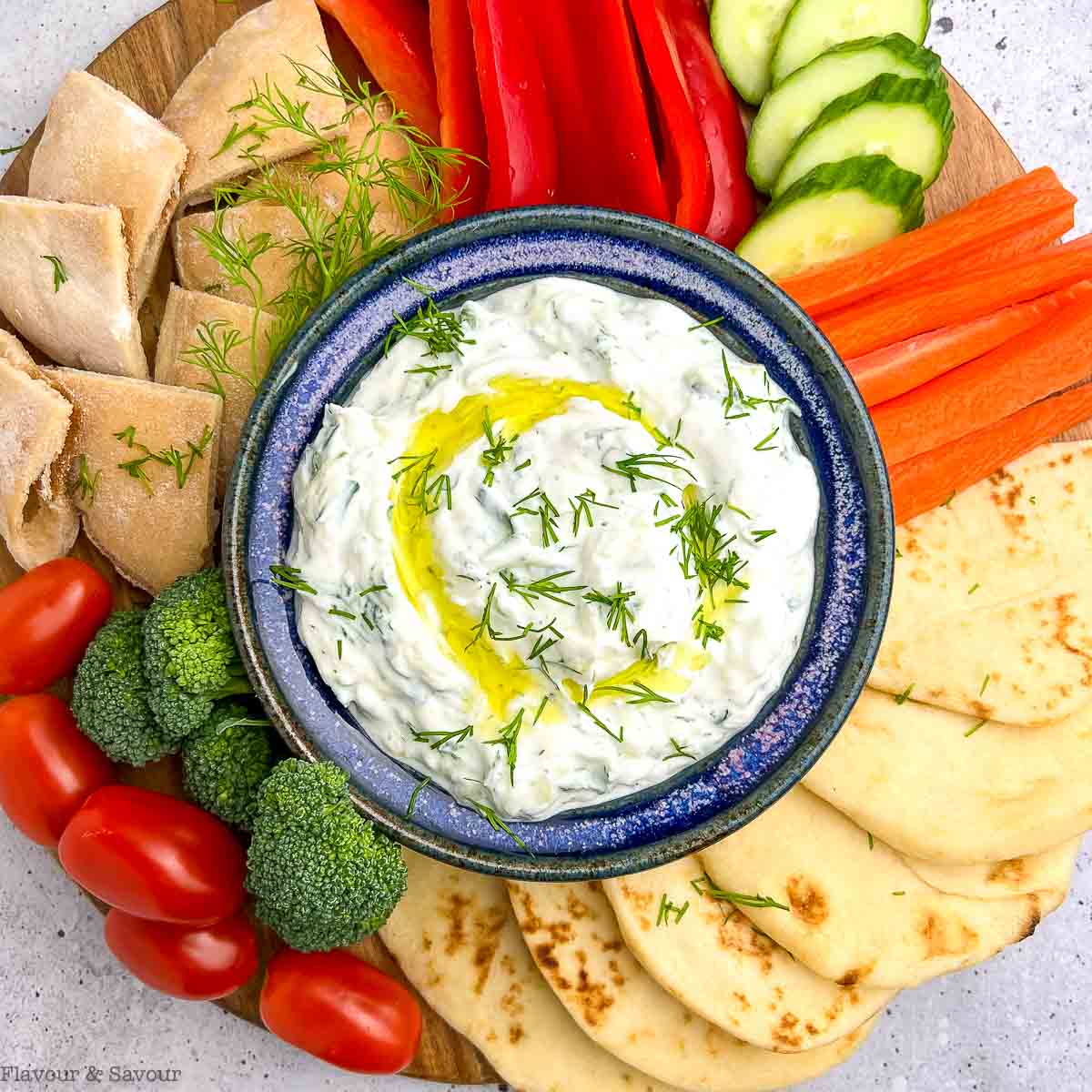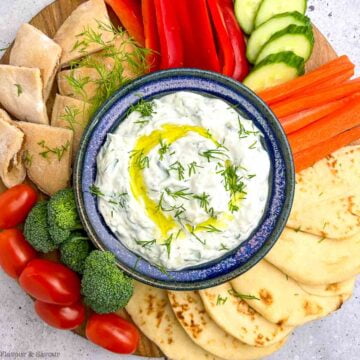 Authentic Greek Tzatziki Sauce (Keto)
Make this easy recipe for authentic Greek Tzatziki Sauce to accompany gyros, lamb or chicken kabobs, Greek burgers, or raw veggies. Made with Greek yogurt, cucumber, dill, garlic and lemon, it's deliciously keto-friendly, too!
Print
Pin
Rate
Servings:
12
servings (2 tbsp)
Equipment
Ingredients
1

cup

English cucumber,

finely grated or finely diced, well drained

1 ½

cups

plain Greek yogurt,

full-fat for the best flavour

2

tablespoons

lemon juice,

freshly squeezed is best

1 ½

tablespoons

fresh dill,

finely chopped

1

clove

garlic,

finely minced or grated

½

teaspoon

sea salt

or Kosher salt

¼

teaspoon

black pepper

1

tablespoon

olive oil

extra virgin, for drizzling on top before serving.
Instructions
Remove the seeds from the cucumber with a spoon. You can use one of two methods to prepare the cucumber: finely chop it, salt it lightly, then put it in a strainer and let it sit for 20-30 minutes to let it drain. Alternatively, you can grate it and squeeze out the water with your hands or with a clean tea towel or cheesecloth. Removing as much water as you can will prevent the tzatziki from becoming watery.

In a medium bowl, combine the remaining ingredients except the cucumber and whisk them together.

Add the thoroughly drained cucumber and refrigerate until ready to serve. Garnish with a sprinkle of fresh dill, if desired. Drizzle with a little olive oil just before serving.
Notes
This Greek dip or gyro sauce can be eaten right away, but it's better the following day once the flavours have had a chance to blend. Make it ahead of time, cover it tightly and refrigerate it until ready to use.
If the tzatziki looks a little watery around the edges after being refrigerated, just carefully pour off the excess liquid or strain it, or and give it a stir.
Nutrition
Calories:
28
kcal
|
Carbohydrates:
2
g
|
Protein:
3
g
|
Fat:
1
g
|
Saturated Fat:
0.2
g
|
Polyunsaturated Fat:
0.1
g
|
Monounsaturated Fat:
1
g
|
Trans Fat:
0.002
g
|
Cholesterol:
1
mg
|
Sodium:
106
mg
|
Potassium:
53
mg
|
Fiber:
0.1
g
|
Sugar:
1
g
|
Vitamin A:
14
IU
|
Vitamin C:
1
mg
|
Calcium:
30
mg
|
Iron:
0.1
mg