These Crispy Baked Zucchini Patties make a healthy, gluten-free, make-ahead meal. They're incredibly flavourful and they're baked, not fried! Get the instructions for how to drain zucchini to get the crispiest fritters. This is an easy recipe you can make ahead and freeze for busy days.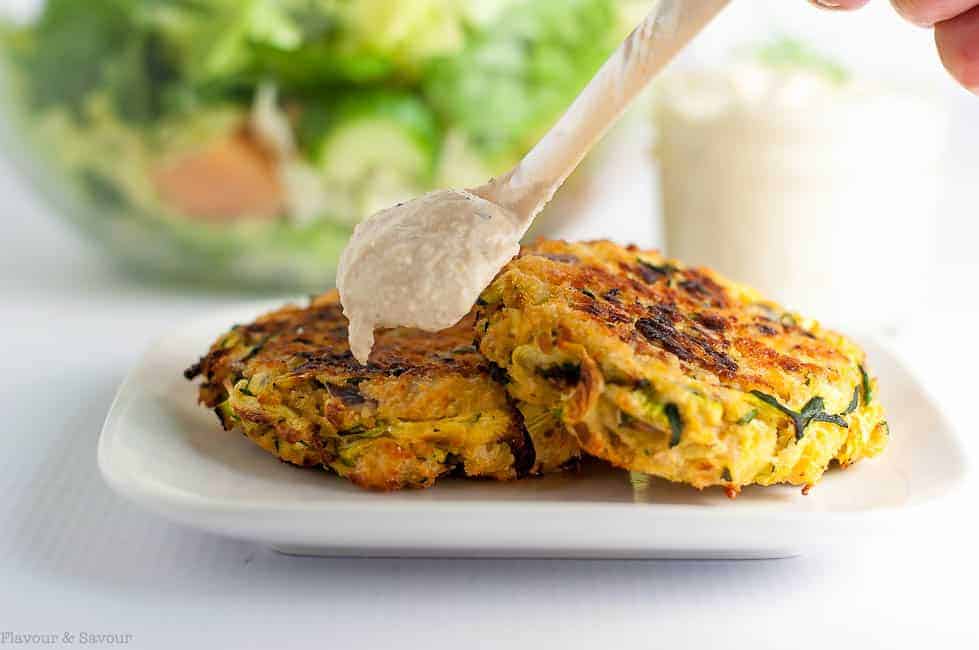 Zucchini patties or zucchini fritters, whatever you like to call them, these zucchini patties with parmesan are delicious year-round! While we think of zucchini season as being in the late summer, zucchini is available throughout the year.
It's always a good time to use them in these patties, or in this Cheesy Crustless Zucchini Quiche or Paleo Zucchini Carrot Quiche. Zucchini gives moisture and texture to these scrumptious Gluten-free Double Chocolate Zucchini Muffins, too!
I'm probably one of the most inconsistent meal planners on the face of the earth. I seem to go in spurts. Some weeks I'll get busy and make freezer meals galore. Other times, six o'clock rolls around and I haven't given a thought to what to make for dinner.
On those nights, the big question is What can I have for dinner in a hurry that takes no effort? Answer: Crispy Baked Zucchini Patties.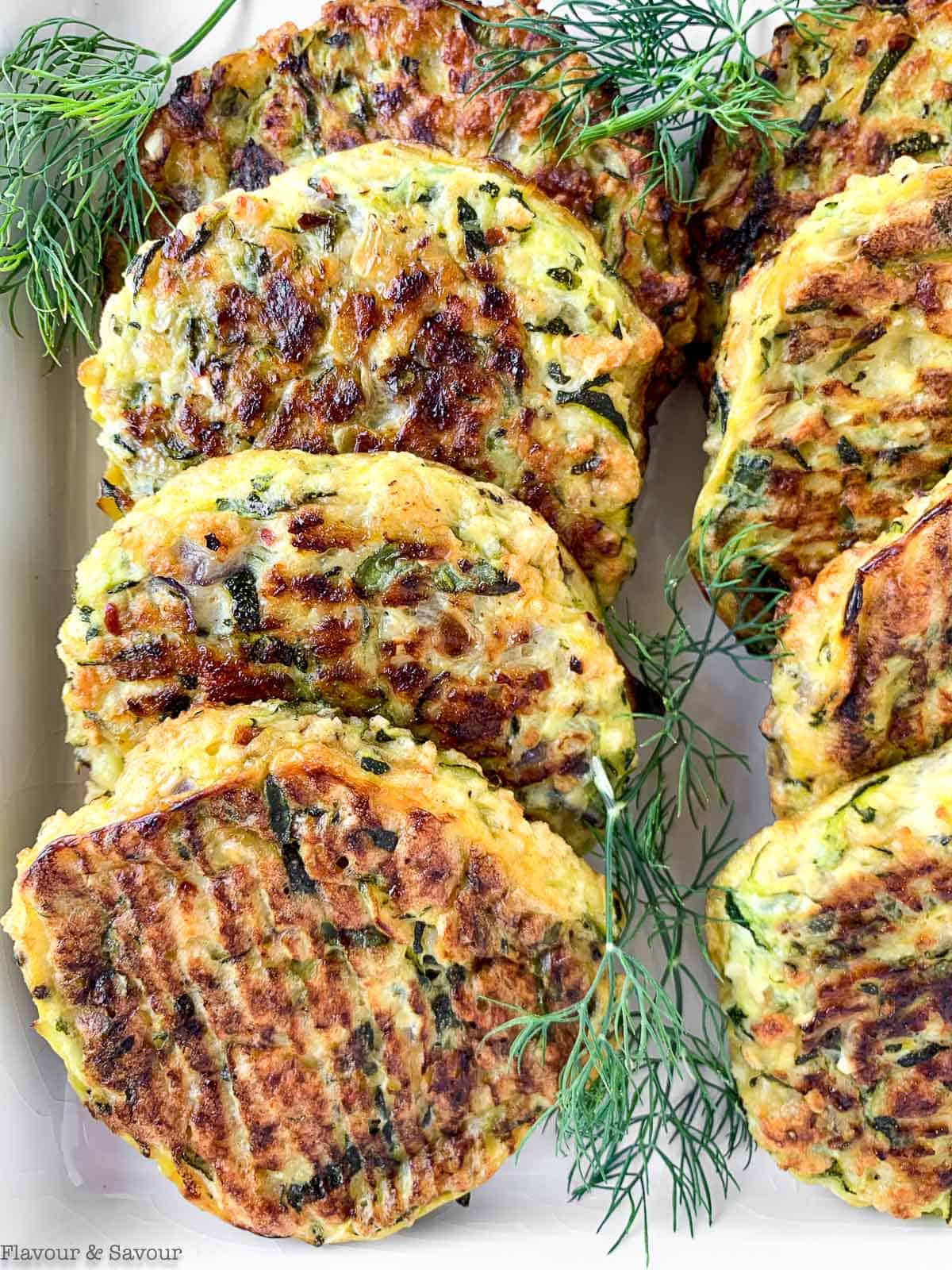 These gluten-free Baked Zucchini Patties have become almost a staple in our house lately. I have used this recipe for more years than I can count.
These patties freeze well, so we always seem to have some in the freezer, ready for a quick meal. Zucchini fritters are always popular and I get requests for the recipe, so I'm sharing it here with you today.
🛒 Ingredients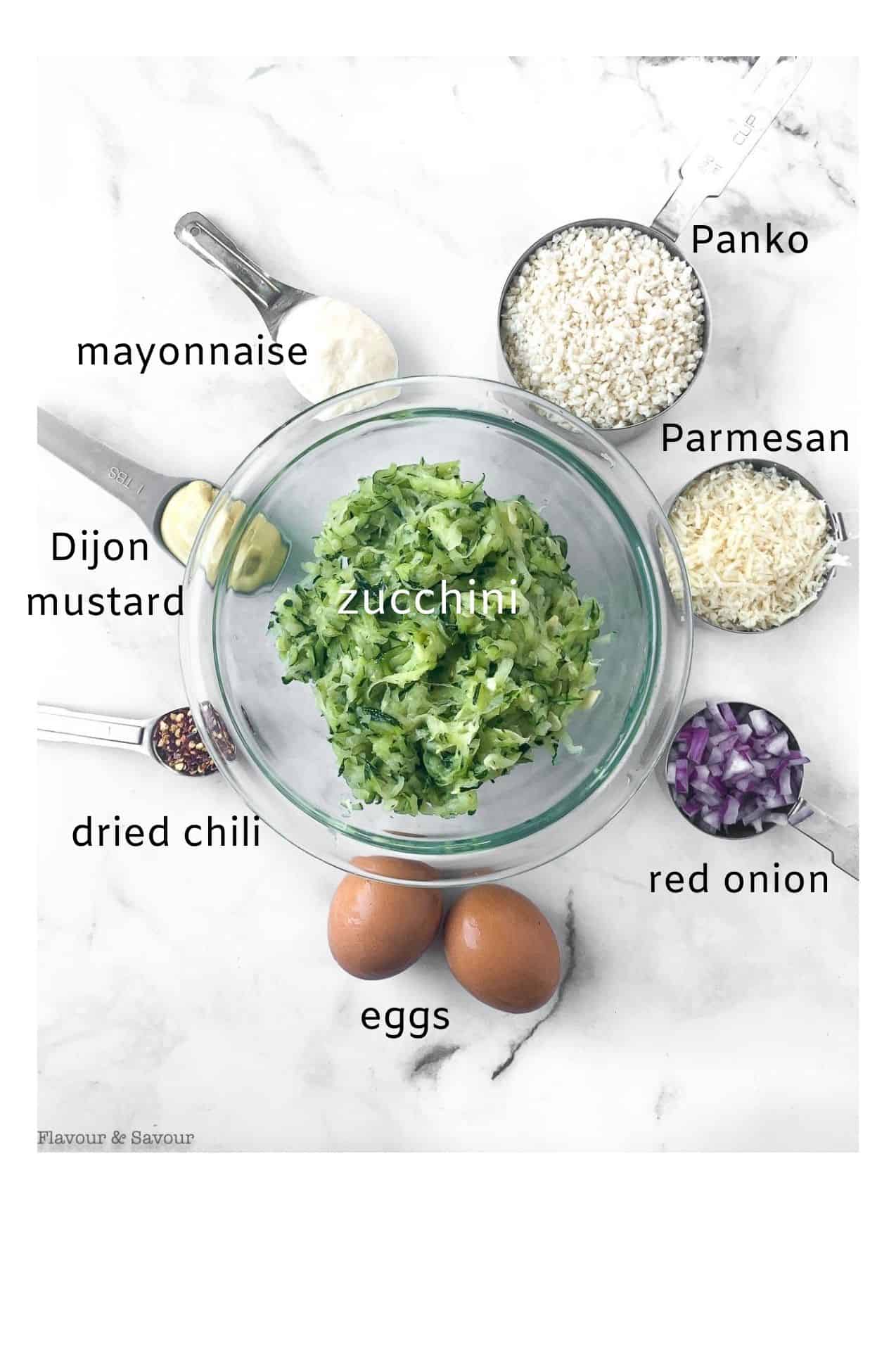 These zucchini fritters are crisp on the outside, soft on the inside and have a shocking amount of flavour, considering how few ingredients this recipe requires. You'd normally get this crispness from a fritter fried in hot oil. There is a secret to this crispy texture, however.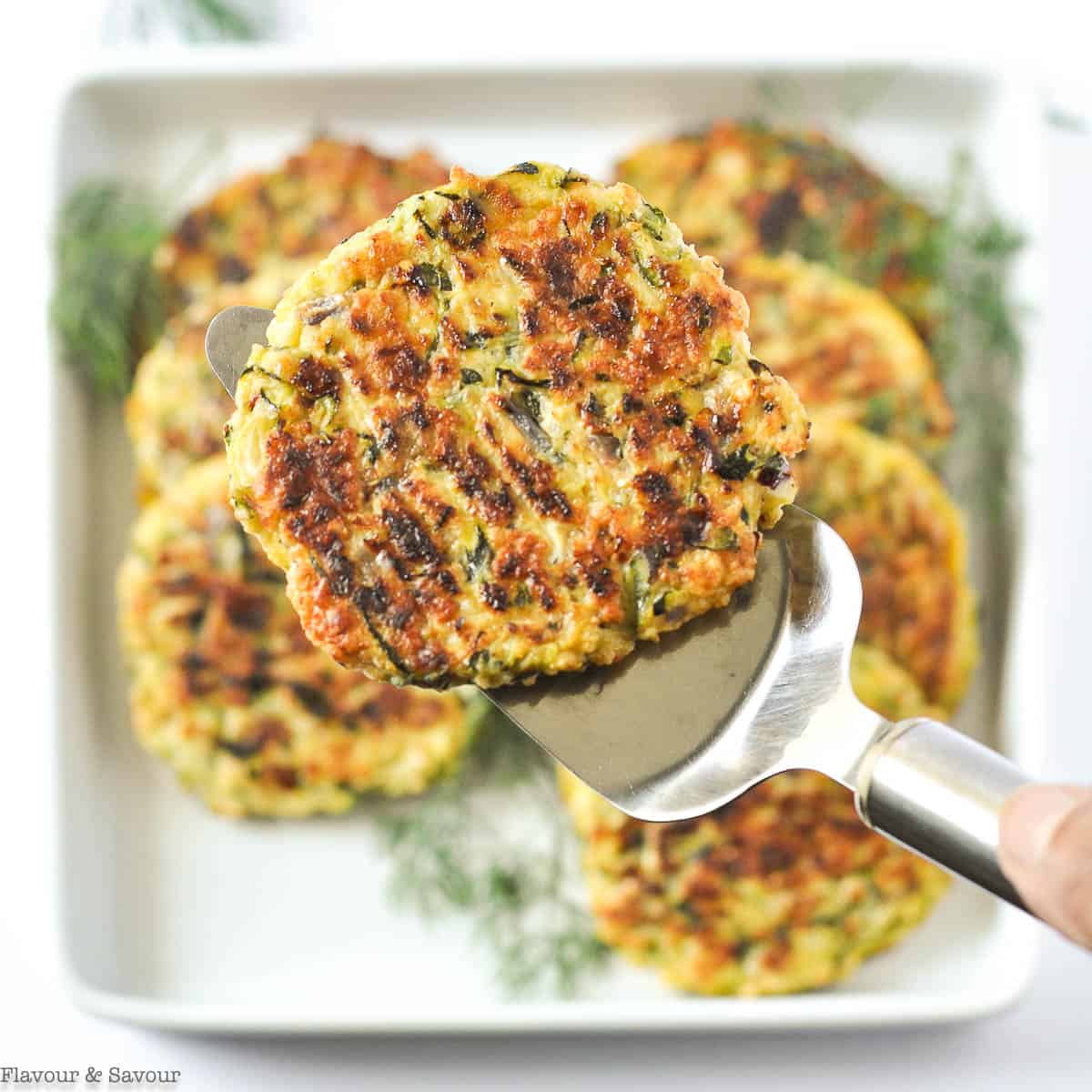 The trick? Get the moisture out of the zucchini. Here's the method I use to guarantee great results.
How to drain grated zucchini
Two medium green zucchini (about 10 inches long and 2 ½ inches in diameter) will yield about 2 cups of drained zucchini. You read that correctly: only 2 cups.
Grate zucchini, either by hand or in a food processor.
Place it in a colander over a bowl (or in the sink).
Toss with a tablespoon of salt. The salt will help the zucchini release its moisture.
Place another slightly smaller bowl on top of the zucchini in the colander and weigh this bowl down with something heavy (canned goods or a jar of pickles, etc. work well). Let sit for 20 - 30 minutes.
Press down on the smaller bowl to help squeeze the water out. I also find squeezing it in my hands or in a clean dish towel or cheesecloth works, too.
You'll be surprised at how much liquid drains off! It's important to remove as much moisture as you can, otherwise, the zucchini fritters may be soggy when cooked.
🔪Instructions
Whisk eggs, then combine with mayonnaise, mustard, and chili flakes.
Stir in remaining ingredients, then form into patties about ⅓ cup each.
Pack the mixture into a ⅓ cup measure, then turn it out onto a parchment-paper-lined baking sheet.
Flatten the patty slightly with your fingers.
Make sure to press your thumb in the middle to create a slight depression so they keep their shape and don't end up like little balls!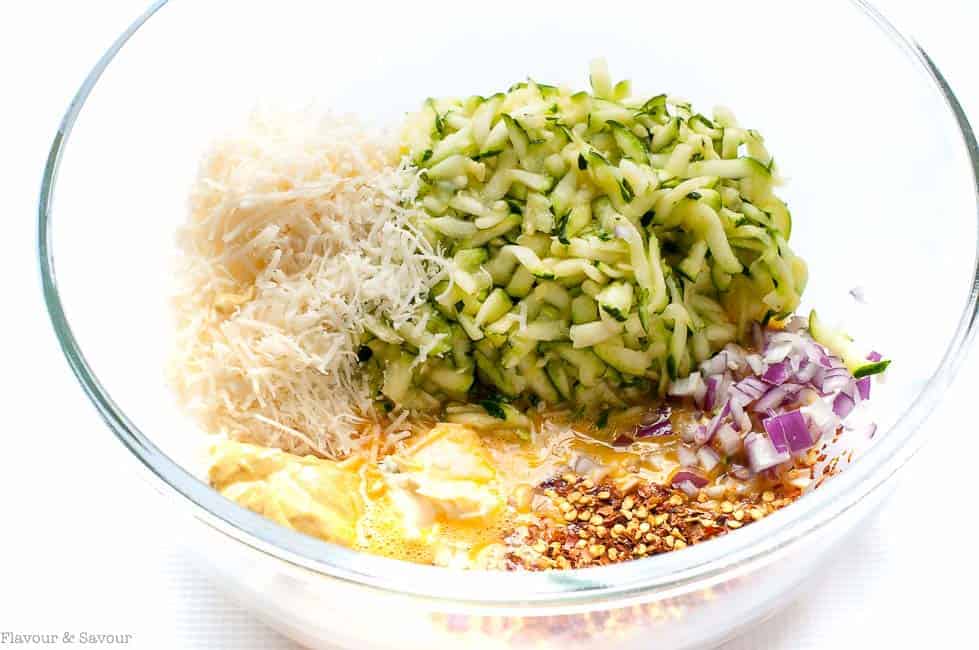 At this point, you can freeze them, or bake them in a 400°F. oven. See complete instructions in the recipe card below.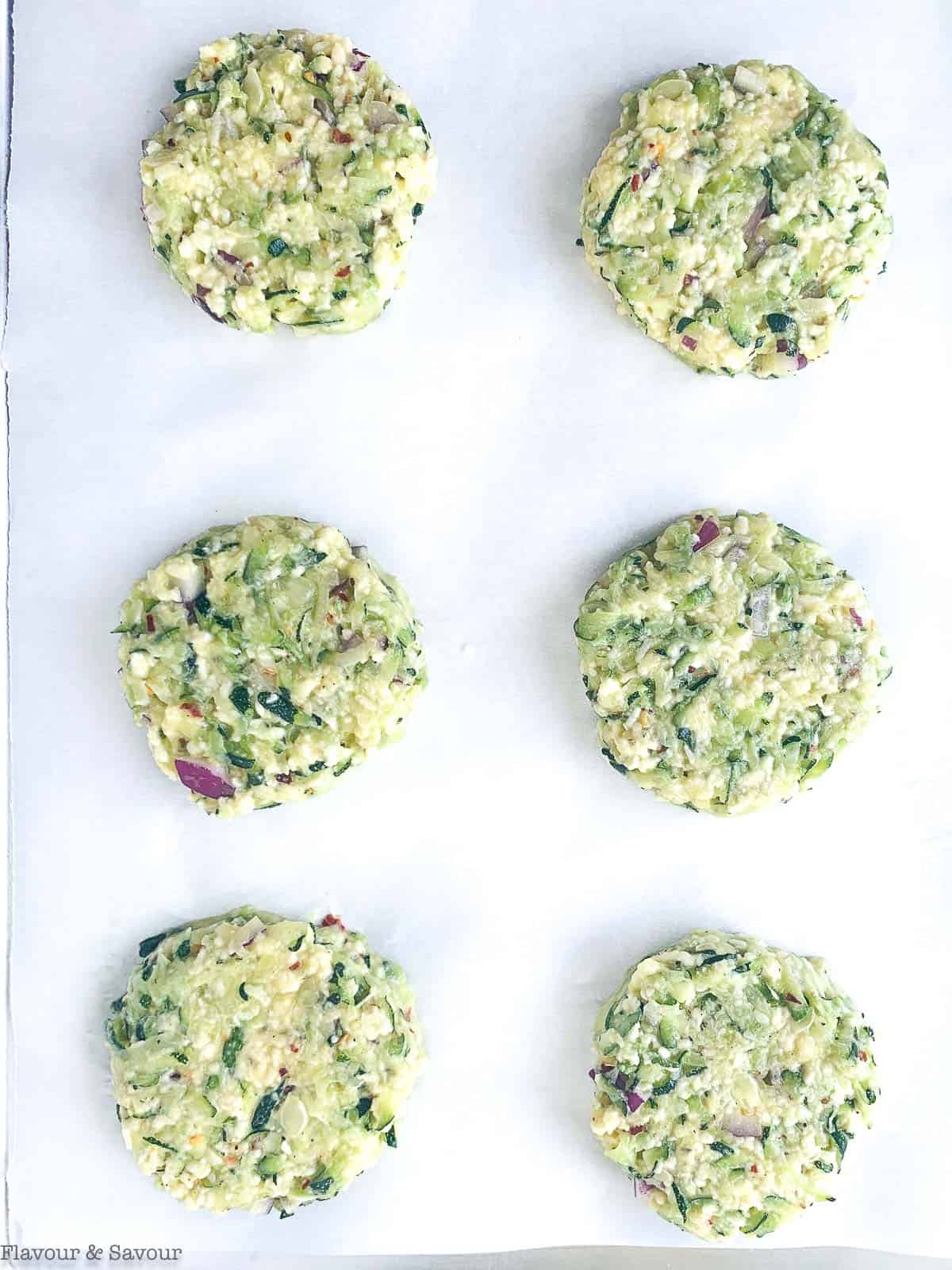 Four tips to make sure Baked Zucchini Patties are crispy!
remove as much moisture out of the zucchini as you can.
use Panko crumbs instead of bread crumbs
space the patties apart on a baking sheet so they don't cook in their own steam
bake in a hot oven (400°F.)
These Smoked Salmon Zucchini Cakes are a great make-ahead appetizer to have on hand in the freezer for unexpected happy hour company. Zucchini is great to stuff with your favourite low-carb fillings, too.
You might also like these Greek Chicken Stuffed Zucchini Boats, full of your favourite Mediterranean flavours!
Can you freeze baked zucchini patties?
Yes! I've frozen them both before and after baking. For unbaked, thaw, and follow recipe instructions. For baked patties, heat in a 350° oven for 15-20 minutes or until heated through.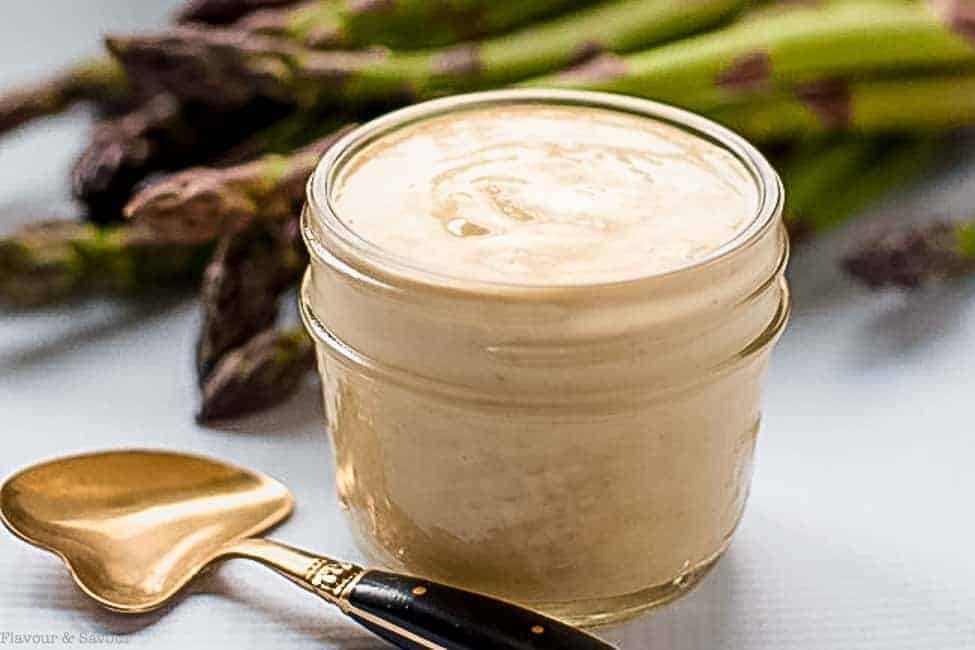 More savory gluten-free zucchini recipe ideas!
📖 Recipe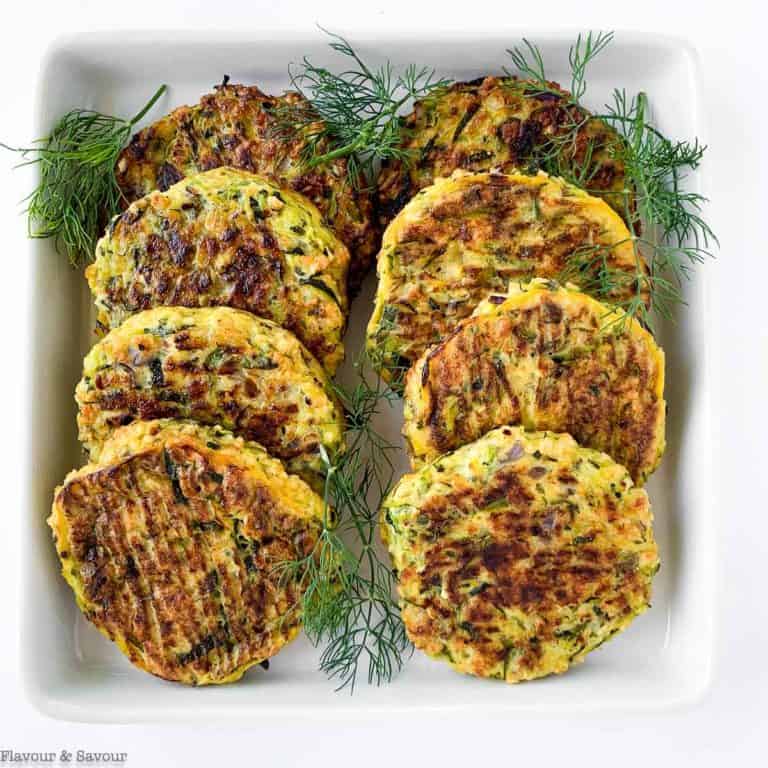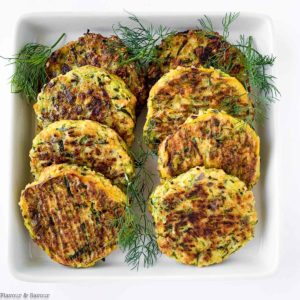 Crispy Baked Zucchini Patties with Lemon Tahini Dip
Nutritious and delicious! These Crispy Baked Zucchini Patties make a healthy meal when served with a salad or fresh veggies. Great with Lemon Tahini Dip.
Print
Rate
Ingredients
Zucchini Patties
2

cups

shredded zucchini,

*measured after being very-well drained

¼

cup

red onion,

finely chopped

2

eggs

1

cup

Panko crumbs,

(gluten-free, if necessary) or more*

1

tablespoon

low-fat mayonnaise,

or Vegenaise

1

tablespoon

Dijon mustard

½

cup

Parmesan cheese,

finely grated

1

teaspoon

dried chili flakes

sea salt and black pepper

to taste
Lemon Tahini Dip
¼

cup

sesame tahini

1

lemon,

zest and juice of

1

clove

garlic

minced

2

tablespoon

warm water

2

tablespoon

olive oil,

extra virgin

1

teaspoon

sea salt
Instructions
Lemon Tahini Dip
Put all ingredients in a mini food processor or blender and blend until smooth and creamy.
Crispy Baked Zucchini Patties
Preheat oven to 400°F. Line two baking sheets with parchment paper.

Grate and thoroughly drain zucchini by placing it in a colander, sprinkling with salt, weighing it down with a heavy bowl and letting it sit for 20 - 30 minutes. Squeeze out moisture before adding to a large mixing bowl.

Combine all remaining ingredients with grated, drained and squeezed zucchini.

Form into patties about ⅓ cup each. Space at least one inch apart on parchment-paper lined baking sheets. Bake for 15 minutes on one side, then flip and bake for 12-15 minutes on the other side. Serve with Lemon Tahini Dip if desired.
Notes
*You may need to add more panko crumbs (or quick oats) if the zucchini has not been drained enough. If the mixture looks too wet, stir in up to 1 cup more panko crumbs or oats.
This recipe will make 8 meal-sized patties or 12 appetizer-sized patties.
Zucchini patties can be frozen either before or after baking.
Thaw first then bake, following recipe instructions, or re-heat baked patties in a 350°F. oven for 15 - 20 minutes or until heated through.
Alternatively, patties can be fried in hot oil.
Nutrition
Calories:
218
kcal
|
Carbohydrates:
21
g
|
Protein:
7
g
|
Fat:
13
g
|
Saturated Fat:
3
g
|
Cholesterol:
52
mg
|
Sodium:
533
mg
|
Potassium:
241
mg
|
Fiber:
2
g
|
Sugar:
2
g
|
Vitamin A:
301
IU
|
Vitamin C:
19
mg
|
Calcium:
104
mg
|
Iron:
1
mg