This Strawberry Watermelon Collagen Smoothie is an easy and delicious way to get more collagen into your diet. A healthy refreshing strawberry watermelon smoothie made with orange juice and the added benefits of collagen powder! Only 4 ingredients!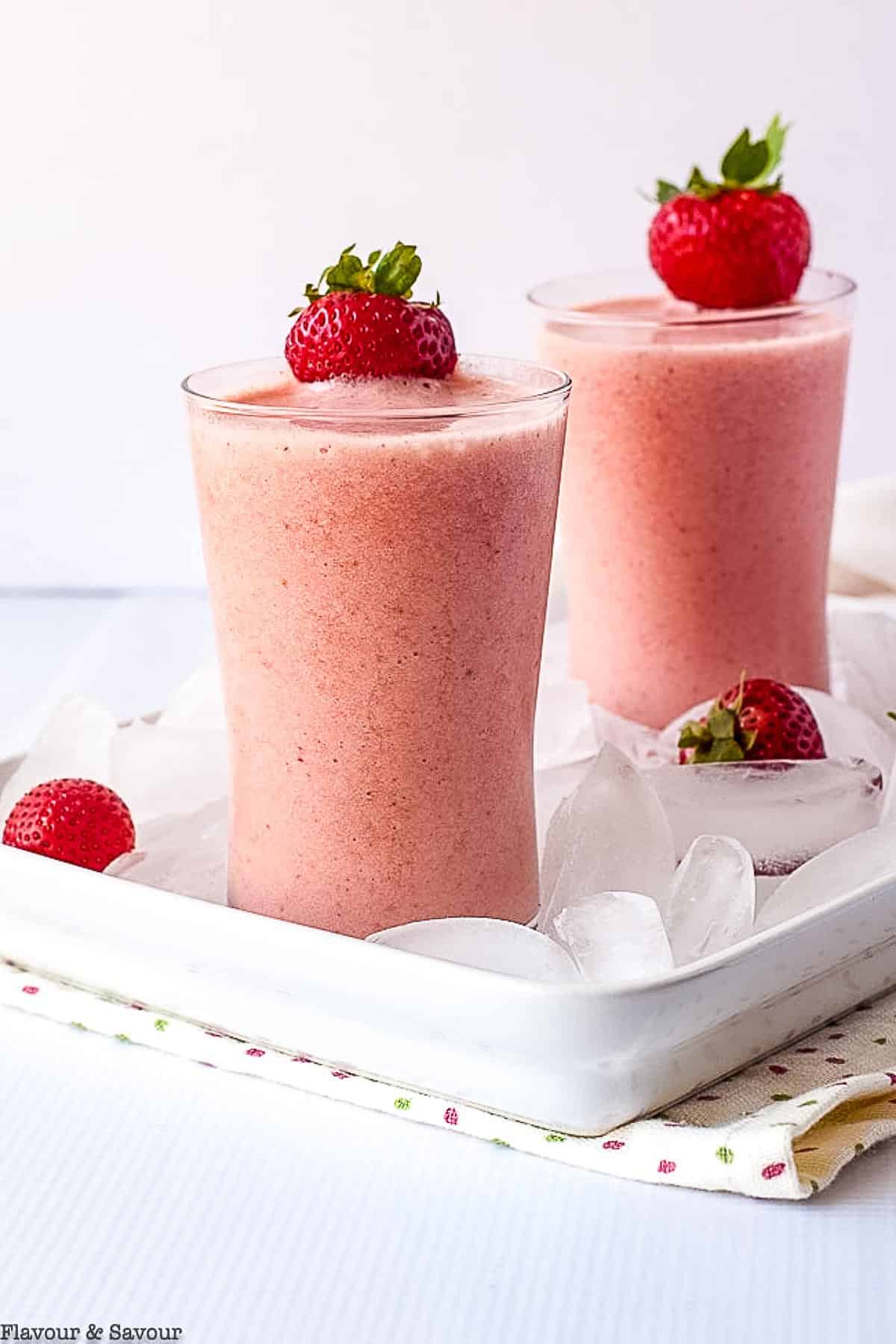 It's delicious, it's nutritious, and this four-ingredient Strawberry Watermelon Collagen Smoothie is a recipe you'll want to add to your weekly routine!
Combining watermelon with strawberries is a favourite summertime combo, as in my Summer Strawberry Watermelon Salad with Feta and Mint.
One hot summer day, we had a refreshing Strawberry Watermelon Smoothie at a small marina in the Gulf Islands. We were so glad to discover that the small snack bar offered several healthy choices instead of the usual sodas and potato chips. It was a welcome drink on a hot day for adults and kids alike!
When we arrived back home, I decided to re-create it. I remembered how much I liked my Orange Collagen Creamsicle Shake, so I added a scoop of collagen to this fruity watermelon and strawberry combination, too.
🛒 Ingredients
You only need 4 ingredients to make this healthy strawberry smoothie!
orange juice: pure, unsweetened juice
strawberries: you can use fresh or frozen strawberries.
watermelon: You'll use frozen cubes of watermelon. For tips on how to choose the best watermelon, see How to Pick a Good Watermelon.
collagen powder: a tasteless powder that gives a creamy texture to this smoothie. (affiliate link) Read about the health benefits of collagen below!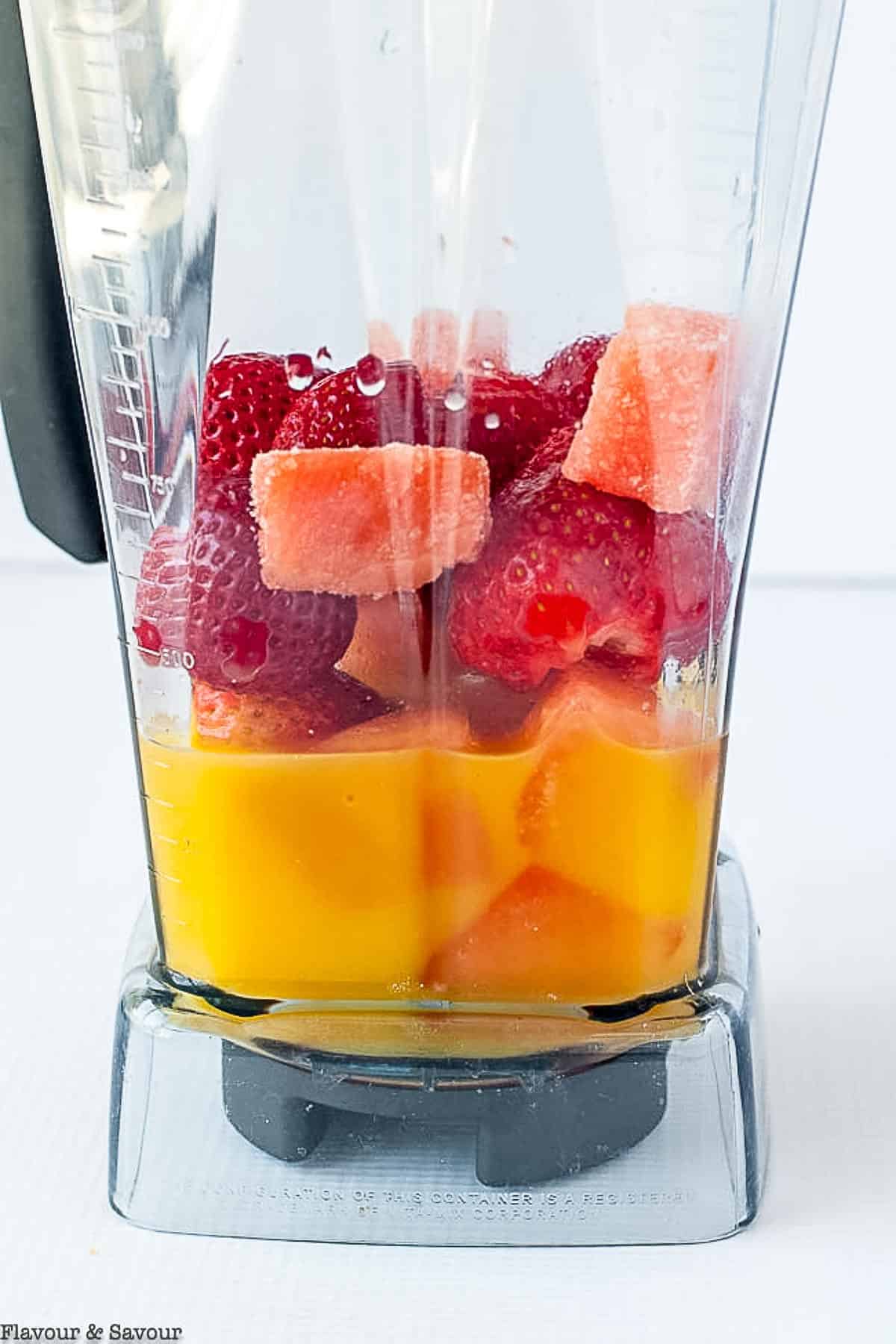 🥄 Instructions
First, cut a watermelon into cubes and freeze it. The easiest way to form cubes is to slice a watermelon in half through the middle. Next, take one half and turn it face down on a cutting board. Make slices about 1 inch thick. Holding the slices together, rotate the watermelon 90 degrees and continue making 1-inch slices crosswise.
Now you'll have "sticks" which are fun to eat, and less messy than triangle-shaped wedges. Remove the rind and slice the sticks into cubes. Freeze on a baking sheet.
Once frozen, add the cubes, fresh or frozen strawberries, and orange juice to a blender container. Add the collagen last and blend until smooth.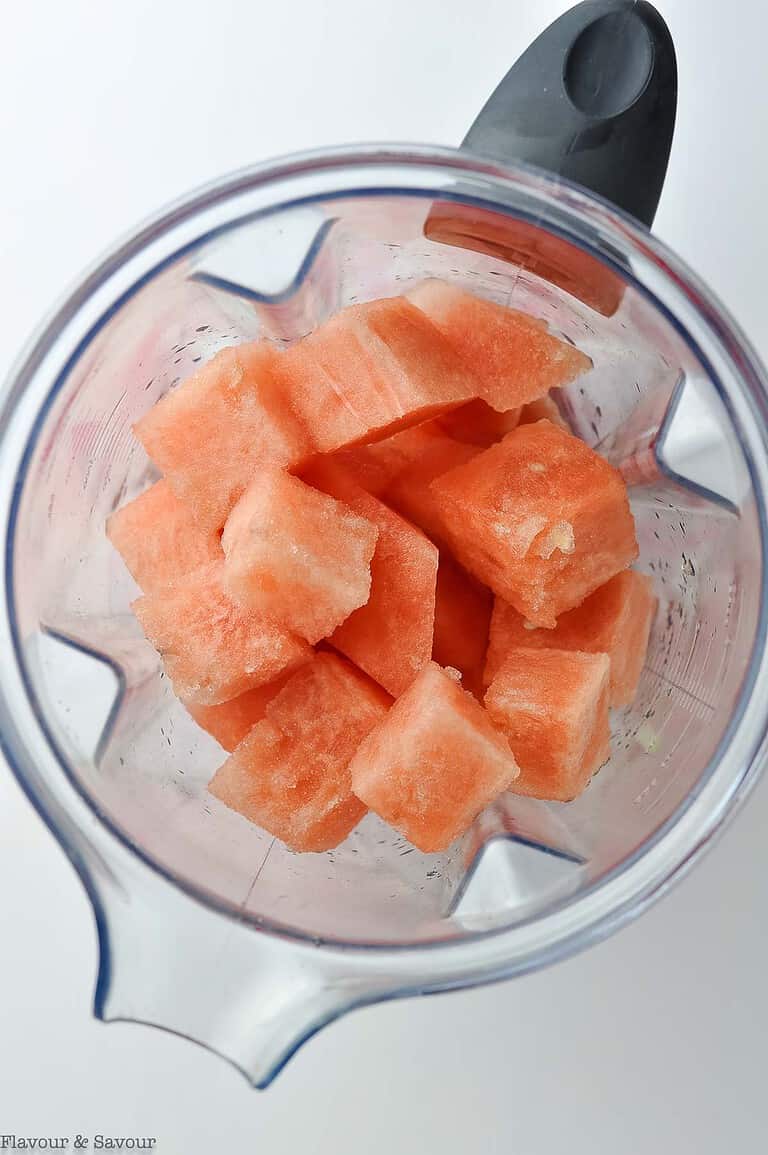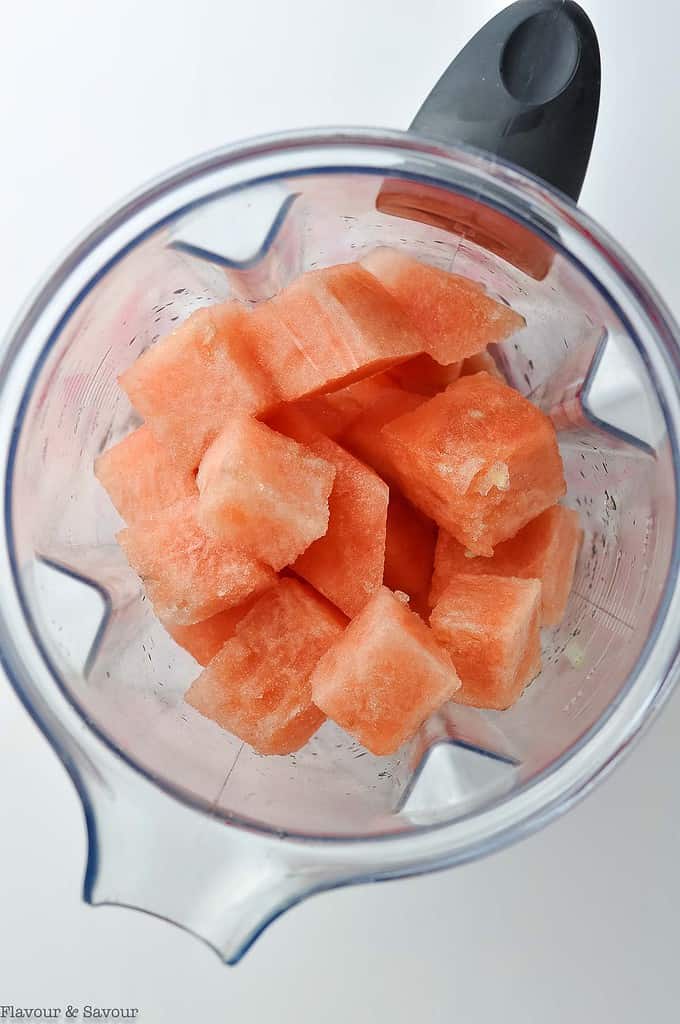 ❓Reader's Questions
What is collagen? Do I need collagen in my diet?

Collagen benefits skin elasticity and hydration. It's up to you to decide whether you need it or not. It will depend on your age and your health.

Collagen is a protein in our skin, bones, muscles, bones, nails, hair and in all our body's connective tissue. Our bodies produce it naturally, but its production slows in our mid-twenties. We may start to lose the elasticity in our skin (hello wrinkles and cellulite), and our body's ability to repair muscles declines.

Adding collagen to your diet in powdered form can help ease joint pain, improve skin elasticity, strengthen brittle nails. It may even help leaky gut syndrome.

However, there are also natural food sources that may help your body produce collagen, too: Try fish, such as wild salmon, cod and tuna. Or add bone broth, eggs, avocados, leafy greens (like spinach, kale and chard), berries, chia, and pumpkin seeds to your diet.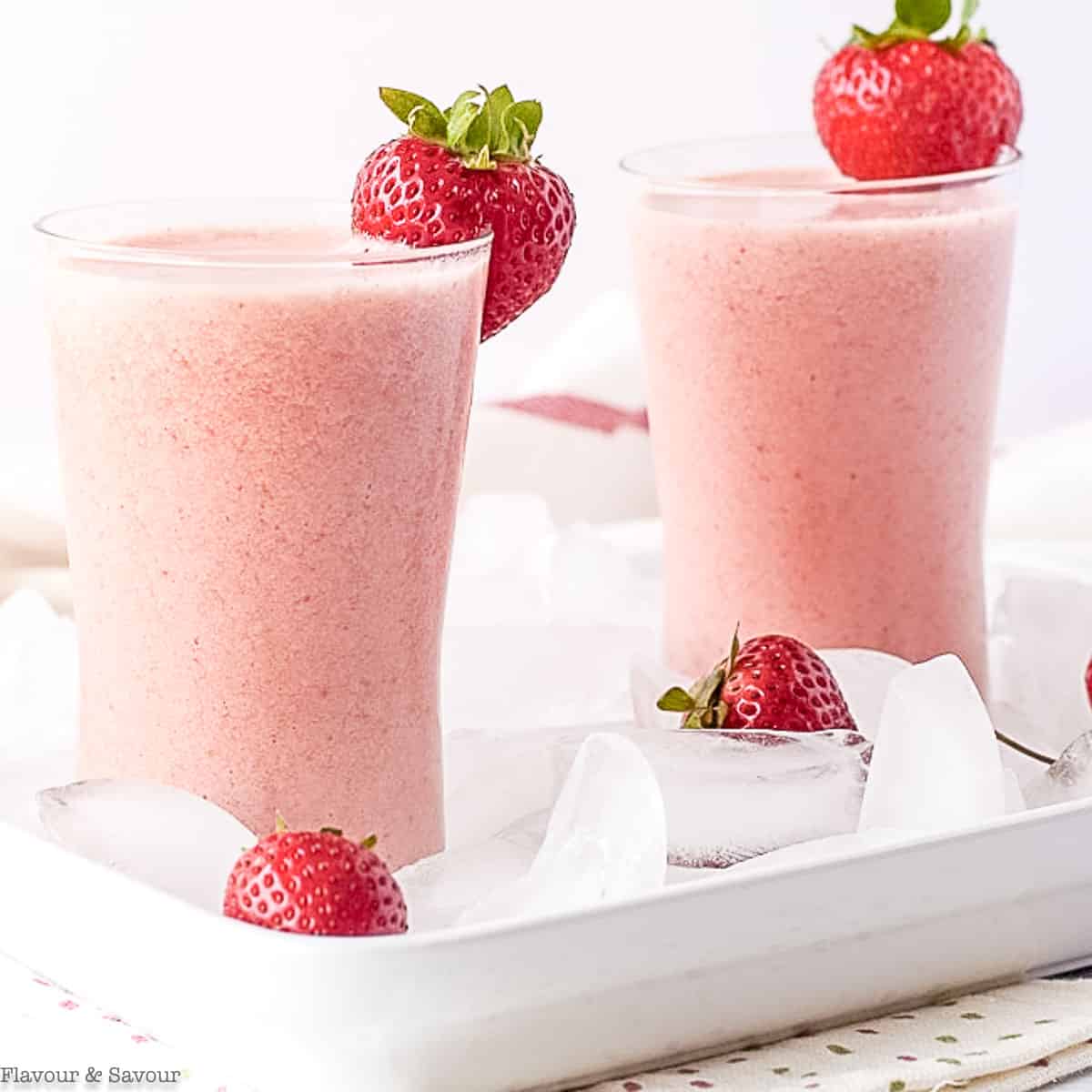 ❓What does collagen taste like?
Collagen powder is tasteless, so you can add it to your drinks, yogurt, overnight oats, or even muffins. The powdered form is easy to add to a smoothie. It makes this Strawberry Watermelon Collagen Smoothie a little creamy.
This is a quick and easy smoothie to make, especially if you have orange juice in the fridge and fresh or frozen strawberries and watermelon.
👍🏼 Time-Saving Tip
I usually have watermelon left over after the grandkids have had their fill and just can't eat anymore.
I cube it, freeze the cubes on a baking sheet, then transfer them to an airtight container and store them in the freezer to add to smoothies like this one.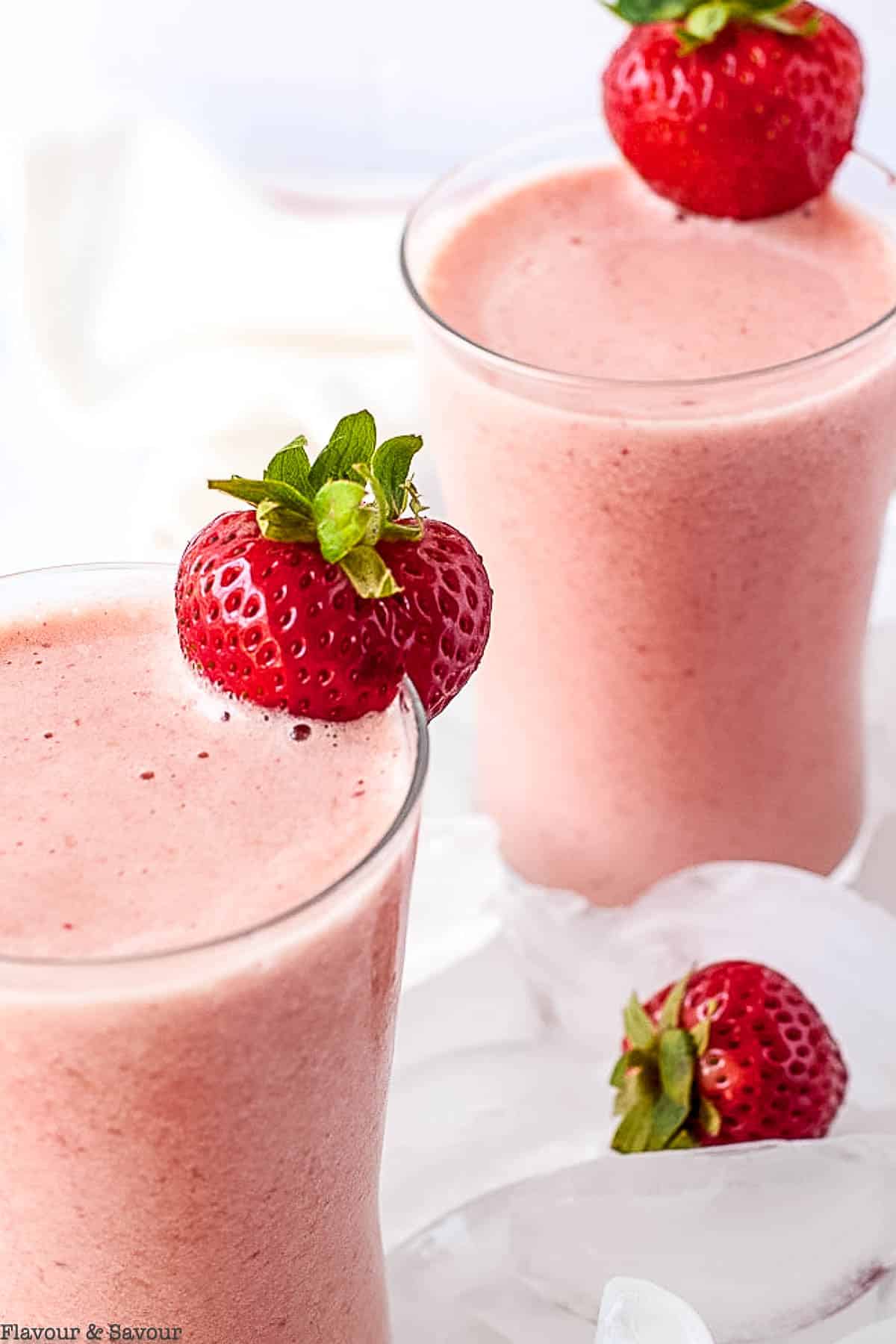 More recipes for smoothies
Give it a try! When you make this strawberry watermelon smoothie with collagen, please leave a comment and a rating below. I love hearing from you! Subscribe to my newsletter and have new recipes delivered straight to your inbox once a week.
This post was originally published in 2018. It has been updated with new photos and extra information to make it more helpful! The recipe remains the same.
📖 Recipe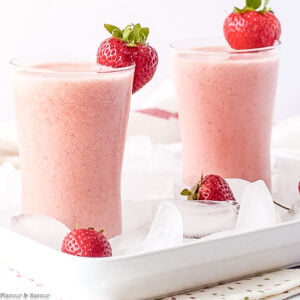 Strawberry Watermelon Collagen Smoothie
Adding collagen powder to this Strawberry Watermelon Collagen Smoothie is an easy and delicious way to add collagen to your diet.
Print
Pin
Rate
Equipment
Ingredients
1

cup

pure orange juice,

unsweetened

1

cup

strawberries,

fresh or frozen

1

cup

watermelon cubes,

frozen

¼

cup

collagen powder
Instructions
Put orange juice, watermelon, strawberries in a blender, then add collagen on top. Blend until smooth. Divide equally between 2 glasses and serve.
Nutrition
Calories:
161
kcal
|
Carbohydrates:
24
g
|
Protein:
5
g
|
Sodium:
17
mg
|
Potassium:
443
mg
|
Fiber:
1
g
|
Sugar:
18
g
|
Vitamin A:
680
IU
|
Vitamin C:
110.5
mg
|
Calcium:
30
mg
|
Iron:
0.7
mg