Round out a fall or winter meal with tender slices of this Garlic Parmesan Roasted Acorn Squash. Here's the best way to bake acorn squash in the oven! This simple acorn squash recipe pairs garlic and parmesan with herbs to create a delicious savoury side dish.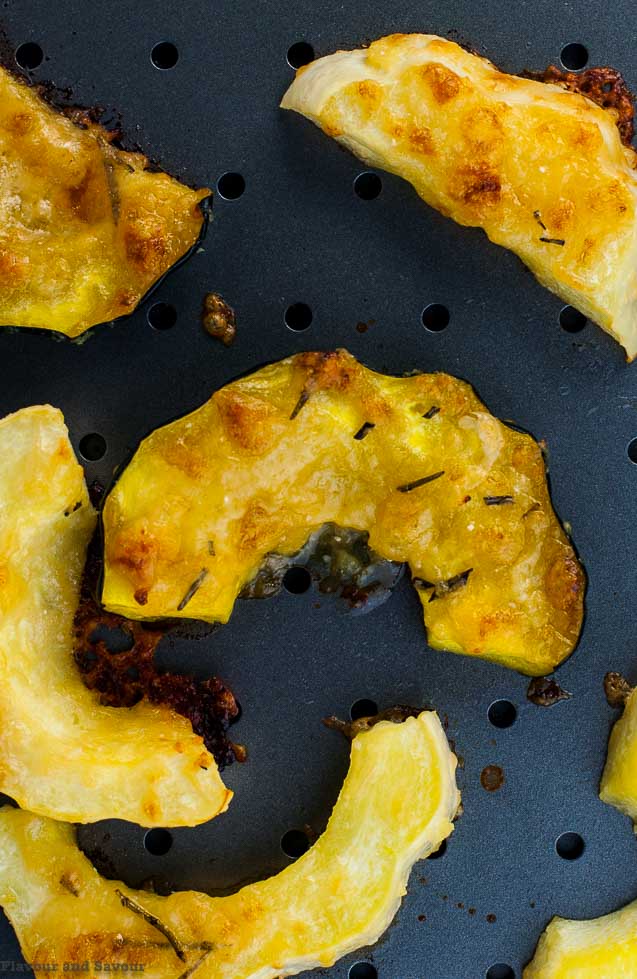 If you usually bake your acorn squash slices with the classic mixture of butter and brown sugar, it's time to try this Garlic Parmesan Roasted Acorn Squash. While that traditional sweet brown sugar squash is delicious, this savoury acorn squash recipe is a welcome change! Not only that, its flavours pair well with both meat or vegetarian main dishes.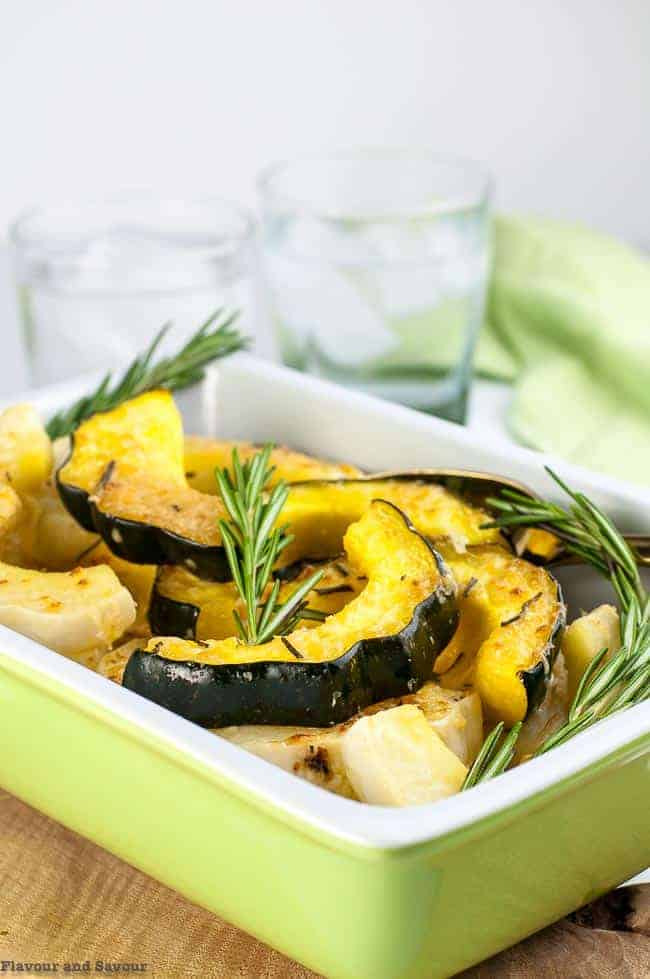 Acorn squash is one of my favourite varieties of squash. I love Butternut squash, as well, and you'll find at least 6 Butternut Squash Recipes here on Flavour and Savour. However, trying different varieties often results in happy surprises!
But let's get started on this herb-roasted garlic parmesan squash! Here's what you'll need to make this simple side dish, perfect for your holiday meals!
🛒 Ingredients
acorn squash
olive oil
garlic: fresh cloves
Parmesan: Parmigiano Reggiano has the best flavour
fresh herbs
Acorn squash has a slightly sweet flavour and, when cut crosswise, forms appealing, almost flower-shaped slices. Sometimes, acorn squash can be slightly bland, so it needs bold flavours to complement its natural sweetness and creamy texture.
In this recipe, Parmesan cheese add a subtle saltiness to acorn squash's natural sweetness. Garlic and Parmesan are a killer combo and adding fresh herbs like rosemary, thyme or sage adds flavour and interest, too.
Depending on your squash and your family's tastes, you may want to add a little heat with some dried red pepper flakes. They're optional, but very good if you're like me and like flavours with a little kick.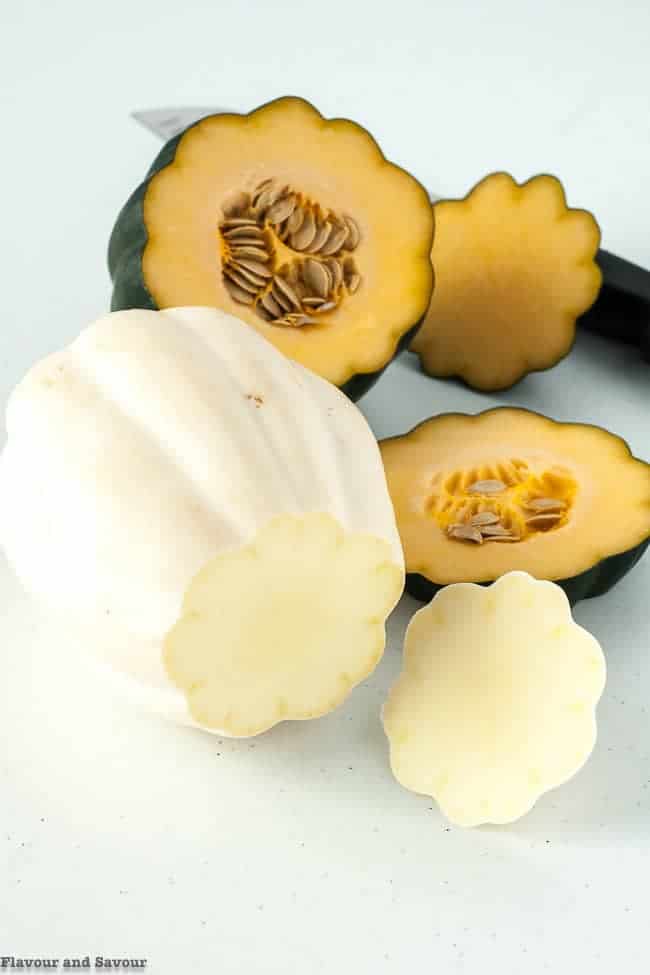 Tips for making Garlic Parmesan Roasted Acorn Squash
Keep it simple and toss everything together in a large bowl once you have the slices cut.
First, toss the squash with olive oil, lots of fresh minced garlic, finely grated Parmigiano Reggiano, fresh chopped herbs, and sea salt and pepper.
Crispy edges are the feature we all crave. (Well, I do anyway!) I like to heat my baking sheet in the oven for a few minutes first, so when the squash hits the pan, it sizzles and seals in all that wonderful flavour.
Roast in a hot oven until tender, then place under the broiler for a few minutes to brown it a little more.
And finally, serve with more fresh chopped herbs of your choice. I like rosemary, but thyme and sage pair well with acorn squash, too.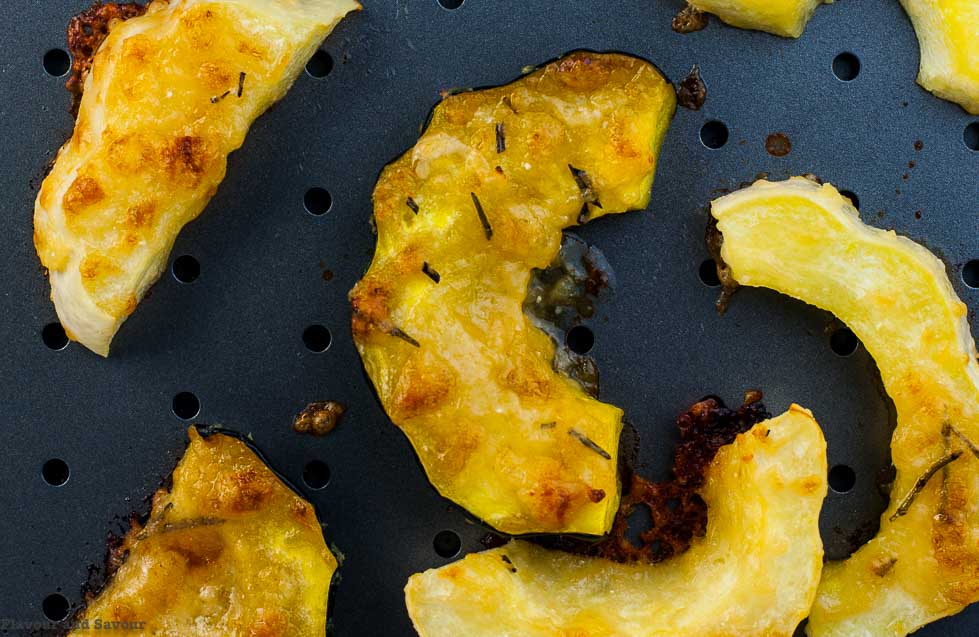 Frequently asked questions
How do I choose an acorn squash?
When faced with a large bin full of squash at your farmers' market, how do you know which will be the best acorn squash to choose?

Look for ones that have smooth rind with no soft spots, cracks, or mold. The rind should be dull. If it's shiny, it may mean it was picked too early and will not have the characteristic sweet flavour.

The skin should be almost all dark green. If it has a lot of orange, it indicates it is overripe and may be dry and stringy. In my experience, the smaller squash (about 1 to 3 pounds) are best. If they're larger, they may be dry. Occasionally, you can find other varieties, like this white acorn squash in the photo.
How do you slice an acorn squash?
Use a sharp knife and a sturdy cutting board.
First slice off the stem end and tips.
Next, set the squash upright and slice through the middle from the stem end to the base.
Remove the seeds with a spoon and either save for roasting or add to your compost.
Place the squash cut-side down on the cutting board and cut into slices about ¾ inch thick.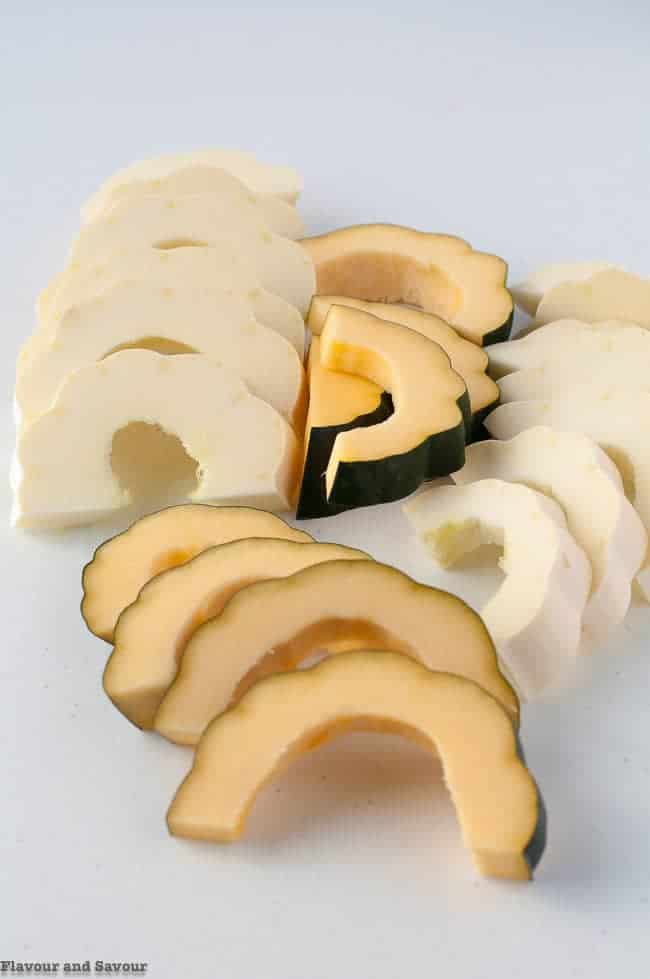 Do I have to peel an acorn squash?
The skin of an acorn squash is edible. Sometimes smaller squash have thin and more tender skin.
I leave the skin on because it helps to maintain the shape of the slices. If you don't want to eat it, it slips off easily once cooked.
What is the best way to store acorn squash?
A cool, dry place is the best place to store squash. Acorn squash will last for 5 to 8 weeks. Don't store them in the refrigerator for more than a week or two as the outer skin may become too moist and rot.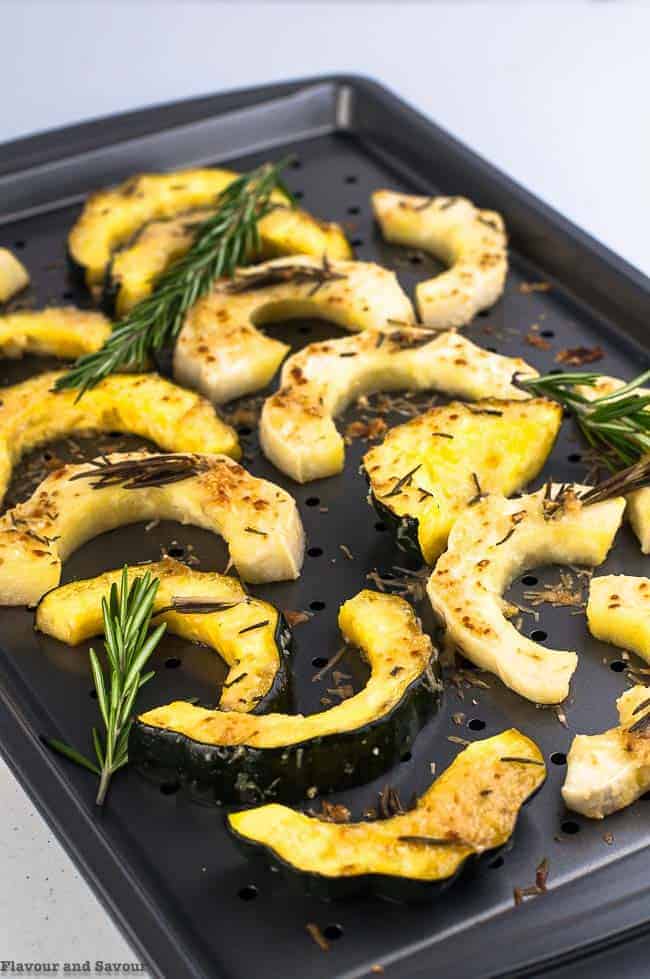 🍽 Serving suggestions
Squash is nutritious, delicious, and usually very inexpensive. Avoid the sugar and try this savoury garlic-parmesan squash recipe instead!
Serve it with this one-pan Easy Baked Lemon Chicken or my One-Pan Spiced Chicken with Apples and Bacon and these Fennel Orange Roasted Beets.
Enjoy! And if you love baked acorn squash, I know you'll like this Honey Balsamic Roasted Acorn Squash and Brussels Sprouts.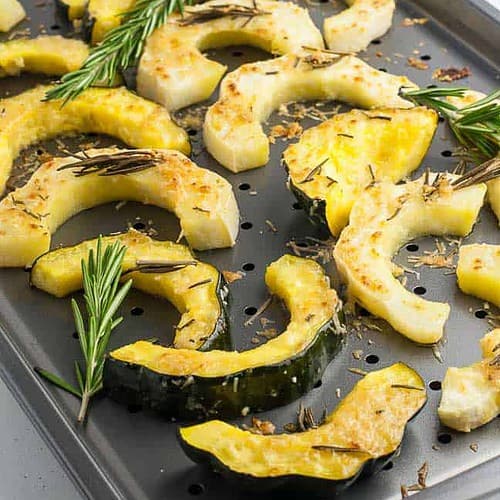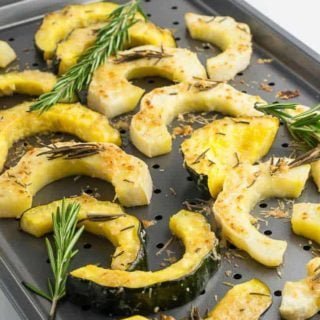 Garlic Parmesan-Crusted Roasted Acorn Squash
Round out a fall or winter meal with tender slices of this Garlic Parmesan-Crusted Roasted Acorn Squash. Add fresh herbs to make this tasty side dish.
Print
Pin
Rate
Ingredients
1

2 lb

acorn squash,

(or two 1 lb acorn squash)

2

tbsp

olive oil,

extra virgin

4

cloves

garlic,

finely minced

¼

cup

Parmesan cheese,

finely grated (or more)

½

tsp

sea salt

½

tsp

black pepper,

freshly ground

4

sprigs

fresh rosemary, thyme or sage,

or 2 tsp dried herbs

½

tsp

dried red pepper flakes,

optional
Instructions
Wash squash and slice off the ends. Cut in half from stem end to tip. Remove the seeds with a spoon and either save for roasting or add to your compost. Lay halves cut side down on cutting board and slice crosswise into ¾ inch slices.

In a large bowl, toss squash slices with olive oil, garlic, Parmesan, salt and pepper, and one of the sprigs of fresh rosemary, finely chopped.

Heat baking sheet in oven for 5 minutes. Remove and arrange squash slices so they are not touching each other. Return to oven and roast for 20 minutes.

If desired, put the sheet under the broiler for 2 - 4 minutes, to crisp edges. Watch carefully to prevent burning. Serve garnished with fresh rosemary sprigs or other fresh herbs.
Nutrition
Calories:
92
kcal
|
Carbohydrates:
1
g
|
Protein:
2
g
|
Fat:
8
g
|
Saturated Fat:
2
g
|
Cholesterol:
4
mg
|
Sodium:
395
mg
|
Potassium:
12
mg
|
Vitamin A:
125
IU
|
Vitamin C:
0.9
mg
|
Calcium:
79
mg
|
Iron:
0.1
mg
Nutrition Facts
Garlic Parmesan-Crusted Roasted Acorn Squash
Amount Per Serving
Calories 92
Calories from Fat 72
% Daily Value*
Fat 8g12%
Cholesterol 4mg1%
Sodium 395mg17%
Potassium 12mg0%
Carbohydrates 1g0%
Protein 2g4%
Vitamin A 125IU3%
Vitamin C 0.9mg1%
Calcium 79mg8%
Iron 0.1mg1%
* Percent Daily Values are based on a 2000 calorie diet.