Here's a round-up of 22 delicious ideas for side dishes to serve with your favourite lemon chicken! From fresh vegetable dishes to potato recipes and healthy salads, I've got you covered with suggestions of sides to go with this healthy lemon chicken recipe.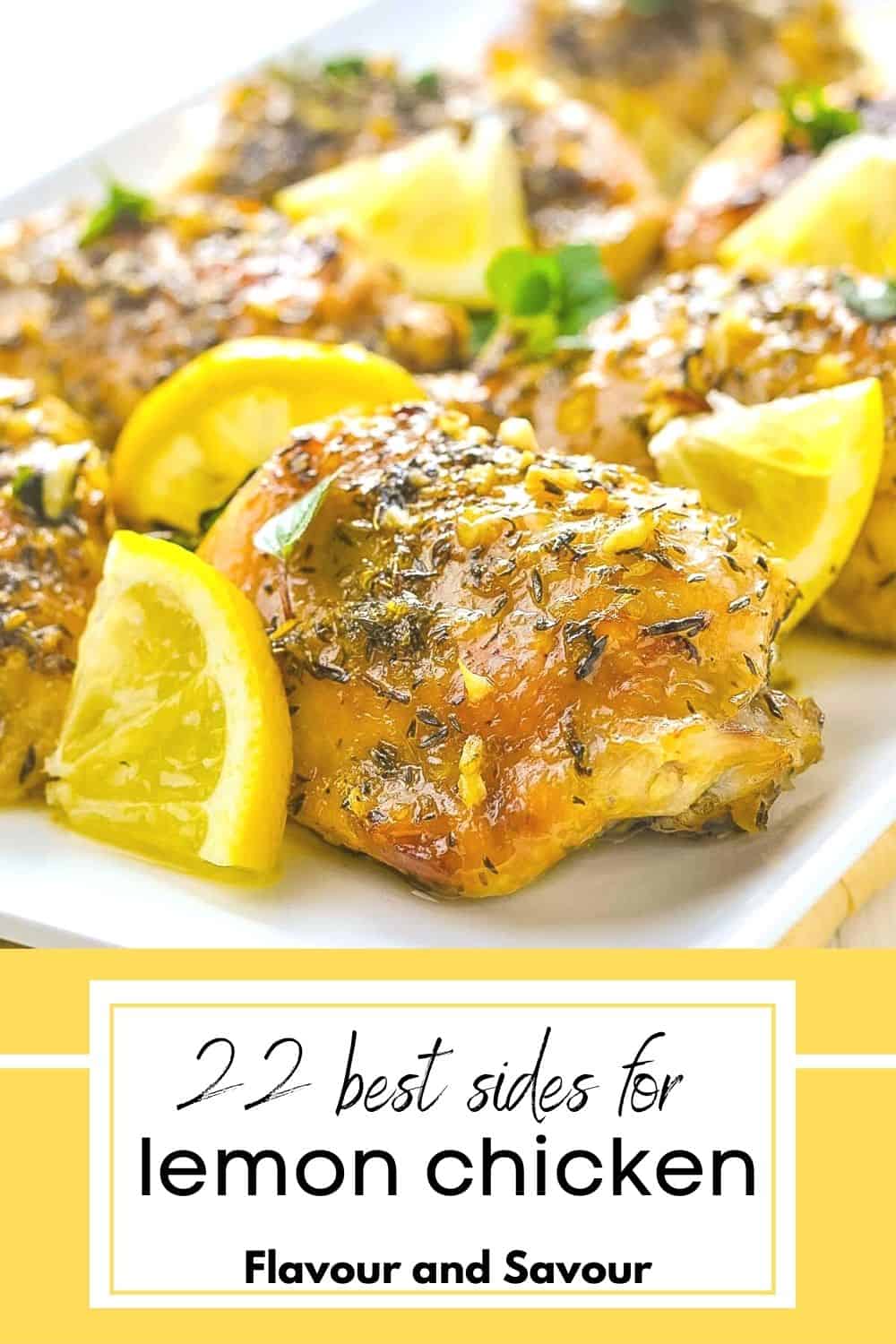 My recipe for Easy Baked Lemon Chicken has been a highly popular recipe ever since I published it in 2015. And no wonder! It lives up to its name--it's EASY!
All baked in one pan, this recipe for lemon chicken is made with chicken thighs or chicken breasts, fresh lemons, herbs and garlic. It's a one-pan chicken dish that has become a family favourite for many of my readers.
It's a great recipe for busy weeknight dinners, and it's one your whole family will love. Made with simple ingredients it's the easiest dinner ever! You can make it with breasts or thighs, either with the skin or boneless and skinless!
What could be better than juicy, golden crispy chicken? Delicious sides to go with it! Even better? Gluten-free sides to serve with lemon chicken!
22 Best Side Dishes to Serve with Baked Lemon Chicken--all Gluten-Free
One question I'm often asked is "What should I serve with lemon chicken?" If you're also wondering what side dishes go well with lemon chicken, here are my ideas! Let's start with potatoes or rice dishes, then vegetable sides and finally the perfect salads to serve with lemon chicken.
Click on the buttons below each image to take you directly to the recipes.
Jump to:
🥔 Potato or Rice Side Dishes for Chicken
Crispy Lemon Oven-Roasted Potatoes
🥕 Vegetable Side Dishes to go with Lemon Chicken
I've selected vegetable sides that you can either roast in the oven while the chicken is baking, air fry, or cook on the stovetop.
Roasted Carrots with Honey-Mustard Glaze
Air Fryer (or Oven-Roasted) Carrots with Feta and Pistachios
Air Fryer Balsamic Brussels Sprouts with Bacon
Honey Balsamic Roasted Acorn Squash
Roasted Brussels Sprouts and Maple Sweet Potatoes
Green Bean Bundles with Garlic Butter
🥗 Salads that work well with Lemon Chicken
Strawberry Mango Arugula Salad
Hearty Tuscan Salad with Creamy Gorgonzola Dressing
Strawberry Spinach Salad with Strawberry Dressing
Kiwi Cucumber Salad with Walnuts and Fresh Mint
Butternut Squash Salad with Cranberries and Feta
Honey-Dijon Broccoli Salad
Triple Berry Mixed Green Salad
Which sides will you serve with lemon chicken?
When you make one of these gluten-free sides for lemon chicken, let me know in the comments section below. I love hearing when you've made one of my recipes. Thanks in advance! Subscribe to my newsletter and have new recipes delivered straight to your inbox once a week.
🗒 More delicious recipe collections