This Grilled Prawn Cocktail with Pineapple Jicama Salad combines pineapple, cucumber and jicama with a tangy cilantro lime dressing. Top with fresh prawns or shrimp. Paleo.


Last week I offered to bring an appetizer to a dinner party. I knew I wanted to use fresh prawns, and since I had already planned to bring Smoked Salmon Crostini as well, I decided to make a mini appetizer. This Grilled Prawn Cocktail with Pineapple Jicama Salad was the result!

I adapted my Pineapple Jicama Salad recipe to make this mini prawn cocktail. I love the "sweet with a little heat" flavour contrasts it delivers. I combined juicy pineapple, crisp cucumber and jicama with a tangy cilantro lime dressing, filled tiny cocktail glasses and topped them all with fresh-from-the-ocean grilled spot prawns.
What is jicama and what do I do with it?
If jicama is unfamiliar to you, it's an insignificant-looking vegetable that is sometimes called a Mexican yam or a Mexican turnip. It's pronounced "HEE-kah-mah." It has a flavour and texture similar to water chestnuts. You can find it in most supermarkets in the spring. Look for one with a smooth skin that has no evidence of spoilage or mold. Choose a smaller one as they seem to be less starchy than the large ones.
To prepare jicama, remove the stem end and peel the papery outer layer with a vegetable peeler or a paring knife. Then you can slice or dice it. Jicama is slightly sweet and adds a nice crunch to a salad. It is delicious when dipped in lime juice and is actually commonly served that way in street food stands in Mexico. In this cocktail, I chose to make thin match sticks with a julienne cutter.
It's spot prawn season here in the Pacific Northwest! Most members of my family are seafood fans, and spot prawns are a favourite treat. They are so expensive to buy that we eat them sparingly.
But last week when the recreational prawn fishery opened, my husband, son and grandson bought their licenses and headed out on the water. They came home with enough to share and enough to freeze (and a story about an octopus too!)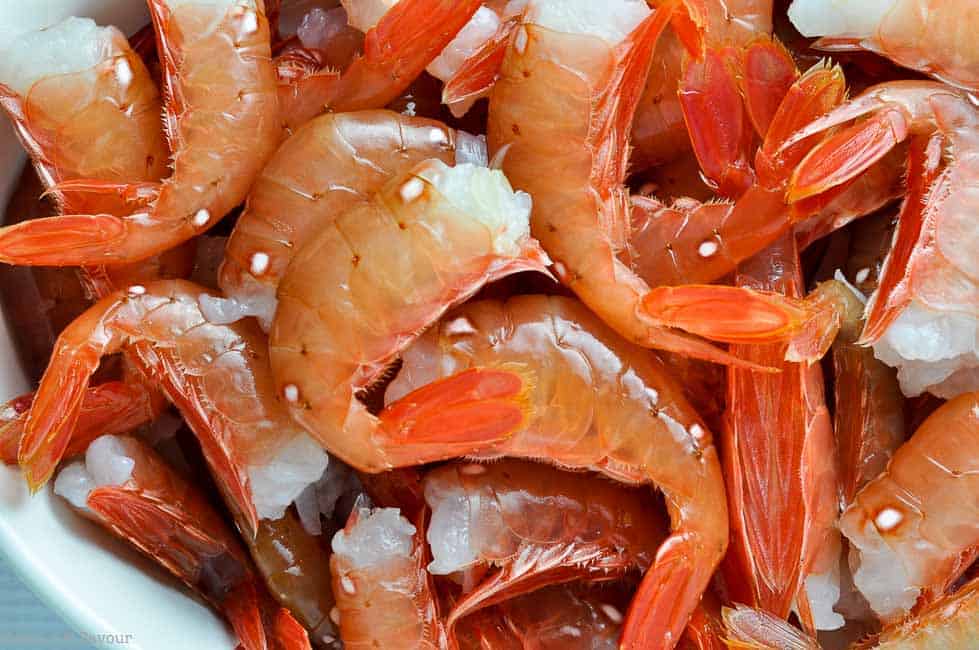 How do I peel fresh prawns?
Fresh prawns are so precious to me that I don't want to ruin a single one. They can be very difficult to peel when they're fresh. There is a simple trick, however, to getting those shells off easily. Simply freeze the prawns slightly. Run you index finger down the inside of the curved part of the body, breaking the shell. Then pinch the tail and the body will pop right out.
I served this mini appetizer in clear glass candle votives! I wanted a small glass and these were the perfect size for a tiny pre-dinner nibble. You could certainly double the recipe and serve it in traditional cocktail glasses. If you don't have access to fresh prawns or large shrimp, small shrimp would be good, too. Or if you only want the Pineapple Jicama Salad, find the complete original recipe for it here.
Grilled Prawn Cocktail with Pineapple Jicama Salad
This Grilled Prawn Cocktail with Pineapple Jicama Salad combines pineapple, cucumber and jicama with a tangy cilantro lime dressing. Top with fresh prawns or shrimp.
Print
Pin
Rate
Ingredients
Cilantro Lime Dressing*
1

serrano pepper,

seeded and finely minced

1

tbsp

lime juice,

freshly squeezed

1

tsp

lime zest

1

tbsp

rice vinegar

¼

cup

minced cilantro

¼

tsp

sea salt

¼

tsp

black pepper

2

tbsp

olive oil,

extra virgin
Cocktail Salad
½

cup

fresh pineapple,

finely diced

2

tbsp

jicama,

peeled, julienne cut or finely diced

2

tbsp

cucumber,

finely chopped

¼

tsp

dried chili flakes

18

large shrimp or prawns
Instructions
Whisk dressing ingredients together. Reserve 2 tablespoons and put in a small jar or cup (for dipping the cooked prawns)

Place the pineapple, jicama, cucumber and chili flakes in a small bowl. Add just enough dressing to moisten. Fill small serving glasses ¾ full.

Oil a grill pan and grill prawns for 2 minutes on one side and 1 minute on the other side or just until they are no longer translucent. Remove from grill, dip in the small jar of reserved dressing and place 3 prawns in each of the cocktail glasses. Garnish with a cilantro leaf. Serve immediately or chill until serving time.
Notes
*This recipe will make more dressing than you will need for this cocktail. Just store the remainder in a jar and save to serve with any green salad.
Nutrition
Tried this recipe?
Share a photo on INSTAGRAM and tag it #flavourandsavour! I love seeing what you've made.
To make this Grilled Prawn Cocktail with Pineapple Jicama Salad I used:

More prawn and shrimp inspiration
Prawn Mango Avocado Salad with Lemon Lime Dressing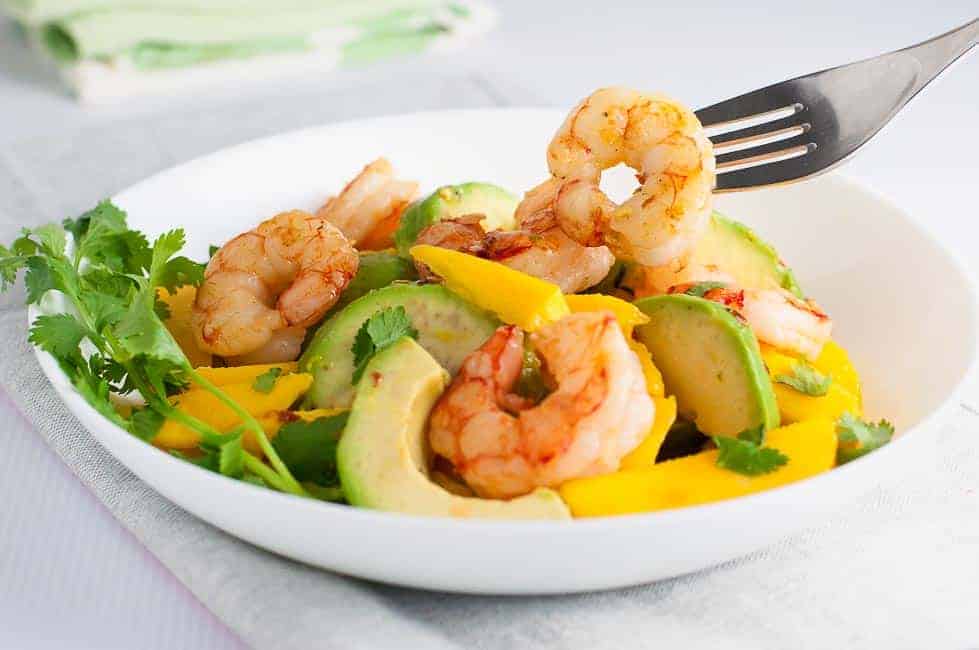 Fresh Veggie and Grilled Shrimp Zoodle Bowl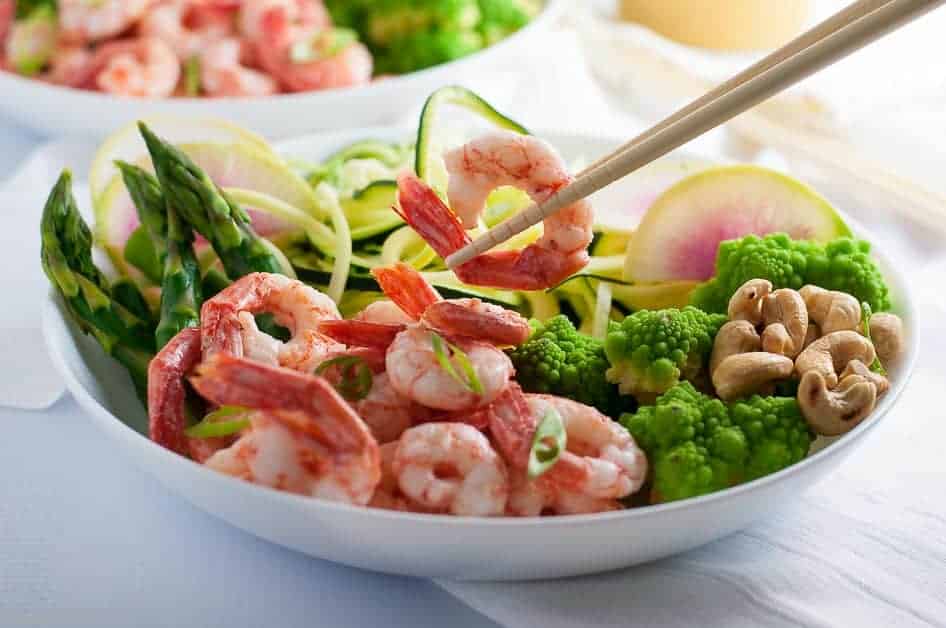 Chili Lime Shrimp with Fresh Salsa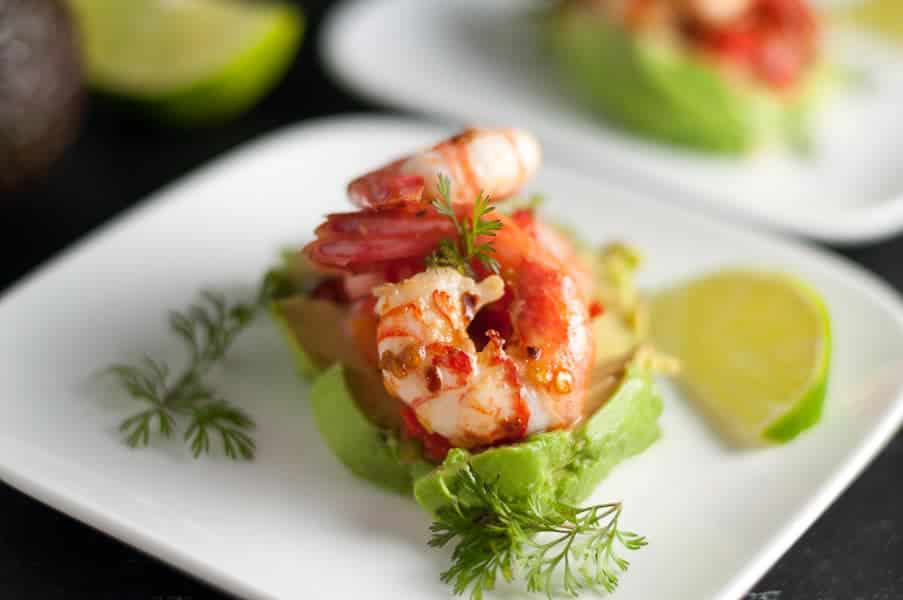 This post contains affiliate links. If you click on any of the affiliate links and make a purchase within a certain time frame, I'll receive a small commission. The commission is paid by the third party, not by you. I am a participant in the Amazon Services LLC Associates Program, an affiliate advertising program designed to provide a means for me to earn fees by linking to Amazon.com and affiliated sites.
Like this recipe? Please pin it or share it! Subscribe to my weekly newsletter and never miss a recipe.