These Grilled Rosemary Mustard Chicken Kabobs are tender bites of chicken, glazed with fresh rosemary and a mixture of Dijon and grainy mustard. They're succulent, sweet and slightly spicy!

Today I wanted to create something with Italian flavours. I tell you why in a moment. Rosemary sprang to mind, as it grows wild all over the Italian countryside. You can find it almost anywhere, even on roadside edges. It adds a wonderful fresh aroma to the air. I made these Grilled Rosemary Mustard Chicken Kabobs for dinner after a day of not feeling kindly towards Italy and Italians at all!
These bites of skewered chicken were so tasty that they helped to improve my mood and soften the blow we had experienced earlier in the day.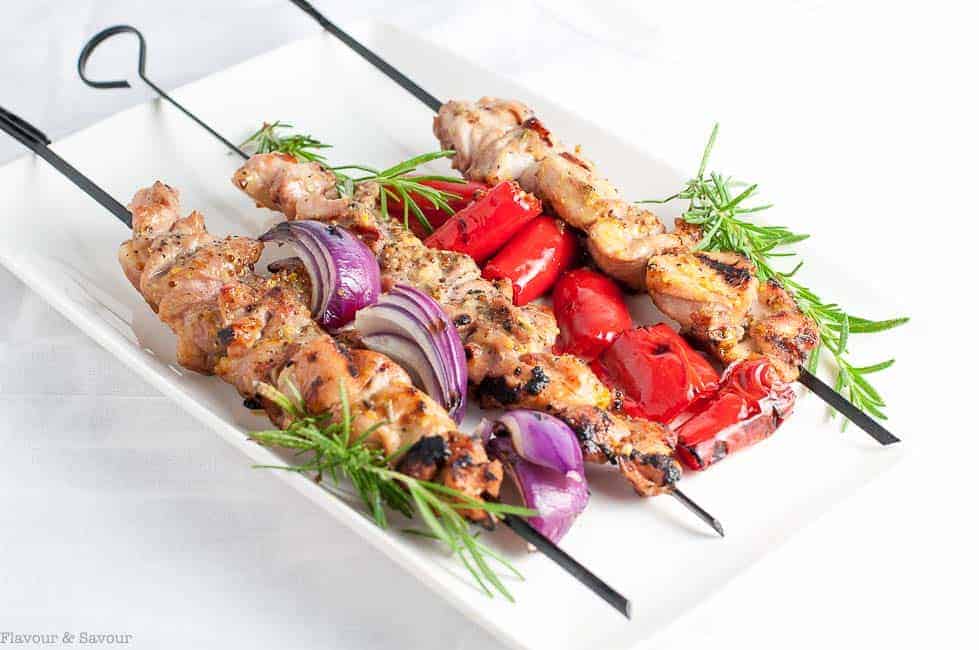 After a routine trip to the mailbox, we discovered we had been served with two traffic violation notices (and hefty fines) from the Italian police.
Wh-a-a-a-t? We were in Italy exactly one year ago, enjoying Tuscany, the Amalfi Coast, and the Emilio Reggiano region, savouring local specialties. And now, we receive a traffic ticket, a whole year later? Make that TWO traffic tickets! Apparently our rental car had been photographed traveling in "restricted zones." Driving in Italy can be a challenge. Central zones of ancient Italian cities were never designed for cars. They're cramped, confusing, and congested. It's very easy to take a wrong turn or get lost, even with GPS. Presumably, that's what happened to us.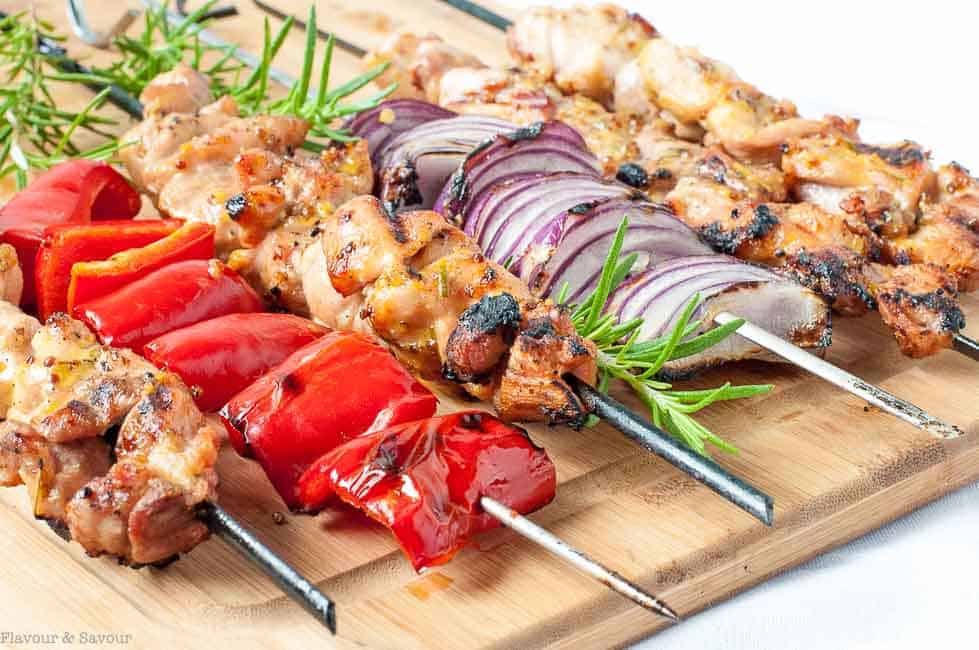 Our first thought was that this was a scam, but the documents looked so official! A quick Google search told me that these were legitimate and not uncommon. Our second (and admittedly dishonest) reaction was to just ignore them. I mean, what were they going to do about it if we didn't pay?
Further reading convinced us that was not a good option. If the fine isn't paid within five days of receiving the notice, the fine almost doubles. And if you don't pay within sixty days, the car rental company (in this case, Hertz) is authorized to charge the fines directly to the credit card you used to rent the car.
We paid.
Paying necessitated a trip to the bank, (as e-transfers are not available for international payments), a lengthy explanation to the bank teller, translating parts of the document and a half hour to finally complete the transactions.
It was $300 that we hadn't planned on spending yesterday.
But these Rosemary-Mustard Chicken Kabobs sizzling on the grill along with a hearty Tuscan salad helped us to put things in perspective, chalk it up to experience, and recall all the fabulous moments we had traveling in Italy. However, we're in no rush to check the mail box again . . .
These Grilled Rosemary Mustard Chicken Kabobs are tender little bites!
Whisk glaze ingredients together.
Thread small pieces of boneless, skinless chicken thighs on skewers.
Grill chicken kabobs, brush with glaze, then grill a minute or two longer to crispy the edge.
Serve with skewered vegetables and a Tuscan Salad.
Grilled Rosemary Mustard Chicken Kabobs
These Grilled Rosemary Mustard Chicken Kabobs are tender bites of chicken, glazed with fresh rosemary and a mixture of Dijon and grainy mustard.
Print
Pin
Rate
Ingredients
1.5

lbs

boneless skinless chicken thighs,

about 12 small thighs

sea salt and pepper

1

tablespoon

Dijon mustard

1

tablespoon

whole grain mustard

1

teaspoon

honey

1

tablespoon

lemon juice

1.5

tablespoon

finely chopped fresh rosemary
Instructions
Cut chicken thighs in to 1 inch pieces and thread on skewers. If using bamboo skewers, make sure they have been soaked in water for at least an hour to avoid burning on the grill.

Sprinkle with sea salt and pepper.

Whisk together mustards, honey, lemon juice and rosemary.

Grill kabobs over medium heat for 6-10 minutes per side, or until completely cooked through. Brush with the rosemary-mustard glaze and grill for another few minutes on each side until slightly crispy. Remove from heart and serve with grilled vegetables.
Nutrition
This recipe is one I've used for years (I think it came from a Canadian Living magazine).
Items I used to make these Rosemary Mustard Chicken Kabobs
This post contains affiliate links. If you click on any of the affiliate links and make a purchase within a certain time frame, I'll receive a small commission. The commission is paid by the third party, not by you. I am a participant in the Amazon Services LLC Associates Program, an affiliate advertising program designed to provide a means for me to earn fees by linking to Amazon.com and affiliated sites.
Like this recipe? Please pin it or share it! Subscribe to my weekly newsletter and never miss a recipe.