These grilled peaches with honey-lemon drizzle are decadent and delicious, but they're quick and easy to prepare. Perfect for a summer gathering.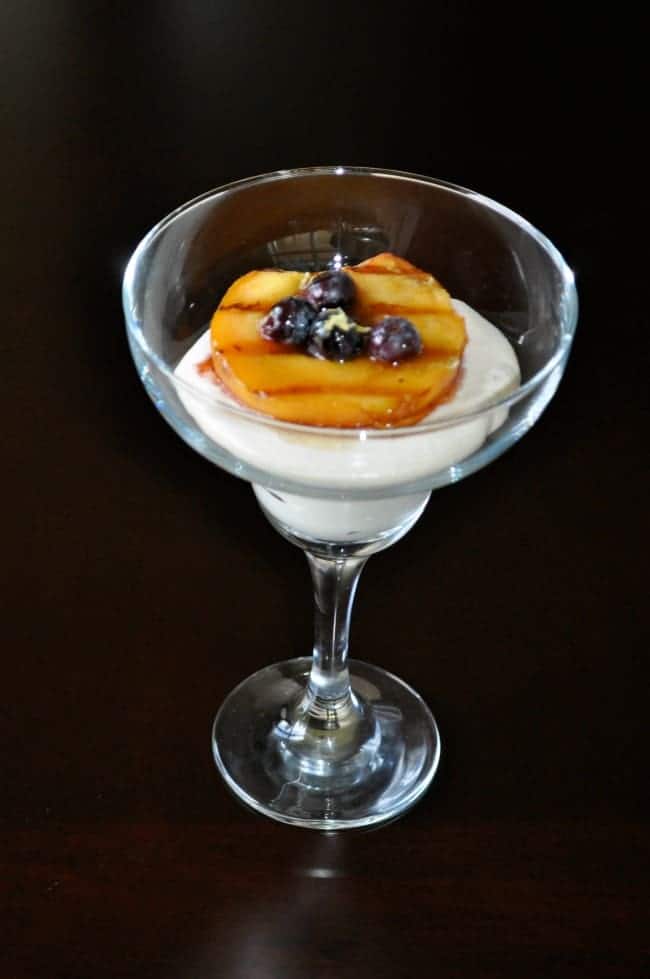 I think I'm finally winning the fruit fly battle.
It's been a tough one, but I have persisted. Yes, the apple cider vinegar trap has been strategically placed on my kitchen counter for a few weeks, but it hasn't come through for me this year. Its performance, compared to other years, was a disappointing 6 out of 10. They really like to loiter on my beautiful white cabinets, it seems, and haunt any morsel of fruit they can find in which to lay their eggs.
But today, I used up the last of the peaches that had been ripening in a brown paper bag, and I think I've decimated the fruit fly population. Fingers crossed.
Let's talk peaches. I had an impressive crop from my first year tree, but since they all ripened over a short period, we either ate them straight from the tree, froze them for winter morning smoothies, or made them into jam. But peaches are still available in the markets  and we never tire of their juicy natural sweetness.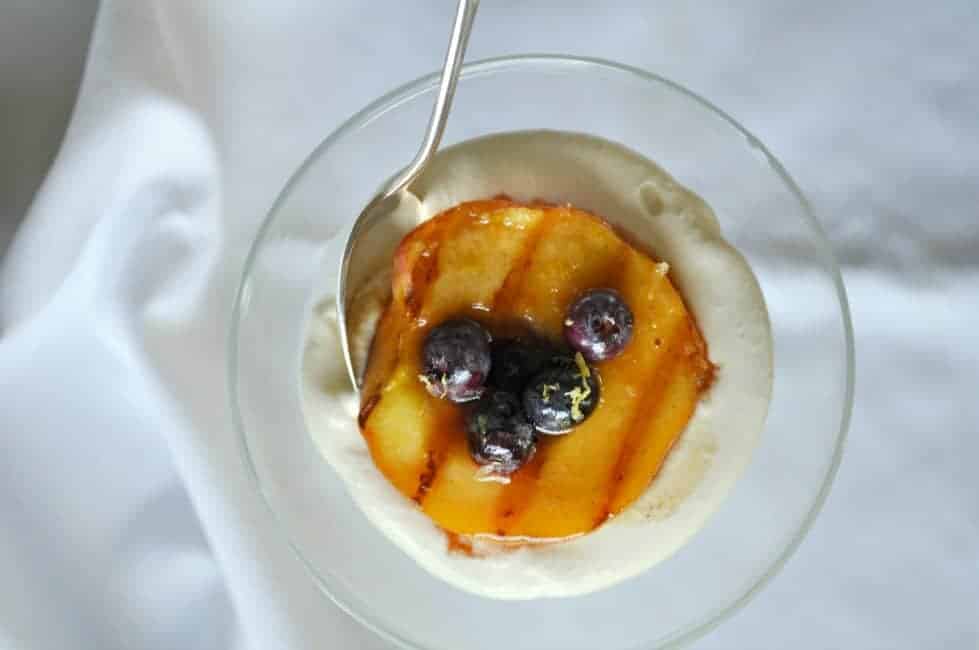 Some fruit just seems designed for grilling. Peaches come in their own little protective coating, and they have this handy little hollow spot, just itching to be filled with a sweet honey lemon drizzle. These grilled peaches with honey-lemon drizzle take almost no time to prepare. You can be as fancy-schmancy as you like:  serve it with or without the whipped coconut milk (or whipped cream, or ice cream or yogurt).
And if you love peaches as much as I do, try this Peach Ginger Iced Tea, Peach Sangria, Chipotle Peach Glazed Chicken, Caramelized Peaches and Figs and Mason Jar Peach Crisp.
Grilled Peaches with Honey-Lemon Drizzle
An easy and quick-to-prepare dessert. Heat some peach halves on a grill and drizzle with honey and lemon.
Print
Pin
Rate
Ingredients
2

ripe freestone peaches

1

tsp

olive oil

3

tbsp

honey

2

tbsp

fresh lemon juice

1

tsp

vanilla extract

1/2

tsp

.cinnamon

1/2

cup

blueberries

or other berries

lemon zest for garnish

2

cups

whipped coconut milk

see link to recipe below, or whipped cream, ice cream or yogurt
Instructions
Preheat your grill to a low to medium setting. Brush a little oil on the grill.

Carefully slice the peaches in half, making sure you cut them right through the center so both halves will have a hollow when the pit is removed. Twist to separate the halves. Remove the pit with the end of a spoon.

Brush the cut sides with a little olive oil to prevent sticking. Place cut side down on the grill.

Meanwhile, gently heat the honey and lemon juice, just until you can combine them easily. Stir in the vanilla and the cinnamon.

Remove the peaches from the grill when they are warm but have retained their shape and have nice grill marks on the cut side, about 4 - 6 minutes, depending on the temperature of your grill and the ripeness of your peaches.

Spoon 1/2 cup of whipped coconut milk into each of 4 serving dishes and add a peach half. Top with a few blueberries and drizzle with the honey lemon mixture. Garnish with lemon zest and serve.
Tried this recipe?
Share a photo on INSTAGRAM and tag it #flavourandsavour! I love seeing what you've made.
To make whipped coconut milk, simply chill a can of full-fat coconut milk in the refrigerator overnight. Chill a mixing bowl. Scoop out the hardened contents of the can, leaving the liquid for another use, like your morning smoothie. Using an electric mixer, whip it on high speed with a little maple syrup until stiff. Refrigerate.
Love peaches and blueberries? Try my Easy Peach Sangria.
Don't miss out on my free recipe updates, Subscribe here in the sidebar and
Like my Facebook page. Follow me on Pinterest, Twitter and Instagram. Thanks for stopping by!