Create the festive atmosphere of an outdoor paella party and have just as much fun hosting an authentic paella party at home. Here are five helpful tips and step-by-step instructions for how to make delicious Spanish paella!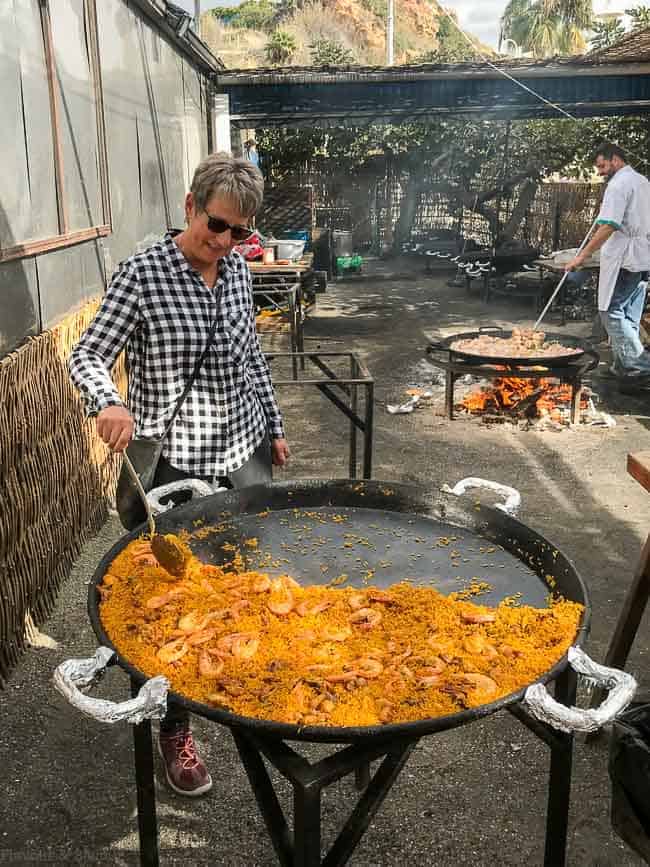 Consider hosting a paella party in your kitchen!
Have you ever been to a paella party? Have you ever considered having your friends over for one? Hosting a paella party conjures up images of huge paella pans loaded with rice, chicken and seafood simmering over a fire.
But did you know you can make this classic Spanish specialty in your own kitchen in a skillet?
While a traditional paella pan is nice to have, it's certainly not necessary. You can create the same festive atmosphere and have just as much fun with your guests by following these simple tips.
Read on for step-by-step instructions for how to make authentic paella!
Jump to:
Paella in Spain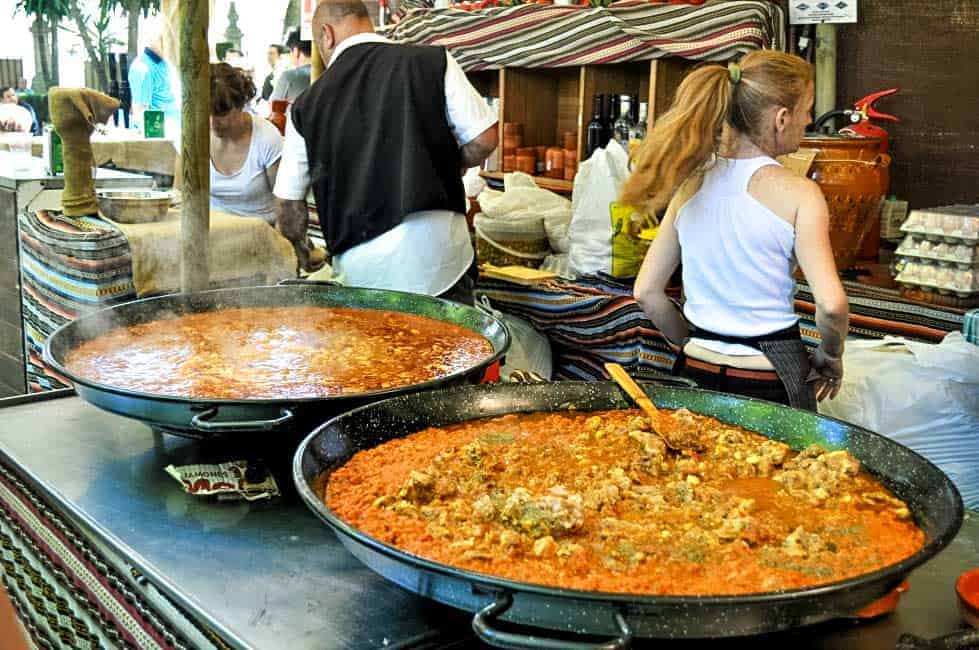 A few years ago, we were packing for a trip to Spain and Portugal, dreaming of pitchers of Sangria, tapa bars, seafood, sunshine and yes, paella! Like a true foodie, I had researched restaurants and fun places to eat. One of these was in Nerja, on the Costa del Sol.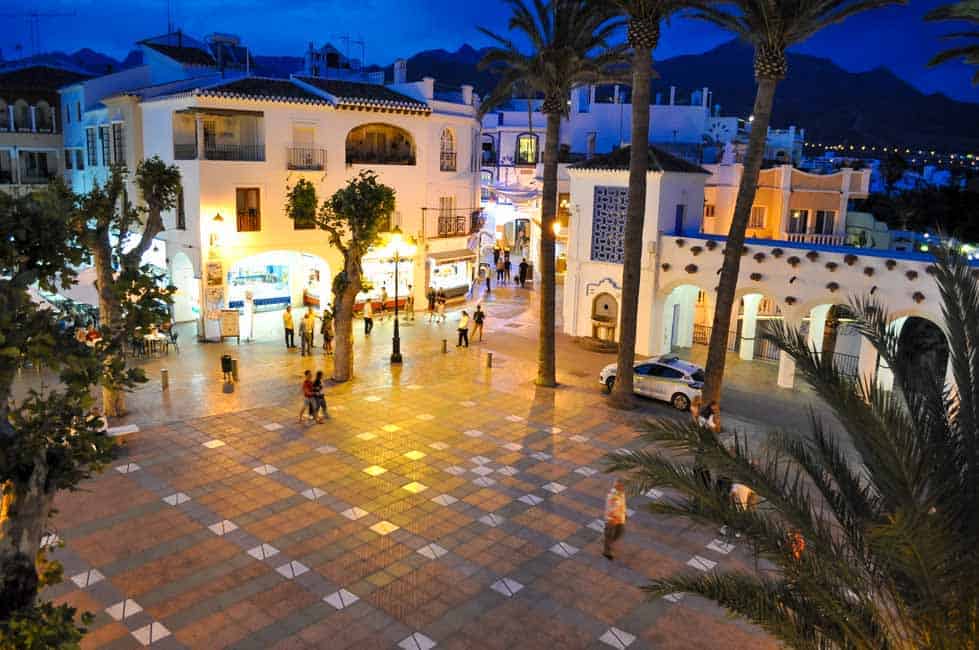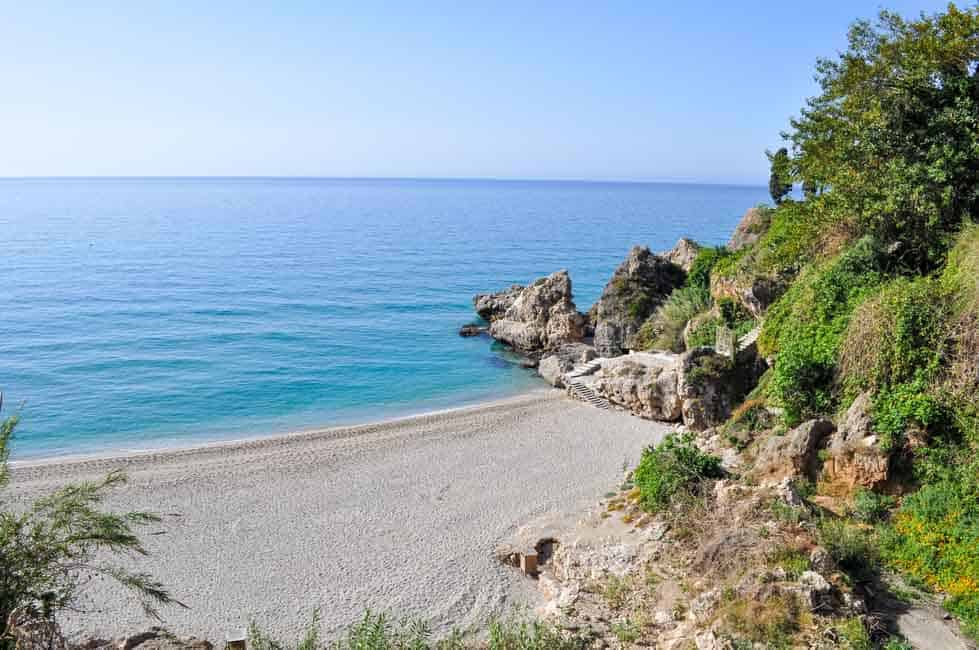 Paella on the Beach
Ayo's Place is a beach bar on Burriana Beach, a 20-minute walk from the centre of Nerja and the Balcony of Europe. Just as the guidebooks told us, at 12:00 sharp, a pony-tailed man tossed some pallets in a heap and started a fire near the beach bar. He filled a huge paella pan with chicken, tomatoes, peppers, gallons of broth, saffron, and rice, and stirred it all with a shovel.
Yes, you read that right!
It was fun to watch this man in action. He tossed extra pallets on the fire when needed, and finished off the paella by adding fresh prawns, clams, octopus and other seafood. With no announcement necessary, sunbathers (including Denis and I) left our beach loungers and lined up for this all-you-can-eat feast.
With a pitcher of Sangria, a plate piled high with paella, warm sunshine and my best friend to share it all with, I was in heaven.
How to make paella at home
But you don't need a trip to Spain to enjoy a feast like this. A stove, a skillet and some friends are the only essential ingredients for hosting a paella party. I've simplified the classic recipe and broken it down into five steps.
While it sounds like it might be complicated, it really isn't. Get your friends out of the living room and into the kitchen to help out. Make a big pitcher of Sangria to set the mood and have fun cooking together.
Check your pantry for these paella ingredients
Paella requires a few ingredients that might not be in your pantry. Valencia or Bomba rice is necessary to make authentic paella. You can use Arborio if you can't find the first two.
You'll also need some saffron and Spanish smoked paprika if you don't have those in your spice cupboard already.
Check the ingredients listed below, choose the types of seafood that are available where you live, (or use chicken if you prefer) and get what you need to be sure you're completely organized before hosting a paella party.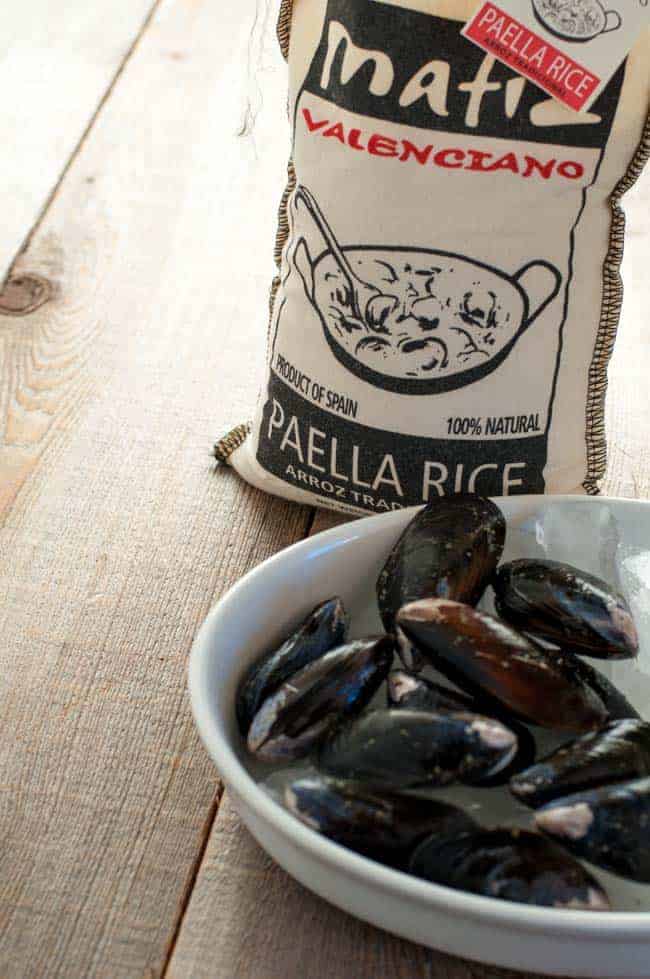 Step-by-step instructions to make paella
Here is an overview of what you'll do. Detailed instructions are in the recipe below.
1. Make the sofrito. That's the Spanish name for the base made of onion, garlic, bay leaf, salt, peppers and tomatoes. Cook it slowly until it has the consistency of jam. You can make this the day before and refrigerate it if you like.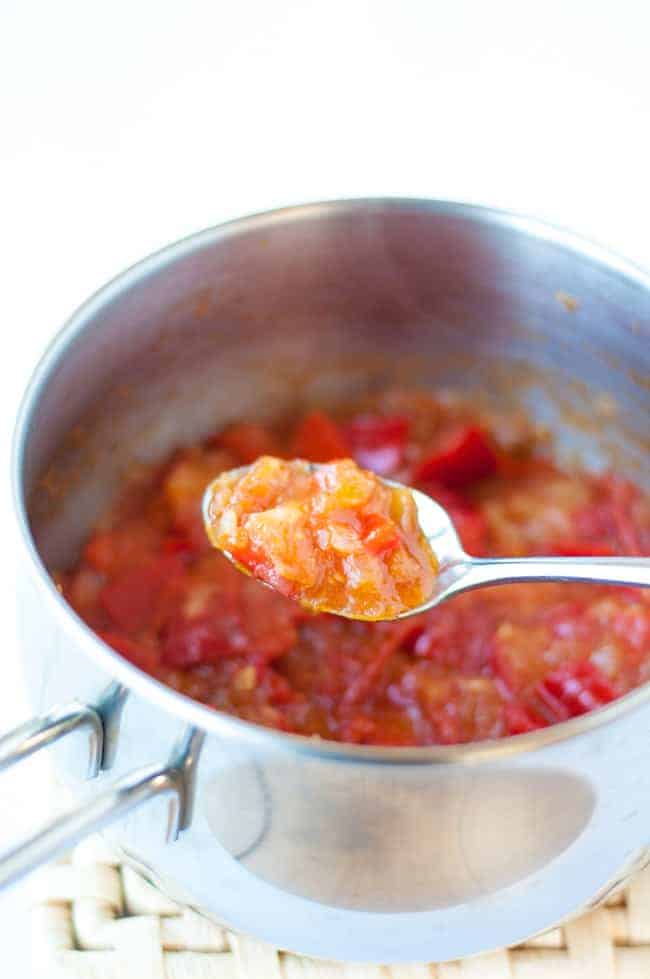 2. Cook the seafood. At this stage, you'll cook the fish, shrimp, lobster, or whatever you're using, but not the mussels. Once cooked, you'll remove these from the pan and set aside.
3. Add the sofrito (onion-tomato mixture) and the rice, paprika and saffron, stir it around a little, then add the stock. Once it has boiled, add the mussels so they cook in the liquid. As soon as they've opened, remove and set aside.
4. Simmer the rice until almost tender, then put all the seafood back in the skillet.
5. Develop the socarrat. Continue to cook until the socarrat, a crunchy rice crust, forms on the bottom of the pan. Resist the urge to stir and just let it form a crust. Garnish with fresh herbs and serve!
Tasks for your friends to do when hosting a paella party in your kitchen
1. Chop the onion, garlic, peppers and tomatoes.
2. Clean and de-beard the mussels. Watch this video for easy complete instructions.
3. Shell the prawns (if not done already.) I like to leave the tails on, not just for looks, but because they add lots of flavour to the dish. You can certainly leave the entire shells on. It makes eating a little messy, but if your guests are comfortable eating with their fingers, leave the tails on.
4. Chop some fresh herbs for garnish.
Have fun!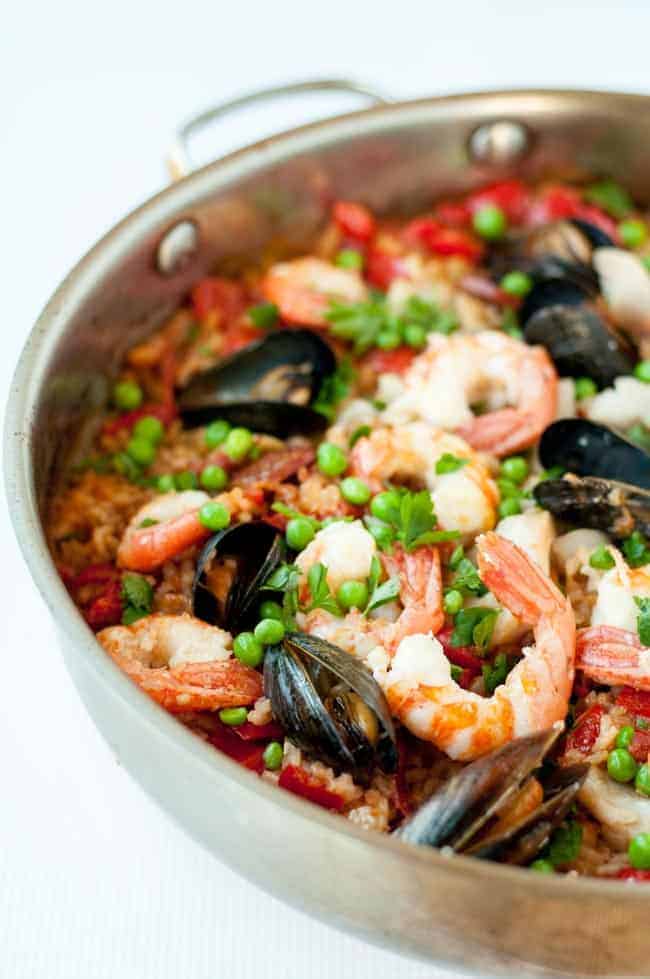 🍽 Serving Ideas
Start your paella night off with some traditional Spanish tapas! Try any of these mouth-watering tapas.
Don't forget a pitcher of refreshing Sangria!
More seafood recipes to try
🌟Did you make this recipe?
When you make this Spanish paella recipe, please leave a comment and a 🌟🌟🌟🌟🌟 rating below. Thanks in advance! Subscribe to my newsletter and have new recipes delivered straight to your inbox.
📖 Recipe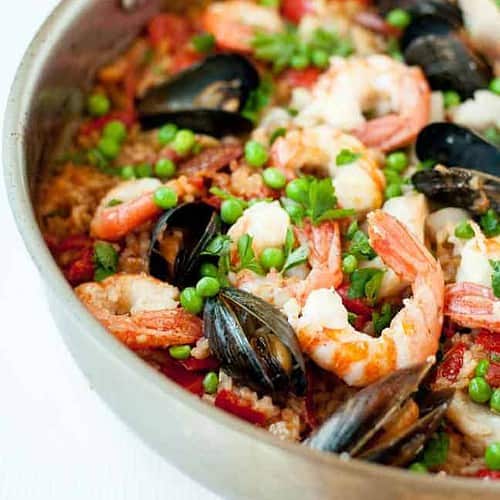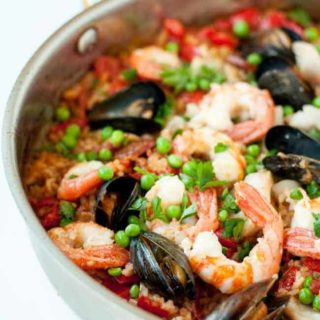 Hosting a Paella Party in Your Kitchen
Create the festive atmosphere of an outdoor paella party and have just as much fun hosting a paella party at home. Five tips to make perfect paella!
Print
Pin
Rate
Equipment
Ingredients
For the Sofrito
1 ½

tablespoon

olive oil,

extra virgin

½

onion,

finely diced

1

clove

garlic,

finely sliced

1

pinch

sea salt

1

bay leaf

1

red pepper,

finely diced

1

large

tomato,

chopped
For the Paella
12-15

prawns or large shrimp

1

small

fillet of cod or other white fish,

skinned and cut into 1 cubes

16 - 20

fresh mussels

sea salt and pepper

¼

cup

olive oil,

extra virgin

1

clove

garlic,

finely sliced

1

cup

Valencia or Bomba rice

1

teaspoon

Spanish hot smoked paprika

2

pinches

saffron,

crumbled

½

cup

white wine

3

cups

clam nectar or fish stock

½

cup

frozen peas

2

tablespoon

chopped fresh parsley
Instructions
Make the Sofrito first. (Can be made a few days ahead and refrigerated.)

To make the sofrito, heat oil in a large saucepan. Add onion, garlic, bay leaf and salt. Cook until onion is soft and translucent. Add red pepper and cook until soft, about 10 minutes, then add tomato and continue to cook, stirring occasionally until mixture is thick and has the consistency of jam, about 20 minutes or more. Remove from heat. (If you're making this the day before, refrigerate the sofrito in a covered container.)

Heat a large (15 inch) skillet or paella pan over medium-high heat. Add ¼ cup oil. When it ripples, add the fish. When it just begins to brown, add the prawns. Cook just until prawns are no longer translucent. Remove to a plate.

Add garlic to the skillet, then sofrito and bay leaves. Cook for 2 minutes. Add rice and stir. Add smoked paprika and saffron. Stir until rice sizzles. De-glaze the pan with the wine, then add the clam nectar or fish stock. Bring to a boil, then add mussels. Cook until they open, then remove to a plate. Discard any that do not open.

Reduce heat to low and simmer rice for 10 - 15 minutes until rice is almost tender. Add seafood back into the skillet, on top of the rice. Increase the heat to medium-high, and cook until a crust has formed on the bottom of the pan. Be patient and resist the urge to stir! Scatter with peas.

Turn off the heat and let sit in the pan for 5 minutes until the peas are heated through. Garnish with parsley and serve.
Notes
This recipe makes enough for 4. If you double the recipe, use two skillets or a large paella pan.
Nutrition
Calories:
707
kcal
|
Carbohydrates:
52
g
|
Protein:
61
g
|
Fat:
24
g
|
Saturated Fat:
4
g
|
Cholesterol:
163
mg
|
Sodium:
1072
mg
|
Potassium:
1641
mg
|
Fiber:
4
g
|
Sugar:
5
g
|
Vitamin A:
1825
IU
|
Vitamin C:
65
mg
|
Calcium:
154
mg
|
Iron:
7
mg