These crispy Smoked Salmon Zucchini Cakes with Lemon Dill Dip make a healthy savoury appetizer. They're baked, not fried!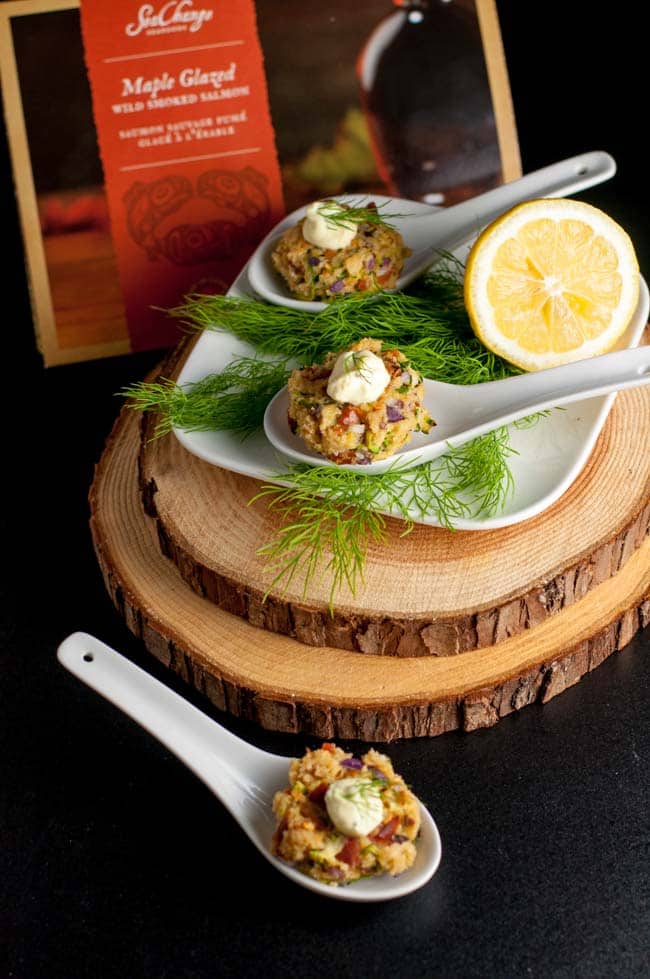 Summertime is seafood time here on Canada's West Coast! Local gardens got an early start this year and they're overflowing with fresh vegetables. When Seachange Seafoods from Saltspring Island sent me packages of their wild Maple Glazed Smoked Salmon to review, I decided there was no better way to sample a local seafood product than by combining it with garden-fresh vegetables. These Smoked Salmon Zucchini Cakes make a fabulous appetizer to welcome summer.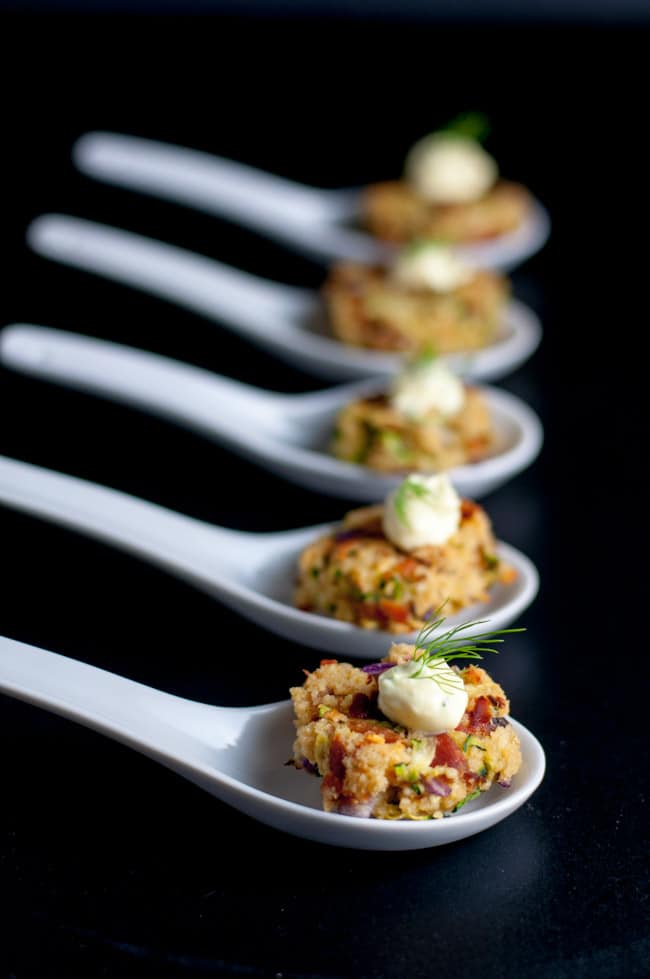 These zucchini cakes are crispy little bite-sized appetizers. They have a light smoky flavour with no "fishy" taste. Chili flakes add a little heat, and red onion contributes a crunch. With a dollop of Lemon Dill Dip on top, they'll be snapped up quickly!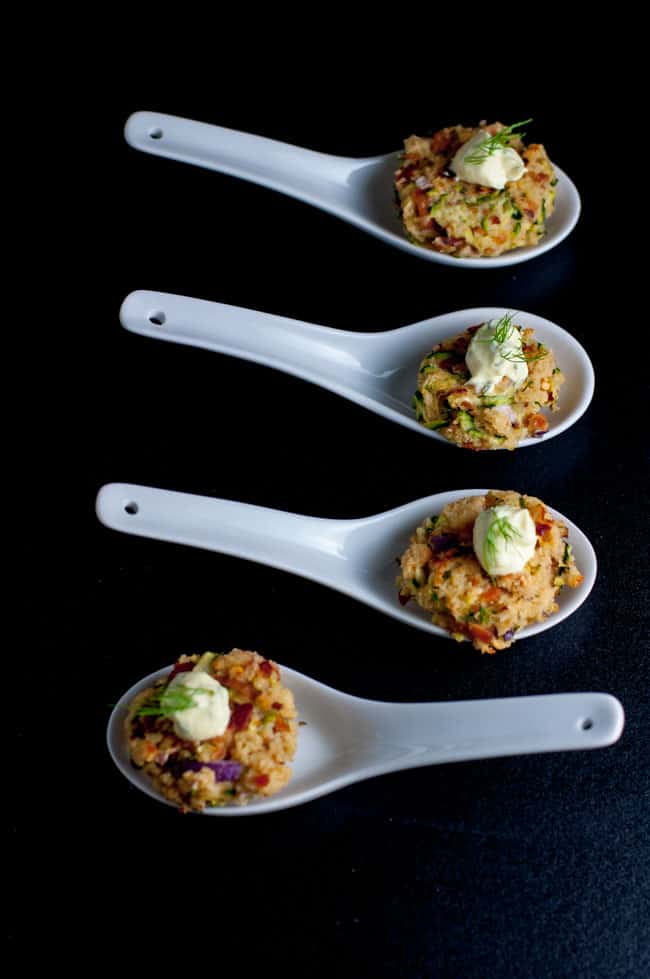 Denis and I have been smoked salmon fans ever since I can remember. Sometimes we're lucky enough to catch and smoke our own, but it's great to learn about local companies who are doing all the work for us! Seachange Seafoods produces a variety of smoked salmon products using wild Canadian salmon. Their products are attractively packaged with a long shelf life, ready to send as gifts all over the world to be enjoyed at any time of the year.
Smoked salmon is such a versatile product. I use it to add flavour and protein to salads, like this Asparagus Salad with Smoked Salmon and Sesame Miso Vinaigrette and to make interesting and flavourful appetizers like these Smoked Salmon and Goat Cheese Stuffed Mushrooms and these easy, 10-minute Smoked Salmon Cucumber Appies. I only need small amounts of smoked salmon to add a wealth of flavour to a recipe.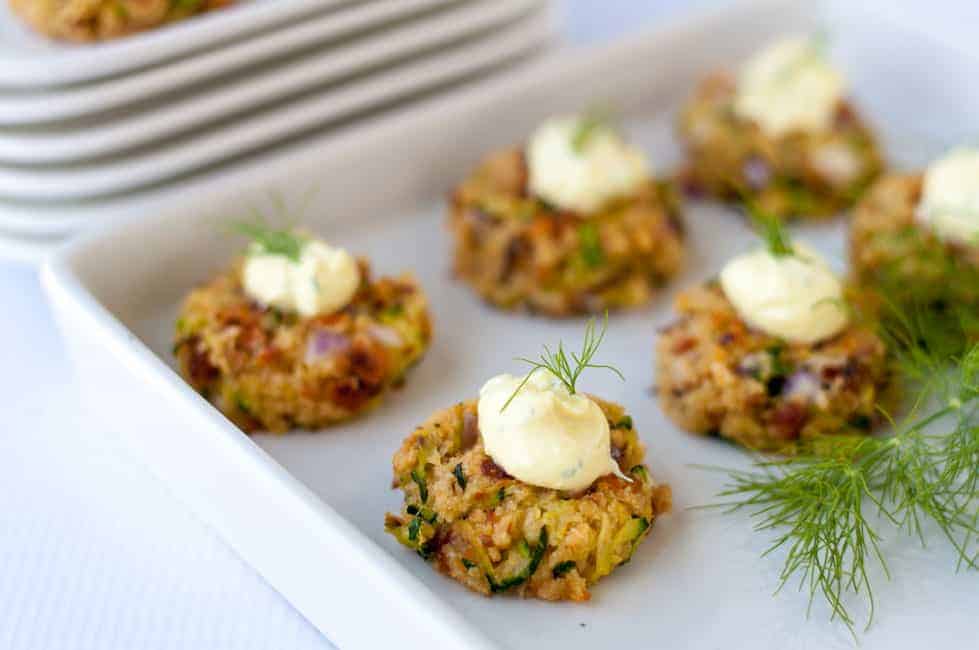 Traditionally, appetizer cakes or fritters like these are fried. I've found that I can get the same crispy texture by baking them in the oven and avoiding extra fat and calories from oil. Here are a few ways I've discovered to keep them crispy and to avoid soggy cakes.
How to make the crispiest baked smoked salmon zucchini cakes
Leave ample space between the appetizer cakes on the baking sheet. If they're too crowded, they tend to steam, not crisp.
Keep them dry. Thoroughly drain the moisture from the zucchini before combining it with the other ingredients. Excess moisture evaporates during cooking and creates steam, resulting in a soggy zucchini cake.
Use a high heat. Set the oven temperature to 400°F. to sear the cakes and crisp their surface.
Use crispy Panko crumbs (gluten-free, if necessary)  instead of bread crumbs.
I use a cookie scoop to create evenly sized cakes, arrange them on a parchment-paper lined baking sheet and press them down gently to flatten slightly before baking.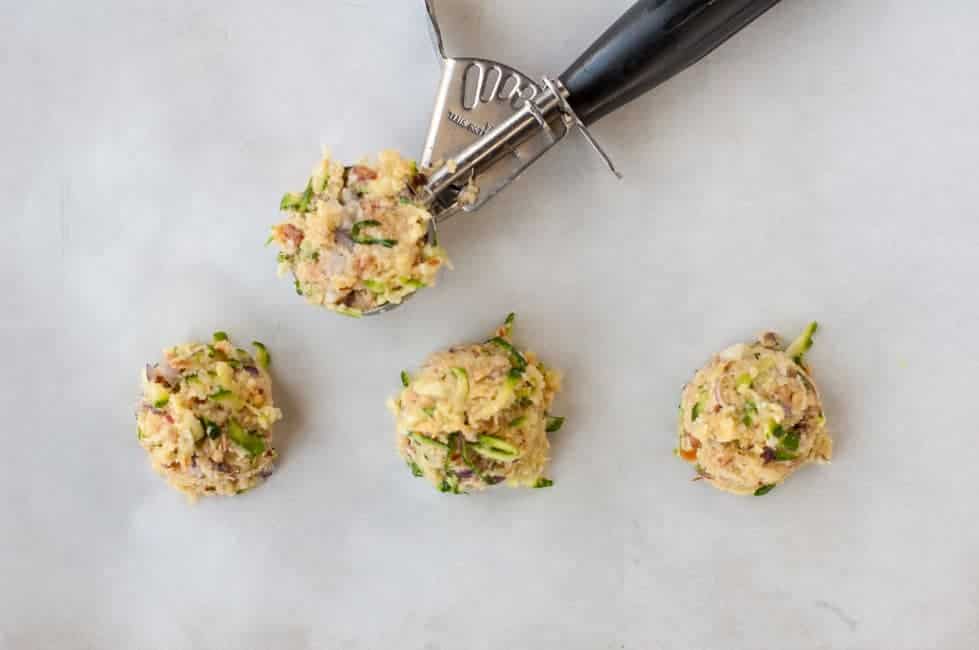 An added bonus? These Smoked Salmon Zucchini Cakes can be made ahead of time and quickly reheated just before serving. They're perfect for a dockside picnic or wherever you celebrate with friends and family. Enjoy!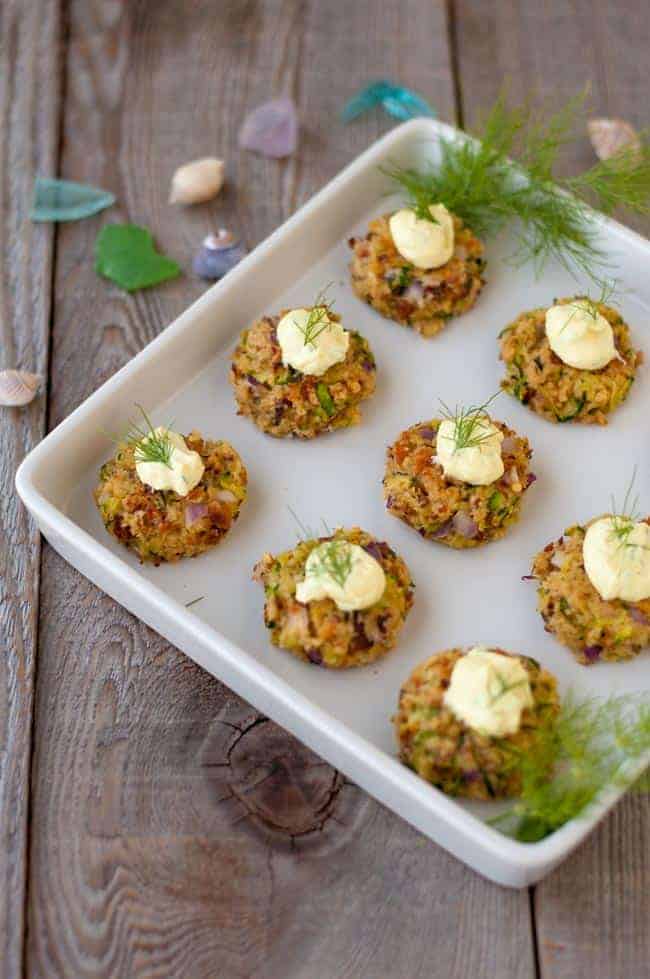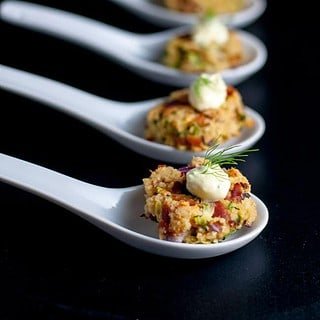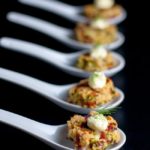 Zucchini Smoked Salmon Cakes with Lemon Dill Dip
These crispy Smoked Salmon Zucchini Cakes with Lemon Dill Dip make a healthy savoury appetizer. They're baked, not fried!
Print Recipe
Ingredients
2

cups

shredded zucchini

1/4

cup

red onion,

very finely chopped

1

cup

Panko crumbs

(Use Gluten-Free Panko if desired)

2

eggs

1

tbsp

Dijon mustard

1

tbsp

light mayonnaise

1/2

cup

finely grated Parmigiano Reggiano

1

tsp

dried chili flakes

1/2

tsp

smoked sea salt*

100

grams

smoked salmon,

chopped or crumbled
Lemon Dill Dip
3/4

cup

Greek yogurt

2

tbsp

prepared yellow mustard

2

tbsp

light mayonnaise

1

tbsp

fresh dill,

finely chopped

1

tbsp

lemon juice

1

clove

garlic,

minced

sea salt and pepper,

to taste
Instructions
Heat oven to 400°F. Line a baking sheet with parchment paper.

Shred the zucchini and place it in a colander. Sprinkle with 1/2 teaspoon sea salt, cover with a saucer or small plate weighed down with a can or another small bowl and let stand to draw off the water.

Meanwhile, in a large bowl, mix the remaining ingredients.

Press the water from the zucchini, squeezing with your hands, if necessary. After draining, it will measure about 1 cup. Add this to the mixture in the bowl, tossing to combine.

Using a cookie scoop or a tablespoon, form small patties, about 1.5 inches (4 cm) in diameter. Press the mixture together firmly to prevent crumbling after they're cooked..

Place on prepared baking sheet. Bake for 7 to 8 minutes, flip and bake 5- 6 minutes more or until lightly browned. Carefully remove to a wire cooling rack. Serve with Lemon Dill Dip.
Notes
I added smoked sea salt to my recipe as the maple-glazed smoked salmon has a delicate smoky flavour.
If you like fun finger foods, you might also like these Fresh Veggie Zucchini Roll-Ups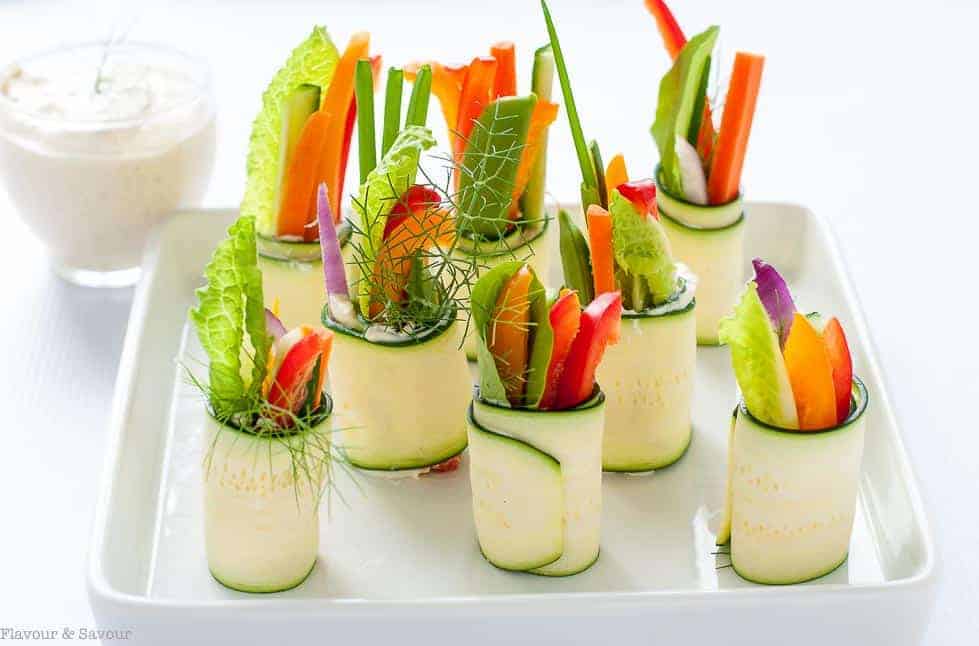 This post contains affiliate links. If you click on any of the affiliate links and make a purchase within a certain time frame, I'll receive a small commission. The commission is paid by the third party, not by you. I am a participant in the Amazon Services LLC Associates Program, an affiliate advertising program designed to provide a means for me to earn fees by linking to Amazon.com and affiliated sites.
Like this recipe? Please pin it or share it! Subscribe to my weekly newsletter and never miss a recipe.
Disclosure: I received sample product for review purposes. The opinions expressed are completely my own, based on my experience.