If you ever have trouble sleeping, try a mug of this Warm Cinnamon Turmeric Milk. This Golden Milk has amazing health benefits.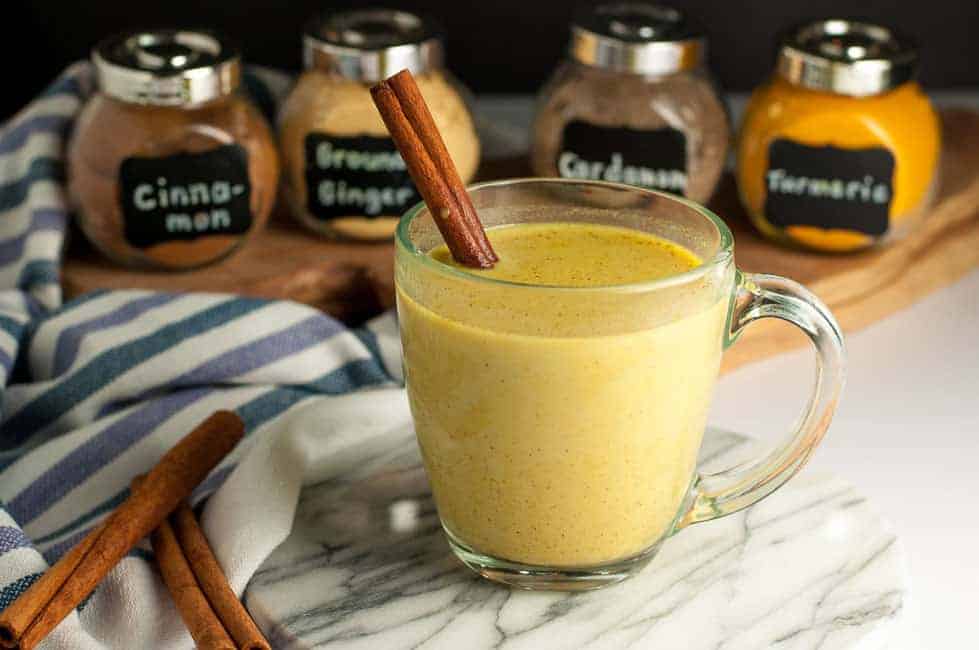 This Warm Turmeric Cinnamon Milk is smooth, sweet, and comforting. Sipping a warm mug of this "golden milk" is my favourite way to relax, not only because it is soothing, but because I know I am giving my body a healthy treat.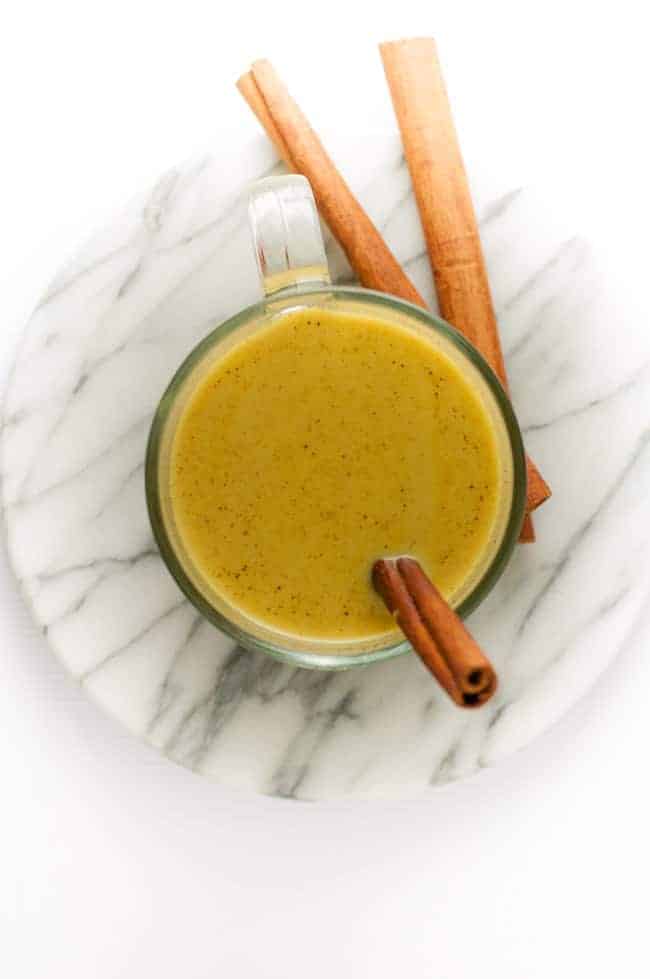 Turmeric. You may have heard claims that it is one of the "world's healthiest foods" and that it has amazing anti-inflammatory properties. Did you know that you've probably been eating it since you were a child? Curcumin, the pigment that gives turmeric its bright yellow color, is an ingredient of the mustard you likely smeared on your hot dogs and hamburgers in the past.
Turmeric has been used in Indian cooking and medicine for hundreds of years and is a key ingredient in most curries. More recent research shows that it also has antioxidant, anti-cancer, anti-aging, anti-Alzheimer's, liver detox (the list goes on . . .) benefits.
But here's another amazing benefit –it may help you sleep too! When I'm occasionally wandering the house at 3 a.m., I'll heat up a mug of this Warm Turmeric Cinnamon Milk, sometimes called "golden milk" and be back to sleep in no time.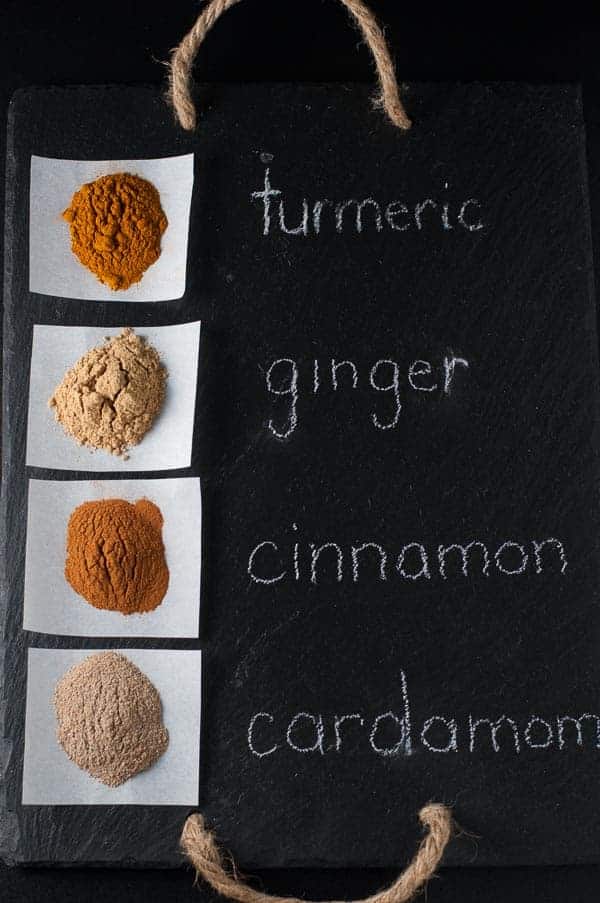 Who has time to open all those little jars and measure these ingredients? Not me. After the first time I made this, I decided that once was enough, so I made a big batch and stored it in a small Mason jar. Now I just add a teaspoon of the powdered spice mix to my warm milk and honey. If you have fresh ginger or fresh turmeric (and time) the flavour is definitely heightened, so go for it.
Remember to add the black pepper just before serving. Pepper works hand in hand with curcumin, increasing your body's ability to absorb it.
Make a commitment to include turmeric in your diet.
Your body will thank you.
And here's an idea for a gift for someone who might like this, too. Scoop equal amounts of the spices into a spice jar, add a cinnamon stick and a label with the recipe and give to an appreciative friend.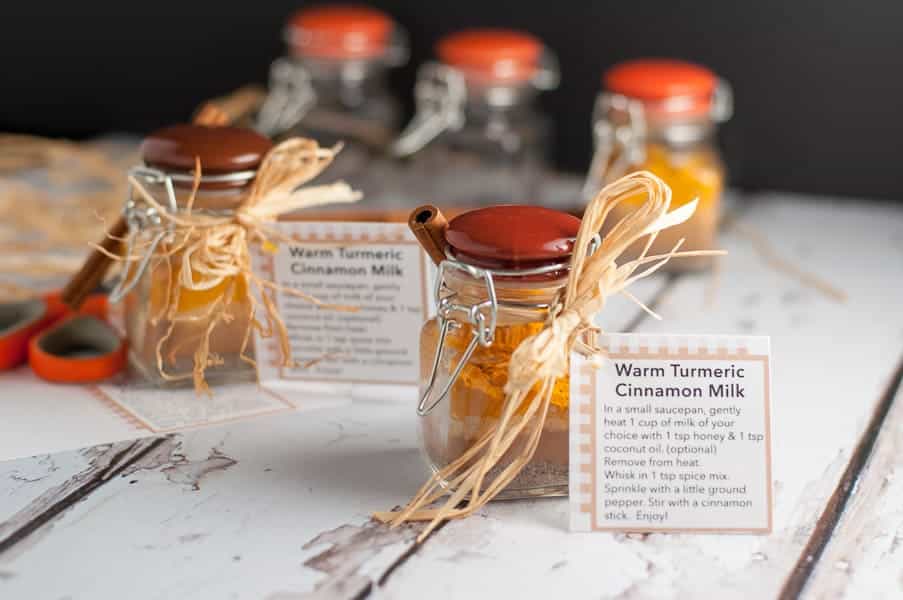 See those cute little recipe tags in the photo above? Here's my gift to you! Download and print on card stock to make gift tags.
Click here for your printable Warm Turmeric Cinnamon Milk Spice Mix gift tags.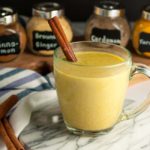 Warm Turmeric Cinnamon Milk
This nutritious warm turmeric cinnamon milk flavoured with ginger, cinnamon and cardamom has amazing health benefits. It may also help you sleep.
Calories per serving
:
92
kcal
Ingredients
1

cup

milk,

unsweetened almond, coconut, or dairy

1

tsp

honey

1

tsp

coconut oil,

optional

1/4

tsp

each of ground turmeric,

ginger, cinnamon and cardamom

freshly ground black pepper
Instructions
In a small saucepan, gently heat the milk of your choice with the honey and optional coconut oil.

Bring to the point where it is almost boiling, then remove from heat.

Whisk in the spices until well blended. Strain through a fine mesh strainer, if desired.

Add some freshly ground pepper, stir with a cinnamon stick and serve.
Recipe Notes
To make a big batch, use 1/4 cup each of ground turmeric, ginger, cinnamon and cardamom. Store in a glass jar. Makes 1 cup of mix. Add 1 teaspoon of this mix to 1 cup of milk and follow the rest of the recipe to make an individual drink.
I found the jars in the photo on a clearance rack at Michael's, but haven't been able to find identical ones since then. Here are some choices of similar storage jars that you might like to order if you're making this Warm Turmeric Cinnamon Milk spice mix for gifts.
If you're looking for more ways to add turmeric into your diet, check this collection:
7 Delicious Ways to Add Turmeric to your Diet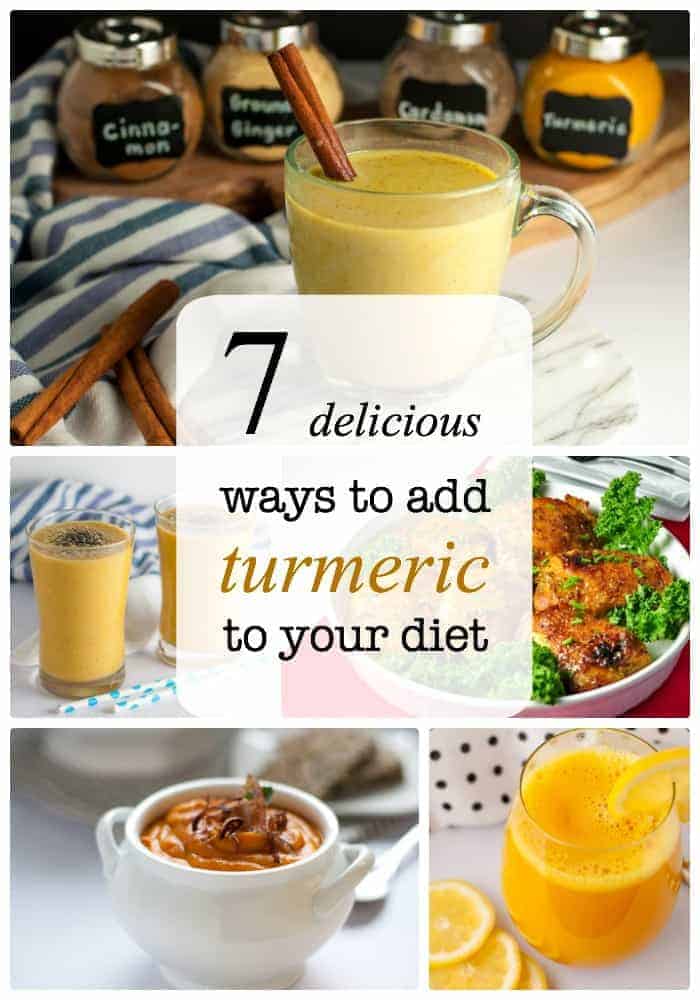 This post contains affiliate links. If you click on any of the affiliate links and make a purchase within a certain time frame, I'll receive a small commission. The commission is paid by the third party, not by you. Flavour & Savour is a participant in the Amazon Services LLC Associates Program, an affiliate advertising program designed to provide a means for sites to earn advertising fees by advertising and linking to amazon.com. Funds earned simply help me to offset the costs of operating this blog and sharing recipes with you, my readers.
Like this recipe? Pin it to save it! Subscribe to my weekly newsletter and never miss a recipe.