Mini Desserts in Jars are ideal for those occasions when you only need a small taste! Pop a lid on the jar and they make perfect desserts for picnics and camp-outs, too.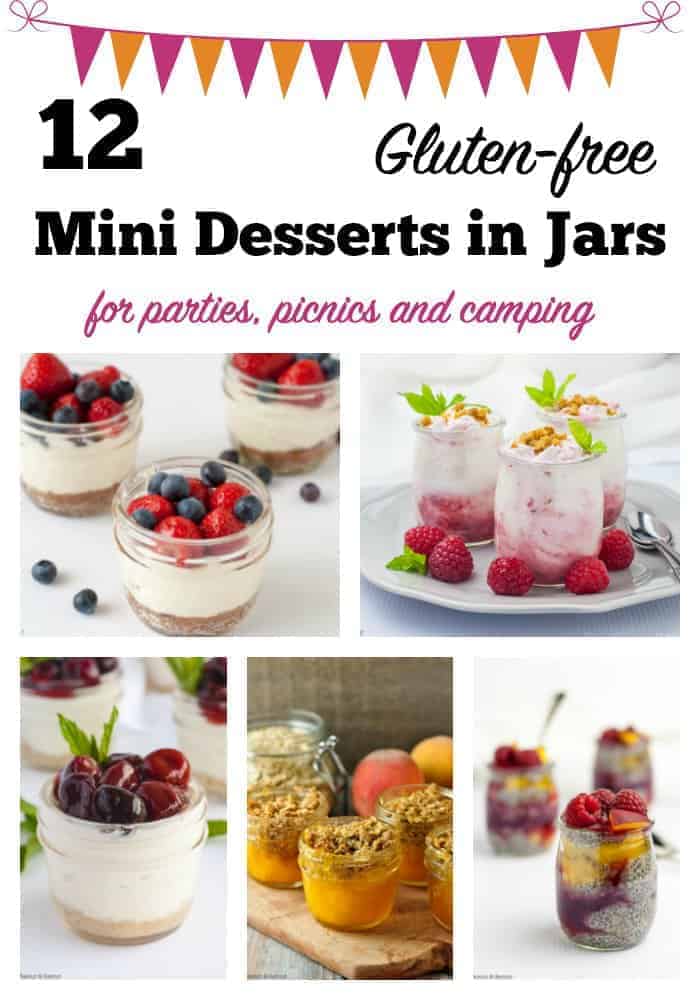 Mini desserts are fun to eat. Who can resist a cute little dessert in a Mason jar or tiny dessert glass? These small desserts are great for baby showers, weddings, or other special occasions. Being portable means that you can take them to potlucks, picnics or even on a camping trip without worrying about spilling.
I've rounded up 12 gluten-free mini desserts in jars for you. Many can be made well in advance and frozen, others are no-bake, and all are gluten-free!
The only trouble you'll have is trying to choose!
12 Gluten-Free Mini Desserts in Jars
Mini No-Bake Cherry Almond Cheesecake
A good choice for a dessert buffet or for picnics! A make-ahead gluten-free cherry dessert with sugar-free options.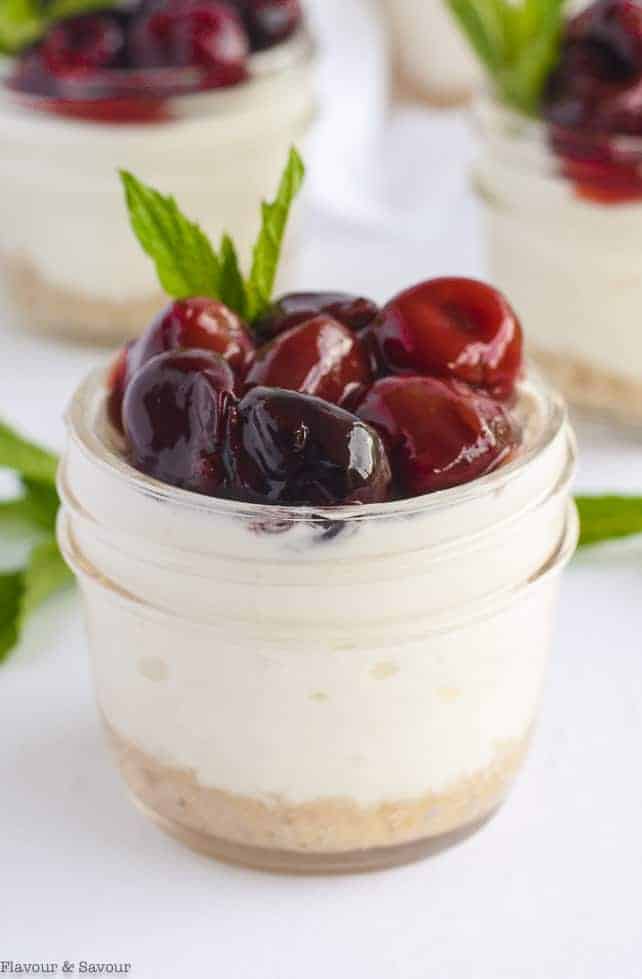 Mason Jar No-Bake Cheesecake with Berries
Quick and easy and gluten-free! Perfect for the Fourth of July or Canada Day.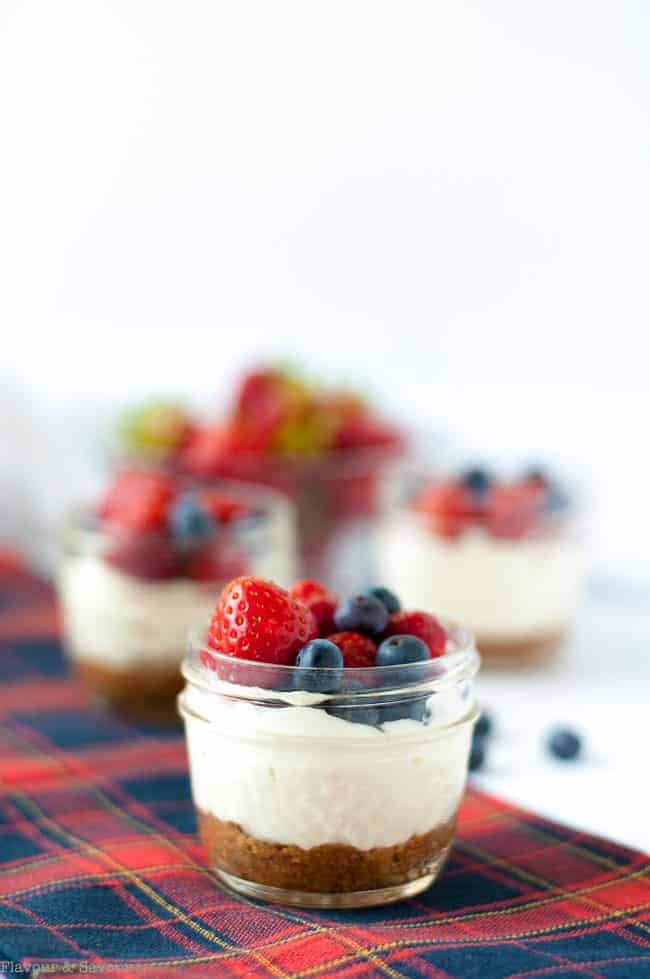 Pineapple Rhubarb Crisp with Ginger
A hint of fresh ginger puts this gluten-free Pineapple Rhubarb Crisp over the top! Using naturally sweet pineapple allows you to make this dessert with a minimum amount of sweetener.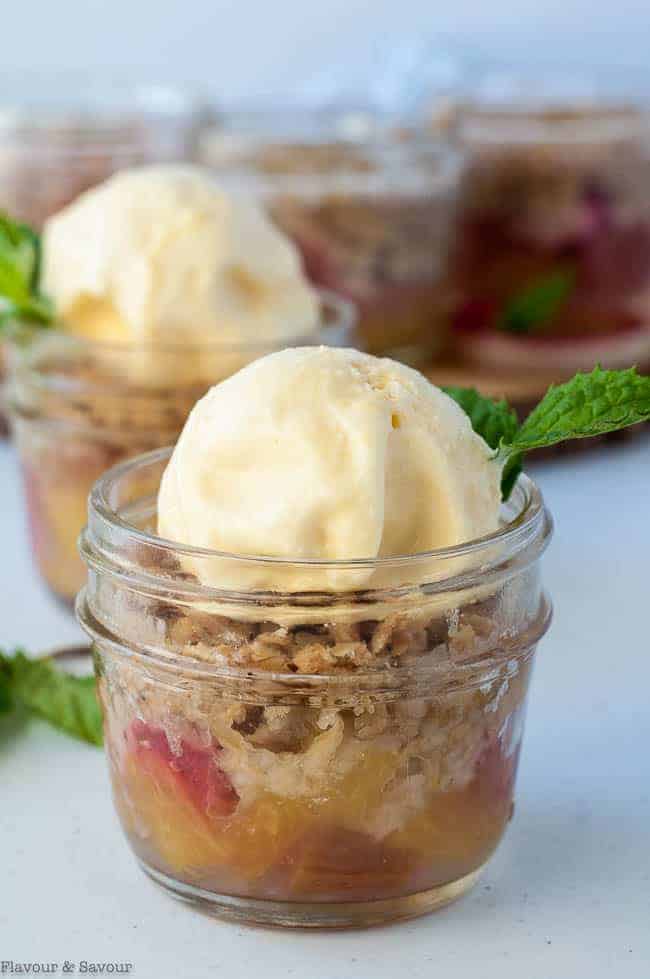 Light Cherry Coconut Yogurt Fool
A lightened up version of a traditional "fool" dessert. This Cherry Yogurt Coconut Fool mini dessert is made with fresh or frozen cherries and Greek yogurt.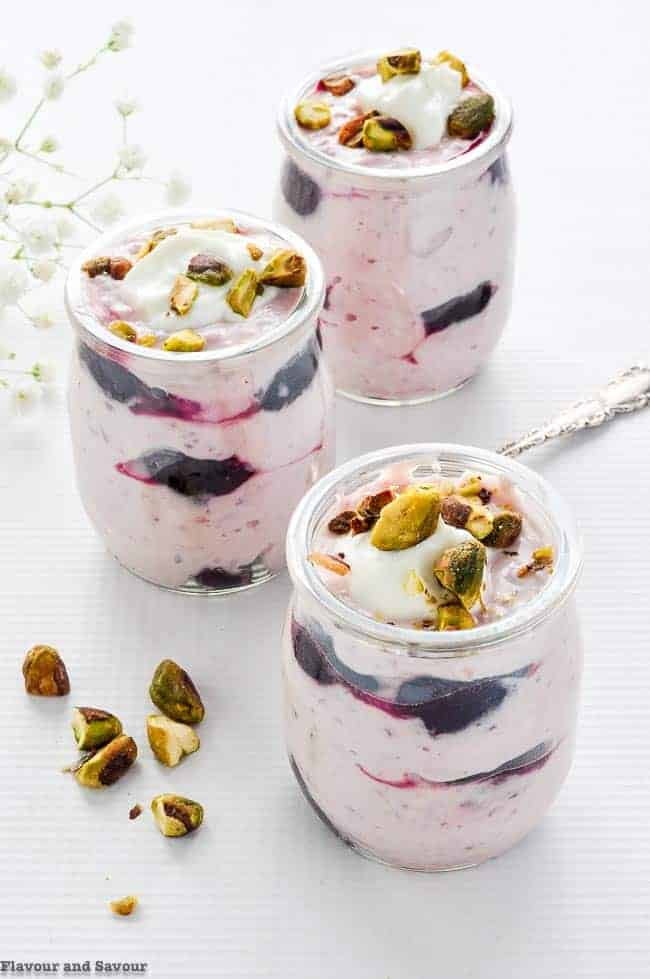 Mini No-Bake Cranberry Orange Cheesecake
Serve these Gluten-free Mini No-Bake Cranberry-Orange Cheesecake desserts in tiny glasses when you only want "a taste!"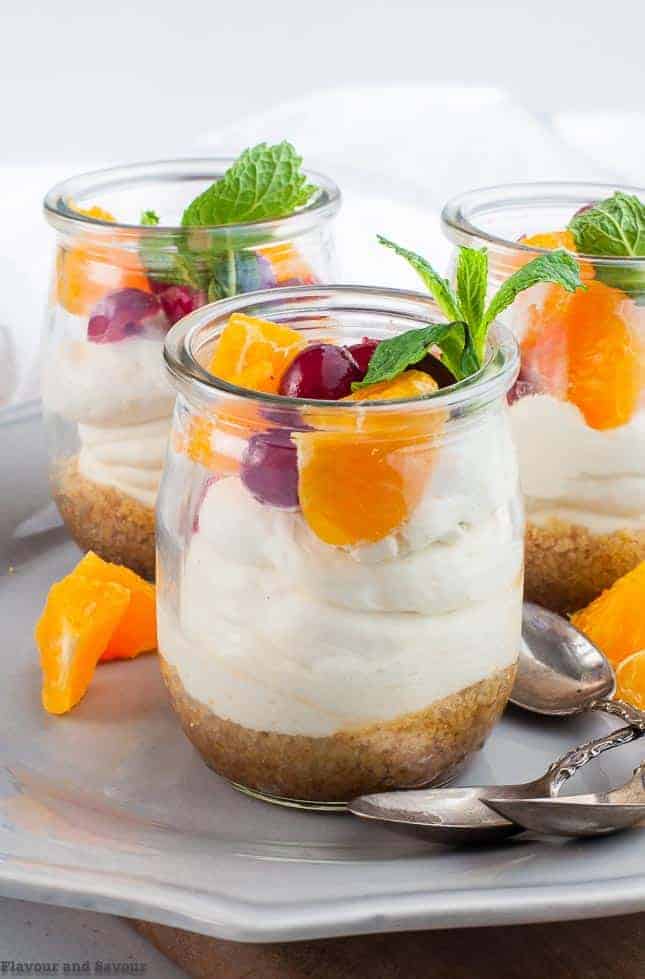 10-Minute Creamy Lemon Ricotta Cherry Parfait
This Creamy Lemon Ricotta Cherry Parfait is a 10-minute dessert. It's sweetened with honey, flavoured with lemon and almond and layered with fresh cherries. Gluten-free and refined sugar-free.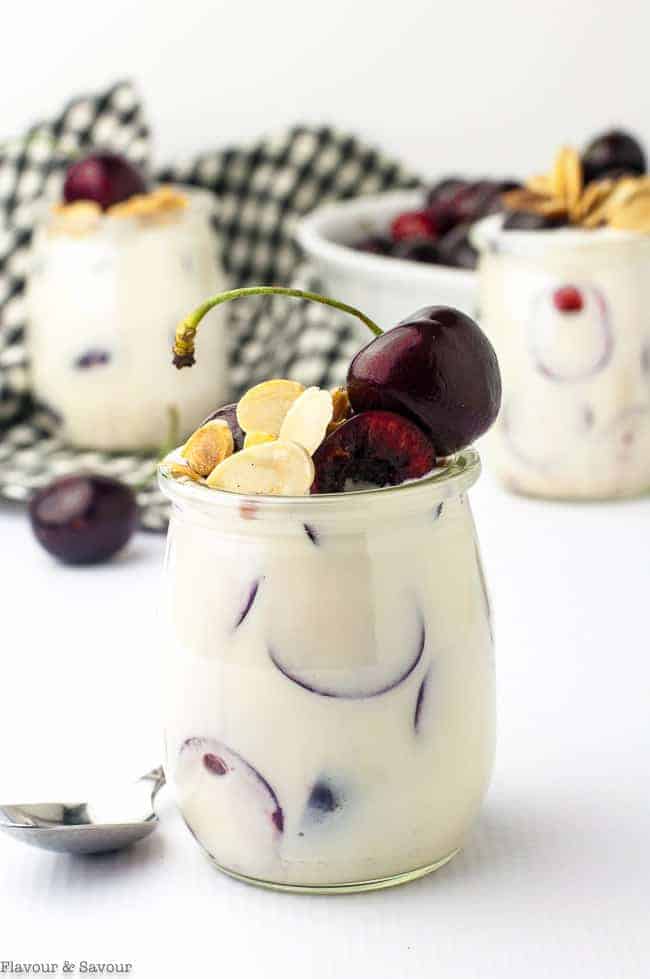 Mason Jar Boozy Tropical Fruit Salad
Prepare ahead for your next picnic or camping trip by making this Mason Jar Boozy Tropical Fruit Salad before you go. Fresh fruit marinated in Limoncello will be ready to enjoy by the time you've set up camp!
Here's a healthy picnic treat that doesn't require graham wafers, marshmallows, chocolate or a fire! Bake these before you go, add a lid, and dessert will be ready! Also great for your brown bag lunch.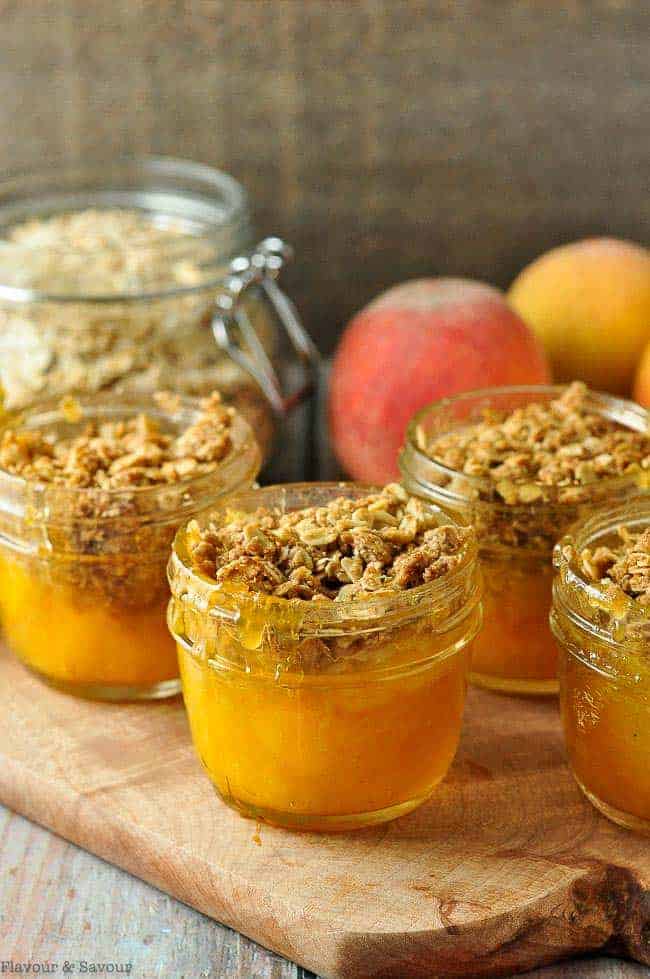 Mini Raspberry Peach Chia Seed Pudding
A simple recipe for Raspberry Peach Chia Seed Pudding with suggestions for flavour variations. A healthy dessert, afternoon snack, or even breakfast! Paleo and vegan.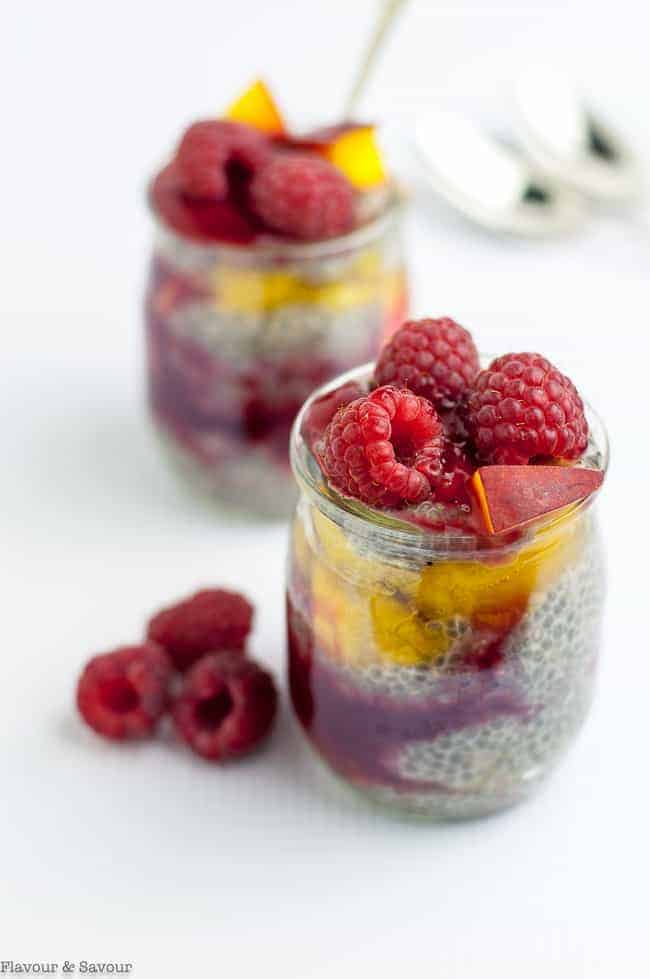 Silky smooth and creamy dairy-free chocolate mousse, made with naturally sweet ingredients. It's paleo and vegan too!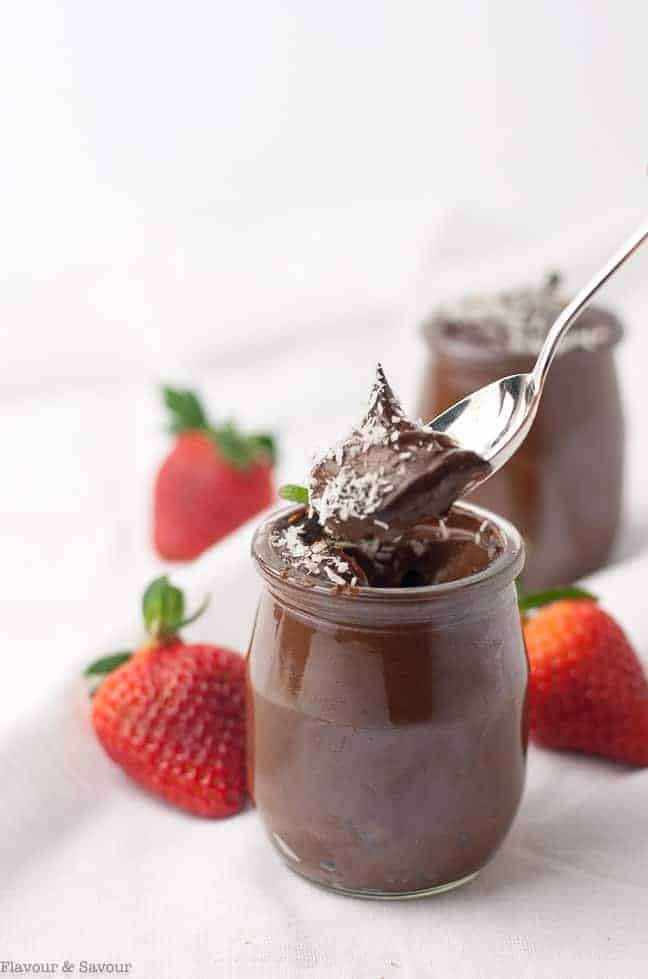 Here's a crowd-pleaser! This Raspberry Rhubarb Fool is an easy dessert to make for a large group. Not too sweet, but not too tart, it's a glass of ruby-red fruit layered or folded into whipped cream.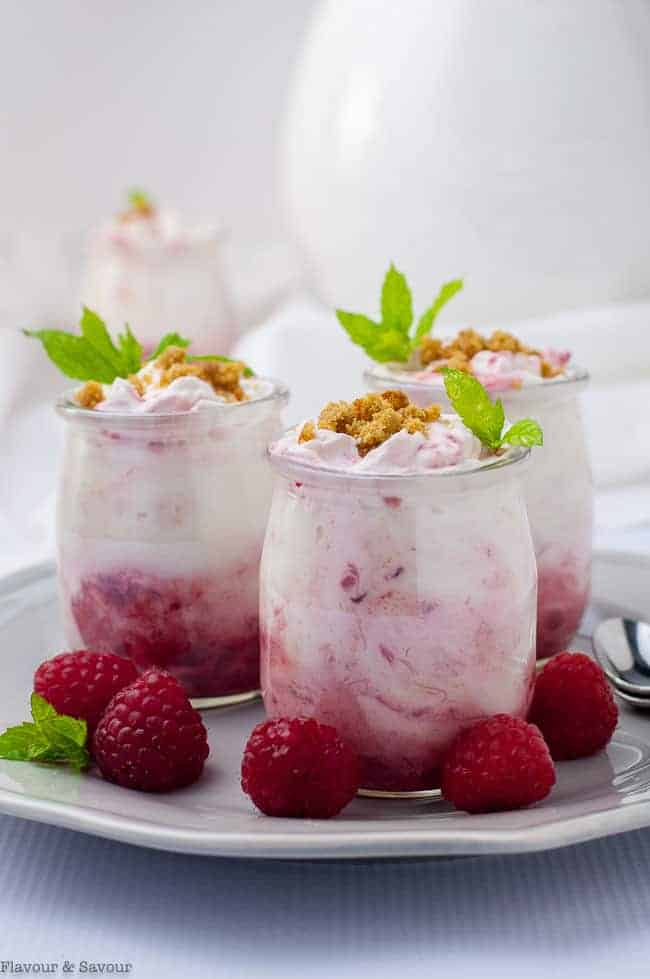 Rhubarb Raspberry Crisp with Crunchy Pecan Crumble
Here's a delicious paleo dessert made with warm, sweet fruit and a crunchy topping.
SAVE THIS TO ONE OF YOUR PINTEREST BOARDS
and
connect with me on Pinterest
! I'm always finding new tasty recipes to pin. Subscribe to my weekly newsletter and never miss a recipe!
This post may contain affiliate links. If you click on any of the affiliate links and make a purchase within a certain time frame, I'll receive a small commission. The commission is paid by the third party, not by you. I am a participant in the Amazon Services LLC Associates Program. It's an affiliate advertising program designed to provide a means for me to earn fees by linking to Amazon.com and affiliated sites.