Avoid common mistakes by following these 5 tips for making perfect crostini appetizers your guests will love!

Finger foods are fun foods. Crostini appetizers are a perfect solution for entertaining, particularly when you are not sure of your guests likes and dislikes. You can easily provide a variety of appetizers from which your friends can choose.
Making crostini is easy, but there are some pitfalls to avoid.
Here are 5 tips for making crostini to guarantee success.
5 Tips for Making Crostini
Use a quality bakery bread. Avoid heavy dense breads that might be difficult to chew. Crostini appetizers are best on bread with a light texture. Slice it about 1/2 inch thick. If it's too thin, it won't support the topping. If it's too thick, the appetizer becomes all about the bread and not the fabulous topping. Choose a gluten-free baguette for your gluten intolerant friends.
Toast them for just the right amount of time. Spread the thin slices of baguette out on a baking sheet and brush them (don't just drizzle) with a little extra-virgin olive oil on both sides, then sprinkle with salt and pepper. Bake at 375°F for 7 – 8 minutes, turning over halfway through until golden brown. The crostini should be slightly crispy on top but the inside should be tender. If the oven temperature is too low, the bread slices will bake and become hard. Too hard to bite politely!
Season! Rub with a cut garlic clove or a cut lemon or orange. This step may seem insignificant but it increases the depth of flavour in the finished appetizer.
Avoid overloading the toppings so they don't fall off. Think carefully about how easy it will be too eat, particularly if your guests are not seated. A crostini needs a base of some sort, like cheese, a spread, or guacamole to hold the toppings.
Prevent soggy bread by adding the toppings just before serving. The crostini toasts can be made up to 3 days ahead of time and stored in an airtight container, but toppings that may turn soggy, like tomatoes or fruit, should be added as close to serving time as possible.
Try these crostini topping ideas, or create your own. Click on the photos below to take you to the recipes.
10 Ideas for Delicious Crostini Appetizers
Cranberry Whipped Ricotta Crostini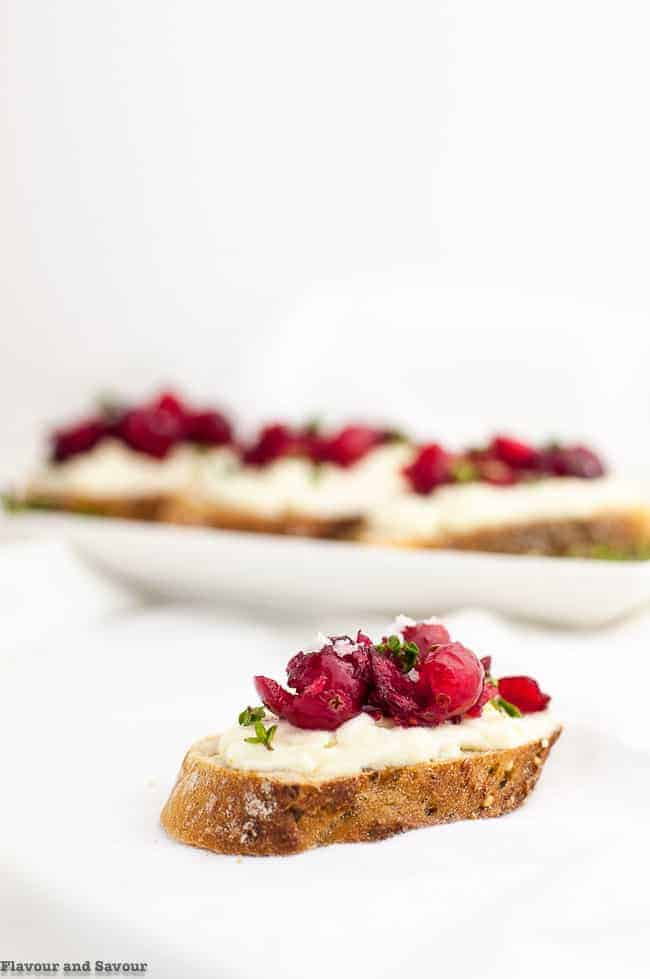 Honey Roasted Fig and Burrata Crostini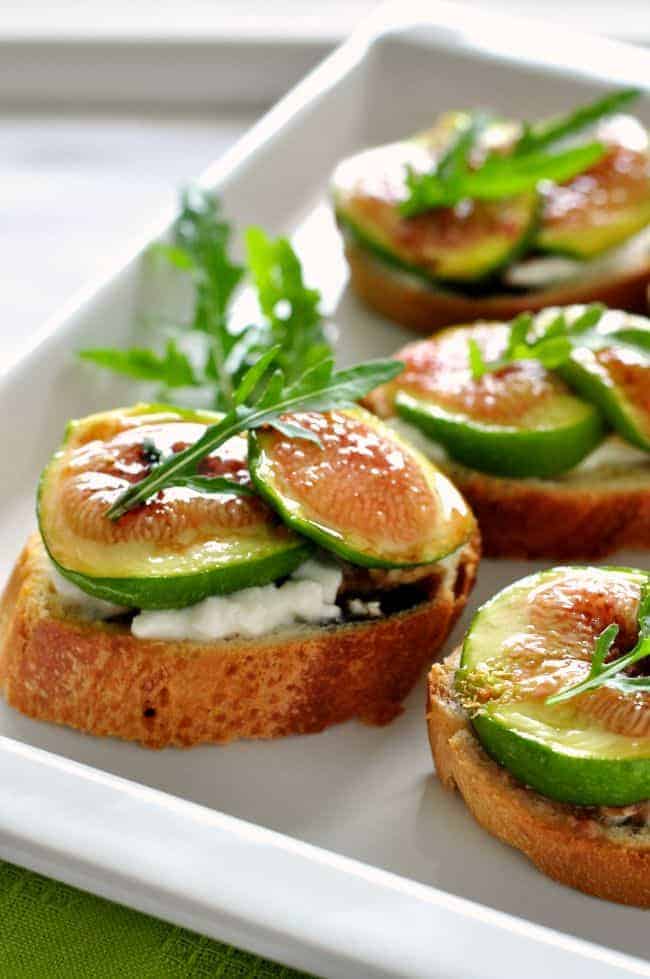 Smoked Salmon Crostini with Whipped Goat Cheese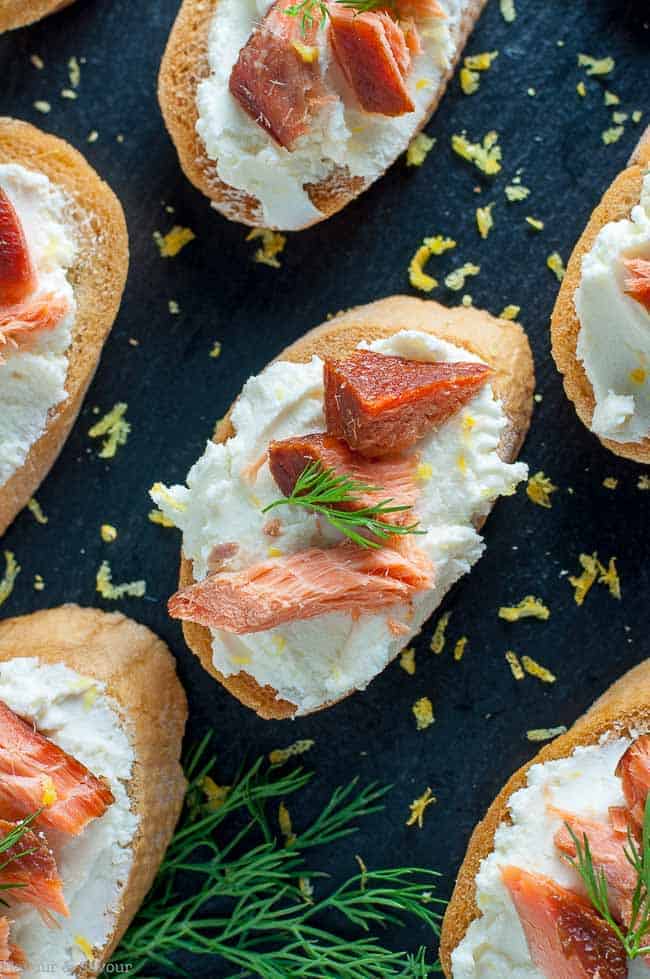 Blue Cheese and Crisp Honeyed Pear Crostini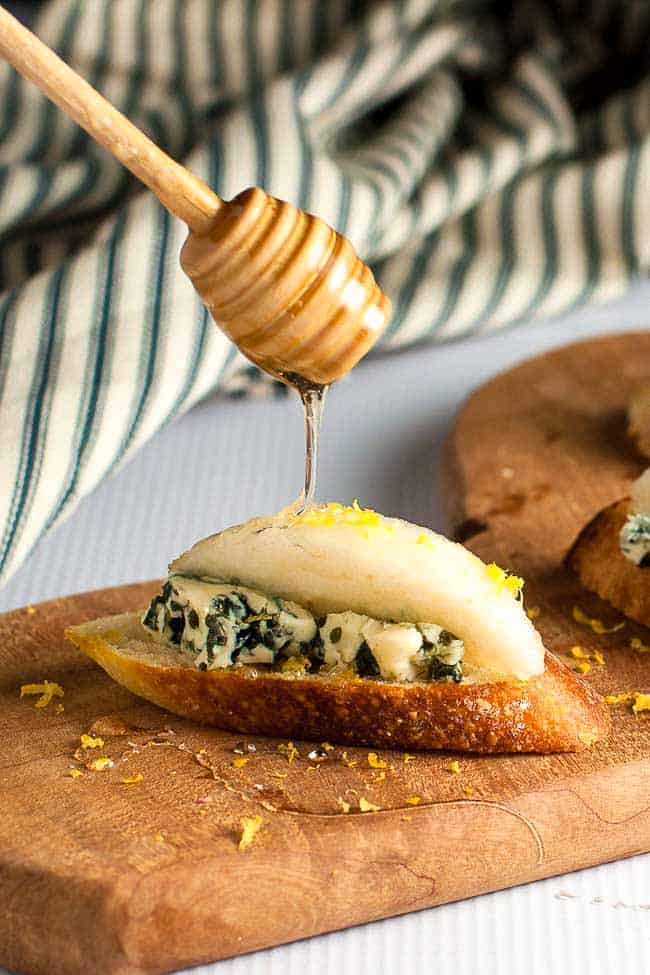 Strawberry Whipped Feta Crostini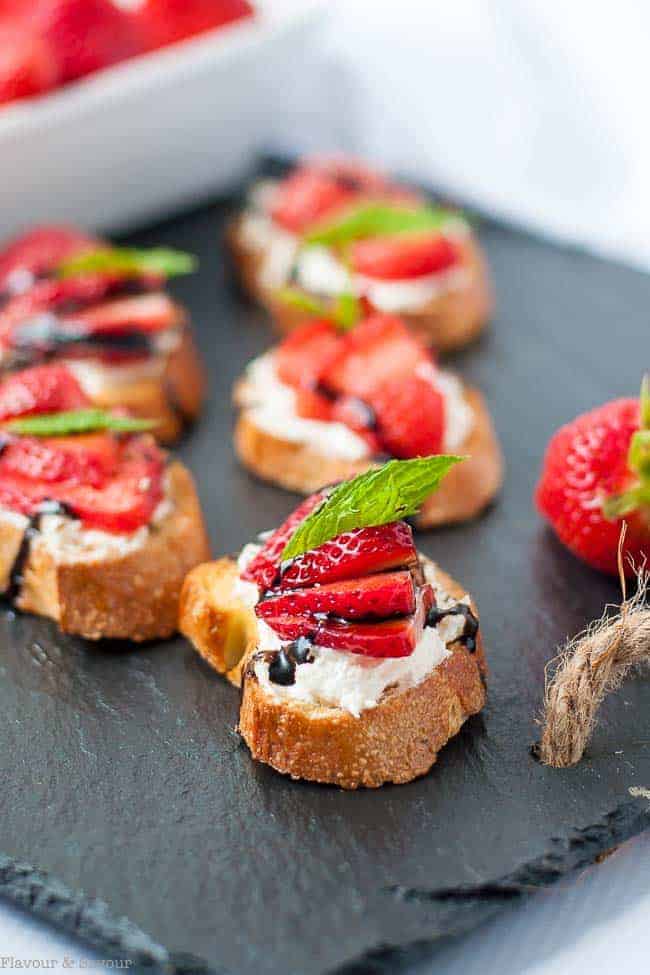 Lemon Ricotta Crostini with Honeyed Peaches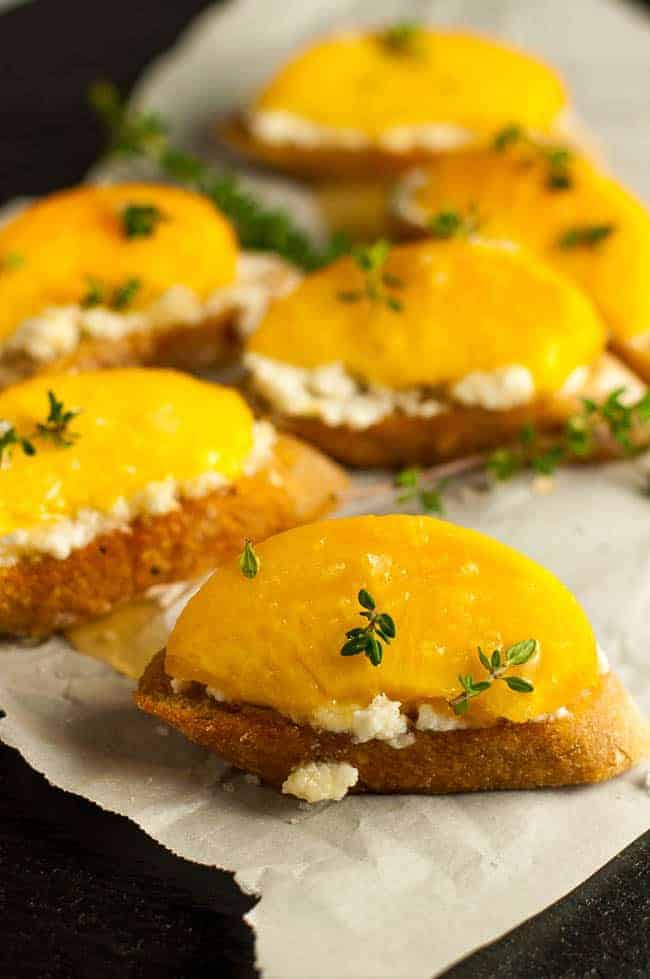 Roasted Grape and Goat Cheese Crostini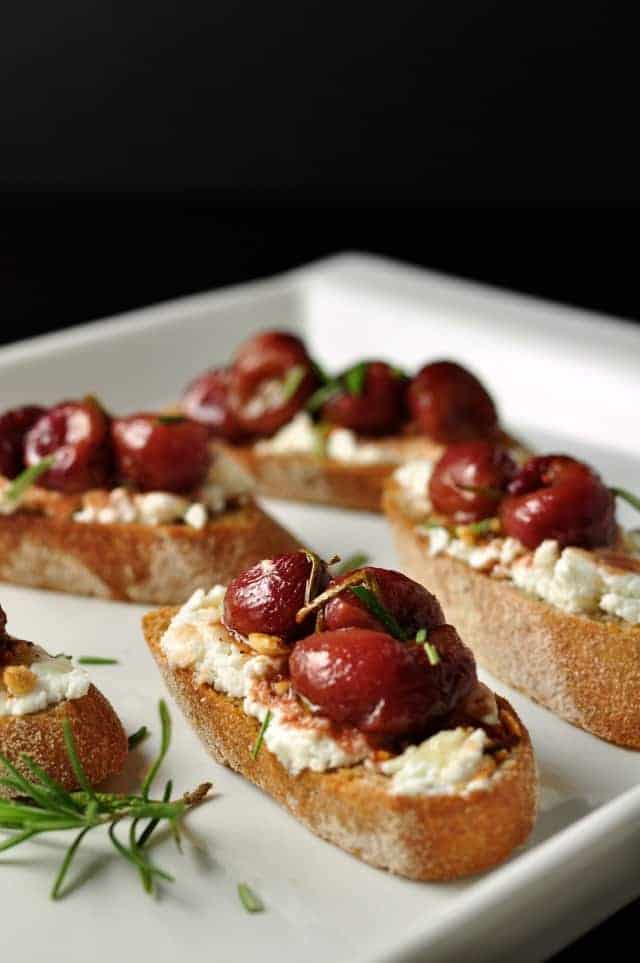 Caramelized Onion, Apple and Cheese Crostini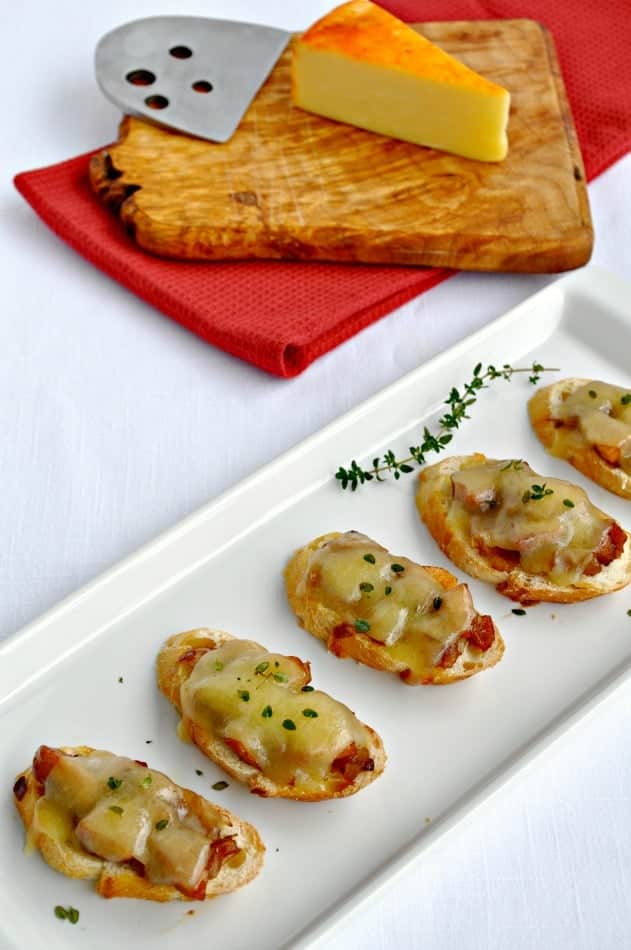 Cranberry Jalapeño Brie Crostini
And my personal favourite:  Fig and Goat Cheese Crostini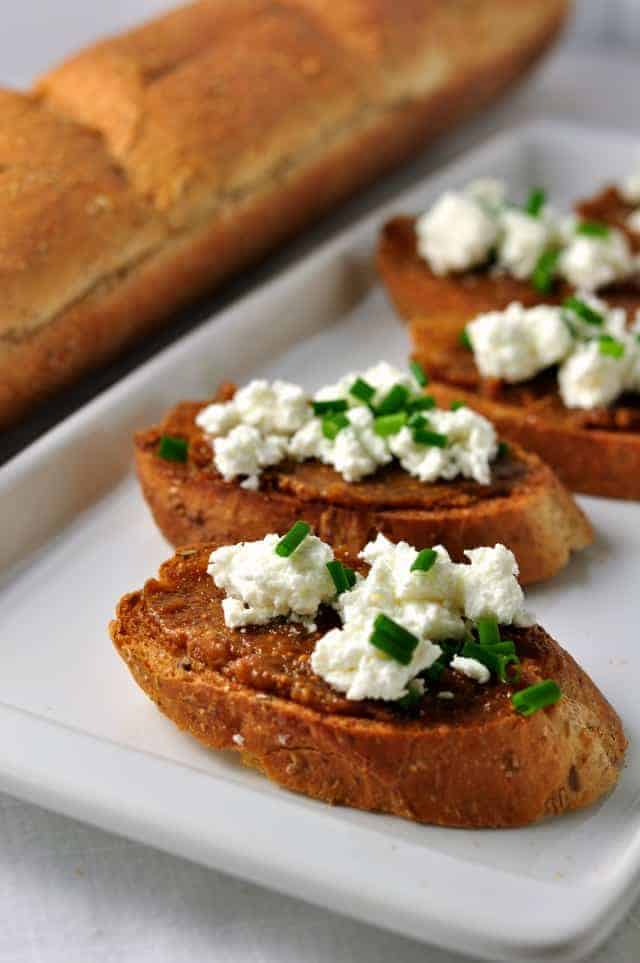 5 Tips for Making Crostini
Avoid common mistakes by following these 5 tips for making crostini appetizers. Ideal for holiday parties, deck parties or casual get-togethers.
Print Recipe
Ingredients
1

fresh baguette loaf

gluten-free, if necessary

extra-virgin olive oil

salt and pepper

1

clove

garlic, peeled and cut in half
Instructions
Heat oven to 375°F.

Use a sharp knife to slice the baguette into 1/2 inch thick slices. Cut slightly on the diagonal.

Brush lightly with olive oil and sprinkle with salt and pepper.

Space on a baking sheet and place in pre-heated oven. Bake for 7 - 8 minutes or until golden brown, flipping once halfway through. Crostini should be lightly browned, lightly toasted but still "springy" in the middle.

Remove from oven and rub with a cut garlic clove.

Add your choice of toppings. (see ideas in blog post)
Nutrition
Calories:
28
kcal
|
Carbohydrates:
5
g
|
Sodium:
63
mg
|
Potassium:
11
mg
|
Calcium:
0.8
%
|
Iron:
1.7
%
This post may contain affiliate links. If you click on any of the affiliate links and make a purchase within a certain time frame, I'll receive a small commission. The commission is paid by the third party, not by you. I am a participant in the Amazon Services LLC Associates Program, an affiliate advertising program designed to provide a means for me to earn fees by linking to Amazon.com and affiliated sites.
SAVE THIS TO ONE OF YOUR PINTEREST BOARDS
and
connect with me on Pinterest
! I'm always finding new tasty recipes to pin. Subscribe to my weekly newsletter and never miss a recipe!