Finger foods are fun foods! 20 Easy Finger Food Appetizers that your friends will love.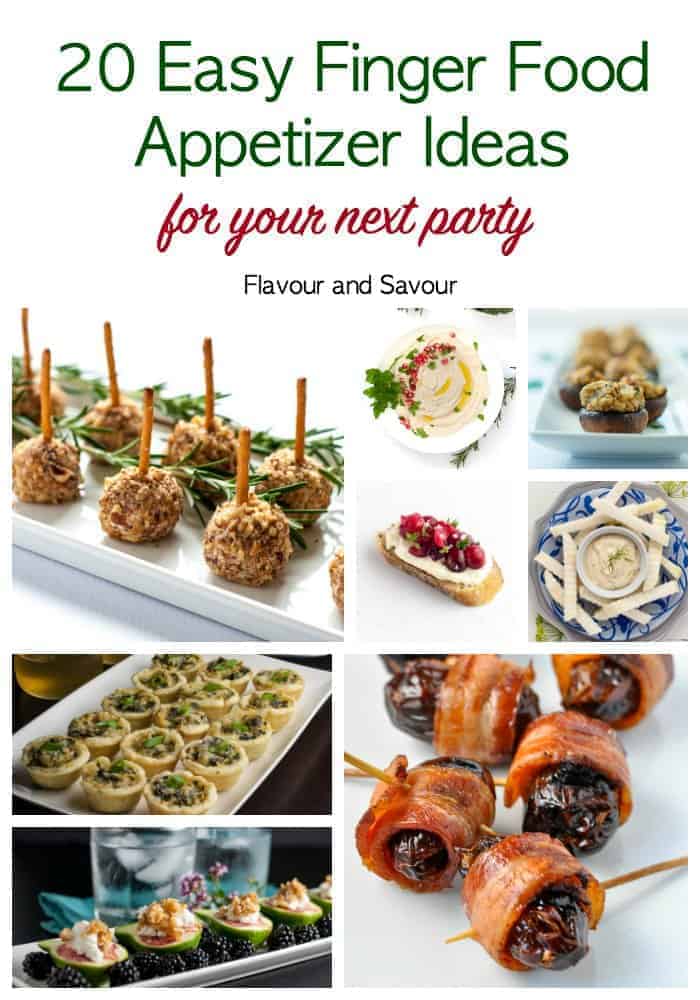 Whether you're planning a happy hour with one other couple, a formal dinner, or a full-scale bash, this round-up of 20 Easy Finger Food Appetizers will give you some appetizer ideas when you're deciding what to serve.
If you need just one potluck offering or a full menu of finger foods, this collection of easy appetizer ideas might help with your decision-making. Need ideas for easy finger food recipes for a crowd? Read on!

Tips for choosing finger food appetizers
Aim for a variety of offerings, considering the needs of your guests with allergies who may be on special diets. I've organized these finger food recipes so you can do just that. Choose from things to stuff (like mushrooms, dates or mini peppers), things to dip, one-bite snacks and crostini with different toppings. Some of these recipes are gluten-free, some vegan or vegetarian, and some paleo and keto. There is something for everyone!
Just click on the photos to take you to the recipes.
20 Easy Finger Food Appetizers your guests will love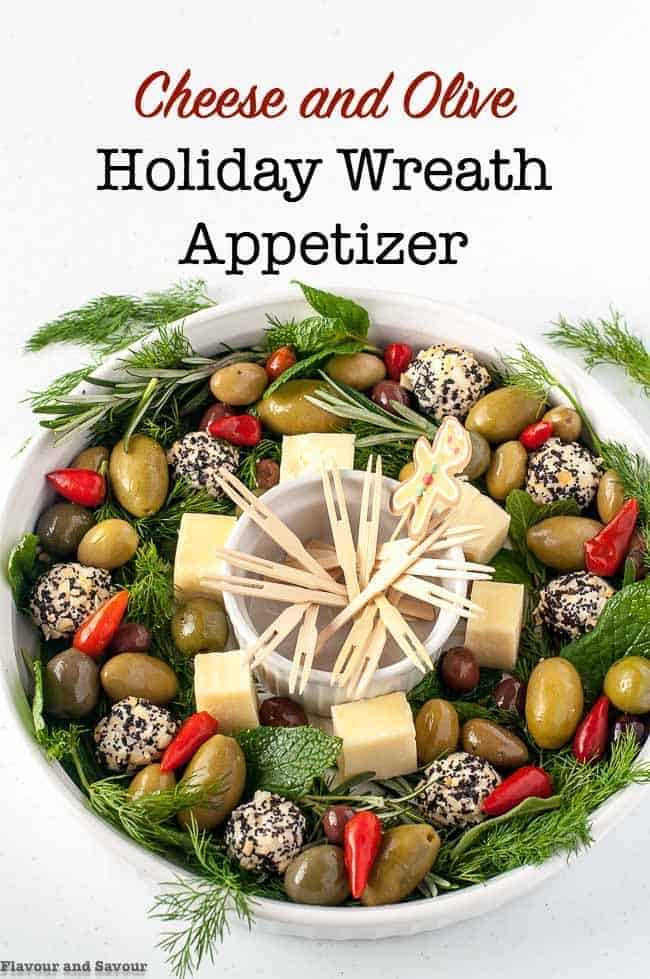 Here's a no-fuss, stress-free, spectacular party food platter with a touch of elegance. Full of olives, hot pickled peppers, cheese cubes and mini cheese balls, your gluten-free, keto, vegan and paleo guests will all be able to find something in this Cheese and Olive Herb Wreath to snack on.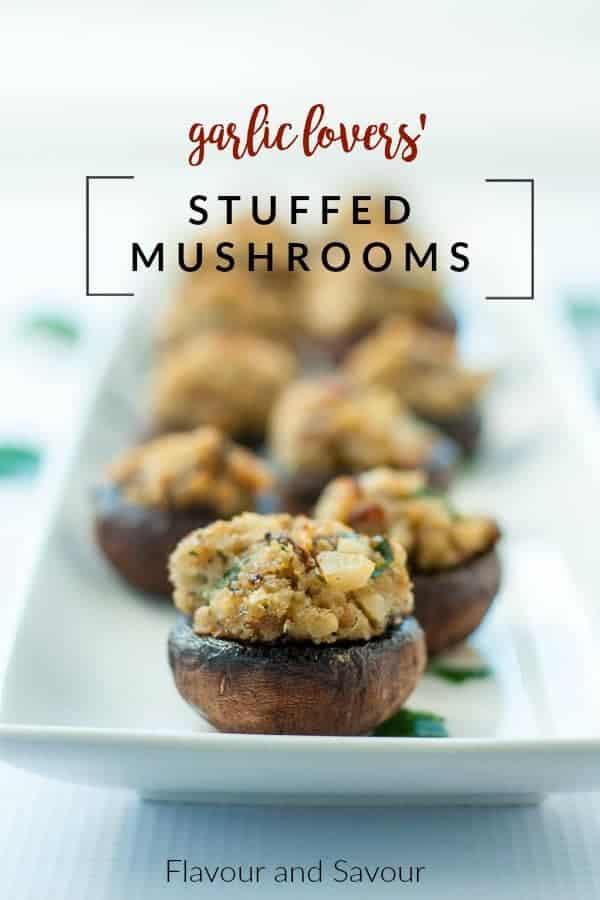 Stuffed mushrooms are a welcome appetizer at any time of year! Bite-sized mushroom caps, stuffed with garlic, herbs, blue cheese (or other strong cheese) make these Blue Cheese Stuffed Mushrooms a crowd-pleasing appetizer. Easy to make gluten-free.

Smoked salmon is like gold to me, and I like to stretch it to make it last. This finger food smoked salmon recipe uses just a tad, but it packs a lot of flavour into one little mushroom cap. Smoked Salmon and Goat Cheese Stuffed Mushrooms always get devoured!

These Mini Spinach Artichoke Tarts make ideal finger food for parties year-round. Oozing with cheesy goodness, these tarts are sure to be snapped up by hungry friends and family at your next get-together.

Medjool dates are soft and luscious, and they have an amber-brown, slightly crinkly skin. They work perfectly in this recipe for Goat Cheese Stuffed Dates because you can bite into them easily without squashing the filling out.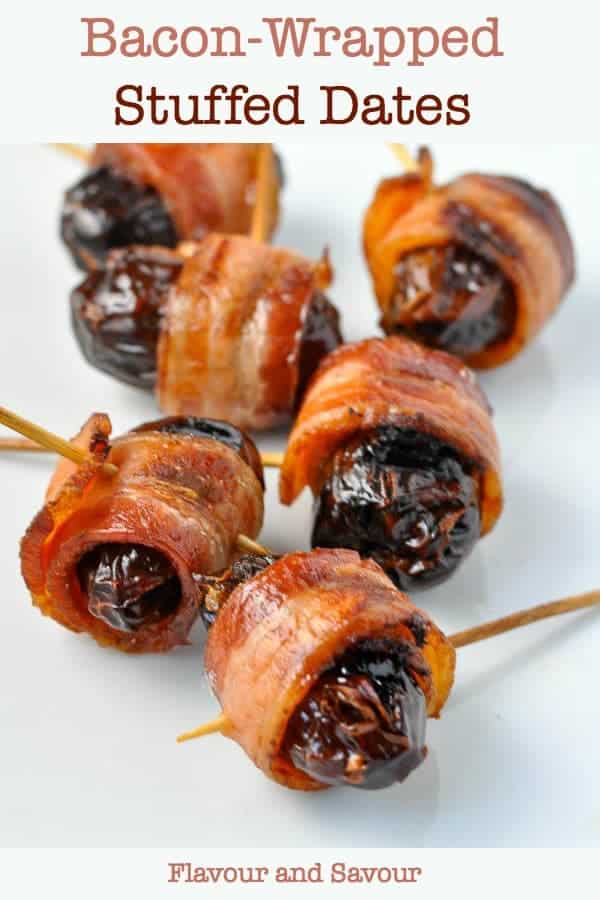 You'll only need three ingredients to make these always popular bacon wrapped stuffed dates. Helpful tips for avoiding messy filling and raw bacon!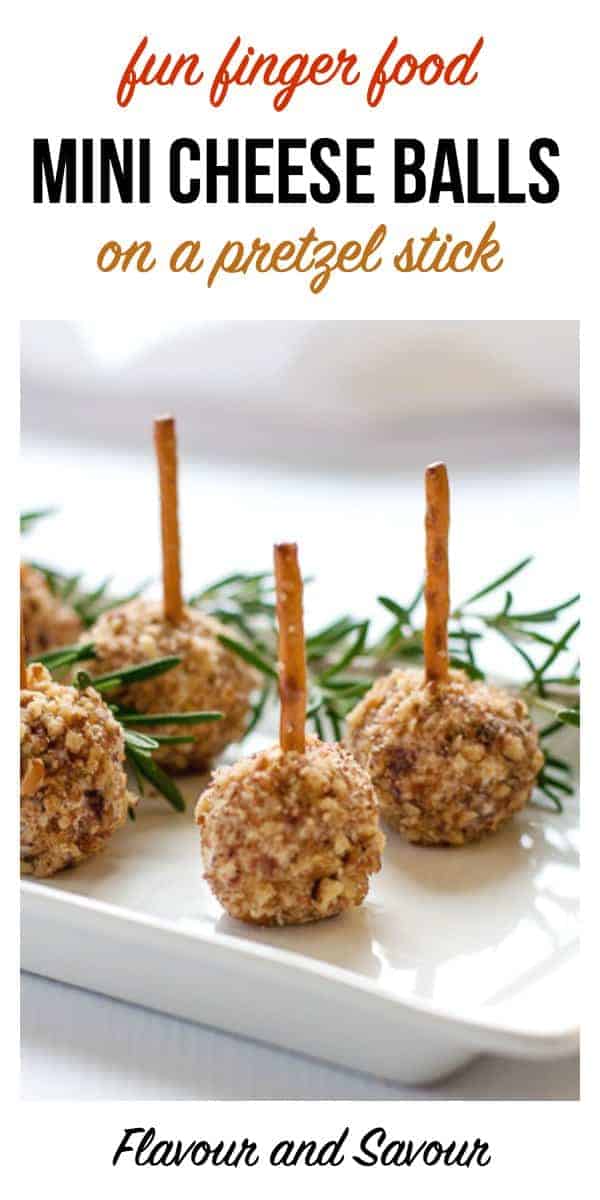 These Mini Cheese Balls on a stick are one of the easiest appetizers ever! They're a creamy bite, perfectly balanced with sharp blue cheese (or other sharp cheese) and sweet cranberries. Perfect for holiday parties. A great make-ahead recipe for a crowd!

These spicy stuffed mini peppers are flavourful Spanish tapas that you can prepare ahead and pop into the oven just before serving time.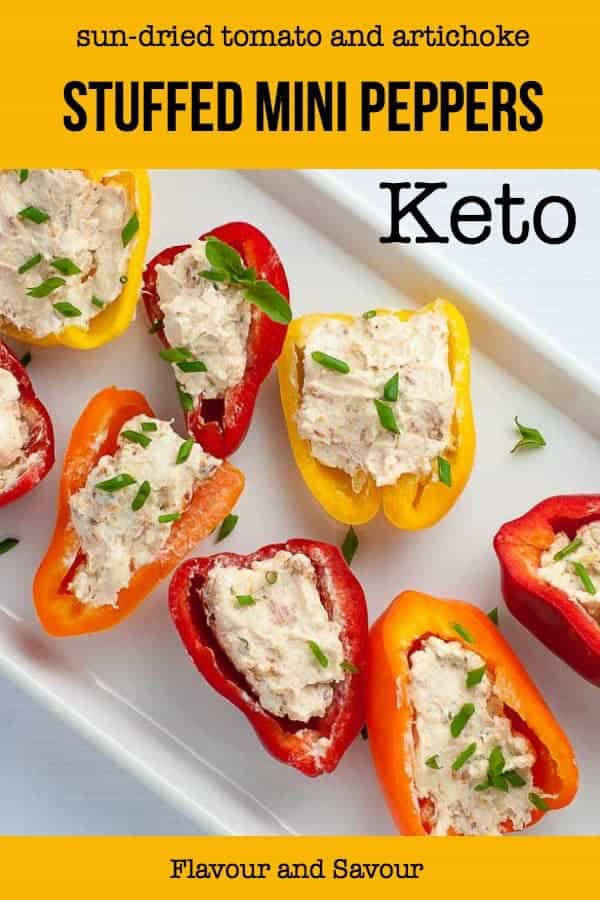 Creamy cheese, spiked with tangy sun-dried tomatoes and marinated artichoke hearts, all stuffed in a cute little crisp pepper cup make a super tasty (and super easy) Italian-inspired appetizer. You'll love these Sun-Dried Tomato and Artichoke Stuffed Mini Peppers. They're Keto, too.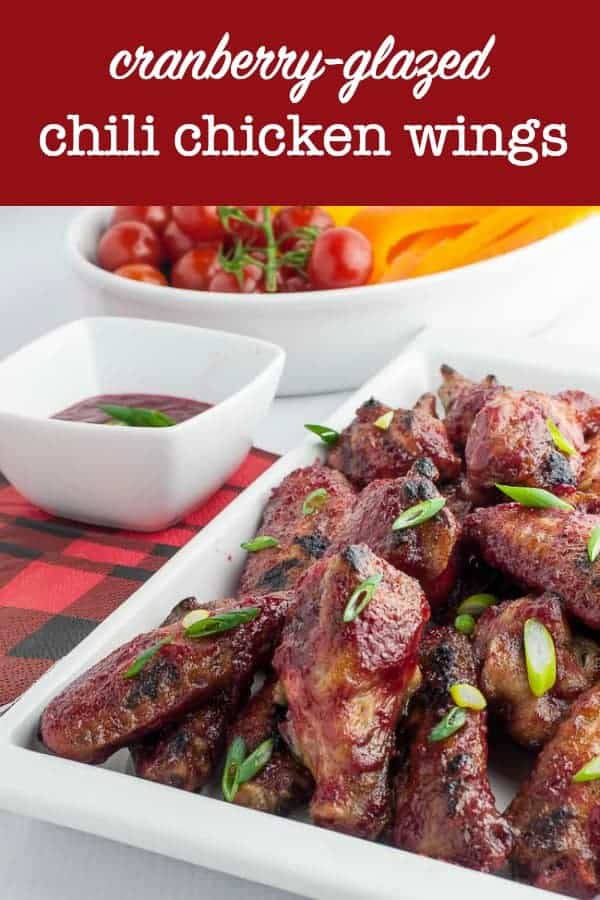 These Cranberry Glazed Chili Chicken Wings are decked out in holiday colours. They're sweet with a bit of a kick–just the way I like chicken wings. Best of all, they're easy to whip up at the last minute. This gorgeous ruby-red glaze has only three ingredients: fresh cranberries, Thai sweet chili sauce and green onions. Easy and finger-licking delicious!

This Creamy Cannellini Lemon Feta Dip is an easy appetizer for holiday parties or casual get-togethers. Made with cannellini beans, it is similar to hummus but made without chickpeas. Serve with veggies or pita chips.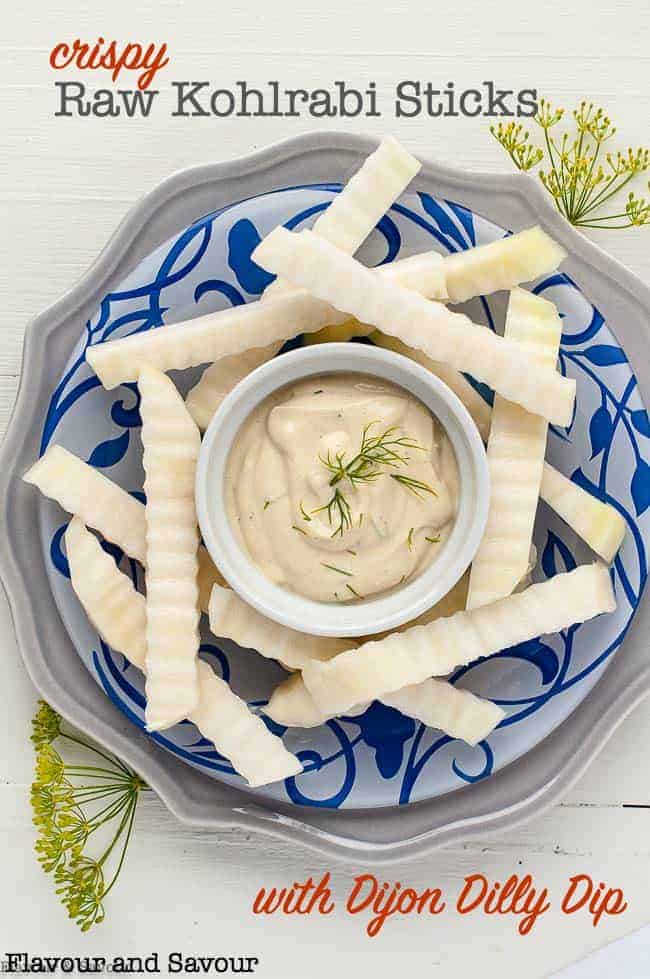 Nutrient-rich Crispy Raw Kohlrabi Sticks with Dijon Dilly Dip make a delicious healthy snack. Ideal for those on a Keto diet, too.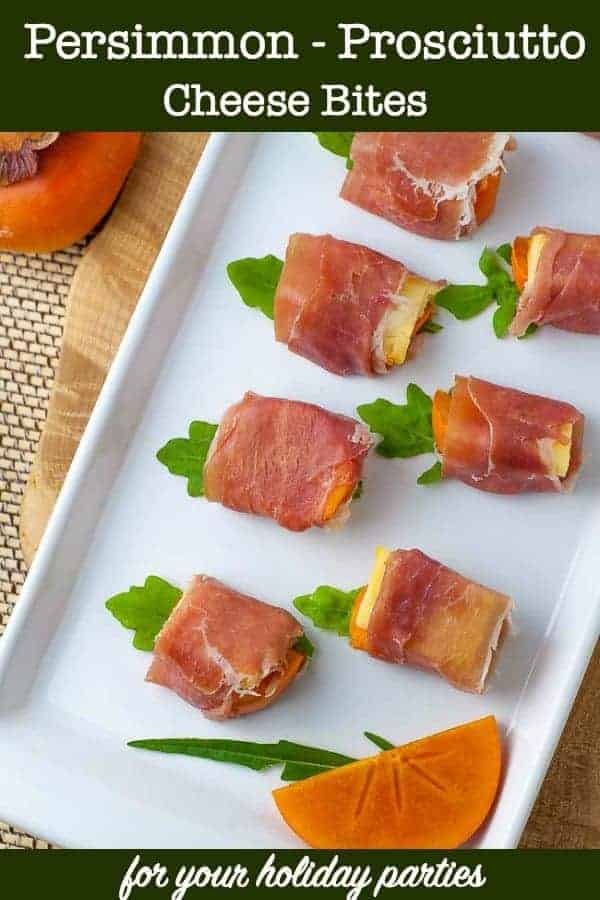 Here's something a little different for your next appetizer: Persimmon Prosciutto Cheese Bites! They're a spectacular appetizer for fall or winter when persimmons are in season. Wrap a slice of fresh persimmon, a small piece of smoked cheese and an arugula leaf with a strip of prosciutto. Sweet, smoky and salty, all in one bite!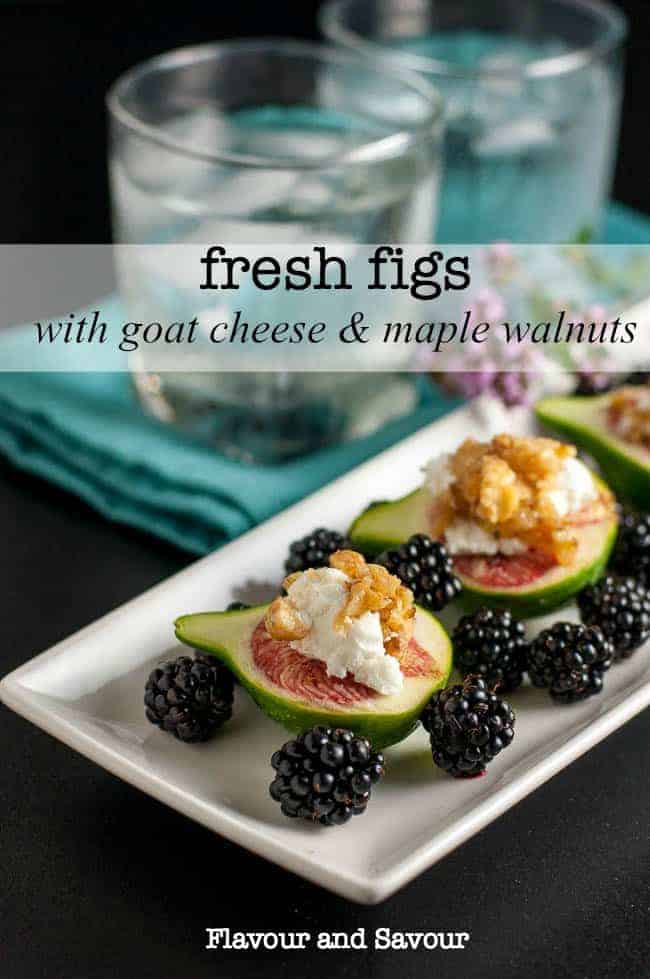 Fresh figs with goat cheese and maple walntus is a simple, spectacular 5-minute appetizer made with fresh figs, salty goat cheese and sweet maple-glazed walnuts.

If you like a hot 'n spicy meatball, dripping with a peppery sweet chili sauce, then you're going to love these spicy Thai turkey cocktail meatballs!

It's time to have fun with your food! What better way than to serve it as small bites, or in this case, small sips? These Roasted Cauliflower Soup Shooters are a great way to start a dinner party. They allow your guests to have a taste, without filling up before the main course.

Here's an easy finger food idea made with cucumber, lemon-dill cream cheese and smoked salmon. Ready in less than 10 minutes! A keto-friendly appetizer that everyone loves!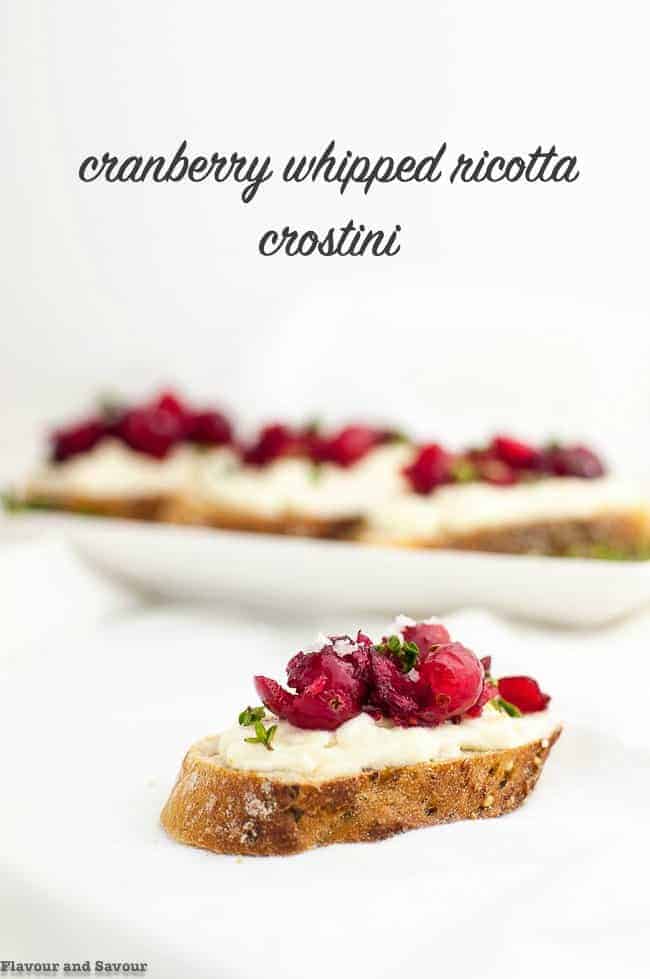 These tiny toasts have a light creamy ricotta spread and they're topped with slightly sweetened fresh cranberry-orange mixture. They're a little bit sweet and delicately salty at the same time. Oh so good!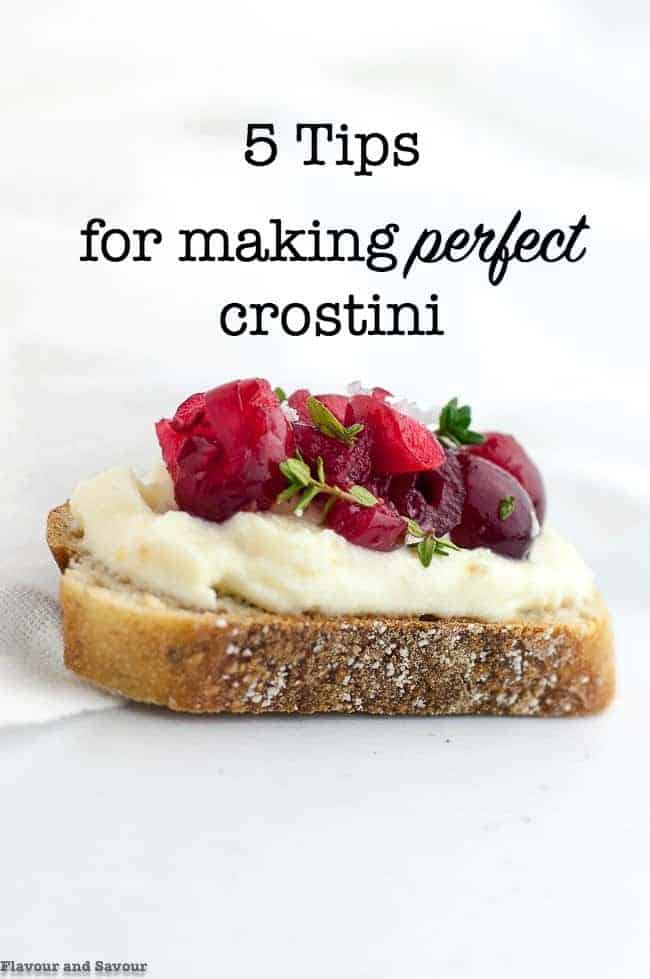 Avoid common mistakes by following these 5 tips for making perfect crostini appetizers your guests will love!
And more crostini recipes:
Strawberry Whipped Feta Crostini
Smoked Salmon Crostini with Whipped Goat Cheese
Blue Cheese Crostini with Crisp Honeyed Pear
Cranberry Jalapeño Brie Crostini
Lemon Ricotta Crostini with Honeyed Peaches
Roasted Cherry Goat Cheese Crostini
Honey Roasted Fig and Burrata Crostini
Fig and Goat Cheese Crostini
Caramelized Onion, Apple and Cheese Crostini
I hope you've found some appetizer ideas to make for your next gathering. Let me know which ones you try in the comments section below.
SAVE THIS TO ONE OF YOUR PINTEREST BOARDS
and
connect with me on Pinterest
! I'm always finding new tasty recipes to pin. Subscribe to my weekly newsletter and never miss a recipe!