These grilled Cajun Prawn Kabobs are skewered with pineapple and cooked to perfection over high heat. They're packed with smoky, spicy flavours! These shrimp skewers make a fun-to-eat appetizer or main dish year-round. Gluten-free, paleo and low-carb!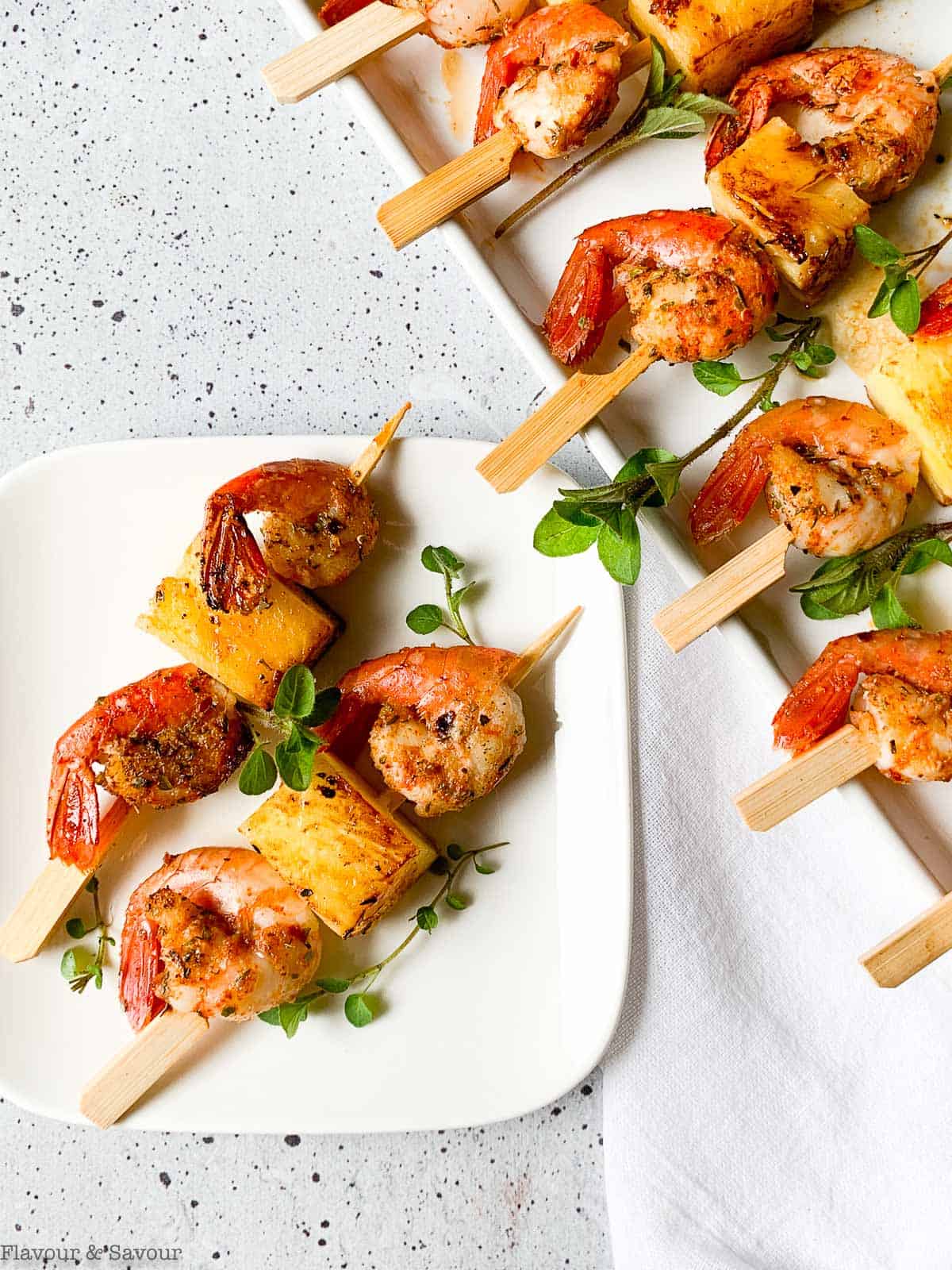 Grilled Cajun Prawn Kabobs with Pineapple. Or . . . Grilled Cajun Shrimp Kabobs with Pineapple. Whatever you call them, prawns or shrimp, these succulent seafood skewers are delicious!
Seasoned with Cajun spices and seared on the grill, these Prawn Kabobs take only a few minutes to cook. Paired with smoky grilled pineapple, these skewers make a tasty appetizer or main course. Plan to make these soon! You won't be disappointed.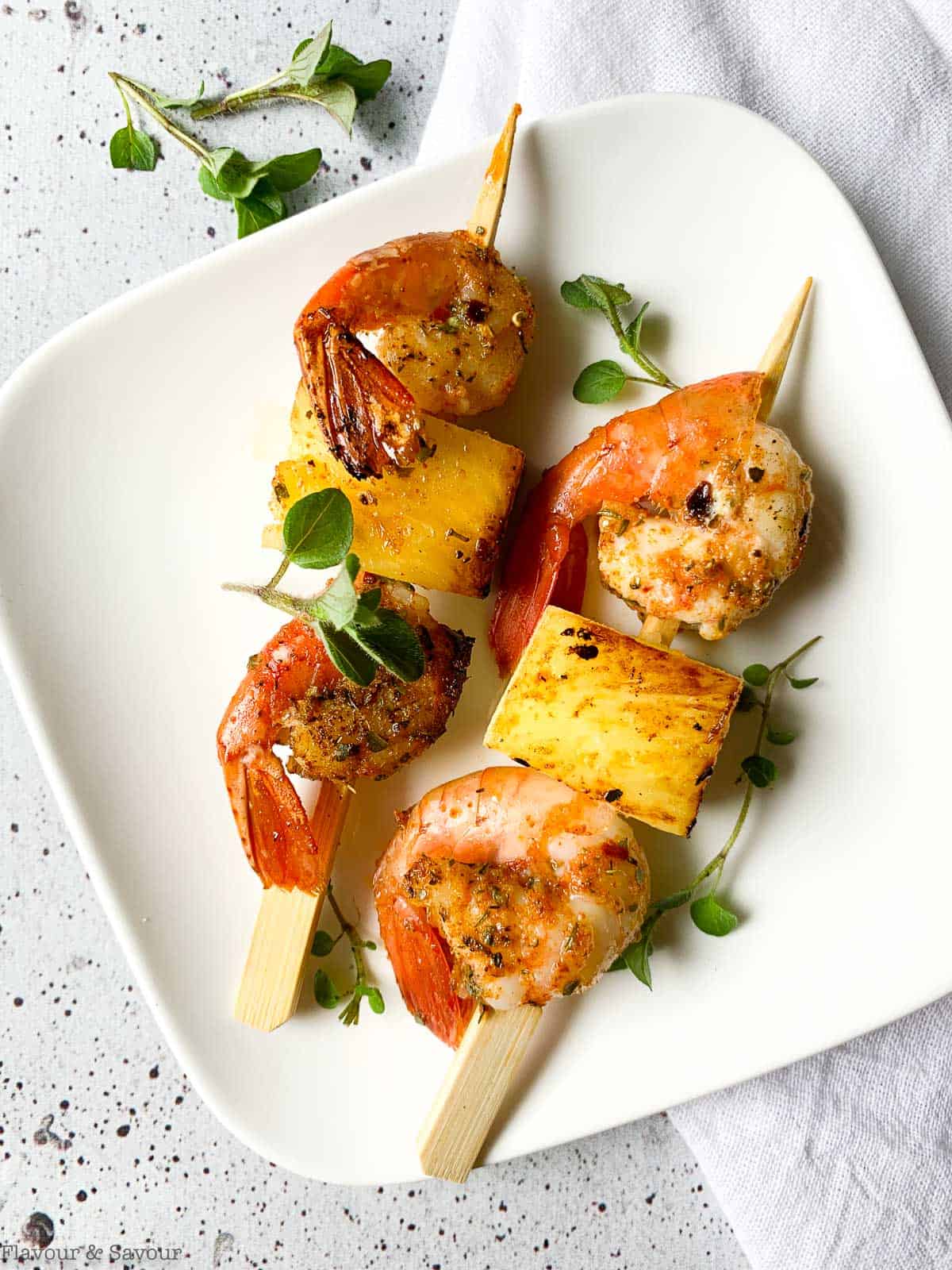 Jump to: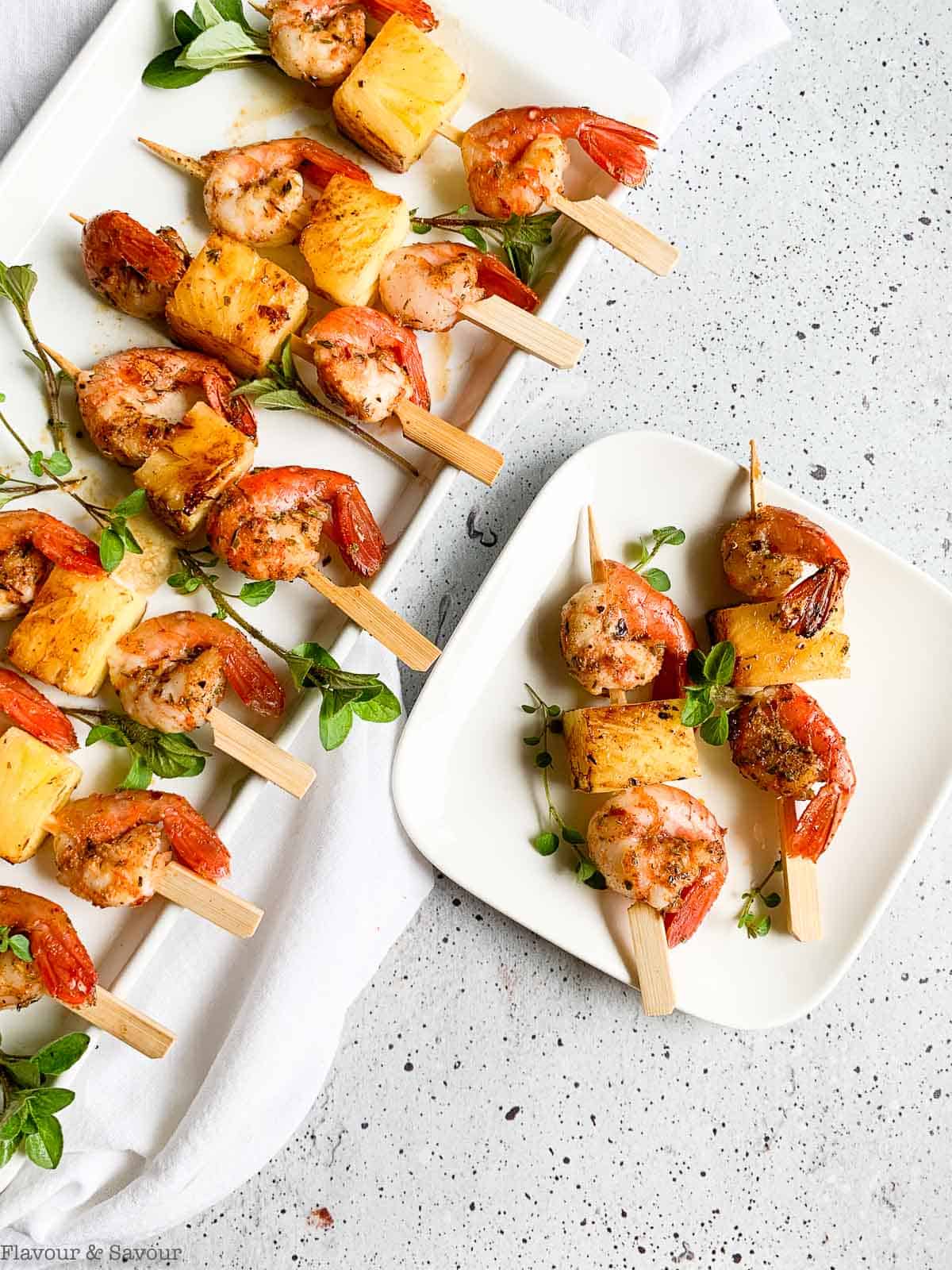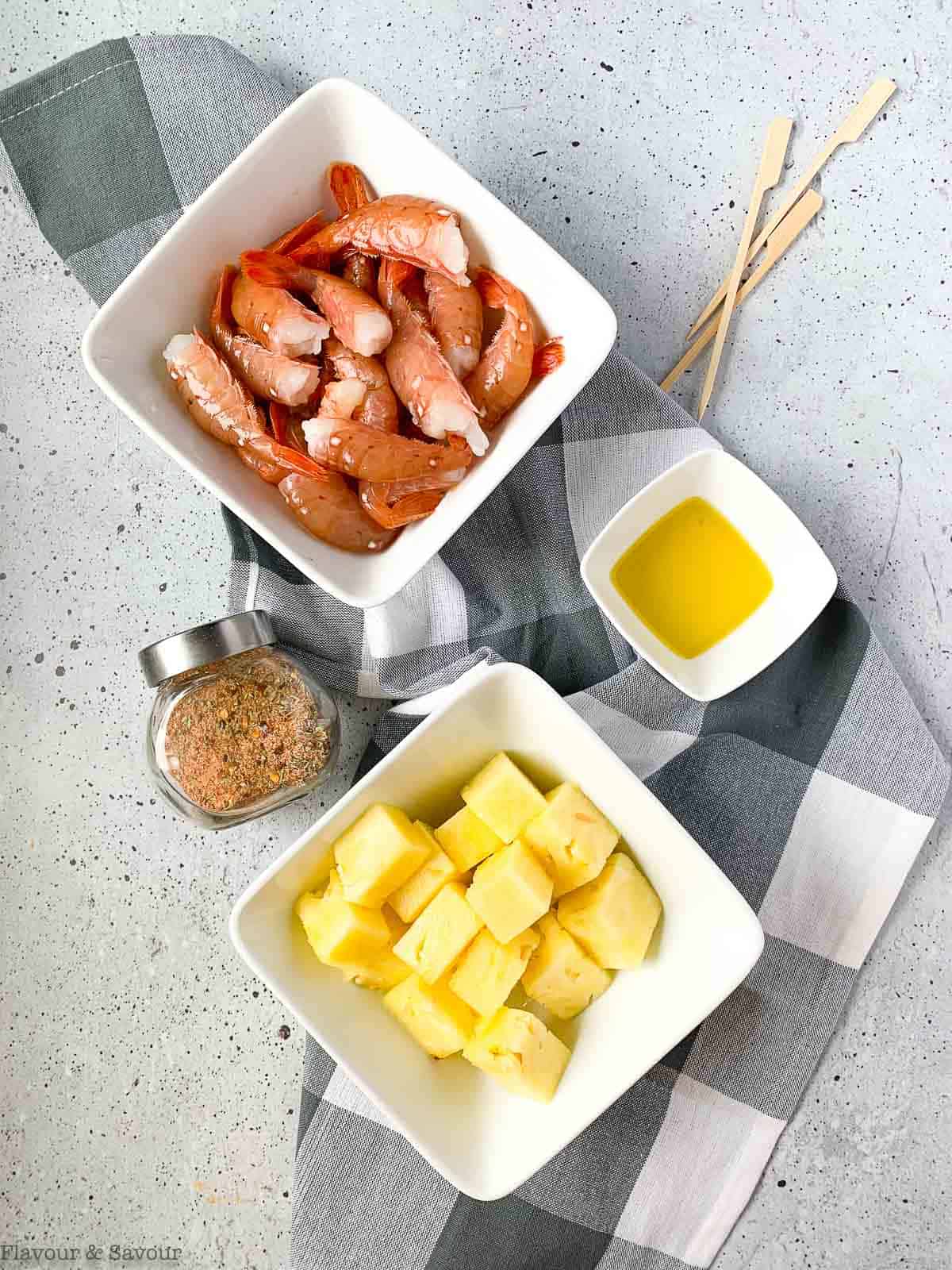 🔪 Step-by-step instructions
Homemade Cajun seasoning mix is very easy to make. See How to Make Cajun Seasoning Mix. This combination of Cajun spices is my favourite! Mix a batch, use some of it for this recipe and have it ready for your next Cajun meal! In a hurry? Use store-bought Cajun seasoning, often available in the spice section.
First, if you will be using wooden or bamboo skewers, soak them in water for at least 30 minutes to prevent flare-ups on the grill. Use short skewers for appetizers and longer ones if you're using these skewers as a main dish.
Next, in a small bowl, make a marinade by combining the Cajun seasoning mix with olive oil or butter.
Remove the shells from the prawns (if they haven't already been removed) but leave the tails intact. They add extra flavour.
Toss the prawns with the marinade and let them stand in the refrigerator.
Meanwhile, prepare the pineapple chunks. If you're not familiar with the best way to cut a pineapple, see How to cut a pineapple.
Next, thread the marinated prawns and the pineapple chunks on the skewers. For appetizers, use a small skewer with a piece of pineapple between two prawns. If using large skewers, alternate two prawns with one pineapple chunk and repeat.
Grill on an oiled grate or grilling stone or an indoor grill pan over high heat. Prawns or shrimp only take a few minutes to cook. Grill for 3 minutes on one side, then flip and continue to cook for 2-3 minutes on the other side or until shrimp are no longer translucent. Overcooking results in tough rubbery prawns! Remove the shrimp kabobs from the heat to a platter and sprinkle with finely chopped fresh oregano.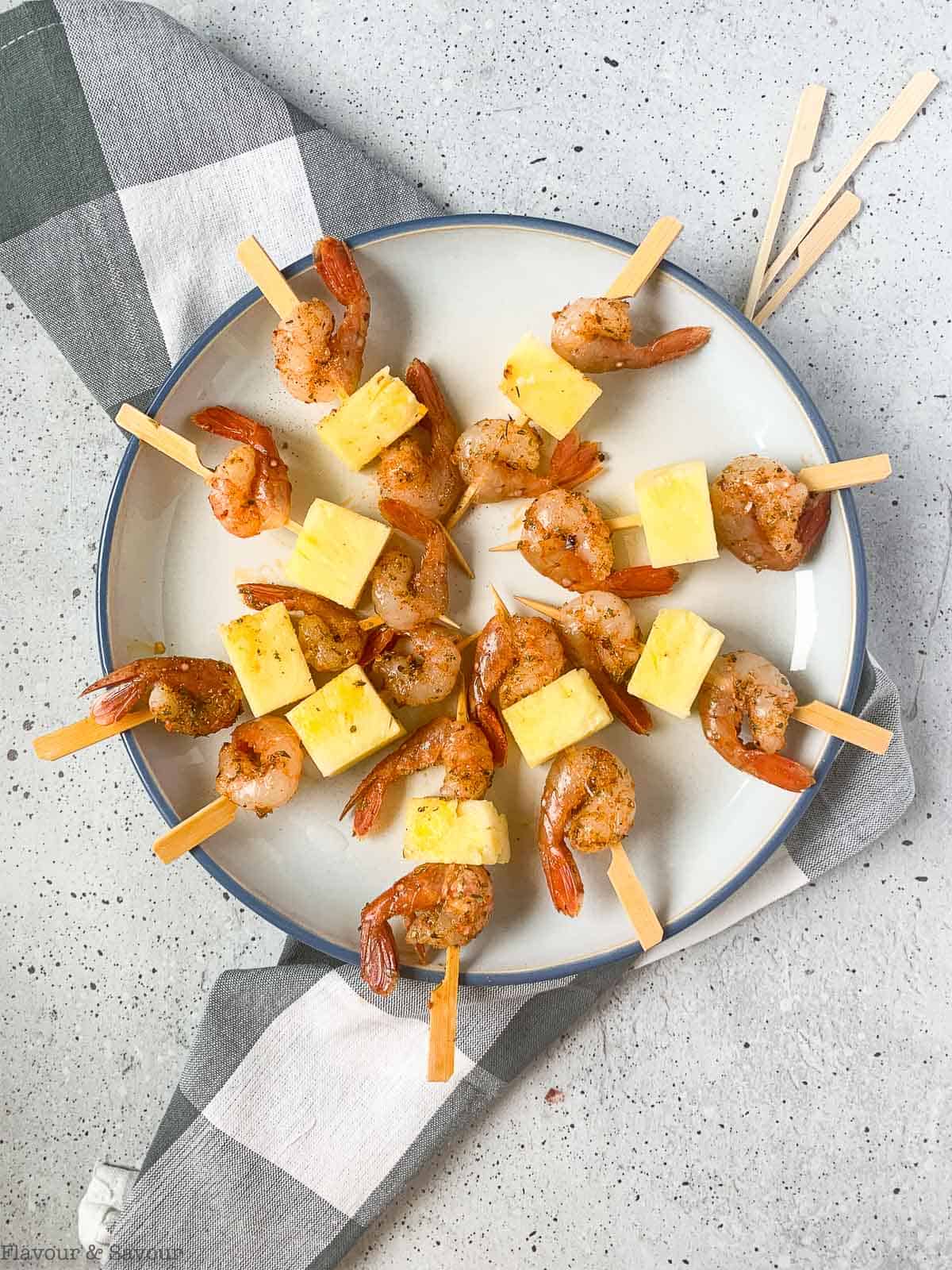 👍🏼 Helpful Tips
Keep the pineapple pieces small
Cut the pineapple into small bite-sized pieces. If they are too large or too thick, they will prevent the shrimp from having contact with the grill.
Use an oil with a high smoke point
Since you will be grilling these shrimp kabobs over high heat, I recommend using an oil with a high smoke point like avocado oil or grapeseed oil. The smoke point is the temperature at which oil begins to break down into free fatty acids and visibly produce smoke. If you heat an oil past its smoke point, the fat in it starts to break down, releasing free radicals and a chemical called acrolein, resulting in scorched food with a bitter taste and an acrid aroma. You'll have ruined food and a smelly kitchen!
Don't overcook!
Be careful not to overcook the shrimp. They only need to be grilled for 2 to 3 minutes per side. Overcooked shrimp becomes rubbery and tough very quickly. The pineapple cubes with be warmed through, but not hot.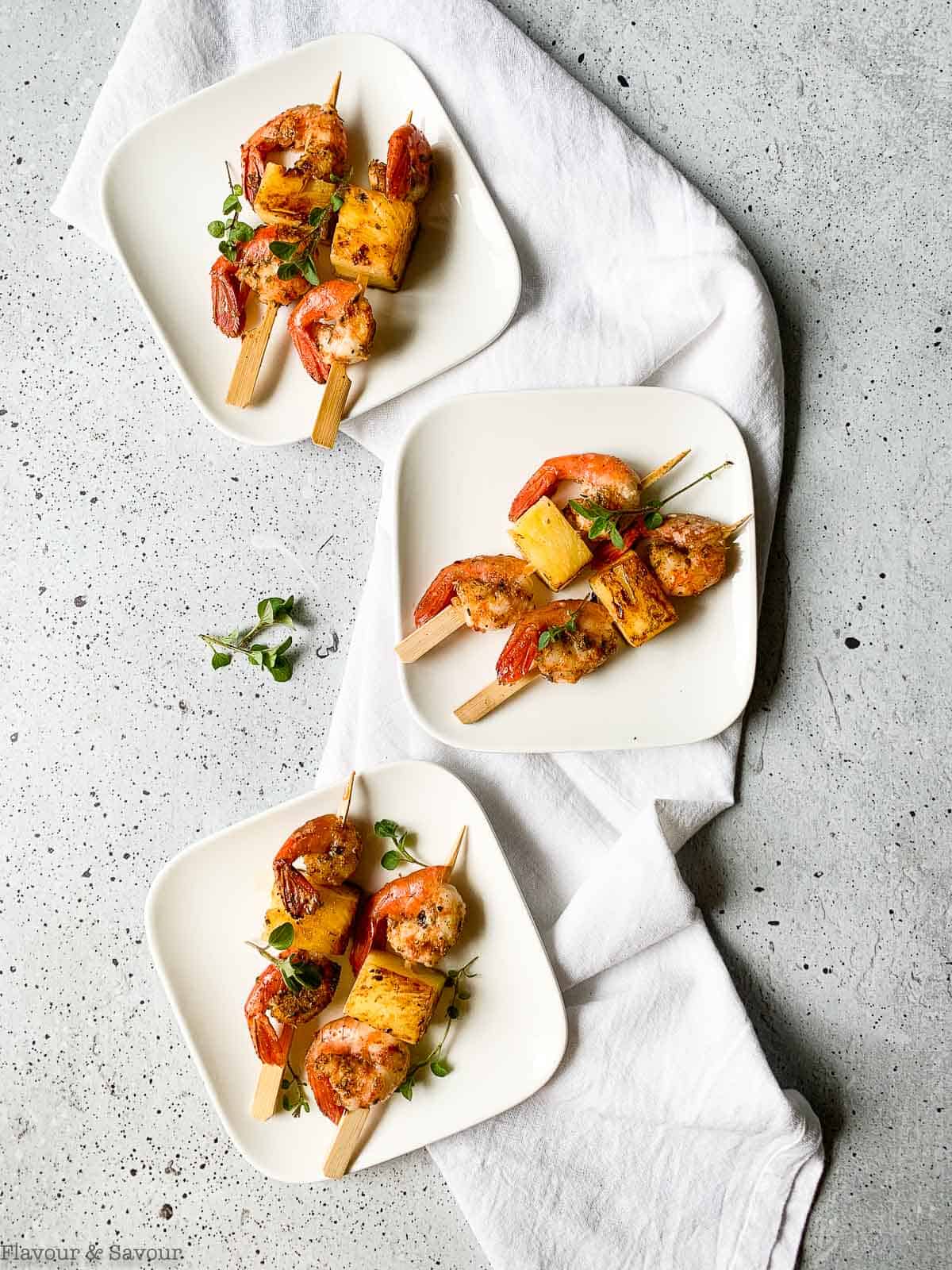 🍽 Serving suggestions
If you've bought a whole fresh pineapple, you'll have some leftover. Use it to make this refreshing Grilled Pineapple Strawberry Sangria to serve with your skewers!
These grilled prawn kabobs are delicious with a fresh salad on the side. Try one of these!
🗒 More easy Cajun recipes
Love Cajun flavours? You may like these recipes, too.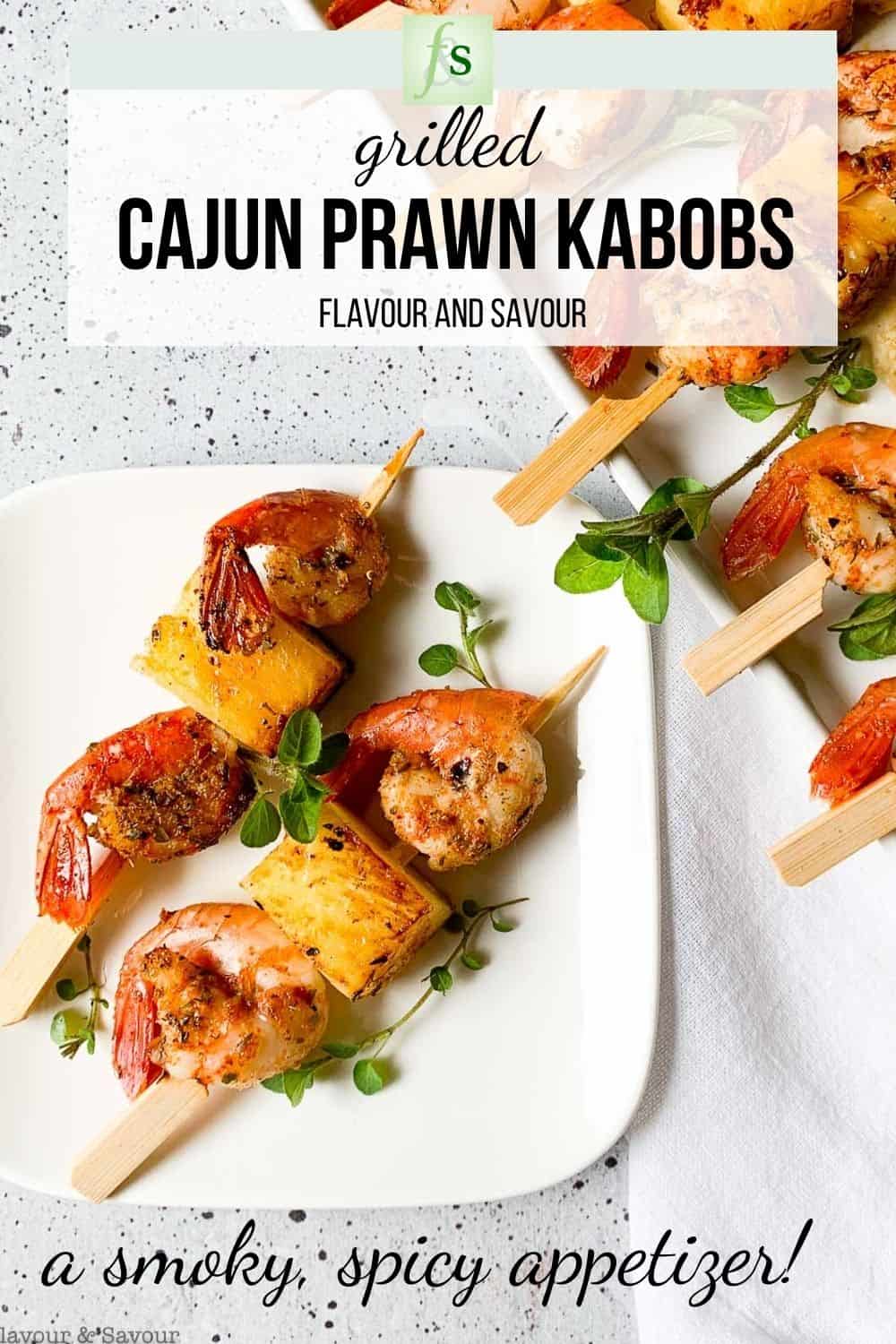 This post has been updated with new photos and information to make it more useful to you!
📖 Recipe Card