Wrapped with a chive ribbon, these Vegetarian Green Bean Bundles will add a "wow" factor to a special holiday meal. Lightly steamed and drizzled with garlic browned butter, they make a spectacular side dish you can prepare ahead. This post describes how to tie green bean bundles with a chive ribbon. Keto-friendly.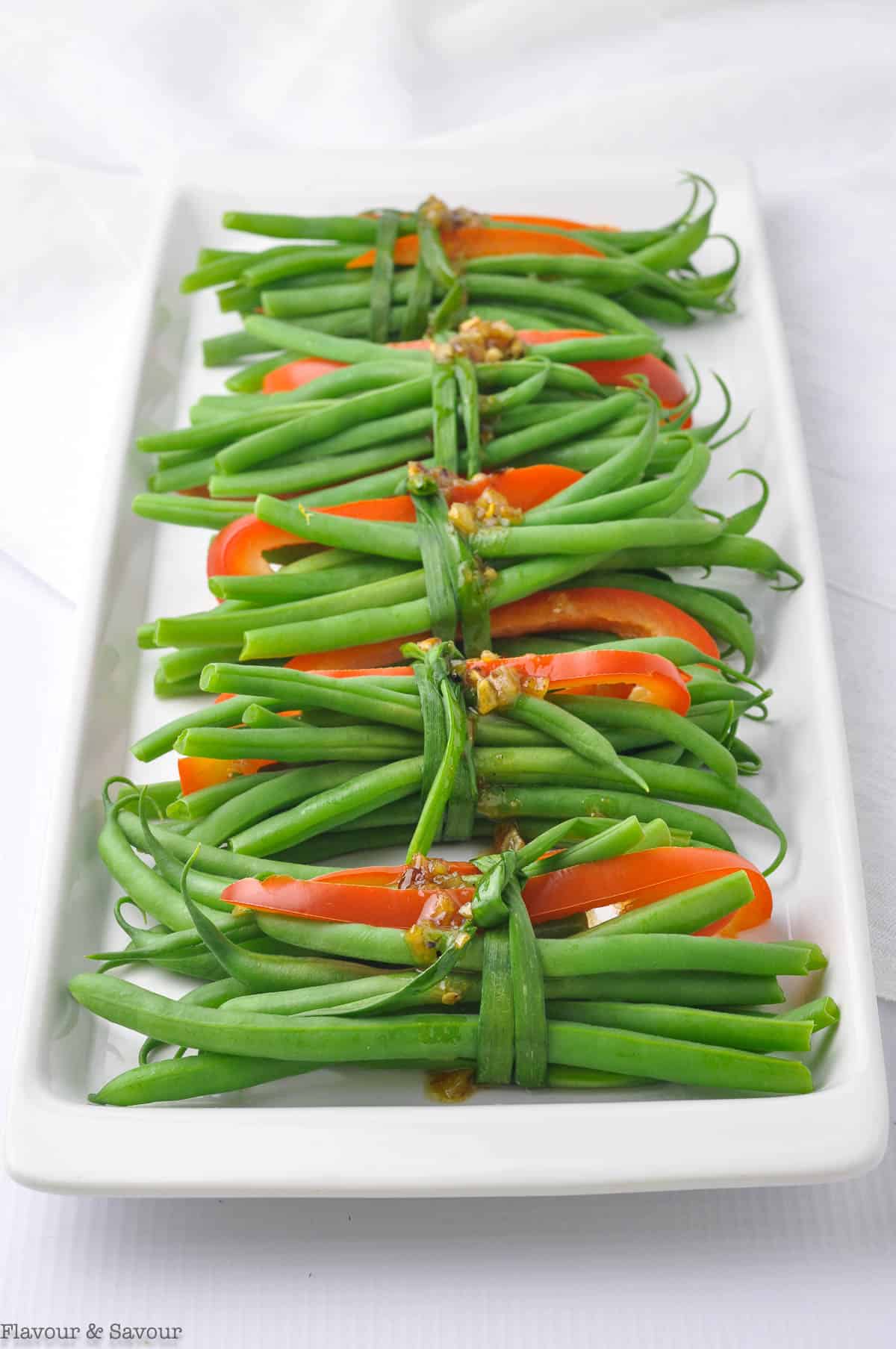 Looking for a showstopper side dish for a holiday dinner? Try these Vegetarian Green Bean Bundles with Garlic Butter!
Sesame Ginger Green Beans and Skillet Parmesan Pecan Green Beans are two of my favourite green bean recipes, but last year for Thanksgiving dinner I decided to try a new addition to my usual holiday side dishes.
Jump to:
❤️ Why you'll love this recipe
Fresh green beans are always popular for a holiday meal. They're a veggie that most people seem to like, so you can feel confident they'll be gobbled up! Try these bundles instead of traditional green bean casserole.
Vegetarian. I've come across many recipes for Green Bean Bundles wrapped in bacon or prosciutto, but I decided to make this recipe meat-free for the vegetarians around my table. These Vegetarian Green Bean Bundles without bacon were the result!
Delicious! They're tasty and they make a beautiful presentation.
Easy to serve. These are so handy for a large dinner party as they come in their individual serving packets!
A showstopper! Would I make these for a simple weeknight dinner? Probably not, but for a holiday dinner like Thanksgiving, Christmas or Easter, they make a spectacular vegetarian side dish.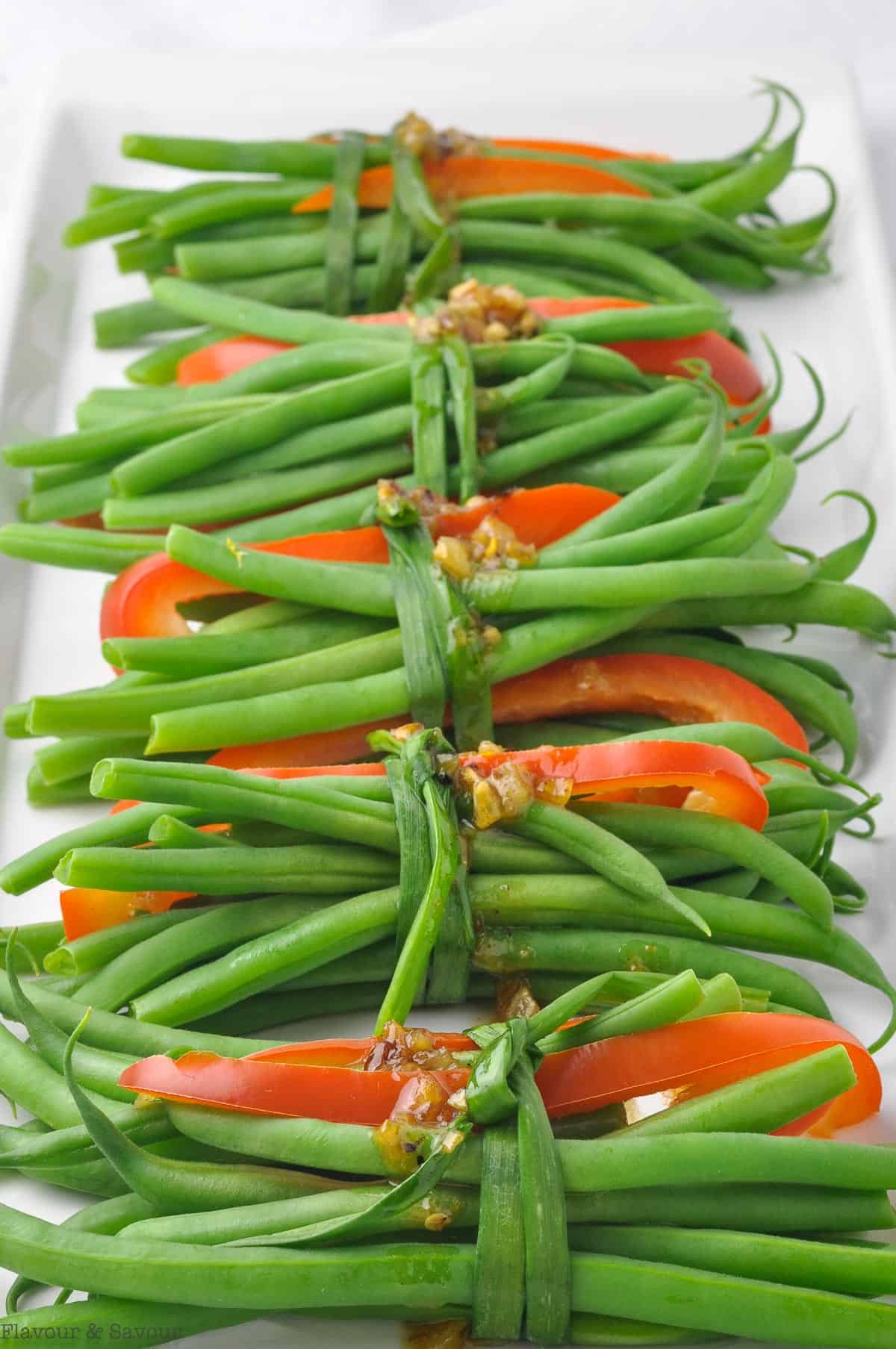 🛒 Ingredients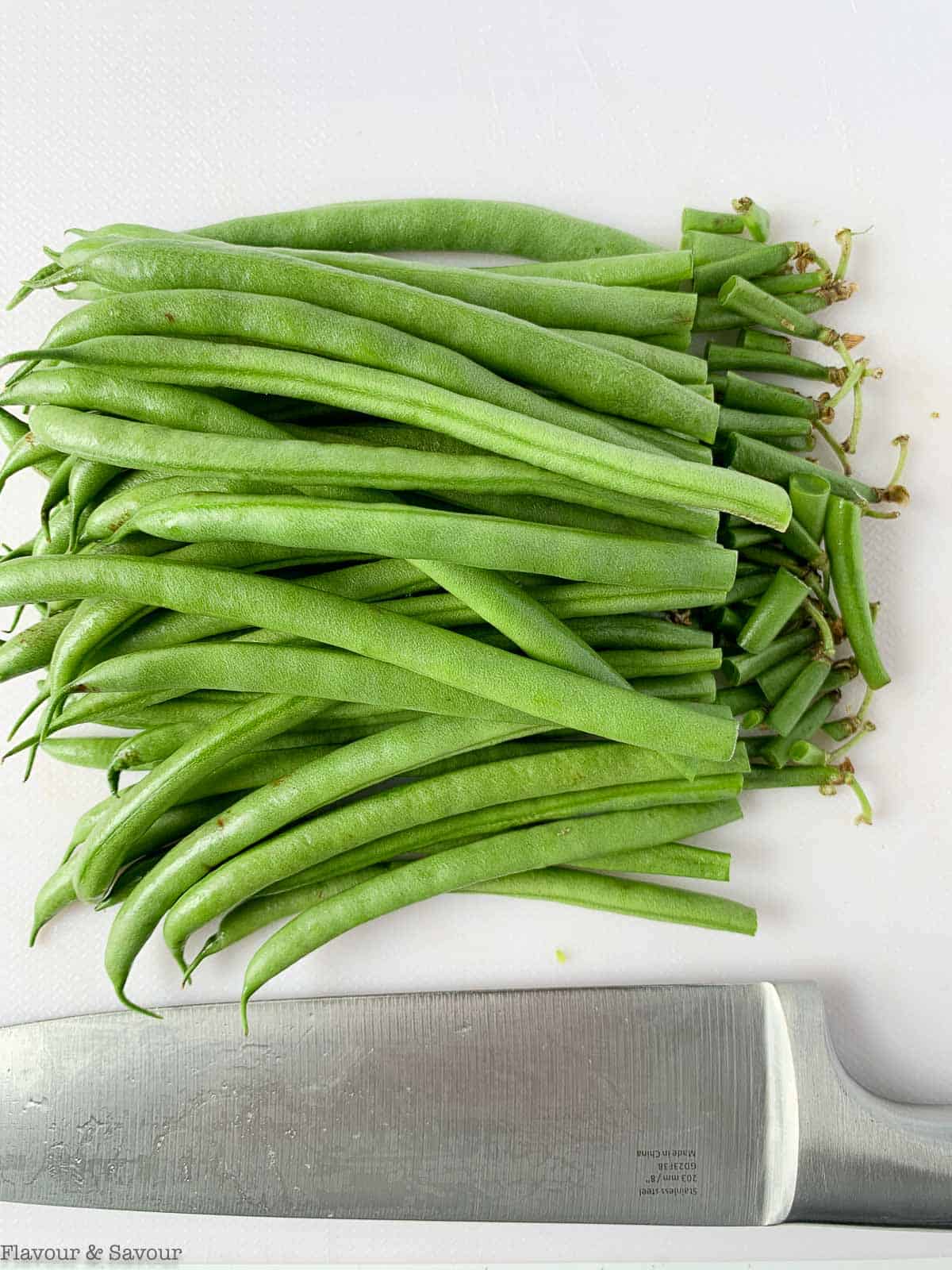 🔪 How to make Green Bean Bundles
Trim the stem end of the beans by snapping or cutting it off. You can remove the tip if desired. I like to leave it on.
Lay a long strip of chive (or green onion if you don't have chives) on your work surface. (Chives are stronger than green onions, which may tend to break, depending on how fresh they are).
Divide the beans into serving size bundles(about 10-12 beans), and add two or three thin red bell pepper strips to each one. Lay the bundles across the chives. Tie the chives around the bundles with a knot to secure them.
Bring an inch of water to a boil. Use tongs to place the bundles in your steamer basket. Steam for 3 - 5 minutes or until the beans are tender-crisp.
Meanwhile, heat butter in a small skillet, add garlic and swirl until butter begins to turn brown. Add a little olive oil.
Transfer the bundles to a serving platter and drizzle with garlic butter. Serve!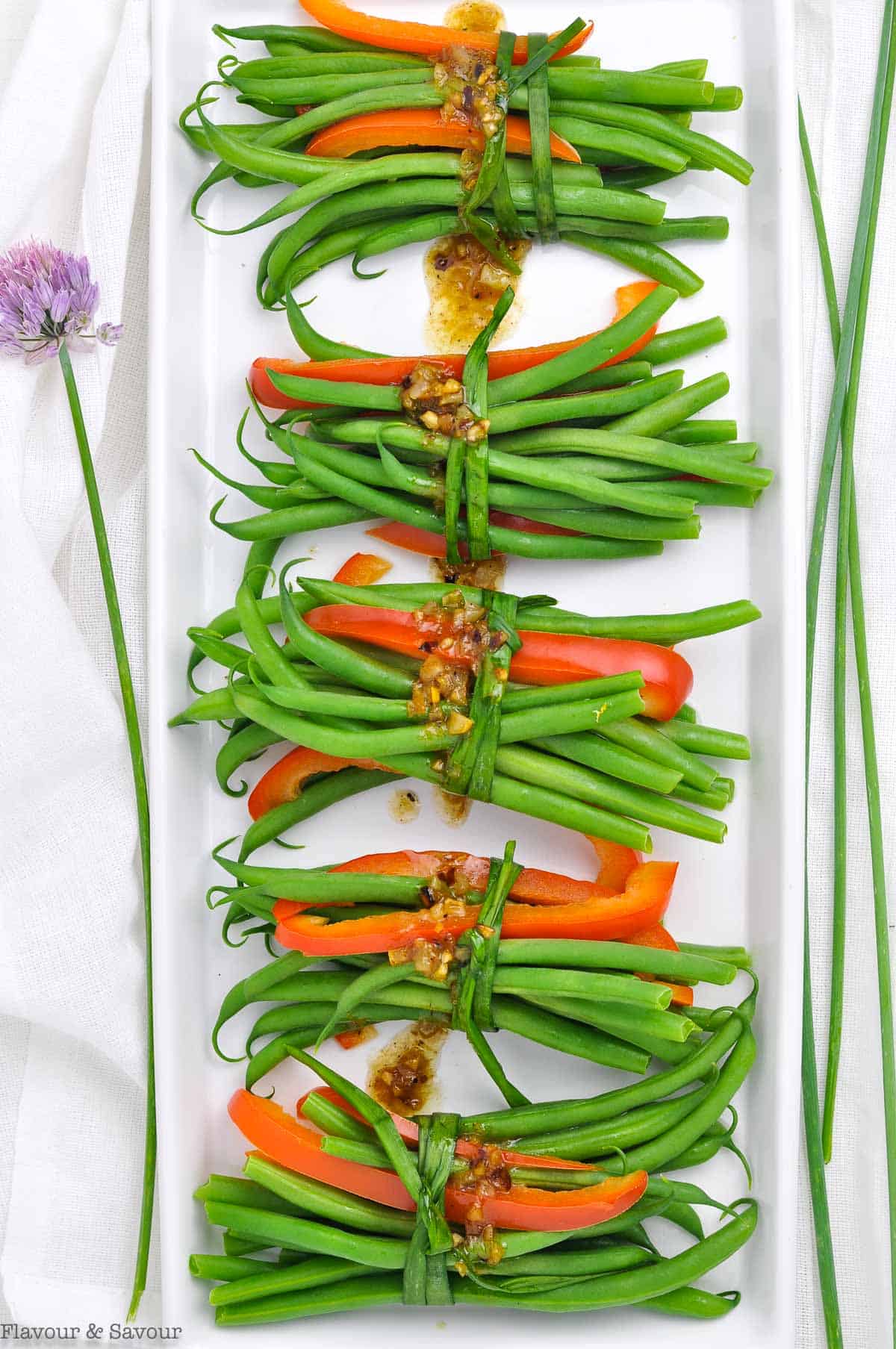 👍🏼 Tip: Make these green bean bundles ahead of time!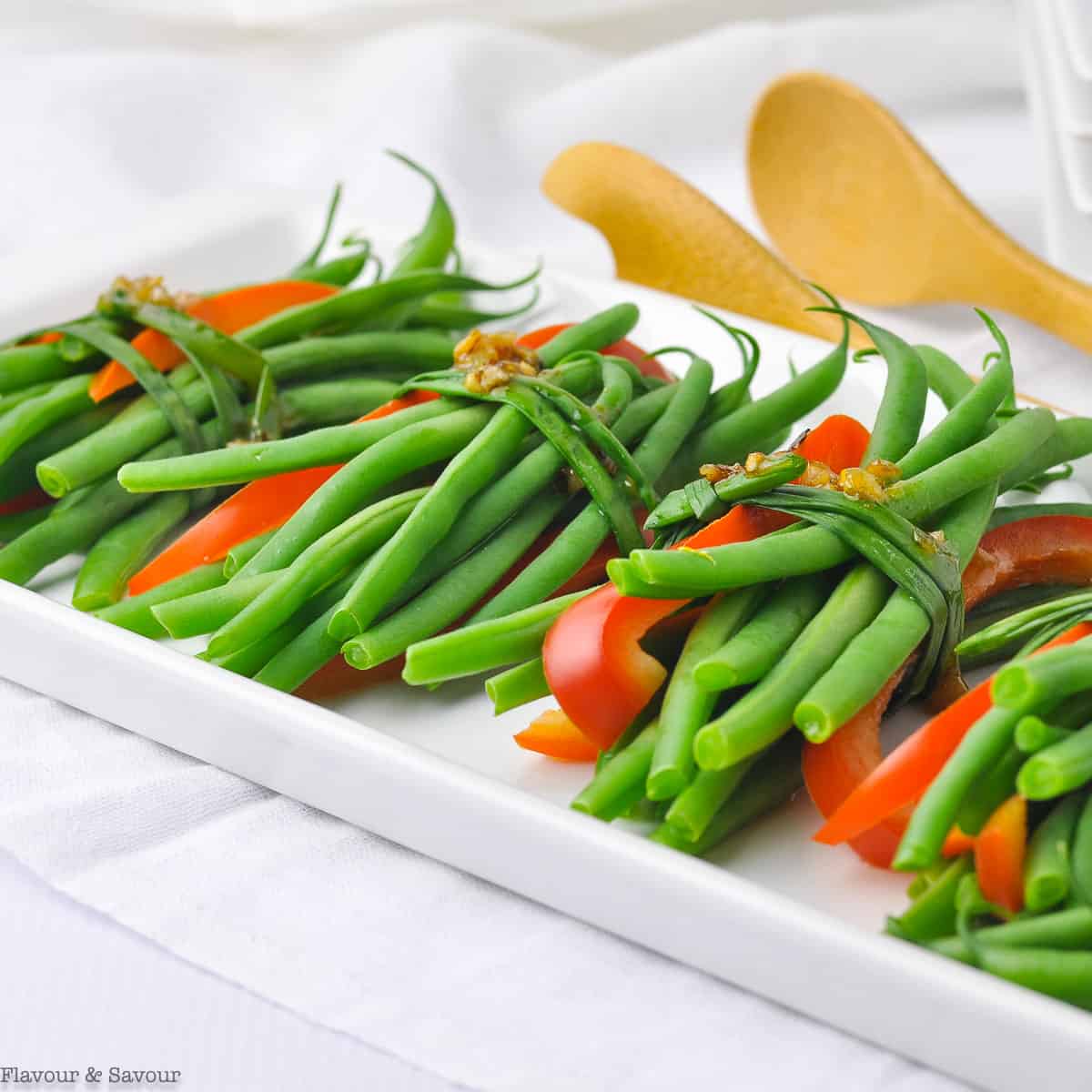 Storing Leftovers
If you have leftover bean bundles, refrigerate them within two hours to avoid bacteria forming. You can reheat them in a skillet with a little butter or oil, just until heated through.
🍽 Serving suggestions
When you make these vegetarian green bean bundles, please leave a comment and a rating and let me know how they turned out for you. Thanks in advance!
This post was originally published in 2018. I've updated it with extra information and photos to make it more helpful.
🗒 More side dish recipes
📖 Recipe
This recipe was adapted from Olive Oil Market Place .