This homemade Spiced Cranberry Orange Sauce is 100 times better than the canned variety and it's so easy to make. This recipe uses the best cranberry sauce spices and is flavoured with orange zest, too. This post also includes ideas for using leftover cranberry sauce!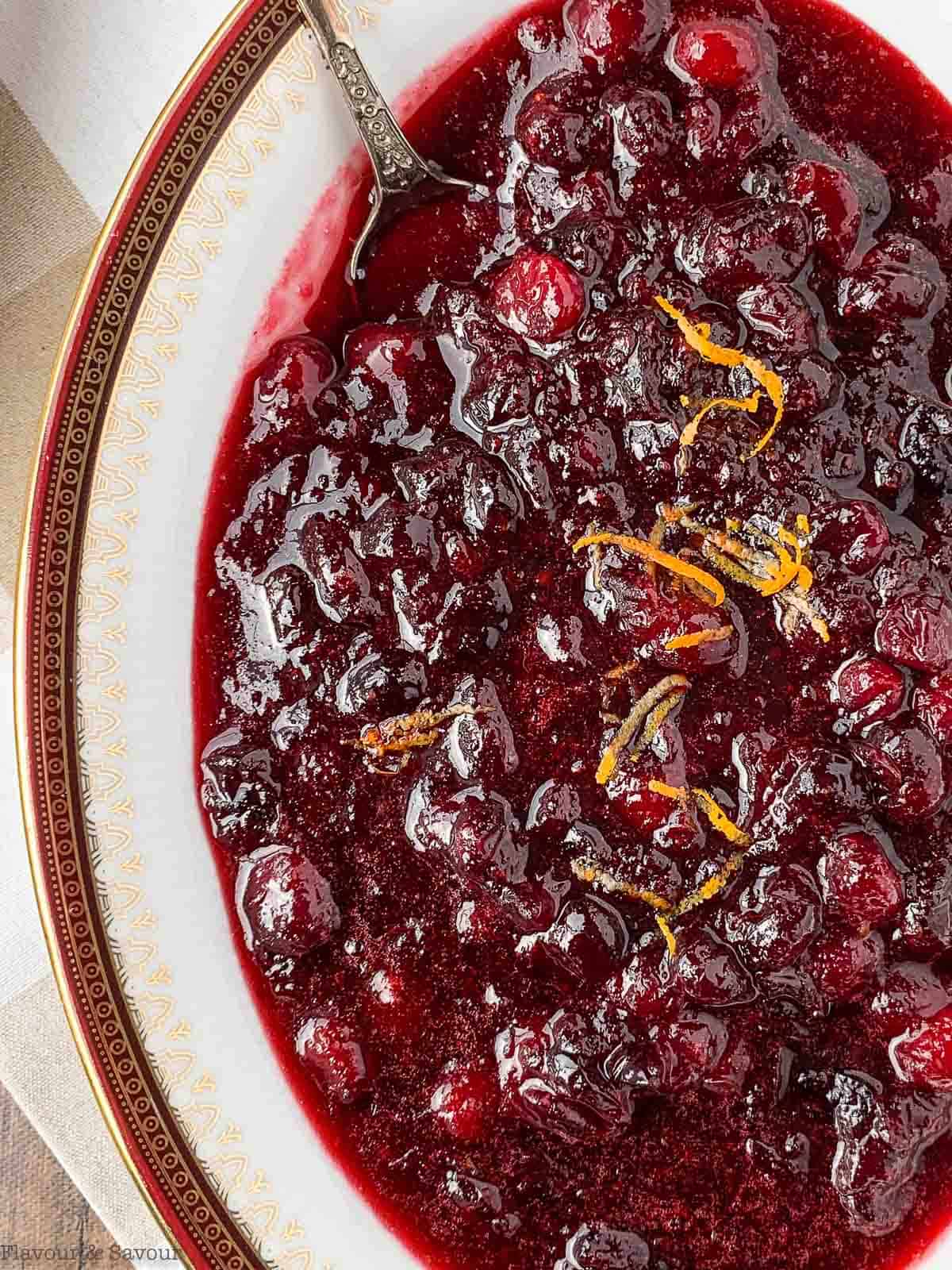 ❤️ Why you'll love this recipe
This Spiced Cranberry Orange Sauce with Triple Sec is our family's favourite sauce to serve with turkey or roast chicken. After trying several recipes, we all agree it's the best cranberry sauce!
It's lightly flavoured with orange juice, cinnamon, nutmeg and cloves and (optionally) spiked with an orange liqueur.
It's a gourmet homemade cranberry sauce for your holiday dinners that may just become your family's new favourite, too. Once you make it, you'll wonder why you ever bought it in a can.
You can make it well ahead of time and either refrigerate or freeze it, leaving one less thing to do when preparing a holiday dinner.
Fresh cranberry sauce is something that I only make a few times a year. This recipe is one I've used for years, but since I don't make it often, I haven't committed it to memory. My original reason for posting it here was simply to have it at my fingertips here on my blog when I need it!
But it's just so good that I wanted to share it with you, too.
Are cranberries good for you?
Cranberries are a good source of vitamins (especially Vitamin C) and fiber. They're considered to be a superfood. You can read more about their antioxidant properties and their nutritional value in Cranberries 101: Nutrition Facts and Health Benefits.
🛒 Ingredients for cranberry orange sauce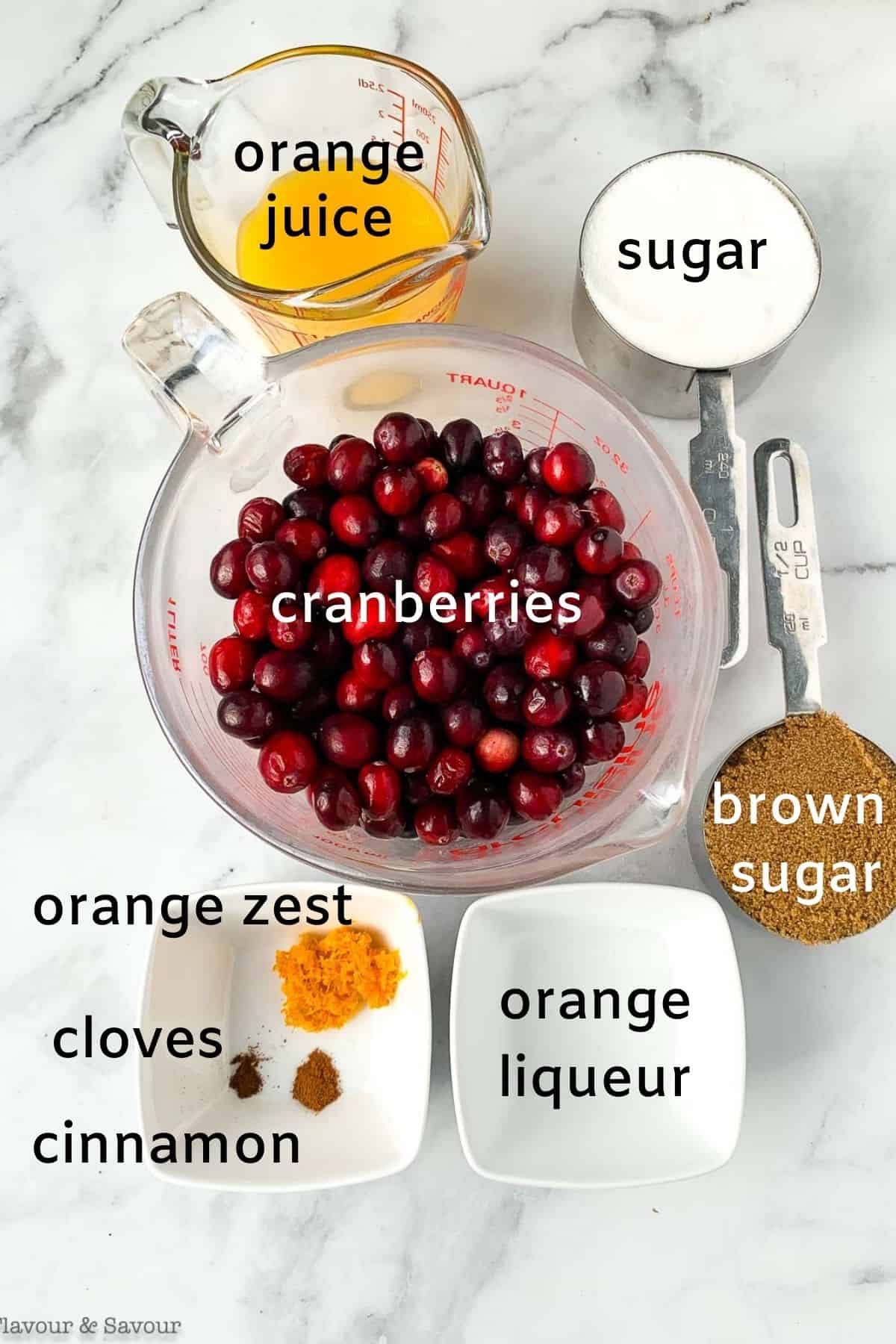 cranberries: fresh or frozen
sugar: using a combination of white sugar and brown sugar gives the best flavour
orange juice: freshly squeezed or whatever you have on hand.
orange zest: just a little adds a punch of flavour
spices: cinnamon and cloves
orange liqueur: like Triple Sec or Gran Marnier
🥄 Instructions
Combine the frozen or fresh cranberries, sugar, and orange juice in a medium pot.
Bring to a boil, then reduce heat to simmer and cook until the cranberries pop. Remove from the heat.
Stir in the finely grated orange zest, cinnamon, and cloves. Add a tablespoon or two of Triple Sec for extra orange flavour, if you'd like.
It may look thin, but cranberries contain a lot of natural pectin, so the sauce will thicken as it cools.
Once the cranberry sauce has cooled, store it in the refrigerator until you're ready to use it.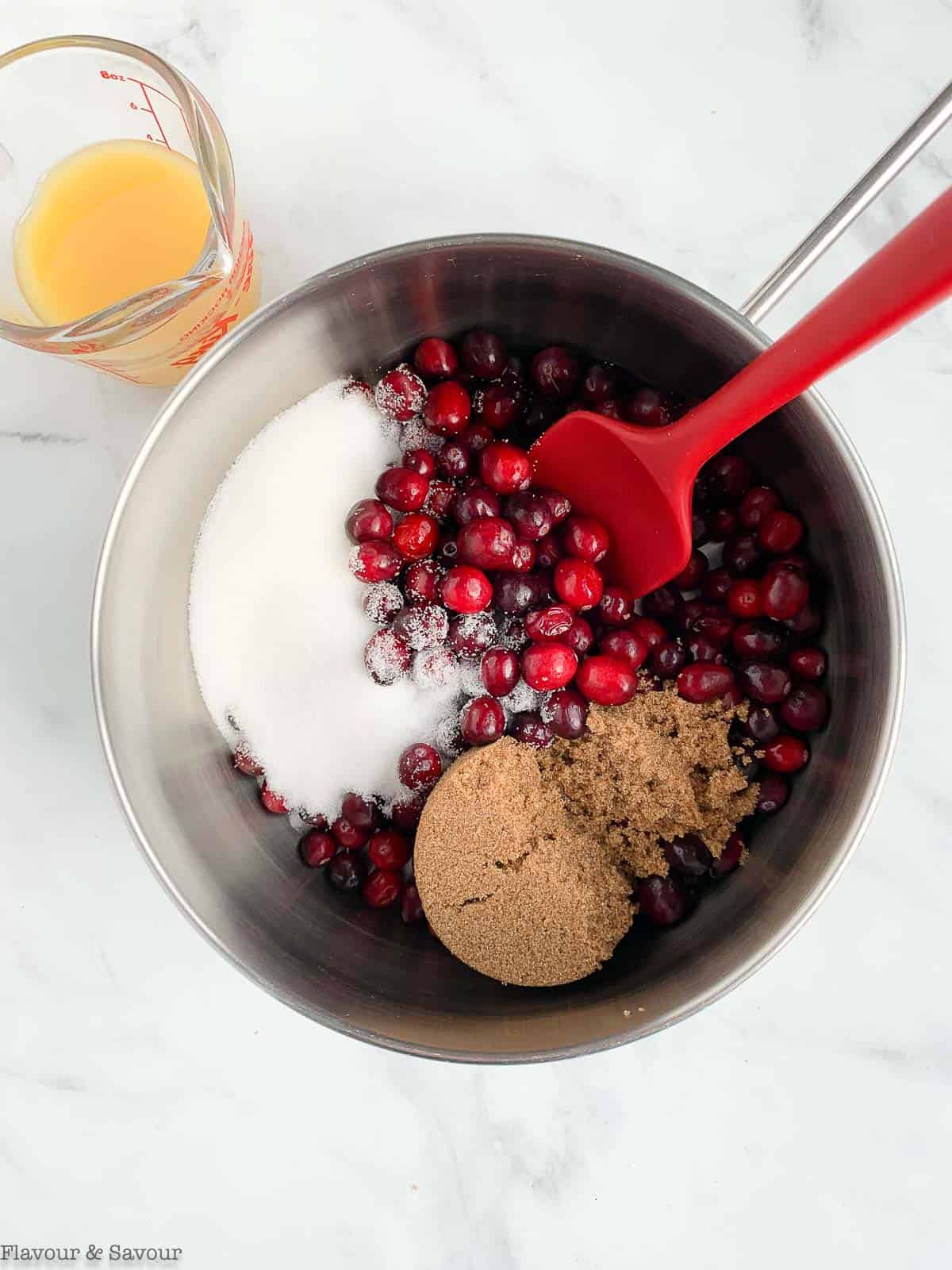 🥶 Storage and freezing instructions
Can I make cranberry sauce ahead of time?
Yes, absolutely. It will last up to a week tightly covered in the fridge. You can also freeze any leftover sauce for up to three months or more. Store it in a Ziplok bag or use a vacuum sealer to remove the air and seal the bag. (affiliate links)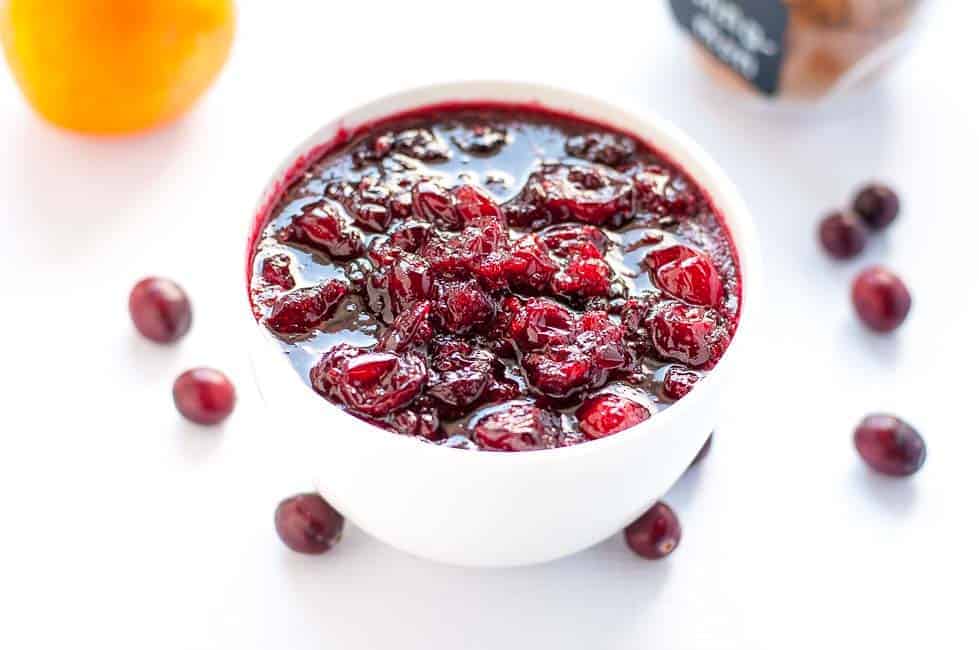 More side dish recipes to try soon
📖 Recipe
*This post was originally published in 2016. I have updated the instructions, added new photos and added nutrition information.