8 Fabulous Cherry Recipes for that all-too-short cherry season! These easy gluten-free recipes use either fresh or frozen cherries.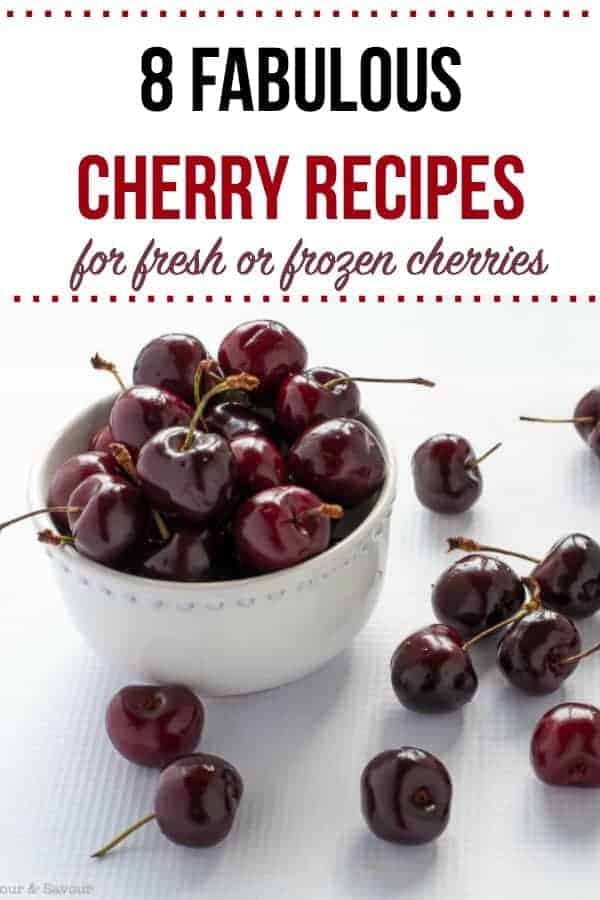 When cherry season arrives I can't seem to get enough of those juicy little jewels. Popping one in my mouth leads to another and another . . . and soon there aren't enough left to use for a special dessert. While I love feasting on raw cherries, sometimes it's a treat to make something special with them.
We usually pick our own cherries at a local farm, but last winter I discovered that I can buy bags of organic frozen cherries in most supermarkets. Those ones are already pitted! All of these 8 Fabulous Cherry Recipes use either fresh or frozen cherries, and all are gluten-free!
8 Fabulous Cherry Recipes for Fresh or Frozen Cherries
Flourless Cherry Almond Ricotta Cake
This Flourless Cherry Almond Ricotta Cake is light, delicately almond-flavoured and filled with fresh cherries. It never fails me!
Mini No-Bake Cherry Almond Cheesecake
This recipe for Mini No-bake Cherry Almond Cheesecake makes an easy dessert for a crowd! Love cheesecake but don't like the fuss? This recipe may be just what you're looking for. Make ahead of time and freeze!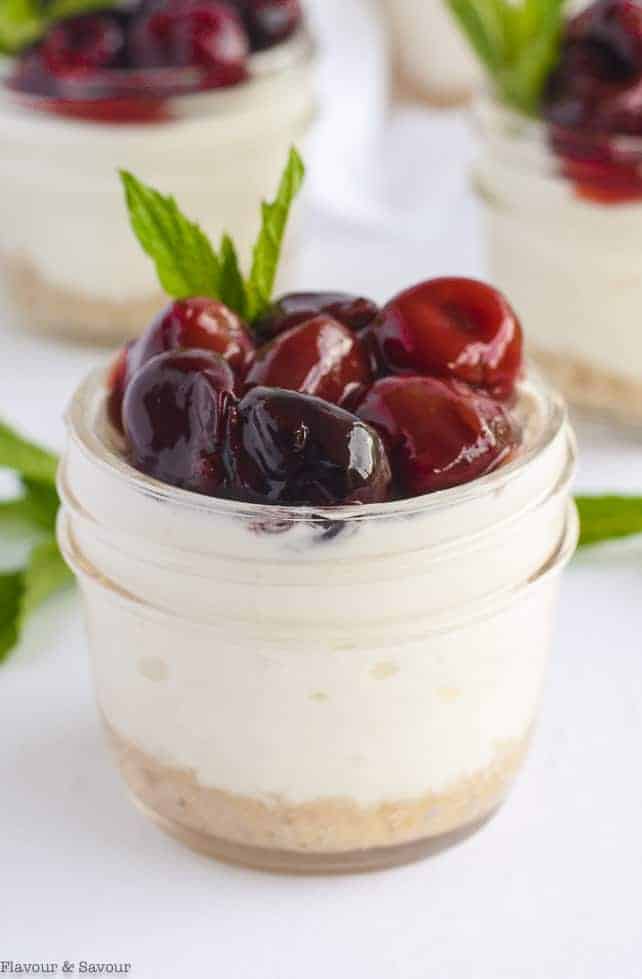 Gluten-Free Cherry Chocolate Skillet Cookie
Gluten-free Cherry Chocolate Skillet Cookie to the rescue when you need a quick dessert!
Pop this in the oven, grab two spoons and dive in to this skillet cookie with your partner. Gooey chocolate, sweet cherries and a soft cookie with crispy edges: who knew eating a cookie could be this much fun?
10-Minute Creamy Lemon Ricotta Cherry Parfait
Make this mini dessert in less than 10 minutes. It's a creamy, light and refreshing little jar of deliciousness with a touch of lemon and almond. Fresh, sweet, just-picked juicy cherries put this tiny dessert over the top!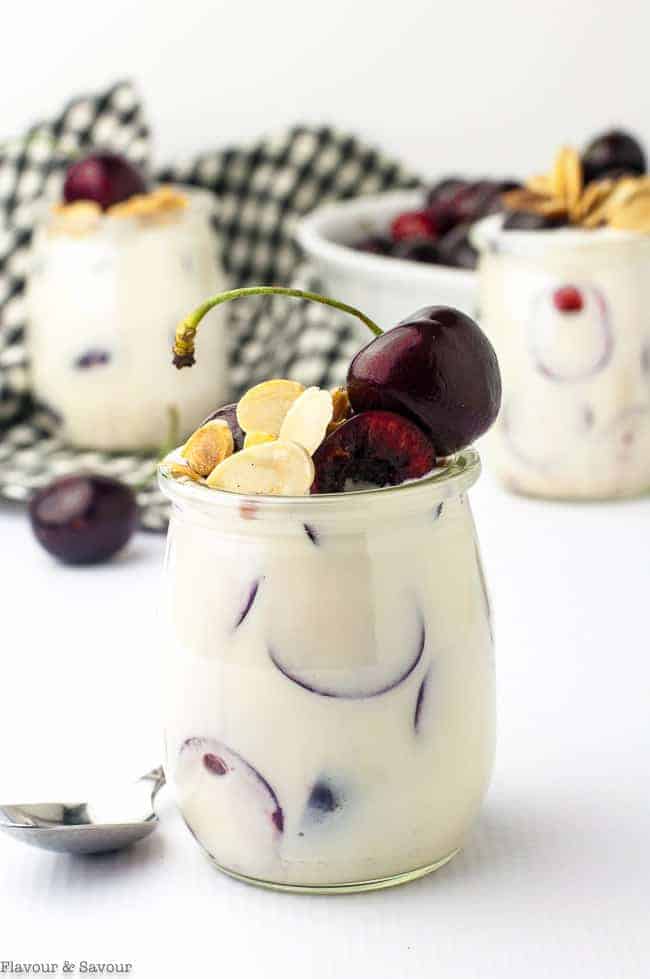 Light Cherry Yogurt Coconut Fool
Mini desserts like this one are often all we want after a big meal. This no-bake easy dessert is lightly sweetened with your choice of sweetener. Cherries add a delicate colour and natural sweetness. Pretty in pink!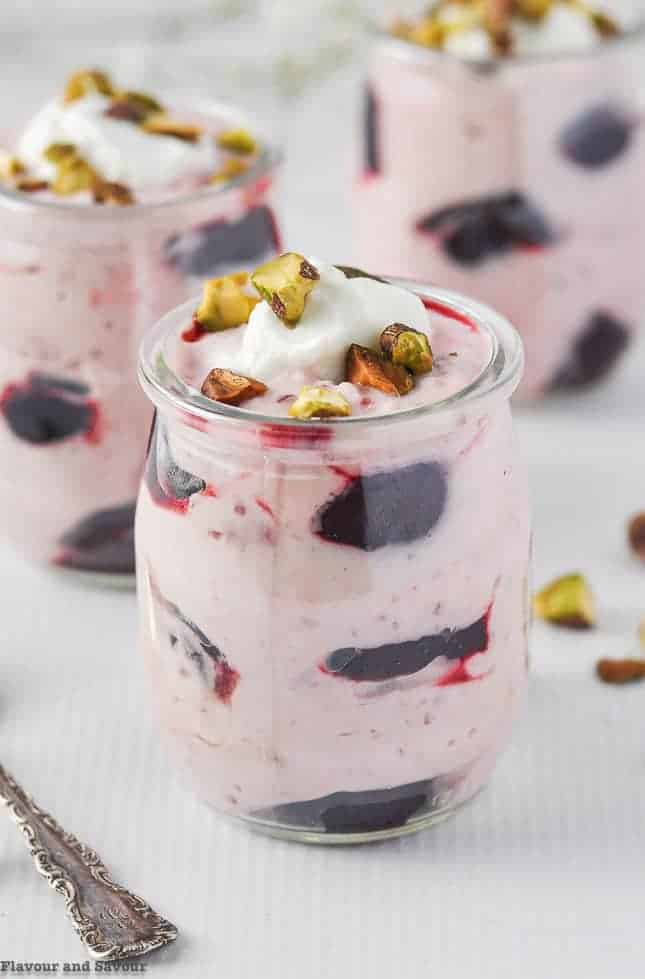 Cherries are delicious for breakfast, too!
Cherry Vanilla Baked Oatmeal with Chia and Hemp
Make-ahead breakfasts make mornings so much easier. Bake a batch of these oatmeal cups and serve with more cherries and yogurt. Nutritious and filling!
Cherry Berry Gluten-Free Clafoutis
Here's a rustic French country classic filled with fruit! If you can make pancakes or waffles, you can make this classic skillet dish. Is it breakfast or is it dessert? You decide!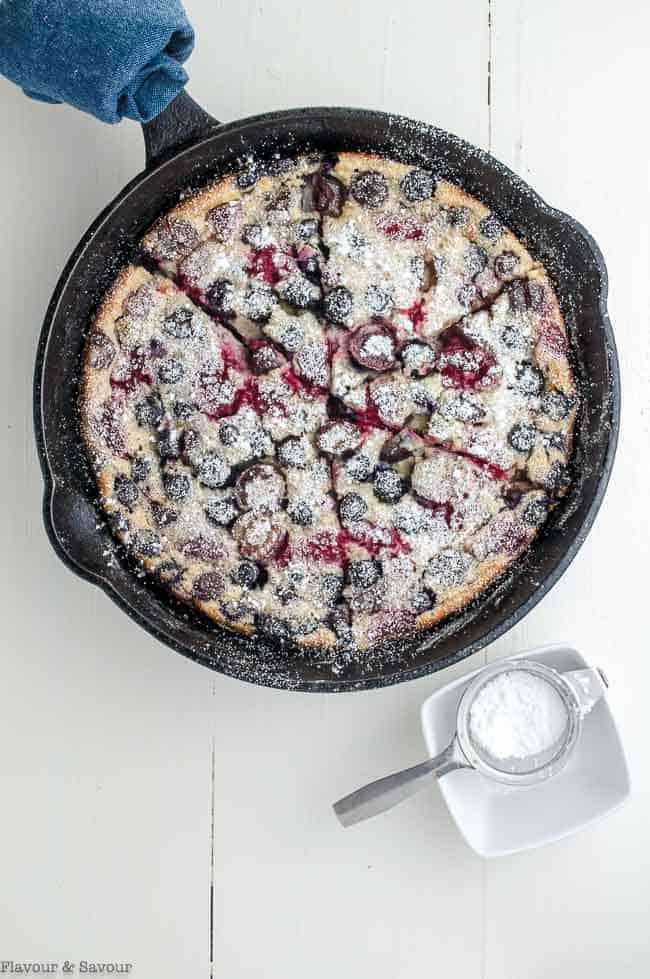 Try these cherry recipes for appetizers, too.
Fresh Cherry Salsa Goat Cheese Appetizer
This Fresh Cherry Salsa is sweet but savoury, spicy but fruity. Serve with goat cheese or whipped feta cheese as an appetizer, or with fish, chicken or tortilla chips!
And here's one more cherry recipe!
Roasted Cherry Goat Cheese Crostini
These two-bite appies are sweet and yet they're savoury. They're crispy, but creamy. Tiny toasts, smeared with salty goat cheese, topped with rosemary roasted cherries and drizzled with honey and balsamic glaze made an appy to remember!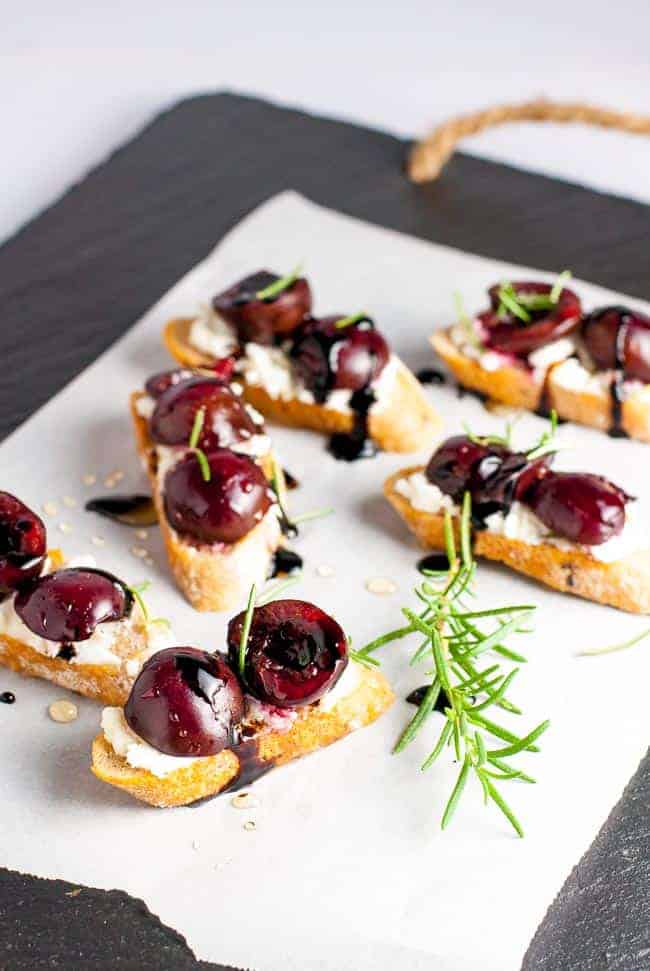 Which of these fabulous cherry recipes will you make first?
SAVE THIS TO ONE OF YOUR PINTEREST BOARDS
and
connect with me on Pinterest
! I'm always finding new tasty recipes to pin. Subscribe to my weekly newsletter and never miss a recipe!
This post contains affiliate links. If you click on any of the affiliate links and make a purchase within a certain time frame, I'll receive a small commission. The commission is paid by the third party, not by you. I am a participant in the Amazon Services LLC Associates Program. It's an affiliate advertising program designed to provide a means for me to earn fees by linking to Amazon.com and affiliated sites.