This gluten-free Chicken Saltimbocca is a simple Italian dish of chicken cutlets topped with prosciutto and sage leaves and bathed in a delicious buttery white wine sauce. An easy 30-minute meal!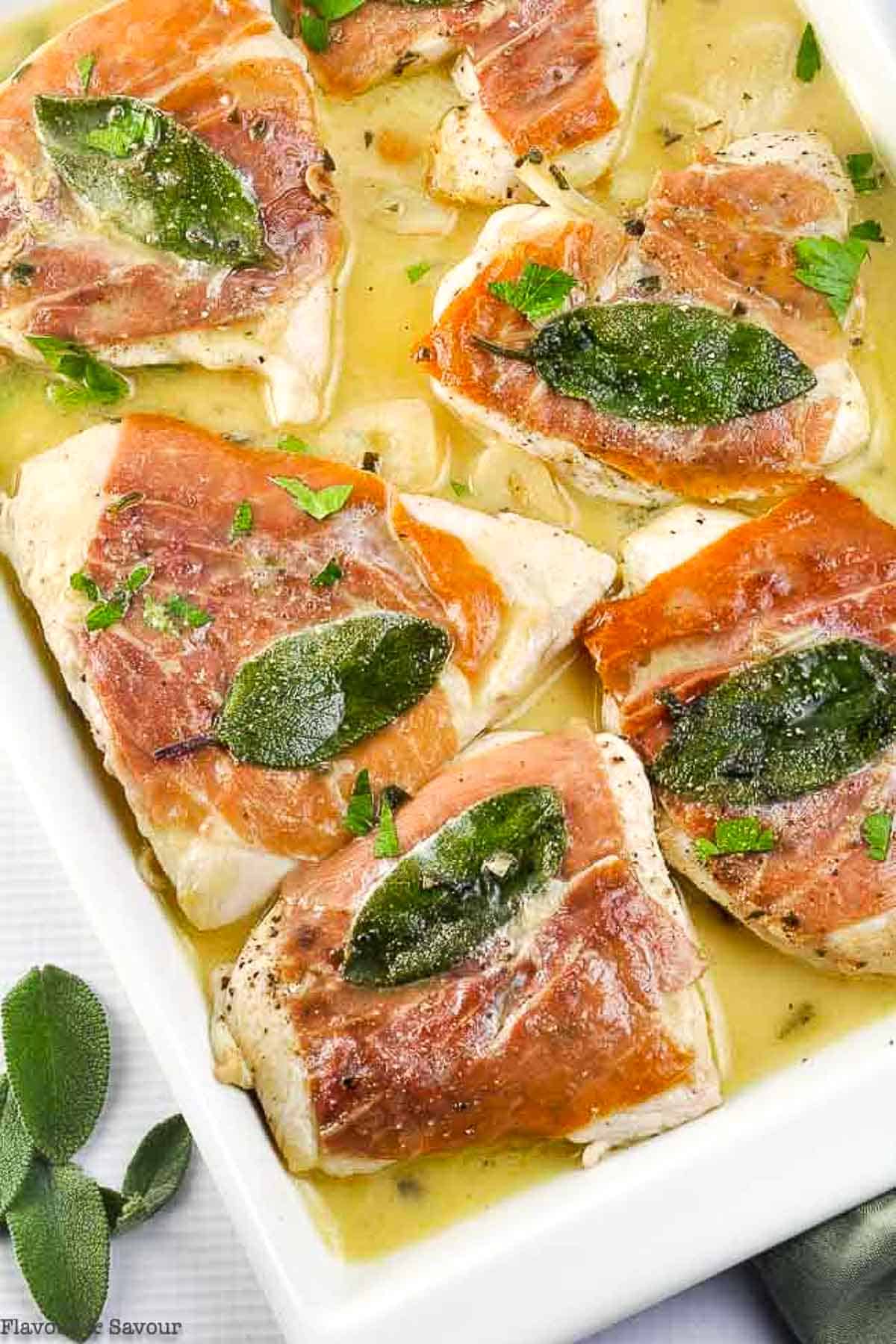 Chicken Saltimbocca! Feeling Italian today? Then this is the recipe for you.
Tender chicken cutlets topped with crisp, salty prosciutto and toasted sage, all bathed in a buttery white wine sauce sounds like a complicated recipe, but it's not.
It's the easiest Chicken Saltimbocca recipe you'll find, but it has ALL the flavour you're looking for.
It's easy enough for a mid-week meal, but elegant enough for a dinner party!
Saltimbocca translates from Italian to "jump in the mouth" and that's exactly what you'll want this tasty chicken dish to do. It's a dish from Northern Italy with all the rich flavours that we associate with Mediterranean cooking: herbs, olive oil, and cured meats.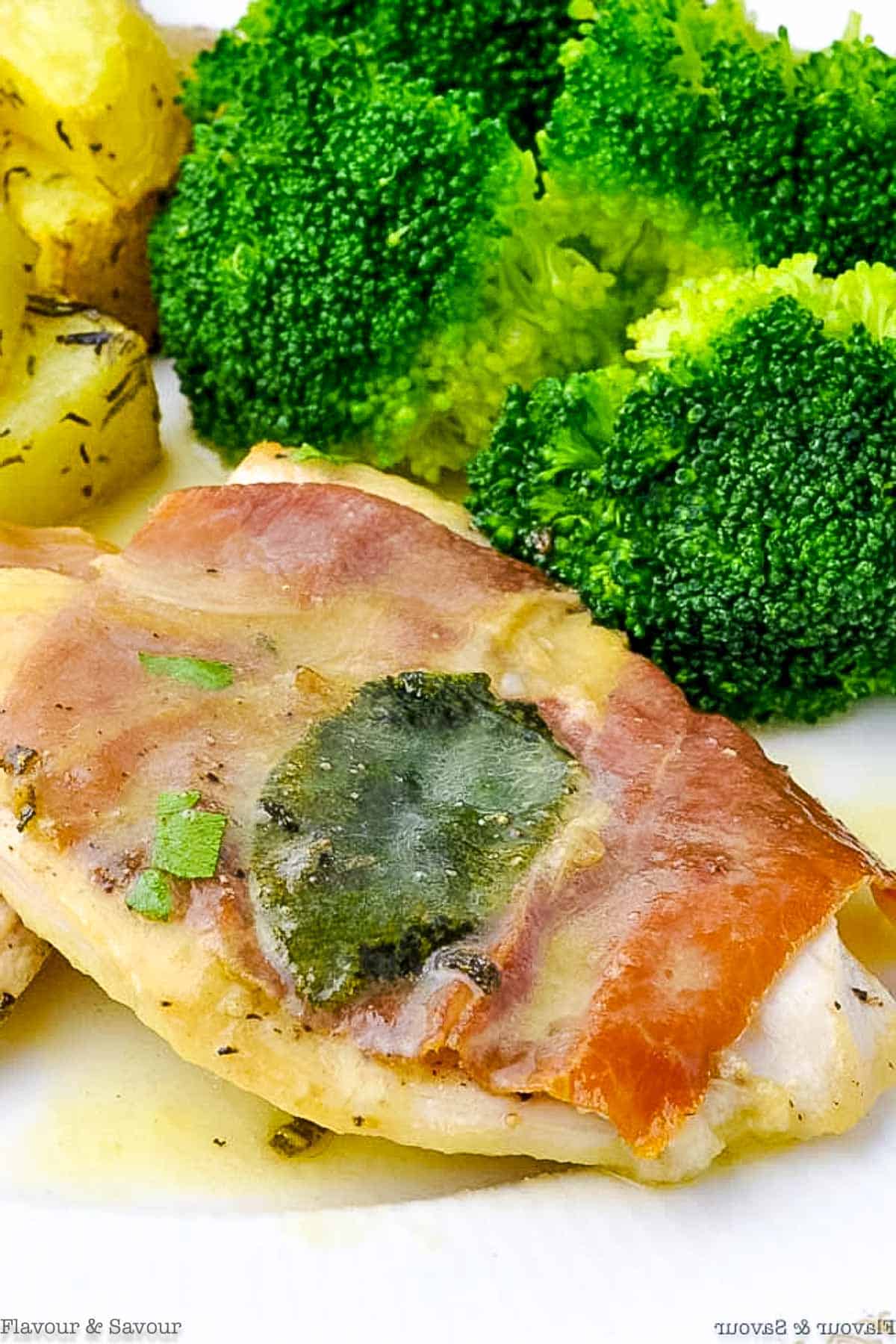 What makes this the easiest Chicken Saltimbocca recipe?
Short cooking time! Saltimbocca is traditionally made with veal and sometimes with pork cutlets and today, with chicken! It is sometimes served rolled. However, for a quick easy meal, cooking the chicken cutlets flat is my preferred method. Besides shortening the cooking time, this method results in crispy prosciutto!
Gluten-free! This Chicken Saltimbocca recipe is gluten-free. You can dredge the cutlets in a gluten-free flour mix if you like, but I found I could still achieve nice browning on the chicken without it.
No fuss! My method also avoids using the traditional practice of securing the prosciutto and sage to the chicken with toothpicks. Instead, I use egg whites to "glue" the sage to the prosciutto, eliminating fussing over adding and removing toothpicks, not to mention the possibility of accidentally leaving a toothpick behind.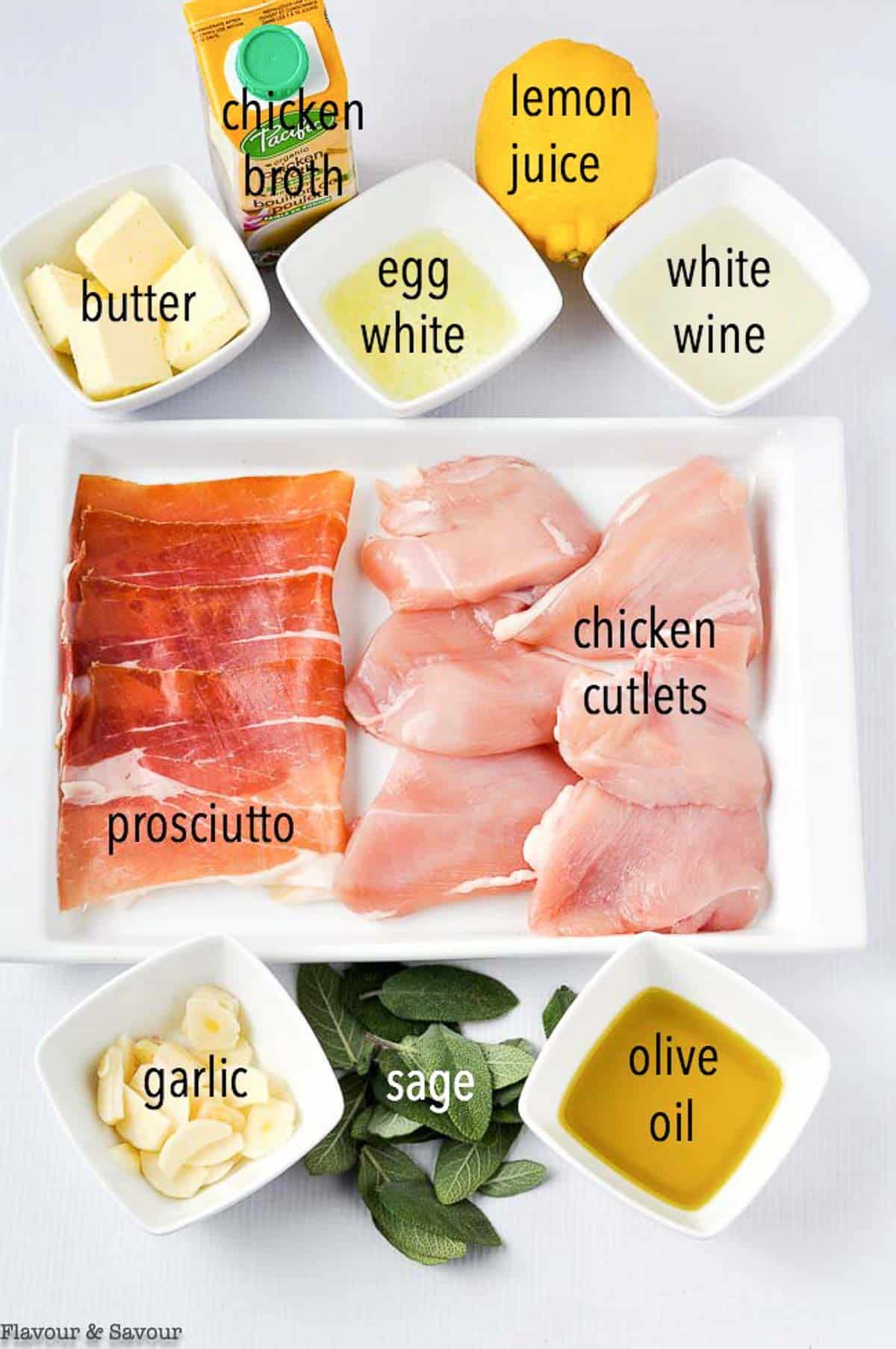 Ingredients
chicken breasts: A chicken breast is unevenly shaped. One end is thick and the other is thin. To insure even baking and prevent one part being overcooked or the other undercooked, create cutlets as follows. Cut the chicken breast in half crosswise, then slice the thicker portion horizontally so you end up with 3 pieces of fairly uniform thickness.
prosciutto: avoid buying prosciutto in a vacuum-sealed package if possible as the plastic may change the flavour. Buy a few slices from a deli counter, instead. Be sure to buy prosciutto that is thinly sliced, not shaved. Thick slices won't adhere to the chicken.
sage leaves: fresh, large leaves will add a delicious earthy flavour to this dish
egg white: A traditional recipe for Veal or Chicken Saltimbocca often recommends securing the prosciutto and sage leaf with a toothpick. Dipping the underside of a fresh sage leaf in egg white helps it to adhere to the prosciutto. This method eliminates the need for toothpicks, which can be tricky to remove when the chicken is hot, or may accidentally get left behind.
olive oil: for browning the chicken and in the second step for cooking the garlic and minced sage
garlic: remember to remove the little sprout from the center of the cloves as it may be bitter
chicken broth: for the savoury pan sauce
white wine: any dry white wine or unoaked Chardonnay. You could substitute broth or water for the wine, but it does add flavour.
butter: cut ¼ cup butter into four pieces and chill, then add to the pan sauce, one at a time, swirling until it melts
lemon juice: to balance the flavours. Always add lemon juice at the end after cooking to retain its flavour and brightness.
parsley: for garnish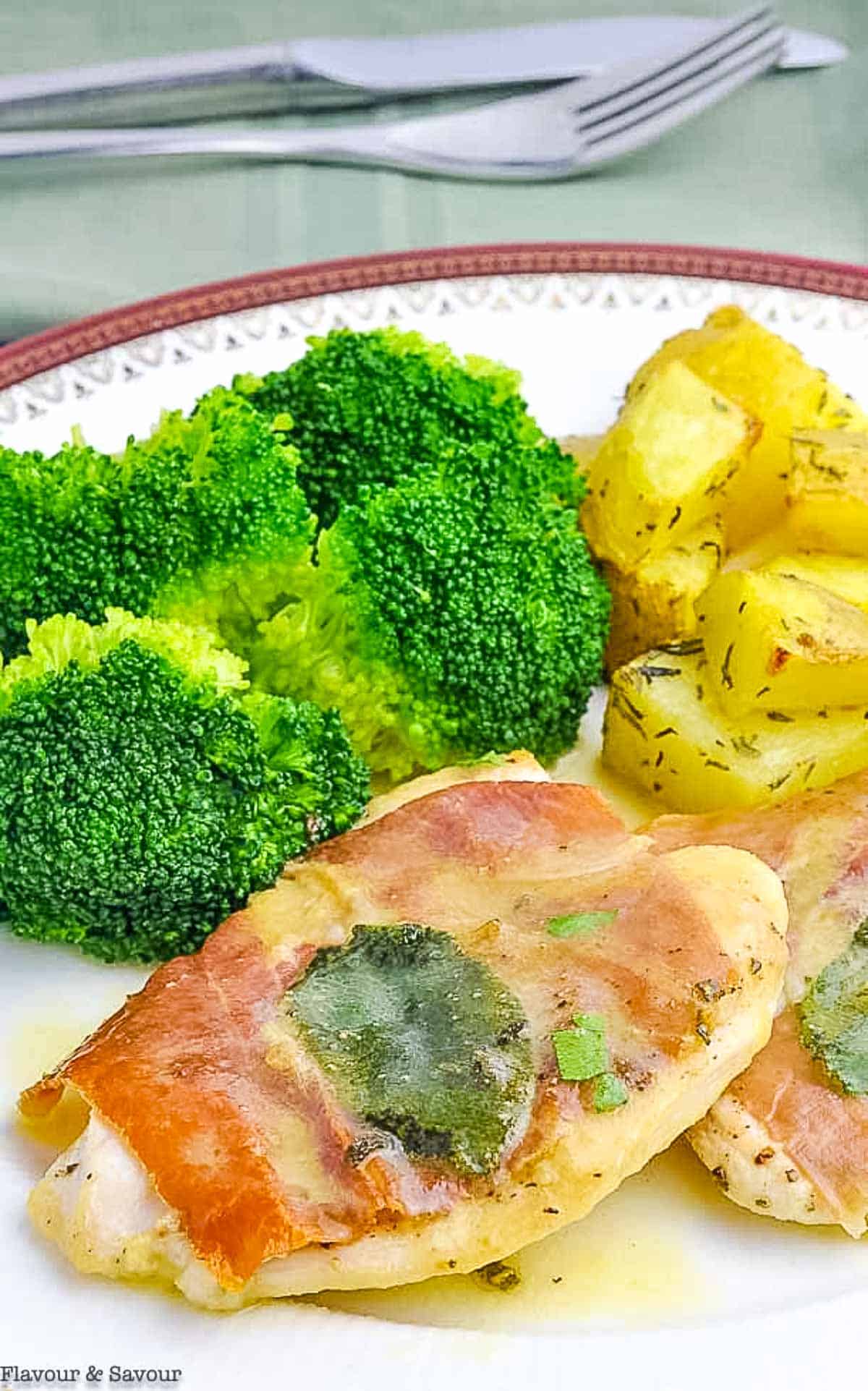 How to make the easiest Chicken Saltimbocca
At first glance, this recipe may seem complicated, but it's not.
Read the recipe card below for detailed instructions, but here's a quick overview.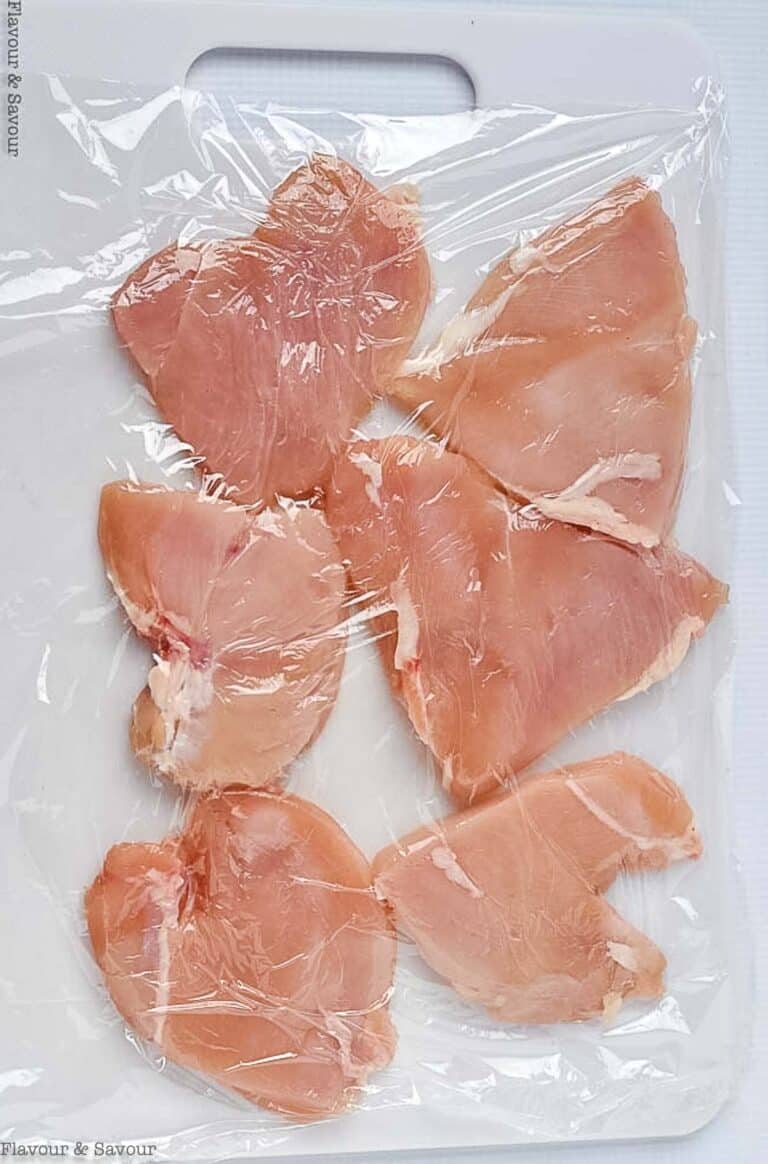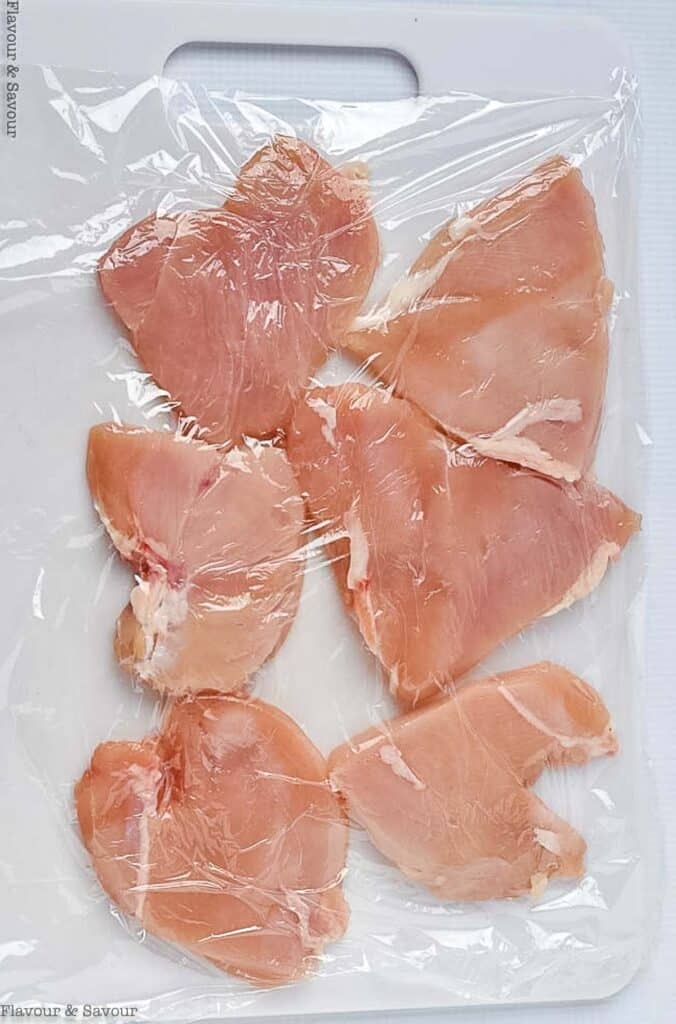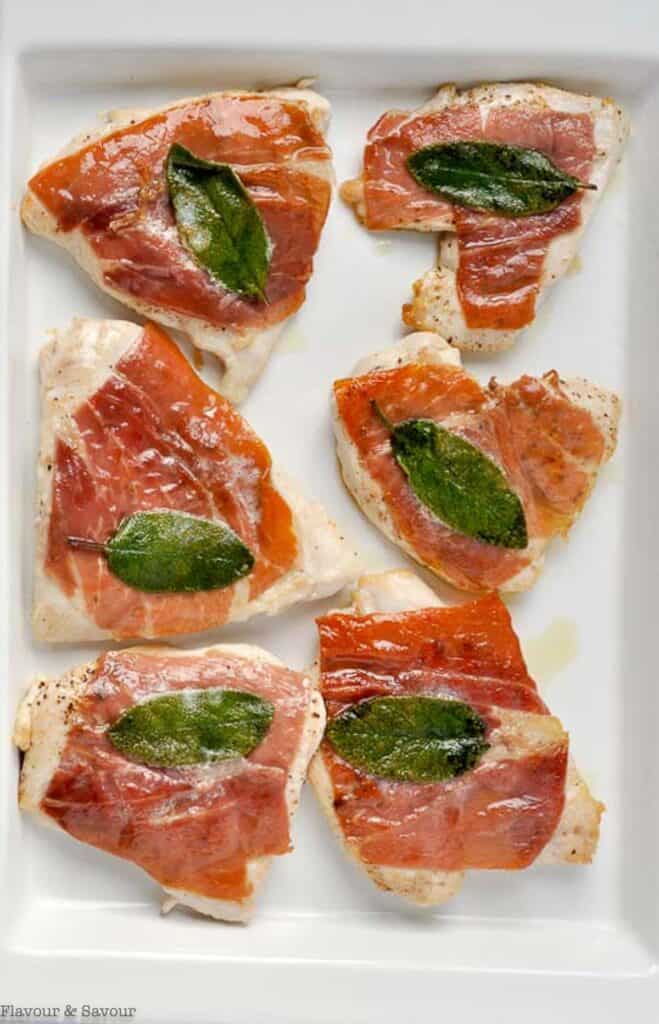 You'll begin with flattened chicken breasts. Add a thin slice of prosciutto and adhere a large sage leaf in the center of the prosciutto slice. Pound again to make sure the three layers stick together.
Brown on both sides in a skillet, then remove the chicken to a platter to keep warm.
Add garlic and minced sage to the now-empty skillet, then add broth and white wine. (It will smell SO heavenly!) Simmer to reduce by half, stirring up any fond or brown bits from the pan.
Next stir in butter, one tablespoon at a time, to make a rich pan sauce.
Add the chicken back into the pan to gently reheat. Check for doneness with an instant-read meath thermometer (165°F.) Season with salt and pepper and lemon juice. So simple and SO delicious!
What to serve with Chicken Saltimbocca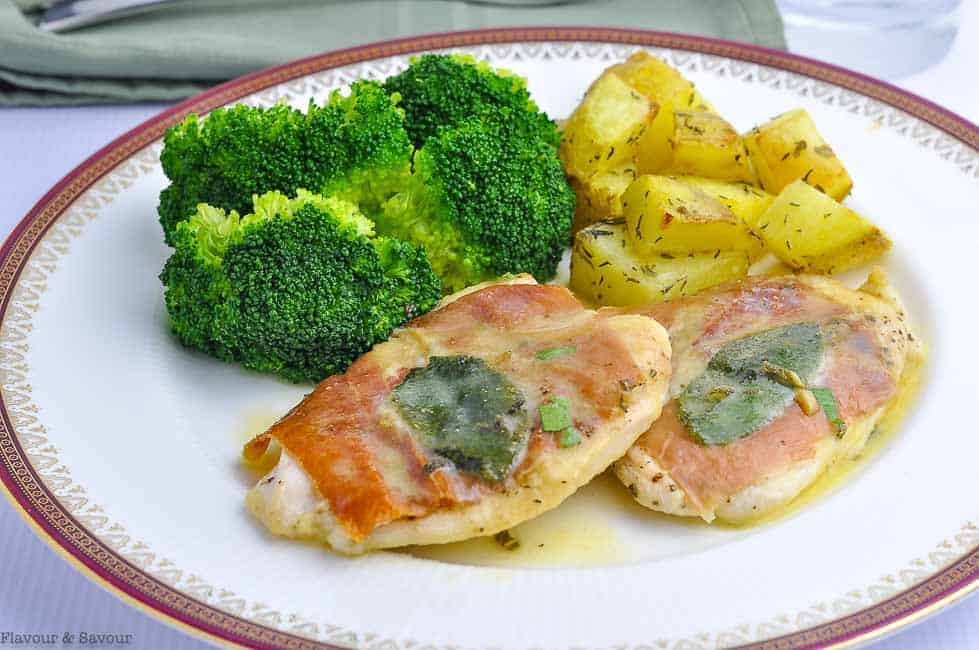 Love those Italian flavours? You'll love these Mediterranean-inspired chicken dishes, too!
When you make this 30-minute Chicken Saltimbocca recipe, please leave a comment and a rating below. I love hearing when you've made one of my recipes. Thanks in advance. Subscribe to my newsletter and have new recipes delivered straight to your inbox once a week.
More 30-minute meals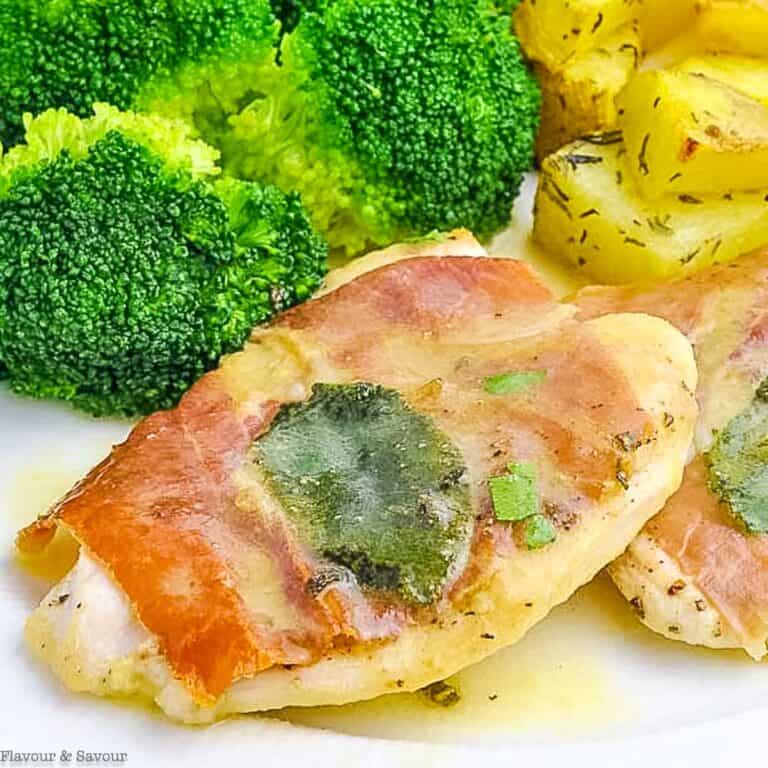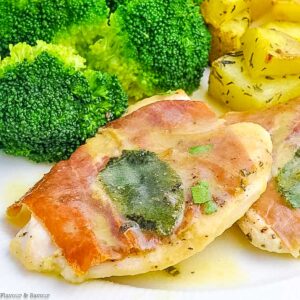 Easiest Chicken Saltimbocca - Gluten-free
This gluten-free Chicken Saltimbocca is an easy simple Italian dish of chicken cutlets topped with prosciutto and sage leaves and served with a buttery white wine sauce.
Print
Pin
Rate
Ingredients
2

chicken breasts

salt and pepper

4 - 6

slices

prosciutto

very thinly sliced

6

large

fresh sage leaves

plus 1 teaspoon minced sage leaves

1

egg white

lightly beaten

3

tablespoon

olive oil

extra virgin

2

cloves

garlic

thinly sliced

1

cup

chicken broth

¼

cup

dry white wine

or chicken broth

¼

cup

unsalted butter

cut into 4 pieces and chilled

2

teaspoon

lemon juice
Instructions
Make chicken cutlets from the chicken breasts. First, remove the tenderloin and save for another use. Cut each breast in half crosswise, the cut the thicker pieces in half horizontally. This will insure more even cooking time.

Place the chicken breast pieces between two sheets of plastic wrap and pound to ½ inch thick. Pat dry with paper towel and season with pepper.

Cut pieces of prosciutto to fit the cutlets, then position one piece on top of each cutlet, tucking in edges to avoid overhang.

Dip the underside of each sage leaf in slightly beaten egg white, then place one leaf, egg side down on top of each prosciutto slice. Cover with plastic wrap and pound lightly to make prosciutto and sage adhere to the chicken. Carefully peel back the plastic wrap.

Heat 2 tablespoons oil in a 12-inch skillet (not non-stick) over medium-high heat. When the oil shimmers, add 3 of the cutlets to the pan, prosciutto side down. Cook until lightly browned, about 3 minutes. Slide a fish turner underneath, or use tongs to carefully flip the cutlets and cook on the other side until light golden brown, another 2 minutes or so. Transfer to a platter, tent loosely with aluminum foil, then repeat with the remaining 3 cutlets. If you leave these too long or tent too tightly, the prosciutto will lose its crispness and the sage will wilt.

Add remaining 1 tablespoon oil to the empty skillet. Heat over medium-high heat until it shimmers. Add garlic and minced sage and cook until fragrant, about 45 seconds. Stir in chicken broth and white wine. Simmer until reduced by half, about 5 - 7 minutes, scraping up the browned bits. Reduce heat to low and whisk in butter, one tablespoon at a time. Stir in lemon juice, add add the chicken back into the pan. Season with salt and pepper to taste. Check for doneness. Chicken should be no longer pink inside.

Transfer to serving platter or plates, spoon sauce over top, garnish with fresh parsley, if desired, and serve.
Nutrition
Calories:
728.73
kcal
|
Carbohydrates:
3.28
g
|
Protein:
31.65
g
|
Fat:
63.11
g
|
Saturated Fat:
23.48
g
|
Cholesterol:
159.72
mg
|
Sodium:
856.43
mg
|
Potassium:
637.05
mg
|
Sugar:
0.56
g
|
Vitamin A:
742.99
IU
|
Vitamin C:
12.45
mg
|
Calcium:
24.94
mg
|
Iron:
0.94
mg
This recipe was adapted from America's Test Kitchen Pork Saltimbocca.