Here's a list of brands that have listed their Dijon mustard as being gluten-free. You'll also find a recipe for the most delicious dairy-free Honey-Dijon Vinaigrette Dressing and Dip and ways to use it. Discover over 15 recipes using Dijon mustard here on Flavour and Savour!
Quick answer: Dijon Mustard is gluten-free. It should be safe for people with celiac disease or other gluten-related conditions.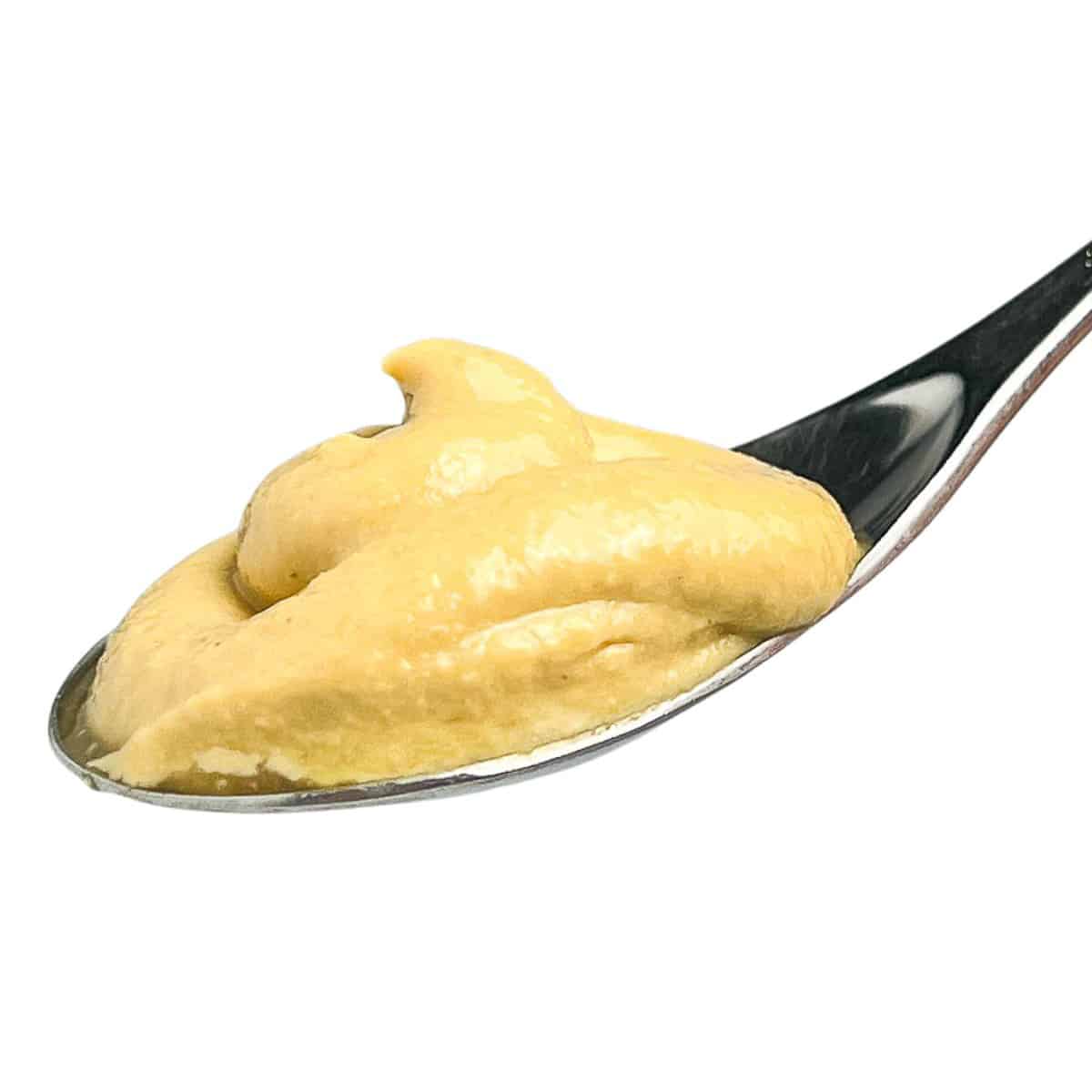 ❓ What is Dijon mustard?
Dijon mustard originated in the city of Dijon, located in the Burgundy wine region of France, in the 19th century.
It's an essential ingredient in French cuisine, particularly in the Burgundy region where it is a key component in classic dishes like Coq au Vin and Boeuf Bourguignon. Its tangy and slightly spicy flavour profile also makes it a popular condiment for sandwiches, grilled meats, and salad dressings.
Many of my salad dressing recipes call for a teaspoon of Dijon mustard for an extra burst of tangy flavour!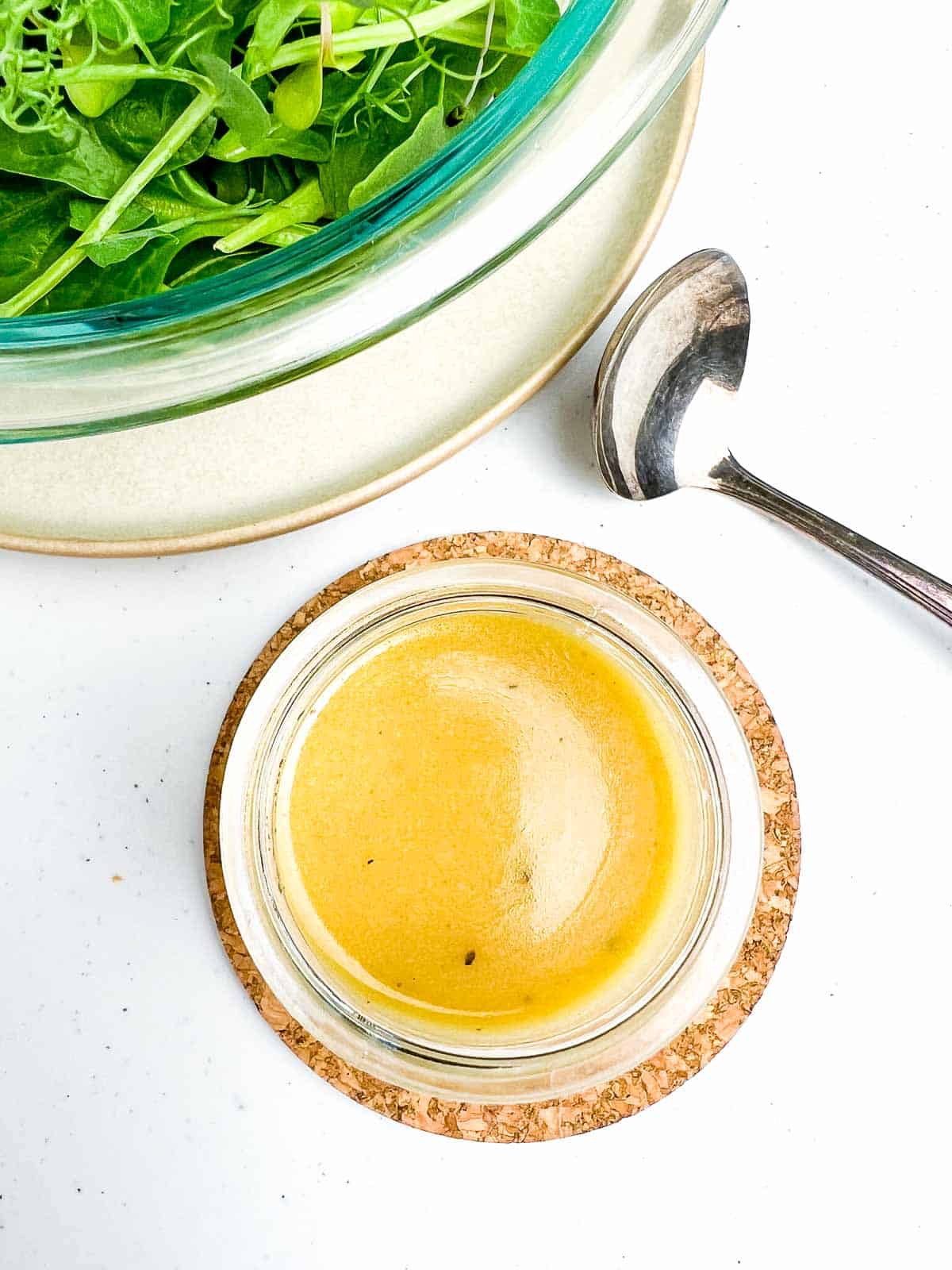 ❓ What is Dijon mustard made from?
Dijon mustard is made with a few simple ingredients, including mustard seeds, vinegar, salt, and sometimes other spices or flavorings. The mustard seeds are usually brown or black, and are ground into a fine powder before being mixed with the other ingredients.
You can make your own mustard at home!
This mustard is smooth and creamy, with a slight graininess from the mustard seeds. It's tangy and slightly sharp, with a hint of sweetness and a subtle spiciness. It can add depth and complexity to a wide range of dishes.
👍🏼 Popular Brands
While Dijon mustard is naturally gluten-free, there may be a chance of cross-contamination. Mustard is made with vinegar, and some types of vinegar are made from wheat. Others are made from corn or beets, safer for those who have celiac disease.
The following brands have described their mustard as being gluten-free. (affiliate links)
Ready to make your own honey-mustard dressing? This delicious dressing takes only 5 minutes to make and is so much better than store-bought.
🛒 Ingredients for Honey-Dijon Vinaigrette Dressing
As you can tell by the number of recipes featuring honey-mustard here on Flavour and Savour, I love these flavours. Over the years, I have experimented and tested this honey-mustard recipe many times.
The recipe I'm including here is my favourite!
To make your own Honey-Dijon Dressing and Dip, you'll need just a handful of ingredients. You'll find the printable recipe with amounts in the recipe card below.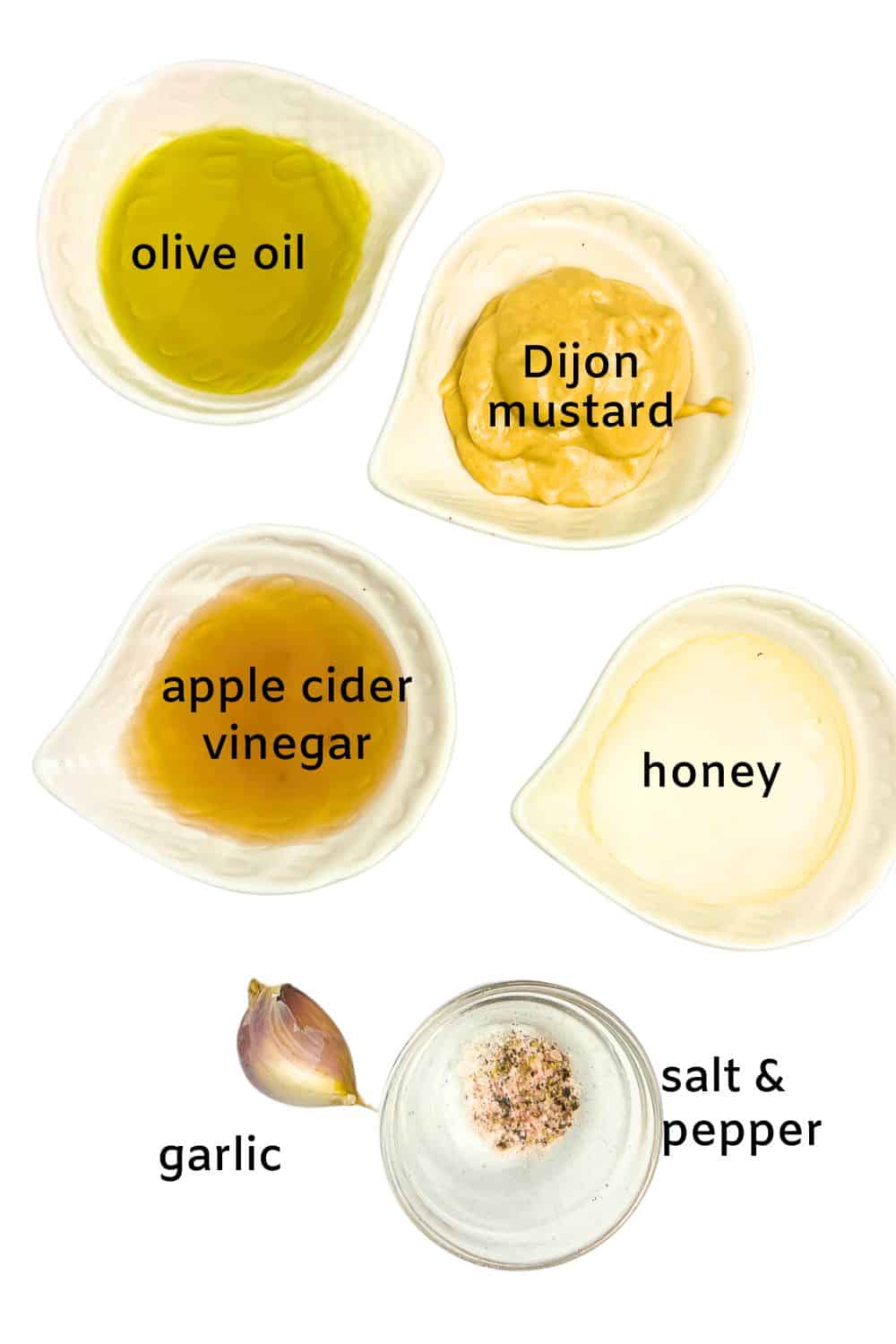 Dijon mustard
extra-virgin olive oil
apple cider vinegar
honey
garlic
sea salt and pepper
🥄 Instructions
Whisk the ingredients together until smooth, toss with your salad or use as a dip for veggies, chicken strips, or fish sticks.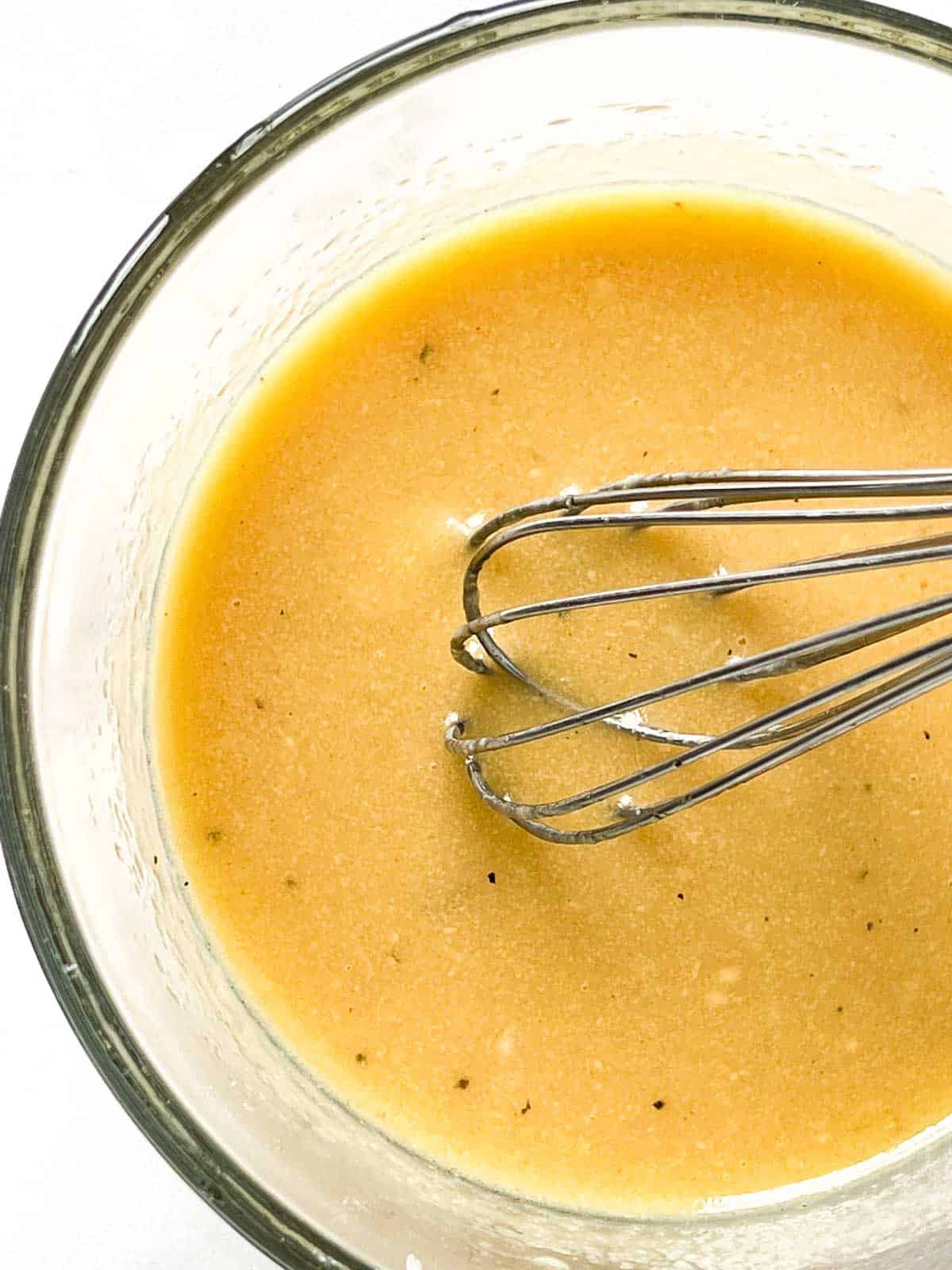 ❓ FAQ's
Is Dijon mustard nutritious?
Dijon mustard offers several nutritional benefits. It is low in calories, with only 5-10 calories per teaspoon, and contains no fat or cholesterol.

Additionally, mustard seeds are a good source of fiber, protein, and several vitamins and minerals, including vitamin C, iron, and magnesium.
It also contains antioxidants which have been linked to reduced inflammation and a lower risk of chronic diseases like cancer and heart disease.

And there's more!
Studies have suggested that the compounds in mustard seeds may help to lower cholesterol levels and improve digestion.

However, it is important to note that Dijon mustard does contain sodium, so if you're watching your sodium intake you should consume it in moderation. Overall, Dijon mustard can be a healthy addition to a well-balanced diet.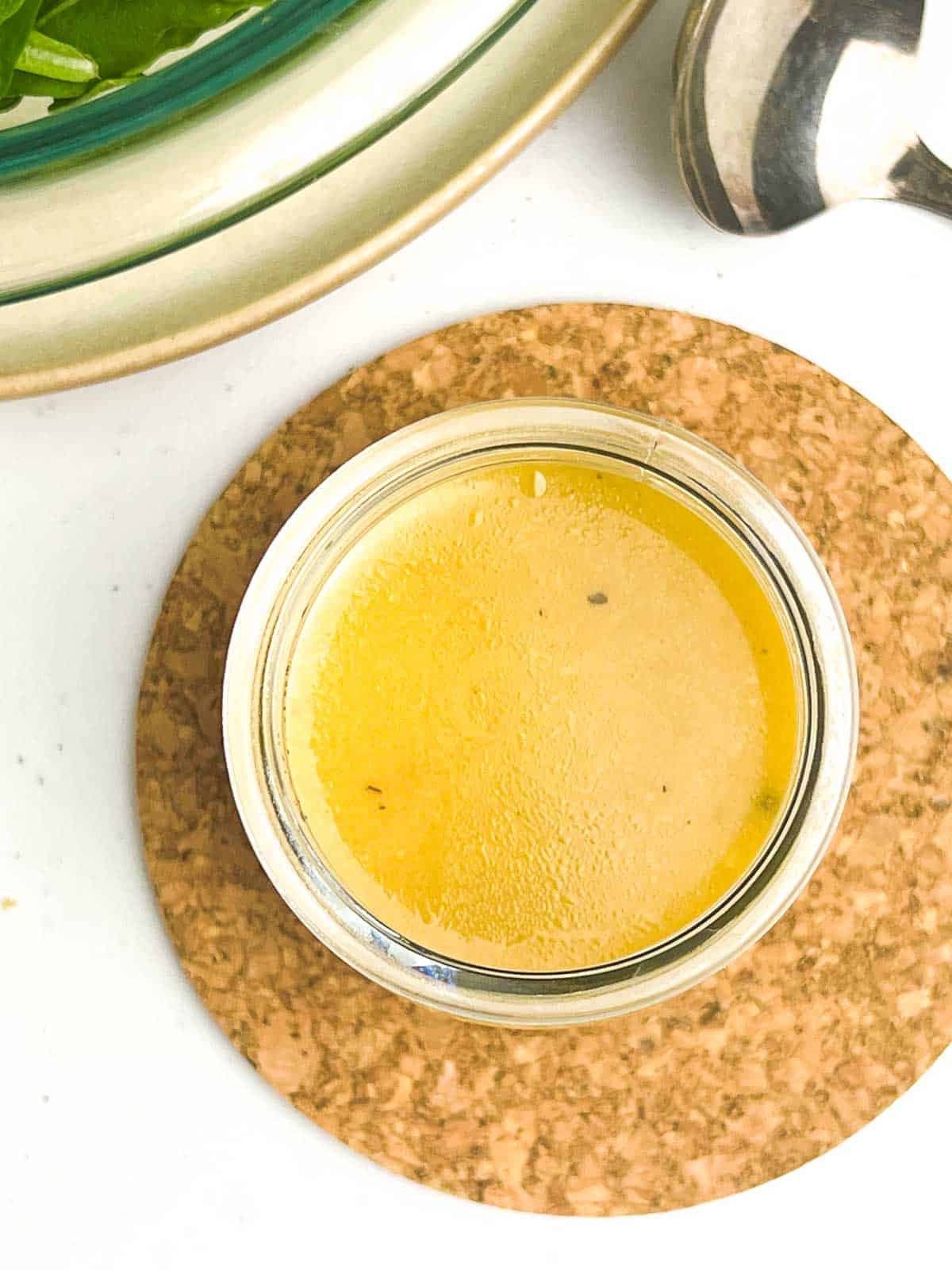 🍽 More ways to use Dijon mustard
Here are several recipes and ideas for ways to use a tablespoon or two of mustard in your daily meals.
As a condiment
Spread it sparingly on a sandwich or on a burger.
Add it to a dip for a burst of tangy flavour as in this recipe for Dijon Dilly Dip for Kohlrabi Sticks.
Offer it on a charcuterie board or antipasto platter for a tangy, spicy addition to an assortment of cheese, crackers, and cured meats.
In a marinade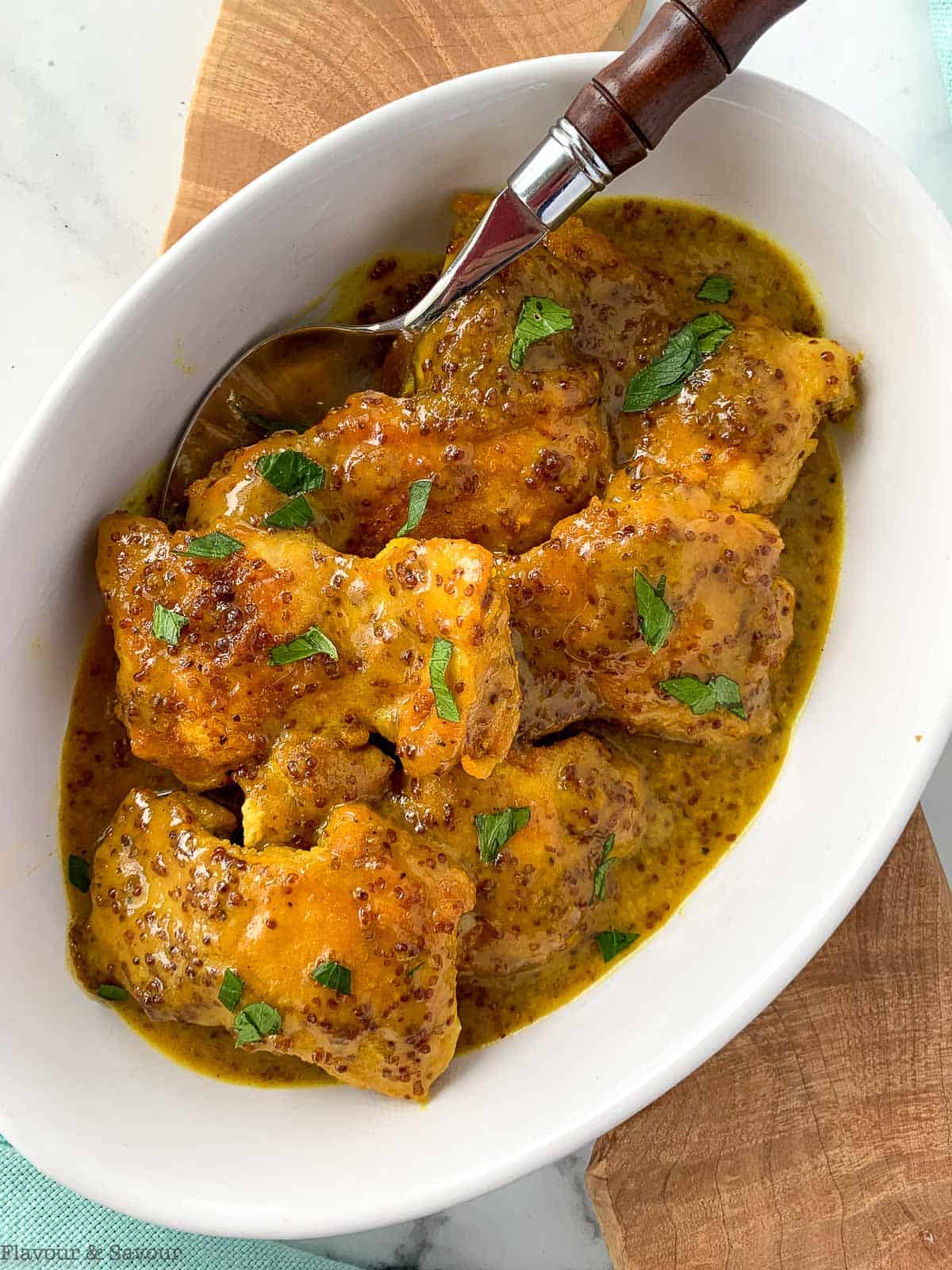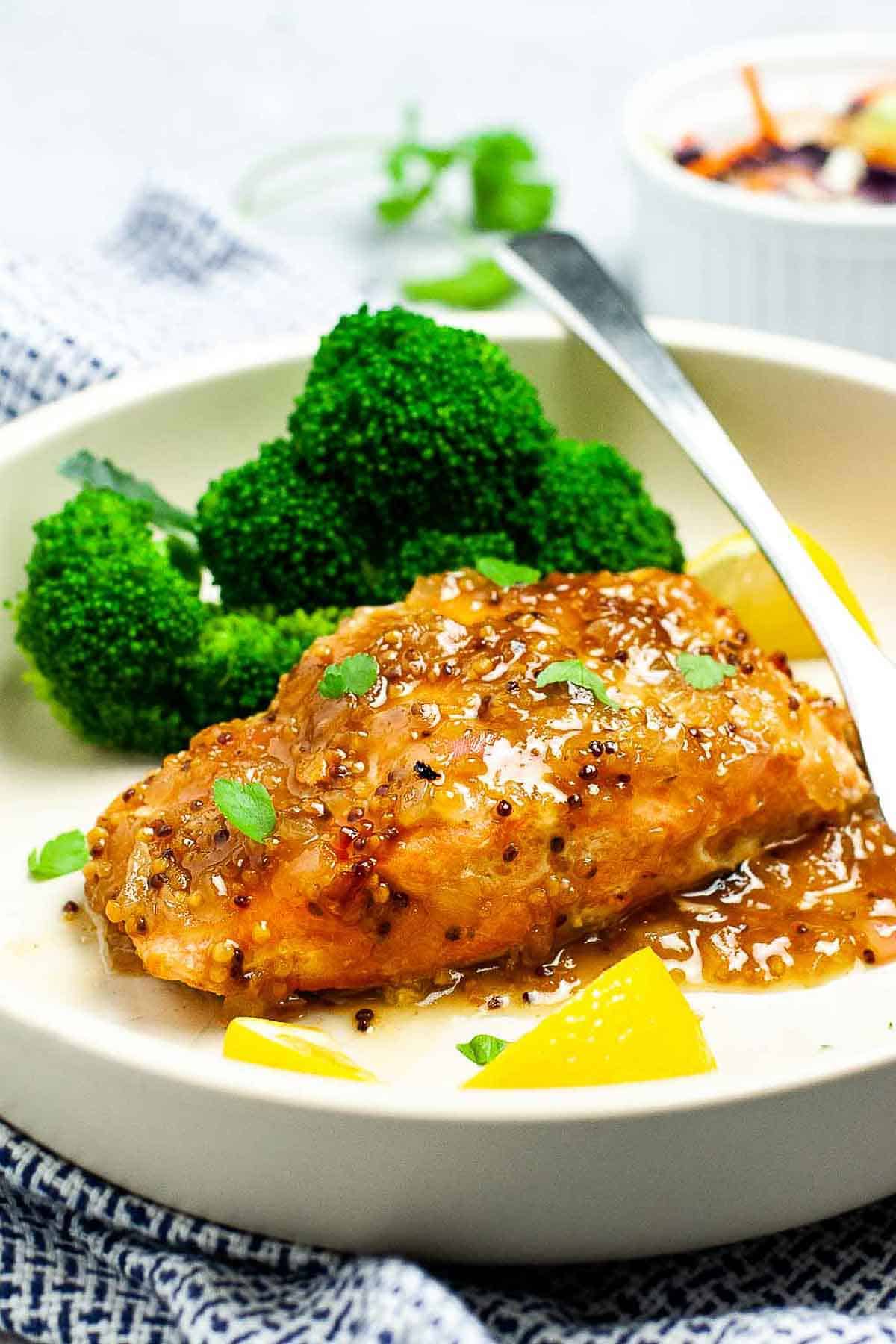 As a sauce
I like to use Dijon mustard instead of mayonnaise when I'm adding a coating to fish or to chicken. It adds so much more flavour and it acts as "glue" to help the coating stick to the meat.
For example, mustard mixed with lemon juice works beautifully as a base for a coating of nuts or seeds for chicken or fish in these recipes for
Honey-mustard sauce is a popular condiment for all kinds of dishes!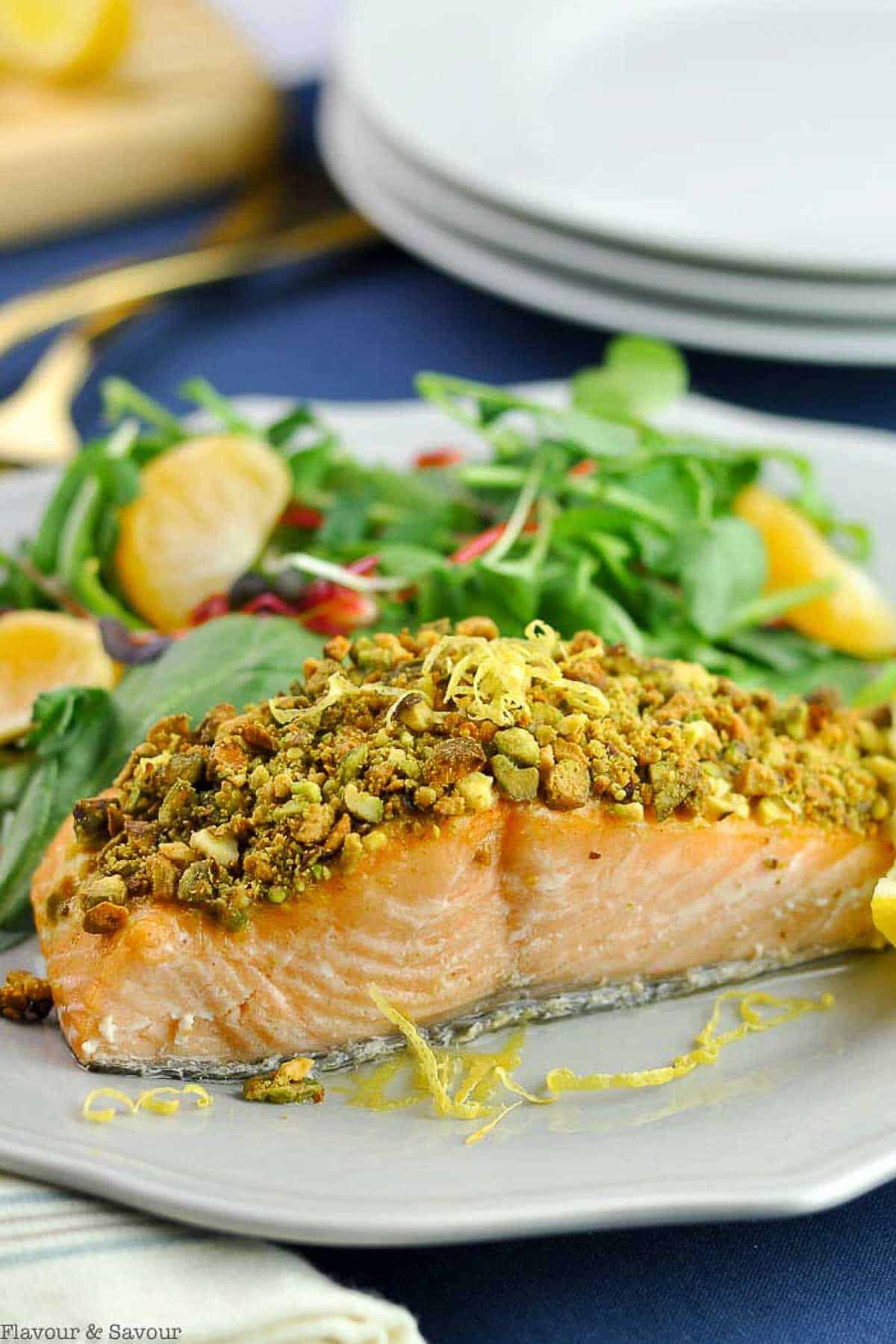 In salad dressing
Dijon can be used as a key ingredient in a classic French vinaigrette. I add it to many of my homemade salad dressing recipes, including this highly popular Everyday Honey-Citrus Salad Dressing.
Make a delicious broccoli salad with honey-Dijon dressing instead of mayonnaise and try this healthy Raw Carrot Salad with Honey-Dijon Dressing, too.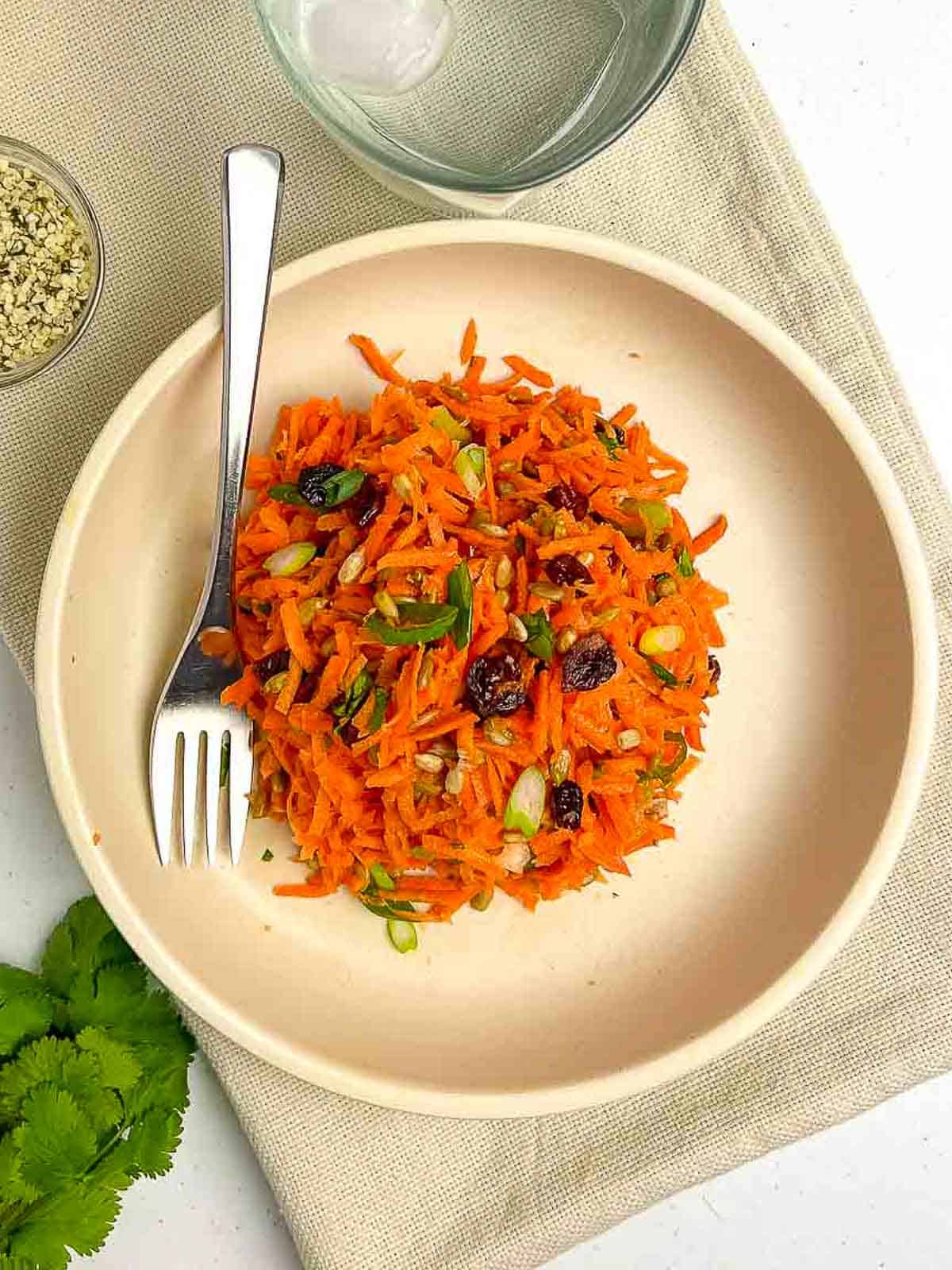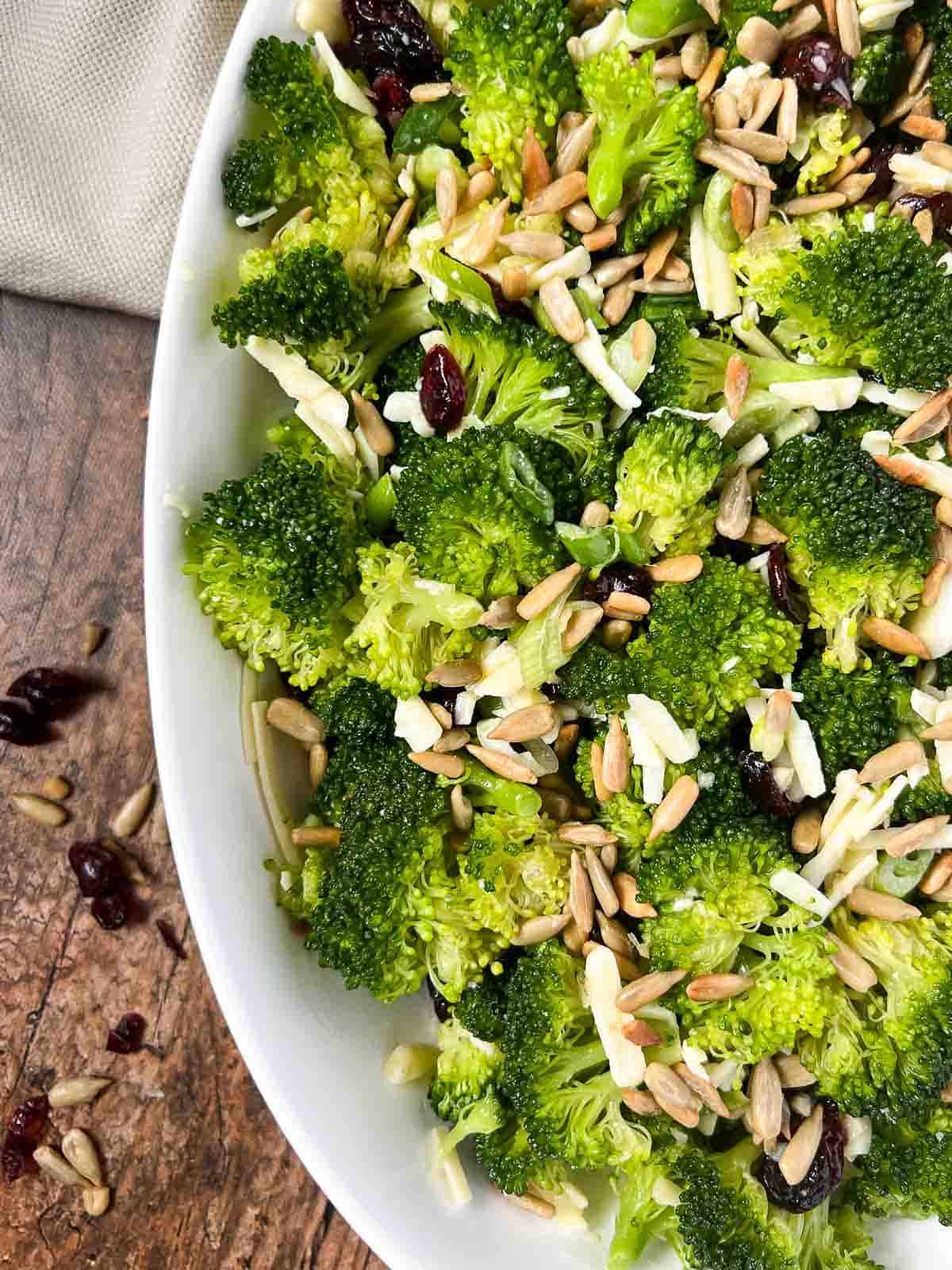 Add it to a potato salad or add a hint of sweet tanginess when you make deviled eggs!
In summary, Dijon mustard is naturally gluten-free and it's a versatile condiment that can add flavour and complexity to a variety of recipes!
🌟 Did you make this recipe?
When you make this Honey-Dijon dressing recipe, please leave a comment and a star rating below. Thanks in advance! Subscribe to my newsletter and have new recipes delivered straight to your inbox.
📖 Recipe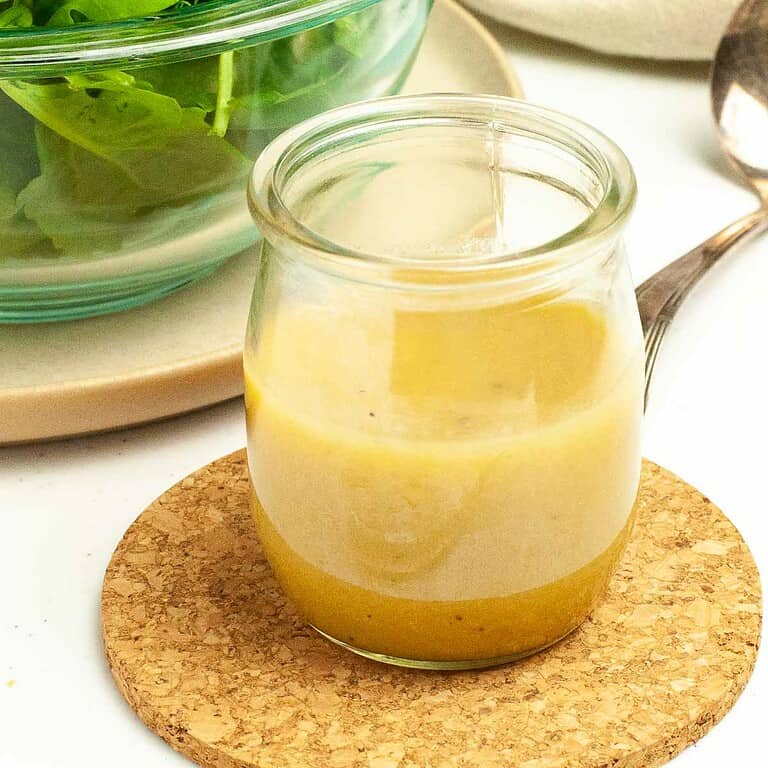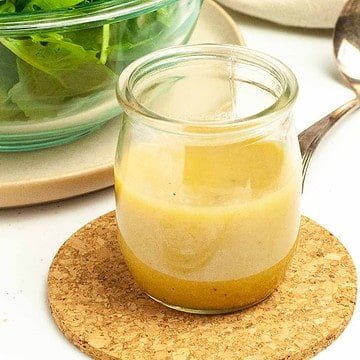 5-Minute Honey-Dijon Vinaigrette Dressing
Made with just a handful of ingredients, this delicious honey-Dijon dressing has a perfect balance of sweet and tangy.
Print
Pin
Rate
Ingredients
2

tablespoons

olive oil,

extra virgin

2

tablespoons

Dijon mustard

2

tablespoons

apple cider vinegar,

or white wine vinegar

1 ½

tablespoons

honey

1

small

garlic clove,

finely minced or grated (or ⅛th teaspoon powdered garlic

¼

teaspoon

sea salt

1

pinch

black pepper,

freshly ground
Instructions
In a small bowl or an 8-ounce Mason jar, whisk all ingredients together until smooth.

Store in an airtight container in the fridge for up to a week.
Notes
This recipe makes a little less than ½ cup of dressing. It's easy to double the recipe if you need more.
You can adjust the sweetness by adding more or less honey depending on your preference.
Nutrition
Calories:
93
kcal
|
Carbohydrates:
7
g
|
Protein:
0.4
g
|
Fat:
7
g
|
Saturated Fat:
1
g
|
Polyunsaturated Fat:
1
g
|
Monounsaturated Fat:
5
g
|
Sodium:
229
mg
|
Potassium:
24
mg
|
Fiber:
0.4
g
|
Sugar:
7
g
|
Vitamin A:
6
IU
|
Vitamin C:
0.3
mg
|
Calcium:
7
mg
|
Iron:
0.2
mg