Here's a delicious collection of 20 gluten-free apple recipes! You'll find everything from apple muffins and loaves to apple breakfasts, apple salads, three different gluten-free apple crisp recipes and more!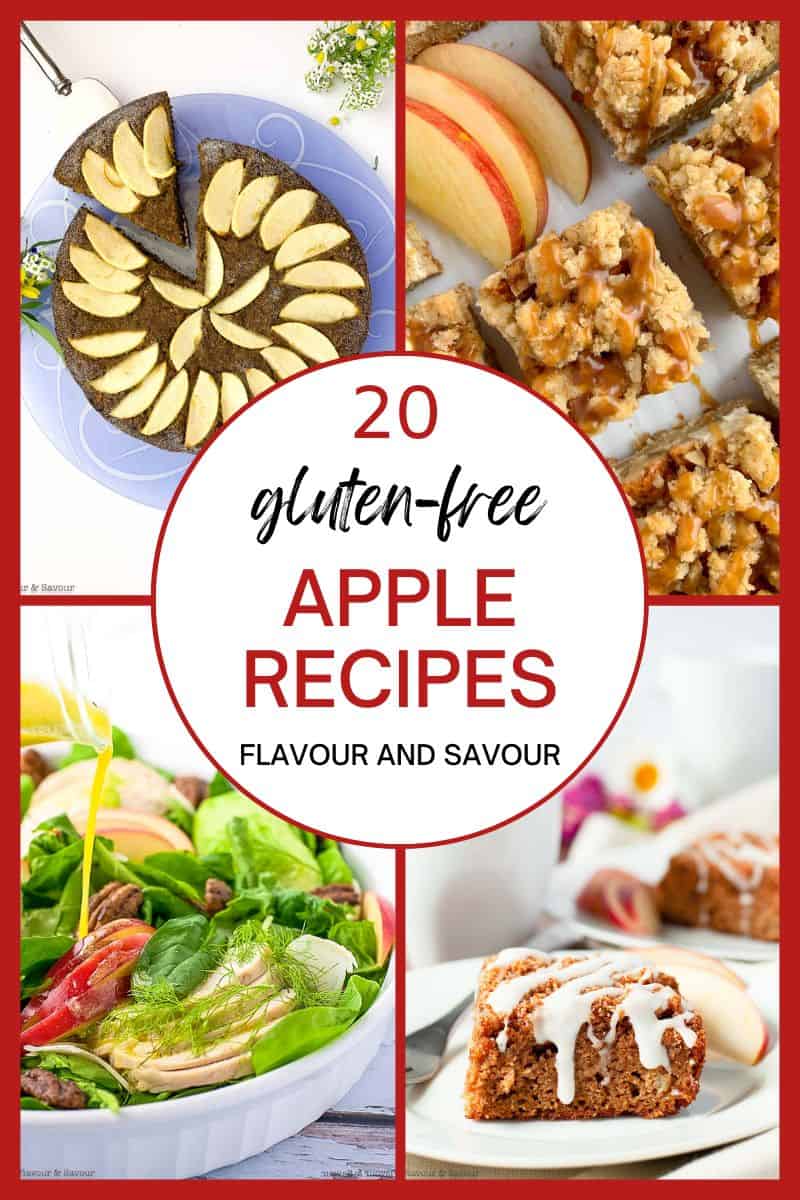 I've rounded up 20 of my favourite gluten-free apple recipes--and none of them are pie!
Don't get me wrong. I love apple pie, especially this Gluten-free Dutch Apple Pie with a crumble topping. But apples are such a versatile fruit and there are so many ways to use them besides baking a pie!
Fall brings apples of all varieties, sweet, tart, soft and crisp. One of the best things about apples is they keep well and are usually available all year round.
Try an apple muffin, an apple cinnamon coffee cake, a healthy oatmeal breakfast cookie, or an apple bundt cake.
Layer apples with yogurt and granola in an apple crumble breakfast parfait for breakfast, in a broccoli apple salad for lunch, and with roast chicken for dinner.
And of course, make an apple crisp or a cranberry apple crisp!
Here's a round-up of 20 apple recipes to make for your family, your friends, or just for yourself this season. Let those aromas of cinnamon and apples wafting from your kitchen put you in a cozy Fall mood!
Click on the light green box below each photo to take you directly to these apple recipes.
P.S. I saved my favourite recipe for last. Enjoy!
20 Delicious Gluten-free Apple Recipes
Spiced Applesauce Cake
Grain-Free Apple Muffins with Maple Cinnamon Streusel
Apple Cheesecake Crumble Bars
Gluten-Free Apple Crumble Breakfast Parfait
Gluten Free Apple Cinnamon Coffee Cake
Mini Gluten-Free Apple Bundt Cakes
Grain-Free Apple Cranberry Bread with Pecan Glaze
Apple Blackberry Crumble
Skillet Cranberry Apple Crisp
Grab and Go Apple Oatmeal Breakfast Muffins
They're gluten-free and dairy-free, but they're packed with protein to keep you satisfied all morning. Grab one and go!
Apple Oatmeal Breakfast Smoothie
Apple Cinnamon Granola
Whipped Feta Apple Hazelnut Crostini
Crispy Fennel Apple Chopped Salad with Walnuts
Broccoli Apple Salad with Maple Dressing
Apple Cheddar Smoked Salmon Salad with Maple Dressing
Cranberry Apple Cider Sangria
Gluten-free Apple Crisp with Salted Caramel Bourbon Sauce
My favourite! Try this twist on a traditional apple crisp recipe, made gluten and dairy-free and topped with a salted caramel bourbon sauce.