If you've been searching for ideas for what to serve with jerk chicken, stop searching now! Here are 20 ideas for sides, appetizers, desserts and even drinks that pair well with jerk flavours! All are gluten-free!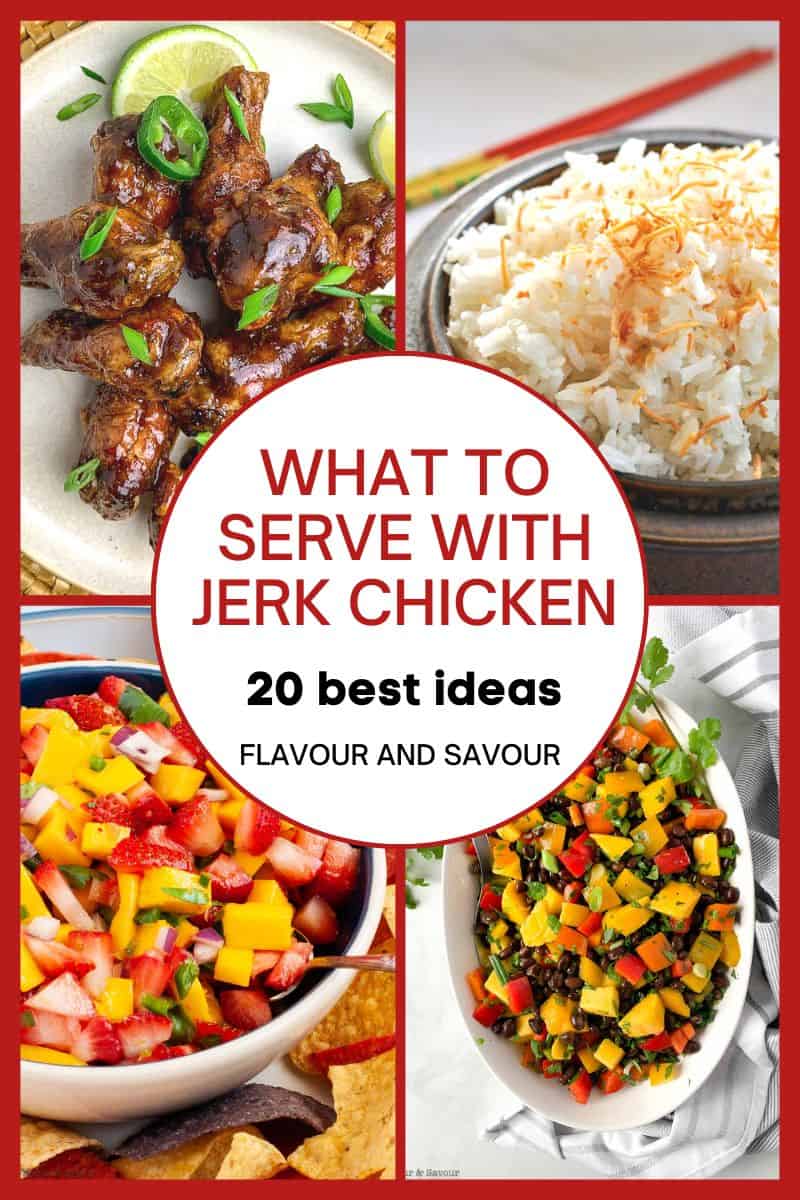 Jump to:
Why you'll love Jerk Chicken recipes
But first, what is jerk chicken?
Best salads to serve with jerk chicken
Those spicy, smoky jerk flavours need cool, refreshing sides for balance! Choose salads with fresh fruit for the perfect complement. Here are a few favourites!
Mango Black Bean Salad with Lemon Lime Vinaigrette
Caribbean Cauliflower Couscous Salad
Quinoa Black Bean Salad with Peaches
Strawberry Mango Arugula Salad with Goat Cheese
Perfect side dishes for jerk chicken
Rice or potatoes are always a classic choice and sweet potatoes are too. Looking for a rice dish for jerk chicken? Try this one!
Never-fail coconut rice
Rosemary Garlic Smashed Sweet Potatoes
Crispy Lemon Oven Roasted Potatoes
Smoky Sweet Potato Wedges
Cauliflower Rice
Appetizers and starters to serve with jerk chicken
Set the tone for a fun dinner party with one of these refreshing starters!
Seared Scallops with Mango Salad
Strawberry Mango Salsa
Carry on your Caribbean theme well into the night! After a delicious feast of jerk chicken breasts or wings, serve one of these dessert ideas that go well with Jamaican jerk flavours!
Caribbean Rum Bananas Flambé with Amaretto
Grilled Peaches with Honey-Lemon Drizzle
Or keep your dessert very simple and serve sweet grilled pineapple or fresh ripe mango slices.
Don't forget drinks for your jerk chicken meal!
Ginger beer is always a good fit with jerk chicken or try one of these refreshing, palate-cooling drinks!
Whichever recipes you choose to round out your jerk chicken meal, you're guaranteed a seriously delicious dinner! Let me know in the comments section below which ones are your favourites.
More favourite recipe round-ups